CLOUD 9 WALKERS
"Cameo"
Rare Dark Golden Palomino 9-yr-Old 15.2H Stocky
Tennessee Walking Horse Mare
Click on embedded arrow ABOVE to see Cameo's showy racking gait on 4/29/10 and she's all natural, BAREFOOT!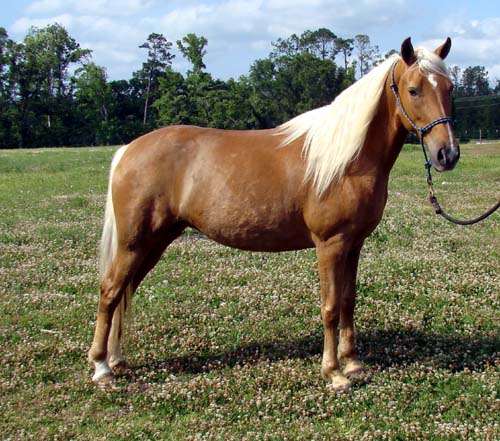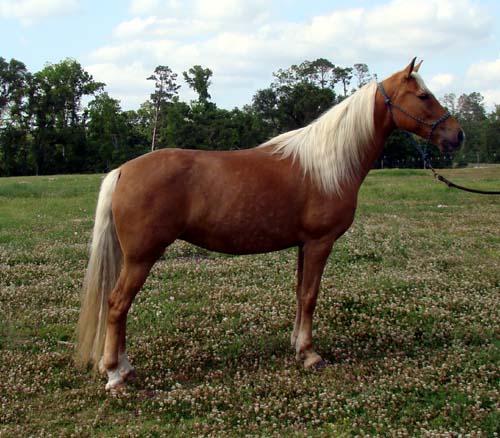 She has almost completely shed off her dark gold winter coat to show her even darker golden summer coat!
"Cameo" -- Beautiful big, stout 9-yr-old 15.2H (official on the measuring stick) stocky dark gold palomino Tennessee Walking Horse mare with beautiful face . . . dark gold all year long with white mane and tail, strip down her face, stocky like old time Walking Horses, like her great grandpappy "Merry Go Boy". Cameo has great bloodlines, boasting Triple Threat, Merry Go Boy, Rodger's Perfection, Mack K's Handshaker, and Bud England.
Smooth racking gait with some nice speed, also, and as a bonus, she has a really nice, rolling, athletic canter which I affectionately called her "cowboy canter", and I find her to be a fun, fun ride because of this gait and forward motion. Absolutely no laziness about her. Great mother, has had three foals -- cremello stud colt, cremello filly, and golden palomino stud colt. She's ready to go instantly when you ask, but will walk slow, also (after she's warmed up). Because of this nature, we'd like to see her go to advance beginner or intermediate rider, and we do believe that she makes a good, safe confidence builder for anyone who is not just bottom level timid.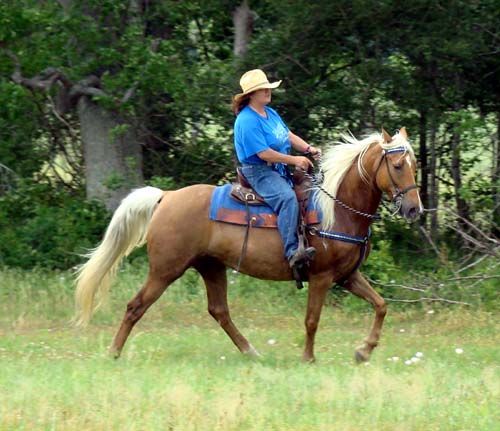 Becky rides Cameo on 4/29/10.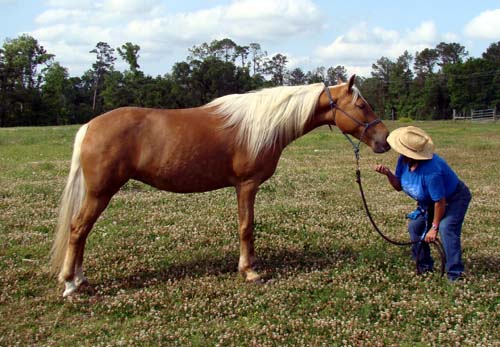 And hams it up with her in the clover which has gone to seed and made cute little white puffs all over the pasture!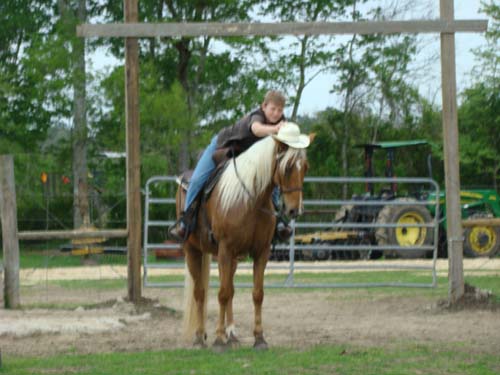 Cody hamming around with Cameo on 4/2/10.
Click on embedded arrow ABOVE to see Becky and Hannah riding on 4/2/10.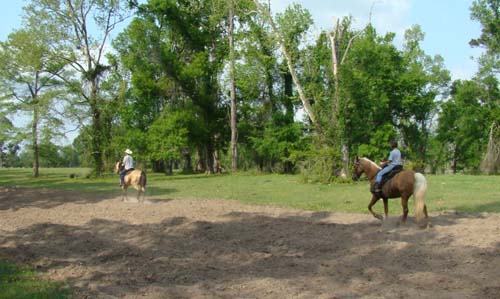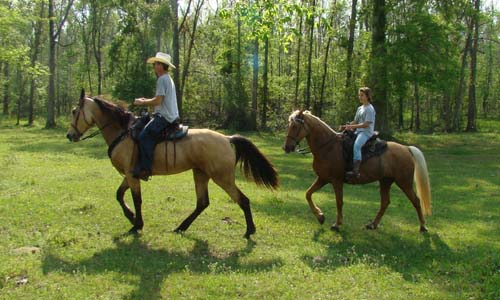 Father and daughter kind of day! Bryan rides Kitty while his daughter, Hannah rides Cameo on 4/4/10.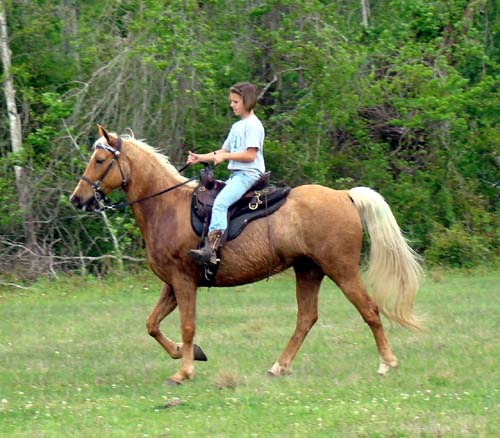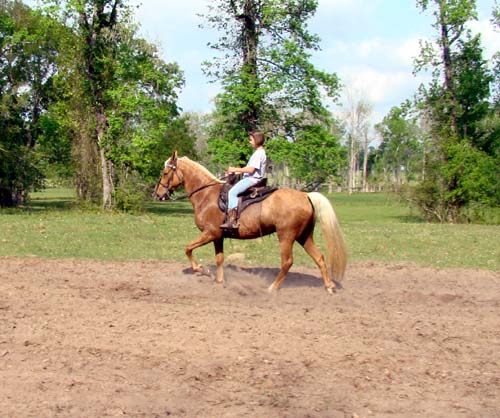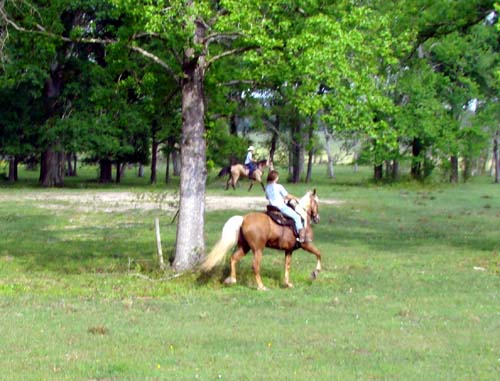 Hannah rides Cameo on 4/4/10 in the watermelon patch and around the 'pole bending' trees.
Becky rides Cameo on 4/1/10.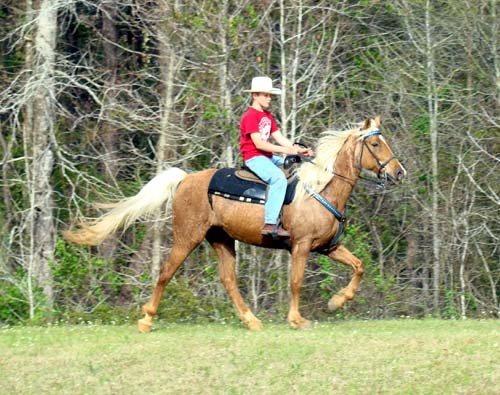 Cody rides Cameo along the pond dam on another East Texas camping trip on 3/27/10.
Cameo was in full heat during this trip, but she never showed it at camp. (She let us know when she walked by the stallion on the way to the trailer before the trip, and then again in her stall next to him when we got back home.) No problem with this mare during her cycles!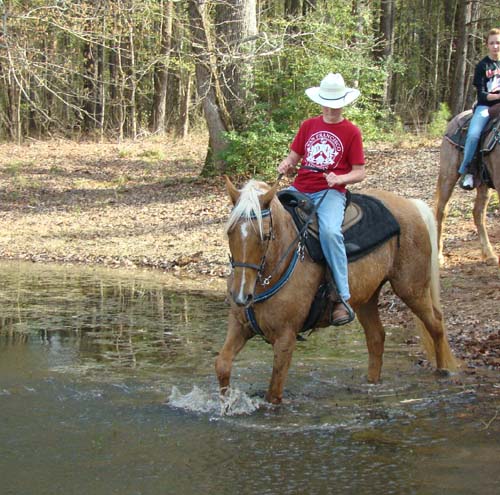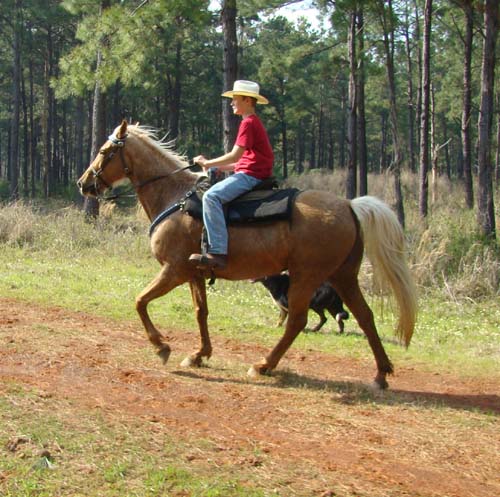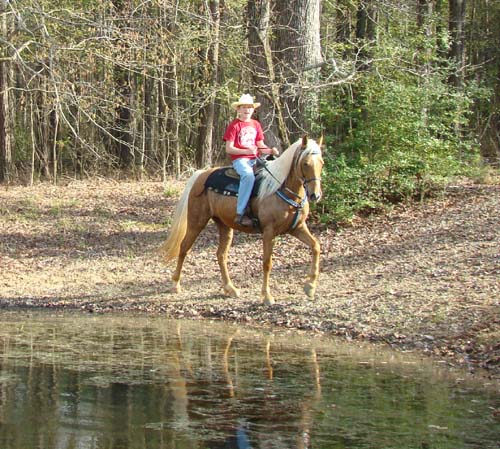 Beautiful trails, beautiful day, beautiful horse.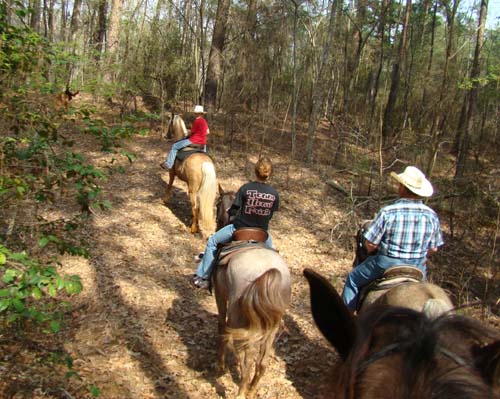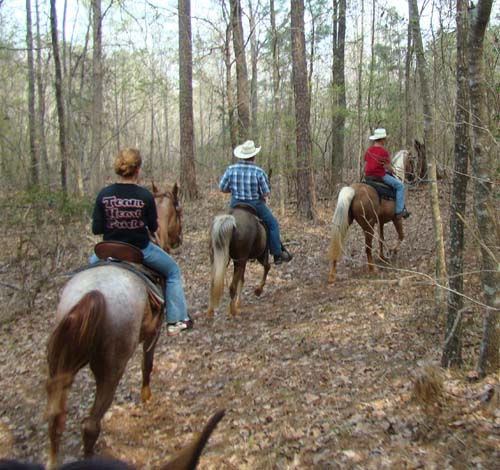 That's one beautiful golden mare, on the trail with Cody riding with his cousin Madysen and Grandpa Huey following.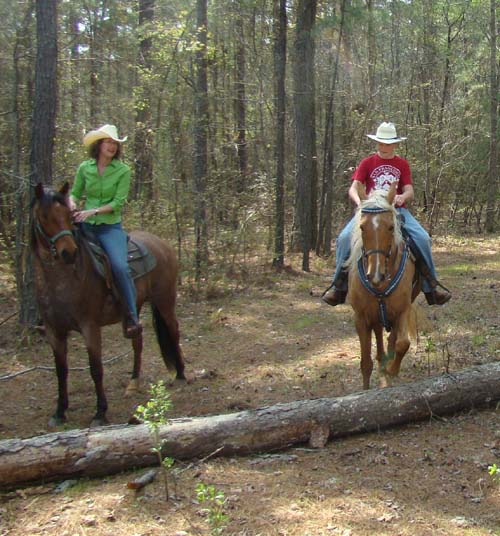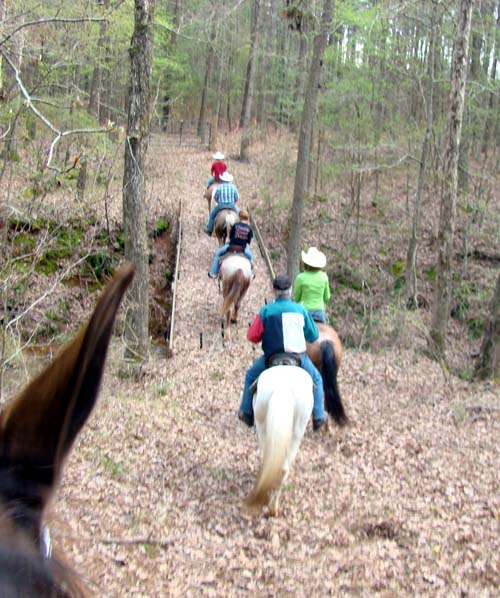 Doesn't take much to thrill us . . . stepping over logs and crossing bridges . . .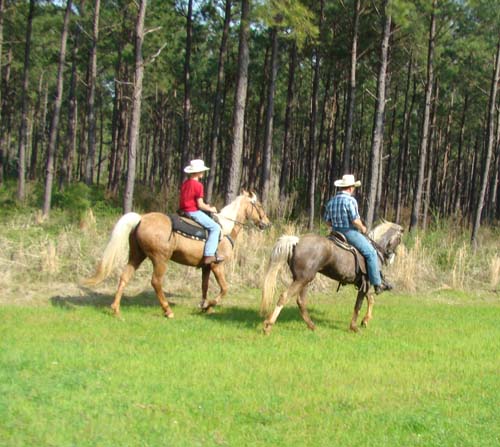 Out on the trails . . .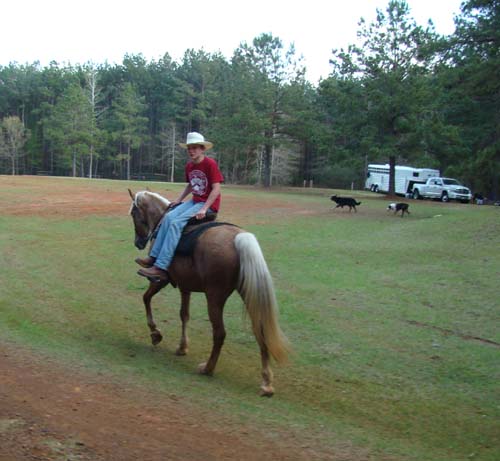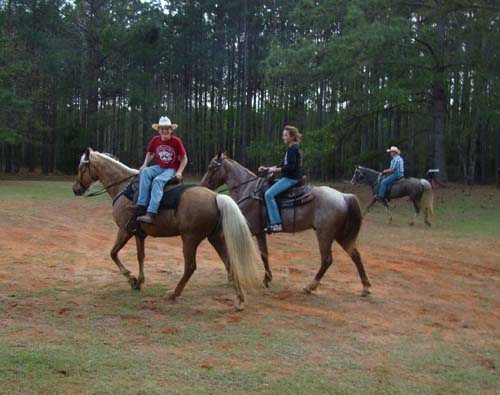 Clowining around . . . .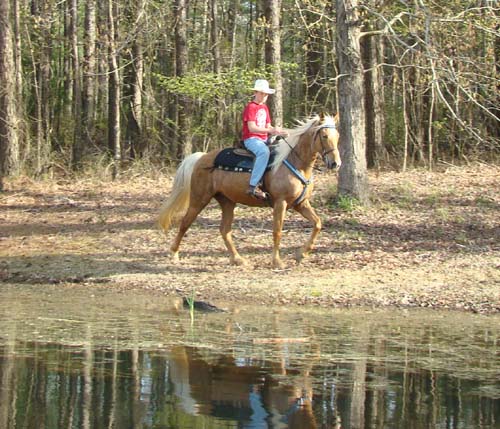 This would have been a perfect picture if I had stepped back and gotten the entire reflection in it . . .
Click on embedded arrow ABOVE to see a beautiful mare on a beautiful sunny East Texas day.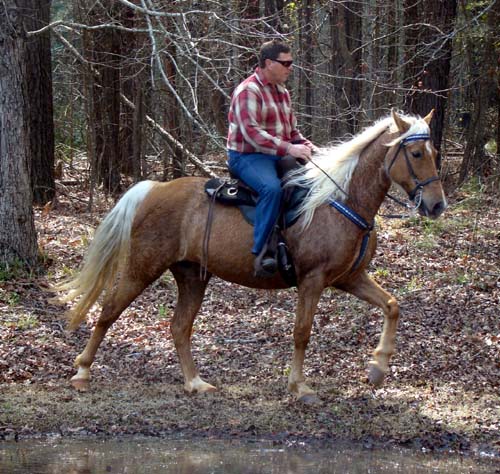 Riding around the pond on our East Texas camping trip the week of 3/15/10.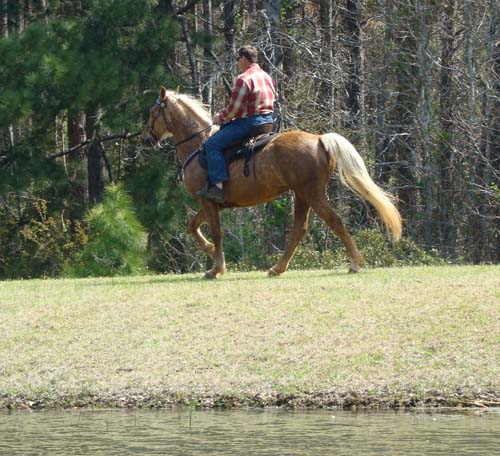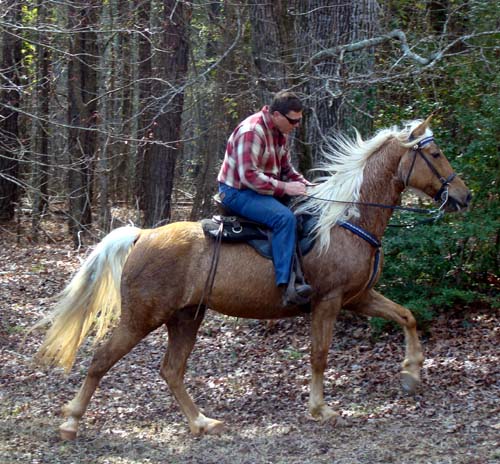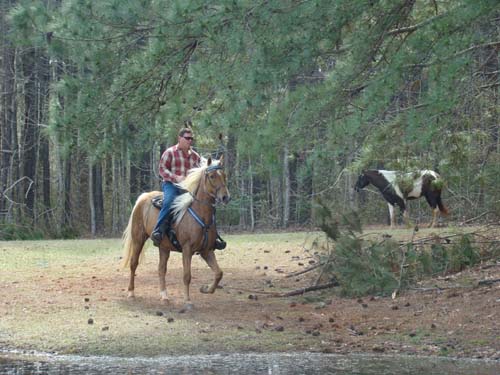 Working out around the pond while Joy is tied to a tree in the background.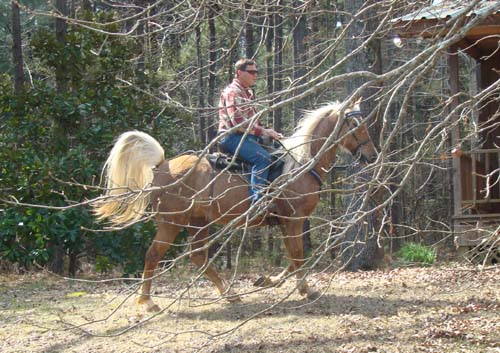 What a tail!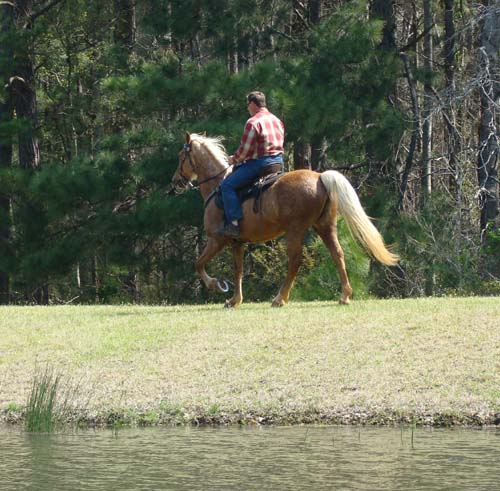 A golden palomino looks so beautiful against the dark green of the pine trees.
Click on embedded arrow ABOVE to see Cameo's racking gait on our East Texas camping trip the week of 3/15/10.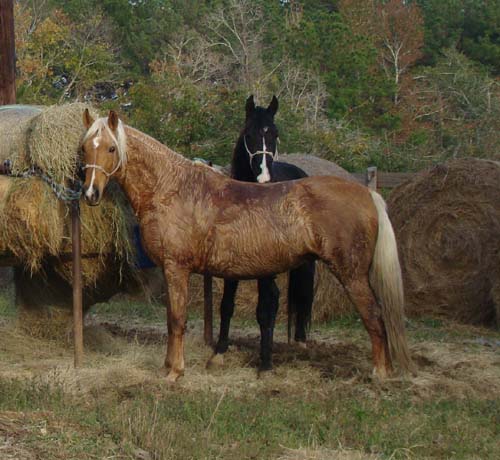 Cameo and Coltrane tied out after their workouts on 12/3/09.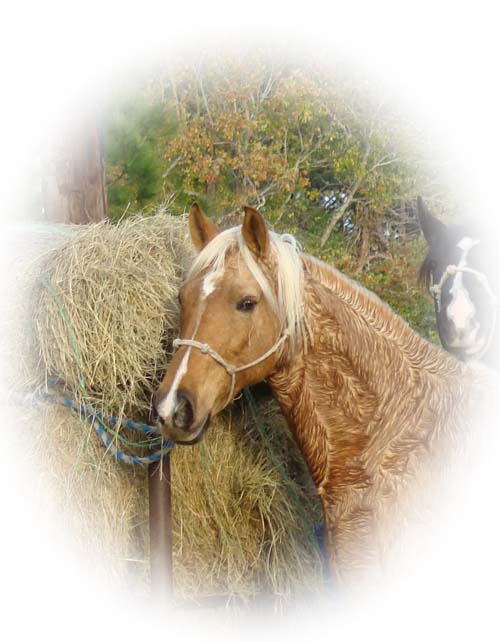 Beautiful face.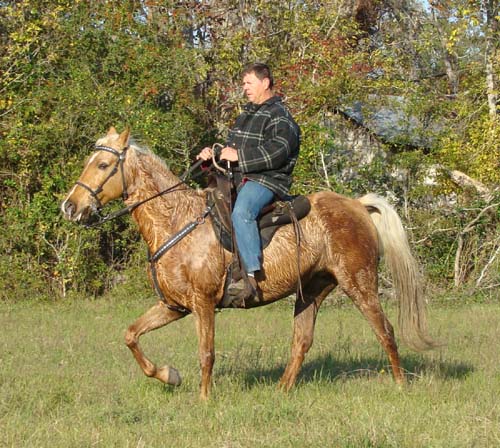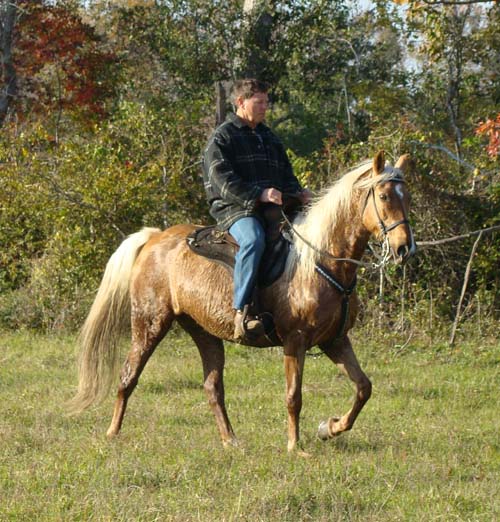 Click on embedded arrow ABOVE to see Cameo on her first ride in a year.


Email me!
Cloud 9 Walkers Home Page (Pleasure Horses For Sale)
Beautiful Cloud 9 Walker Babies For Sale
Cloud 9 Walkers Previously Sold
Click here for a list of Safety/Pleasure tips for you and your horse

Bridles For Sale, Stories To Read
Tennessee Walking Horse National Supreme Versatility Champion Story
Tennessee Walking Horse Links of Interest