CLOUD 9 WALKERS
"Lash Larue"
Extremely Gentle, Quiet Coming 3-yr-old
Black Tennessee Walking Horse Gelding
(We bred and raised him!)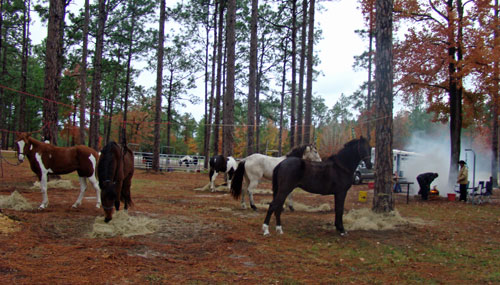 We had 12 horses on this trip, and only 6 pens, so 6 horses spent the night on the overhead picket line and then rotated into the pens the following day. Worked like a charm! From left, sorrel/white spotted "Takoda", bay MFT mare in training with us, black and white spotted "Zip" in the far back, buckskin "Ernie", and in the foreground the black young gelding we raised "Lash Larue". You can see Rio in the distance in one of the pens, and to the far right Huey and Victor build a nice fire for a steak dinner!
Click on embedded arrow ABOVE to see our recent Angelina Forest/Lake Sam Rayburn trail riding/camping trip in December, 2011.
Click on embedded arrow ABOVE to see Part Two of our recent Angelina Forest/Lake Sam Rayburn trail riding/camping trip in December, 2011.
Click on embedded arrow ABOVE to see our beautiful trails on the cattle ranch in Brenham, Texas on the afternoon of 1/19/11.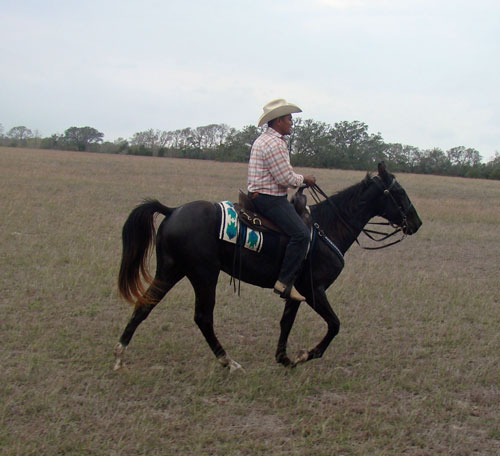 Victor rides Lash Larue on 11/19/11 during our camping trip to Brenham, Texas.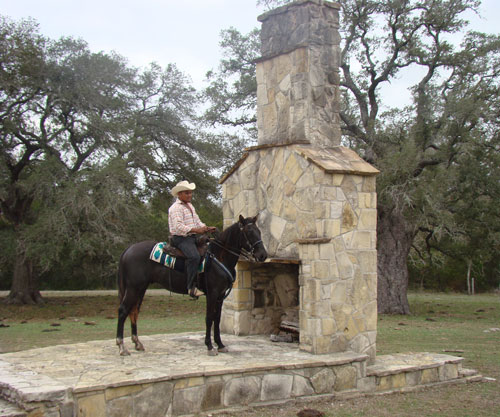 We love our obstacle training -- Lash Larue stepped up this old homeplace fireplace quietly and calmly, and then stepped off the side -- video soon!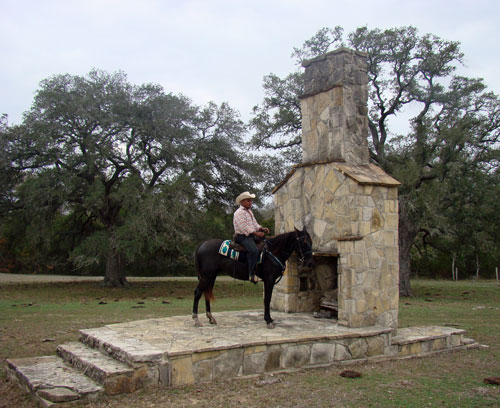 Lash meets his first buffalo on our camping trip in Cat Spring the week of 9/9/11.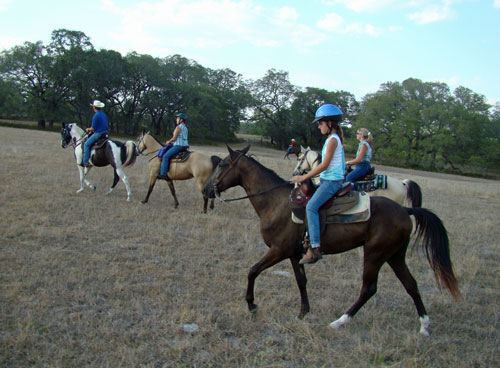 Little Madysen needed to borrow a horse so we loaned her Lash on our trail ride in Brenham, Texas on 9/11/11.
"Lash Larue" a/k/a "Cody" -- We raised him and he's wonderful. Side passes, forehand turns, pivots, wonderful smooth gaits, slow lopes on correct leads. $3850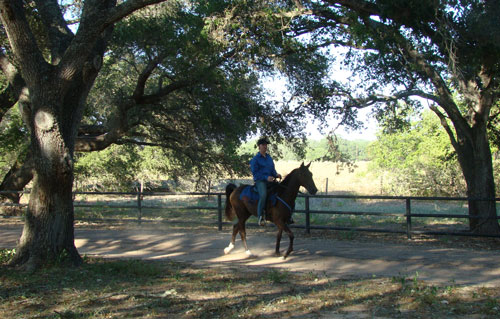 Bud rides Cody at the ranch in Cat Spring on our camping trip the week of 9/9/11.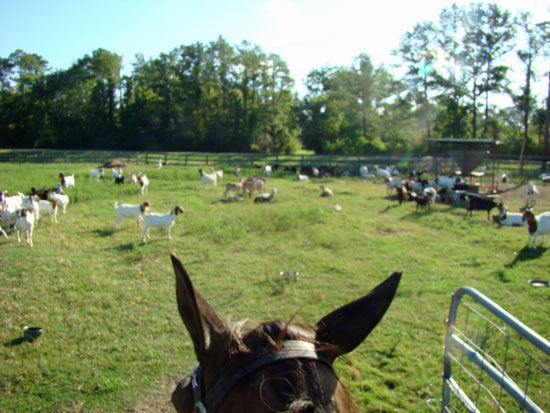 I am riding Cody here while using our Border Collie to work the goats to transfer them to another pasture. This is one calm horse!
Click on embedded arrow to see Cody help me work the dog and the goat/sheep herd!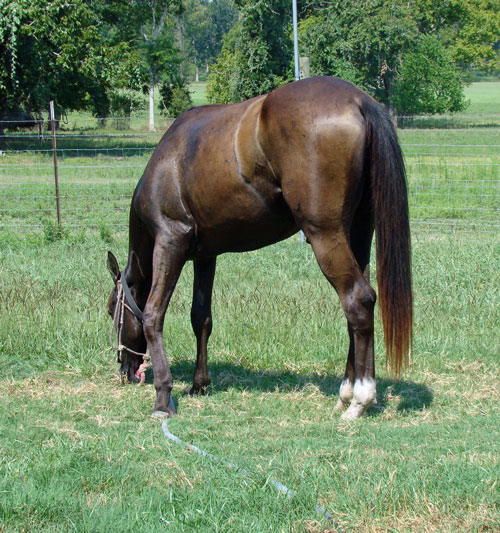 Trained to tether.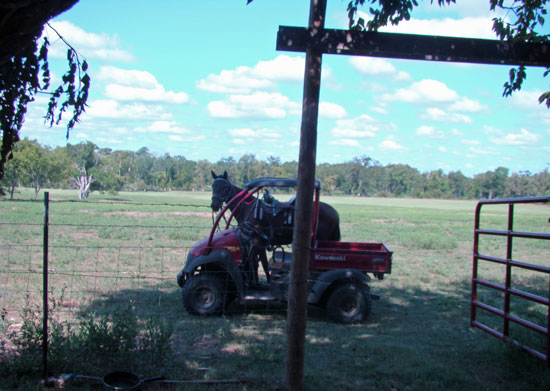 Lash is patiently tied to the Kawasaki Mule, patiently waiting for me to run in the house and get my hat before finishing our ride on 9/3/11.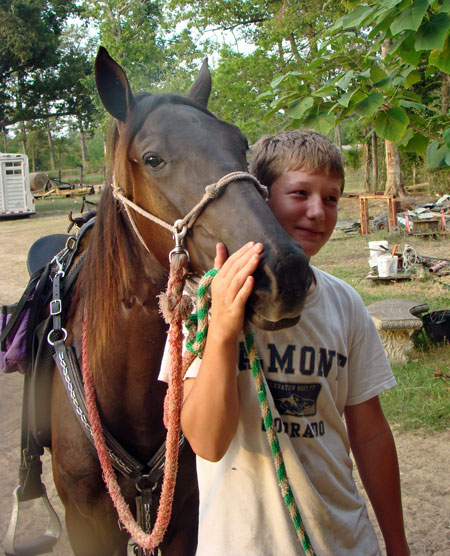 This is Cody and Cody -- quite a pair! Cody (the grandson) is 14 years old and wanted a summer project, so we picked our most gentle, mellow unbroke colt in the pasture and brought him up. Cody spent hours and hours in the round pen putting a solid foundation on this colt (with Grandpa Huey's supervision) and turned out quite a nice pleasure horse. In addition, Cody wanted to learn to shoe a horse, so he used this colt to shoe his first horse, and by the way, the shoes were the first this colt ever wore, as well!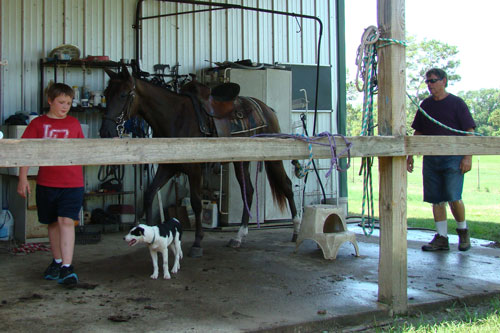 Cody's brother Jasper brings Lash Larue back from the round pen after a riding lesson on 7/27/11.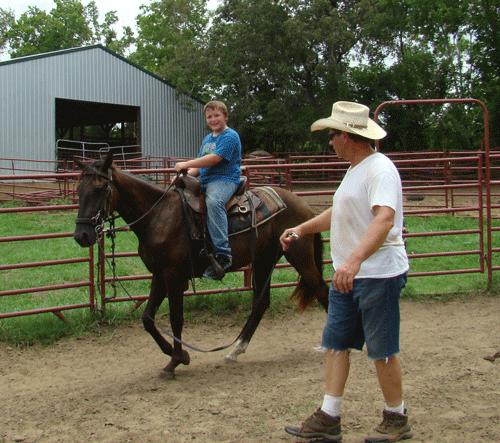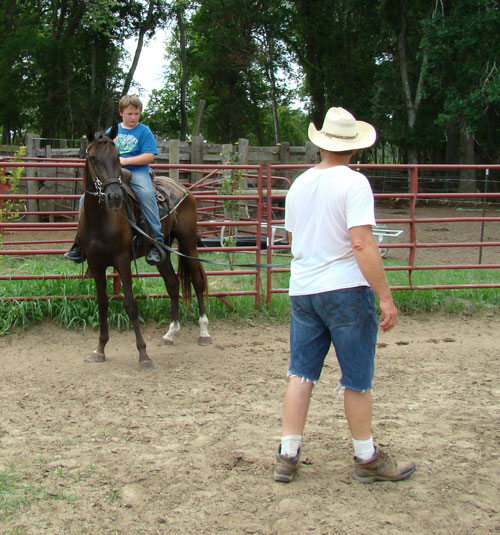 Grandpa Huey teaches his grandson Jasper to ride using this mellow, quiet colt.
Click on embedded arrow ABOVE to see a 9-yr-old boy (Jasper) taking his first trail ride (after only one week of lessons) on All In. Also, two colts we are breaking are making their first rides (black 2-yr-old gelding named "Cody" and a buckskin 3-yr-old gelding named "Gonzo").
Click on embedded arrow ABOVE to see Part 2 of our Angelina Forest ride on 7/30/11.
ELEMENTARY SCHOOL:
First three days, he learned to go, go at three different speeds, and turn to the inside to show respect. They are worked on a "tree of knowledge" (cedar pole in the middle of the round pen), with a concept of driving with one rein.
Next few days, he learned to drive with the long reins, learning to get up, whoa, turn, flex and back. He learned to tolerate the girth with the bitting rig and to pace himself at speeds that he is commanded to perform. He was taught to stay focused on his trainer.
Next few weeks, he learned to accept the saddle and be driven with the driving lines through the stirrups, as well as accept someone mounting him from both sides of the saddle, with lots of 'accidental' brushes across his rump as we mount and dismount.
The fourth week is all about settling down, walking relaxed on command, running walk relaxed on command, relaxed canter and smooth, obedient transitions. The goal is to get him to stay in the requested gait until he is given a cue to change gait. When he is asked to reverse, he is trained to reverse always at a walk.
The fifth week, a "dummy" rider is introduced -- the first night, a rider is asked to be dead weight in the saddle, with the trainer giving instructions from the center of the ring. This dummy rider is asked not to touch the reins, not to move, not to talk, not to be involved other than just simple weight in the saddle. The second night, the rider is asked to give cues in a very subtle way AFTER the trainer gives the cue. The third night, the rider is asked to relax, is allowed to hold conversation while riding, and gives cues at the same time that the trainer is giving them from the center ring. Circles and go's are introduced, stopping and backing two steps is asked. This is all using only a halter and lead rope for reins.
The fourth night, the rider gives the cues and the trainer is simply there to reinforce the cues if needed. By the fifth day, the trainer is pretty much just there to observe, and then for the next week, the trainer takes over and rides with just the halter working on turning in a circle with nose to the inside with no pressure, ride squares, continue backing training, yield front, yield hindquarters. Before he ever left the round pen, he understood all these commands, and by asking to yield both front and hind, he easily learned to side pass on cue.
After a couple of weeks of intensive handling, the bit is introduced (with tasty molasses!), and now double reins are introduced (one to a leather noseband and one to the snaffle). Another week or two in the round pen on the bit, after the horse is taught that he is being allowed to stop (instead of commanded), he knows the one-rein stop, and understands transitions, he is taken to the trails to be ridden alone -- no other horses with him.
HIGH SCHOOL:
This teaches him to think for himself, as opposed to just learning to react. He learns that he can trust his rider, that he can be courageous in the face of his perceived danger, that he can cross creeks, step over logs, encounter deer, squirrel, rabbits, motors, bicycles, etc. He learns to pace himself and not use up all his energy at the beginning of the day, and he learns to hydrate along the trail. He learns to gait perfectly without the distraction of the stress of other horses, feeling like he needs to be where they are. When his gait is fast enough to keep up with his peers, he is then taken on group rides and taught to ride at the back, in the middle, and at the front, all on a loose rein. He is taught that he should not panic when he is ridden a lot further back from the group, leaving the group and then rejoining. He is being trained to canter on both leads along the way, but that if asked, he should not increase his gait even though the other horses are getting ahead on the trail.
Next comes Highway 101, where he learns to tolerate busy traffic, dogs, 4-wheelers, garbage cans, whatever scary obstacles he can be exposed to.
All along the way, the goal is to get him to round his back, break at the poll and tuck his nose, drive his hindquarters forward and have a perfect four-beat gait with loose reins, light touch and all while BAREFOOT!
COLLEGE:
Now, this pleasure prospect is hauled to camping trips across the nation, on a never-ending education! He has already made several camping trips and many more ahead. So far, he is right on schedule for a diploma . . . stay tuned!
Sire and Dam of "I'm Lash Larue"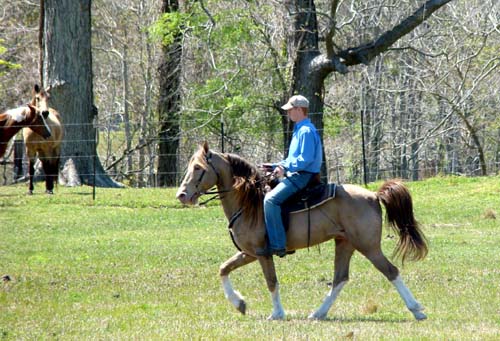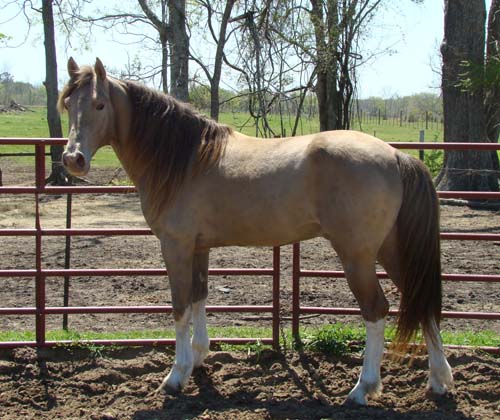 (ABOVE) "Go Boy's Champagne Pride" -- sire of Lash Larue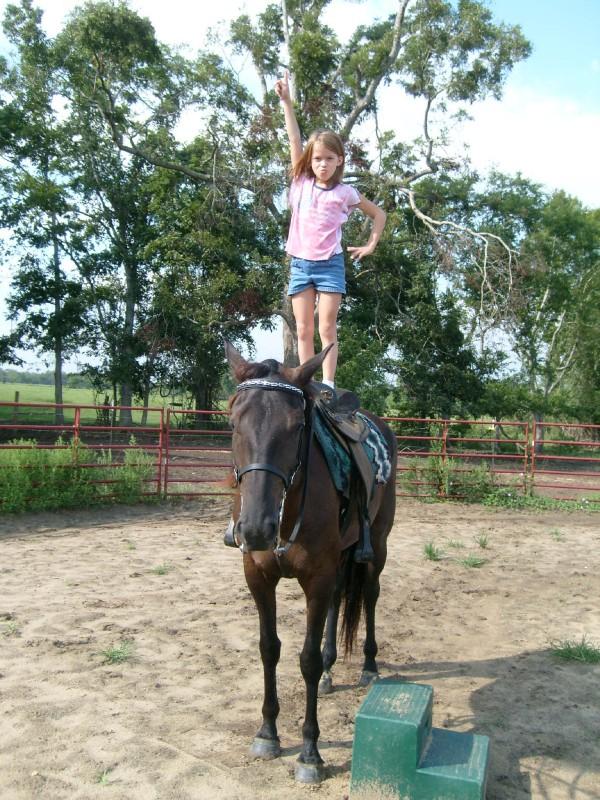 "Jolie" -- full sister to Lash Larue. Click on her picture to see more about her (she is already sold, but you can see her history).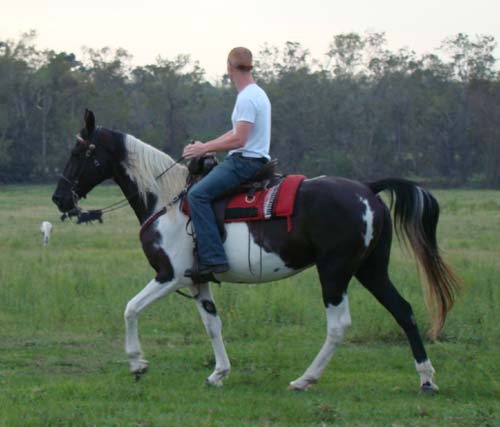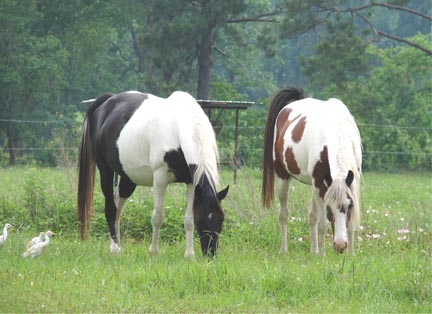 (ABOVE) "Painted Lady Bum" -- Dam of Lash Larue
Pedigree for "I'm Lash Larue"
Black Tennessee Walking Horse Gelding
Sire
Go Boy's Champagne Pride
Sire
Go Boy's Gold Insignia
Sire
Paint's Moon Man
Sire
Paint The Town
Dam
Insignas Sweetheart
Dam
Emily's Rose
Sire
Mack K's Lucky
Dam
Princess Lady B
Dam
Prides Fancy Nancy
Sire
Pride's Solid Gold W
Sire
Pride of Midnight HF
Dam
Go Boy's Dolly II
Dam
Johnny's Lady B
Sire
Johnny Cash
Dam
Art-Jen Lady B
Dam
Painted Lady Bum
Sire
Mountain Painted Son
Sire
Talk of the Mountain
Sire
Ebony's Mountain Man (by Ebony Masterpiece)
Dam
Gleaming White Star
Dam
Rising Son's Last Gal
Sire
Copy's Rising Son (by GLL's Carbon Copy)
Dam
Go Boy's Bonnie B (by Merry Go Boy)
Dam
Mac's Lady Bum
Sire
Legs Diamond
Sire
Bama Bum B (by Delight Bumin Around)
Dam
Spirit of Dixie M
Dam
Sue Patten
Sire
Dan Patten
Dam
Sue Daniel Stroll
This pedigree page was built for free at SitStay.com