CLOUD 9 WALKERS
"Dakota"
Gorgeous Black/White Spotted Saddle Horse Gelding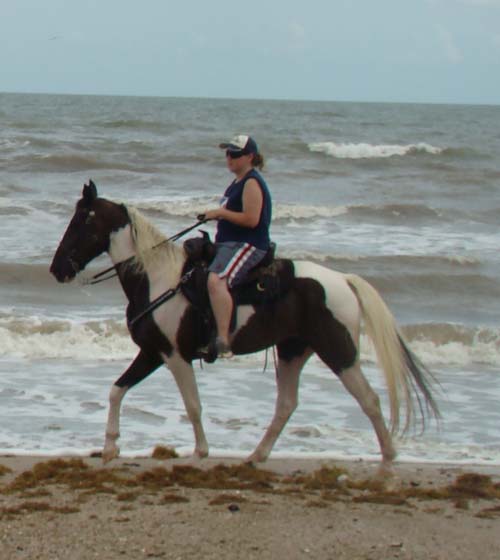 Krystal riding Dakota on the beach of the Gulf of Mexico on 8/6/08.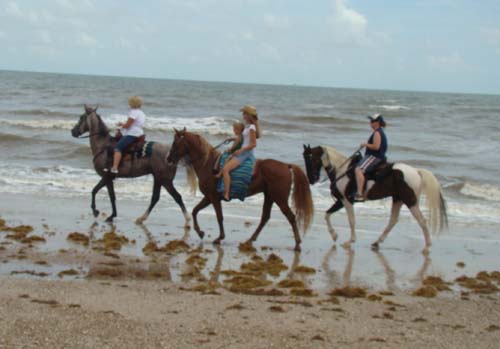 Chisel, Cruiser and Dakota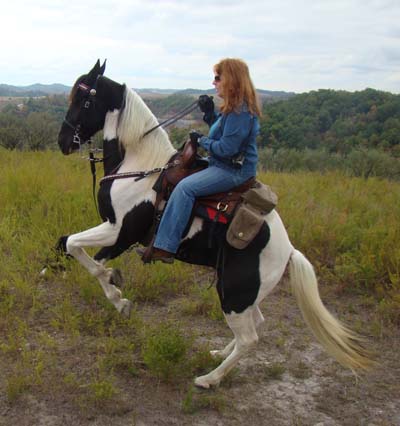 Teaching my Dakota 'bad tricks' on a mountain in Virginia on 10/15/07.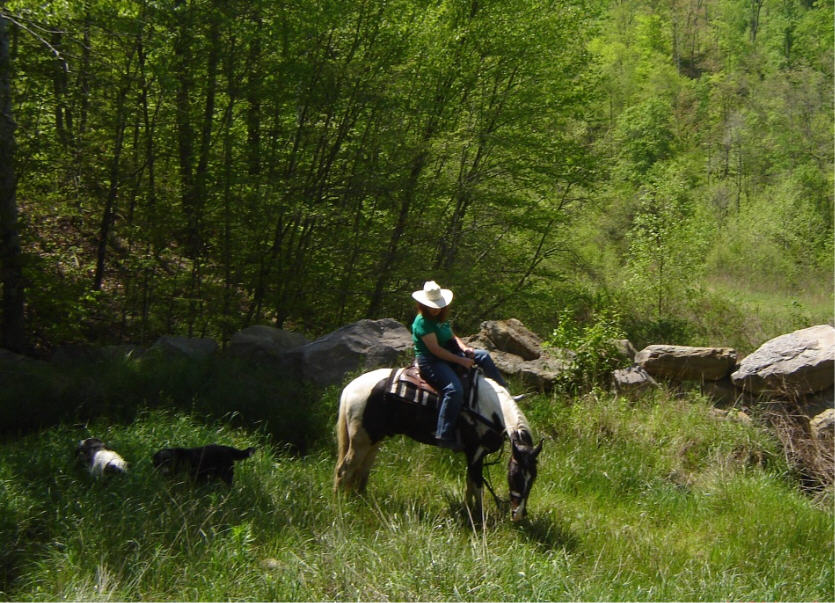 Tex, Bailey, Dakota and me on a Kentucky hillside on 5/7/07.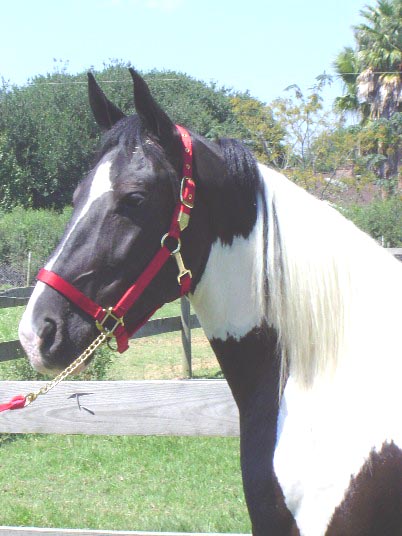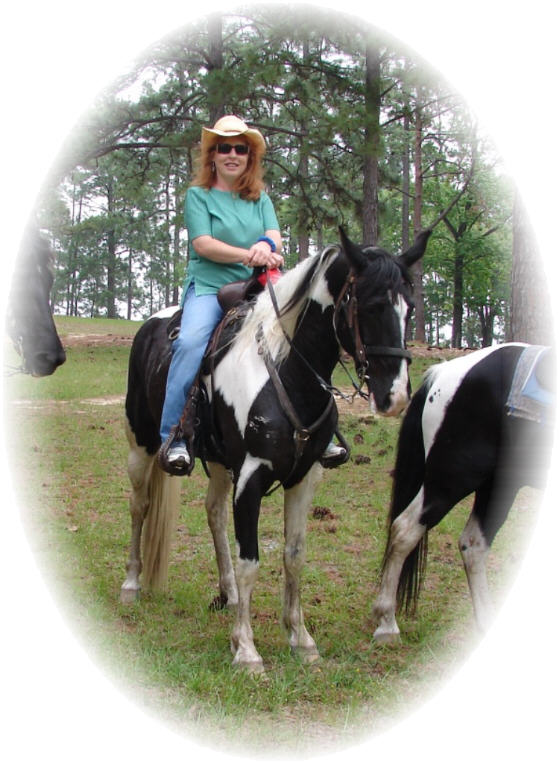 Poor baby -- I wore him out on 4/21/07!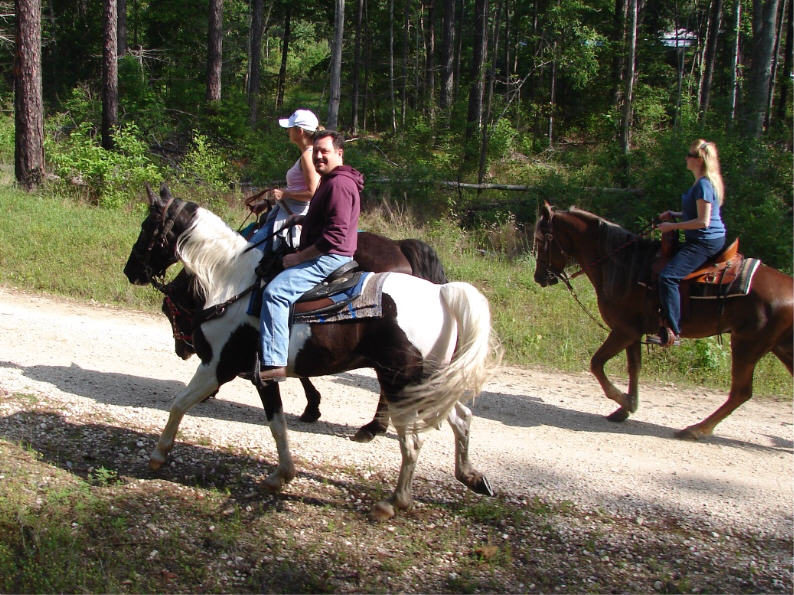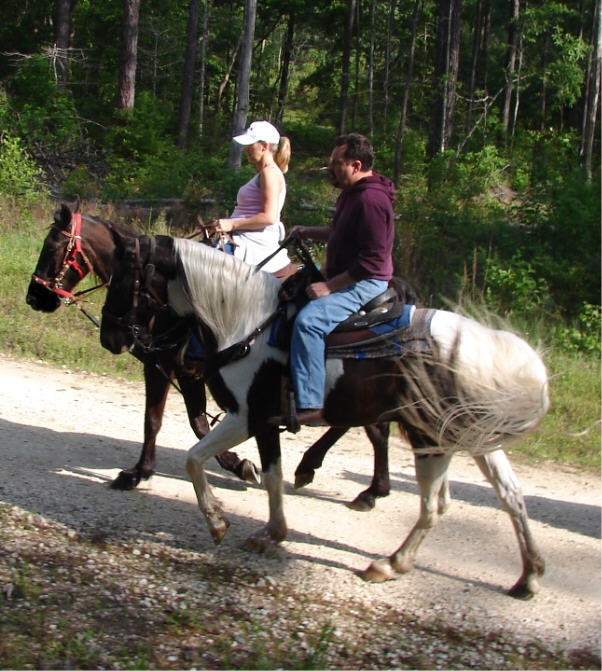 Dan riding Dakota on 4/28/07, his wife riding beside him, and Dianne riding Cash in the back.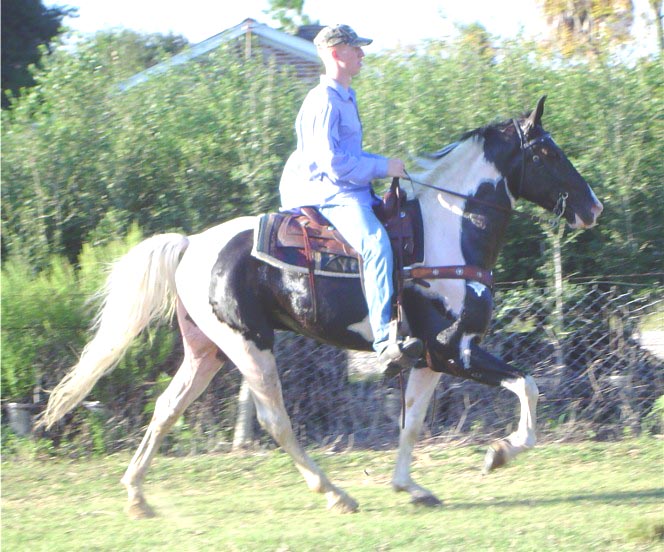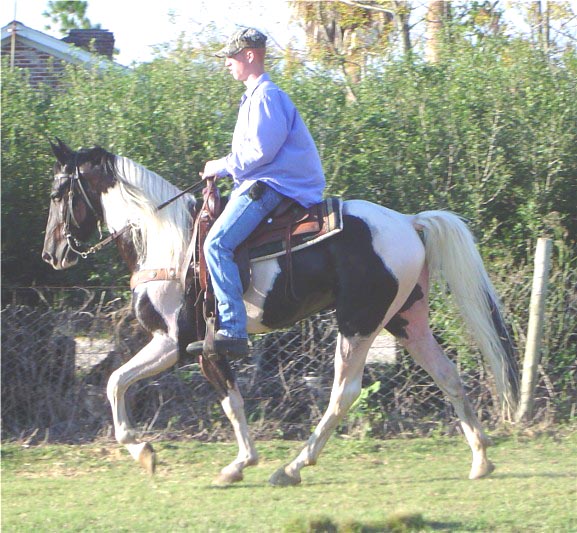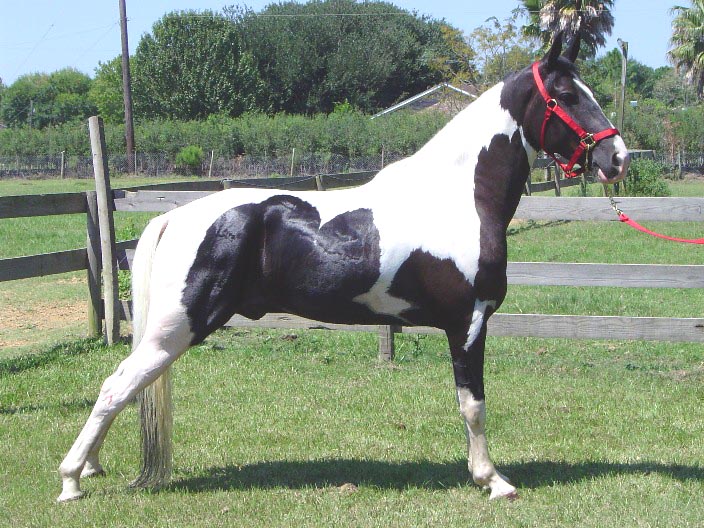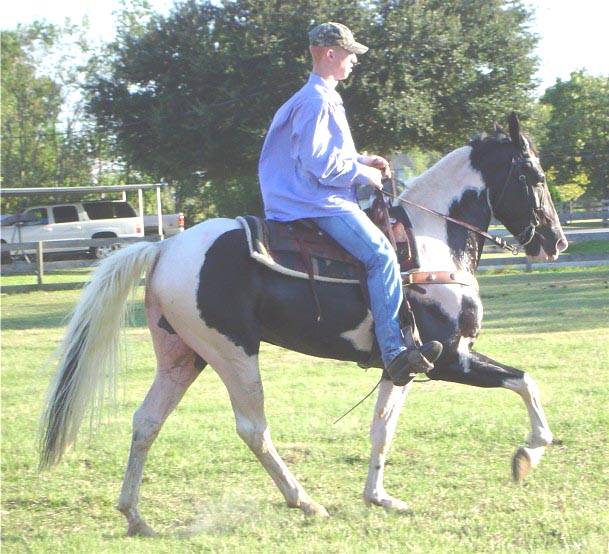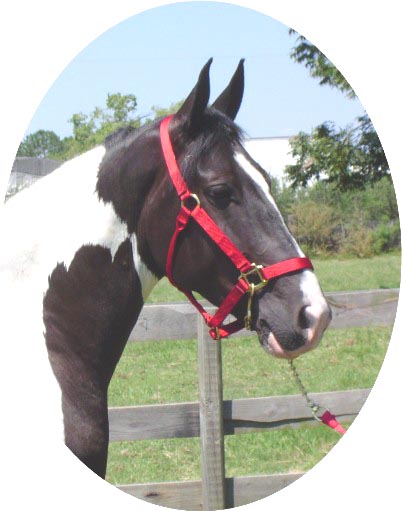 "Dakota" -- My wonderful mountain riding horse! Gorgeous black and white Spotted Saddle Horse 9-yr-old gelding, athletic with big bone structure, stout and smooth gaited, spirited and fun to ride.
Stop here if you are not an experienced horse person -- this is a magnificent horse, but not for the weak hearted or timid! The only way I would sell this horse to a beginner rider is if the buyer would have a natural horsemanship trainer assisting -- I love this horse dearly and would like to find him a good match for his new home. I am finding that I don't have time to ride him with the other colts and horses I am training.
Dakota will cross any obstacle anywhere -- point him where you want to go. He has high stamina and recovers well -- I used him to last year to cut my runaway bull out of the neighbor's herd of Angus heifers, and I had no help -- just me and Dakota. It took us a full 30 minutes of gaiting, rollbacks, cantering, heading the bull off, but we finally got the bull cut out and pushed through the fence, back on his own pasture, and Dakota was athletic enough to get the job done. If you ask him to jump up on a stump or a porch, he will hop up there.
Dakota's color pattern is just about 50/50 black and white, and he parks out with perfection, actually standing up on his tip toes on his hind legs like they're supposed to. He yields front and back, pivots, performs rollbacks, neck reins, backs, rears slightly on command, bathes, loads, shoes, clips -- a very willing horse who gives 110%, all heart, but he is so sensitive that he must go to a horse person with a gentle hand and quiet voice. I have ridden him in parades, trail rides, lakes, the ocean, hauled him extensively and enjoyed his slow gaits, fast rack, canter and gallop. He is just a joy to ride for an experienced rider, but way too sensitive for a beginner, although I did put a timid rider on him after a week of mountain riding.
Dakota is registered SSHBEA and not TWHBEA.
Automatic transmission!

Athletic and high stamina

Good on cattle

Excellent in the mountains -- sure-footed and hardy, careful

Neck reins, pivots, spins, slightly rears on command, parks out

Smooth, a thrill to ride!
$4750

Congratulations, Pat in McKinney, TX -- What a great home for my special guy!!!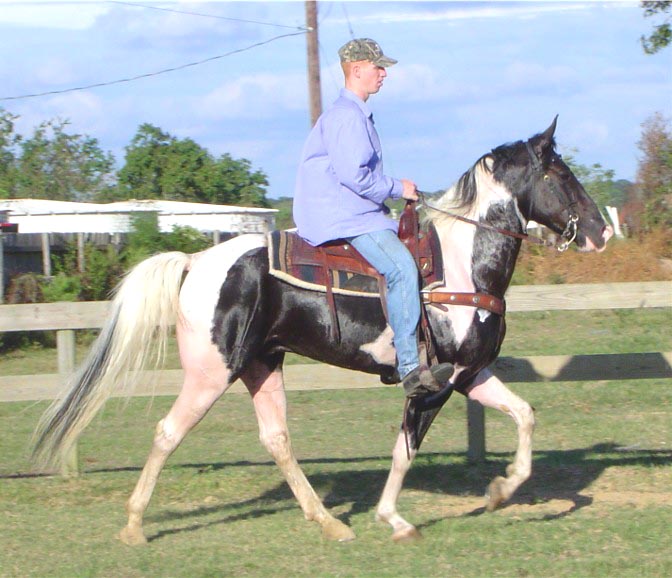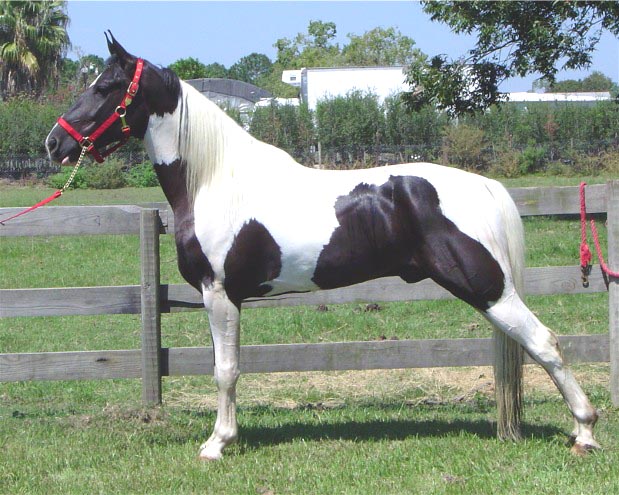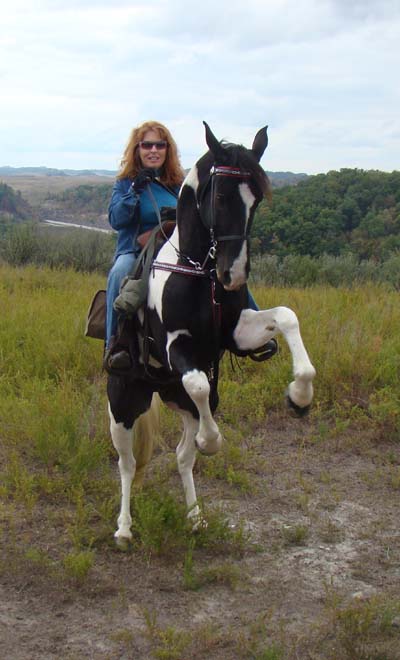 Cloud 9 Walkers
P. O. Box 878
Hardin, Texas 77561-0878
(55 minutes east of Houston)
281-726-4545
(Entire contents of this website copyrighted by Cloud 9 Walkers)

Email me!
Cloud 9 Walkers Home Page (Pleasure Horses For Sale)
Beautiful Cloud 9 Walker Babies For Sale
Cloud 9 Walkers Previously Sold
Click here for a list of Safety/Pleasure tips for you and your horse

Bridles For Sale, Stories To Read
Tennessee Walking Horse National Supreme Versatility Champion Story
Tennessee Walking Horse Links of Interest