CLOUD 9 WALKERS
"Dillon"
Gorgeous Buckskin 7-yr-old Tennessee Walking Horse Gelding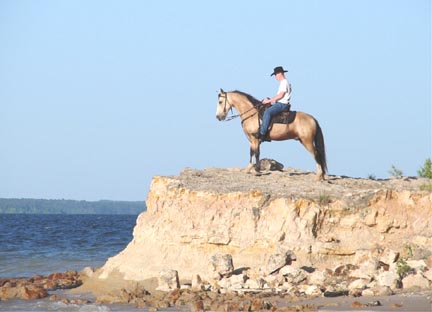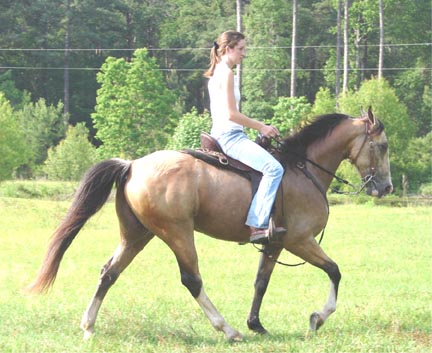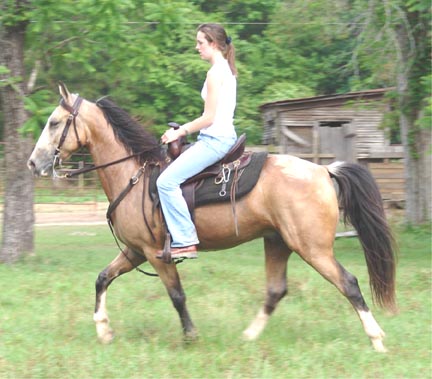 "Dillon" -- Stunningly beautiful and flashy buckskin Tennessee Walking Horse 7-yr-old gelding with big blazed face, lots of chrome. He is built stocky with a crease down his back, wide chest, big hindquarters, big dark gentle eyes, cute personality, loves treats. He has been pampered quite a bit and in fact, expects it! He was born 5-20-99 out of an Ebony Masterpiece/Sun's Delight mare, and his sire is a direct son of the National Supreme Versatility Champion "Good Friday K" (and his sire's dam is a Triple Threat/Sir Winston S mare). This horse is very athletic, has a wonderful head-shaking Tennessee Walk, will rack if you ask him, and has a very, very pleasant, easy canter/lope. This is a very fun horse to ride with a comfortable gait, nice bareback ride, and has the easy spirit that I love -- will go all day if you want him to, but doesn't pull on the bit and try to be at the front of the ride all the time. This is not a mellow, lazy horse, so if you are looking for a dead head, pass him by! He is not the type of horse that you put out to pasture and expect him to be mellow when you pick him back up 6 months later -- he will be frisky, so a person who is good with horses (maybe an intermediate rider) will enjoy him most. If he is being ridden at least 2 or 3 times per week, he is an angel! He is also not a problem, no bucking, rearing, no trouble to shoe, load in the trailer, saddle, catch in the pasture, etc. He parks out on the ground for a picture-perfect model, and also parks out from the saddle for you to get off. Dillon feels and looks like a smoother version of one of the cow horses that you used to see on television on "Bonanza" (if you're old enough to remember that show!), and even at 15H, he's stout enough to carry ol' Hoss Cartwright! $6500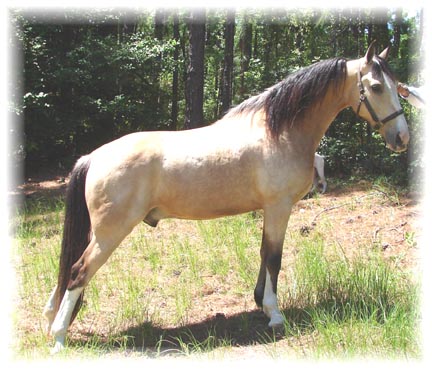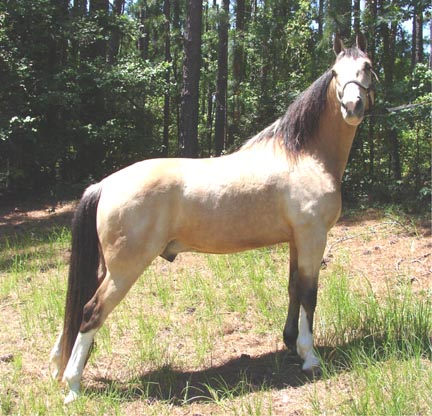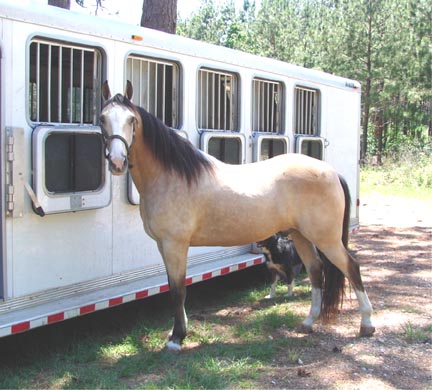 LEFT: Dillon showing his movie star qualities, and RIGHT: Dillon, being a good trail horse!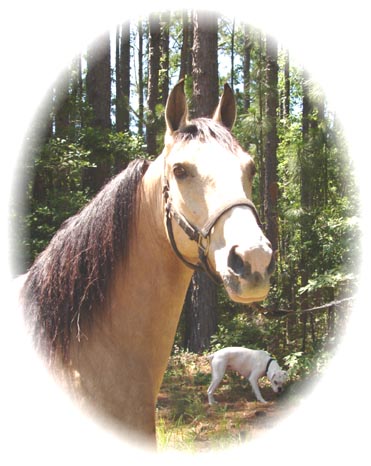 "Here's my shot at fame, and that pesky white Boxer is trying to worm his way into my 15 minutes!"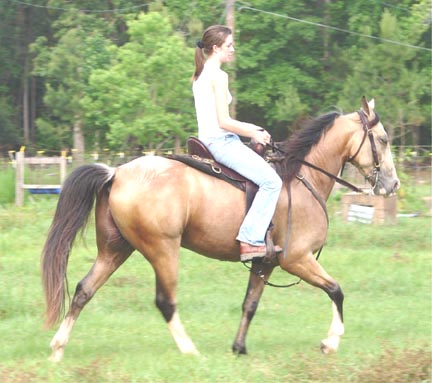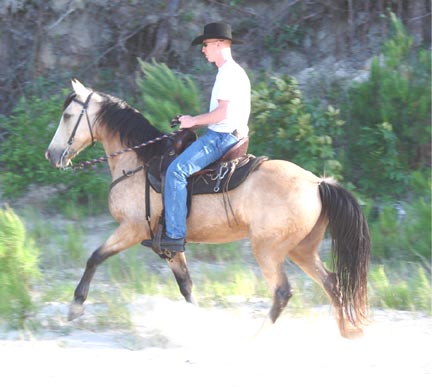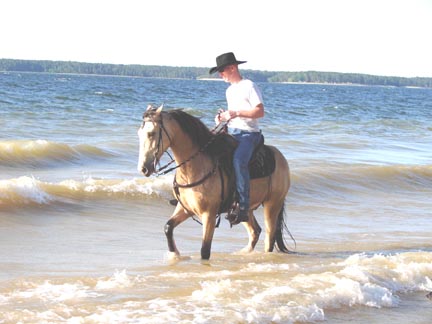 Click on picture ABOVE of Bud riding Dillon in Lake Sam Rayburn on 5/11/06 to see him handling the 'surf' on a windy day. (This is a large video and takes about 45 seconds to download on a high-speed connection.)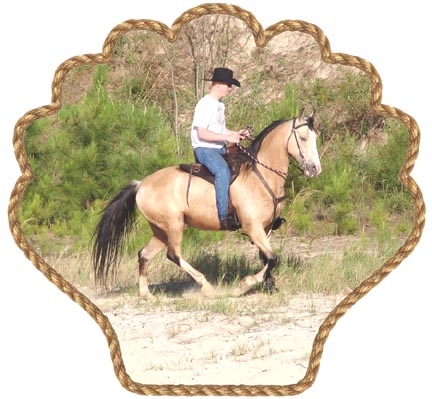 Click on picture ABOVE to see Dillon gaiting on the beach. (Another large video, recommended for high speed connection.)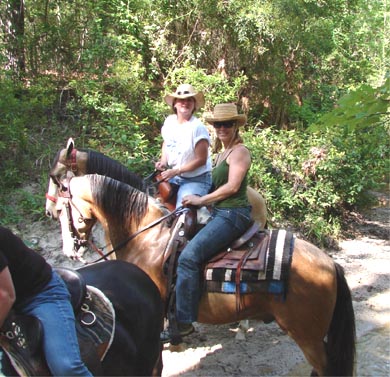 Lisa riding JW and Cynthia riding Dillon on 5/21/06, in the creek.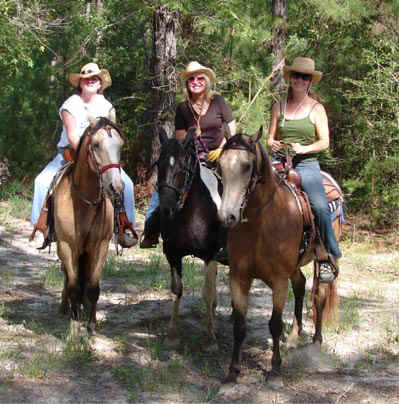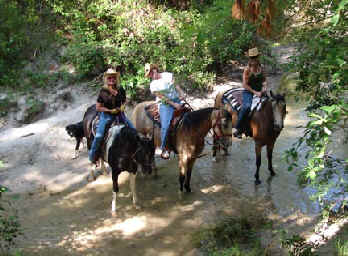 The gang from Clear Lake, Texas riding in the creek on 5/21/06. (Cynthia on Dillon, Sharon on Delilah and Lisa on JW.)



Email me!
Cloud 9 Walkers Home Page (Pleasure Horses For Sale)
Beautiful Cloud 9 Walker Babies For Sale
Cloud 9 Walkers Previously Sold
Click here for a list of Safety/Pleasure tips for you and your horse

Bridles For Sale, Stories To Read
Tennessee Walking Horse National Supreme Versatility Champion Story
Tennessee Walking Horse Links of Interest