CLOUD 9 WALKERS
"Alen's Skye Walker", a/k/a "Luke"
Gorgeous Unusual Dappled Grey Tobiano Weanling Tennessee Walking Horse Stud Colt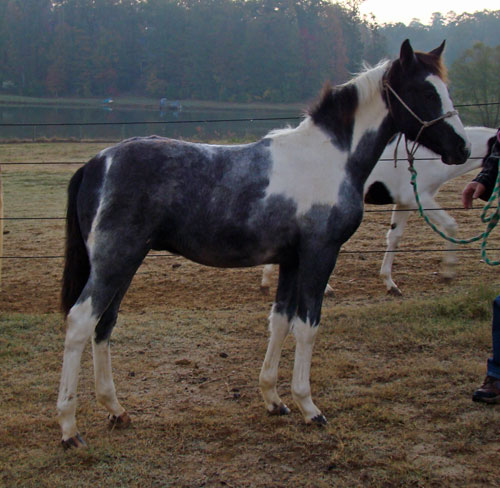 Dark pictures because we took them at sunrise on a beautiful Mississippi morning on 11/5/11.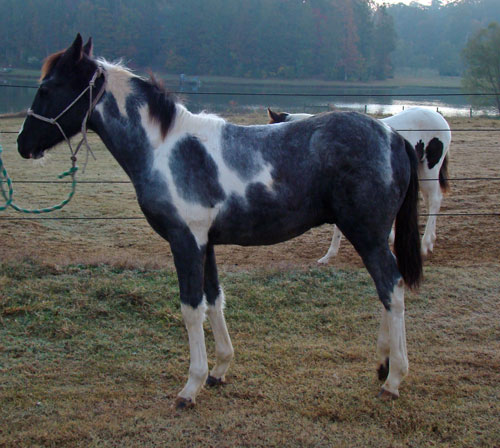 Luke's last morning in Mississippi.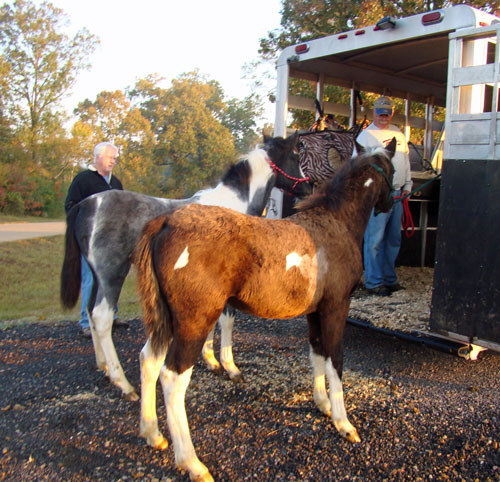 First time ever to load on a trailer, and what a trip! Texas bound!
"Alen's Skye Walker" a/k/a "Luke" -- Gorgeous (rare) unusual grey tobiano Tennessee Walking Horse stud colt, so named because he was born the day of the release of Star Wars 3D edition ("May the '4th' be with you!") . . . he will make a beautiful stallion prospect, capable of producing both solid greys as well as grey tobianos, black and whites, blacks, etc. He is a DIRECT SON of the famous multi-world grand champion producing "Spotted Alen Again" and out of a wonderful foundation dappled grey mare going back to Prides John Grey/Shades of Carbon/Mack K's Handshaker/Midnight Sun. His gait is perfection and he's athletic with a nice little slow rolling canter in the pasture. Sensible, imprinted at birth, the best of gentle care his entire life. Good things ahead for this beautiful boy! He is a half brother to our beloved "Joy" (click on her name to go to her page). Click on his picture to stay tuned to his progress. $2750
This was the last picture I got before they hopped in so easily with very little encouragement from us from behind. I love this bloodline!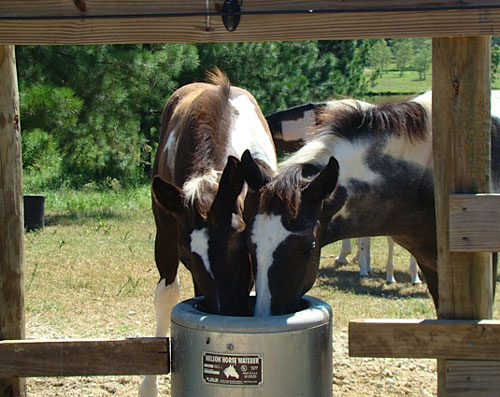 Luke and his foal hood buddy and brother, Toby drink out of their automatic waterer.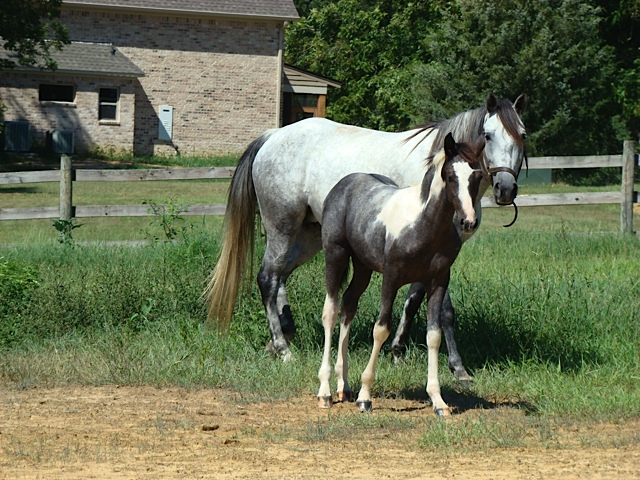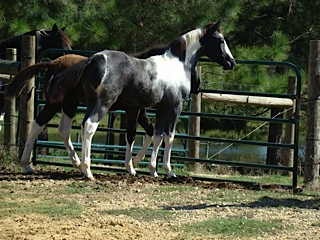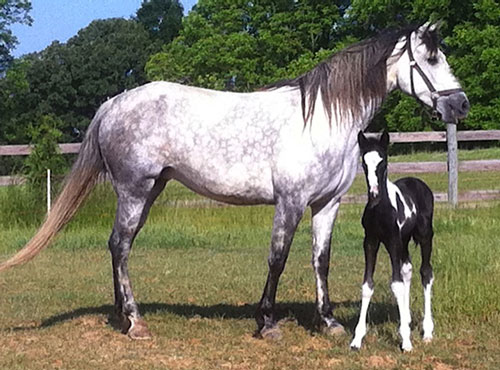 Luke, like most greys, was born black and is slowly turning grey. What a beautiful pair!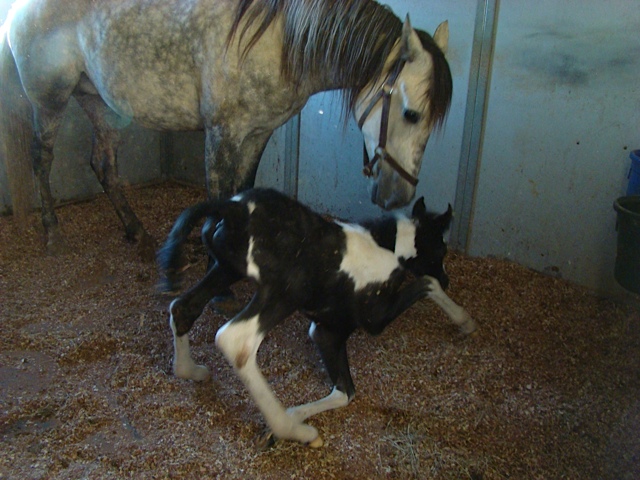 So darned hard to get those newborn legs to working!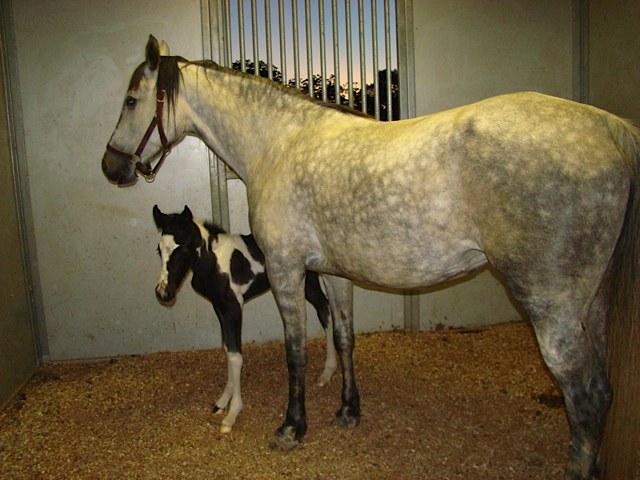 "Whew! That was a lot of work!"
Luke's Dam: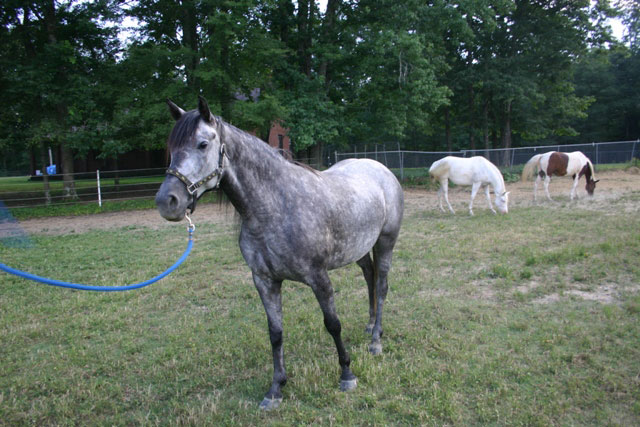 Luke's Sire: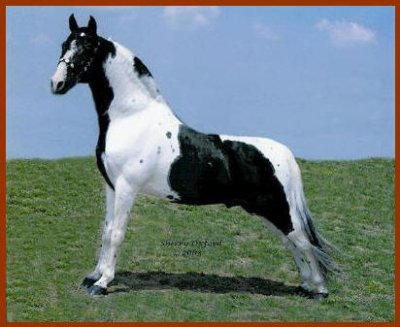 Spotted Alen has attained an unprecedented record of producing winning show horses. Alen's offspring up to 1999 have won 84 World Championships, 62 Reserve World Championships, and 411 divisional World Champion wins. Alen's year 2000 totals include 2 World Grand Championships, 6 Reserve World Grand Championships, 7 World Champions and 6 Reserve World Champions. In the past 5 years 2 of the World Grand Champion Spotted Saddle Horses were sired by Spotted Alen. In 1995 it was Alen's Lethal Weapon and in 2000 it was Pride of Alen Again.
Spotted Alen Again is registered with four different registries: The Spotted Saddle Horse Breeder's and Exhibitor's Association, the Tennessee Walking Horse Breeders and Exhibitors Association, the Racking Horse Breeders Association, and the National Spotted Saddle Horse Association.
Show Record with SSHBEA
1987: Reserve 2Yr Old Stallion
1988: 3Yr Old Stallion & 3Yr Old World Champion
1989: 4Yr Old Stallion & Res World Grand Champion & Supreme Champion
1990: 5Yr & Over Res Champion
LUKE'S PEDIGREE:
|---
REED'S SHADOW MAN
|---
GO BOY'S SHADOW
540615
* BL
|---
SHADOWS SPOTTED ALEN
---|
6510512
AR
---|---
BONNIE BOYD
463624
RN
|
816738
BA-TO
|
|---
MIDNIGHT CURLEE "P"
|---
ELROD'S GOLD SUN
560576
CH
SPOTTED ALEN AGAIN
651757
YL
---|---
SUE LASSITER
462238
SO
857584
CH-TO
|
|
|---
SUNS ELDORADO
|---
MIDNIGHT SUN
410751
* BL
|
|---
LADY ELDORADO B.
---|
560160
BL
---|---
QUEEN MARY H.
560159
SO
|
687752
SO
|
|---
HOLDER'S LADDER LADY
|---
MIDNIGHT RED BOY
590507
BA
ALEN'S SKYE WALKER
662881
RN
---|---
ALLEN'S SUE BATES
471151
RN
21100433
BL-GR-TO
|
|---
PRIDES JOHN GREY
|---
PRIDE OF MIDNIGHT H.F.
661459
BL
|
|---
ANOTHER GREY JOHN
---|
785926
GR
---|---
SMITHS MIDNIGHT LADY
631695
GR
|
|
847253
GR
|
|
|
|---
SHADES PAIGE GIRL
|---
SHADES OF CARBON G. L.
701901
* BL
ANOTHER SHAKE UP
791383
CH
---|---
PAIGE'S BLACK GIRL
673029
BL
20402254
GR
|
|---
SHAKER'S PROFESSOR
|---
MACK K'S HANDSHAKER
561320
* BL
|---
IKE'S LADY SHAKER
---|
744022
BL
---|---
KITTYS KANDY KISSES
550884
BL
851064
BL
|
|---
MY IKE LADY
|---
MIDNIGHT IKE
551044
BL
804985
BA
---|---
EBONY'S TWIGGY
730548
BA
*-World Grand Champion


Cloud 9 Walkers
P. O. Box 878
Hardin, Texas 77561-0878
(55 minutes east of Houston)
281-726-4545
(Entire contents of this website copyrighted by Cloud 9 Walkers)

Email me!