CLOUD 9 WALKERS
"Sam"
15.1H 10-1/2 yr-old Gentle Golden Dappled Palomino Tennessee Walking Horse Gelding
Nice, Sweet, Gentle Family Horse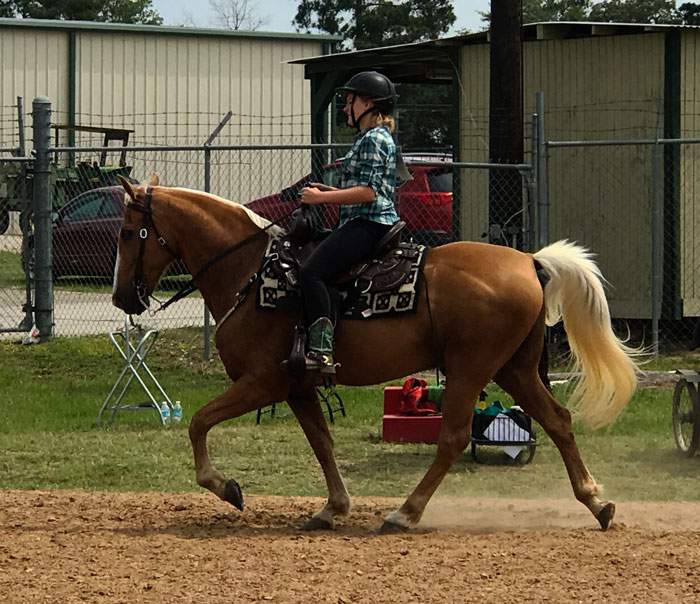 Hailey, warming Sam up before his blue ribbon ride at the Gaited Rumble Horse Show in Conroe on 5/27/17.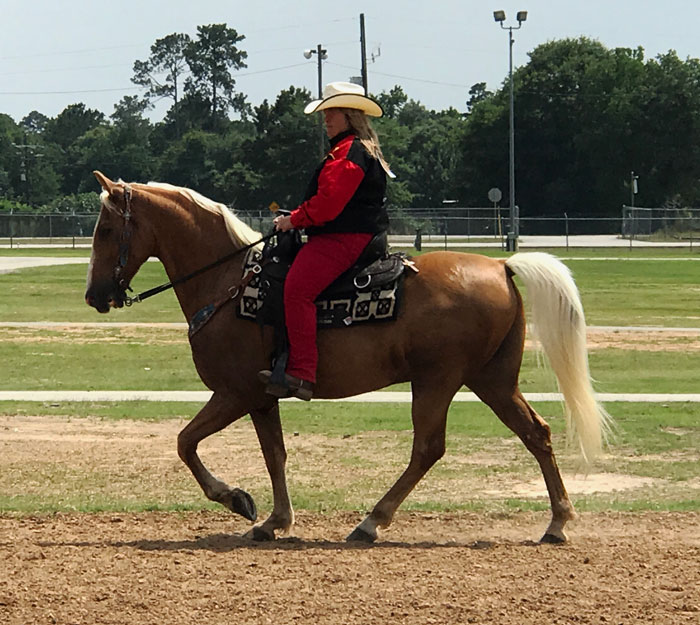 Debbie heading toward the entrance to the arena where she wound up winning second place in her pleasure class at the Gaited Rumble Horse Show on 5/26/17.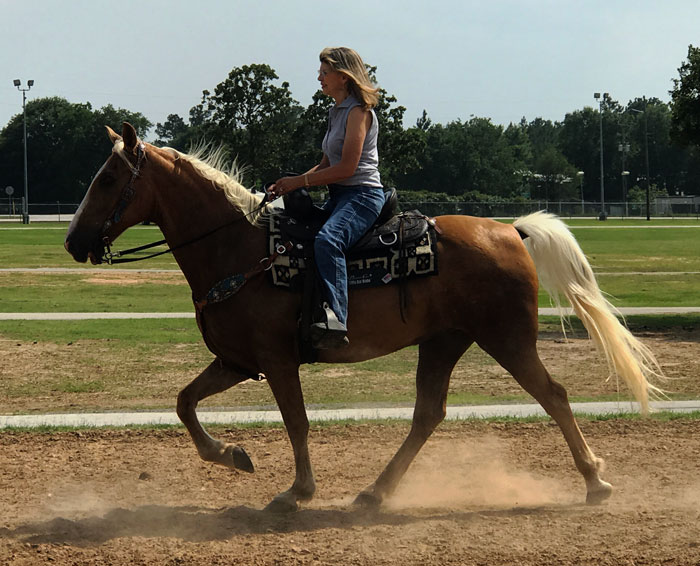 Time to put Sam in his stall to rest at lunch break during the Gaited Rumble Horse Show on 5/26/17, and Karen, who was visiting us, volunteered to ride him back and untack him.
Click on embedded arrow ABOVE to see Hailey riding Sam in our local horse show and winning first and second places!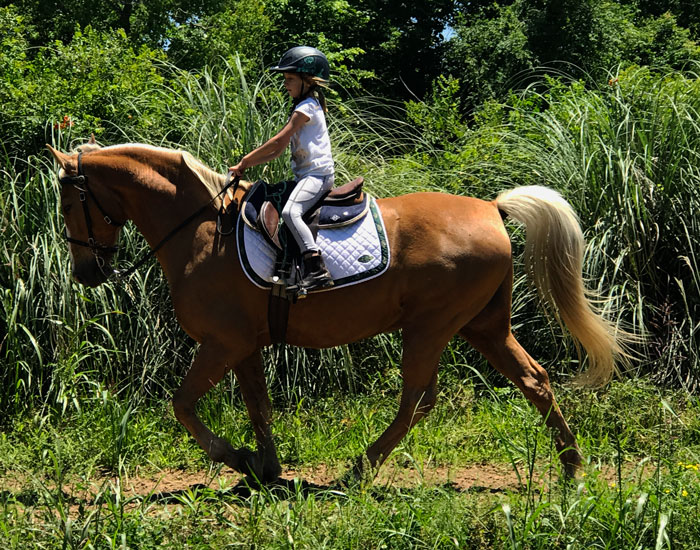 Little 7-yr-old Reygan rides Sam on 5/6/17 to practice in our show clinic to get ready for our upcoming horse show.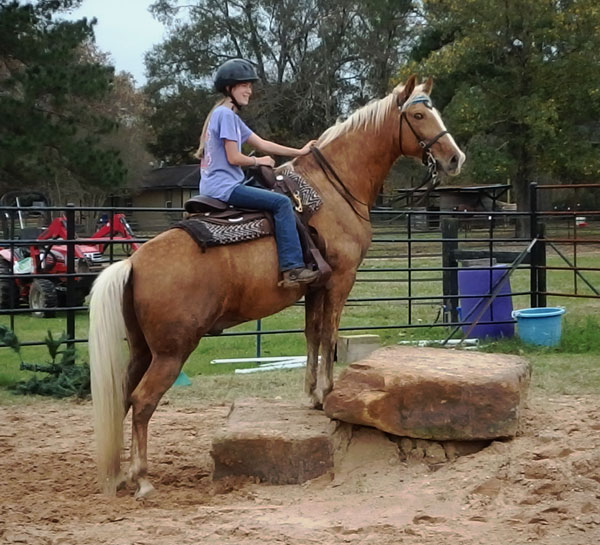 Obstacle training at Starstruck Ranch with Cheyenne.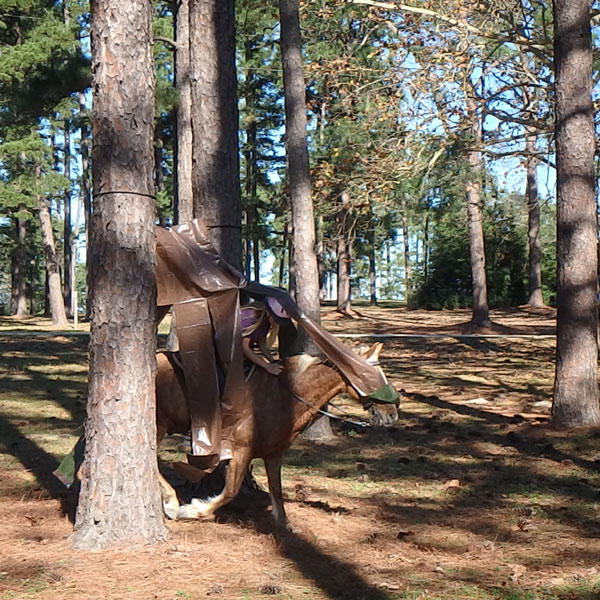 Cheyenne is riding Sam through the 'carwash' obstacle that we set up at camp in the Angelina Forest during our camping trip of 1/15/16 and they both had to duck a little because the rope sagged and the tarp was hanging too low. Good job, guys!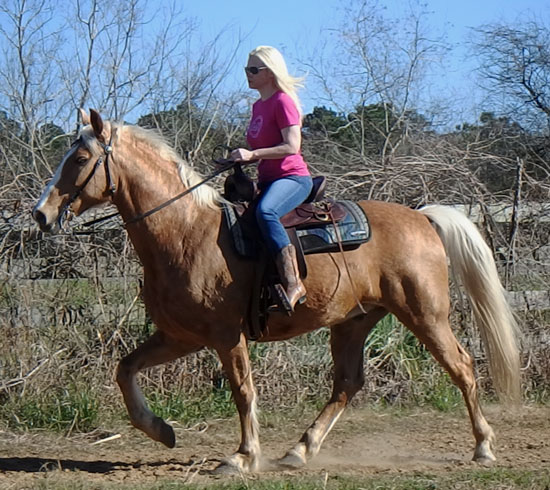 Heather rides Sam on 1/30/16.
Sam is such a great work horse to have around! Cheyenne is ponying two fillies with him in this video, above.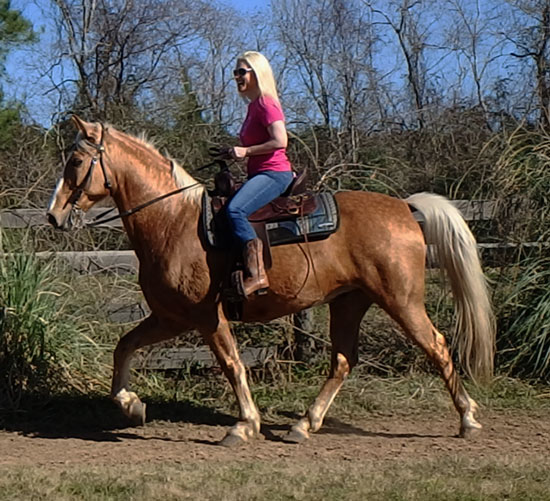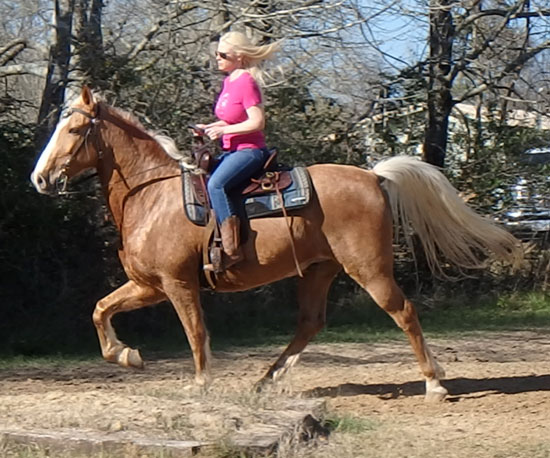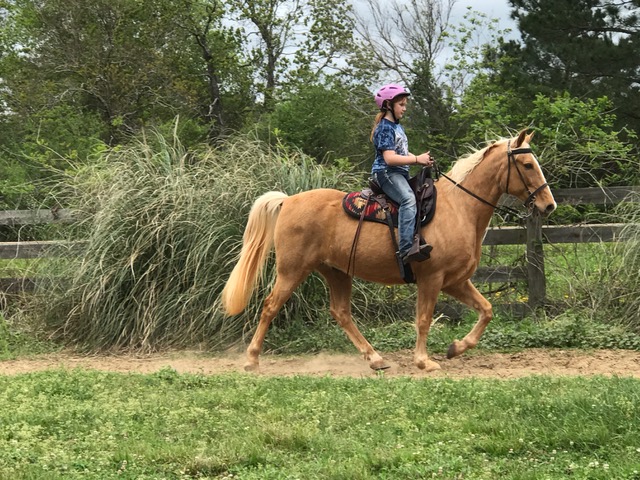 Riley takes Sam for a ride in the arena on 3/16/17.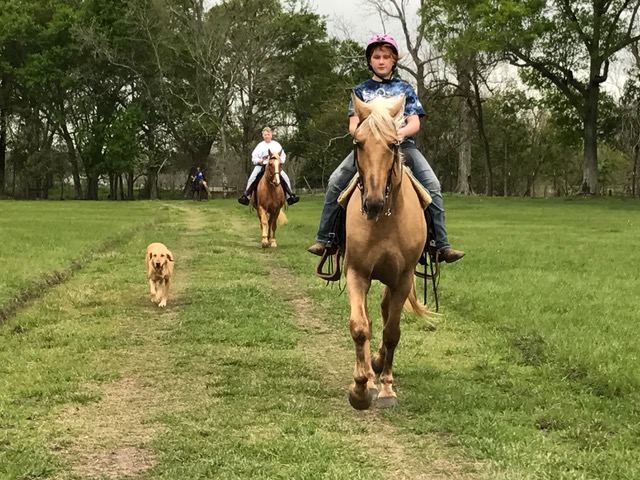 Riley is riding our young stallion, Jackpot, and her grandmother, Gail is following on Sam on 3/17/17.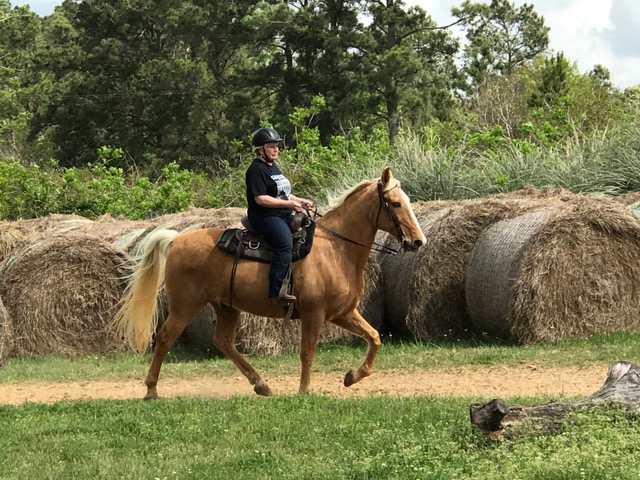 Susan visited us from South Carolina and took a riding lesson from us on 3/17/17.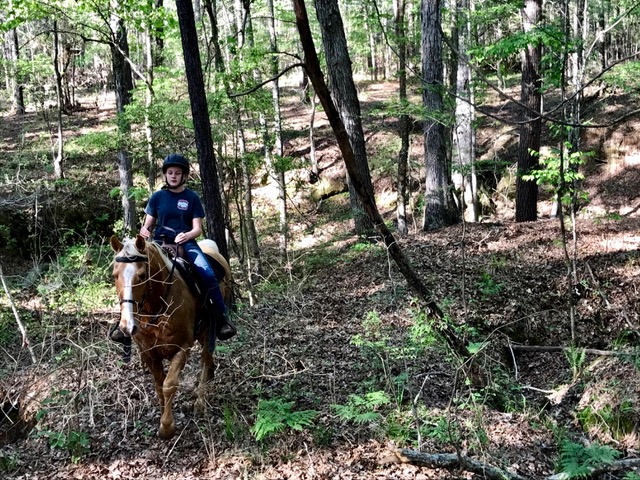 Hailey is riding Sam through the piney woods of East Texas during our camping trip the week of 3/25/17.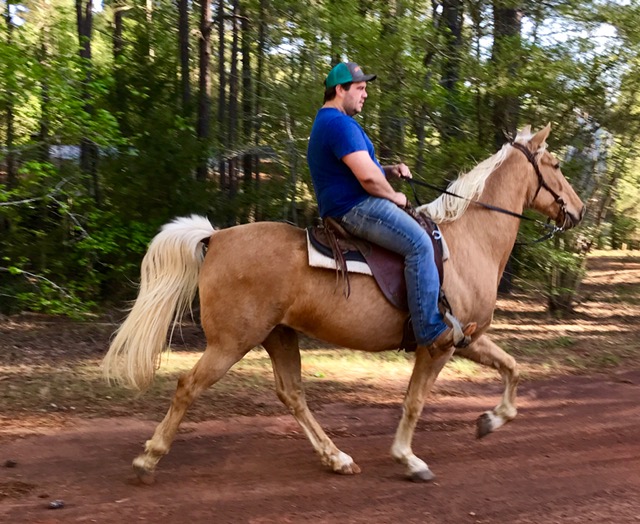 Colton only rides about twice a year, and he is riding Sam here during our camping trip in the piney woods of East Texas the week of 3/25/17.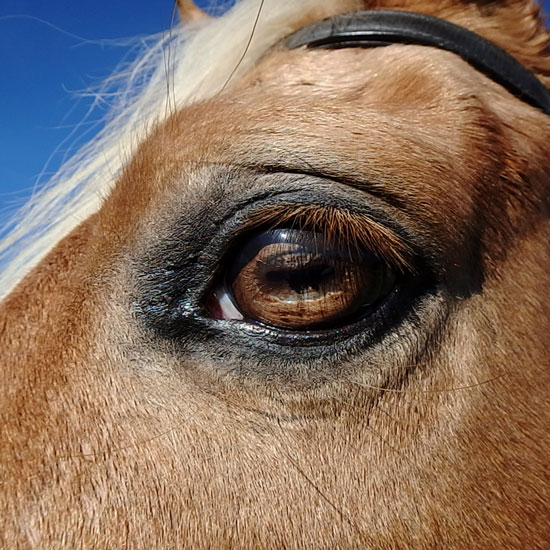 Sam has gorgeous eyes!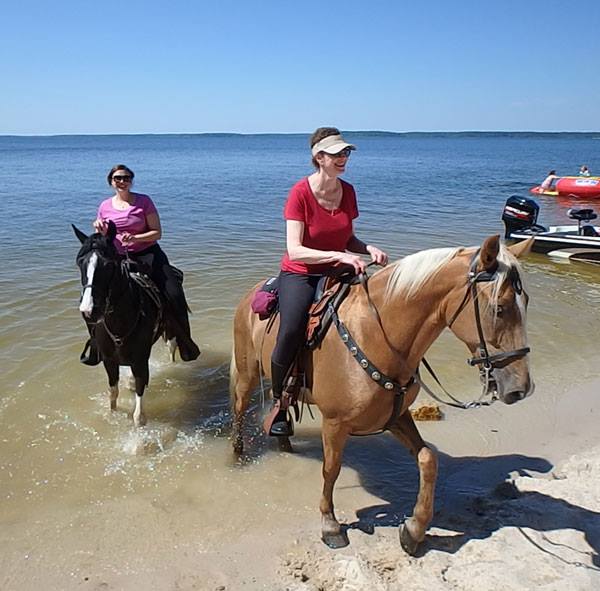 Look at that smile! Nancy hasn't ridden in four years, and this was her first time back in the saddle. Good ol' Sam took her to the beach. What a great Mother's Day weekend she got to spend with her daughter, Micaela, who was riding Sophie. So many boats on the lake that we barely found a spot to squeeze between them and get a photo op.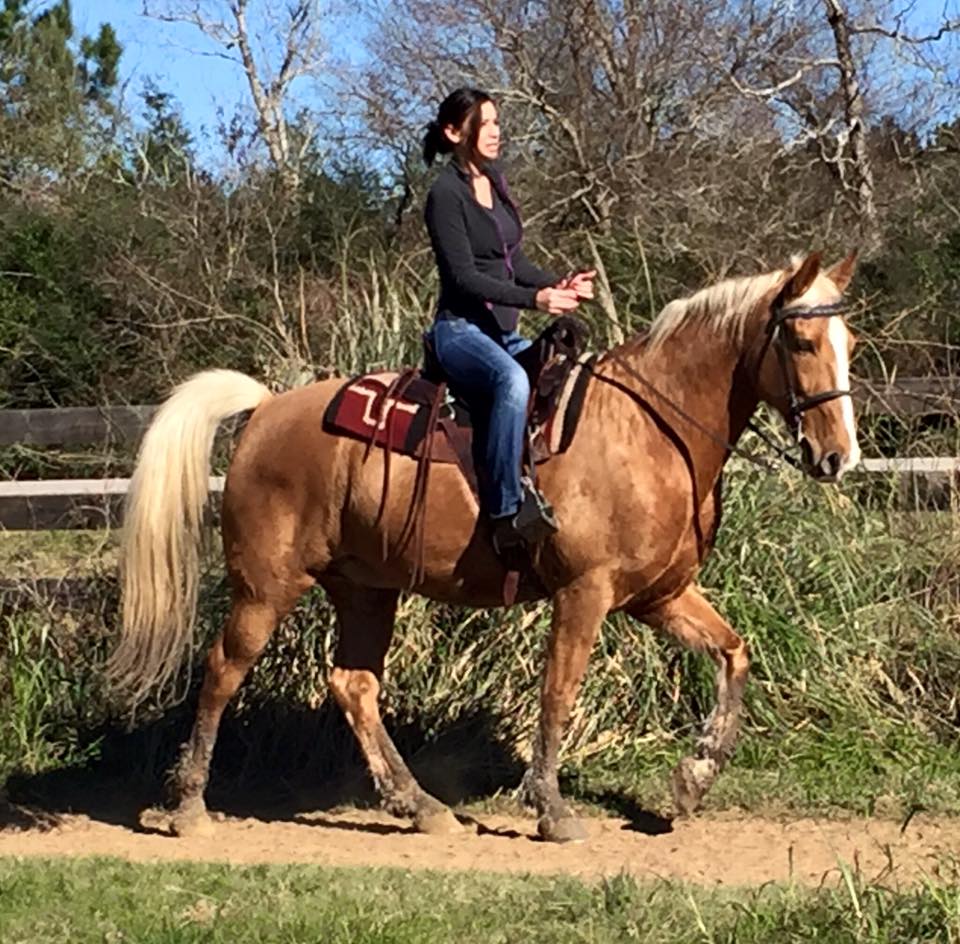 Marie rides Sam right after we pulled him in from a muddy pasture and put him to work!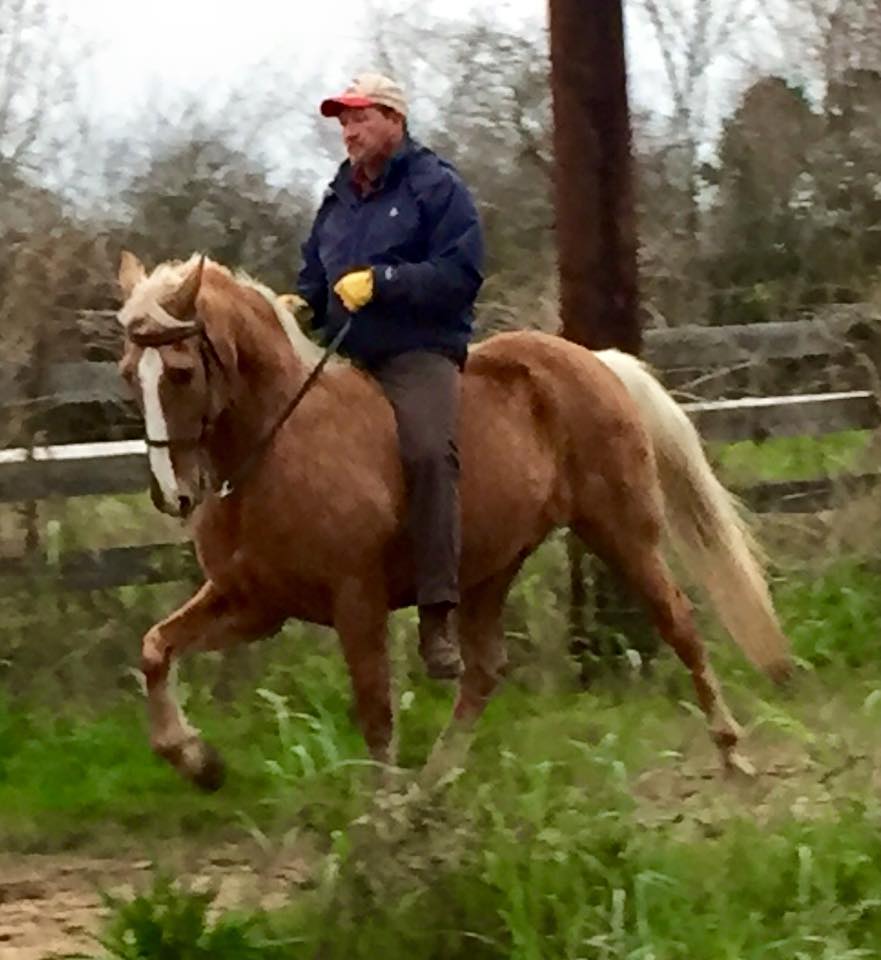 Liz and I took turns riding Sam bareback, and we challenged Tim to hop up on this slippery slope. He is visiting us from South Carolina, and not only did he accept the challenge, he turned Sam's motor on and strutted his stuff! His wife rode Diamond Dak and helped us bring in newborn baby goats.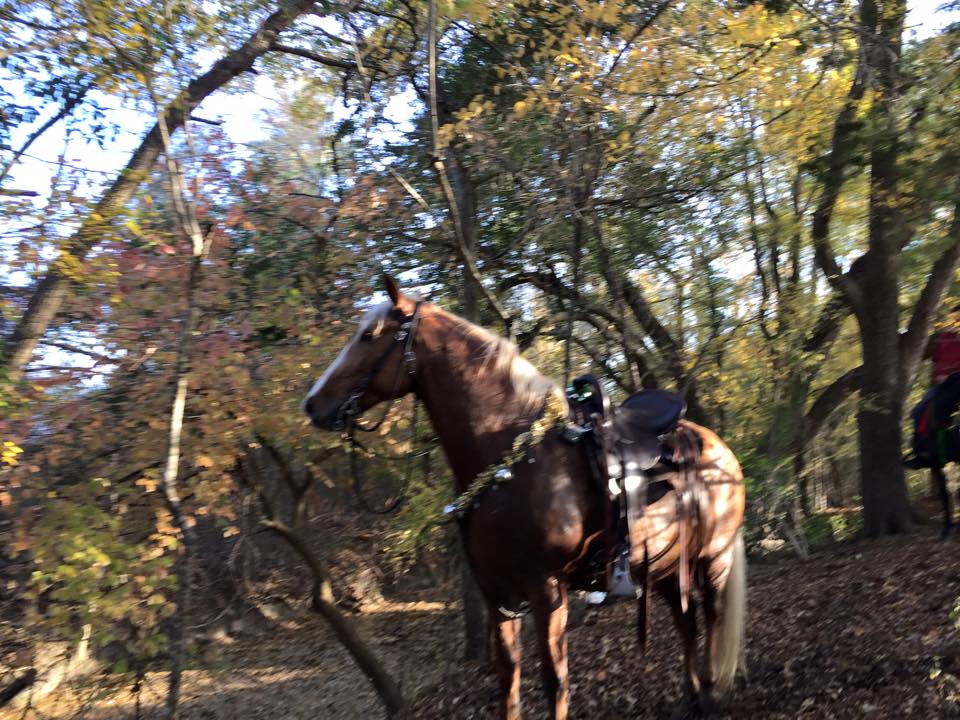 I rode Sam during our camping trip in December at a cattle ranch in Brenham, Texas. We are taking a break beside a creek, here.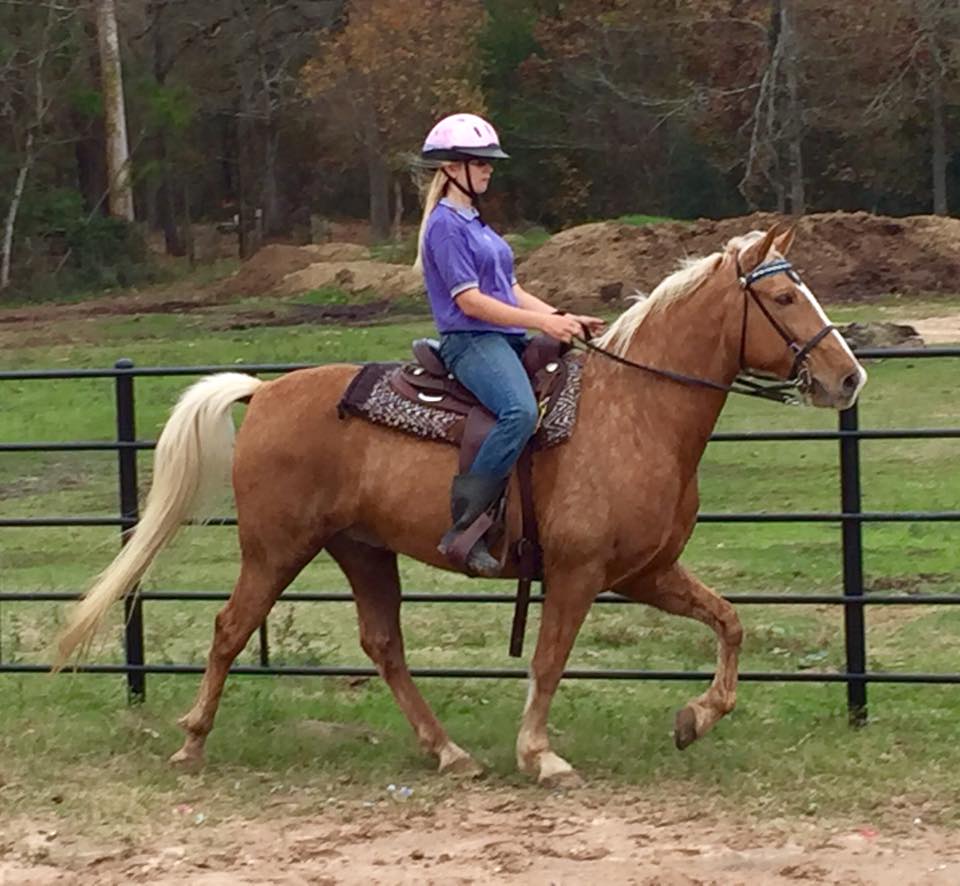 "Sam" -- Gorgeous, stocky like a Quarter Horse, huge, round rump, big wide chest, sloping shoulder, big bone structure, between 15.1 and 15.2H (but not over 15.2H), dapples in his coat, dark golden color even in the winter . . . and as a bonus, probably anyone would feel safe riding him. He performs a fun smooth racking gait with white tail streaming out behind him, and if something scares him, he spooks in place. He comes from top bloodlines in the breed and is a perfect age at 10-1/2 years old. He has been barefoot for almost all of his life and has excellent rock hard hooves of steel. We did put front shoes on him only to get him ready to take to the mountains. Sidepasses, pivots, forehand turns and is doing really great on the obstacle course. Very sweet, people loving, trusting gelding with a willing heart. Great family horse, great forever horse. This is the horse that you can put your whole family on and friends who drive up. Sam is only available for purchase because of his owner's family's health problems and having to dedicate time to being a caretaker. $12,000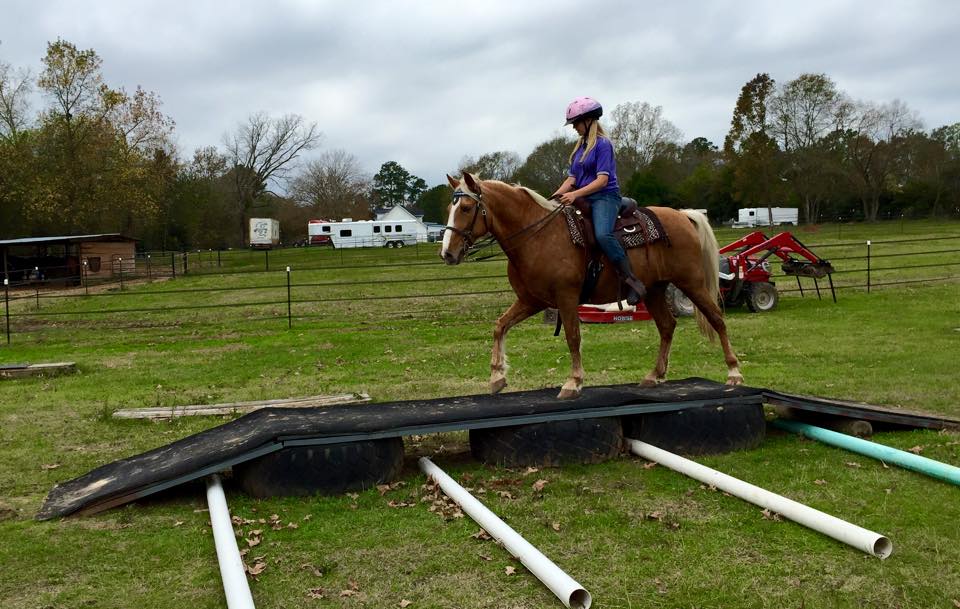 Ruth rides Sam through the obstacle course at Starstruck Ranch in December, 2015.
Ruth getting to know Sam in December of 2015.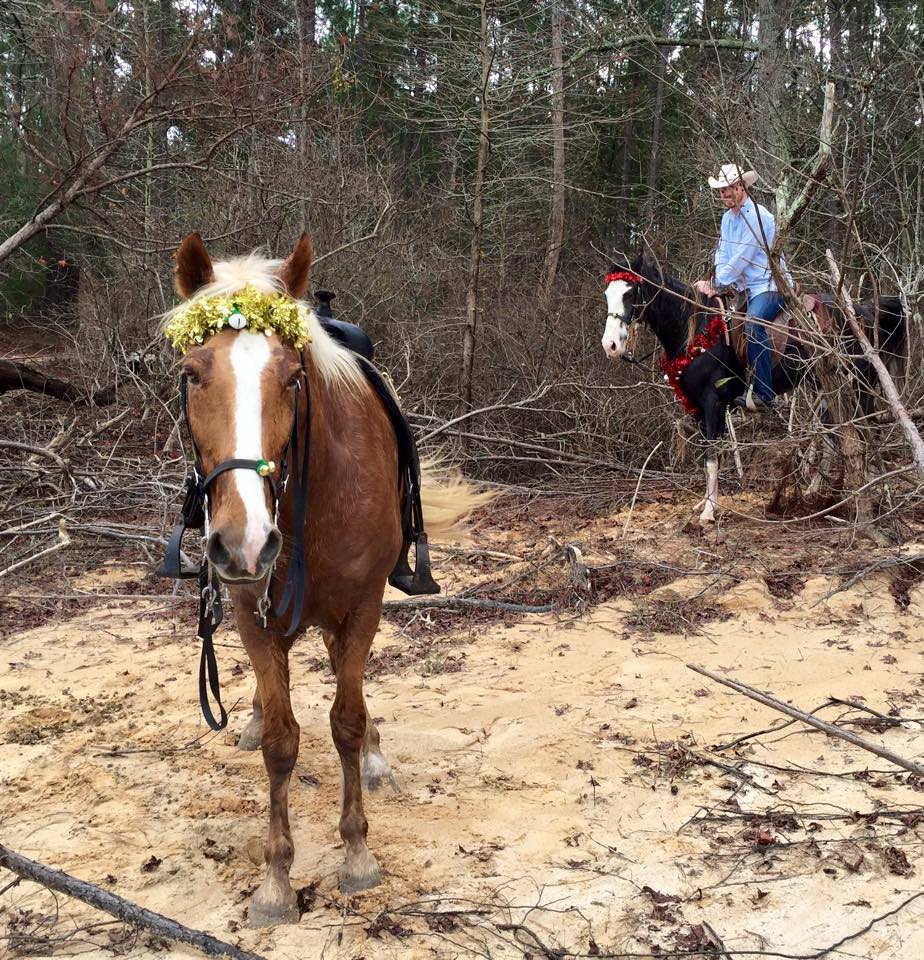 Practicing ground tying while I photography this less than enthusiastic tinsel-wearing moment on the beach at Lake Sam Rayburn on Christmas Day, 2015.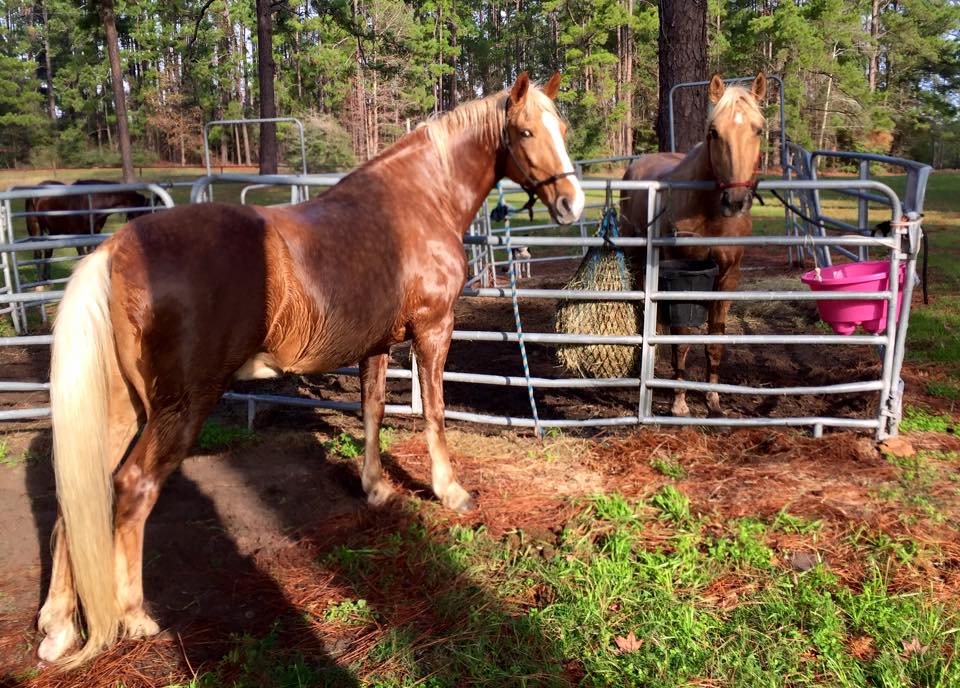 I love that Sam gets along with just about any horse you put him next to. Here, he is tied outside a young stallion's pen and they are sharing a hay bag while we camp at Lake Rayburn during Christmas week, 2015.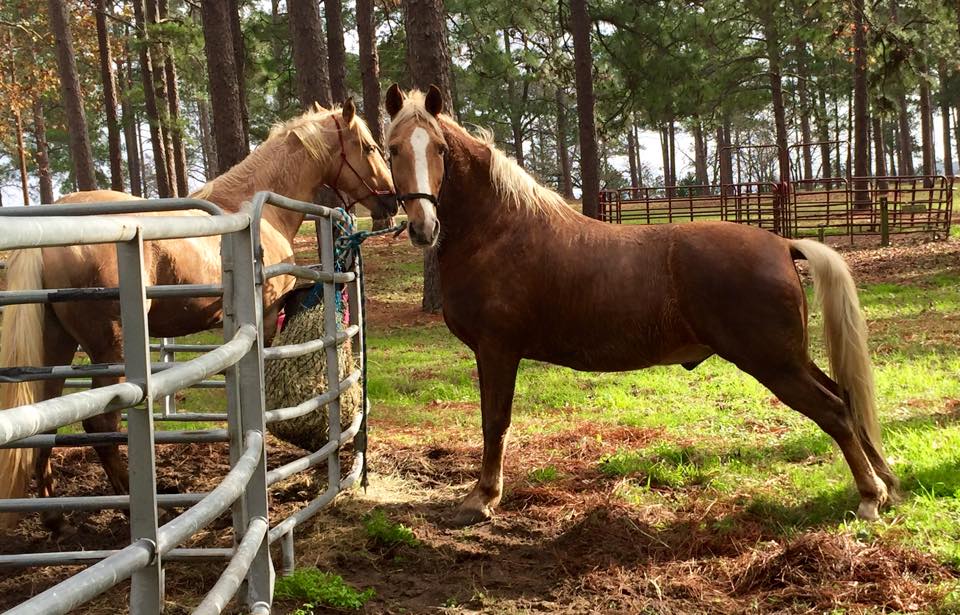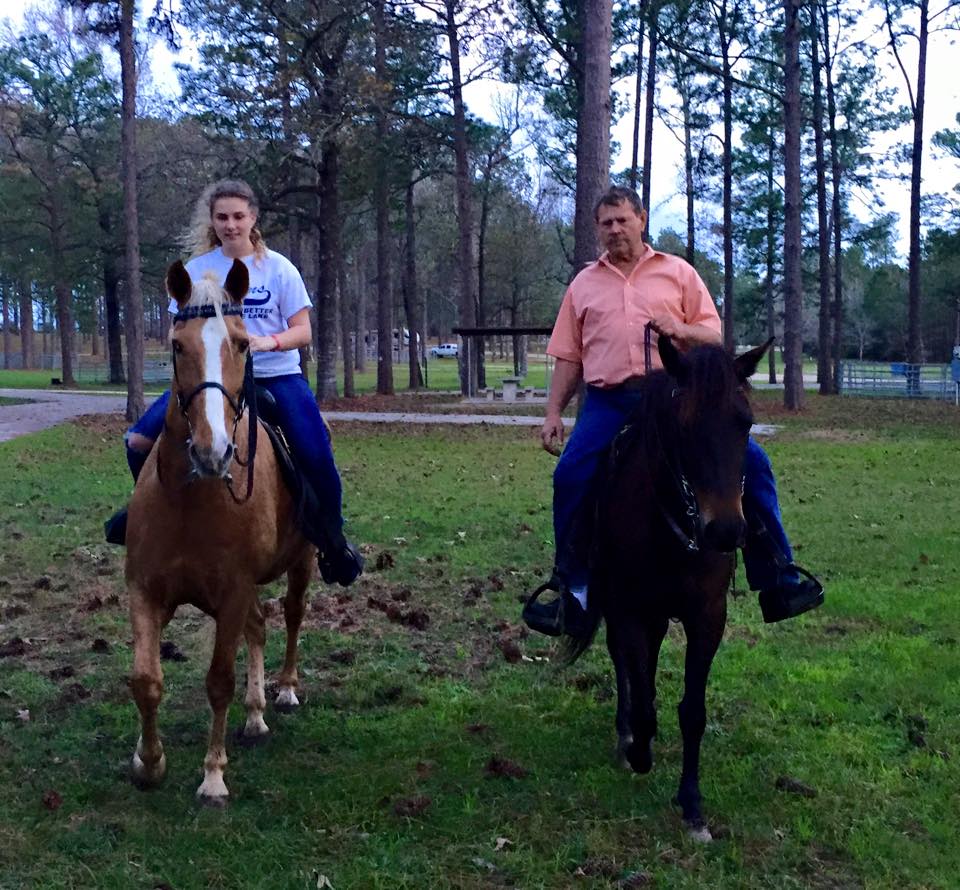 We had visitors at Christmas, and they were dying to ride a horse, so we put them on Sam and let them follow Huey on Sister Sara around camp.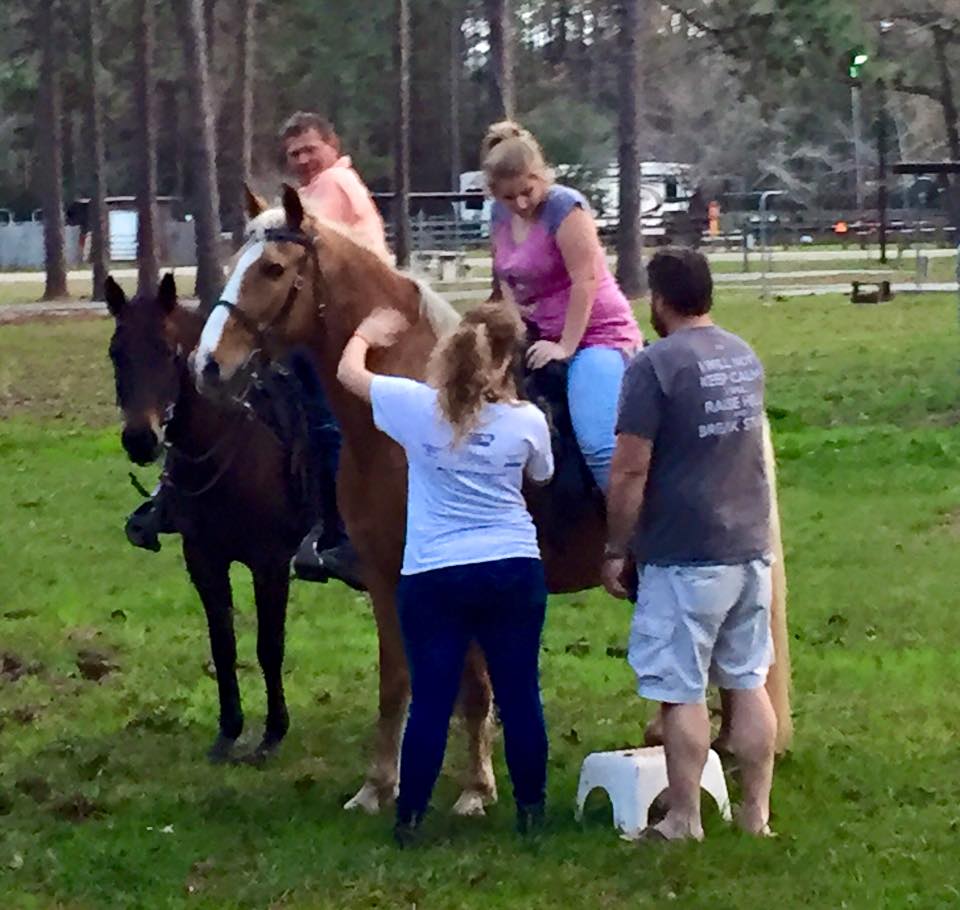 Visitors who were dying to ride a horse on Christmas Day stopped by our camp and we let them hop on Sam.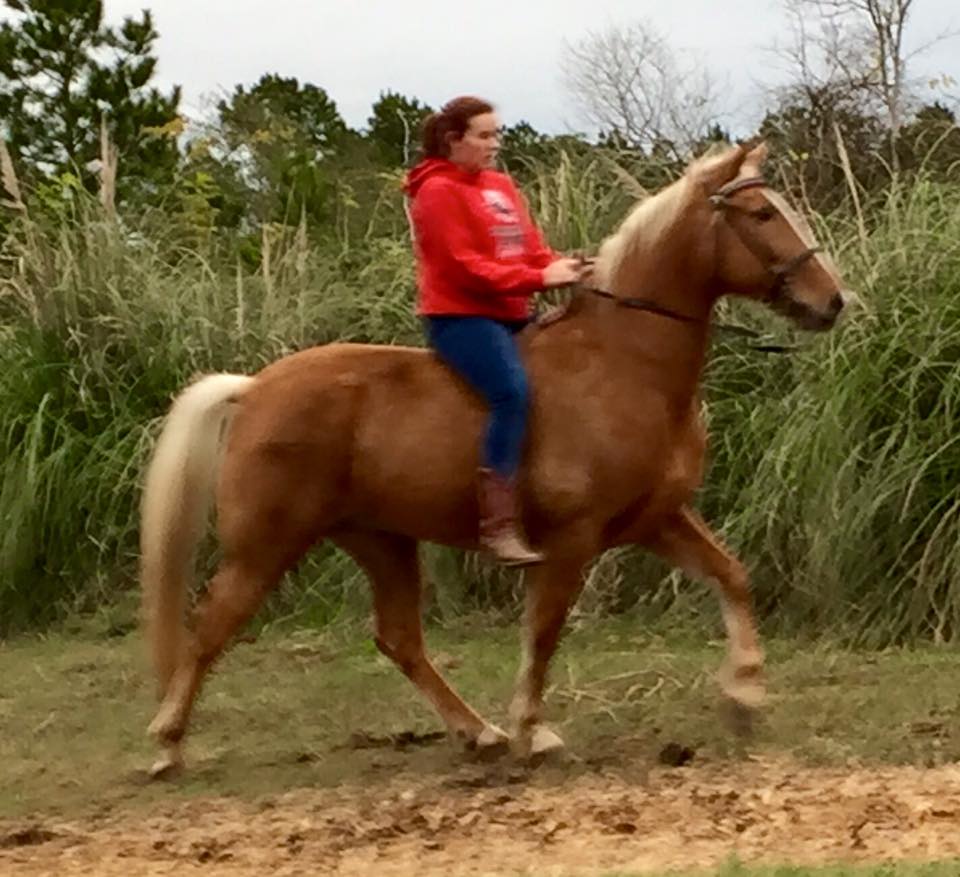 Liz, riding Sam bareback!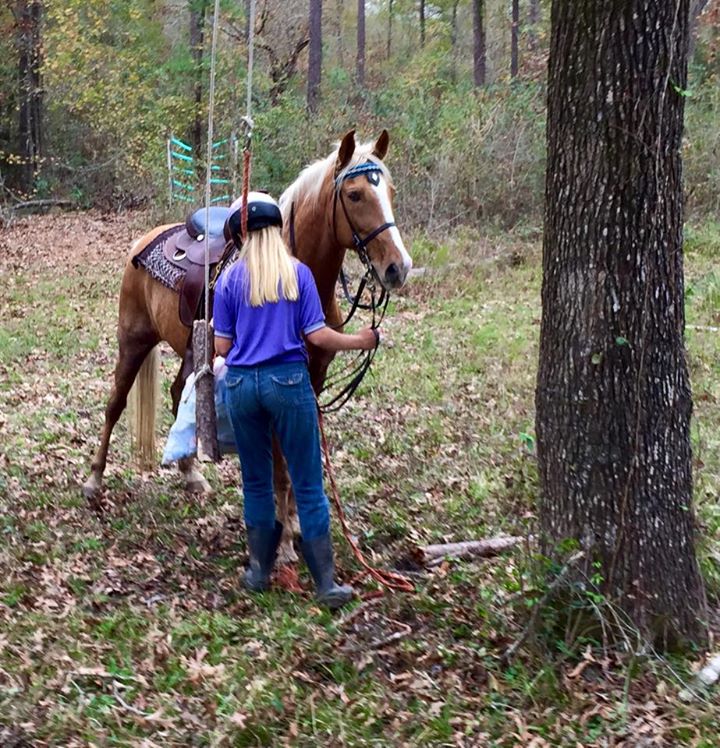 Ruth does a little groundwork with Sam to get him accustomed to a noisy white bag of cans that jumps up and down out of a tree!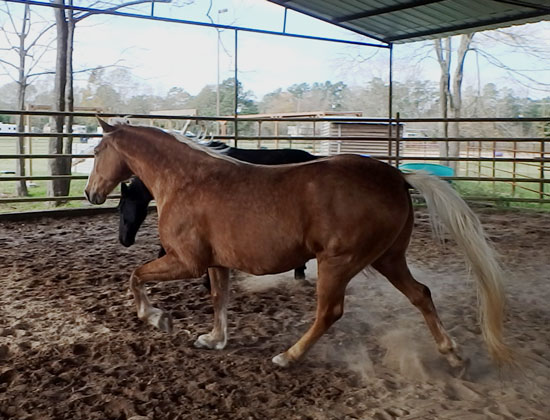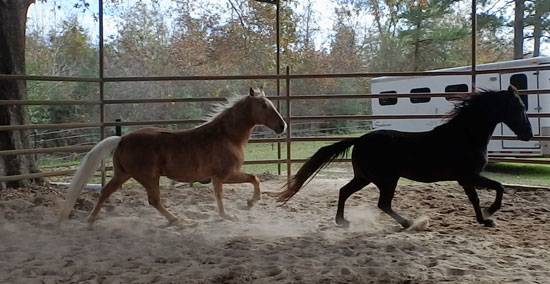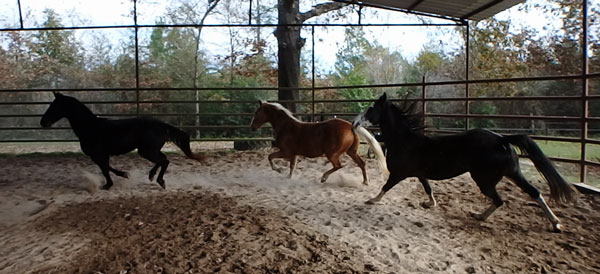 Cloud 9 Walkers
P. O. Box 878
Hardin, Texas 77561-0878
(55 minutes east of Houston)
281-726-4545
(Entire contents of this website copyrighted by Cloud 9 Walkers)

Email me!