CLOUD 9 WALKERS
"Tabasco"
Gorgeous Chestnut Tennessee Walking Horse Gelding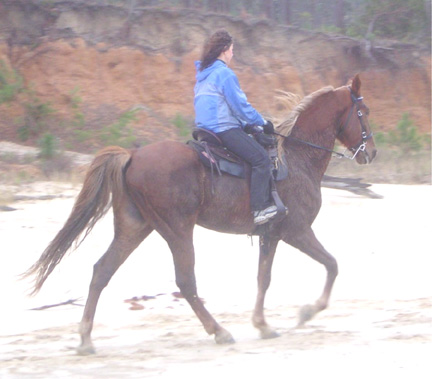 At the beach at Lake Sam Rayburn on January 24, 2006.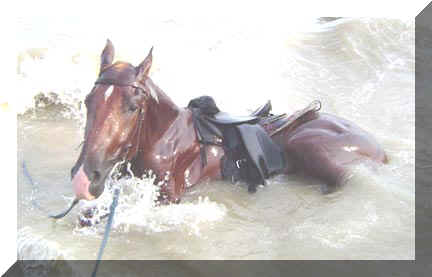 "Tabasco" -- This was his first time at the beach (9/8/05), and he LOVED the water! (I am holding him while taking the picture.) That's sheer ectasy on his face -- he thinks he's in his own personal hot tub!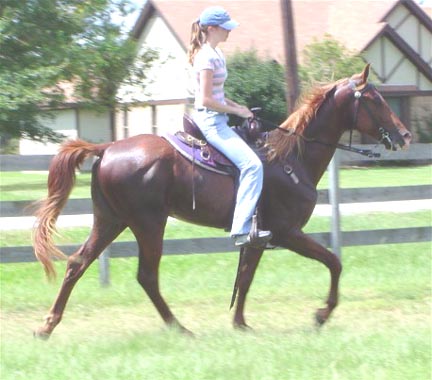 Click on picture ABOVE to see Tabasco's floating smooth gait.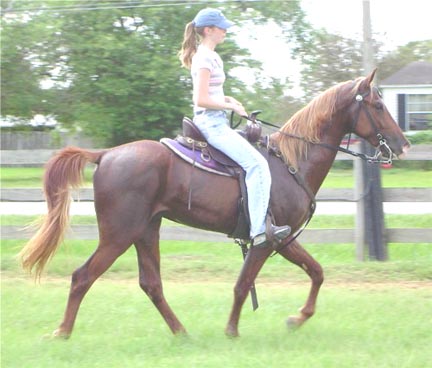 This is a beautiful gelding with long swan neck, blondish red mane and tail, star and snip. He is very, very sweet natured and affectionate, but his biggest claim to fame is his incredibly smooth gait -- it feels like you're gliding along on air when you're riding him, and there is not a trace of pace in his body! He wears nothing but plates, no long toes, no gimmicks -- he's all natural, and then for an encore, his canter will make you cry it's so smooth! Your seat never leaves the saddle and he slips into it effortlessly -- no training or coaxing. He is 3 years old and anybody can ride him and feel safe. He is completely comfortable around people and looks to us for care and comfort. He was caught in Hurricane Rita by some vines and couldn't get loose. I saw all the other horses running, but didn't see him, so when the eye of the hurricane passed over us, I went outside, got on the 4-wheeler and found him, tangled in vines. He stood quietly while, 4-wheeler running, while I took my pocket knife and cut him loose. Then he let me lead him out of the trees. I thought I would keep him for my own personal riding horse, but I have too many youngsters to train to be able to spend time with him.
Tabasco is sired by a direct son of Prides Generator, and his dam is a Sun's Delight D/Ebony Masterpiece cross. This kind of gait just doesn't come along every day. $4500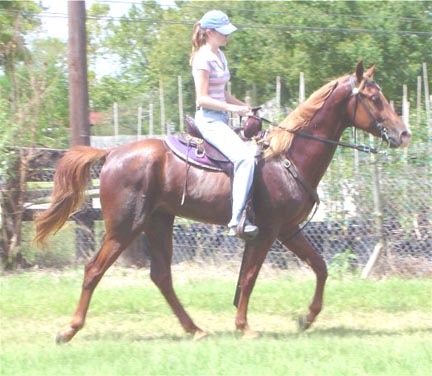 Click on picture above to see Tabasco's fantastic canter. Be sure to watch Jennifer's jeans, to see that they never move out of the saddle.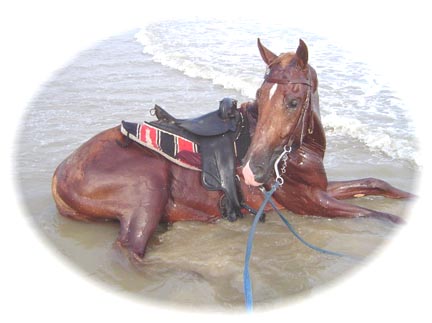 "I was a cat in my last lifetime -- I need to be pampered!"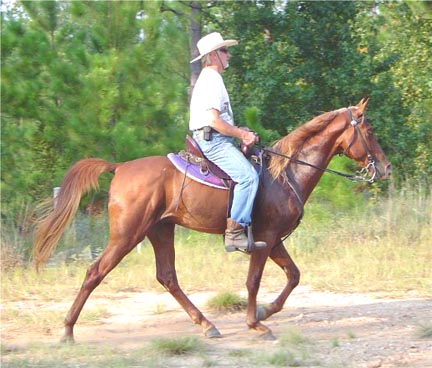 Gary riding Tabasco on 9/11/05 at camp (Angelina Forest).


Email me!
Cloud 9 Walkers Home Page (Pleasure Horses For Sale)
Beautiful Cloud 9 Walker Babies For Sale
Cloud 9 Walkers Previously Sold
Click here for a list of Safety/Pleasure tips for you and your horse

Bridles For Sale, Stories To Read
Tennessee Walking Horse National Supreme Versatility Champion Story
Tennessee Walking Horse Links of Interest