CLOUD 9 WALKERS
"Whodoo"
15.3H 10-yr-old Black & White Spotted Saddle Horse Gelding
Super Fun 4-Beat Fast Gaited Horse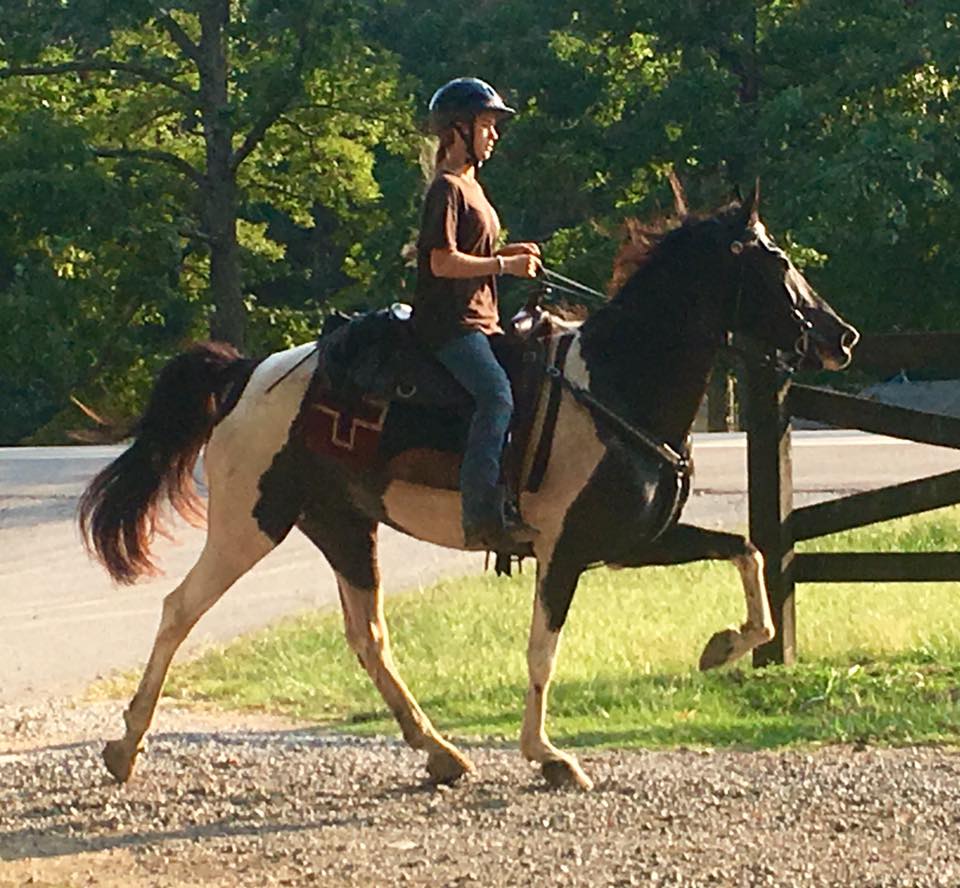 Cheyenne rides Whodoo during our camping trip in Tennessee at Circle E Guest Ranch in Belvedere, TN.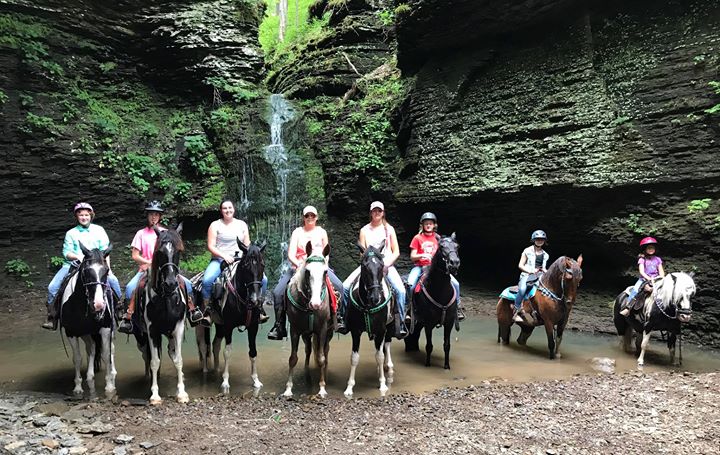 Our fabulous youth riders in Box Canyon on this camping trip in the Arkansas Ozarks!

From left:
Riley on Annie
Cheyenne on JR
Liz on Whodoo
Lexie on Ms. Bling
Kathryn on Hashtag
Hailey on Shaka Laka
Aubrey on Jack
Billie on Mandu
Whodoo's beautiful true walking gait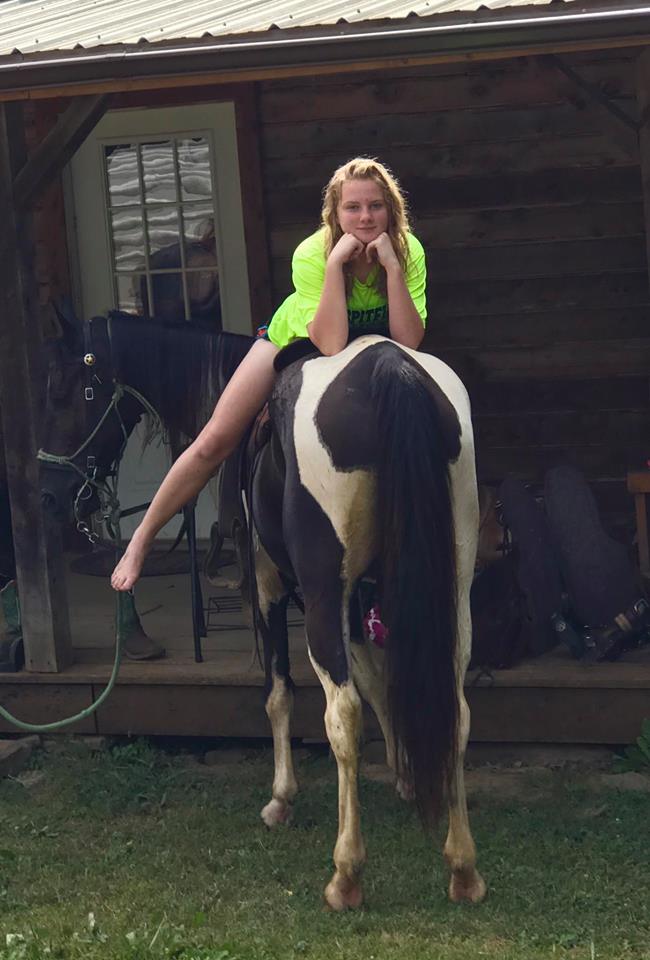 Hailey, chilling on Whodoo after our ride in the Arkansas Ozarks on 6/17/17.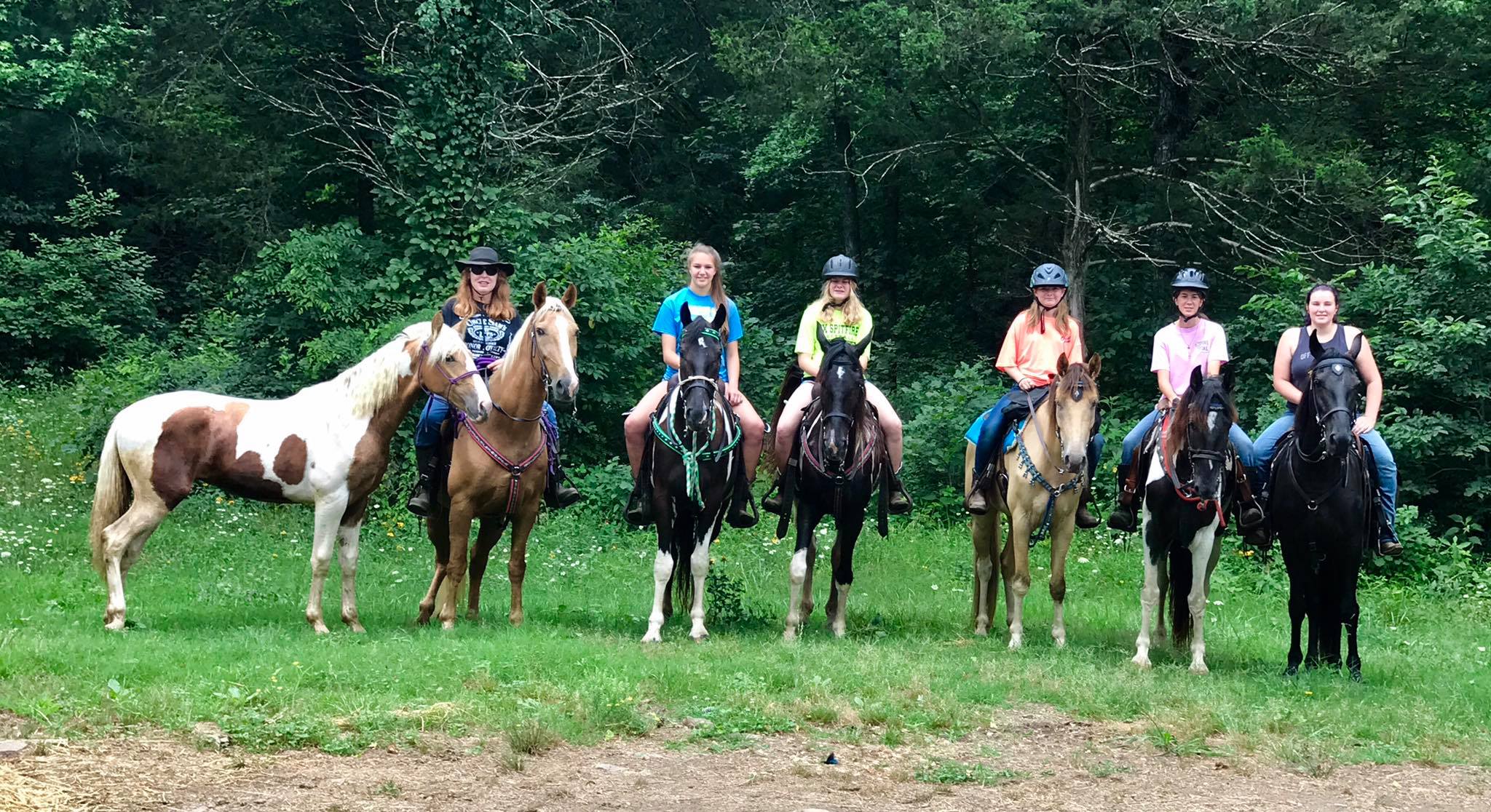 Our morning ride on our last day in Arkansas . . . I am on Sam, ponying Princess Lilly; Kathryn is on Hashtag; Hailey is on Whodoo; Aubrey is on Butterscotch; Cheyenne is on JR; and Liz is on Shaka Laka.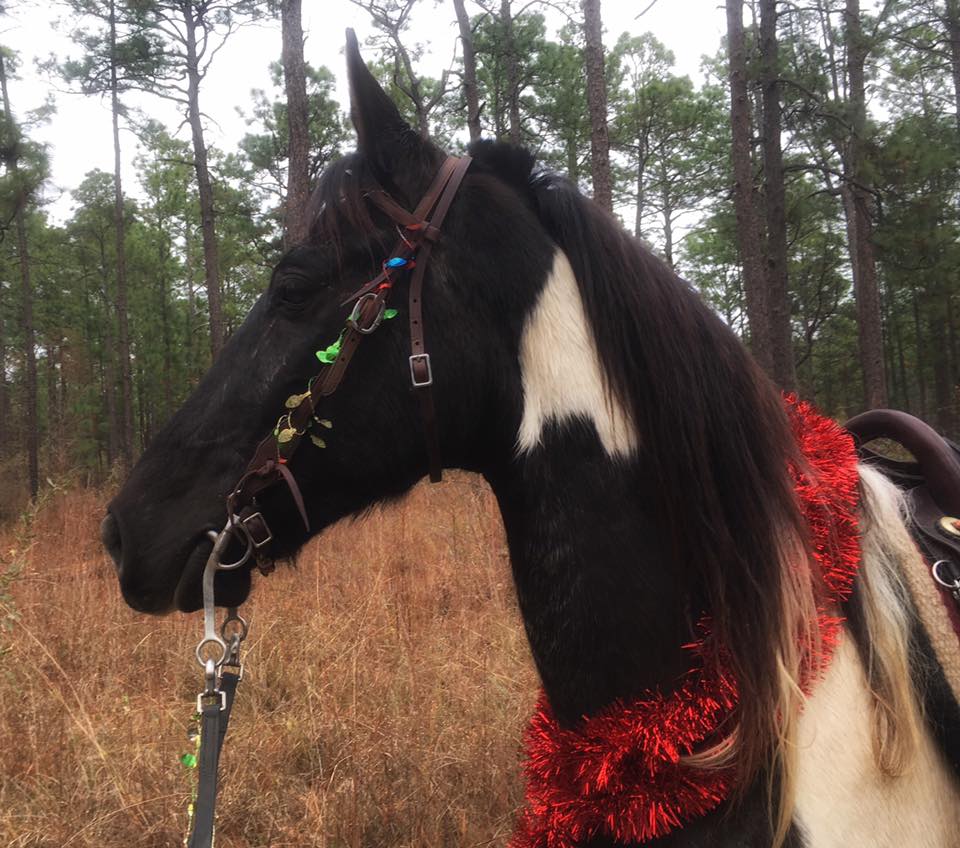 Whodoo decorated for our Christmas "Oh Be Joyful" Trail Ride and Camping Trip on 12/10/16 in the Angelina Forest in East Texas.
Click on arrow ABOVE to see my solo (no other horses) ride on Whodoo in the Cumberland Mountains on 9/27/16 on a steep hill.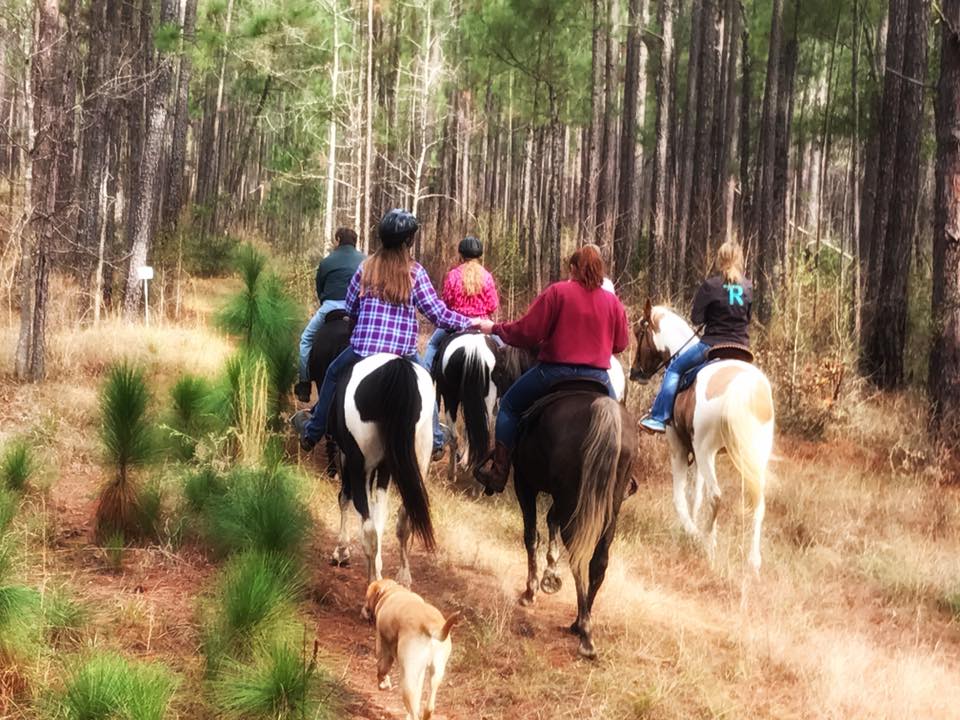 Cheyenne on Whodoo and Liz on Downtown Julie Brown, practicing for ribbon class while riding through the Angelina Forest on our December, 2016 camping trip.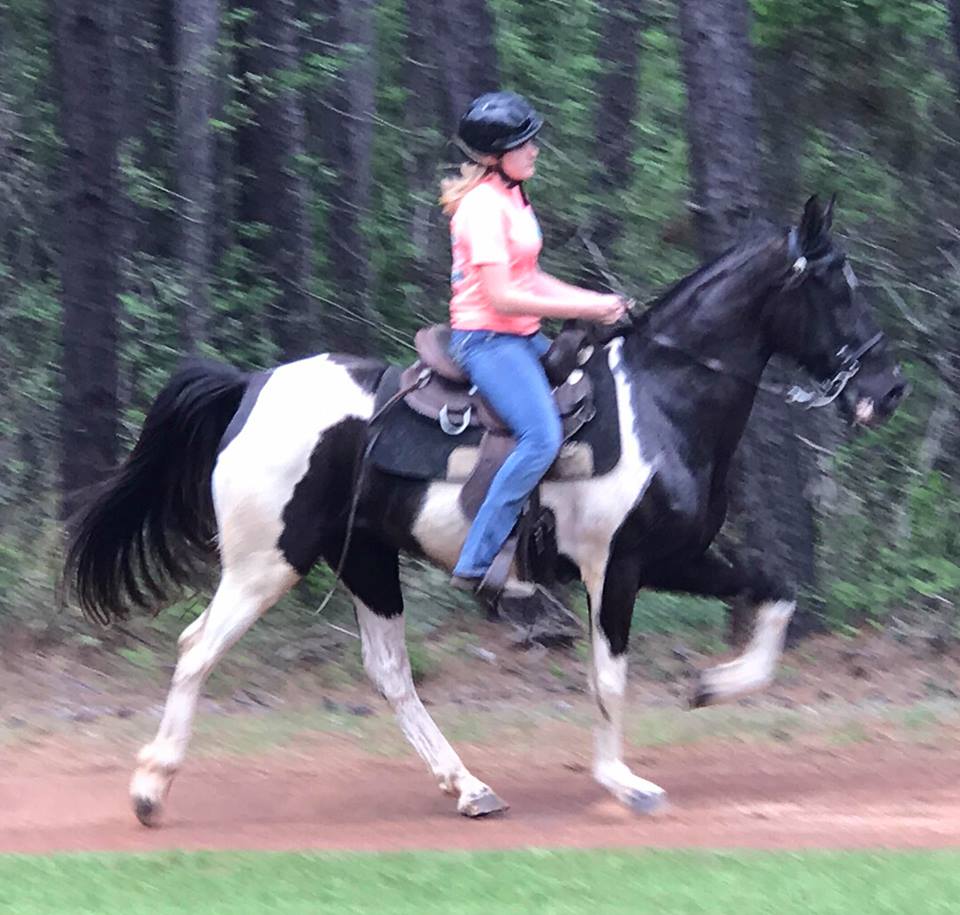 Hailey racking on down the road during our spring camping trip near Nacogdoches, Texas the week of 3/25/17.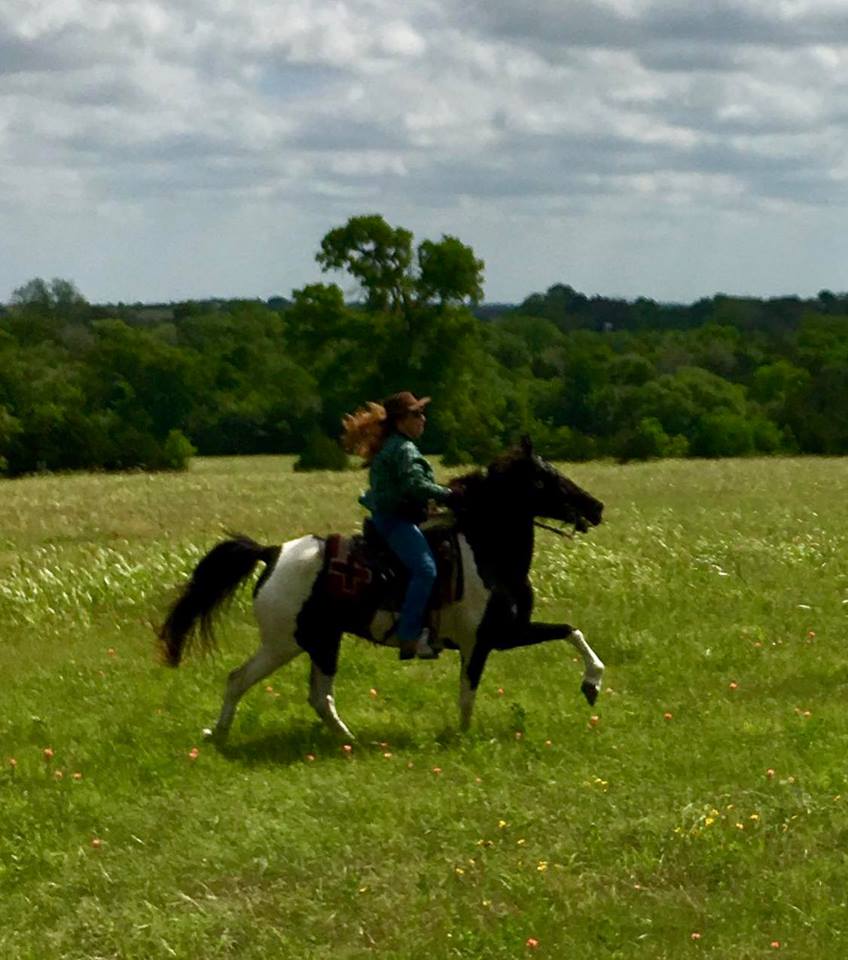 I am riding Whodoo during our Brenham, Texas camping trip the week of 4/25/17 and having a blast! He is so much fun to ride.

Racking horses lining up for their first class this morning st our show clinic. Riley is riding Gus, Hailey is riding Classy, Cheyenne is riding Downtown Julie Brown, and Allie is riding Whodoo, with the Honorable Judge Huey officiating!

Whodoo! A racking machine!

Riley is in deep concentration to get the perfect four beat gait with Hailey riding double.

Last class of the show clinic for this weekend, on a beautiful spring evening as the sun was starting to set.

From the far left, Reygan on Ms. Bling, Riley on Whodoo, Hailey on Classy, Cheyenne on Downtown Julie Brown, and I rode Hashtag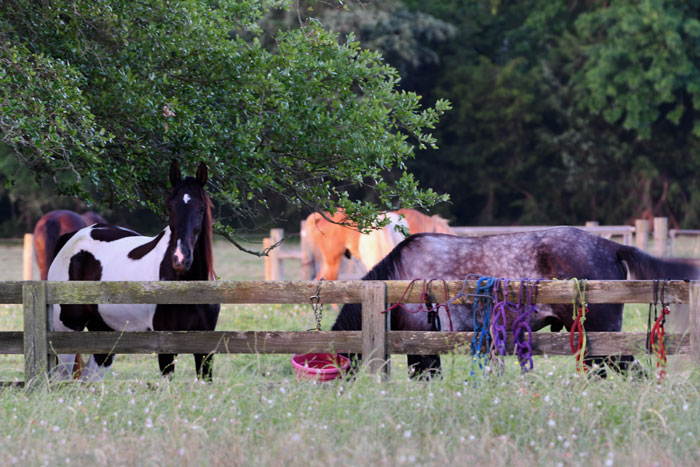 Whodoo is having breakfast before he begins his day on the trails during our Brenham, Texas camping trip in April, 2017.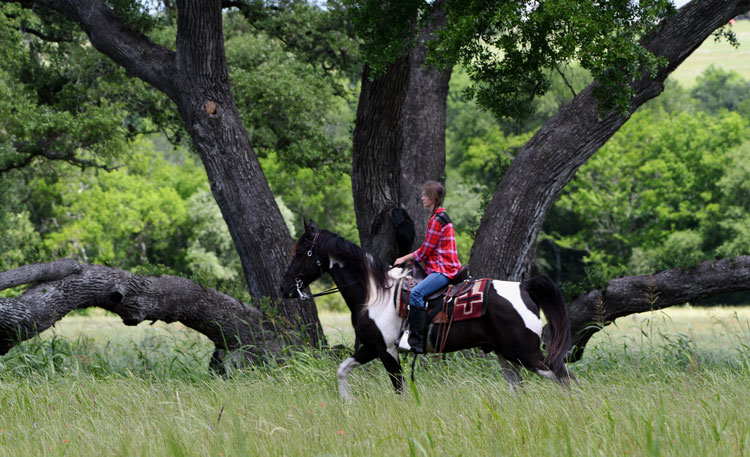 Cheyenne rides Whodoo during our camping trip in Brenham, Texas in April, 2017.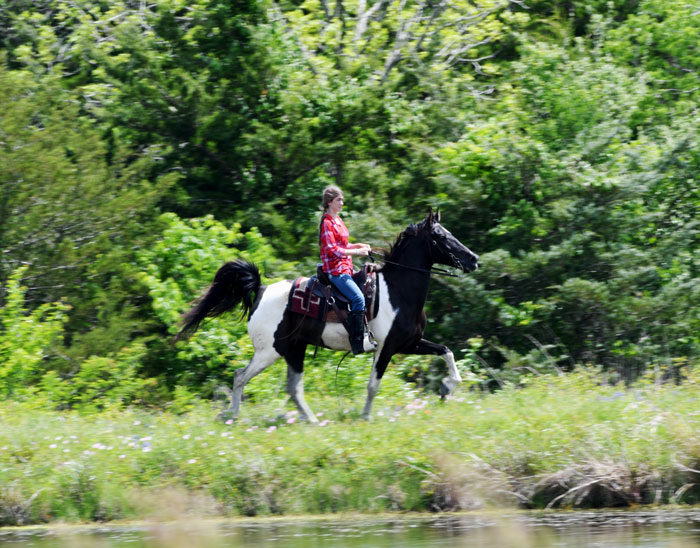 "Whodoo" -- 10-yr-old 15.3H sharp-looking, flashy stepping, smooth gaiting black & white Spotted Saddle Horse gelding. This is a really fun horse to ride, probably gentle for most people unless you are looking for a deadhead. He performs a really animated racking gait that is so smooth, with a naturally high-stepping front end (no gimmicks needed), and his color pattern is strikingly beautiful. Whodoo is an easy horse to tack up, load in the trailer, bathe, etc., and we have hauled and ridden him on many camping trips, including Lake Rayburn in East Texas, Nacogdoches, the Ozarks in Arkansas and the Cumberlands in Tennessee. We have shown him in our local horse shows and used him for the kids to practice in our horse show clinics. He is a direct son of Spotted Alen Again, my all-time favorite bloodline and is registered NSSHA. $6850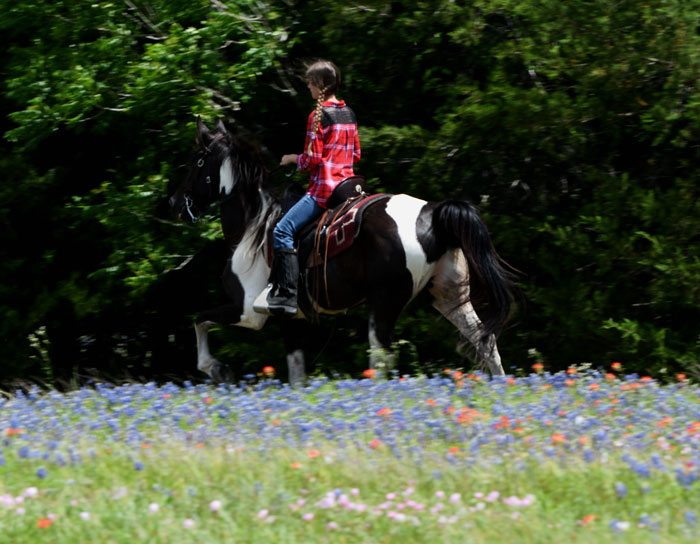 Butterscotch, Whodoo, Tebow and Stetson running free before their workouts during our camping trip in April, 2017 in Brenham, Texas.


Cloud 9 Walkers
P. O. Box 878
Hardin, Texas 77561-0878
(55 minutes east of Houston)
281-726-4545
(Entire contents of this website copyrighted by Cloud 9 Walkers)

Email me!