CLOUD 9 WALKERS
"Zoe"
Extreme People-Loving, Sweetheart Exotic Beauty!
5-yr-old dappled golden palomino Tennessee Walking Horse Mare
$15,000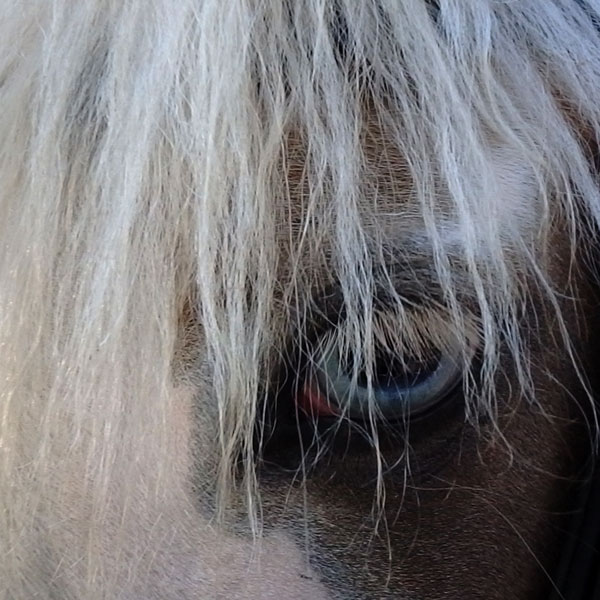 Beautiful Zoe has a blue eye that she inherited from her sire, Diamond Dak.
"Zoe" -- Flashy Sabino dark golden 5-yr-old 15.1H gorgeous, sweet-natured gentle Tennessee Walking Horse mare with the smoothest, floating gait you've ever ridden, and doing it all barefoot! Her canter is right out of a fairy tale, effortless and automatic, even for the most inexperienced rider. She makes you feel like you are a pro in the saddle! She is spirited yet has a sensible mind, not a lazy deadhead that makes you feel like you're pushing a rope. We raised her in the pasture with the broodmares, babies, yearlings, cattle, sheep, goats, pigs and she loves her humans, so she is no problem to catch. She catches YOU! She backs, sidepasses, forehand turns, pivots, loads, adores being bathed and groomed, doesn't mind if you lie down with her and take a nap with her, and gets along well with other horses in the pasture. Her sire is the drop dead gorgeous stallion, Diamond Dak, and she has inherited his same sweet, loveable, affectionate personality, as well as his willingness to please. This is an unusually beautiful horse and there's not another one like her. $15,000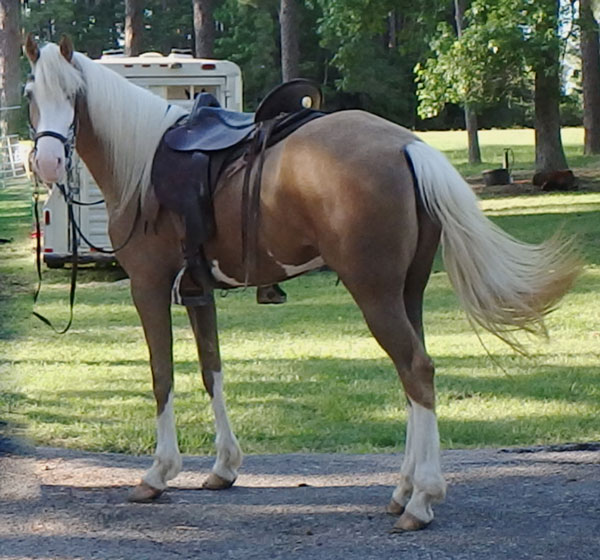 Zoe on our May 6, 2016 camping trip at Lake Rayburn in the Angelina Forest.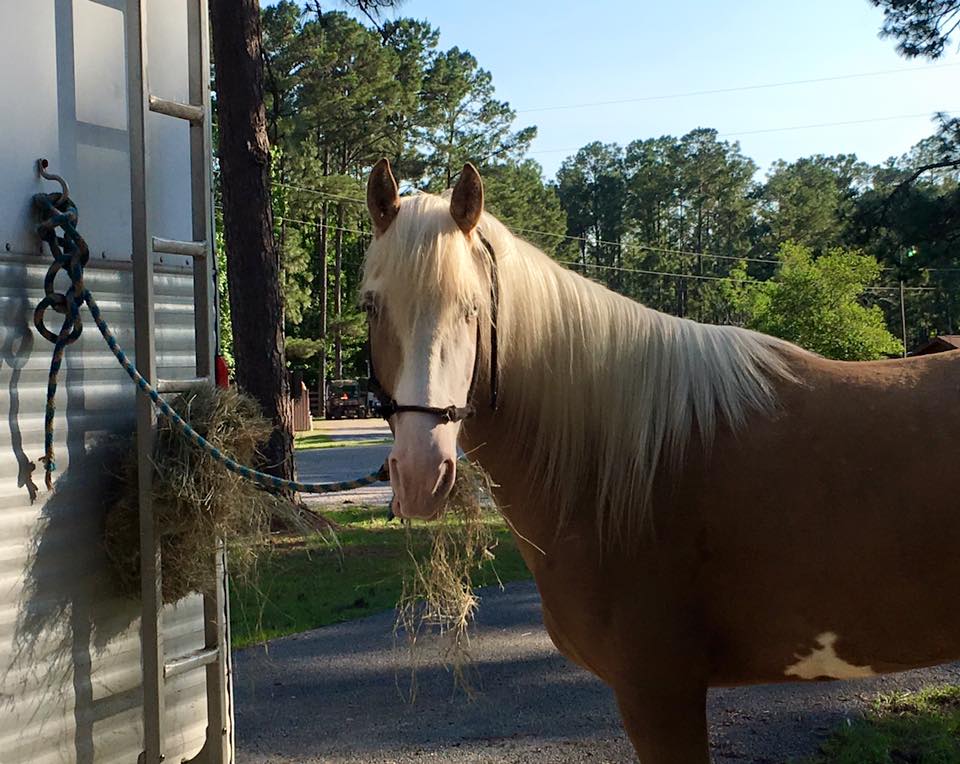 Huey's invention. Ya might be a redneck if you use the ladder on your horse trailer as a hay bag!
Zoe doesn't mind at all, because she's a royal princess.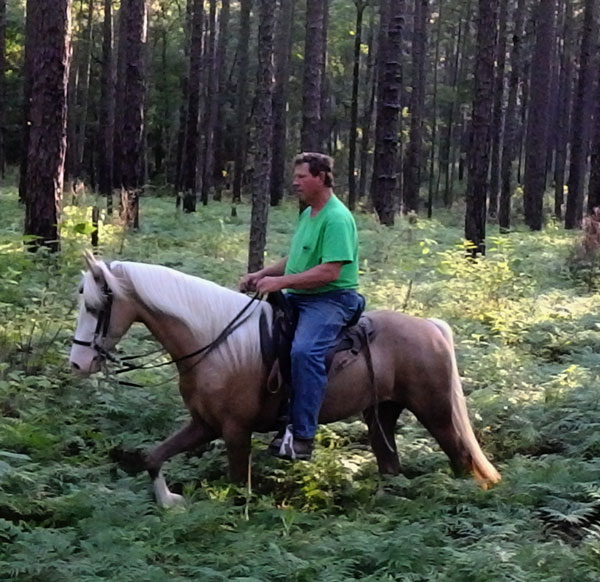 Huey riding Zoe in the ferns in the Angelina National Forest in May, 2016.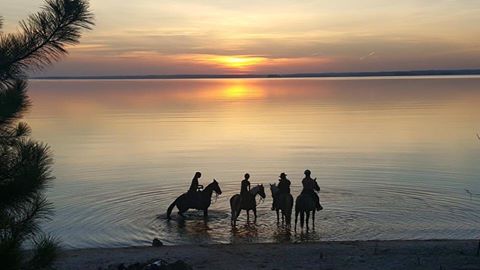 Sunrise ride in Lake Rayburn . . . Kathryn on Josie, Cheyenne on J-Lo, myself on Zoe and Ruth on PolkaHontas.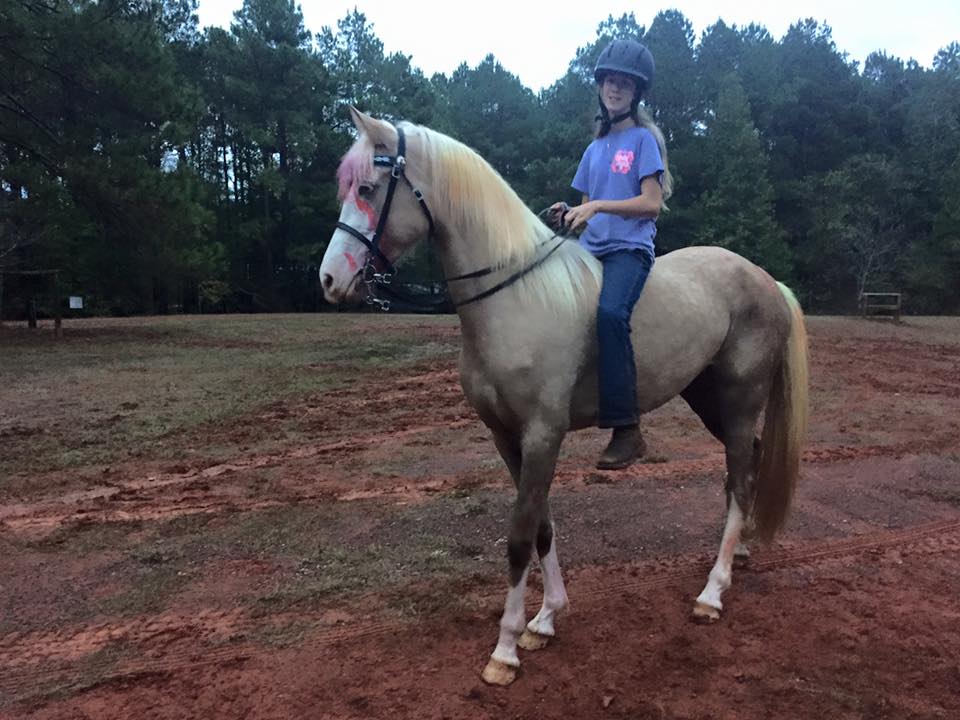 Cheyenne riding Zoe on our Halloween camping trip in Nacogdoches, Texas the weekend of 10/30/15. Most of her paint has sweated off on our ride that day.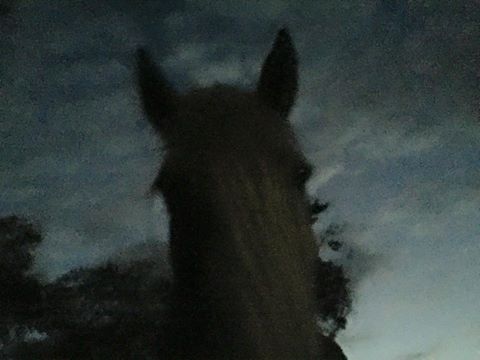 I was sitting on a bucket, in the dark, head down, deeply engrossed in answering emailwhile waiting for a water tank to get full, and I felt this shadow come over me. There is a huge, beautiful full moon in the sky tonight, and sweet, friendly Zoe wanted my attention, so she walked up, put her nose on my shoulder, gave a big ol' contented sigh, and waited patiently for me to get off the phone.

Zoe inherited this sweet nature from her daddy, Diamond Dak.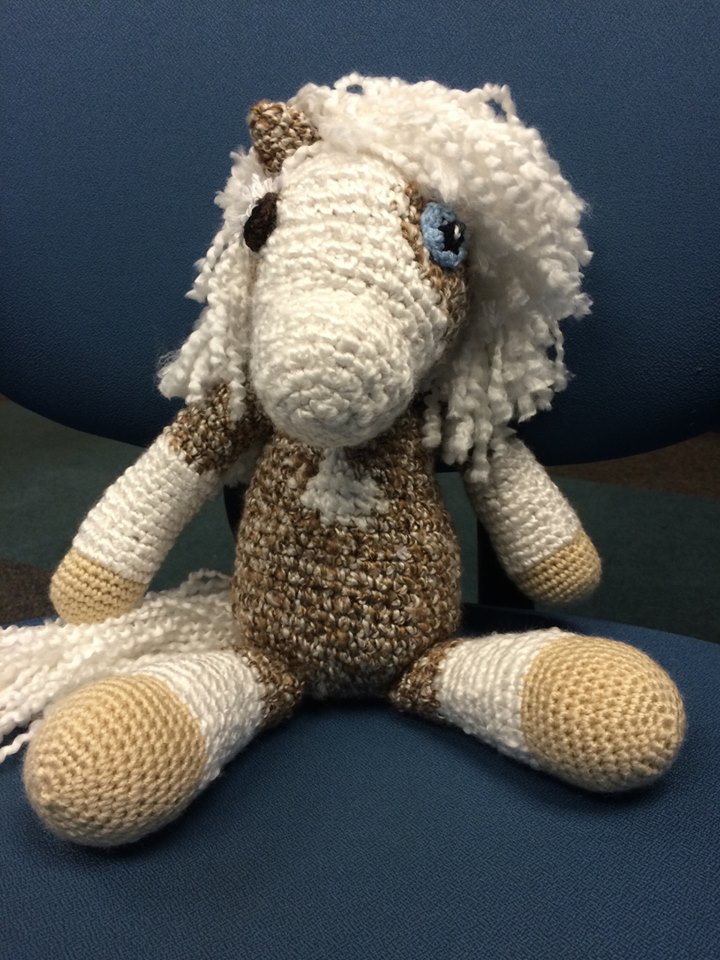 This doll was handmade for Zoe and even has a blue eye and the white belly patch!
Zoe's life!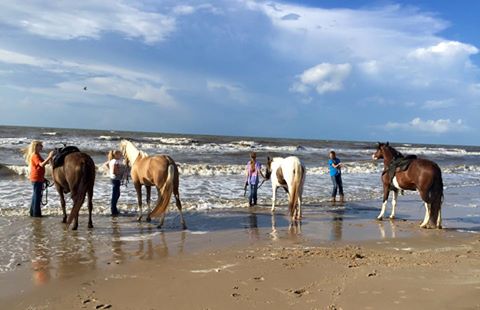 They never want to go into the waves at first, no matter how many times they have been there. All of these, however, are experiencing this for the very first time. Sawyer, Zoe, LaBella Dawn and Freddie Fender are being led into the Gulf of Mexico at High Island, Texas and then we rode them and had a blast!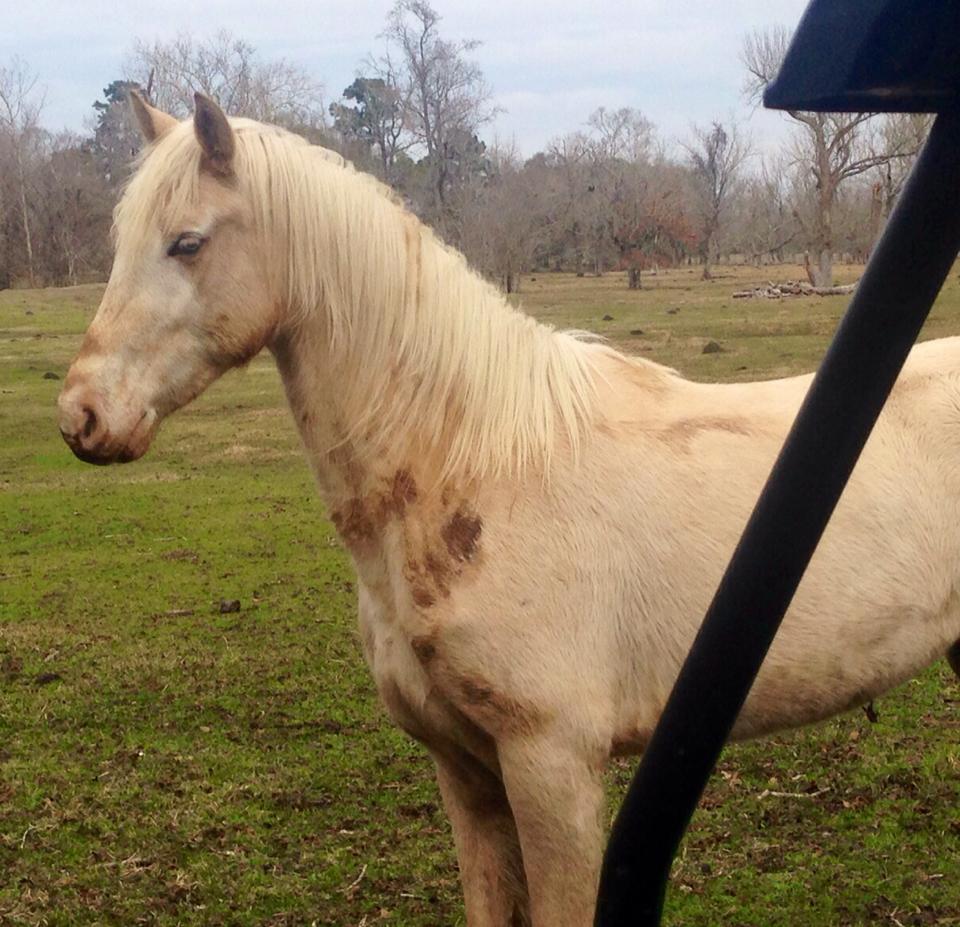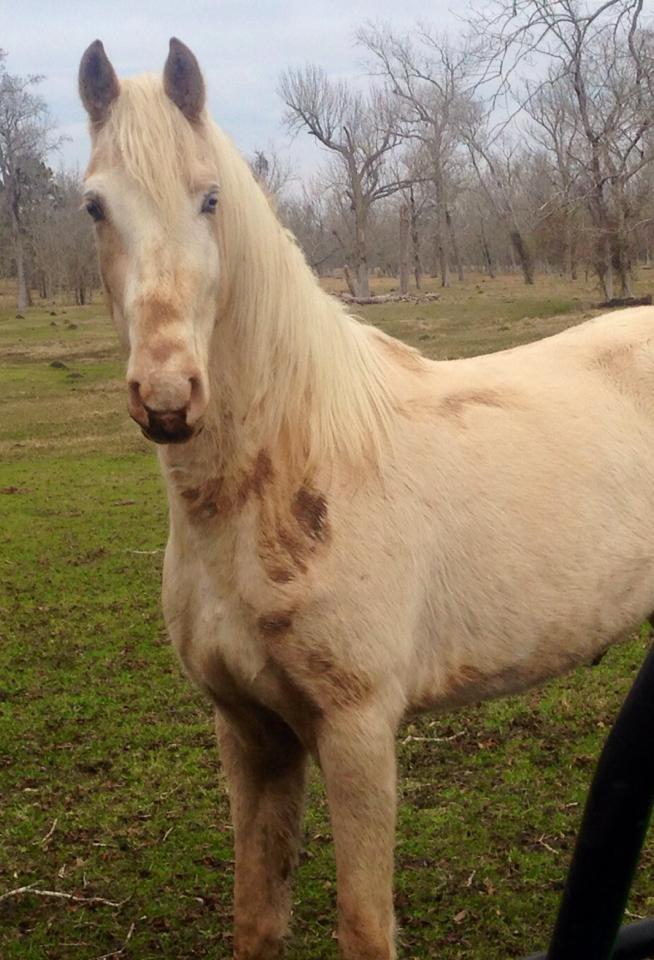 Piggy girl has been camping out in the protein syrup tub!!! She is sporting her lighter winter coat.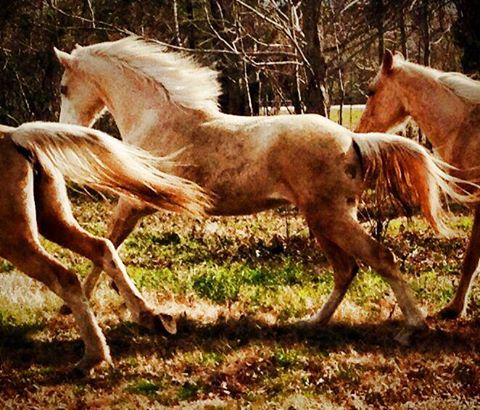 Even when she's a muddy yearling, she stands out from the crowd with her classiness!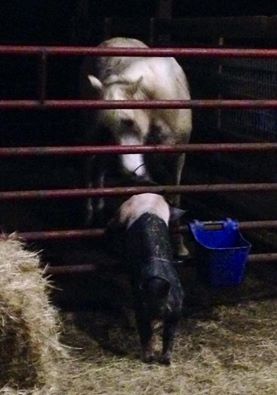 Zoe has a little visitor at her stall. This pig wants to share her dinner!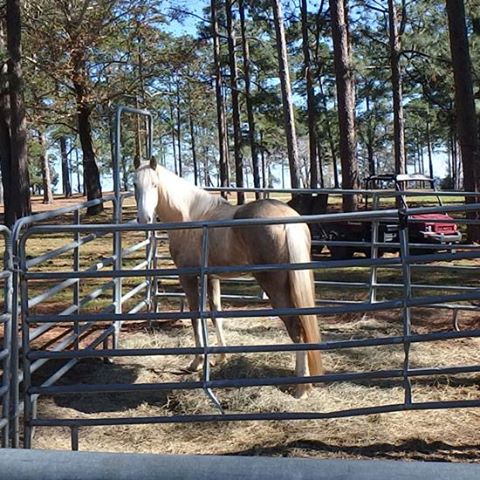 Hanging out in one of the pens at camp at Lake Rayburn during our camping trip in February, 2016.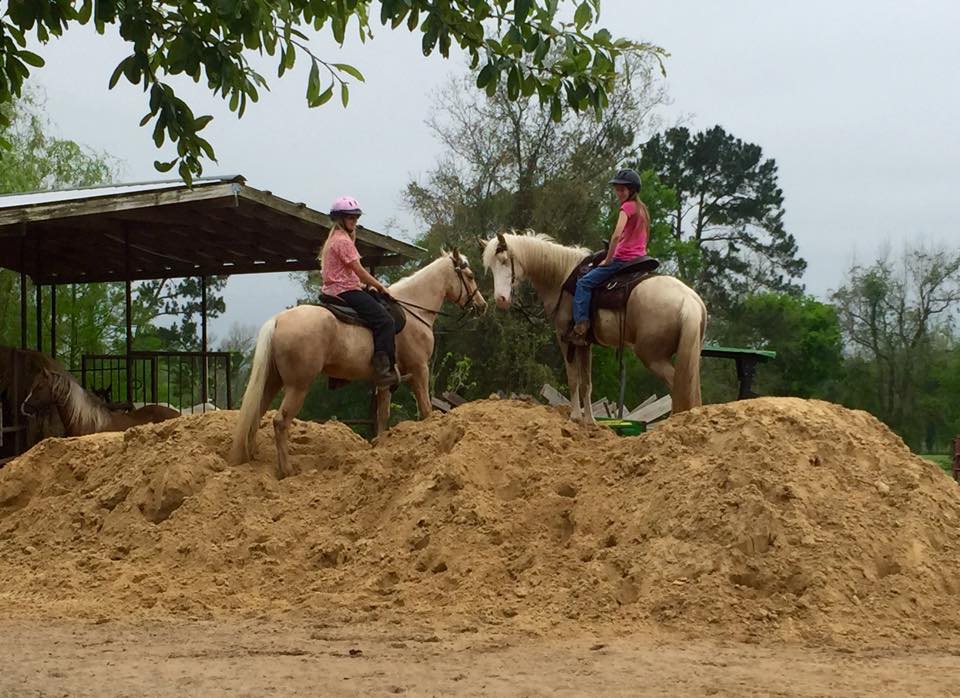 Ruth and Cheyenne (on Zoe) playing Queen of the Mountain!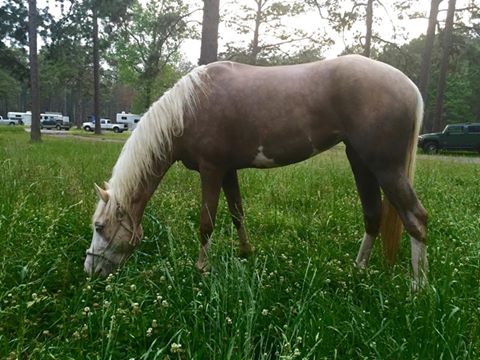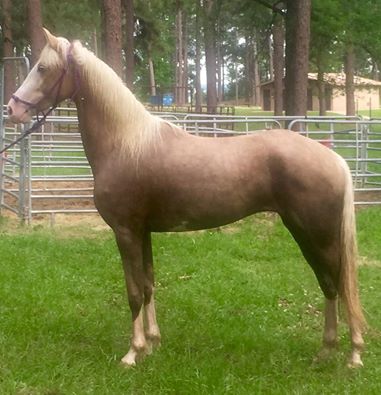 Beautiful Zoe at camp in the Angelina Forest in April, 2015.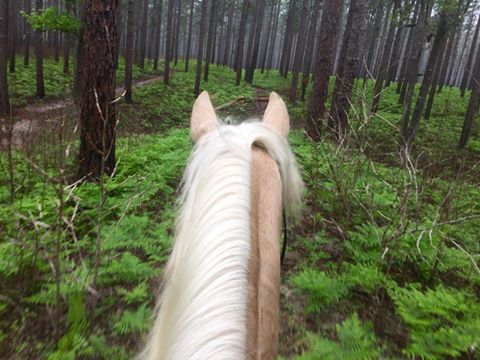 Riding through the ferns in the Angelina Forest.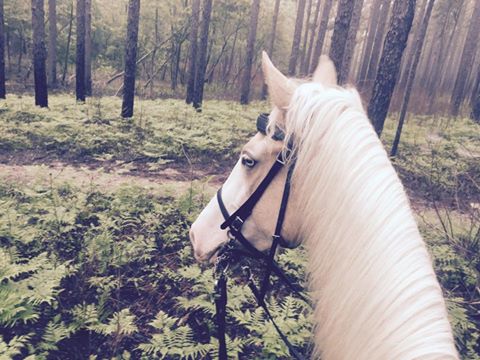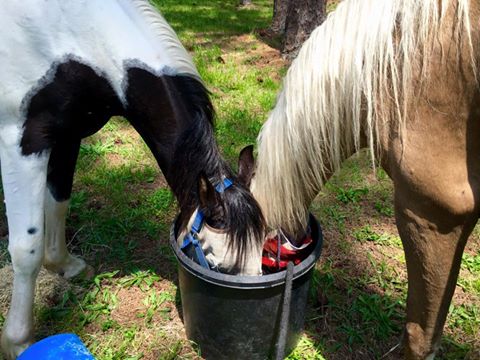 Zoe sharing the water bucket at camp with Magnum, a colt that we raised as well. Mares ROCK!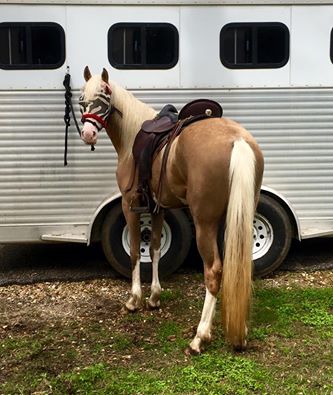 She be STYLIN' in her zebra accessory!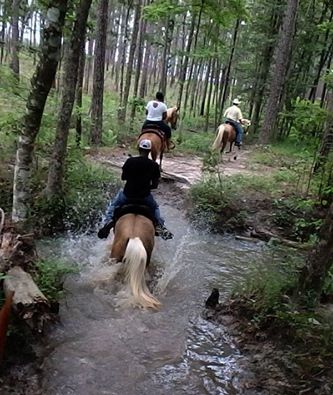 Crossing a deep creek in the Angelina Forest in May, 2016.
Crossing one of the beautiful streams in the Ozark Forest in Arkansas during our campng trip the week of 5/19/16. All the photos in the next group below are from this trip: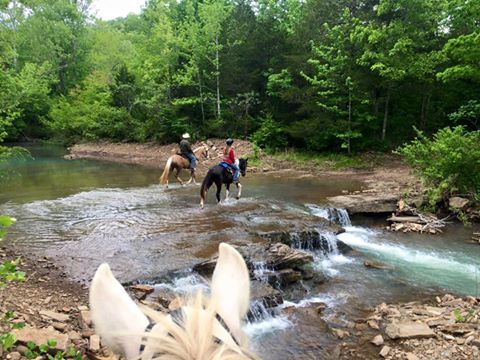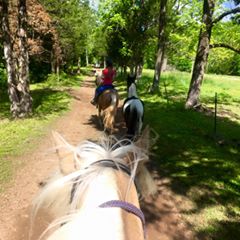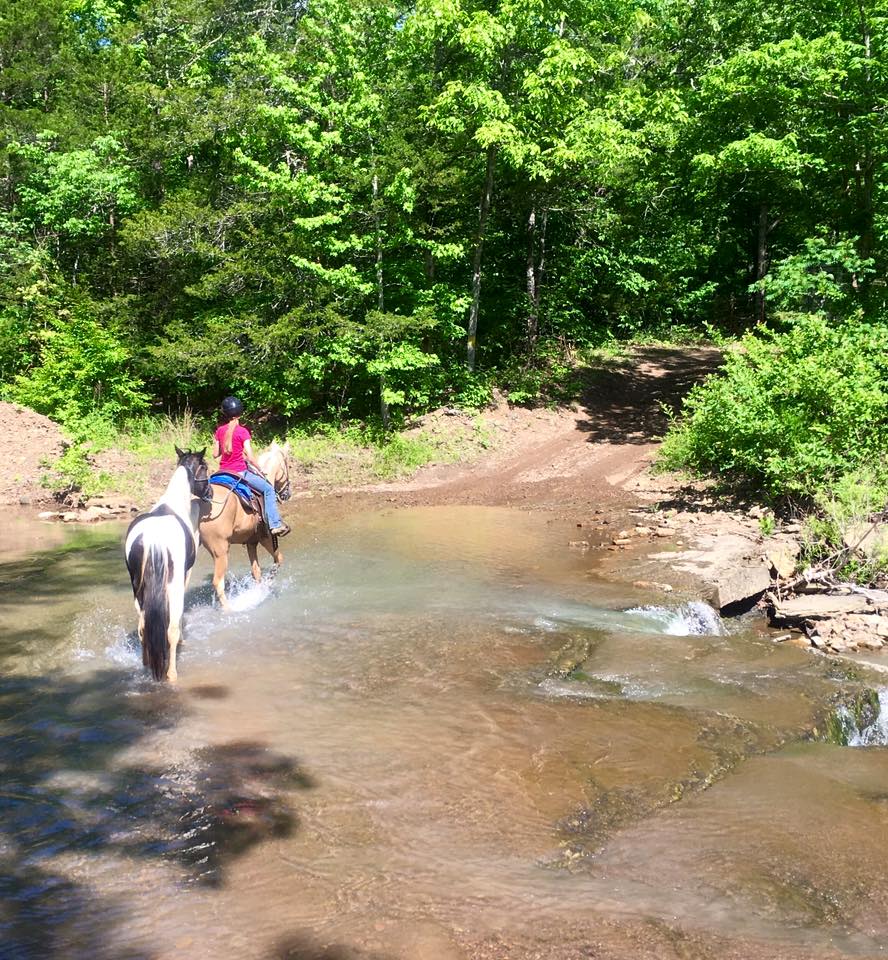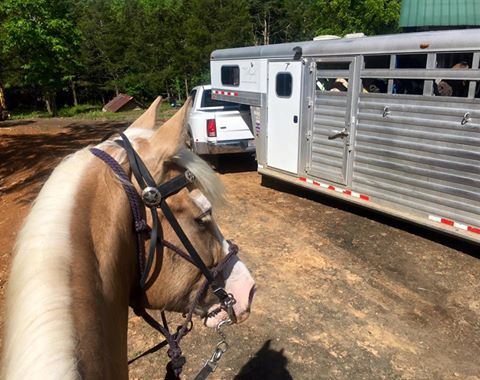 Never leave the door to the feed room or your house open. Zoe still believes that she is a princess and she will walk right up the porch and come on in!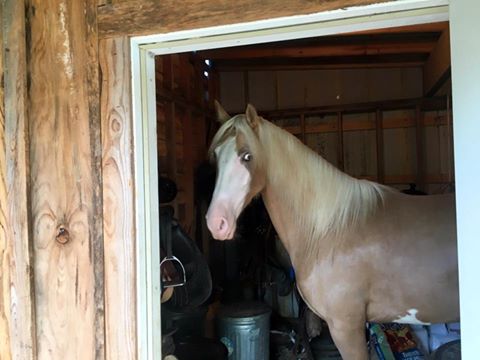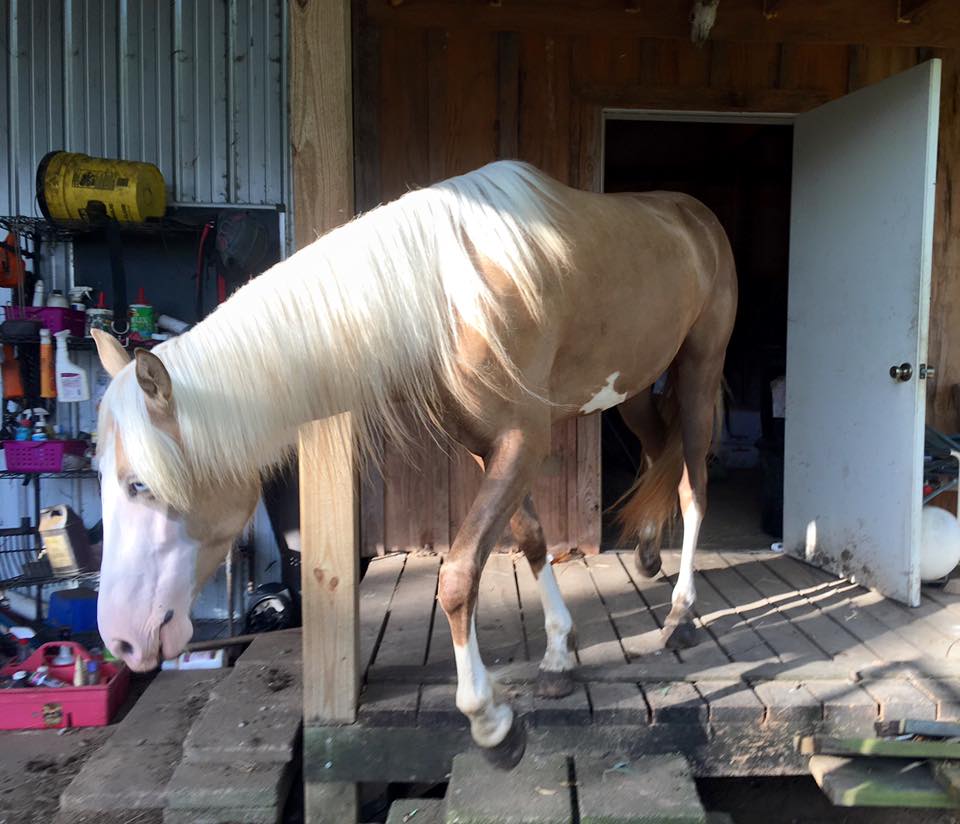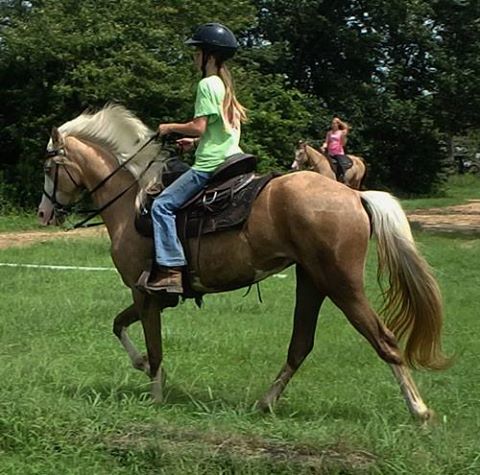 Cheyenne working Zoe out on 7/19/15 with all that thick mane flying around! Her tail is normally white but she was running in a muddy pasture and we didn't shampoo it for her workout.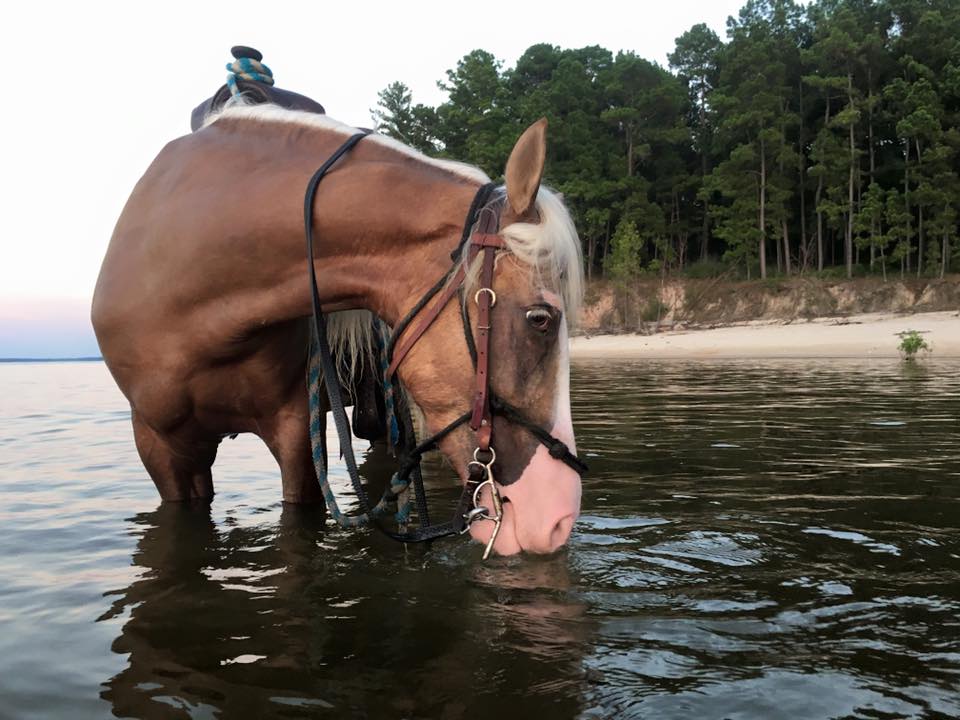 Coolling off on a hot July day during our camping trip at Lake Rayburn. I let her lie down with my saddle because it doesn't hurt my saddle. And she earned it!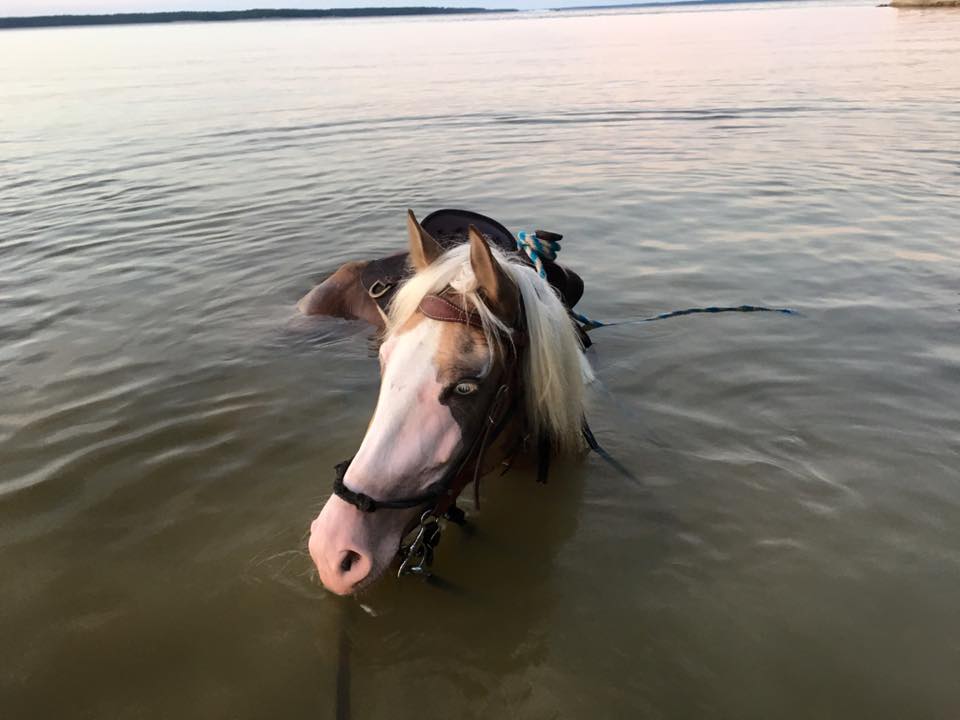 Ahhhhh . . . the Princess in her spa!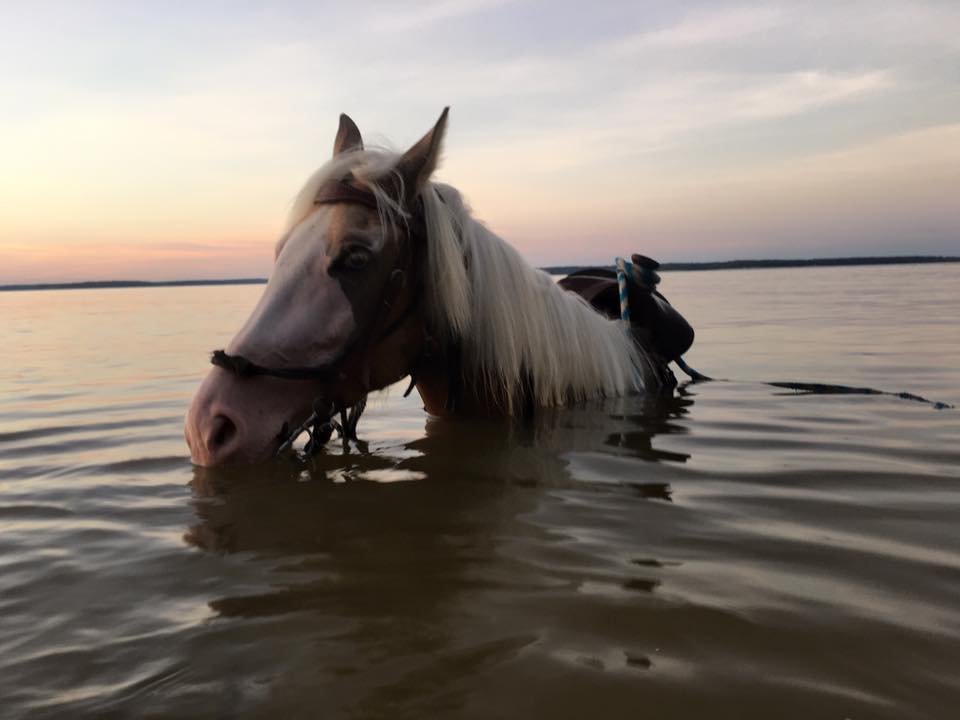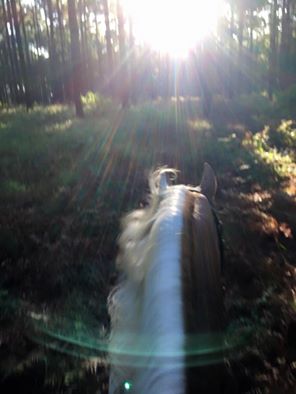 Sunrise ride through the Angelina Forest.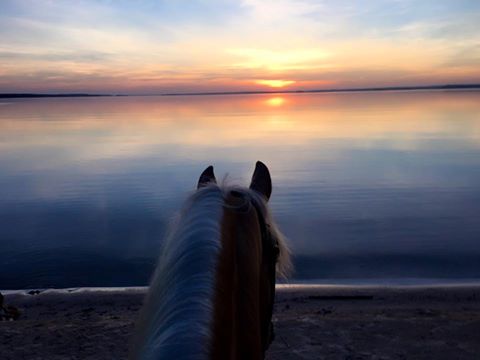 The sun just coming up over Lake Rayburn.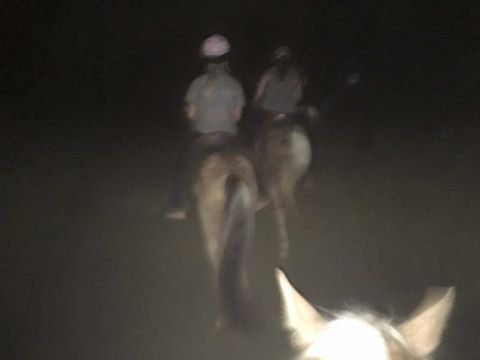 And then we ride at night, too!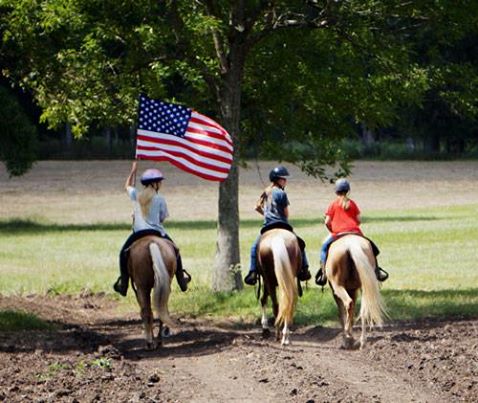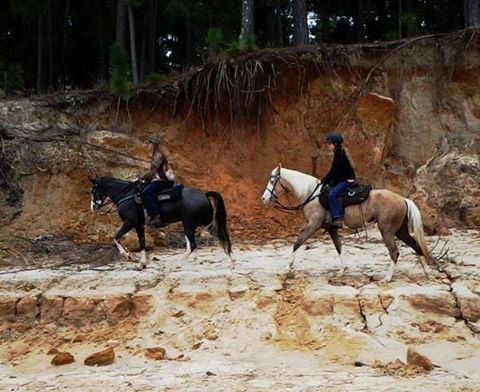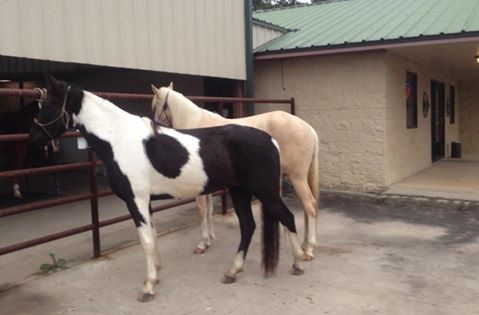 At the vet getting a new coggins.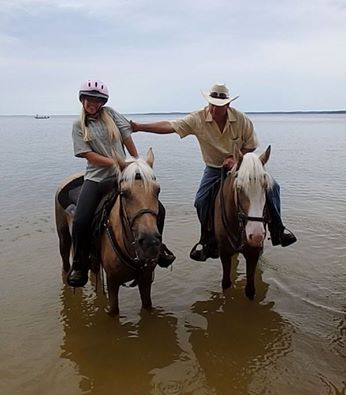 Huey is trying to push Ruth off of her horse!|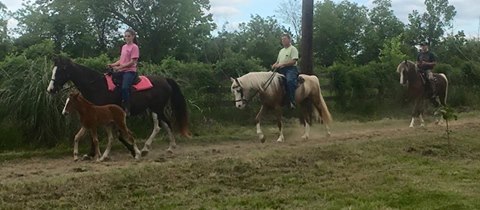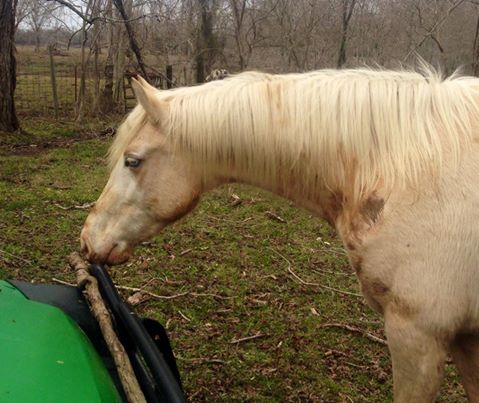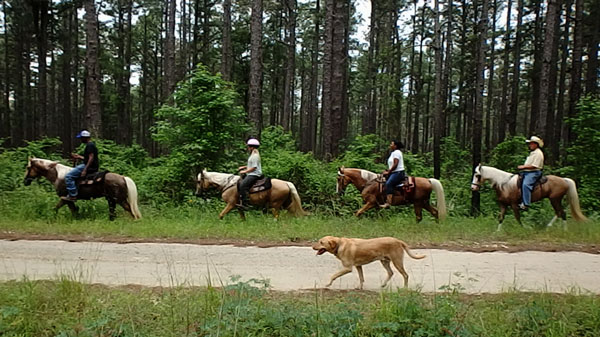 A palomino parade!
Jackpot leads the way, then Suzi, then Sam, and Honeybee brings up the rear.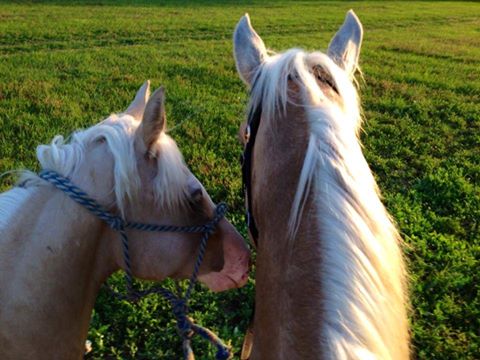 Zoe learning to be ponied!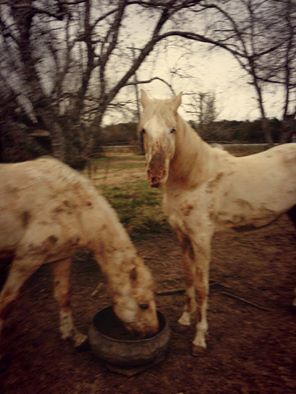 Bet you'd look at this baby photo of Zoe and never dream what a classic beauty she would turn out to be! She and her friend, Honeybee had been in the syrup protein tub and then took turns nuzzling on each other!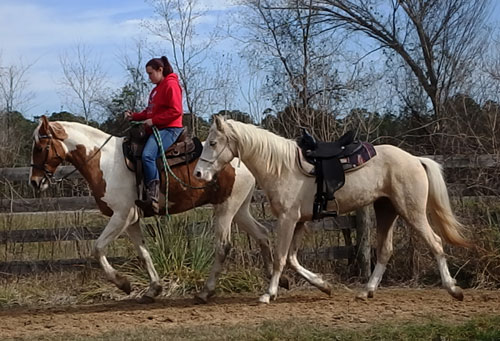 Zoe being ponied.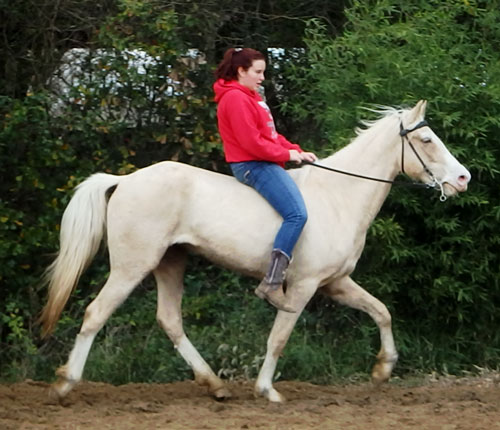 Zoe's winter color! Liz is riding her bareback and on the snaffle.

Zoe and Honeybee, then Tilly who is loaded in the reverse position, and then Boogie are all loaded in the same compartment, side by side with no divider.

We rarely have a trailer loading issue.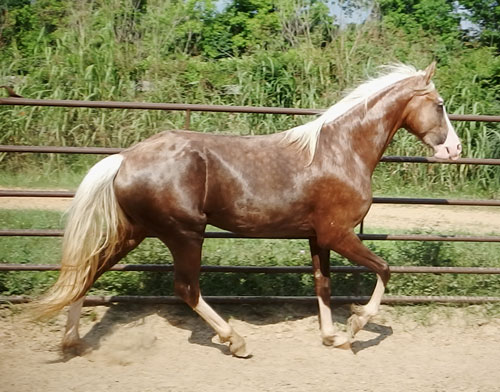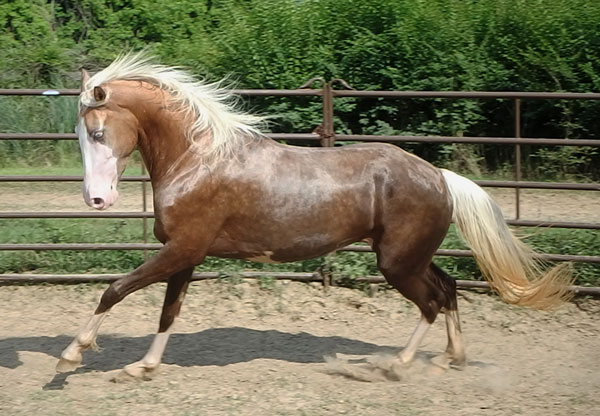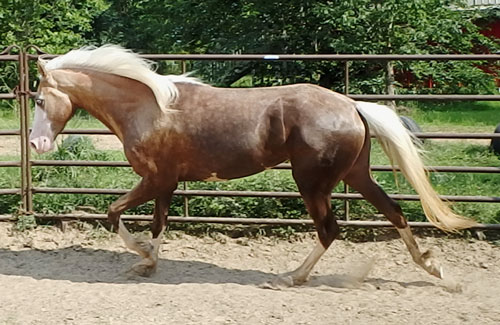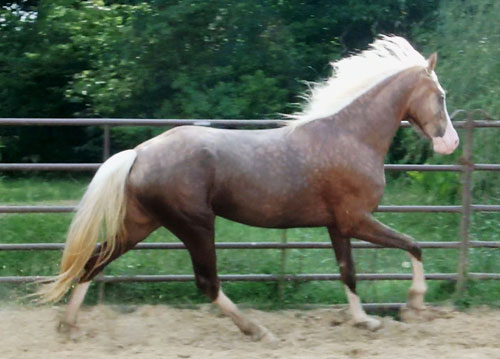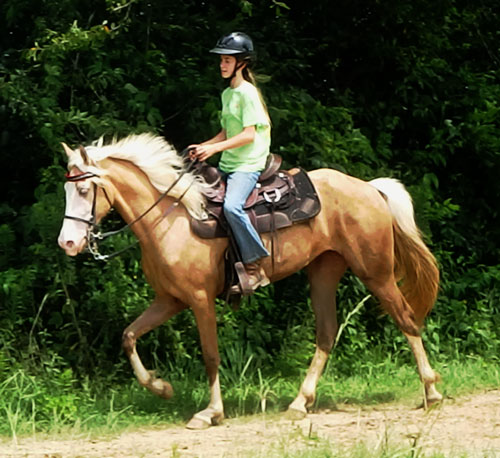 "Really, Mom?" says Zoe.

You know you have a purty good hoss when you make an amateur goof like this and she doesn't buck you off!

Trying to get in a sunrise ride, racing the sun, I didn't put on her breast strap and skipped that third girth check. You should always check your girth THREE TIMES before mounting up! The first time when you cinch up, then wait 5 minutes and check again, then walk around and right before you mount up to hit the trails, check one last time.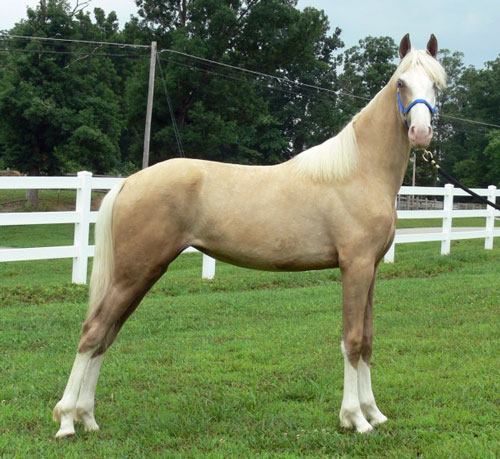 Zoe's yearling photo. Every year she turns darker gold.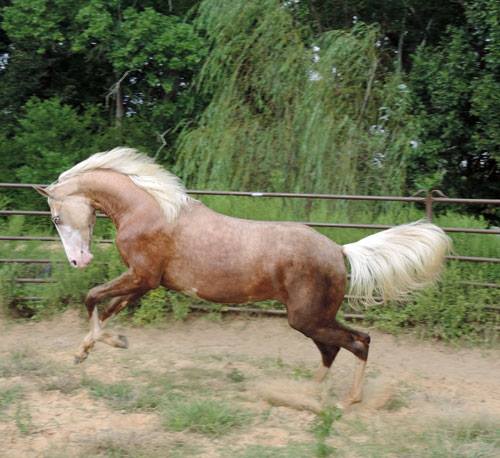 Lordy, I love this girl, Zoe. She is fascinating to me, because she is a thrilling study in genetics. Unfortunately, I didn't get to meet her dam, but I have her sire, Diamond Dak, and her personality and flash is so much like him that it tickles me. She is extremely sweet natured and willing to please. There's no dishonesty about her or her daddy -- if you ask them to do something, they try to do it for you before you finish your cue. They both have tons of heart and they're not quitters. You'll never have to worry about pushing a wet rope with them! They're both athletic and sure footed, and both will raise their head with respect, and drop it in your lap, close their eyes and go to sleep, trusting you while you scratch their ears. Enamored, I am.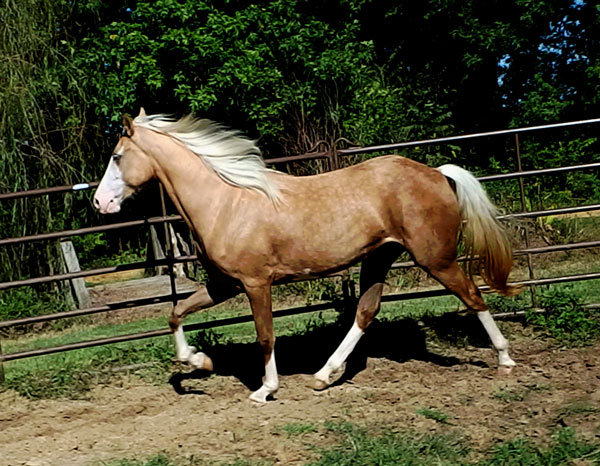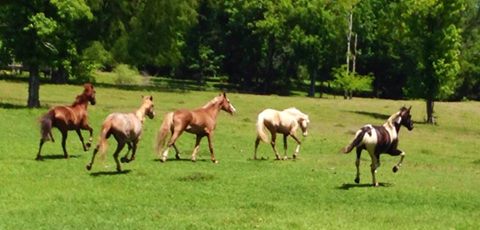 This is how we raise 'em! Mares at liberty -- From left: Ginger, Kiss, Norma Jean, Zoe, Sophie, running free!
Winter Zoe! We broke her the right way -- easy and slowly, starting her in a halter and then to a snaffle. She has a rock solid round pen foundation before she ever hit the trails.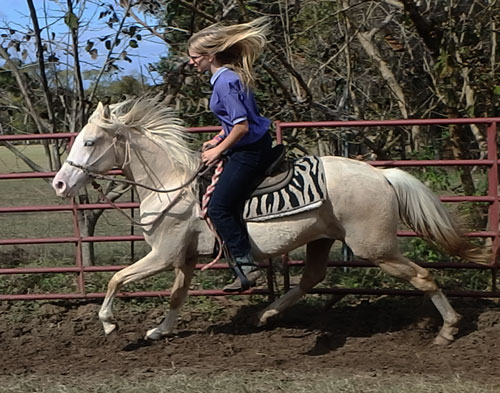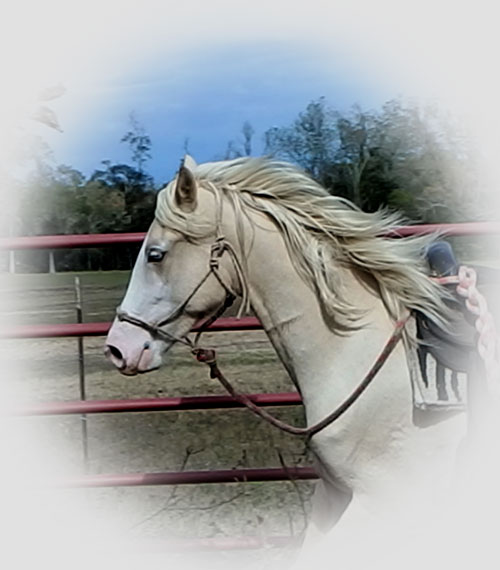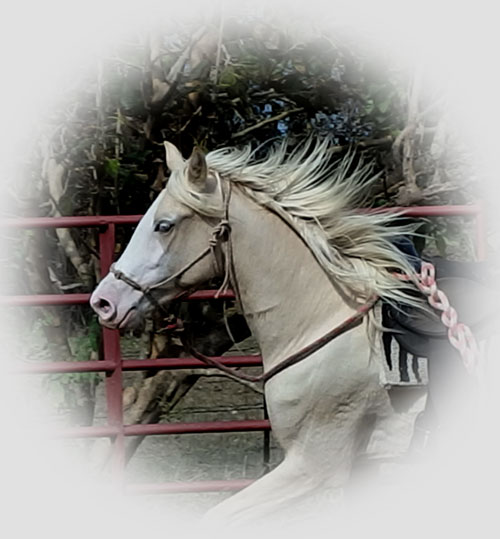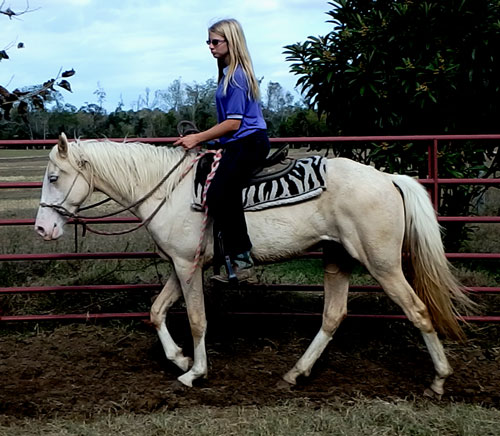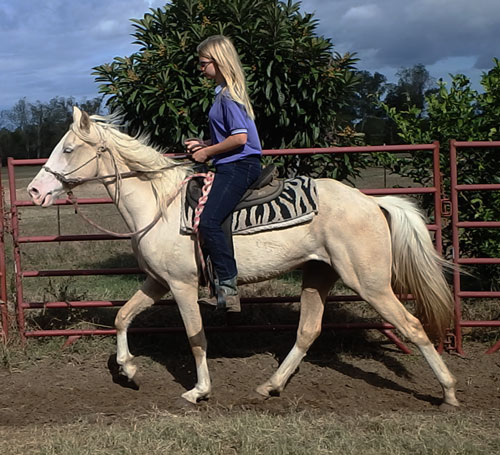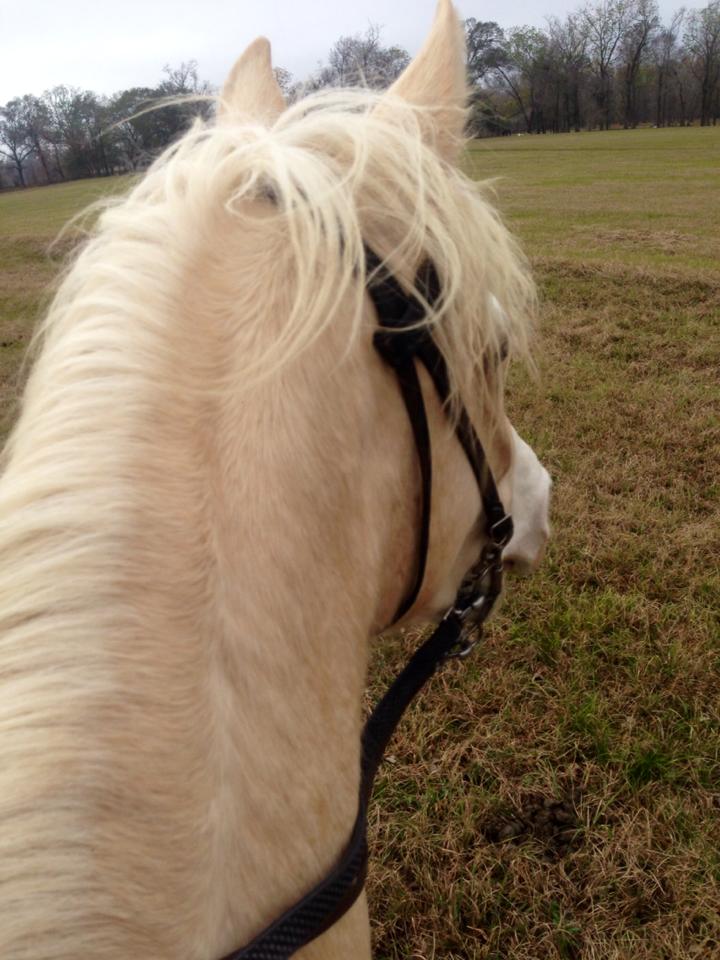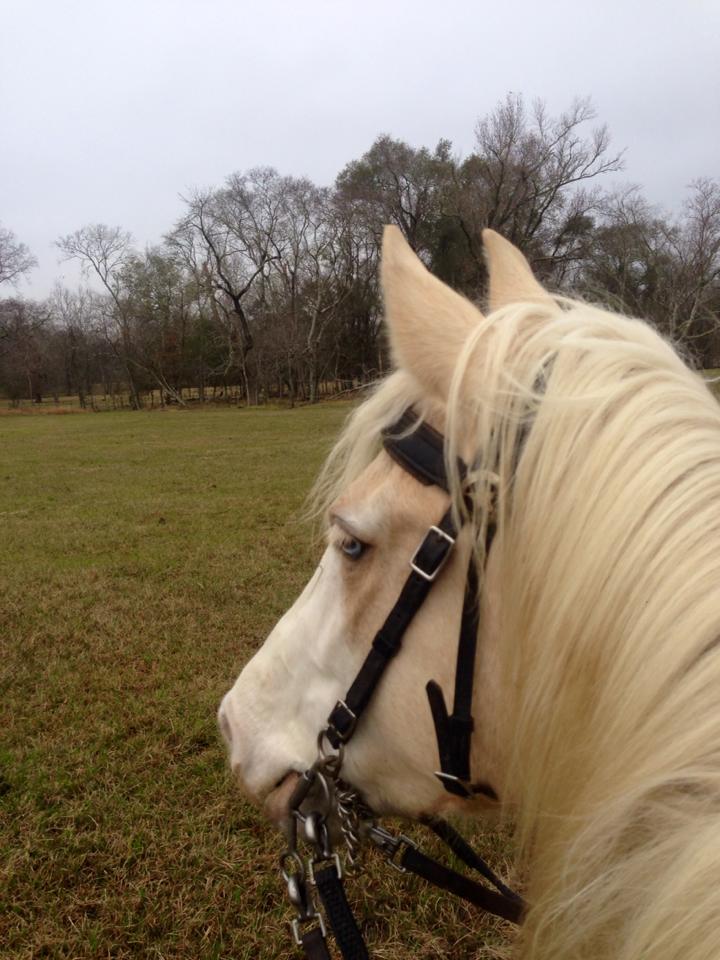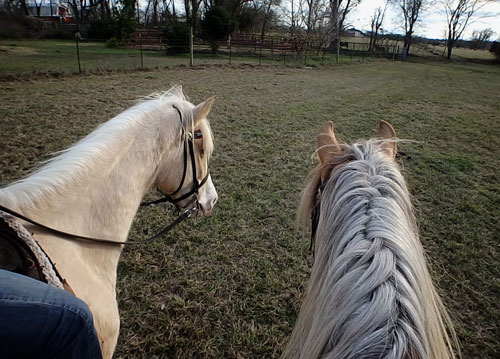 Riding side by side with her sire, Diamond Dak.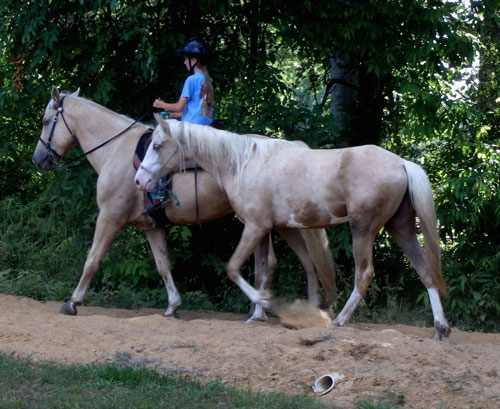 Click on arrow ABOVE to see several of our horses carrying the United States flag (for practice for parades, shows, desensitization, etc.).
Zoe's Sire, Diamond Dak: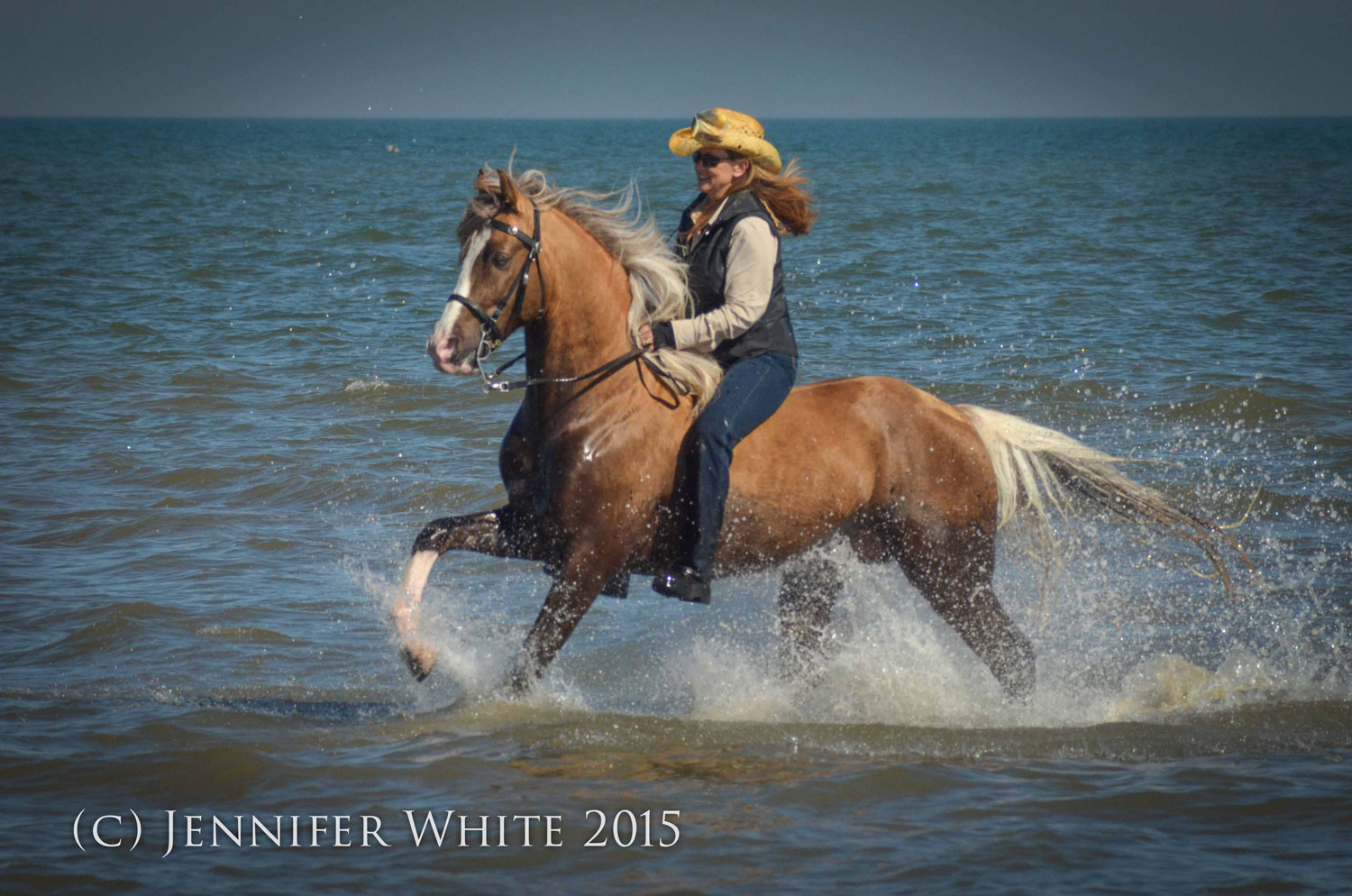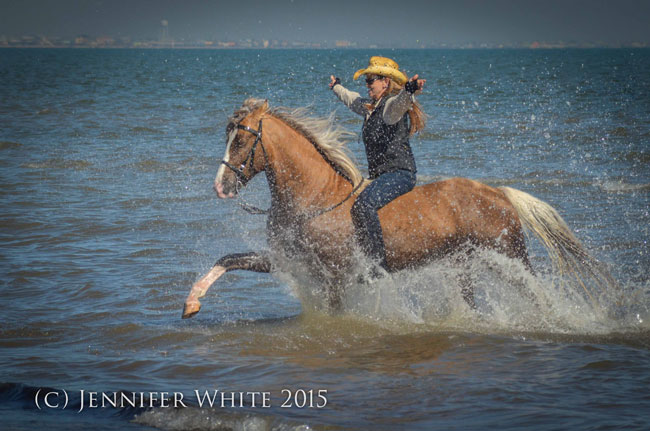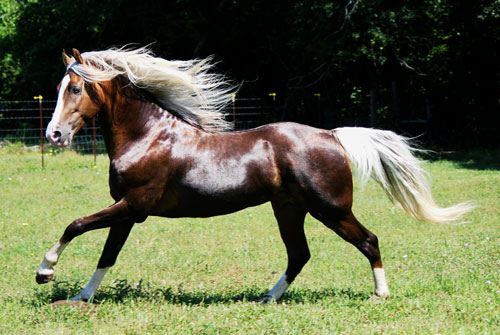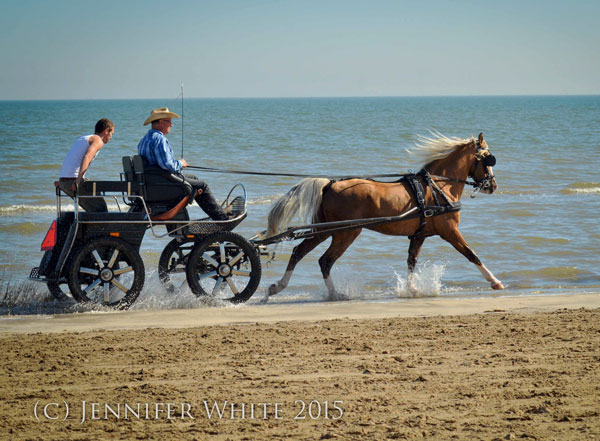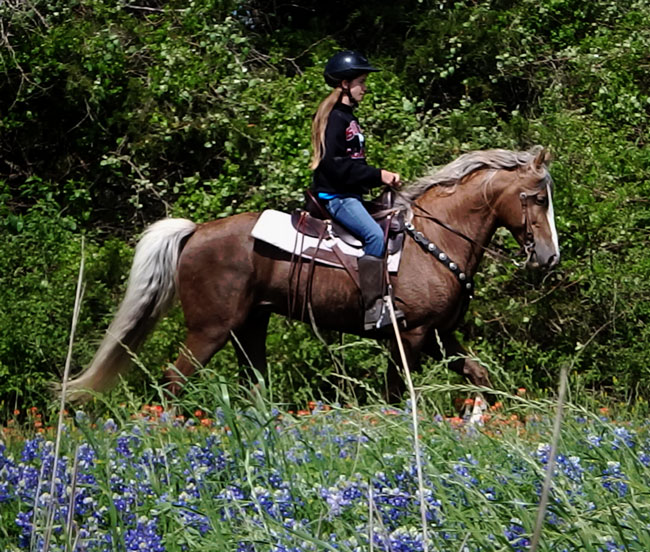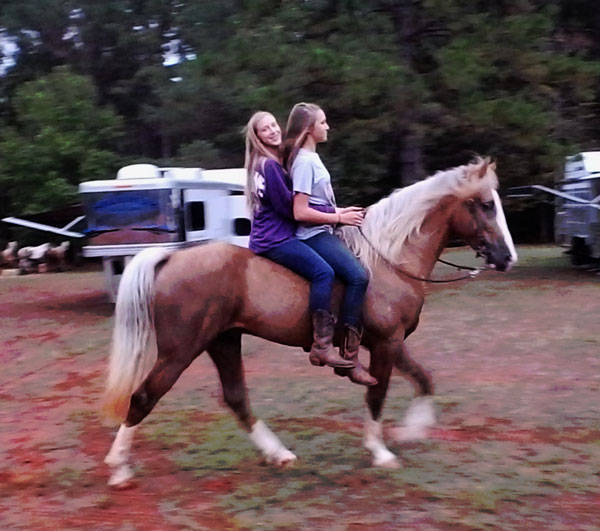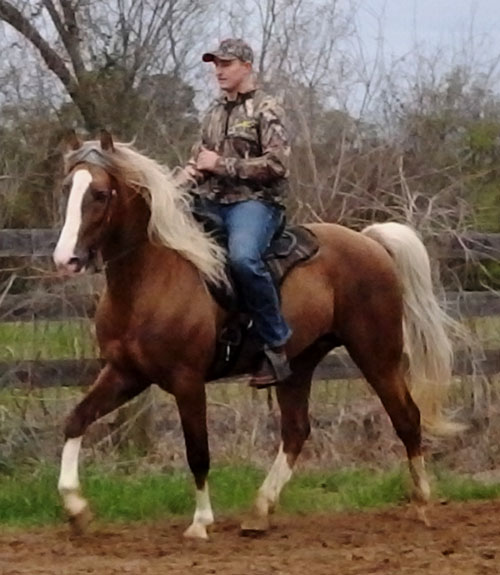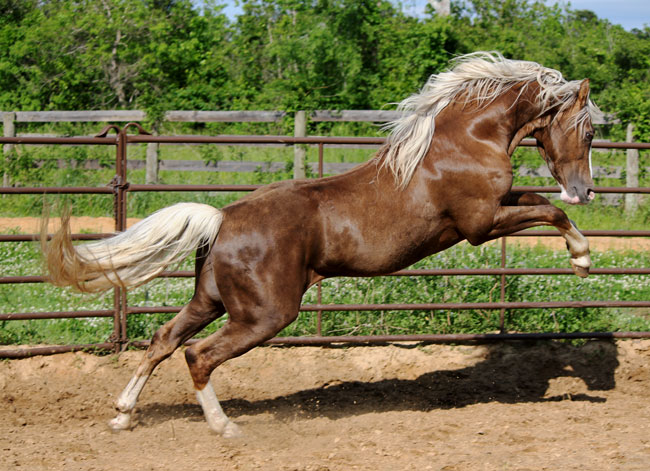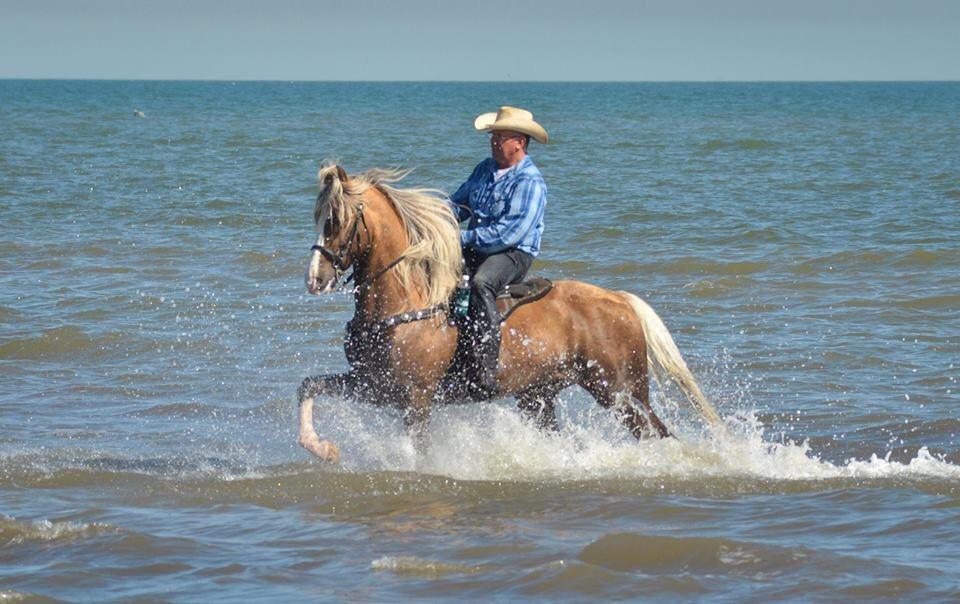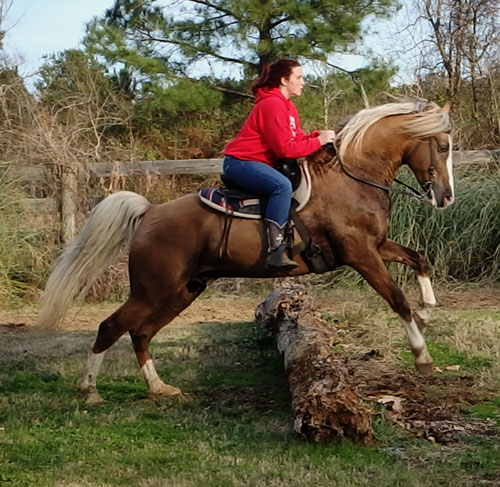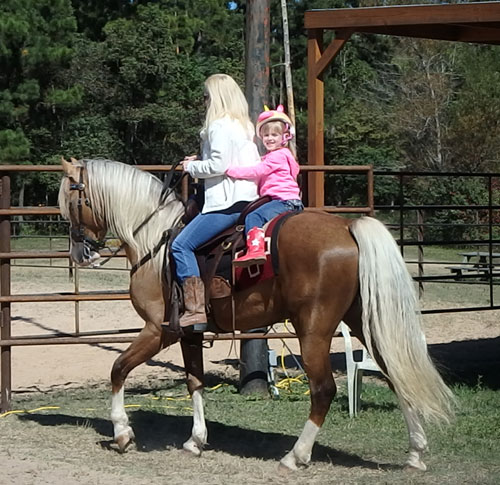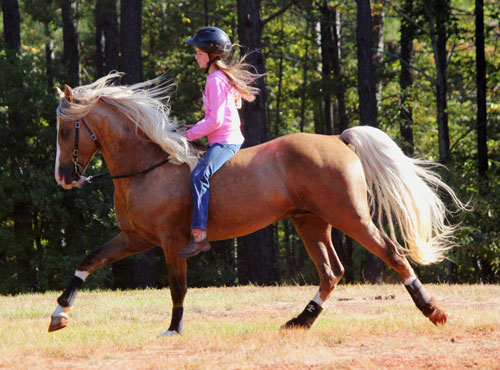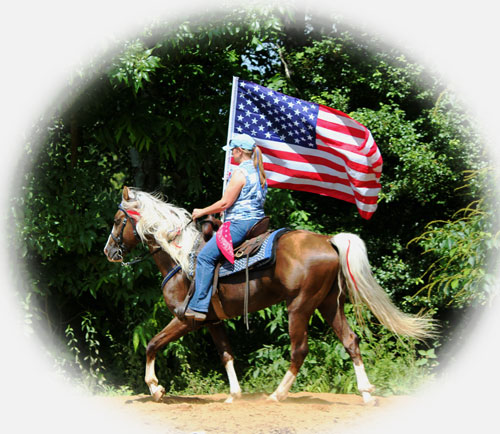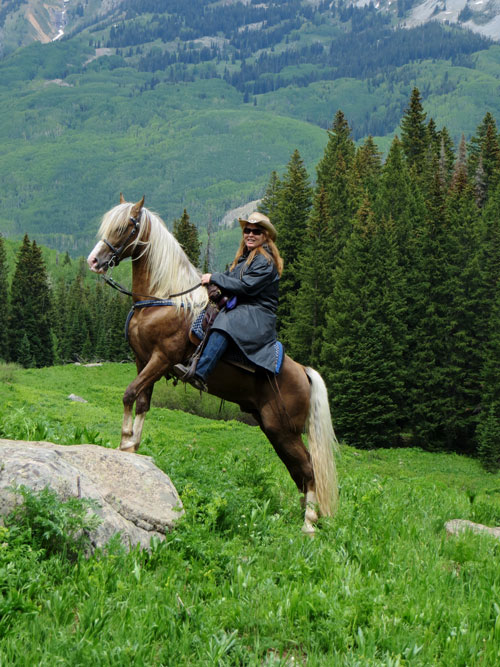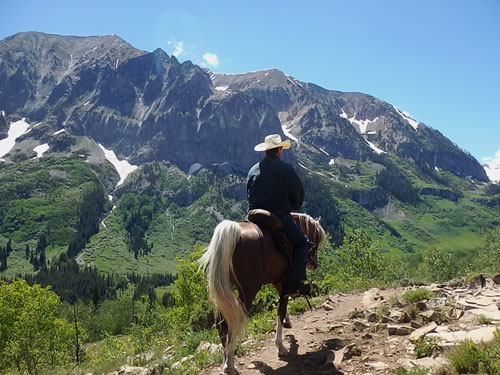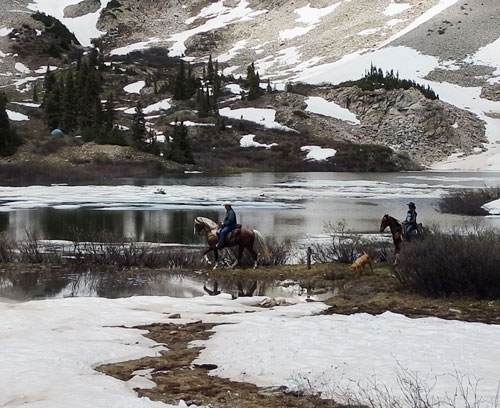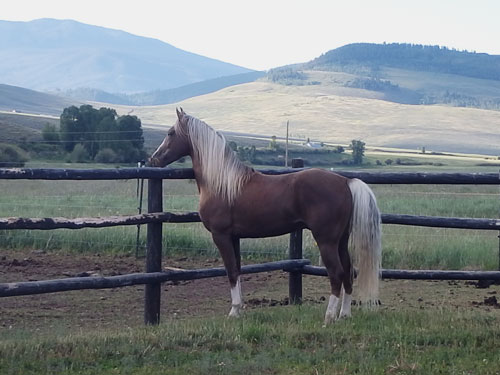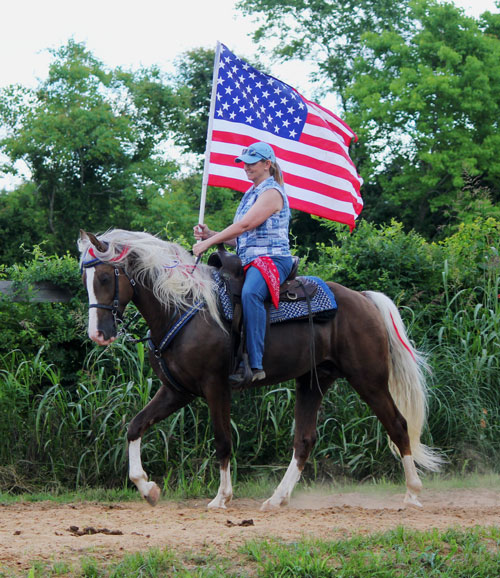 Cloud 9 Walkers
P. O. Box 878
Hardin, Texas 77561-0878
(55 minutes east of Houston)
281-726-4545
(Entire contents of this website copyrighted by Cloud 9 Walkers)

Email me!