CLOUD 9 WALKERS
"Silver Mint"
Fairy-Tale Beautiful Dappled Grey Tennessee Walking Horse Mare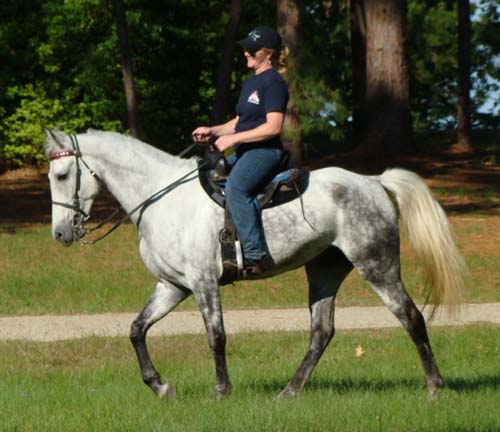 This is Jan riding Silver Mint on 4/29/08.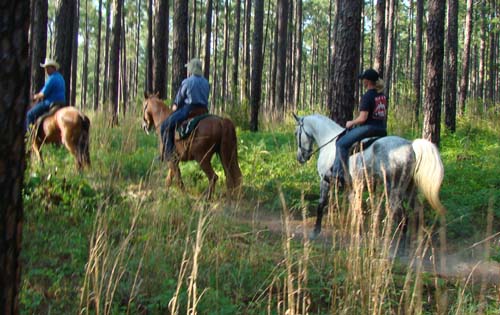 Click on arrow ABOVE to see a video of pretty little 15-yr-old Taylor Godwin riding Silver Mint on 5/4/08. This beautiful mare is walking and shaking her head naturally, barefoot. This is her first camping trip (5/4/08) after being turned out to pasture for a year because I did not have time to ride her. She stays broke!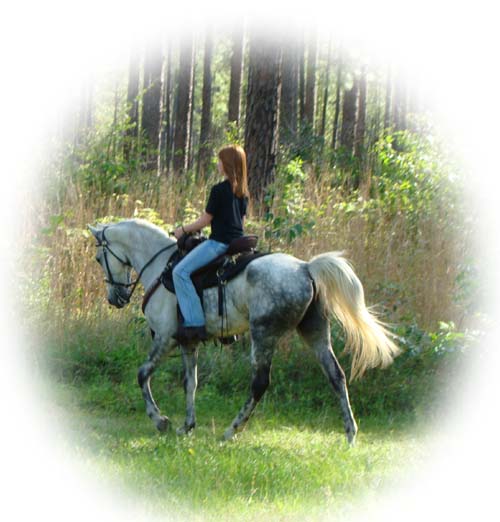 This is Taylor's first time to experience a ride on a Tennessee Walking Horse. Silver Mint arches her neck beautifully (naturally) and rides on a loose rein. (No, Taylor is not my daughter but I wish she was!)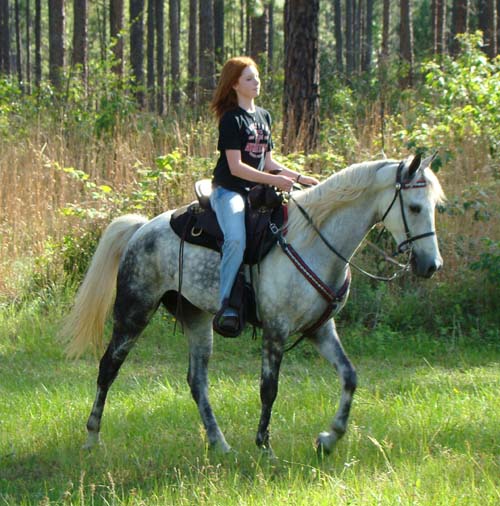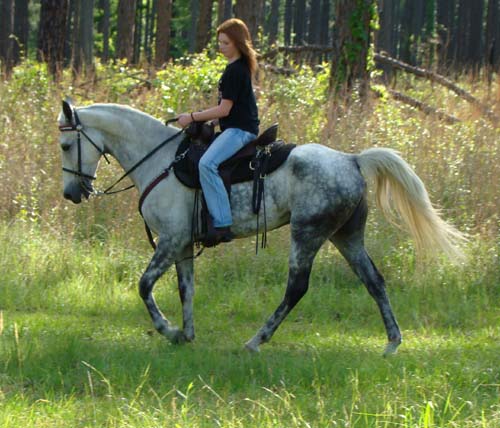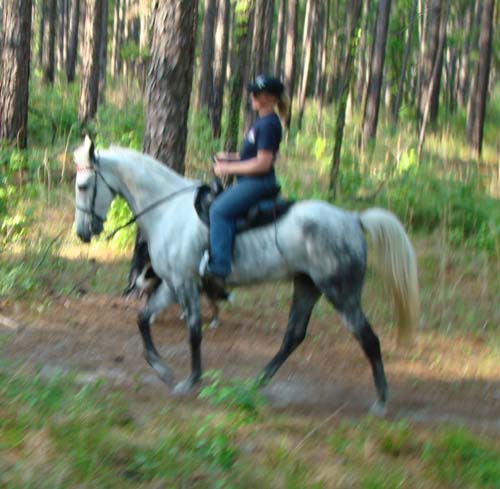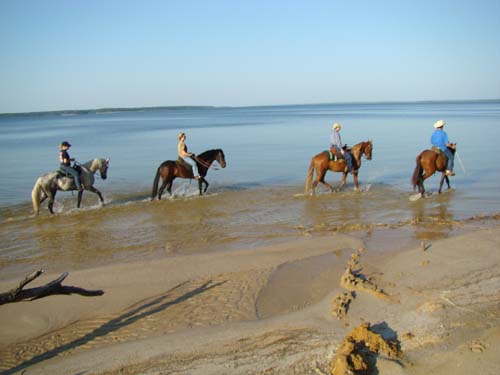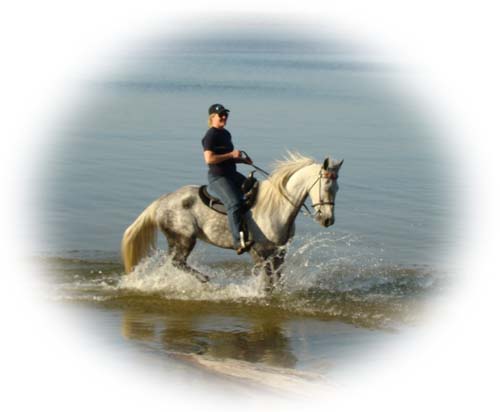 Splashing around in Lake Rayburn on 4/29/08.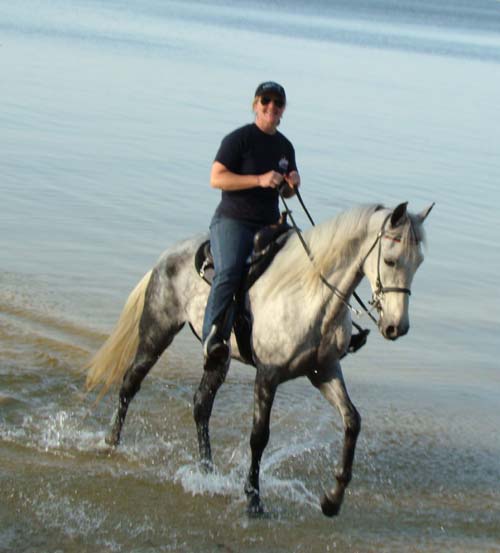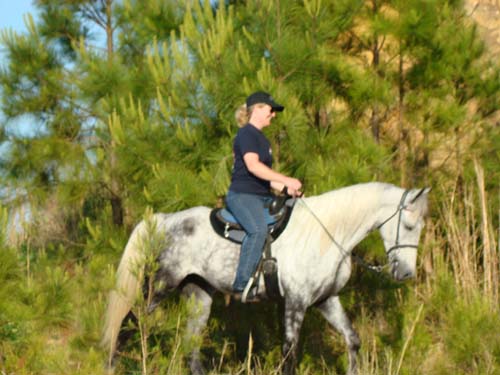 Jan riding Silver Mint on the beach at Lake Rayburn on 4/29/08 -- notice how her reins are loose in most of the pictures. This beautiful 5-yr-old Tennessee Walking Horse mare is a pleasure to ride, light mouth, soft foot fall, smooth gaits, true head-shaking walk or will rack if asked, gentle, easy, athletic canter, does not refuse any obstacle and will go anywhere you point her.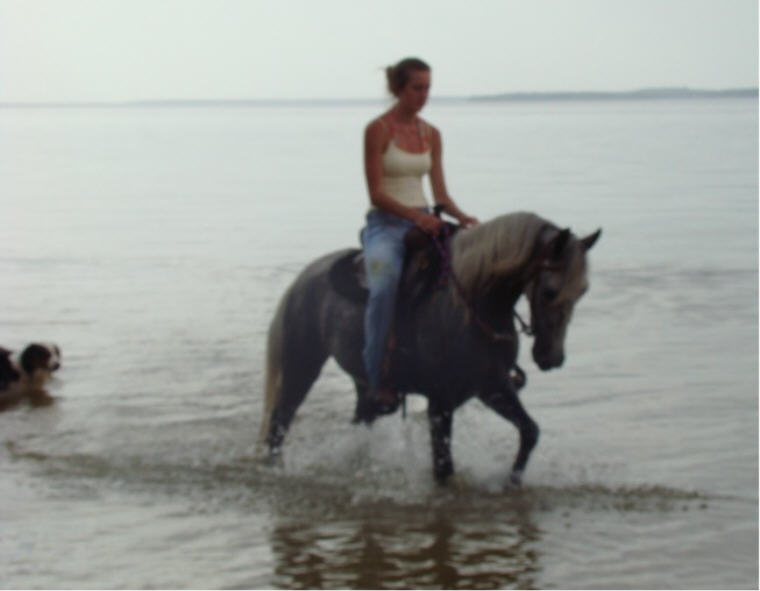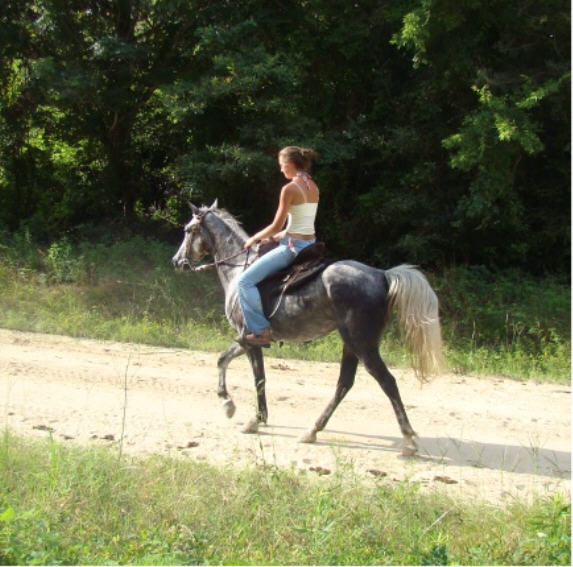 Traci riding Silver Mint on 6/8/07 in Lake Sam Rayburn in Texas, with Tex following behind.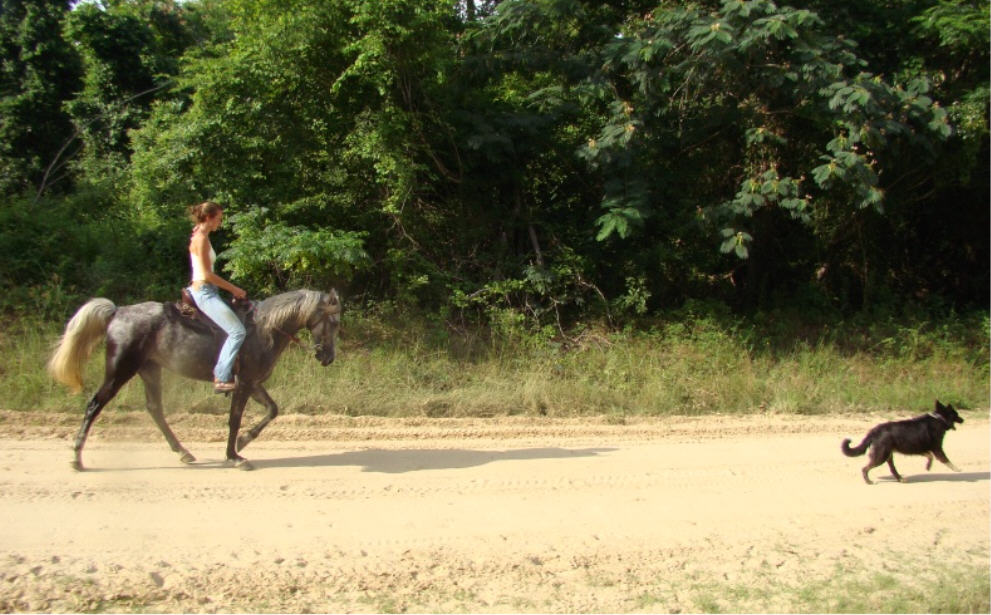 Headed back to camp on 6/8/07 with Bailey the Wonder Dog leading the way!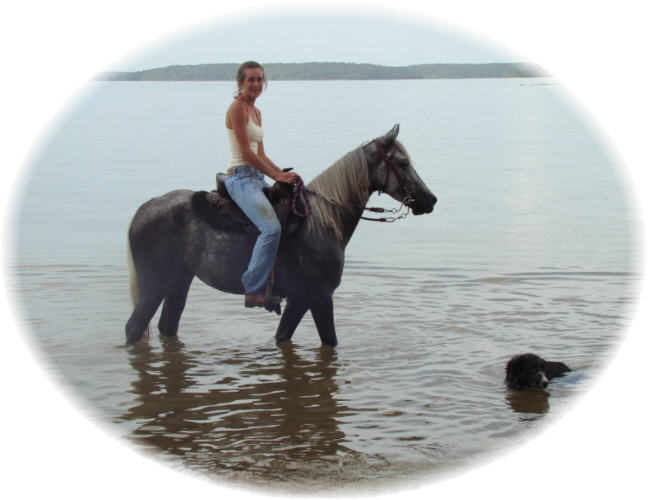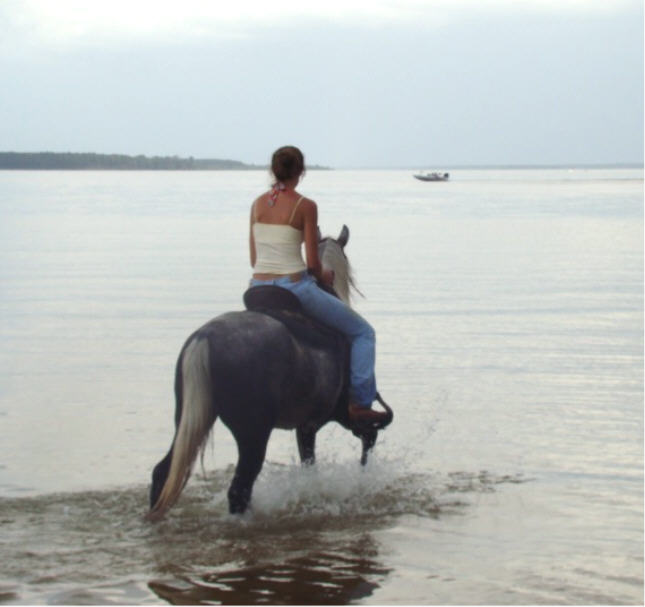 Traci playing in the lake with the dogs, watching a ski boat go by (on 6/8/07).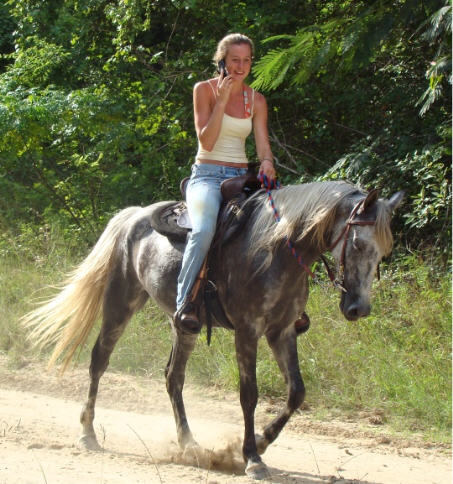 Ah, what teenagers do best!
In the picture at left, she was just barely past two years of age, and in the picture at right, taken on June 20, 2006, she is 10 days short of turning 3 years old. Her mane is going from dark to silver while her legs are staying black. She is a beauty!
"Silver Mint" -- This is my baby, my personal riding horse (now for sale) that I thought I would share with you, since greys seem to be in a constant state of metamorphasis regarding their color. In this picture, taken on June 20,2006, she is 10 days short of turning 3 years old. Click on her picture to see her at 2 years of age (a darker charcoal color) and notice that now her dapples are really coming out. Her mane is going from dark to silver while her legs are staying black. She is a beauty! Yes, my personal riding horse is a mare . . . I know lots of people are prejudiced against mares, believing that their hormonal moods each month are a bother, but I have found, after 25 years in the wonderful Tennessee Walking Horse breed, that this is not much of a consideration. Tennessee Walkers are just way more mellow than other breeds, and that carries over to both the stallions and the mares (so you can imagine how perfect our geldings are! lol). After riding and showing stallions for years (and yes, stallions are a thrill), I have decided that I love the dependability of riding mares and geldings, and I like the fact that my little Silver Mint will be an ambassador not only for her fantastic breed (exhibiting the true head-shaking walk and smooth gaits, including a natural, athletic canter), but she is an ambassador for her gender, proving that mares are fabulous!
Silver Mint has been hauled to Kentucky, Louisiana, the ocean, the beach, and is currently on a campout right now. $6500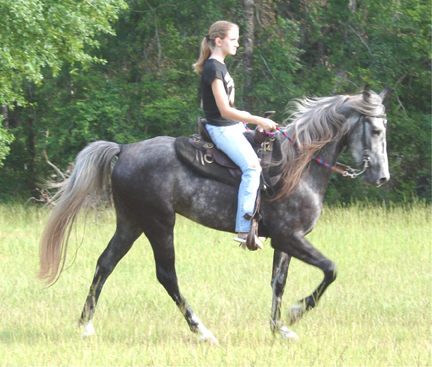 Hannah riding Silver Mint on 6/20/06. This mare is 3 years old and I am training her with the natural horsemanship methods of Parelli, Anderson and just plain gentle common sense! From the very beginning, she has proven to be a bit high spirited, yet completely sane and willing to do absolutely anything I ask of her. She leads trail rides, inspiring courage and setting the stage for even older horses to cross streams, step off into the lake or ocean, and once she even trusted me when I asked her to walk out onto a wooden dock into a lake. We walked out, carefully turned around and stepped back onto land again. She's a great rep for the breed in body, mind, spirit and gait.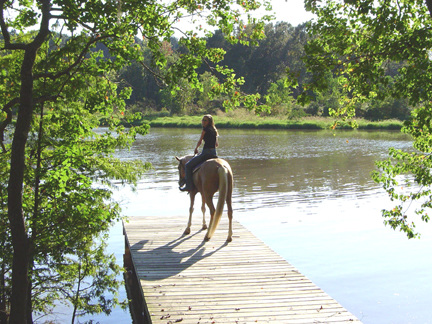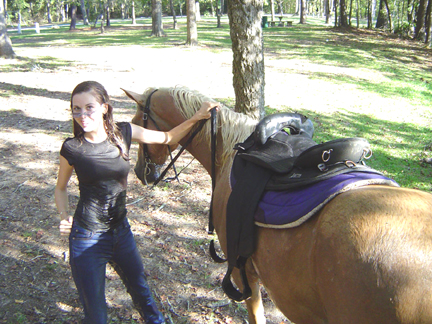 LEFT: The wooden dock on Lake Houston that I rode Silver Mint onto. Since I was taking the pictures, we didn't get a picture of her walking on the dock. This is "Sunshine" ridden by Jennifer Ellison, who decided to follow my example. Unfortunately, Sunshine was not quite as graceful as Silver Mint was, and while turning, he slipped a back foot over the side, lost his balance and fell off the dock backward, with Jennifer in the saddle! RIGHT: All's well that ends well -- this is Jennifer and Sunshine soaking wet after their tumble. Now, instead of 90 lbs., Jennifer probably weighs 95 with all the water in her boots! It would be so easy to hate her, but we love her!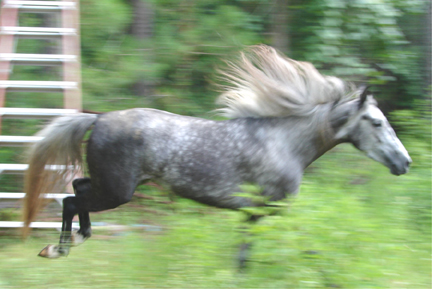 If her mane keeps growing like it is, it will hang down to her fetlocks by the time she's 5 years old!!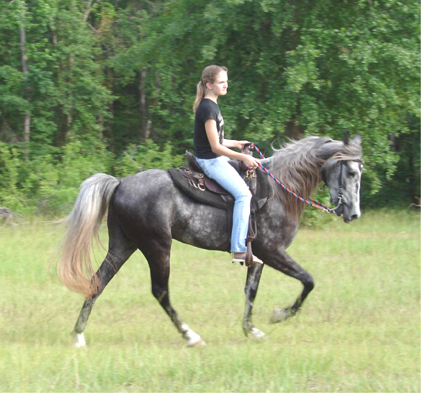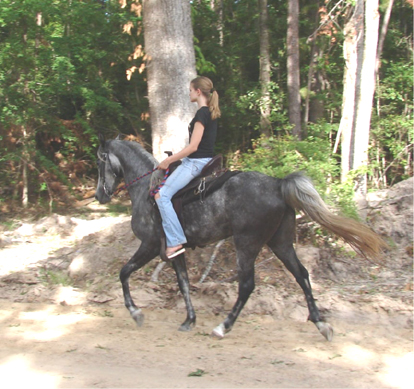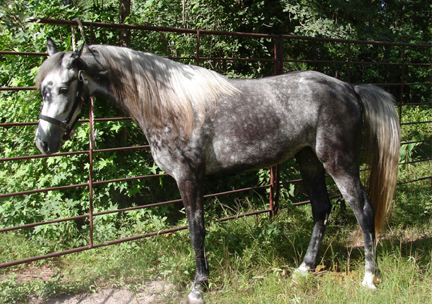 PRIDE OF MIDNIGHT H.F. 661459

BLACK

MIDNIGHT SUN
410751 BLACK
PRIDE OF STANLEY
472897 Color N/A

PRIDE'S DARK SPIRIT
793670 BLACK

SPIRIT OF MERRY BOY 671855

BLACK

SPIRIT OF MIDNIGHT
571132 Color N/A
MARILYN J.
560425 Color N/A

SPIRIT AND SILVER
931102 GREY ROAN Gelding

EBONY'S SUNNY BOY 701065

SORREL

EBONY MASTERPIECE
560586 BLACK
SUN'S ROAN DOLL M.
633969 ROAN
EBONY'S GAYE WIND
811552 GREY

SILVER LADY M. 752843

GREY

SUN'S GOLDEN GIFT
631598 Color N/A
WANDA'S GAY LADY
659223 BLUE ROAN
SILVER MINT
20314942 GREY

PRIDE OF MIDNIGHT H.F. 661459

BLACK

MIDNIGHT SUN
410751 BLACK
PRIDE OF STANLEY
472897 Color N/A

PRIDE'S GENIUS
780930 CHESTNUT

DELIGHT'S JOANNA 694341

CHESTNUT

SUN'S DELIGHT D.
592116 CHESTNUT
DUKE'S FLIGHT
570728 Color N/A
GENIUS' EBONY GLO
850419 BLACK

EBONY MASTERPIECE 560586

BLACK

SKIPPER SON MIDNIGHT
463561 Color N/A
LADY LEE
400680 BAY
EBONY'S MISS GLO P.R.F.
710486 Color N/A

MIDNITE SUN GLO O.
560574 Color N/A
MARTHA GO BOY
500429 Color N/A


Email me!
Cloud 9 Walkers Home Page (Pleasure Horses For Sale)
Beautiful Cloud 9 Walker Babies For Sale
Cloud 9 Walkers Previously Sold
Click here for a list of Safety/Pleasure tips for you and your horse

Bridles For Sale, Stories To Read
Tennessee Walking Horse National Supreme Versatility Champion Story
Tennessee Walking Horse Links of Interest