CLOUD 9 WALKERS
"Bling Bling"
Lit-Up Mahogany Bay Tennessee Walking Horse Gelding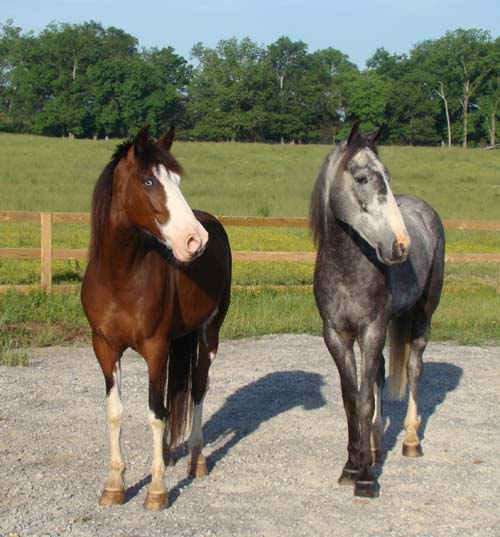 The Beautiful One (Bling) on the left and the Ugly One (Chisel) on the right! :)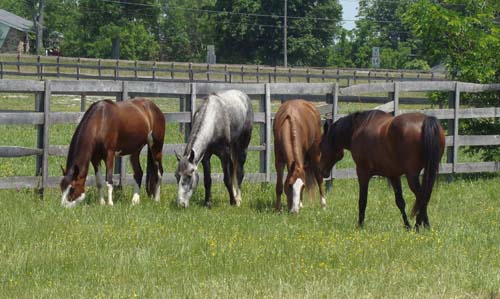 Contented as cows in a Tennessee pasture on 5/25/08.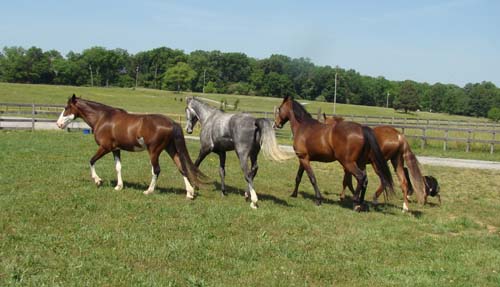 This is why our horses are so easy to ride -- they get lots of time at liberty! Check out Bling's natural 4-beat gait in this picture.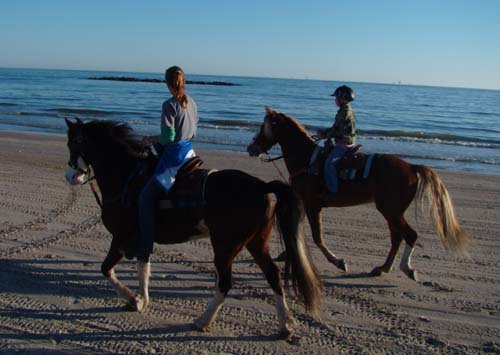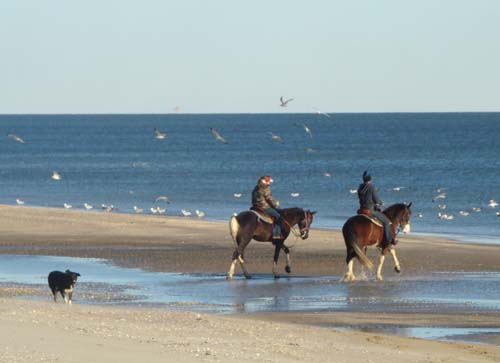 Angie rides Bling on New Year's Day on the Louisiana coast of the Gulf of Mexico.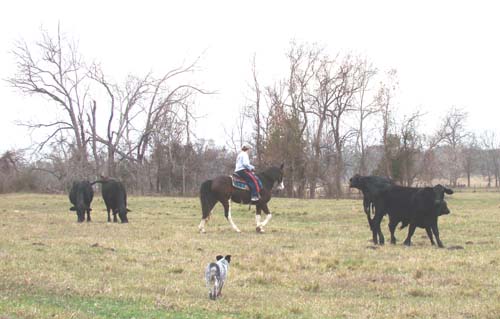 Krystal uses Bling to check the Brangus herd.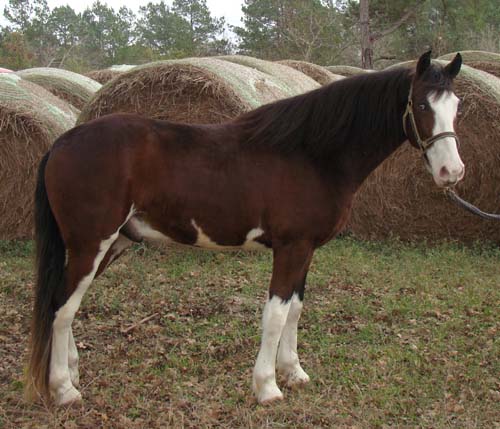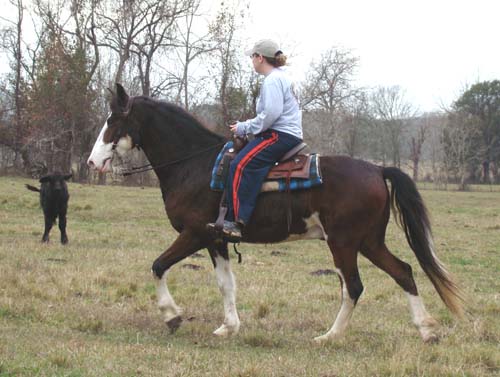 LEFT: Built like a tank! RIGHT: Riding in the pasture on 12/16/07.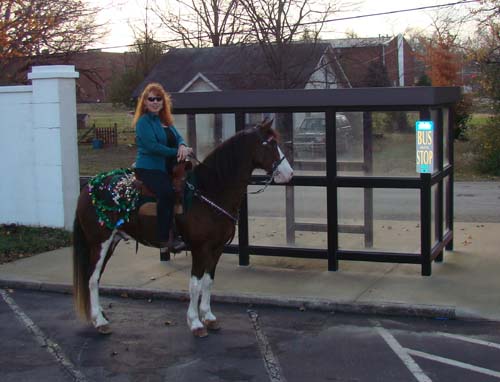 Me riding Bling, waiting for the bus in Murfreesboro, TN on 12/9/07.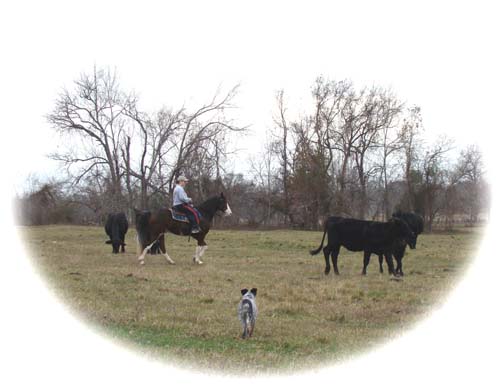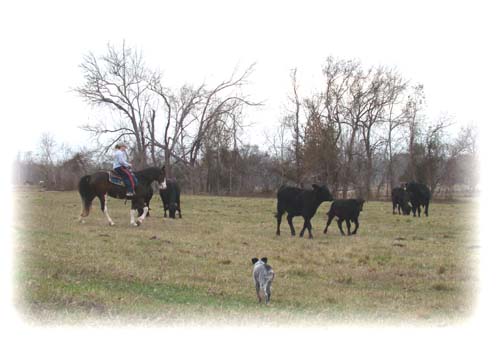 Just more purty cattle-pushing pictures. (He gaits naturally, and canters easily.)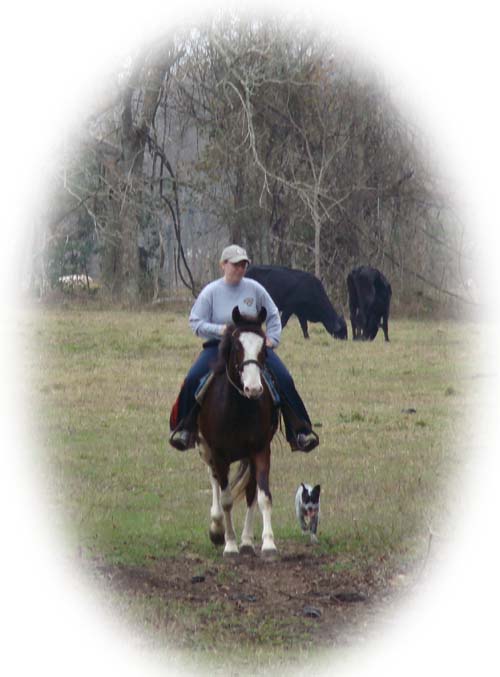 "Bling" -- The flashiest horse you may ever meet! He's 6 years old, 15H and stocky-built like a Quarter Horse with a crease down his back, wide chest, big rump, four long white stockings that go up past his knees, splotches on his belly, and a big blazed face. He has one blue eye and he's very, very gentle and sweet with an easy demeanor in the pasture, stall, trailer . . . no trouble out of him anywhere! He doesn't look it, because he's roly poly shiny and fat, but he's low down on the totem pole in the pasture and stands quietly while the others play. He doesn't mind going out alone and does great in a crowd. I rode him in the Murfreesboro parade in Tennessee on 12/9/07 and none of the craziness bothered him. At the end of the night, we had to ride back a long ways to the truck in the dark down dark highways with cars zooming about 6 feet from us, and sometimes we had to actually ride in the street, and Bling took good care of me.
Gets along harmoniously with others, in the stall, pasture, horse trailer, picket line;

Gentle enough to be a confidence booster for riders who want to learn the trails;

Easy keeper, good hard hooves, dappled shiny coat, excellent health;

Sane mind, sensible disposition, sweet nature

Smooth as silk and fun to ride, responsive

A lifetime dream horse
Recently my miniature gelding ran Bling into a thicket where he got hung in vines and thorns. When I found him, he had one foot hung, but he had stood there for hours, waiting for help. If he had struggled, he would have been punctured, but there was not a single scratch on him, and he stood quietly while I cut vines and freed him. He had to duck under thickets to be led out, and he did so quietly and willingly, like he understood that I was helping him. Bling is a really nice horse.
This beautiful mahogany bay Tennessee Walking Horse gelding comes from the spotted bloodlines of Paint the Town and Go Boy's Insignia, while the World Grand Champions Merry Go Boy and Triple Threat are showing on his papers. His gait is an incredibly smooth 4-beat rack with a bonus of an athletic, easy canter, and he neck reins, backs. We're teaching him to sidepass now. On 6/27/07, he was vaccinated for Strangles, Rabies, West Nile, EWTRF, a new negative coggins and his teeth were floated. This horse is in top shape and ready to do anything with his whole life ahead of him. He'd make a great field trial horse, competitive riding or endurance prospect, or just simply your new best friend. His owner is sadly having to sell all of her horses because of her health issues. $5500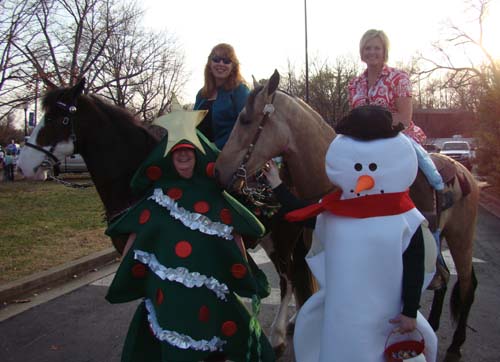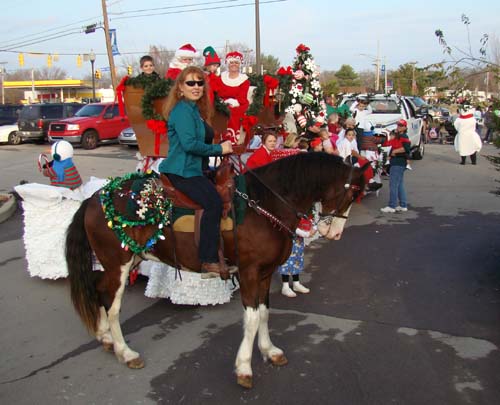 I am riding Bling here in the Murfreesboro, Tennessee parade on 12/9/07.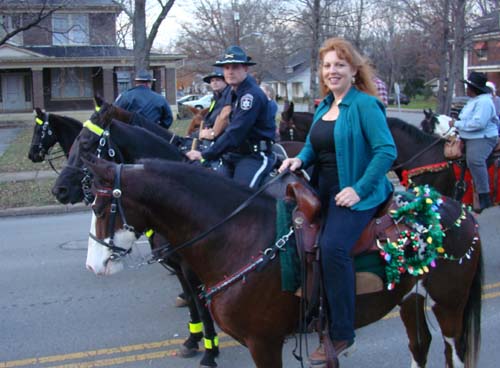 Riding next to the mounted patrol -- wouldn't Bling make a handsome mounted patrol horse?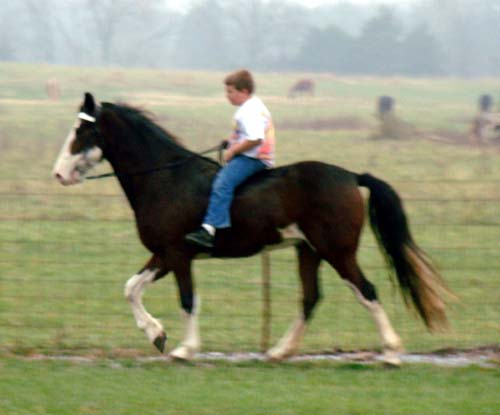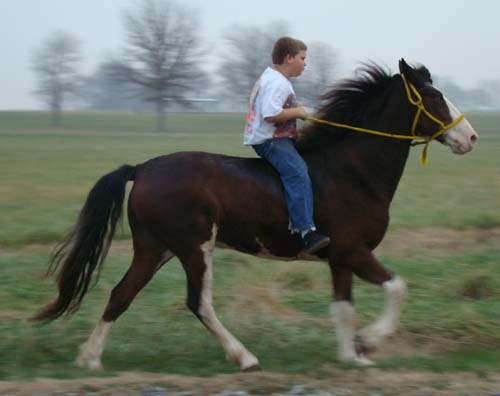 Young (11-yr-old) Kip rides Bling in a Tennessee pasture first in a halter, then in a bridle, BAREBACK on 12/9/07.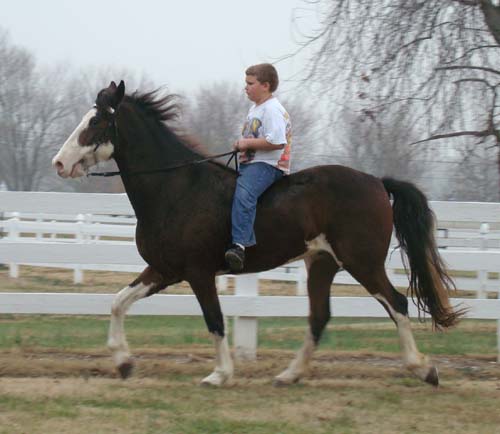 Aren't they cute together?
Click on arrow ABOVE to see Kip riding Bling bareback in the pasture.
Click on arrow ABOVE to see Kip riding Bling bareback in the arena.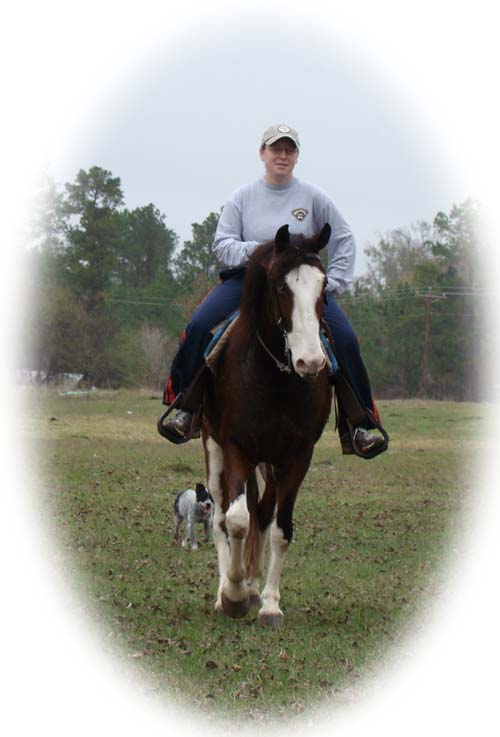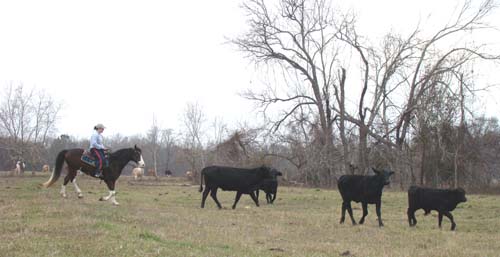 CLOUD 9 WALKERS
P. O. Box 878
Hardin, Texas 77561
936-298-1984

Email me!