CLOUD 9 WALKERS
"Butterscotch"
14.3H 4-yr-old Champagne Spotted Saddle Horse Gelding
Perfect size, Sweet Personality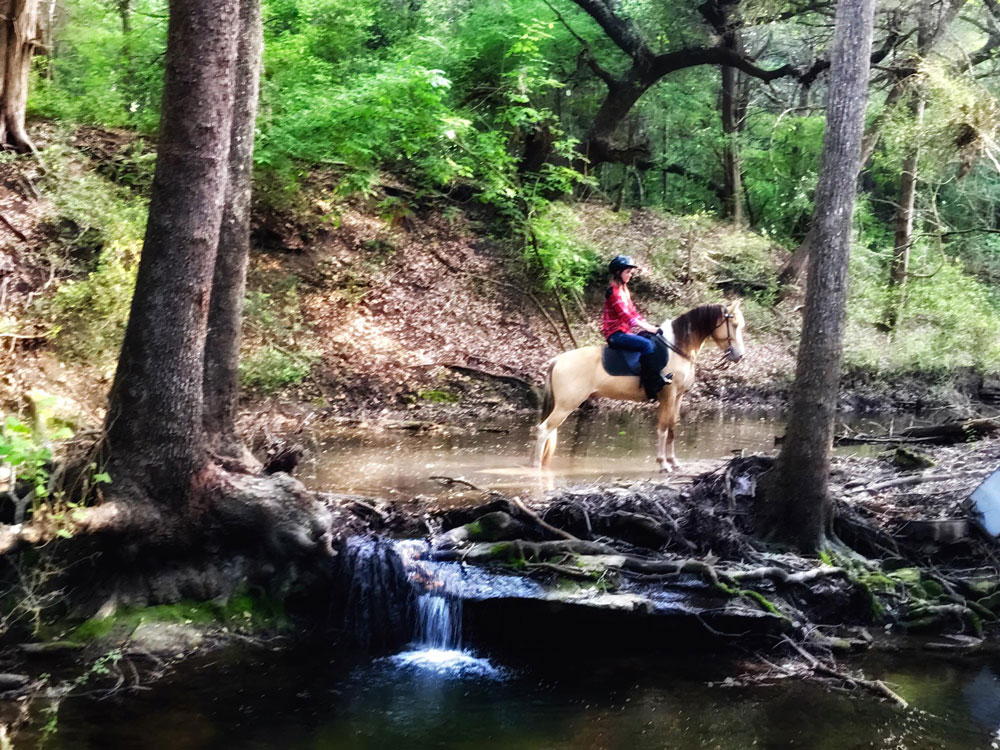 Beautiful spot on the creek above the waterfall in Brenham, Texas.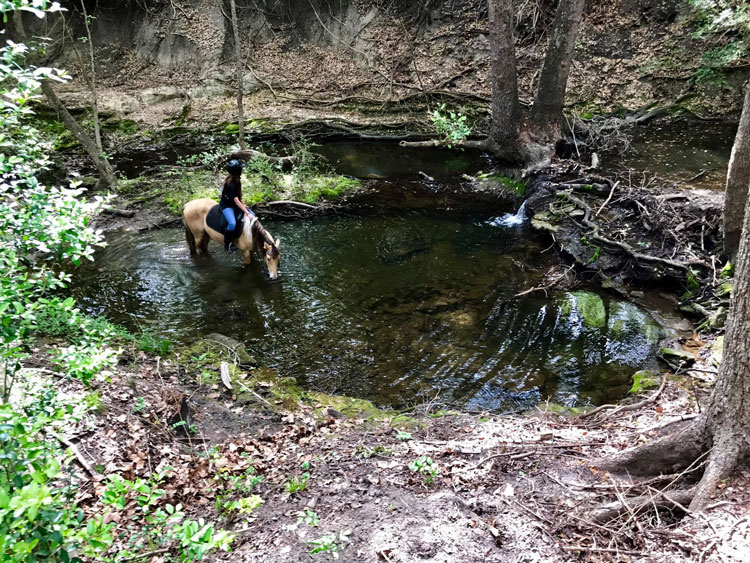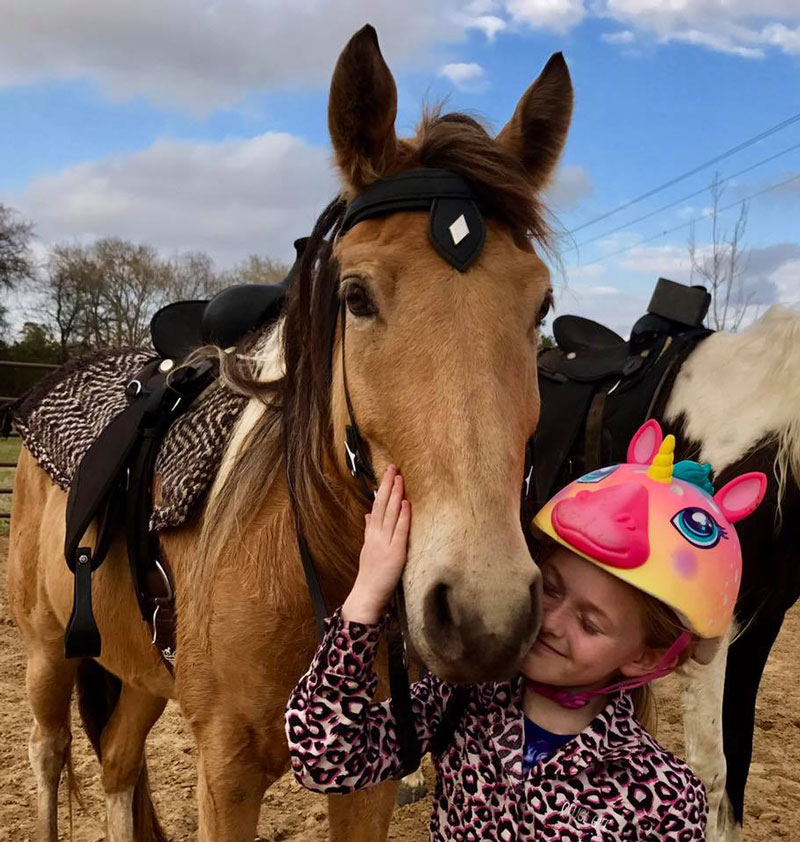 Sweet little Savanna loves her some Butterscotch!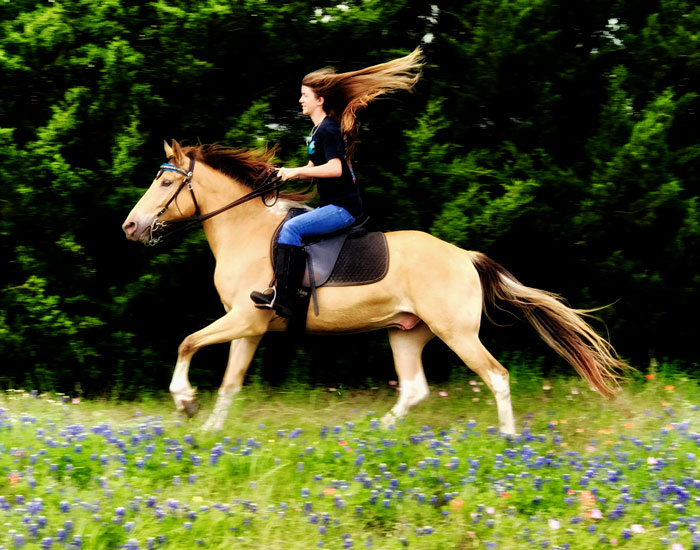 Such a nice little soft cowboy canter through the bluebonnets!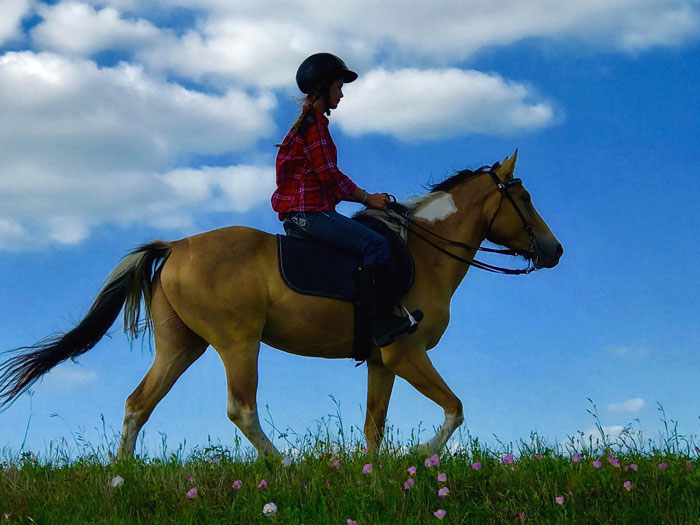 Cheyenne rides Butterscotch throught the wildflowers in Brenham, Texas during our campingn trip the week of 4/11/17.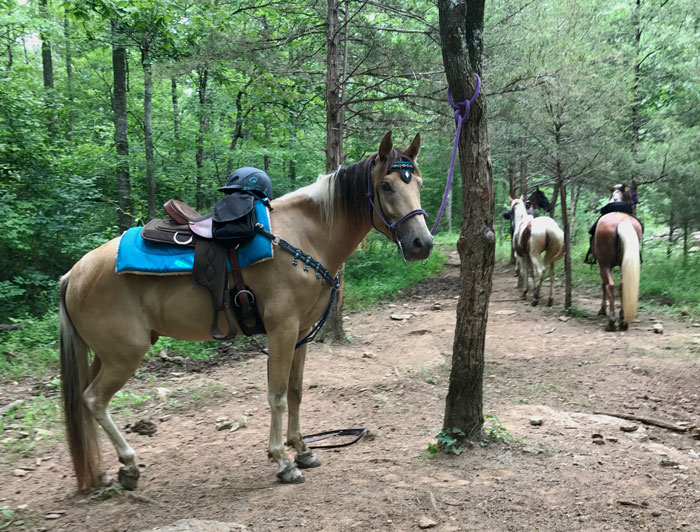 Waiting while we all jump in the swimming hole during our camping trip in the Arkansas Ozarks the week of 6/17/17.

We rode the trails in the Arkansas Ozarks in the morning until a little past noon and then realized we were hungry, so we rode back to the cabin and grabbed a few snacks and went down to the swimming hole and I think we spent the next two solid hours playing in the water. All such great training for the horses!

Kathryn is up front on Hashtag, Hailey and Cheyenne are riding double on Whodoo, Liz is on the outside riding Shaka Laka, and Aubrey is riding Butterscotch.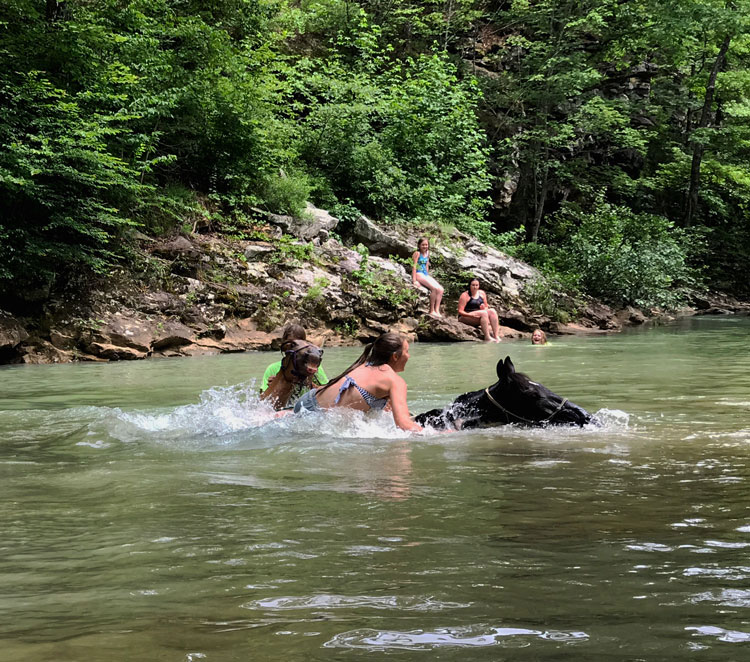 Fun at the swimming hole in the Arkansas Ozarks, Cheyenne and Hailey are riding Butterscotch, double, bareback, and Kathryn is riding Hashtag.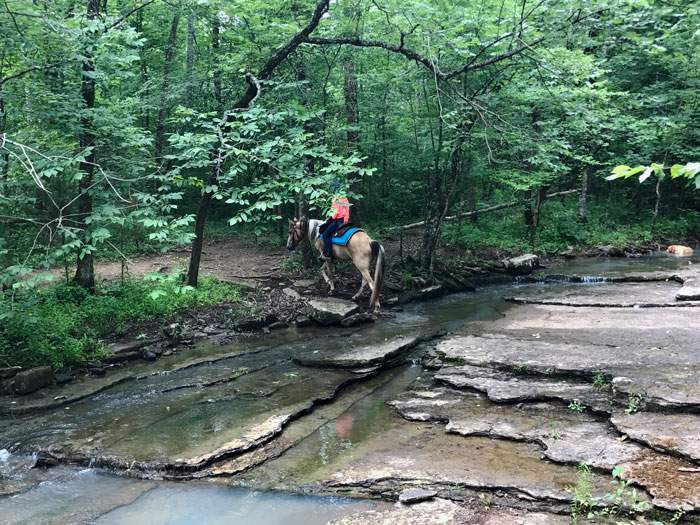 Crossing one of the many beautiful streams in the Arizona Ozarks.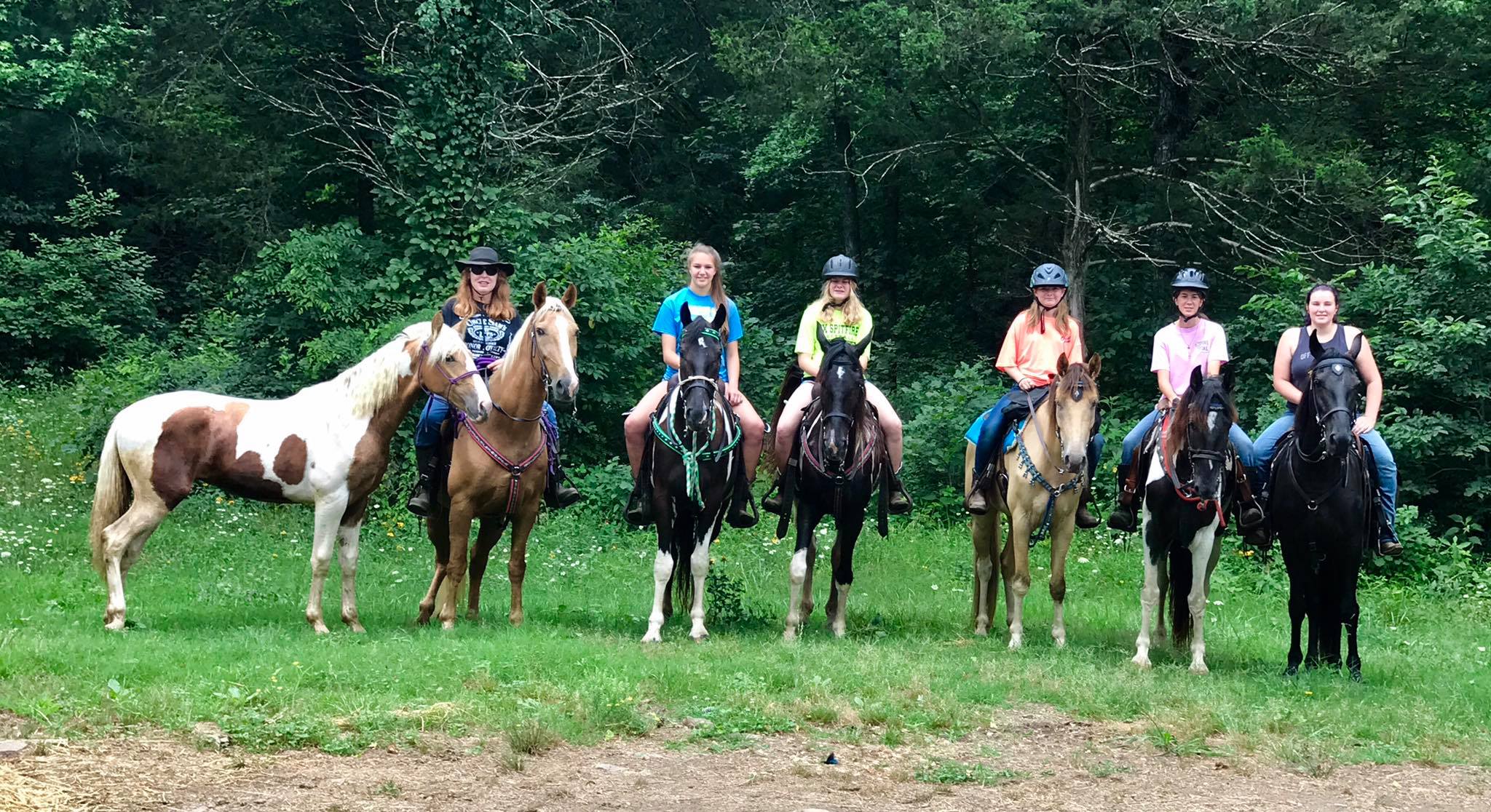 Our morning ride on our last day in Arkansas . . . I am on Sam, ponying Princess Lilly; Kathryn is on Hashtag; Hailey is on Whodoo; Aubrey is on Butterscotch; Cheyenne is on JR; and Liz is on Shaka Laka.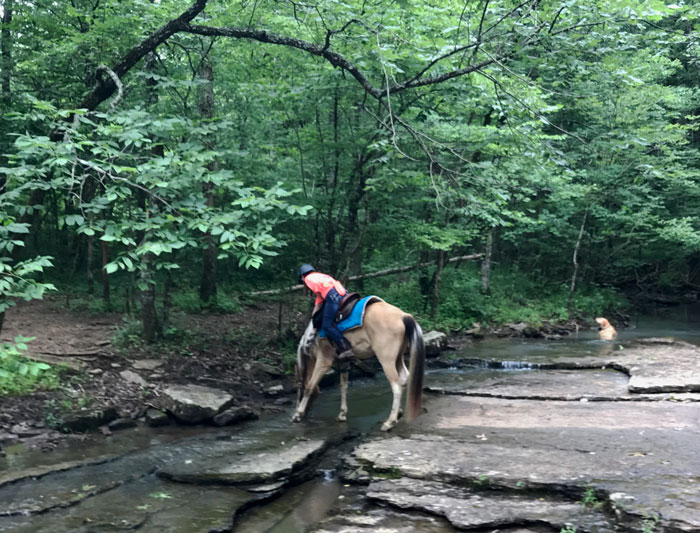 Butterscotch is very good at hydrating along the trail.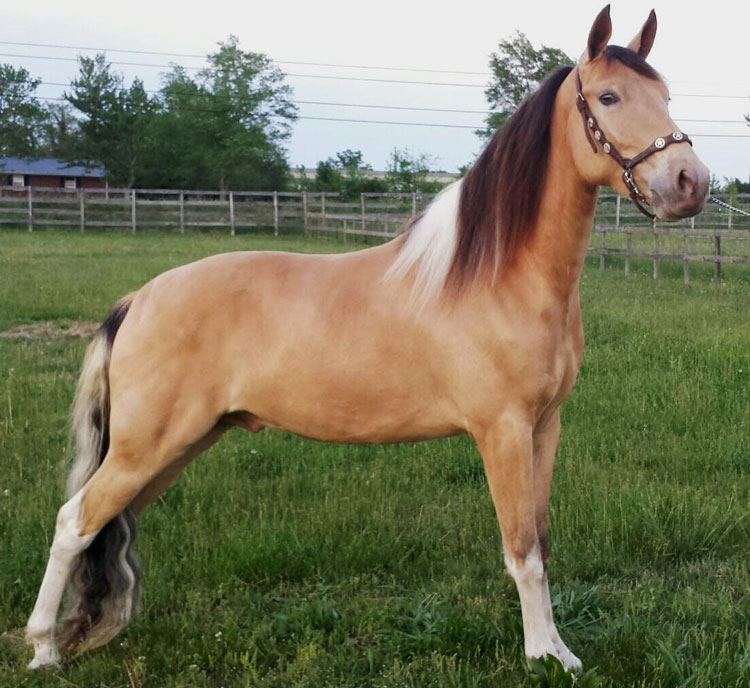 Beautiful champagne with striped mane and tail.

"Butterscotch" -- 4-yr-old 14.3H gorgeous unique champagne Spotted Saddle Horse gelding, sweet-natured, eager to please, very respectful, affectionate little guy. His mane and tail have a black stripe going through them which makes him very flashy, along with his four white stockings. We have hauled him on several camping trips around Texas, including Lake Rayburn and a private ranch in Nacogdoches, and recently he carried different youth riders through the Arkansas Ozarks during our June, 2017 camping trip. He has a nce four beat racking gait, and as a bonus, a really easy athletic, rocking little cowboy canter. Butterscotch is absolutely no problem in the pasture and we run our mares and geldings together on our camping trips. He is one of those horses that you can squeeze in the last spot on the trailer next to any other horse, because he's not going to cause any problems or trouble. Of course, as much hauling as we do, he hops right into the trailer with no issues. We live on a busy major highway, so he is well accustomed to highway traffic, as well as tractors, 4-wheelers, dogs, cattle, turkeys, chickens, pigs, guineas. We almost always take our trail dogs with us when we camp, so he is accustomed to dogs following, bouncing around, popping up out of the creeks. $6500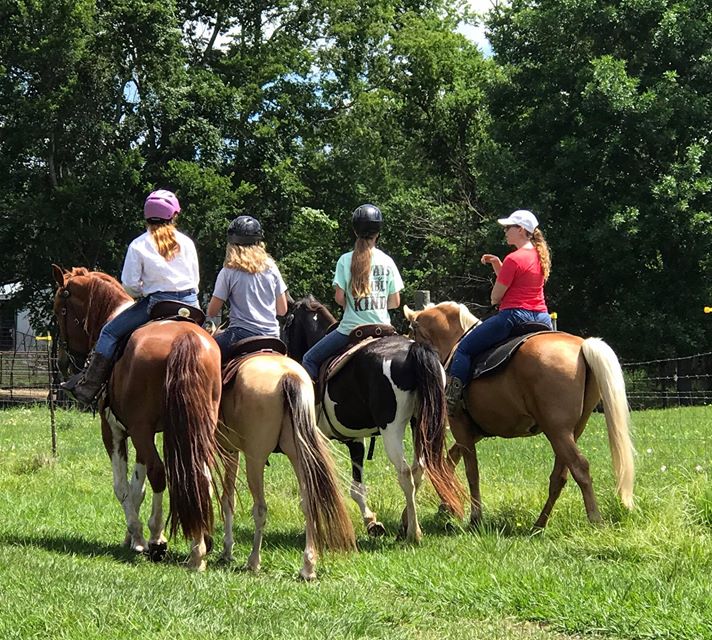 Trailride between classes at our pleasure show clinic, from left:
Riley on North Star
Hailey on Butterscotch
Cheyenne on JR
Kristine on Sam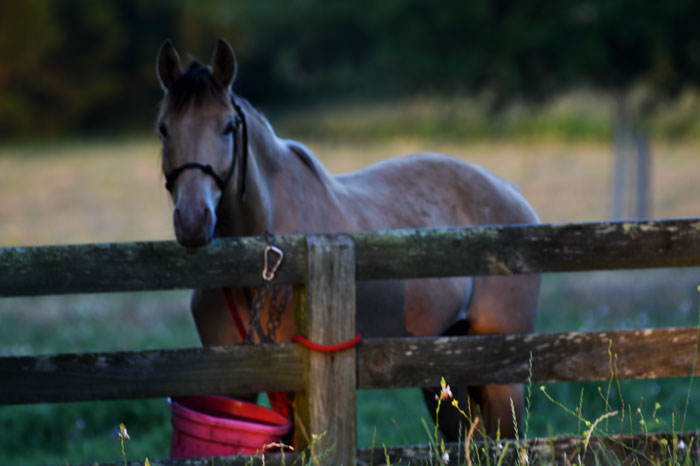 Butterscotch on our camping trip in April, 2017 in Brenham, Texas.
Butterscotch, Whodoo, Tebow and Stetson running free before their workouts during our camping trip in April, 2017 in Brenham, Texas.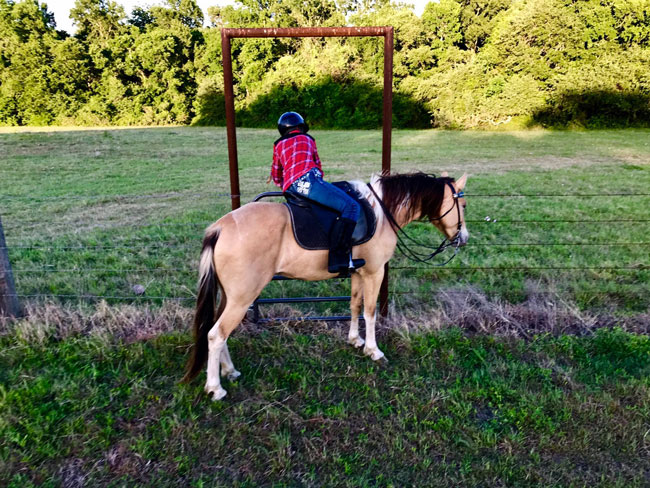 Cheyenne opens a gate from the saddle during our camping trip at a cattle ranch in Brenham, Texas in April, 2017.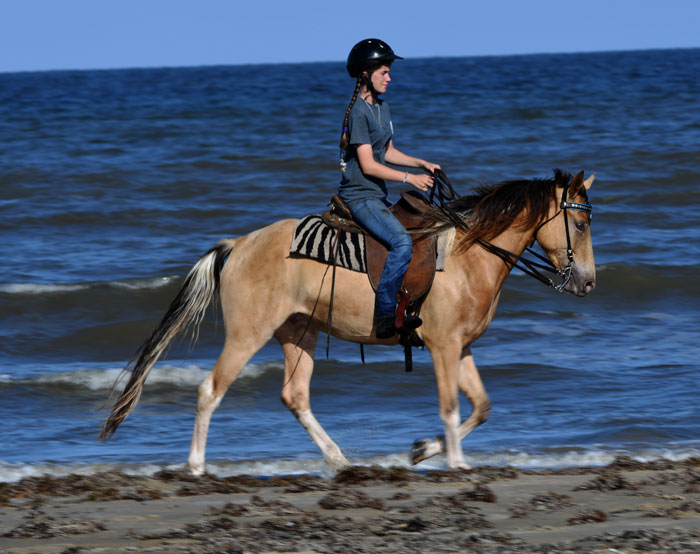 Cheyenne rides Butterscotch on the beach at the Gulf of Mexico on our camping trip the week of 4/20/17.
Click on embedded arrow ABOVE to see Cheyenne riding Butterscotch down the beach and in the ocean, and working through a desensitization exercise during our camping trip the week of 4/20/17.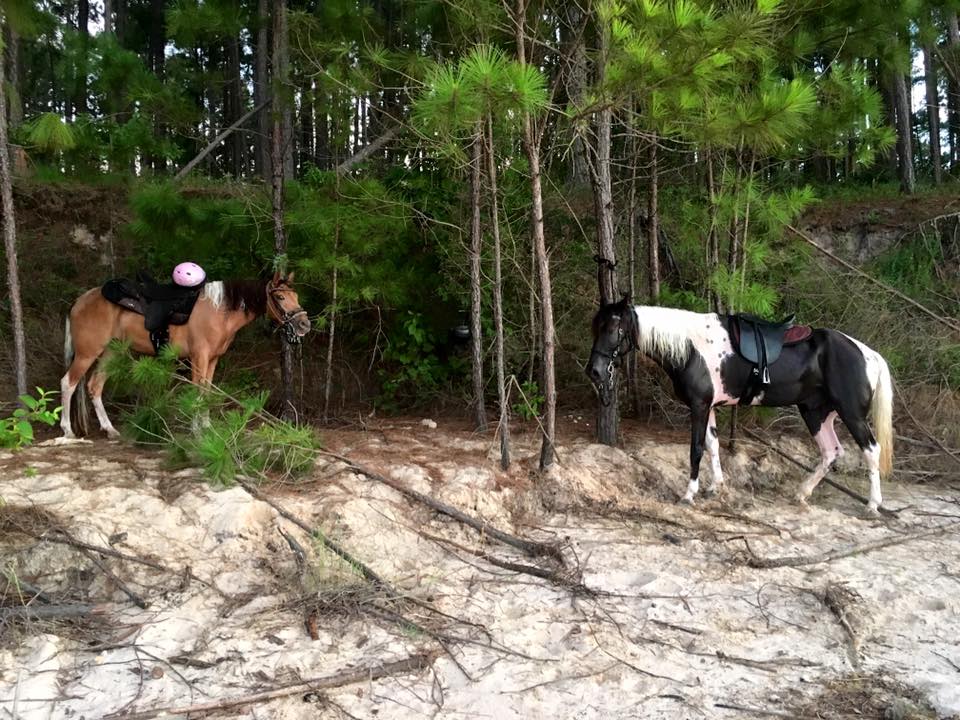 Butterscotch taking a break on the beach at Lake Rayburn while we swim in the lake during our camping trip the week of 7/24/16.
Butterscotch learns to carry a flag. Good job, Cheyenne! Click on embedded arrow ABOVE to see.
Savanna is taking a riding lesson on Butterscotch and this is her first time to ride him. I am having her ride with no stirrups in an effort to get her to ride with her heels down. We have the reins snapped to the D-ring on his bit just in case Savanna pulls on his mouth a little too much but she is really doing great. She is 8 years old and making such great progress that she will be heading down the trails with us in no time! Photo taken 2/6/17.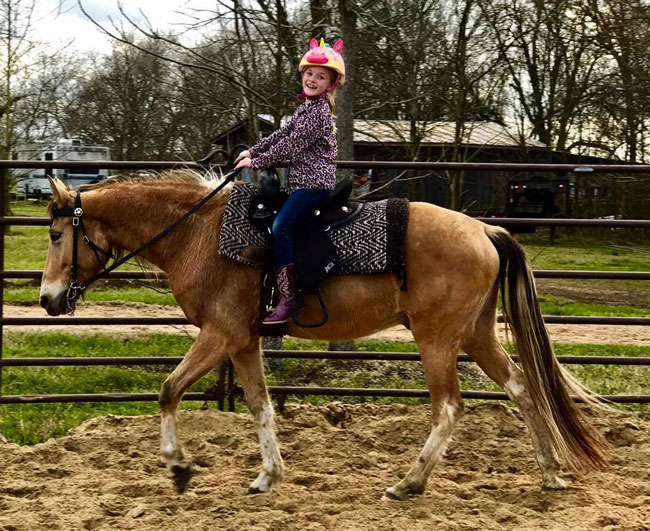 The girls chose these three horses to play around on bareback -- Cheyenne is on Indy, Hailey is on Butterscotch and Riley is on Dino. Click on embedded arrow ABOVE to see their fun on 2/25/17.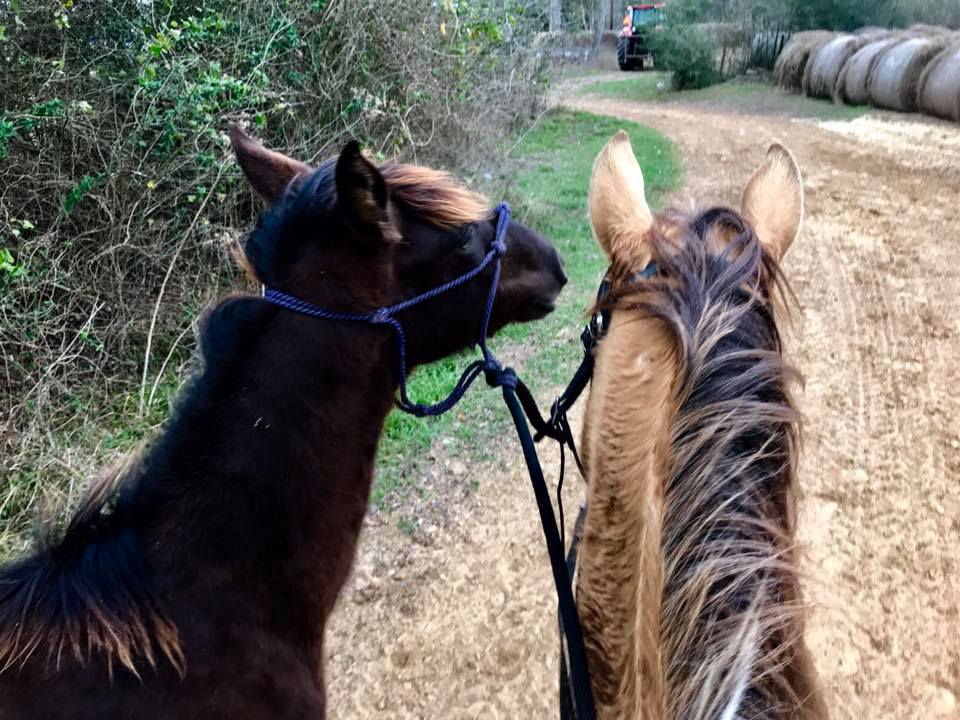 Butterscotch is learning to pony a horse, and Deuce (a weanling) is learning to be ponied. He is going to have to learn to stay back a little.

I really can't decide which I love more . . . sunset rides or sunrise rides.

This is our sunset ride to the lake, hurrying so we can tie our horses up and swim awhile, our cooling reward for a day's hard work.

Kathryn is leading the way on Boogie, Ruth is riding the champagne gelding Butterscotch, and Cheyenne is riding the black and white gelding Dino through the beautiful, fragrant, shady Angelina Forest in Texas.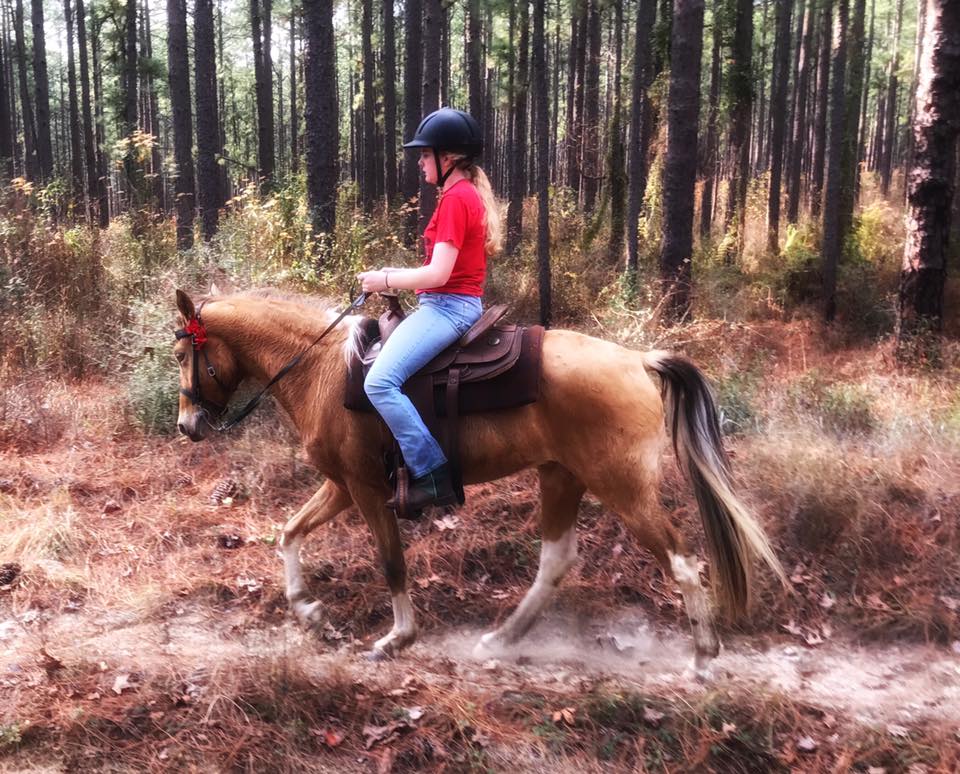 Hailey riding Butterscotch through the Angelina Forest during our camping trip the week of 12/31/16.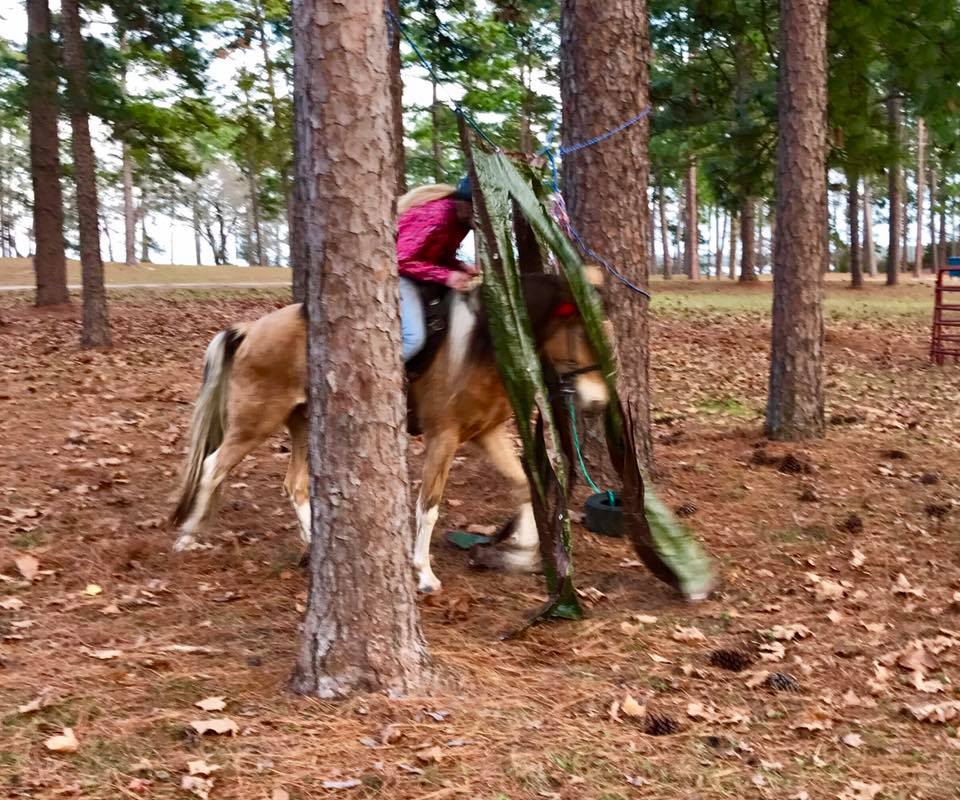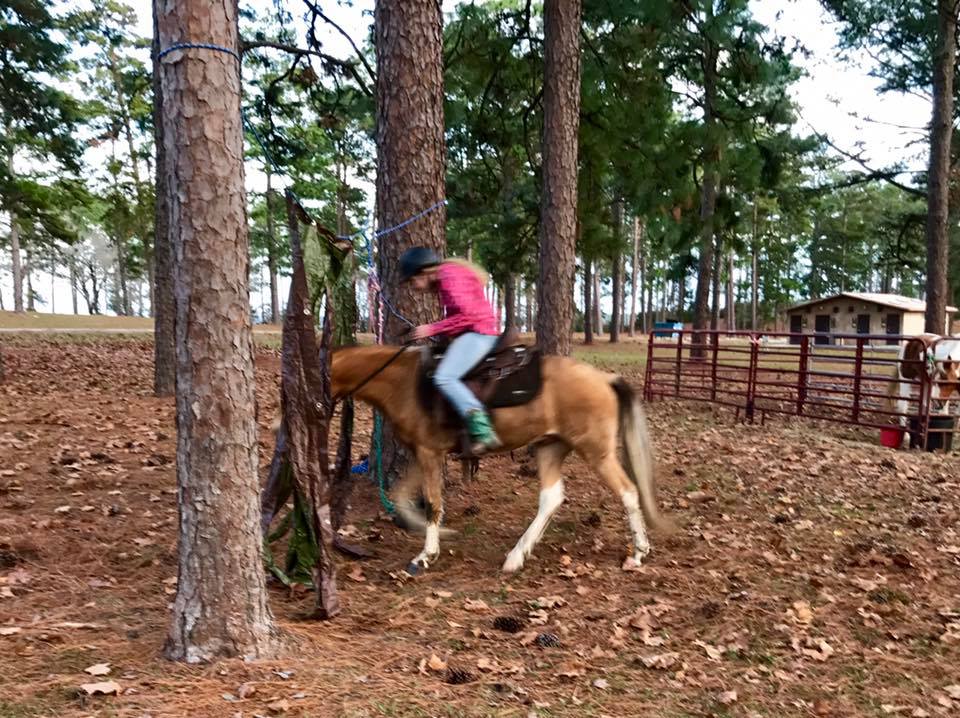 We set up an obstacle course, including a 'carwash' at camp, and Hailey is ducking to go through it on Butterscotch.
Some people believe that obstacle courses are silly. They believe that making your horse step over and around unusual obstacles is ridiculous, but that always lets me know that that person is not being open minded.
First of all, training your horse to accept any obstacle you ask him to do just makes a really good compliant horse. Secondly, you don't always know what you will encounter on a trail. On this trail we encountered a discarded bathtub, piles of trash and a huge tarp, all of which are very spooky to horses.
Wouldn't you rather train at home so that they don't have a huge explosive reaction in case you do run across these problems on the trail?
Good job, Hailey and Butterscotch!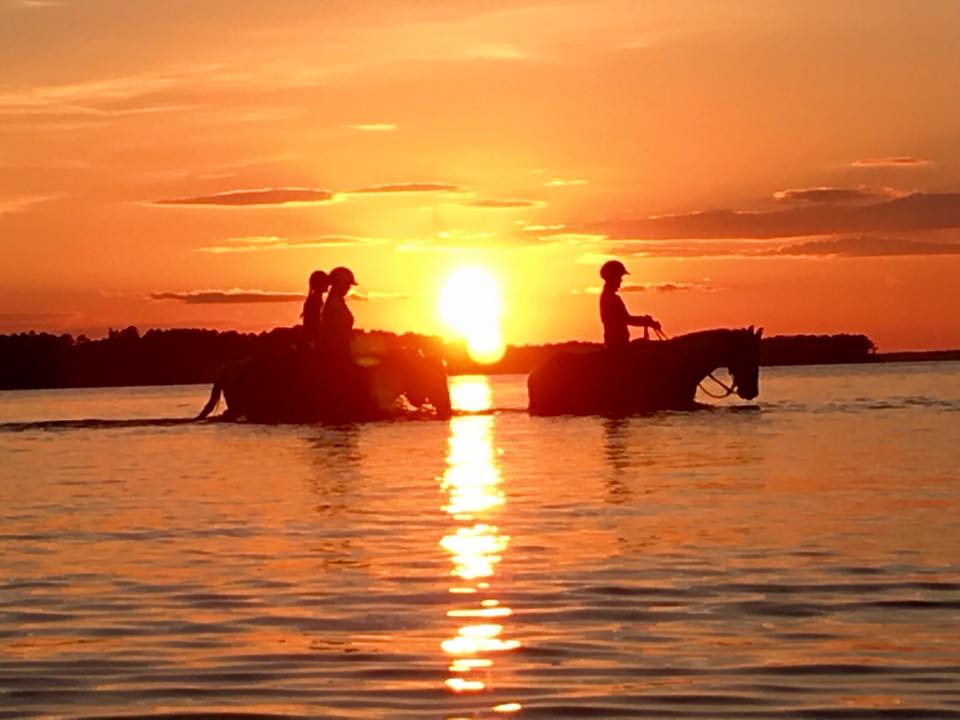 Girlhood friends.
Lifetime memories.

Cheyenne leading the way at sunset in Lake Rayburn on Dino, followed by Ruth on Butterscotch, and Kathryn on Boogie.
>
Hailey on Butterscotch and Cheyenne on Splash, riding at night at camp in the Angelina Forest, Texas the week of 12/27/16.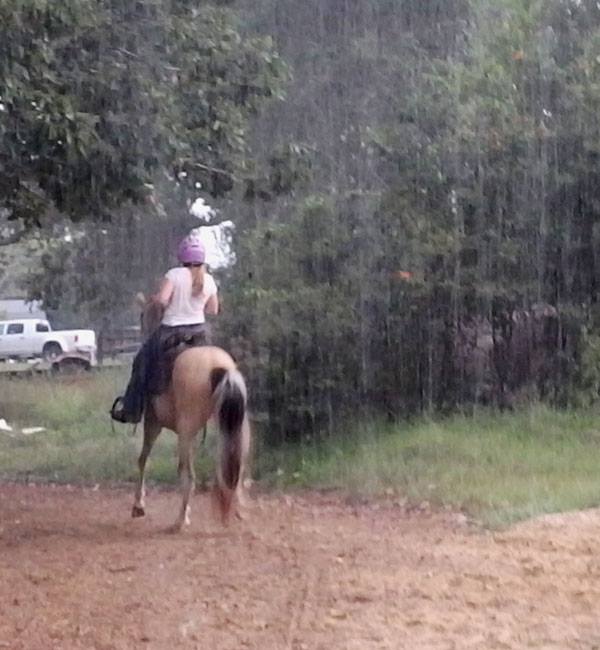 Riley was riding Butterscotch when the rainstorm hit, and she got the heck outta Dodge! Photo taken 8/13/16.

This may look like we're riding in total darkness, but when the moon is full, you can actually see your shadow. Ruth is riding Butterscotch and Stephanie, whom I never dreamed would right at night with us, is riding Honeybee. I am riding Zoe.
Sire of Butterscotch: Rocker's Gone Platinum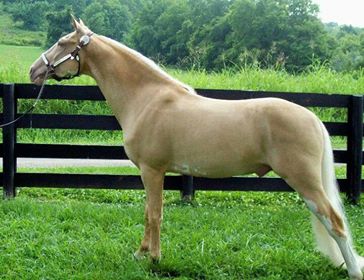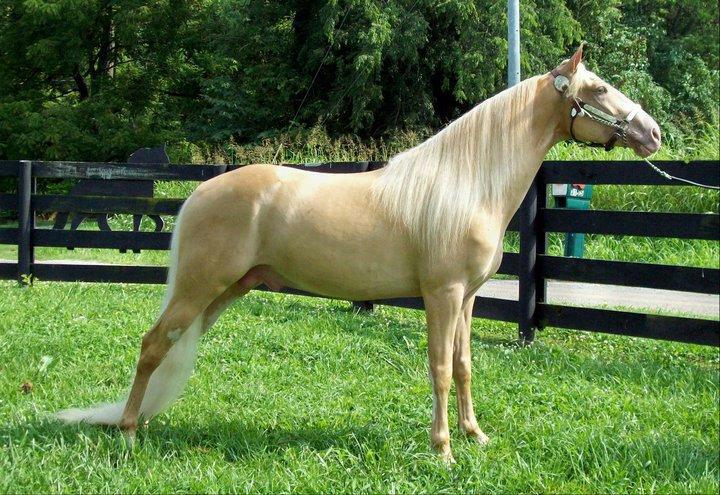 Cloud 9 Walkers
P. O. Box 878
Hardin, Texas 77561-0878
(55 minutes east of Houston)
281-726-4545
(Entire contents of this website copyrighted by Cloud 9 Walkers)

Email me!