CLOUD 9 WALKERS
"Chance"
Big, Gentle, Sweetheart 15.2H 4-yr-old Palomino Tennessee Walking Horse Gelding
Click on embedded arrow ABOVE to see a silly riding video of Chance.
Click on arrow embedded ABOVE to see Chance encounter a bull dozer and cattle.
Click on embedded arrow ABOVE to see Adeira riding Chance in Lake Sam Rayburn on 7/10/09.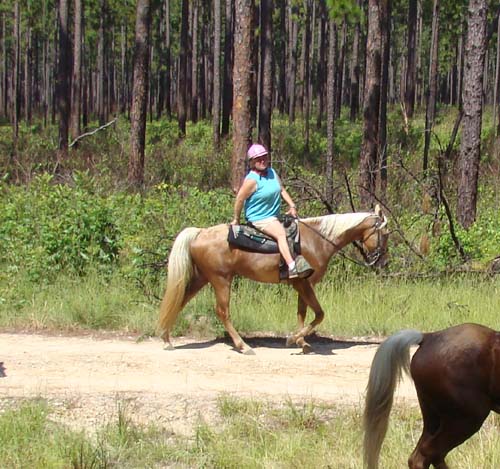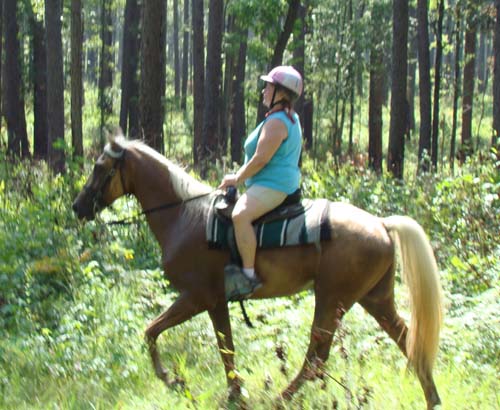 Adeira rides Chance through the Angelina Forest on the way to the lake on 7/10/09.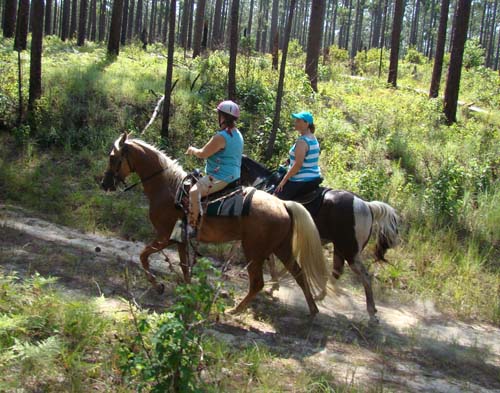 One of my favorite pictures -- a hot summer day in Texas, two cousins reliving their childhoods. Lisa and Adeira are a ton of fun!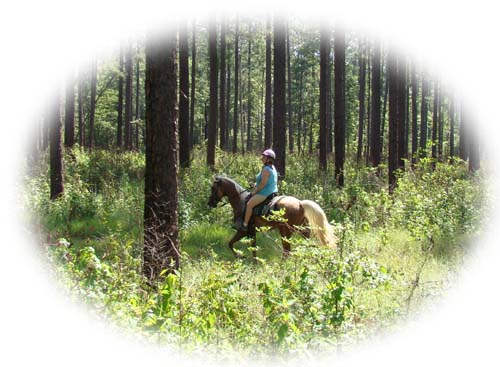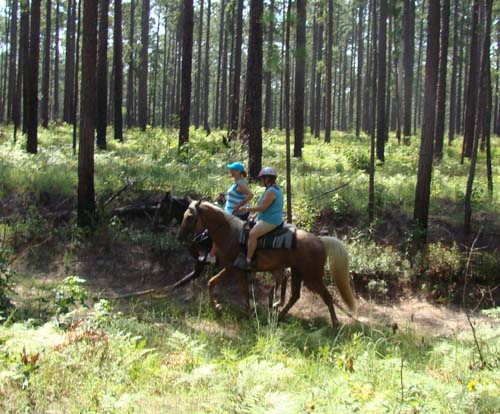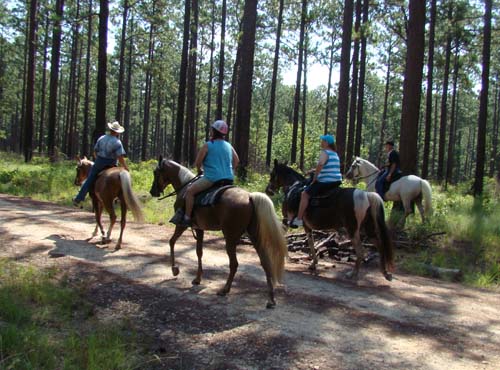 On the way to the lake to swim during the heat of the day.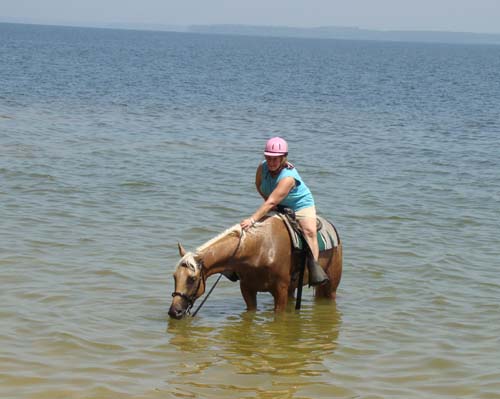 One of my favorite pictures -- she's letting him 'hydrate'.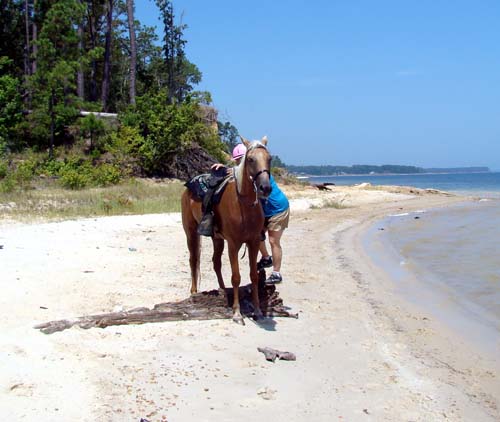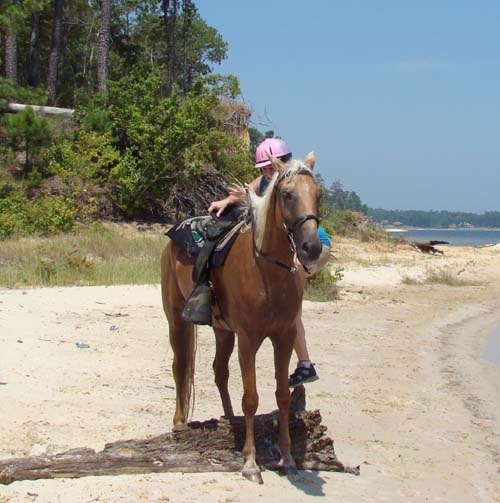 \
After swimming, Adeira shows how to remount when your horse is taller . . . find a stump or an old piece of driftwood . . .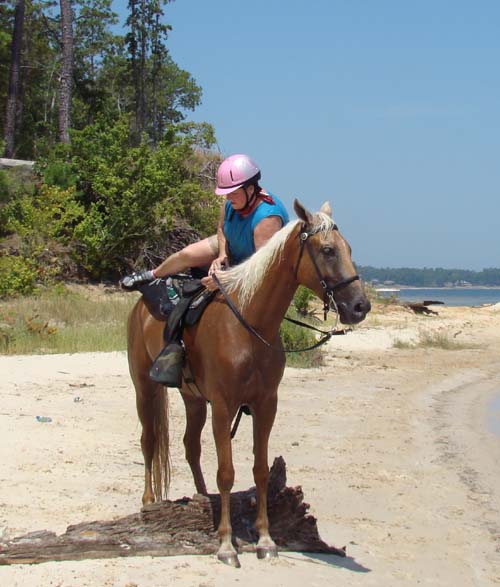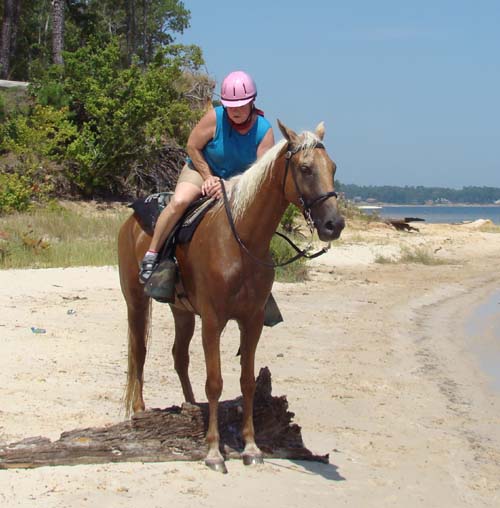 Swing up and take hold of the reins, step off quietly!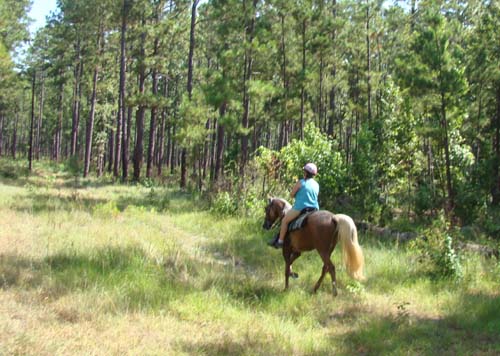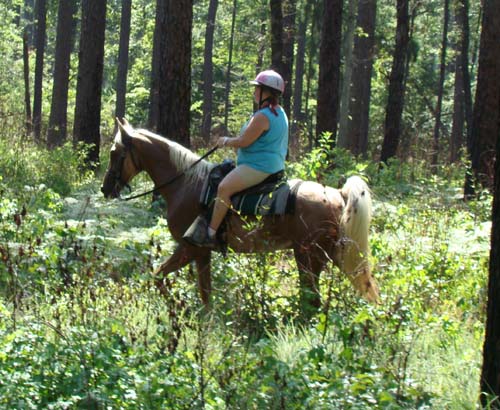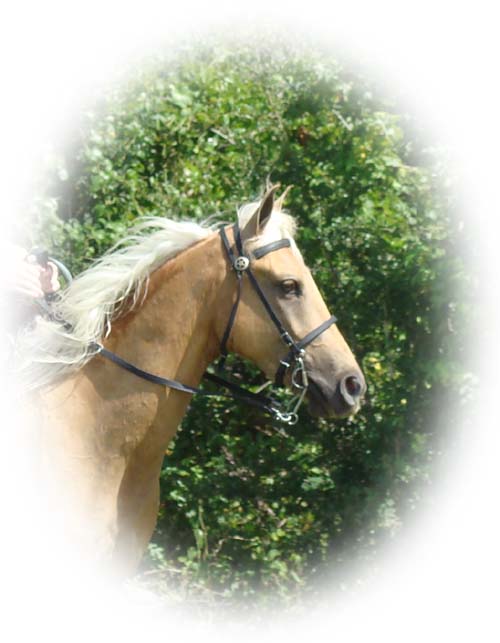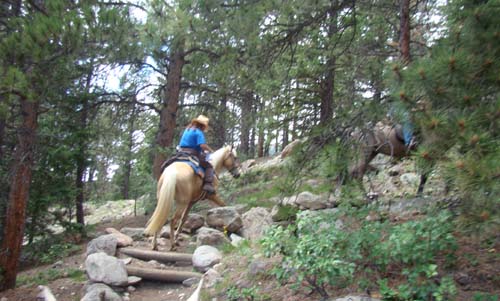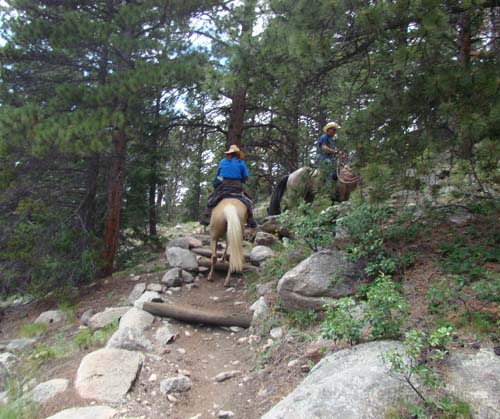 Chance and Blue climb the 4-1/2 mile trail up the mountain to Sand Beach Lake in Rocky Mountain National Park on 7/3/09.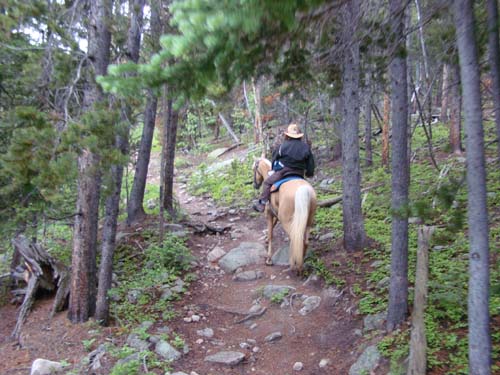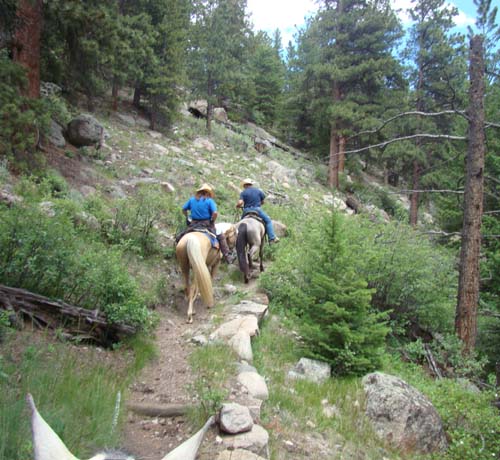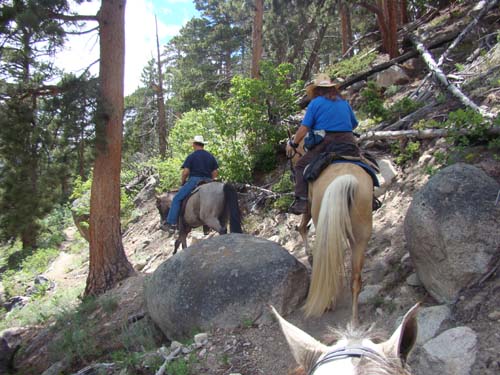 Still climbing . . .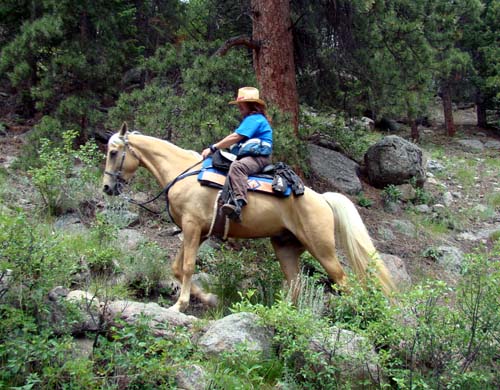 Becky rides Chance up, up, up on 7/3/09.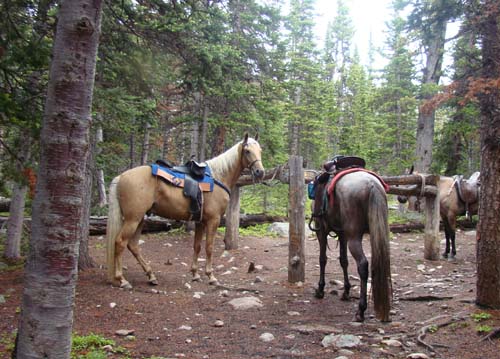 Tied to the hitching post at the top of the mountain after a 4-1/2 mile climb to Sand Beach Lake in the Rocky National Park, Colorado on 7/3/09.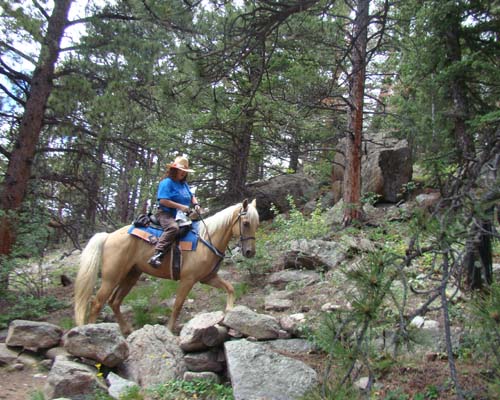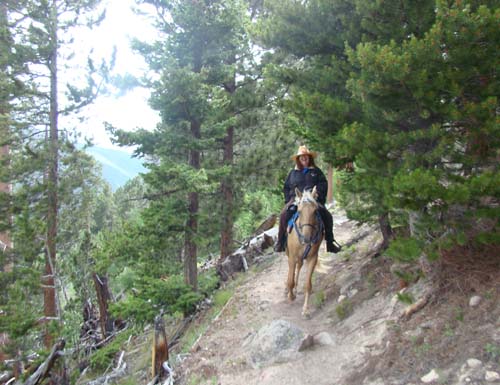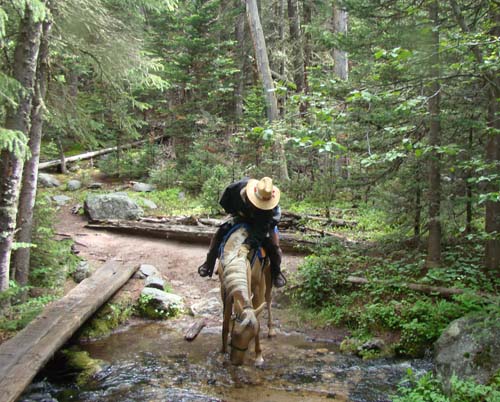 Hydrating along the trail (fancy term for drinking out of the stream!)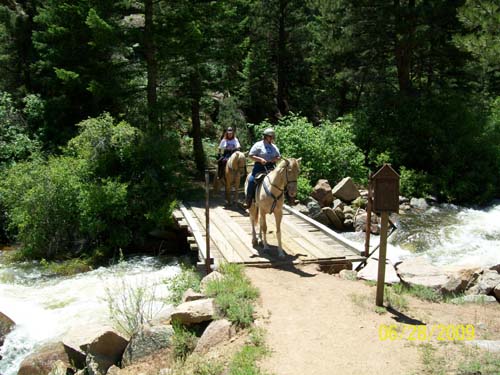 Elaine rides Danny and Becky rides Chance across a wooden bridge over a fast-moving branch of the river.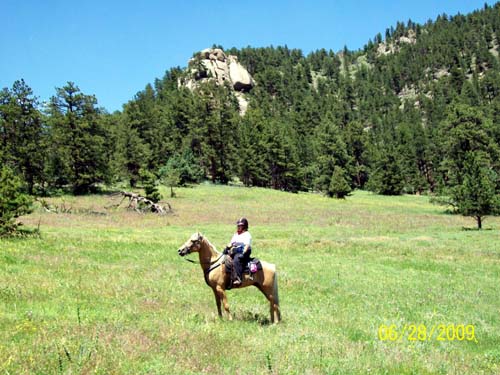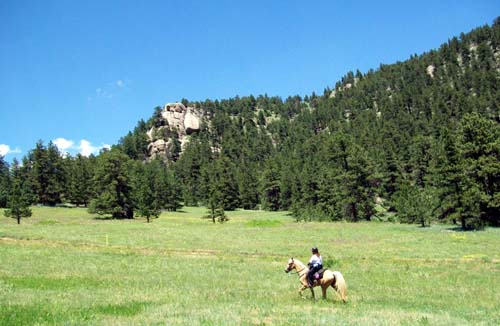 Becky takes Chance riding across the beautiful prairie in Big Elk Meadows in Colorado on 6/28/09.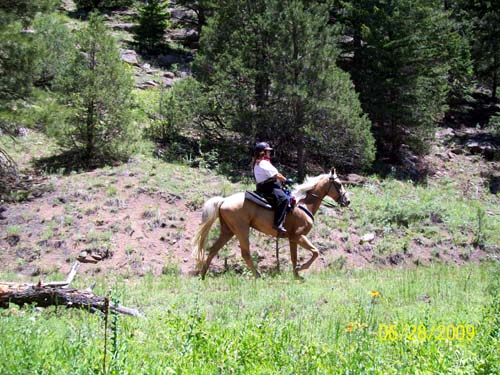 Perfect teamwork!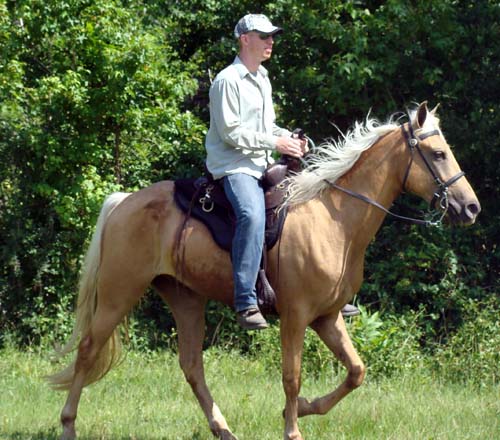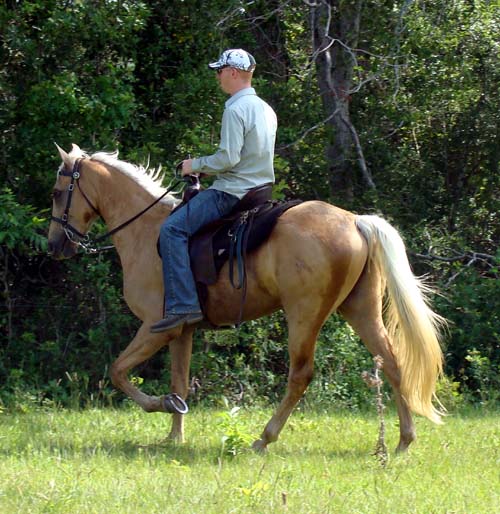 "Chance" Really, really nice stocky built 15.2H 4-yr-old gentle and sweet-natured palomino Tennessee Walking Horse gelding probably gentle for anyone to ride. This horse loves people, is very much an 'in-your-pocket' kind of guy, raised by a lady who takes excellent care of her animals and he has never known any type of mistreatment, neglect or abuse. She is selling him and his full brother (a 3-yr-old dappled grey with the same build, personality and disposition) because she is bringing in a couple of broodmares and making room for them and their upcoming foals.
Chance has a nice wide chest, big hindquarters, large bone structure and these pictures don't do a good job of showing how really beautiful his face is. He's easy to saddle, load, clip, bathe, shoe, handle and ride.
Chance was started under saddle with natural horsemanship methods, and he backs easily on a light rein, side passes, yields front and hindquarters, and has a really nice, athletic canter. We'll be camping with him in the Angelina Forest in July, so stay tuned for more pics/video.
Click on embedded arrow ABOVE to see Chance's smooth gait.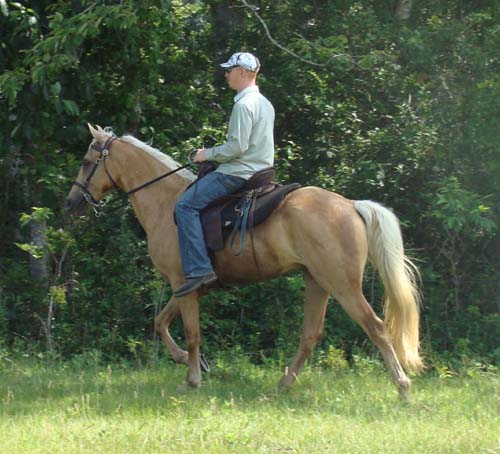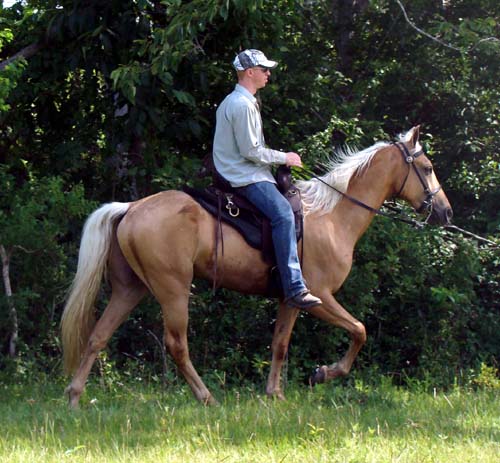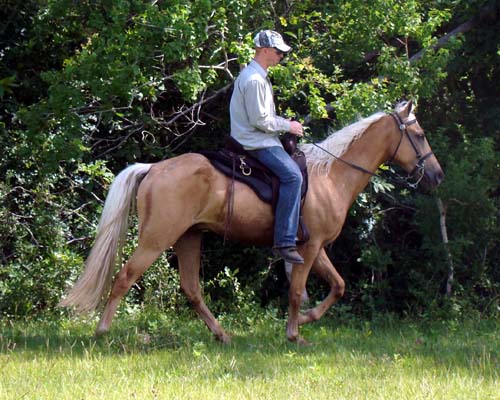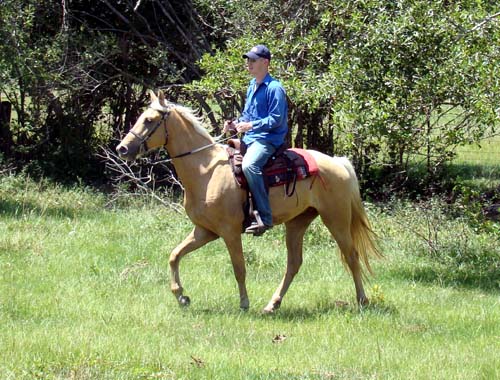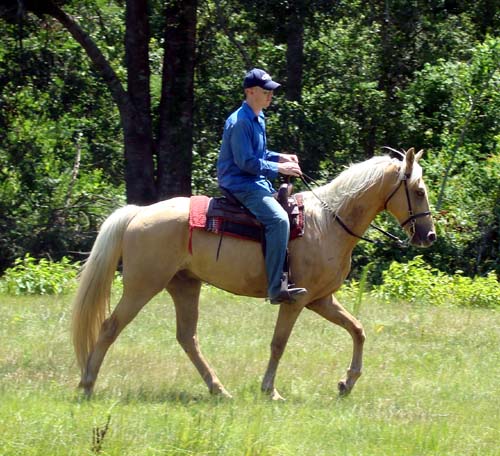 Click on embedded arrow ABOVE to see Bud riding Chance after a few months of being turned out to pasture. Stay tuned for more pics as his headset becomes more disciplined and beautiful.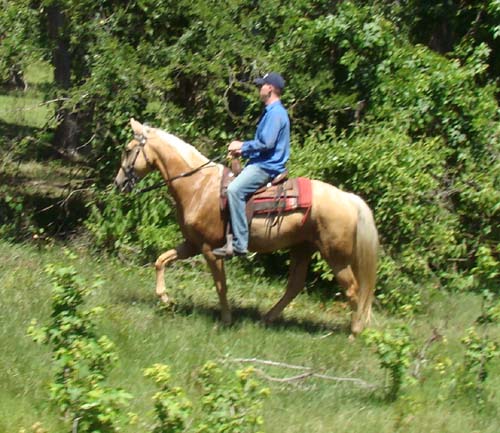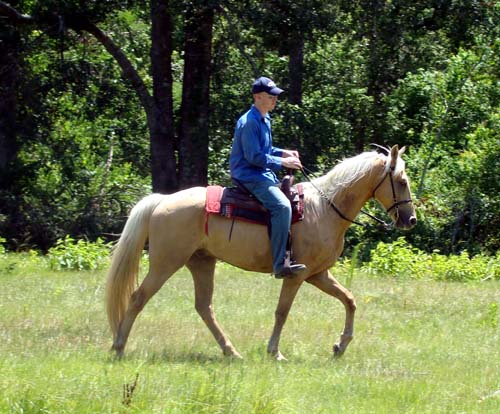 Cloud 9 Walkers
P. O. Box 878
Hardin, Texas 77561-0878
(55 minutes east of Houston)
281-726-4545
(Entire contents of this website copyrighted by Cloud 9 Walkers)

Email me!