CLOUD 9 WALKERS
"Daisy"
Beautiful 7-yr-old 15.1H Stocky Red Roan/Sabino Tennessee Walking Horse Mare
True Tennessee Walking Gait and doing it all BAREFOOT!
Click on embedded arrow to see our fun on the trails in the Angelina Forest the week of 11/3/12.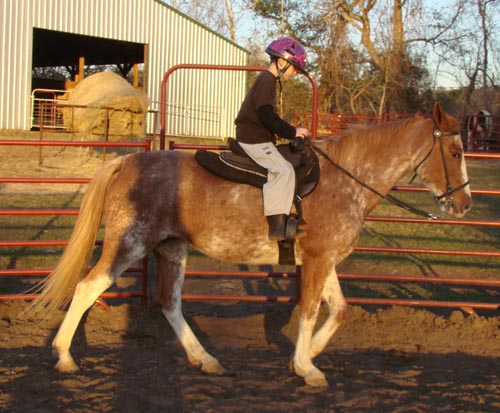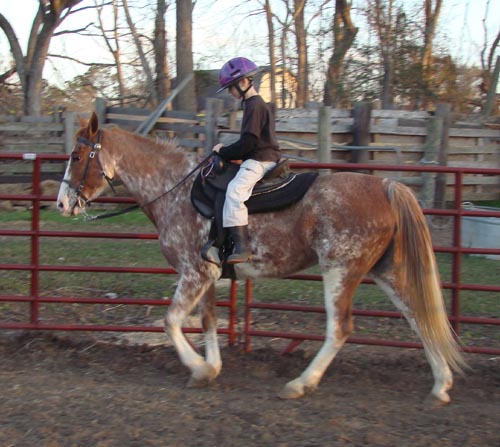 Daisy gives 10-yr-old Joshua riding lessons on 1/31/09.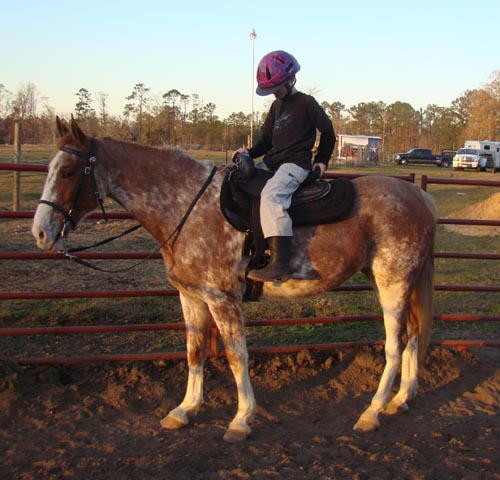 Joshua, pick up the reins!
Click on arrow ABOVE to see Daisy giving Joshua a riding lesson on this, his 2nd time EVER to ride a horse!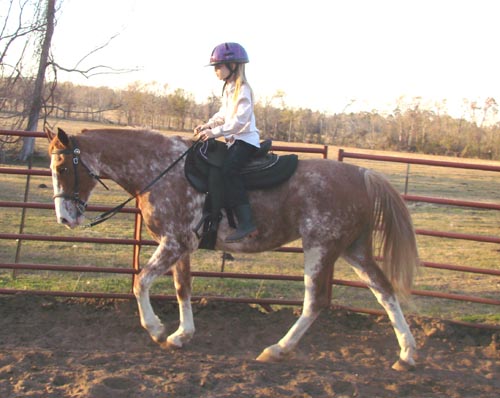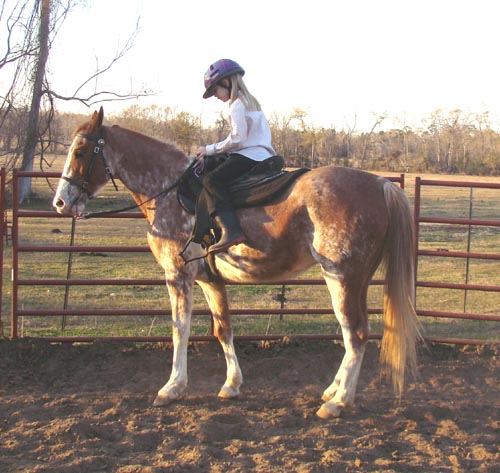 Ruth rides down the rail, and in the picture at right, she does a good job turning Daisy to go the opposite direction.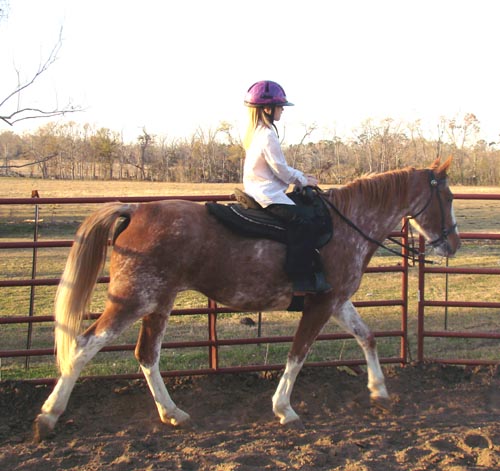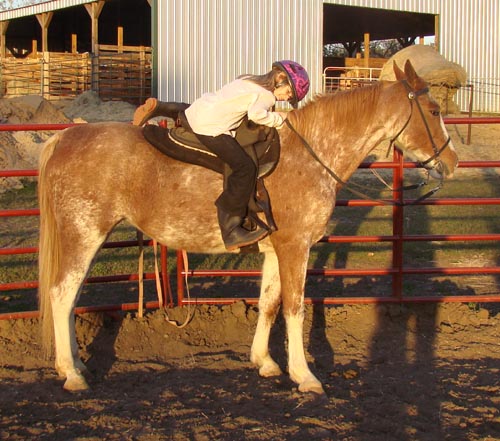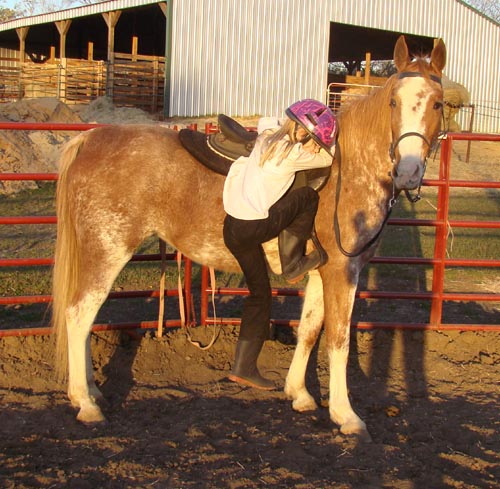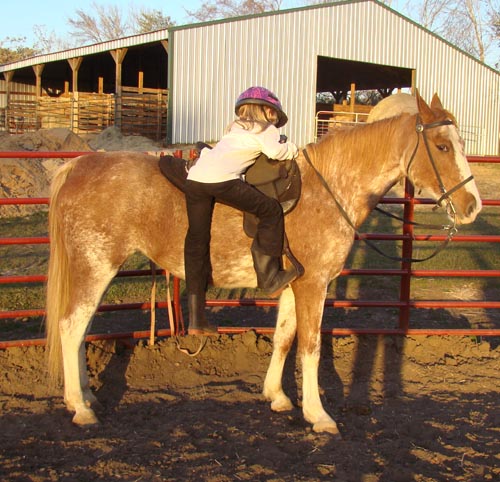 Ruth tries a creative way to dismount!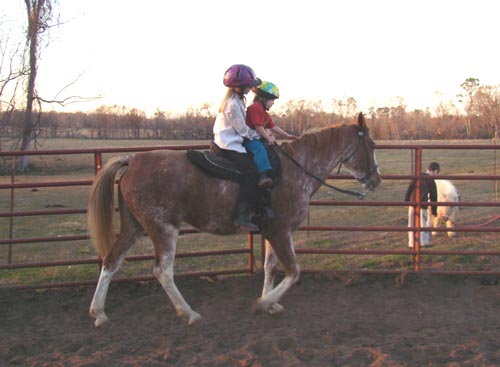 Ruth and little sister, Hannah ride while big brother, Joshua plays with Cheetoh, the miniature horse.
Click on arrove ABOVE to see 9-yr-old Ruth riding Daisy on 1/31/09.
Click on arrow ABOVE to see Ruth and her little sister, Hannah riding in the round pen.
Oh, I hope Joshua can forgive me for laughing, because I'm really laughing WITH him, not AT him!! I remember well this hard-learned lesson when I was playing around with dismounting. NEVER do anything flat-footed! :)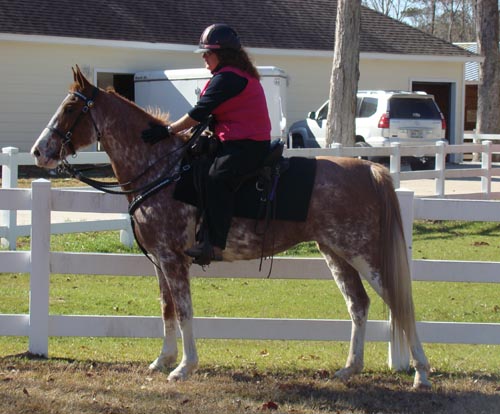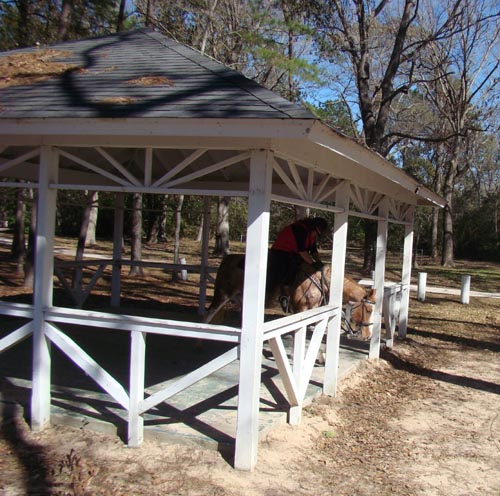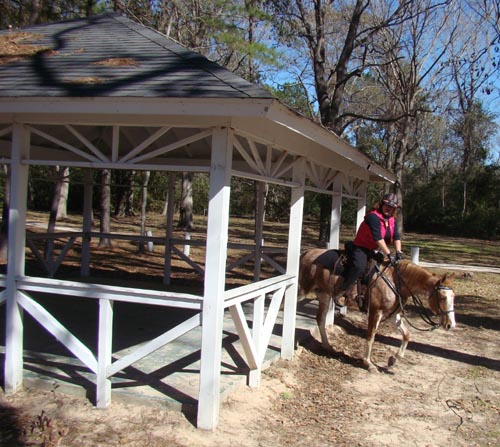 Daisy rides through a 'scary obstacle' with Becky on the trails at the local park on 1/30/09.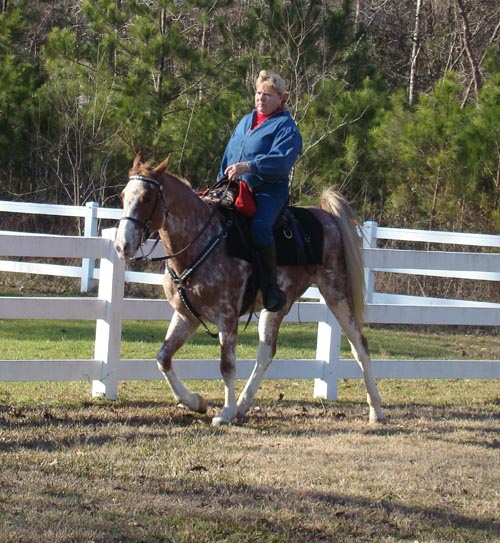 Dee rides Daisy down the fence line in her head-shaking barefoot Tennessee Walk.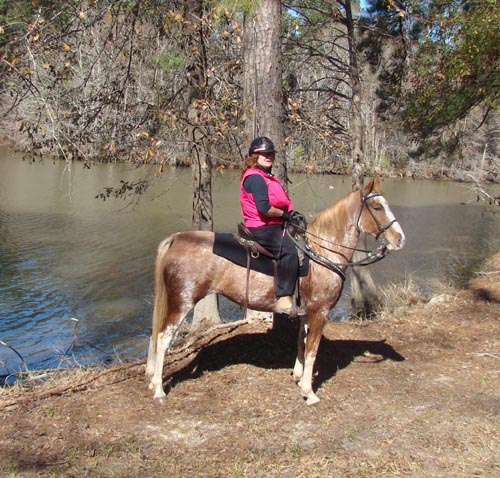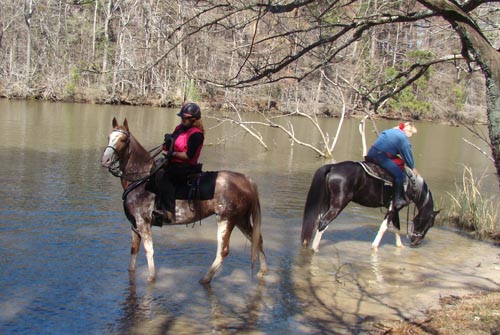 She doesn't mind water at all, and in fact, LOVES it!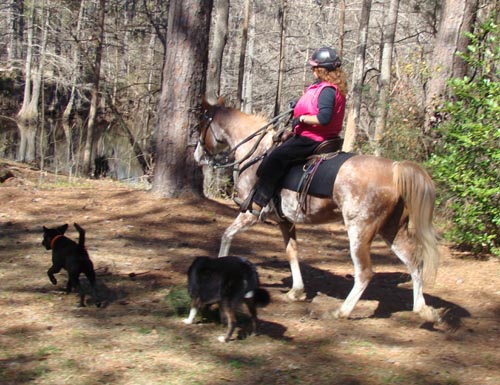 We always take the dogs with us, everywhere we go.
Click on arrow ABOVE to see Becky, who has Daisy sailing down the fence line on 1/30/09 -- check out how smooth she is in the saddle; and . . .
Click on arrow ABOVE to see Dee riding Daisy in her beautiful, head-shaking true walking gait on 1/30/09.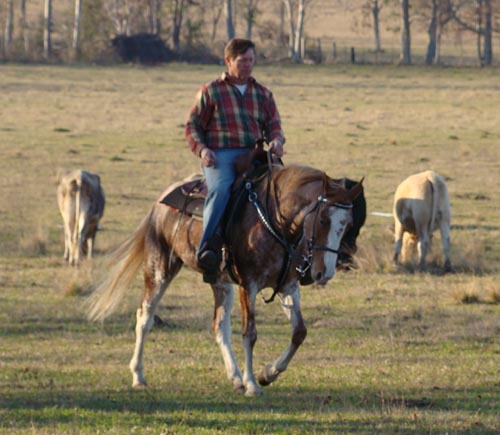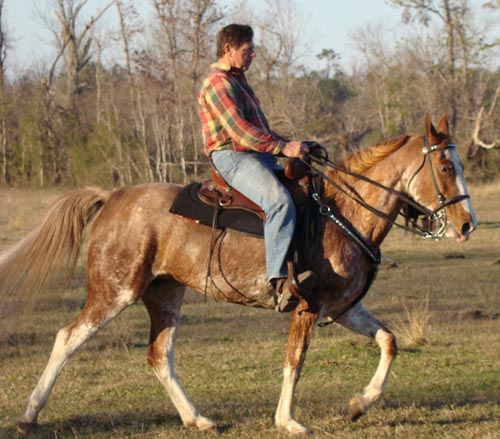 Click on arrow ABOVE to see Daisy's wonderful head-shaking walking gait past the cows on 1/15/09.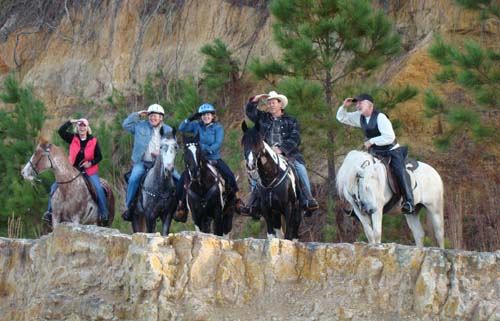 On the point overlooking Lake Sam Rayburn on 12/30/08 -- from left to right:
Barbara on Daisy; Jake on Chisel; Darlene on Peyton; Huey on Fury; and Tracy on Patron. As you can tell, nobody is having any fun!!
January 5, 2009: This morning, Ms. Daisy finished breakfast and I walked her past my front yard to the hitching posts to tie her out so that I could clean stalls.
I stopped off at the house to grab a pair of gloves, and since the lead rope I was using was 15' long, I strung it out so that I had plenty of line to leave Daisy at the steps while I jumped up on the porch and got my gloves and hat.
I opened the door, reached inside to grab my gloves off the bar, and just then heard a big CLOPPITY-CLUNK, and when I turned back around, I was eye to eye with You-Know-Who!
She had calmly walked up the steps, followed me onto the porch and was "reading" my sign by the entry ("Unless you're George Strait or God, wipe your feet"). I had to close the door quickly, because she actually thought she was going to come inside with me.
I bet she'd have been happy to park on the sofa with a bag of popcorn, a coke and watch Flicka or Mr. Ed, or even Oprah!

She's a big ol' hemorrhoid, but you almost can't help but love her!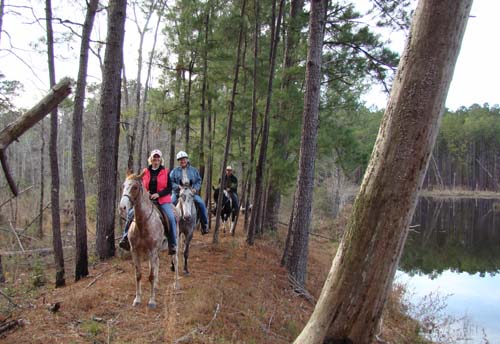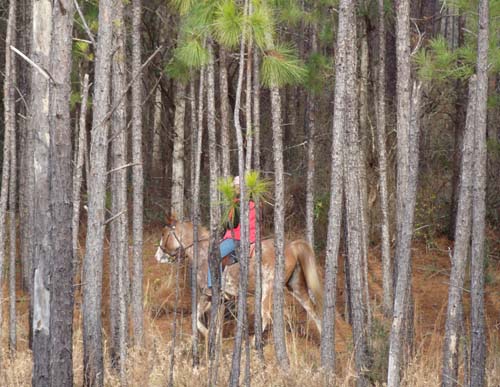 Barbara rides Daisy by the Beaver Dam.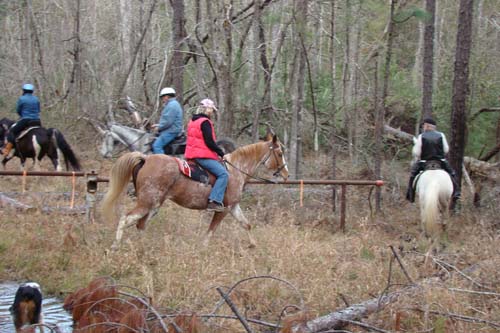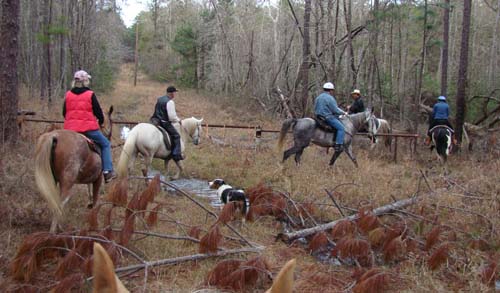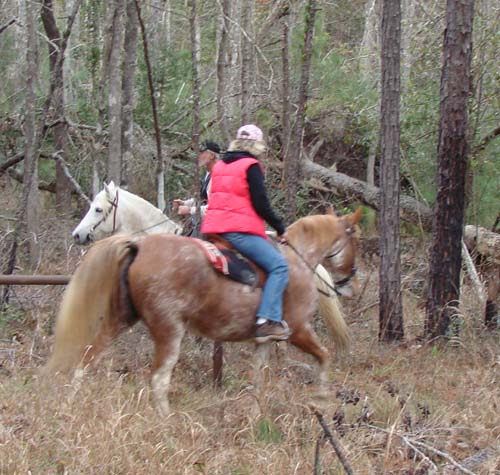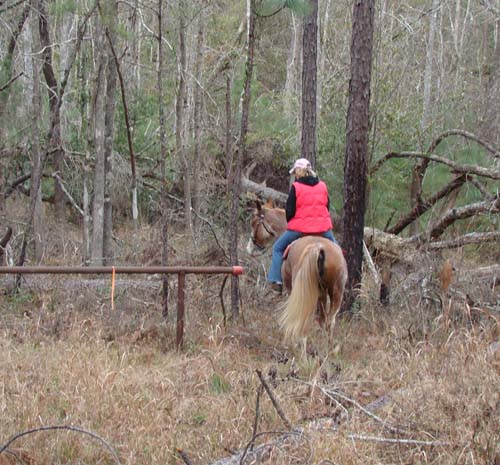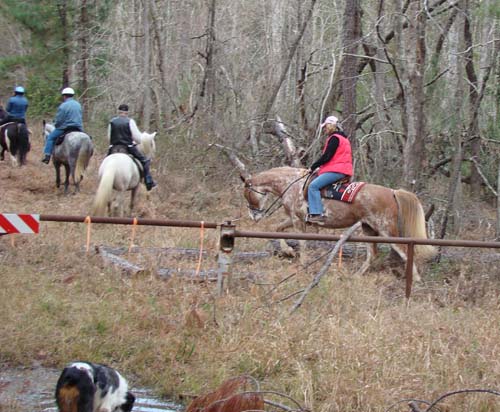 Daisy calmly steps over hurricane debris and doesn't mind riding in the back of the ride.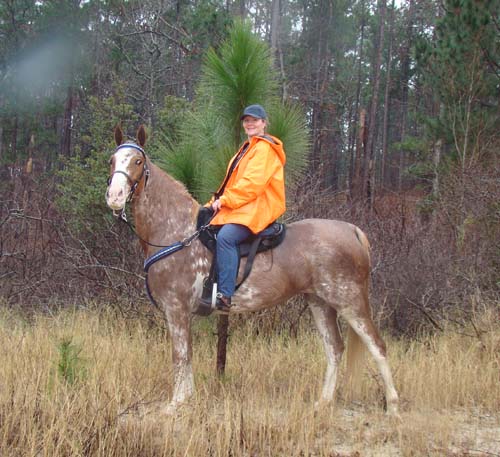 Jan astride Daisy on 12/27/08 in front of a baby long leaf pine tree -- we don't see many of the long leaf pines anymore, and this one is beautiful in the Angelina Forest in Texas.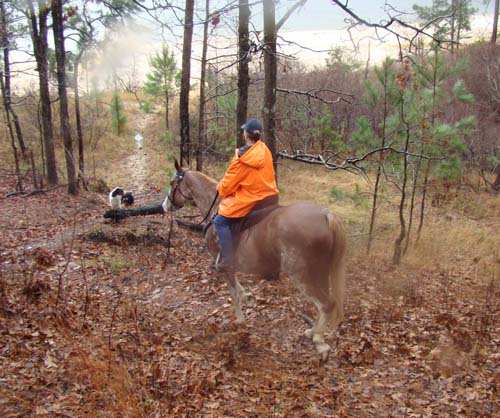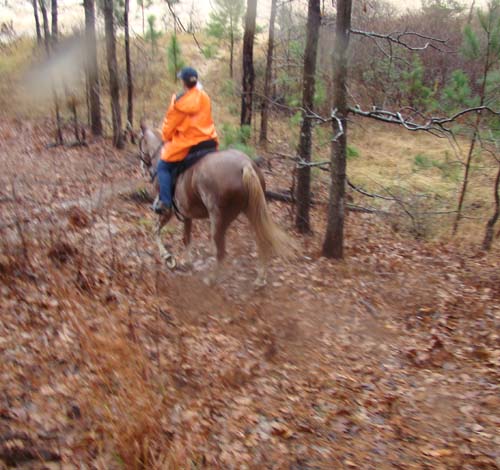 Daisy and Jan follow Tex down the hill to the beach. Notice in the right picture that she is barefoot, and also notice her calm demeanor.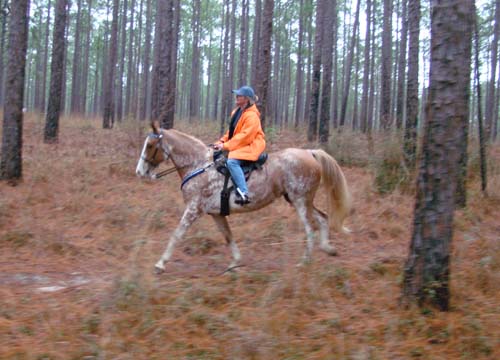 This is a blurry picture (it was raining) but it sure shows her wild chrome splashes!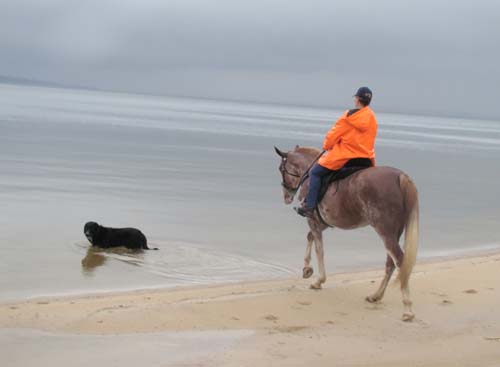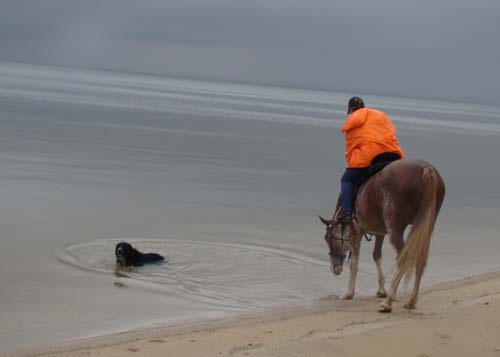 Daisy makes her way to the lake with Bailey in the lead, and you can actually see a norther in the distance about to blow in. We did wind up getting totally drenched in the rain, thunder and cold wind. The temperature went from 72 degrees to about 60 in the period of three minutes.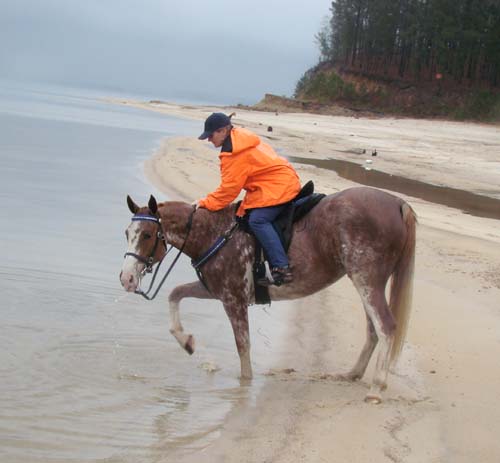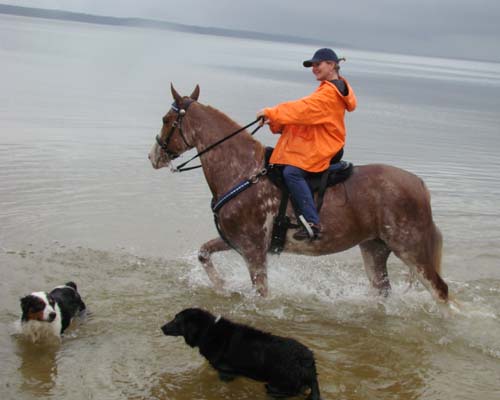 Daisy never showed fear and really didn't hesitate to go in -- in fact, she loved the water!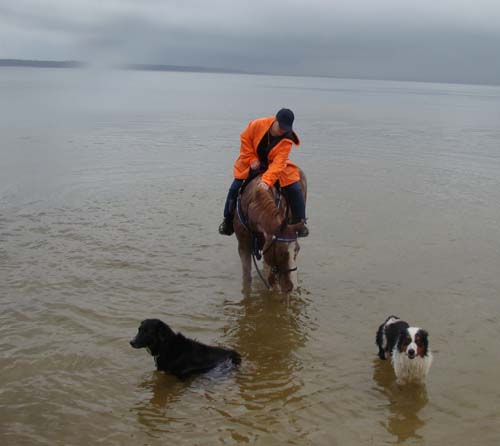 Can a mare have any privacy at all without having to share the lake with the dogs?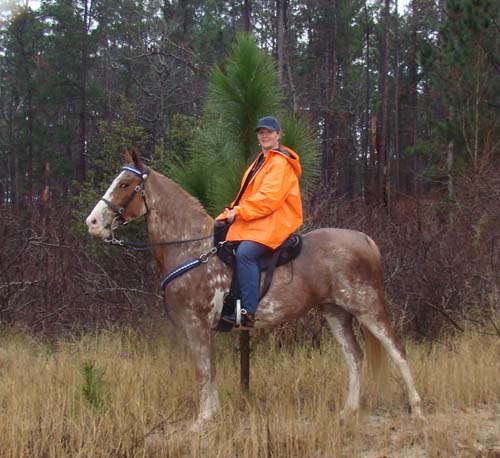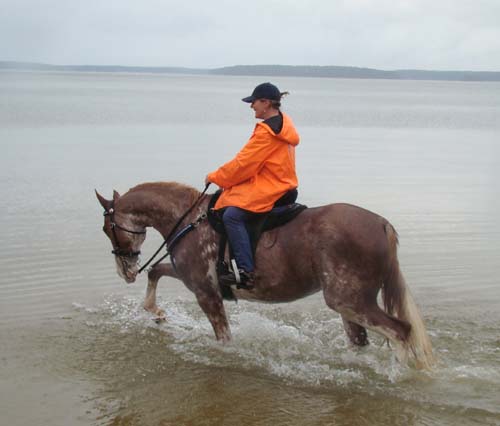 LEFT: I love the beautiful neck and round shoulder on this mare; RIGHT: Check out her refined neck.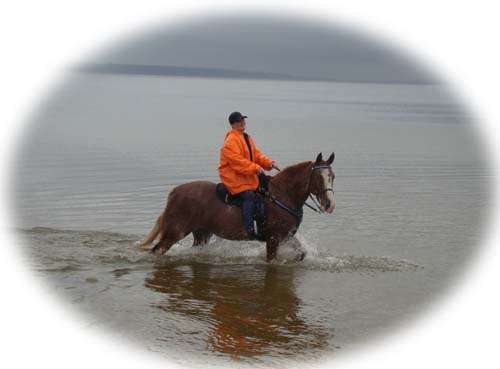 Jan is having a blast on this sweet, calm Tennessee Walking Horse mare.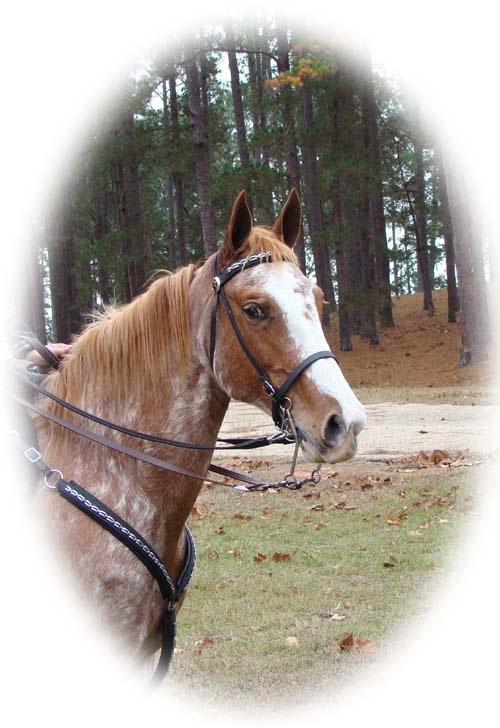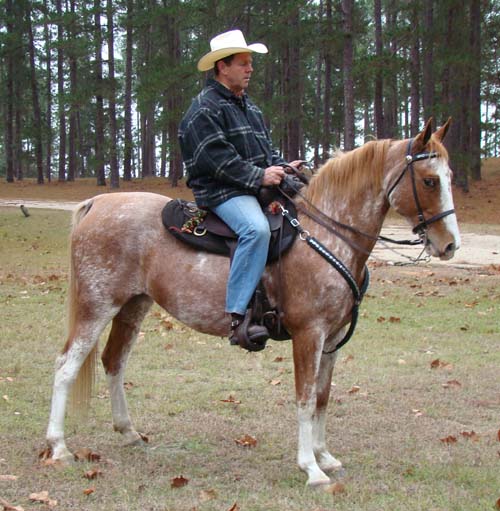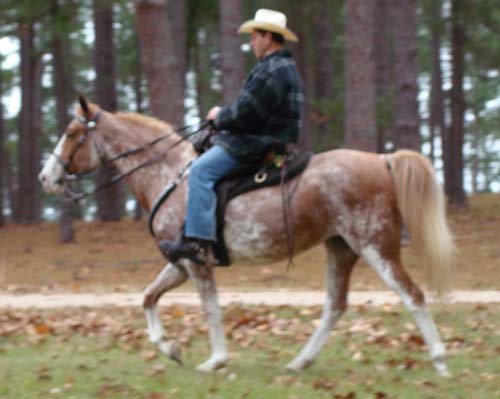 Click on arrow ABOVE to see one of Daisy's very first rides after being turned out to pasture for over a year. Stay tuned to see more videos of her as she develops a beautiful headset.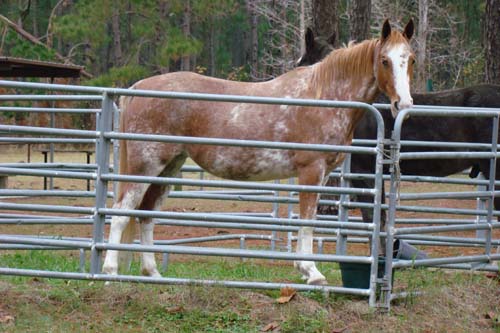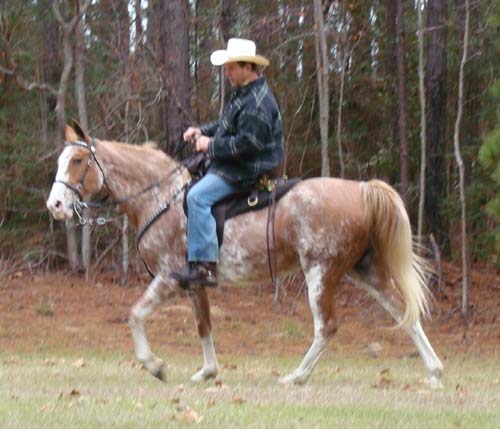 Turning off leg pressure as well as the rein.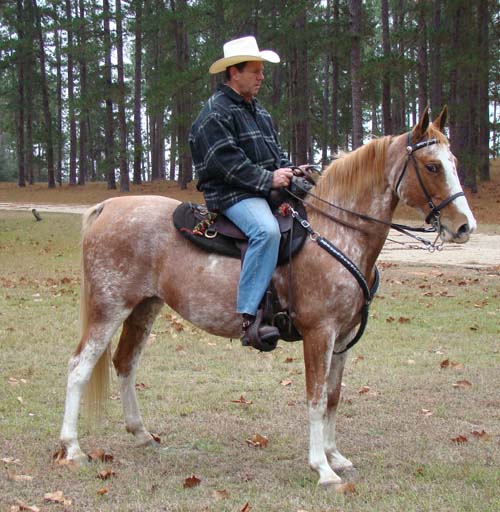 Beautiful presence.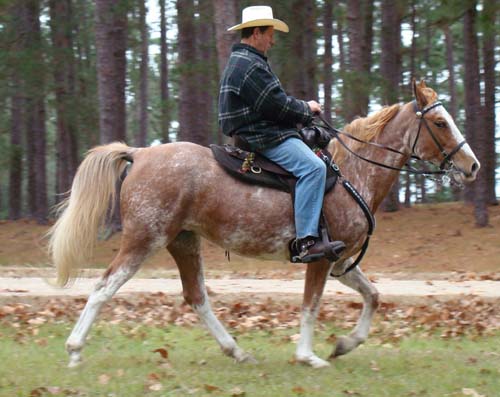 Solid 4-beat true Tennessee Walk. BAREFOOT!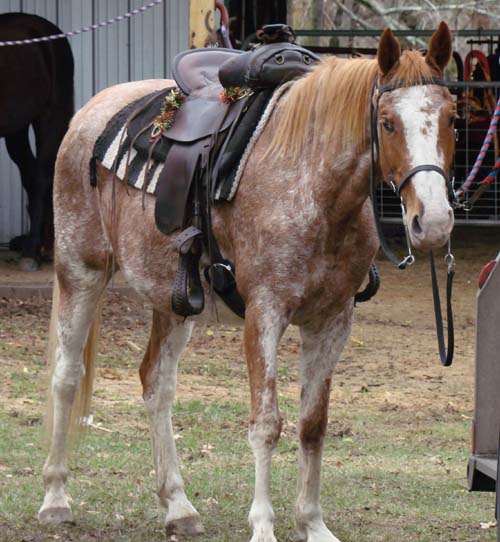 Patiently waiting for someone to ride her on 12/23/08.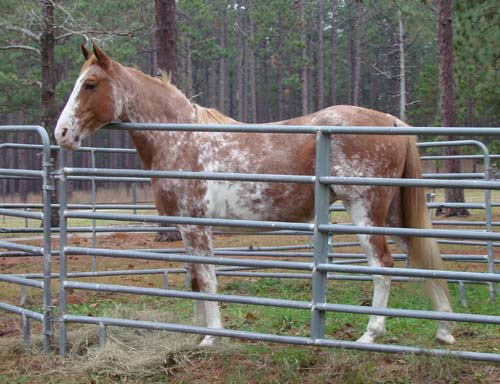 The ultimate in chrome! She's much more flashy than even these pictures show. Here she is at camp at the Angelina Forest on Christmas Day, 2008.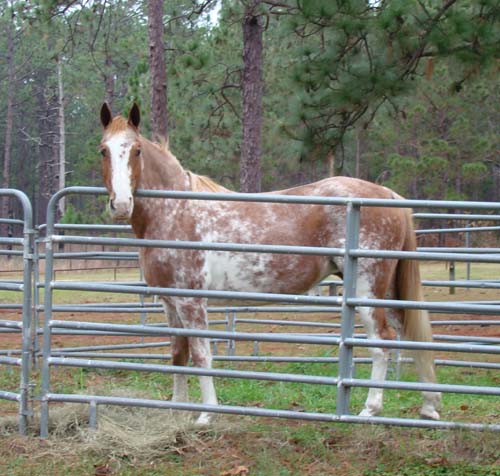 Big, beautiful blaze, splotches everywhere, four long white stockings, mixed blonde mane and tail.
"Daisy" -- Big boned, stocky (with wide chest) 8-yr-old Tennessee Walking Horse mare probably gentle for anyone in the nation to ride. A real confidence builder, as well as an excellent mother to her foals.
She is Personal Power, Sun's Delight D and Go Boy's Shadow on her sire's side, and her dame is Pride of Midnight and Ebony Masterpiece -- a beautiful package with excellent credentials, wouldn't you say?
The best part: Daisy, the Sweetheart, is BAREFOOT (hard, healthy perfect hooves) and performing a beautiful head-shaking true Tennessee Walk. As of 12/24/08, she is camping in the Angelina Forest and we'll be posting more pictures and video soon. No worries about issues with this mare -- she is not hormonal and doesn't misbehave when she is in season, she's mellow and moves slowly, but will speed up if you ask her, and beginners find themselves feeling safe on her. $4500
Daisy's palomino filly (born 3/24/07) at 18 hours old: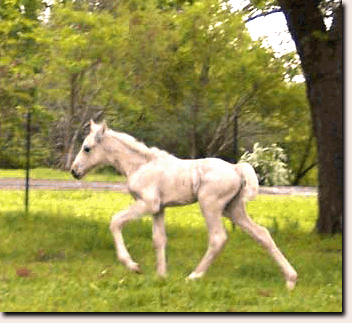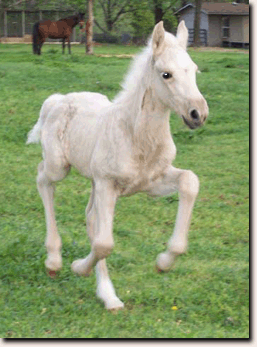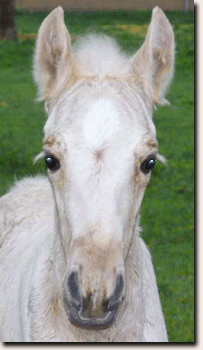 Email me!