CLOUD 9 WALKERS
"Eli"
Extremely Classy 15H 3-1/2-yr-old Jet Black Tennessee Walking Horse Gelding With Chrome!
Walks and shakes his head
Speed Racks (can fly past the big guys!)
Slow canters beautifully
Click on embedded arrow ABOVE to see Eli riding down the side of a busy highway on 8/21/09.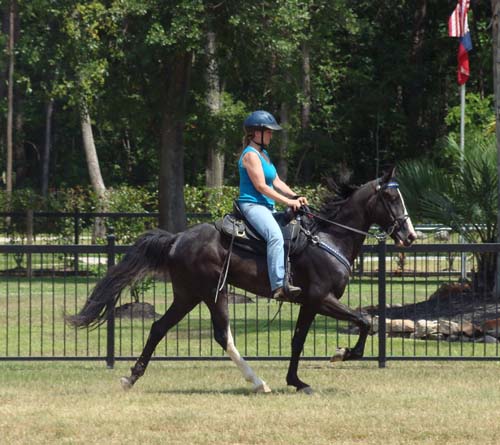 Becky rides Eli through the local neighborhood on 6/11/09.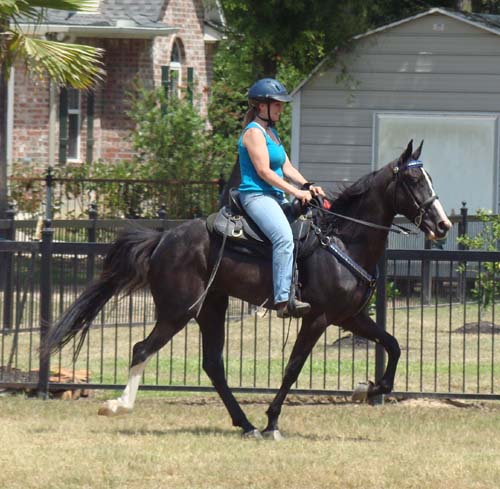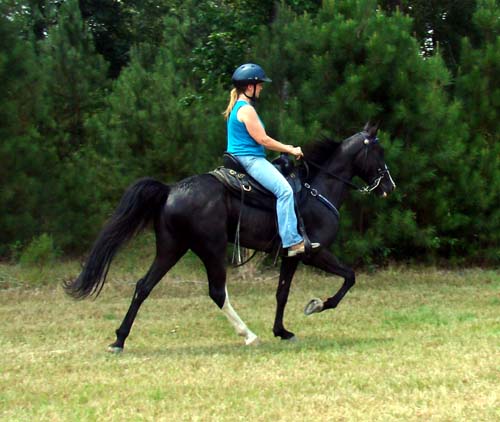 Becky speed racks Eli -- while she grins from ear to ear! He is very exhilarating to ride in his smooth-as-silk speed rack.
Click on embedded arrow ABOVE to see Becky having a blast on Eli on 6/11/09 (but he can double this speed, at the very least.)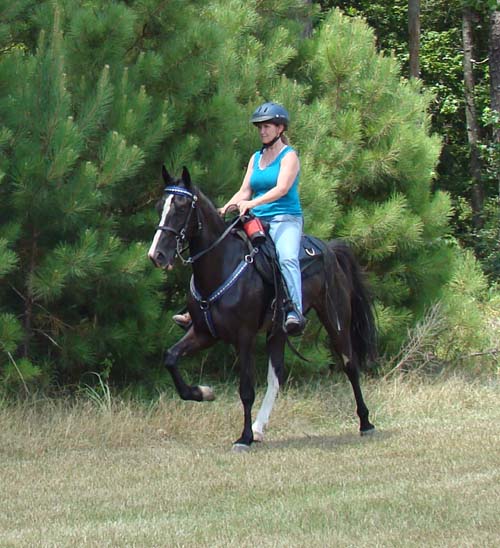 Becky rides Eli out on the trails on the way to the trails at Lake Houston.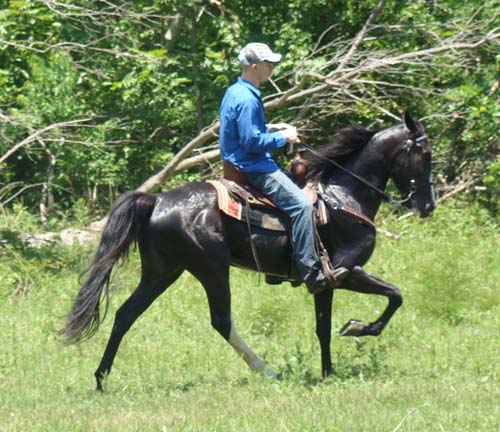 Bud rides classy Eli on 6/10/09 in the pasture for a workout.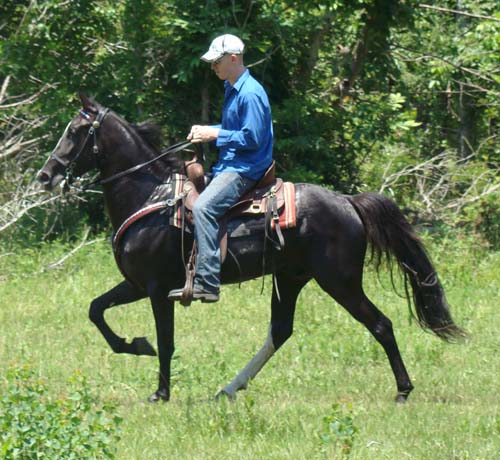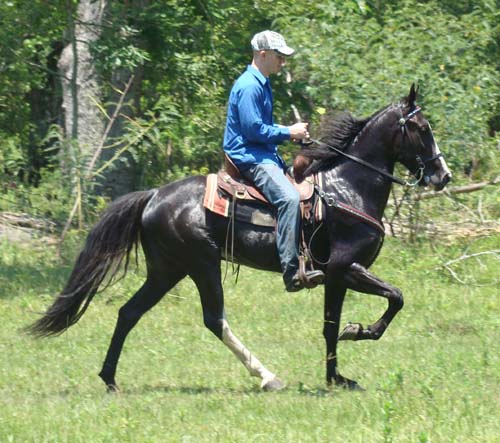 "Eli" -- This is a fun, classy, beautiful ride! He's a 3-1/2 year-old black Tennessee Walking Horse gelding that has the talent to stride up under himself in a way that would catch (and keep) a judge's attention in the show ring, yet it's smooth and efficient enough for the trail. We rode him on our camping trip in Kentucky in May, where he learned to live on a picket line for two weeks. He carries himself with class, a naturally arched neck and has a very willing nature. He will cross any obstacle, has been ridden down the side of busy highways, hauled across the nation, and used to push cattle from one pasture to another. He is Pusher/Generator on top, and Delight Bumin' Around/Sun's Delight D on bottom -- a royal background, for sure! This is a forward motion type horse that is thrilling to ride and I'd love to see him go to an intermediate rider or at the very least, advanced beginner with confidence. He's a sweet guy, loves people but a little too much motor for a timid rider. Eli is about 15H and might grow another inch, but I don't expect much more than that; however, I do expect him to spread wider and have a nice chest and big round rump. $4950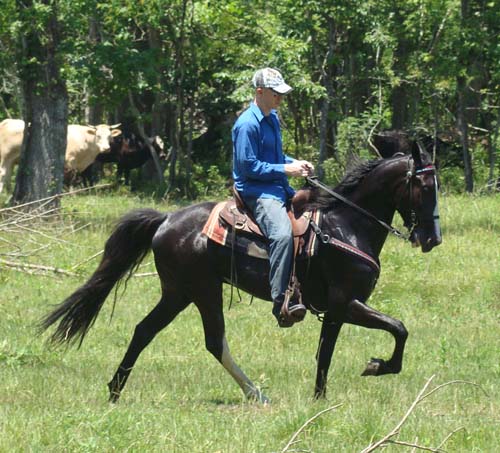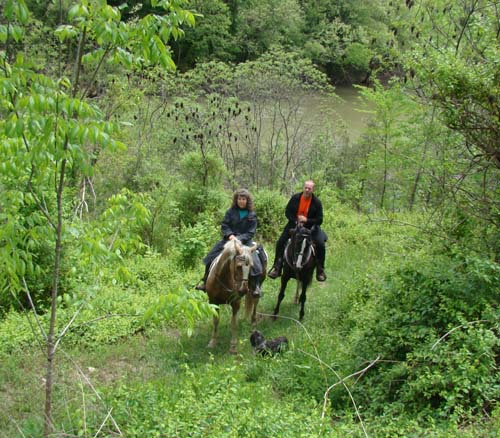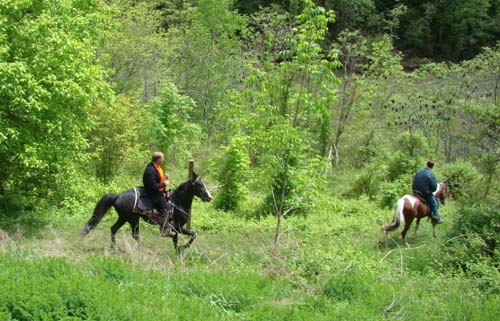 Ray rides Eli in Big South Fork in Kentucky on 5/11/09.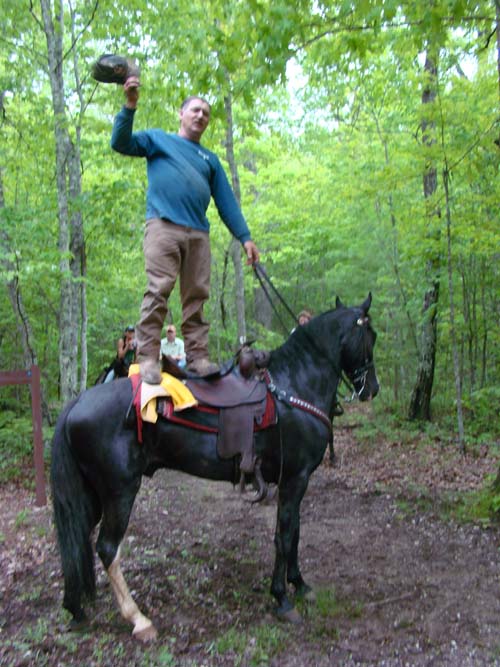 Crazy Corbet shows off on Eli during our Kentucky camping trip in May, 2009.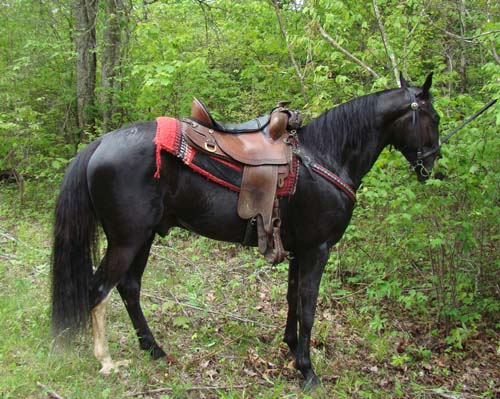 Tied to a tree during a break in Kentucky on 5/7/09.


Cloud 9 Walkers
P. O. Box 878
Hardin, Texas 77561-0878
(55 minutes east of Houston)
281-726-4545
(Entire contents of this website copyrighted by Cloud 9 Walkers)

Email me!