CLOUD 9 WALKERS
"Spirit"
Gentle, calm, sweet jet black Tennessee Walking Horse Gelding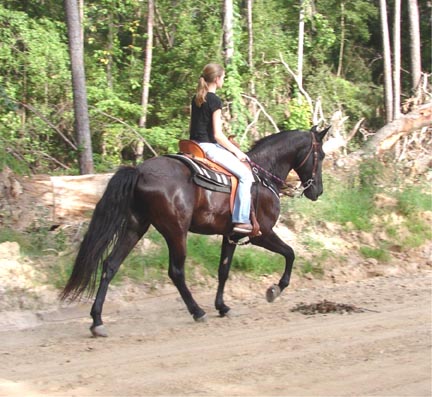 Click on picture ABOVE of Hannah riding Spirit on 6/14/06 to see his beautiful, stylish, natural gait.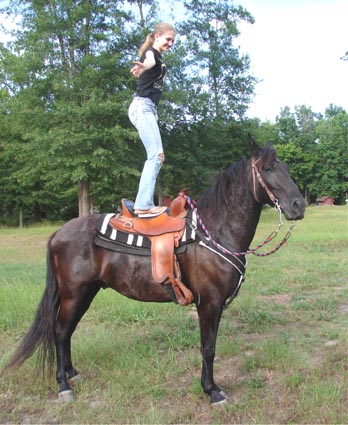 Click on picture ABOVE to see how Spirit reacts to a big, scary "monster"!!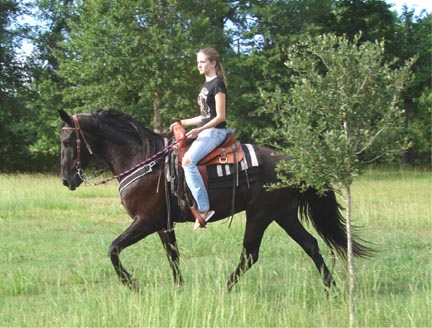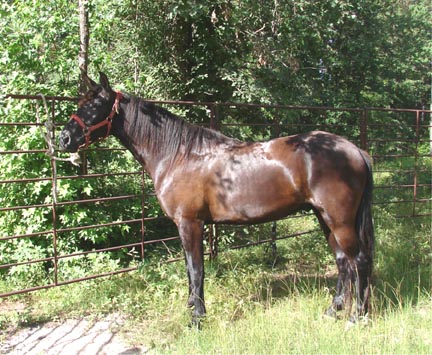 ANYONE CAN RIDE THIS SWEETHEART!
"Spirit" -- This 15.2H jet black gentle, sweet gelding is safe for any beginner to ride, and a confidence builder. Although he will take care of a timid person, he is also thrilling enough to get up and go for a more experienced rider if asked, and he's not lazy. Nothing much scares or bothers him -- he is accustomed to busy traffic on the highway, neighborhoods, 4-wheelers, skateboards, dogs, donkeys, his best friend is a goat, and you can jump off the tailgate of a pickup truck onto his back. Spirit's gait is smooth, and he performs both a head-shaking true Tennessee Walk or a rack, and his canter is athletic and natural. This quiet mellow gelding is an old soul, and behaves like a seasoned 10-yr-old horse, even though he is only 4-1/2 years old with lots of common sense born into him.
Spirit's owner is having trouble mounting him, and is going to have to find a shorter horse. She has spent loads of time with him, playing Parelli games with him and giving him lots of attention and affection. He nickers and comes running in from the pasture when he sees her.
Spirit is sired by a direct son of Pride's Dark Spirit, with Pride of Midnight, Ebony's Mountain Man and The Super Stock as World Grand Champions showing on his papers. He has been used as a lesson horse, loaner for family and visitors, and of course, the grandkids! Spirit is very versatile, being trail worthy and also competitive for the show ring. He loads/stalls/pastures easily with other horses and has no vices. In September, 2005 he went through a full vet examination with flying colors, and in May, 2006 was vaccinated for VEWT and West Nile. He was dewormed and got new shoes on 5/24/06, and is ready to ride! This is a horse that you don't have to worry about if you throw him out to pasture for 6 months -- no scary stunts or misbehavior when you pick him back up to ride. $4950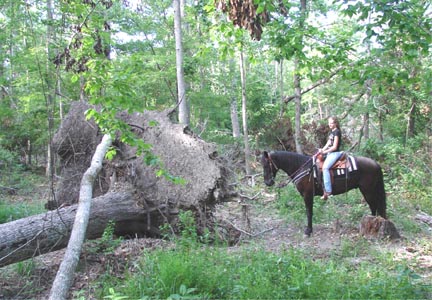 Spirit having to deal with the aftermath of Hurricane Rita!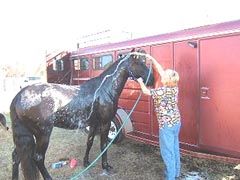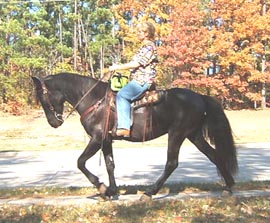 Click on thumbnails below:


Email me!