CLOUD 9 WALKERS
"Frisco"
Doing it all BAREFOOT!
Extremely Classy
4-yr-old 15.1H PalominoTennessee Walking Horse Gelding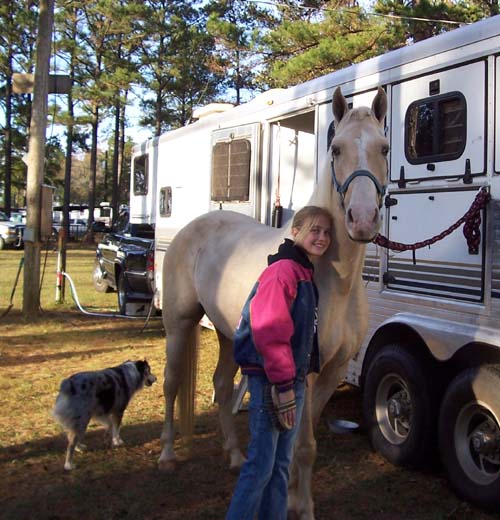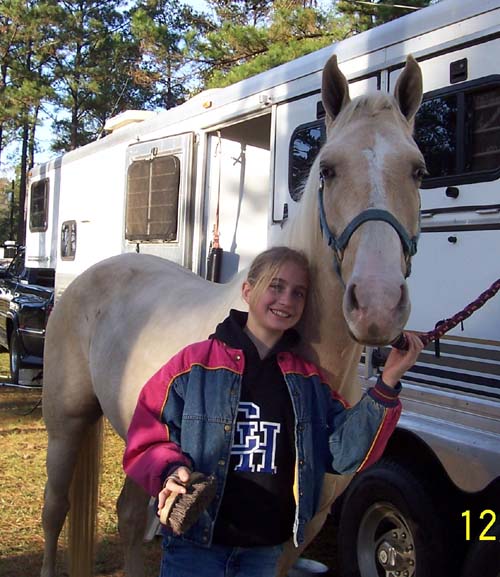 Hi Laura,
We just love Frisco...he is such a sweet heart. Our granddaughter, Danielle is just going to flip when she opens her Christmas present and finds the picture of Frisco.
Danielle rode Frisco for the first time at our horse camp-Christmas party and she told her parents, "he (Frisco) didn't do anything wrong".
She doesn't know we purchased him, she thinks he is on loan.
I am sending you some pictures of Danielle and Frisco. I'll send some of her riding him in the near future.
Merry Christmas and Happy New Year,
Betty and Will, 12/16/08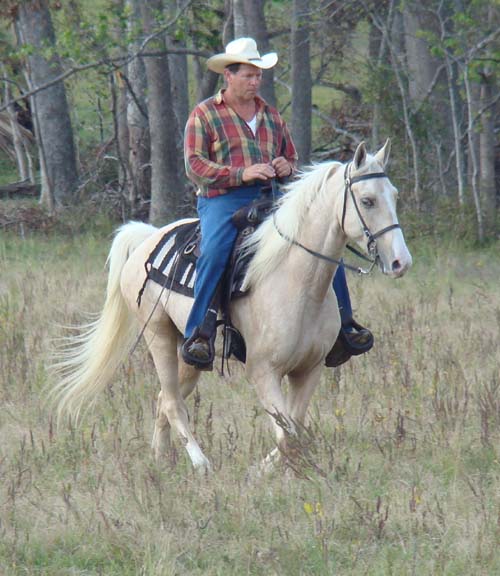 Click on arrow ABOVE to see Frisco's gliding, smooth gait.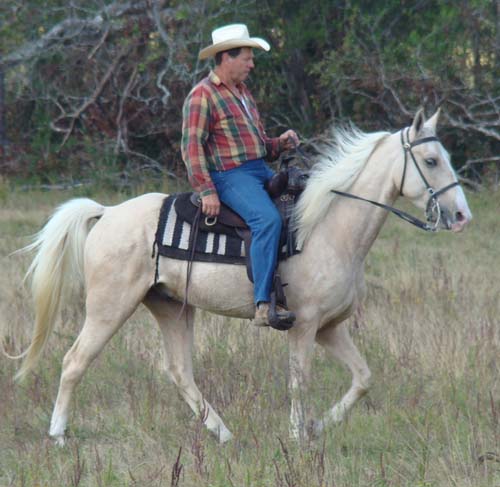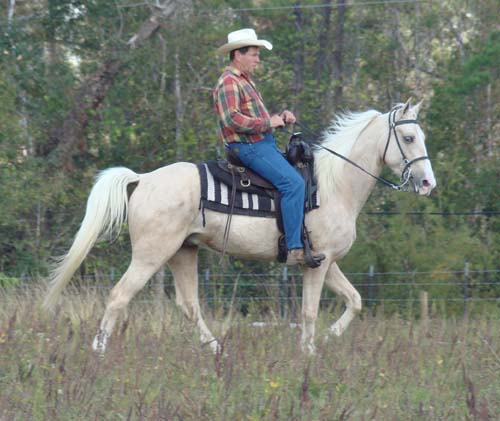 "Frisco" -- This beautiful palomino Tennessee Walking Horse gelding shows the best of his bloodlines -- he gets his great conformation and gait from the World Grand Champion "Merry Go Boy", and his beauty from the 4-time World Champion "Pride of Midnight H.F.". He stands about 15.1H and has a pretty blaze, as well as gorgeous dapples. His mane is thick and waves like a flag while you're riding him, and his tail is long and blonde.
Frisco's personality is sweet and loveable, and he's gentle enough for anyone to ride. His gait is just as smooth as a gaited horse can be, performing a good head-shaking walk, as well as an exhilarating, flowing rack. In addition, he can canter slowly, easily, as slow as your neighbor's horse flat walks! He doesn't mind riding at the back of the ride. Frisco backs, sidepasses, flexes, loads, clips, bathes, no problem with his nice, healthy, hard hooves. He is currently being camped and trail ridden in the forest, neighborhoods and along busy highways, with dogs, around cattle, etc. $4500


Cloud 9 Walkers
P. O. Box 878
Hardin, Texas 77561-0878
(55 minutes east of Houston)
281-726-4545
(Entire contents of this website copyrighted by Cloud 9 Walkers)

Email me!