CLOUD 9 WALKERS
"Gingersnap"
3-yr-old 14.3H Athletic, Smooth Unusual Colored Classic Champagne Tobiano Spotted Tennessee Walking Horse Gelding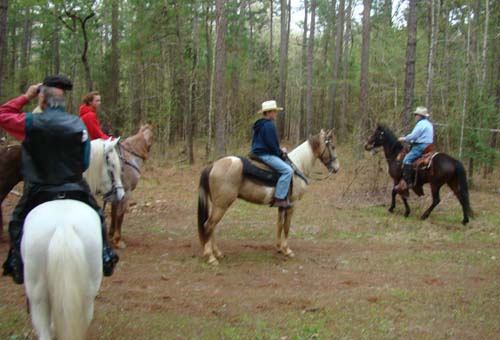 Cody rides Gingersnap on a trail ride/camping trip in East Texas on 3/27/10.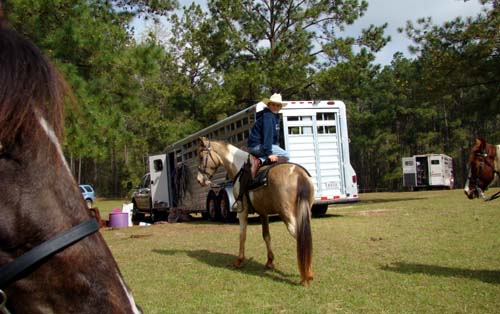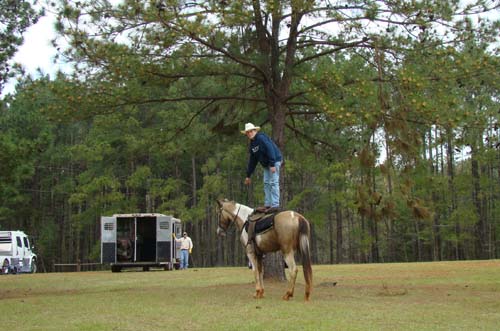 And, Cody hamming around!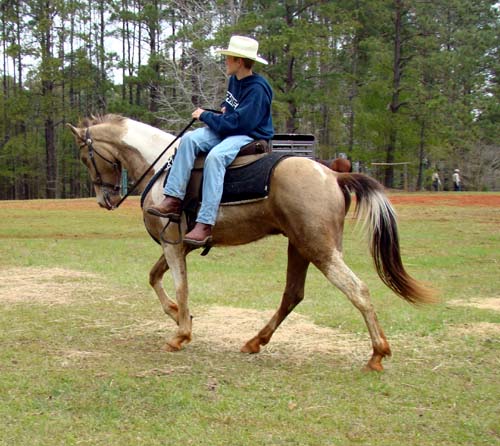 . . . more hamming around . . .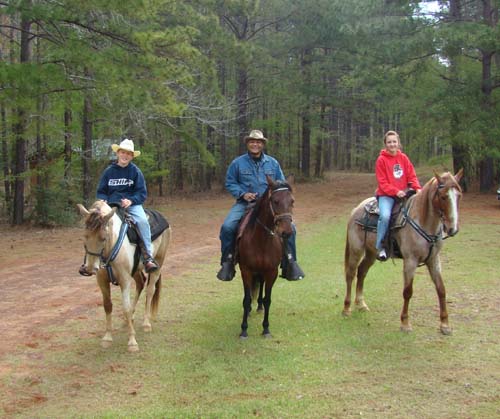 Cody on Gingersnap and Madysen on Strawberry Sundae, with George Foreman in the middle. Thanks, George, for the photo op!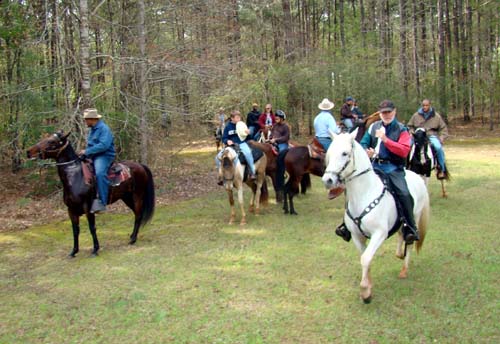 Out on the trail, riding in the front, at the back of the ride, and lots of times in the middle! (That's Cody on Gingersnap, directly behind George on his horse.)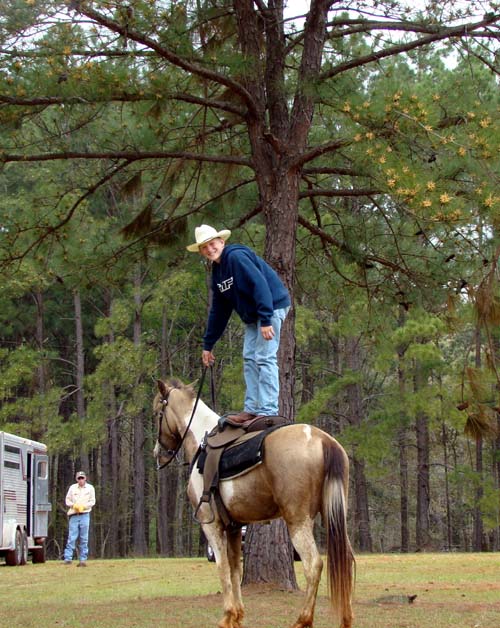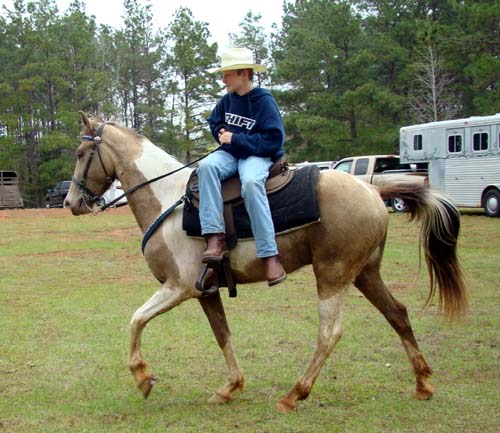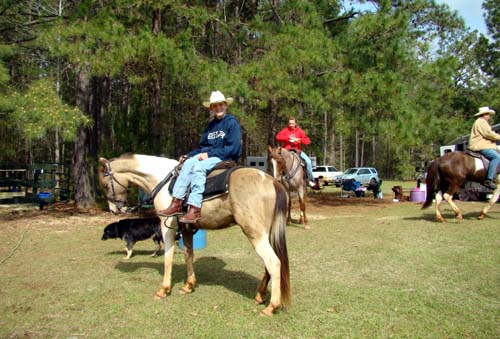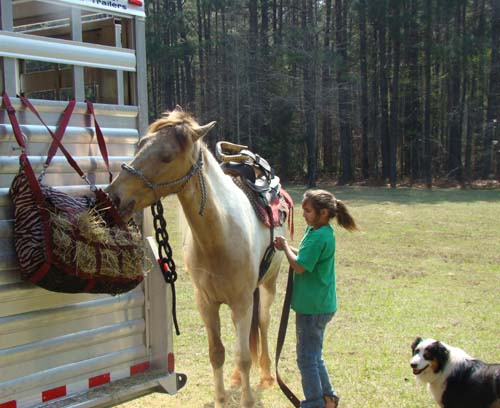 Peanut tightens the girth while Gingersnap snacks on hay on our camping trip the week of 3/15/10.
Click on embedded arrow ABOVE to see our fun times with Gingersnap on our camping trip the week of 3/15/10.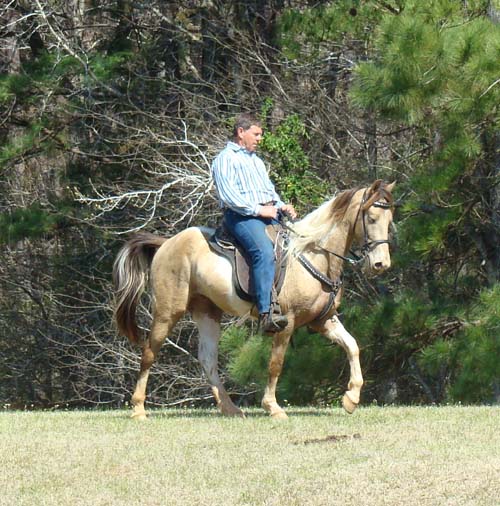 Riding across the pond dam on 3/15/10 on our East Texas camping trip.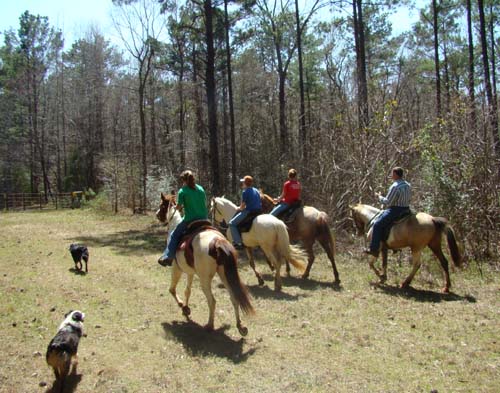 Cute little Christian a/k/a "Peanut" rides Lad while Cody rides Powder, Madison rides Strawberry Sundae along with Grandpa Huey riding Gingersnap on 3/15/10 on our camping trip in Nacogdoches, Texas. These kids are all 12-yr-old cousins/friends.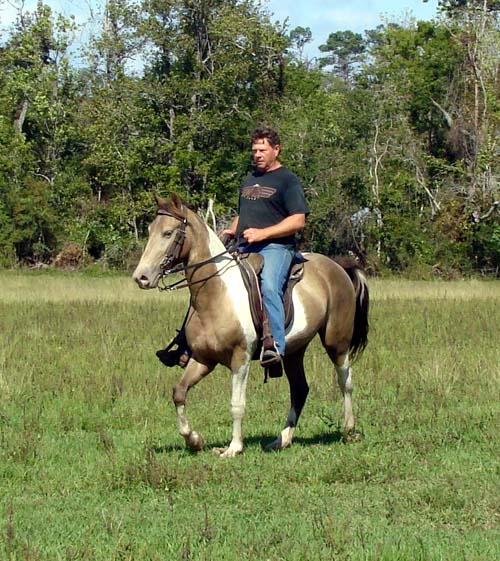 Unusual beautiful color and color pattern.
Click on embedded arrow ABOVE to see training opportunities (dogs, wooden bridges, coming in from the pasture to the halter).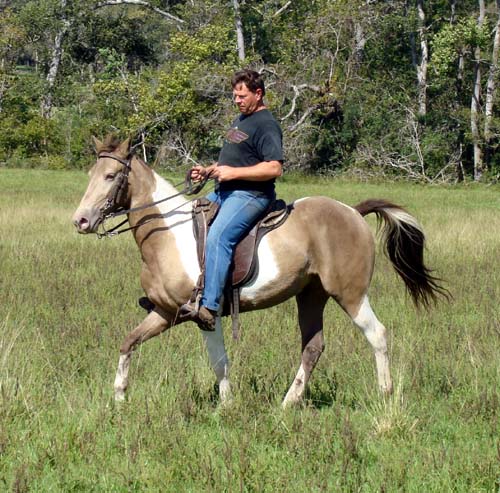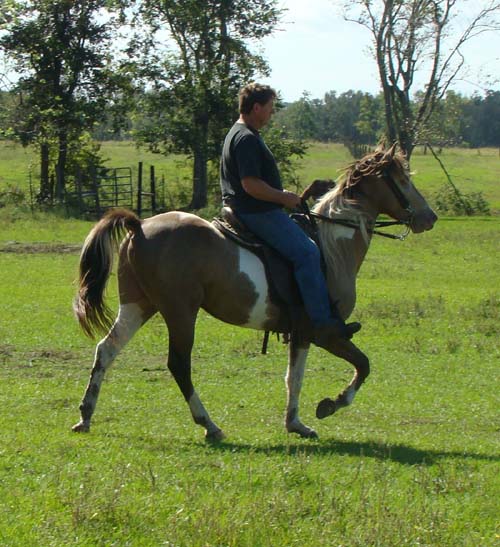 "Gingersnap" -- Really smooth, true four-beat gaited 14.3H (we expect him to mature to 15H) 3-year old registered classic champagne Tennessee Walking Horse gelding for sale with unique, WOW coloring. More athletic than most gaited horses, built round and beautiful like a Quarter Horse with nice, sturdy, big bone structure, beautiful face, striped mane and tail, trained barefoot but has been shod. Nice, hard healthy hooves, sensible disposition. He goes back to Paint's Moon Man on top, Pride of Midnight and A Command Performance on bottom. Gingersnap is 3 years old and has been the beneficiary of a totally natural horsemanship education with a snaffle bit, which he will be able to wear his entire life. (See the program outlined on his page.) This cute 14.3H gelding has been started right and then already hauled to several camping trips and trail rides with other horses, ridden in the front, back and middle. He pivots, forehand turns, side passes, canters on left and right leads on command, backs, loads, clips, bathes, feet are good and hard, healthy. He has a snappy way of moving that is classy and smooth and his canter is absolutely a treasure.
Gingersnap is being pastured at night with other horses, including mares and foals, and cattle, is accustomed to dogs, turkeys, chickens, tractors, 4-wheelers (or quads, for those of you from the north!), heavy highway traffic including ambulances flying by and logging trucks, and he has been tied extensively on picket lines, hitching posts, trailers, etc. This horse is young and already excellent, will actually get better as the years go by. A horse for a lifetime. $4950
Click on embedded arrow ABOVE to see a short video of Gingersnap's beautiful natural canter and 4-beat gait.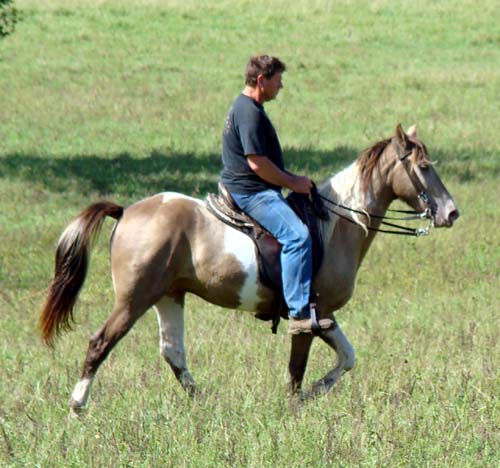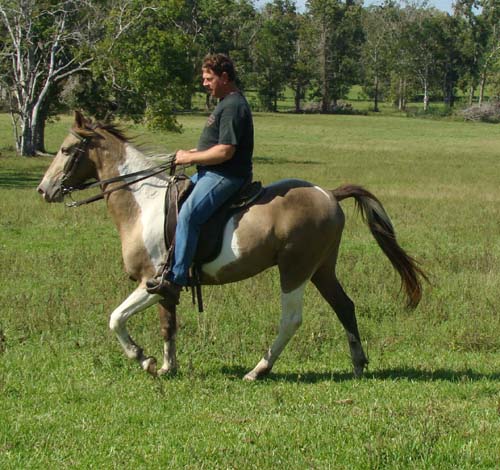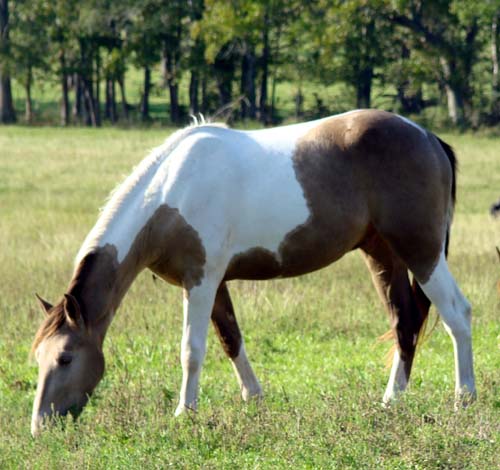 At home in training on 10/28/09.
ELEMENTARY SCHOOL:
First three days, he learned to go, go at three different speeds, and turn to the inside to show respect. They are worked on a "tree of knowledge" (cedar pole in the middle of the round pen), with a concept of driving with one rein.
Next few days, he learned to drive with the long reins, learning to get up, whoa, turn, flex and back. He learned to tolerate the girth with the bitting rig and to pace himself at speeds that he is commanded to perform. He was taught to stay focused on his trainer.
Next few weeks, he learned to accept the saddle and be driven with the driving lines through the stirrups, as well as accept someone mounting him from both sides of the saddle, with lots of 'accidental' brushes across his rump as we mount and dismount.
The fourth week is all about settling down, walking relaxed on command, running walk relaxed on command, relaxed canter and smooth, obedient transitions. The goal is to get him to stay in the requested gait until he is given a cue to change gait. When he is asked to reverse, he is trained to reverse always at a walk.
The fifth week, a "dummy" rider is introduced -- the first night, a rider is asked to be dead weight in the saddle, with the trainer giving instructions from the center of the ring. This dummy rider is asked not to touch the reins, not to move, not to talk, not to be involved other than just simple weight in the saddle. The second night, the rider is asked to give cues in a very subtle way AFTER the trainer gives the cue. The third night, the rider is asked to relax, is allowed to hold conversation while riding, and gives cues at the same time that the trainer is giving them from the center ring. Circles and go's are introduced, stopping and backing two steps is asked. This is all using only a halter and lead rope for reins.
The fourth night, the rider gives the cues and the trainer is simply there to reinforce the cues if needed. By the fifth day, the trainer is pretty much just there to observe, and then for the next week, the trainer takes over and rides with just the halter working on turning in a circle with nose to the inside with no pressure, ride squares, continue backing training, yield front, yield hindquarters. Before he ever left the round pen, he understood all these commands, and by asking to yield both front and hind, he easily learned to side pass on cue.
After a couple of weeks of intensive handling, the bit is introduced (with tasty molasses!), and now double reins are introduced (one to a leather noseband and one to the snaffle). Another week or two in the round pen on the bit, after the horse is taught that he is being allowed to stop (instead of commanded), he knows the one-rein stop, and understands transitions, he is taken to the trails to be ridden alone -- no other horses with him.
HIGH SCHOOL:
This teaches him to think for himself, as opposed to just learning to react. He learns that he can trust his rider, that he can be courageous in the face of his perceived danger, that he can cross creeks, step over logs, encounter deer, squirrel, rabbits, motors, bicycles, etc. He learns to pace himself and not use up all his energy at the beginning of the day, and he learns to hydrate along the trail. He learns to gait perfectly without the distraction of the stress of other horses, feeling like he needs to be where they are. When his gait is fast enough to keep up with his peers, he is then taken on group rides and taught to ride at the back, in the middle, and at the front, all on a loose rein. He is taught that he should not panic when he is ridden a lot further back from the group, leaving the group and then rejoining. He is being trained to canter on both leads along the way, but that if asked, he should not increase his gait even though the other horses are getting ahead on the trail.
Next comes Highway 101, where he learns to tolerate busy traffic, dogs, 4-wheelers, garbage cans, whatever scary obstacles he can be exposed to.
All along the way, the goal is to get him to round his back, break at the poll and tuck his nose, drive his hindquarters forward and have a perfect four-beat gait with loose reins, light touch and all while BAREFOOT!
COLLEGE:
Now, this pleasure prospect is hauled to camping trips across the nation, on a never-ending education! Gingersnap has already been camping in Tennessee and Mississippi, as well as trips to the Angelina Forest here in Texas, and many more ahead.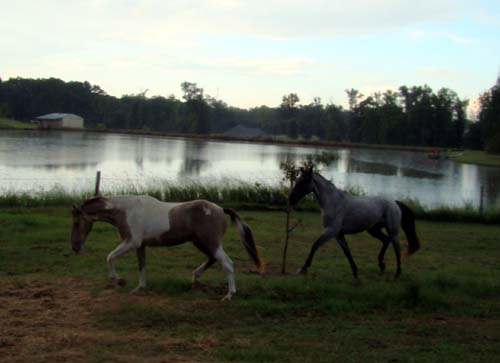 On a camping trip on the Natchez Trace trails in Mississippi on 9/7/09.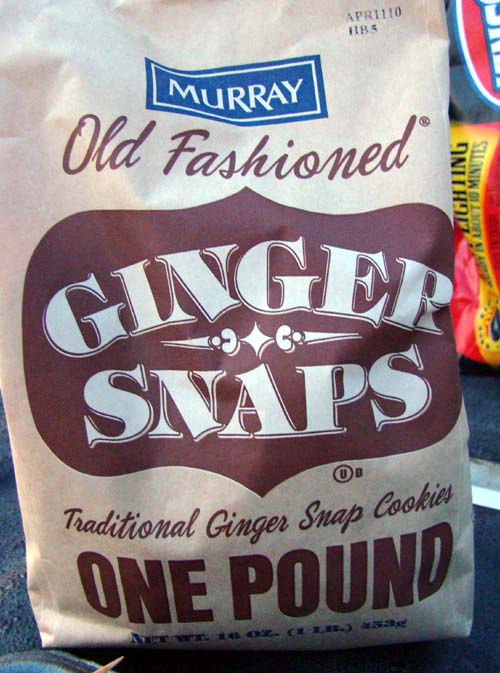 Cloud 9 Walkers
P. O. Box 878
Hardin, Texas 77561-0878
(55 minutes east of Houston)
281-726-4545
(Entire contents of this website copyrighted by Cloud 9 Walkers)

Email me!