CLOUD 9 WALKERS
"Grey Boy"
Well-Trained, Stocky Built 8-yr-old 15H Grey Tennessee Walking Horse Gelding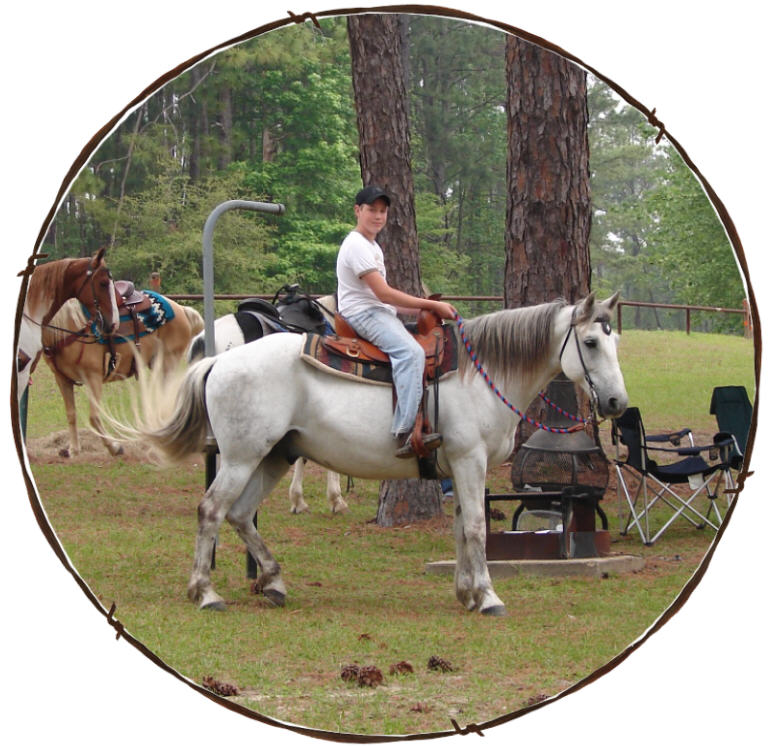 Greyboy relaxing before Tyler takes him for a trailride in the Angelina Forest on 4/23/07.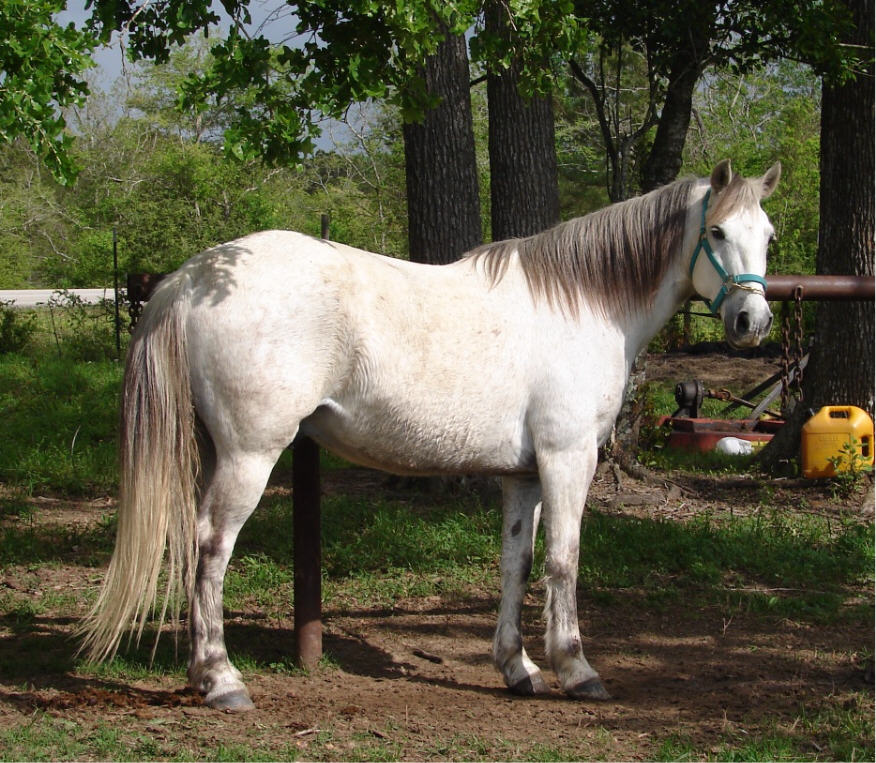 He stands tied quietly for hours.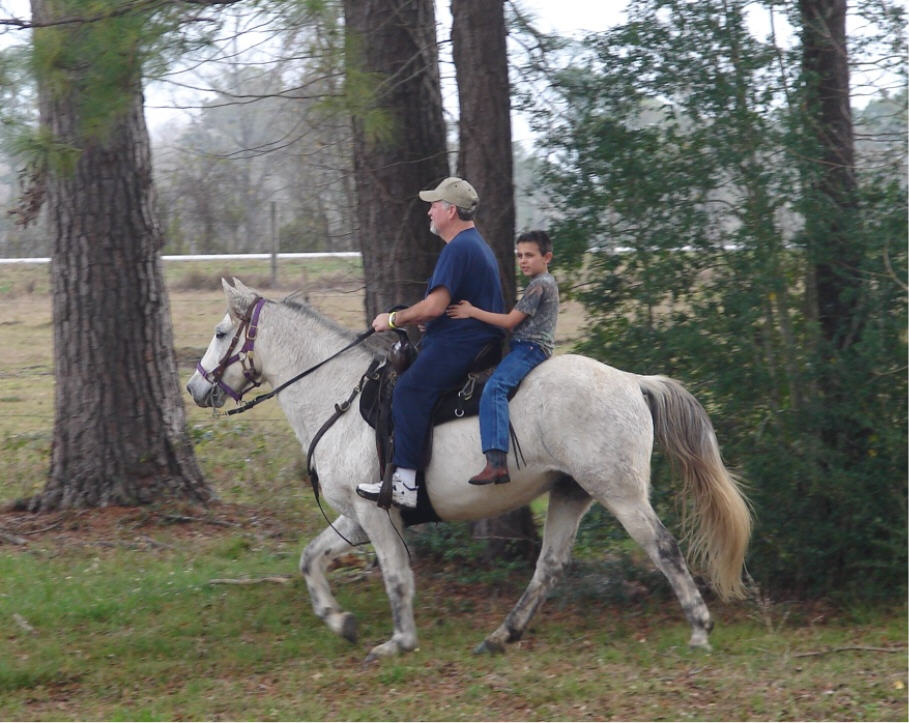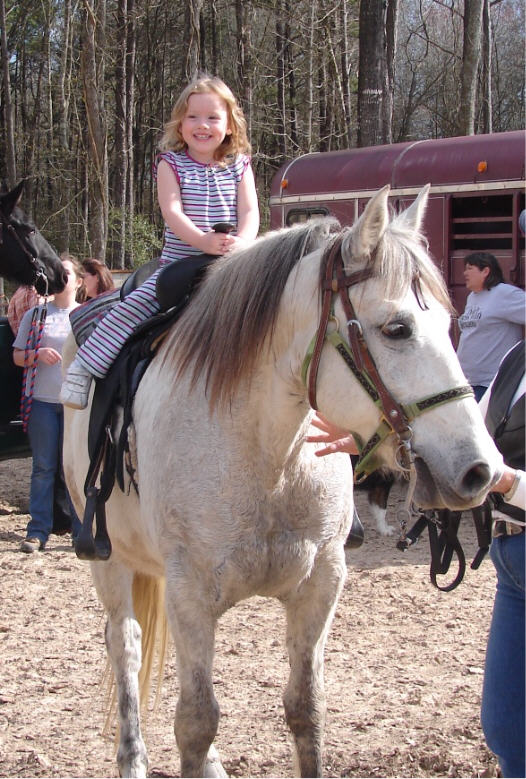 LEFT: 3-yr-old Tori rides her first horse!
RIGHT: Grey Boy doesn't mind riding double, and these two had hours of fun with him on a February weekend.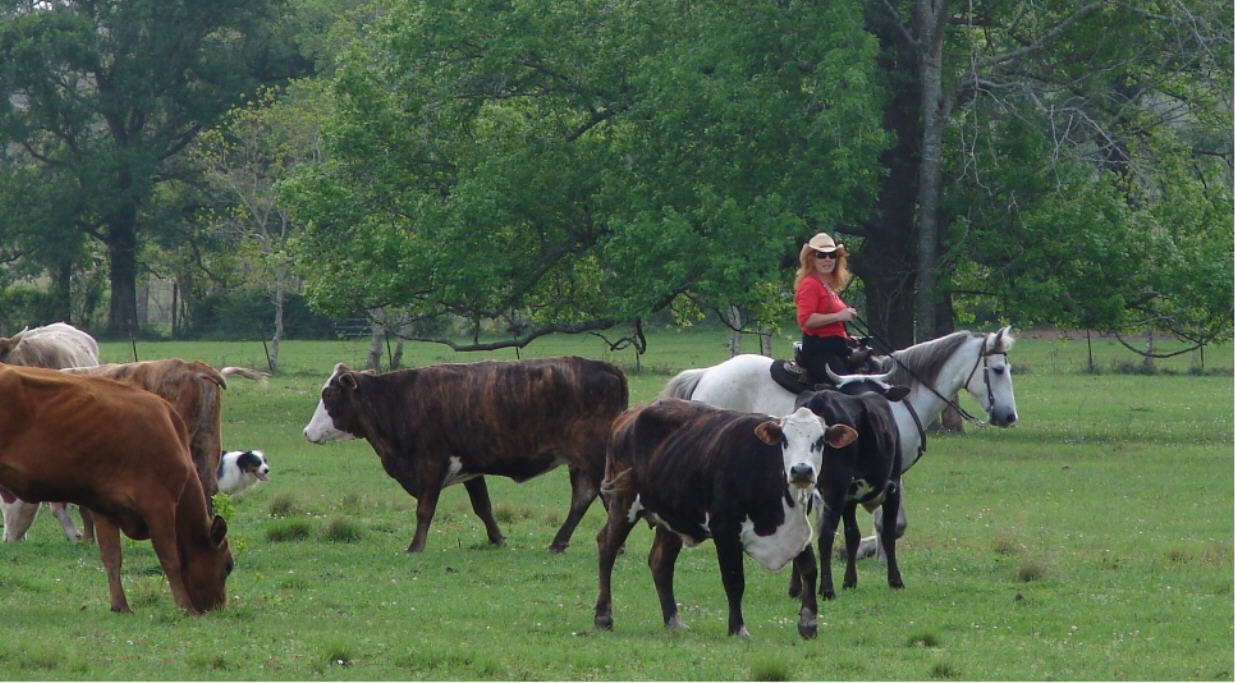 Grey Boy being used to check cattle on 3/28/07. Click on this picture ABOVE to see him gaiting.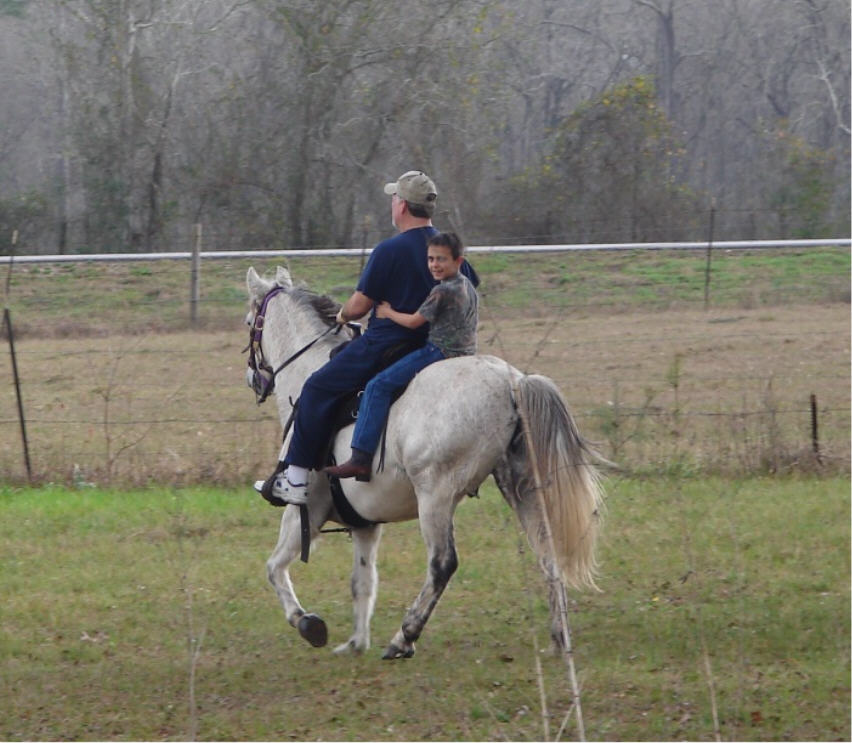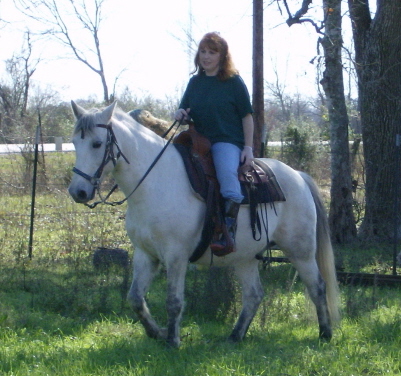 LEFT: Somebody is having FUN! RIGHT: 1/6/07 -- Taking my first ride after my surgery.
"Grey Boy" -- Fantastic, seasoned, smooth-gaited stocky 15H 8-yr-old grey gelding that anyone can ride. He's gentle enough for beginners but responsive enough to please an experienced rider wanting a well-trained machine. Grey Boy NECK REINS!, slow lopes, performs a solid 4-beat smooth rack, and will stand tied patiently for hours. This is the horse that you throw out to pasture, and 6 months later, he's still as broke as when you turned him out. He's very athletic, has been used on trail rides, working cattle, and the kids have crawled all over him. He rides double, bareback, loads, easy for the farrier, and actually comes to you from the pasture. He's very affectionate and loves people, and has good, hard, black hooves -- he is barefoot in all these pictures and videos. This is a well-rounded true pleasure to ride. Click on his picture to go to his info page. He gets his fabulous gait from his grandsire, one of my favorite World Champions "Pride's Peddler BH", and his papers also show Sun's Delight D, Merry Go Boy and Midnight Sun -- probably where he got his nice stocky build from. $5500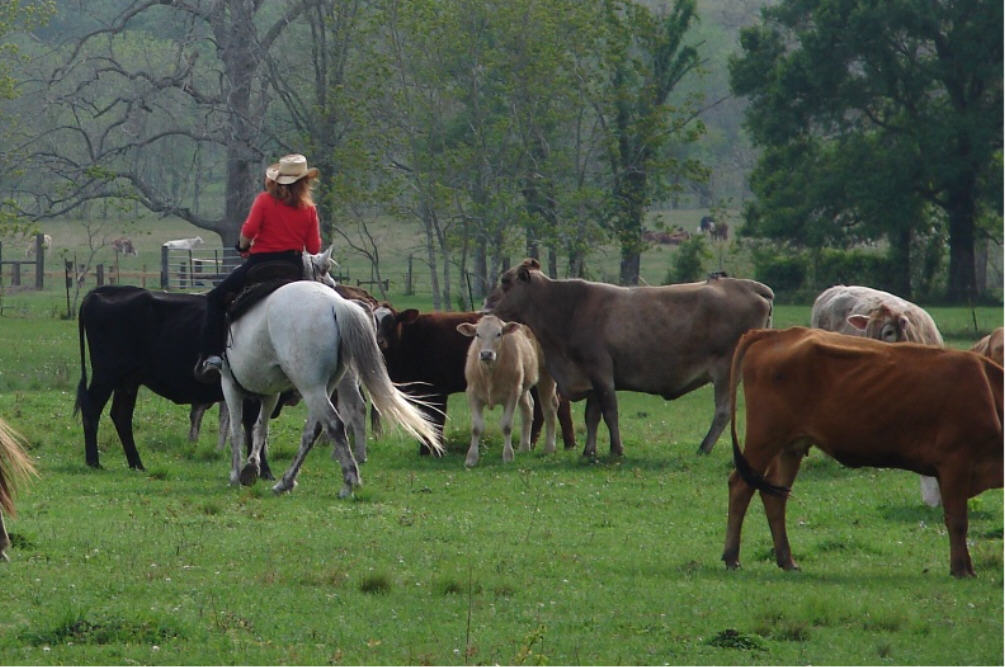 Grey Boy checking the cattle out. Click on picture ABOVE to see him cantering.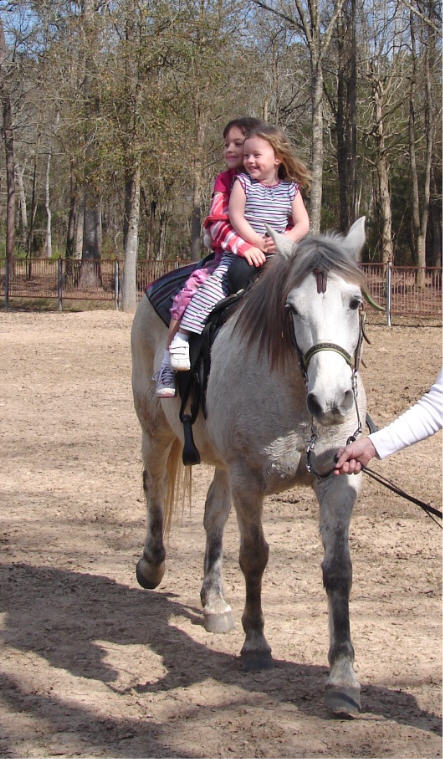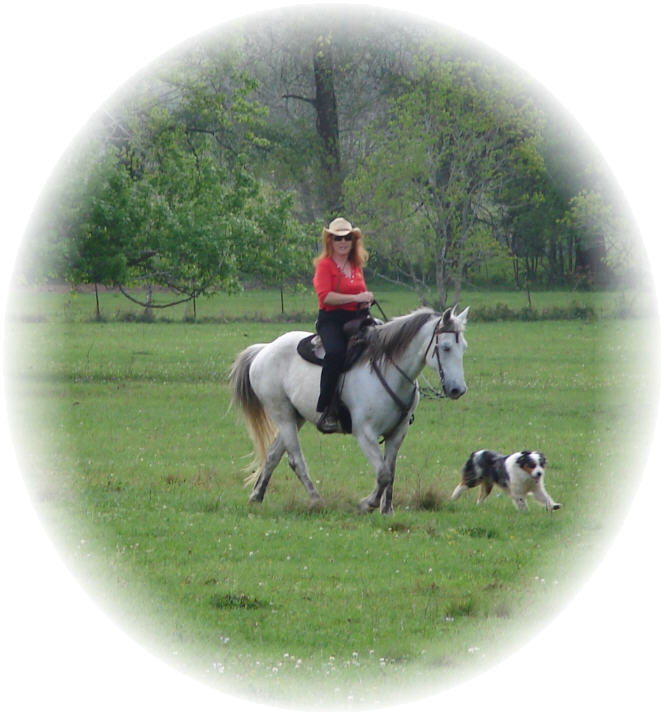 Heaven . . . is a good horse, a good dog, and little kids!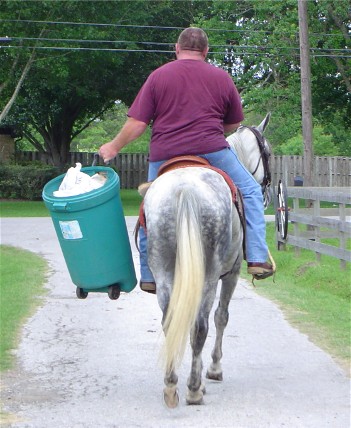 Grey Boy in his dappled summer coat two years ago (6/9/05) taking out the trash.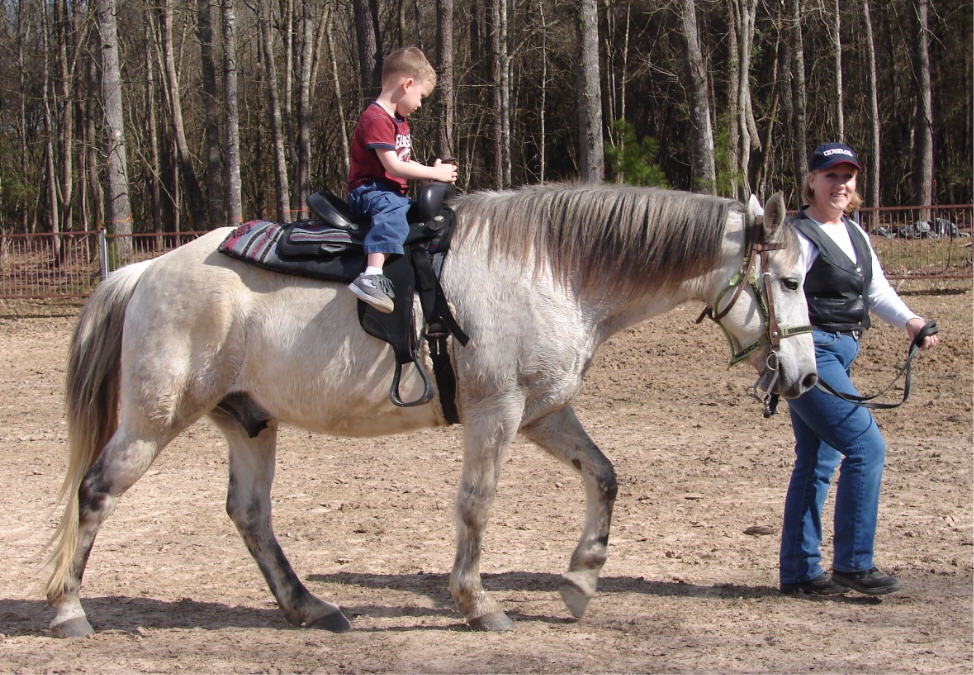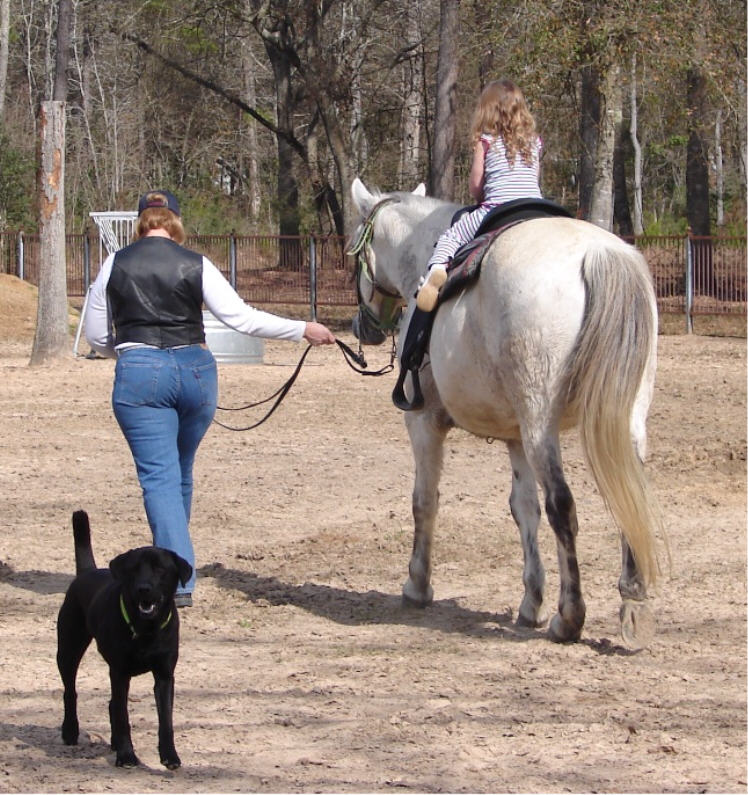 LEFT: 4-yr-old Evan gets his first horseback ride while Grandma Gayle leads. RIGHT: 3-yr-old Tori didn't want to get off!


Email me!