CLOUD 9 WALKERS
"Gypsy"
Fairy-Tale Beautiful 10-yr-old 15.1H Stocky Bay 15.2H Tennessee Walking Horse Mare
Cadillac smooth and doing it all BAREFOOT!
Safe in Foal for estimated 6/22/10 foaling date.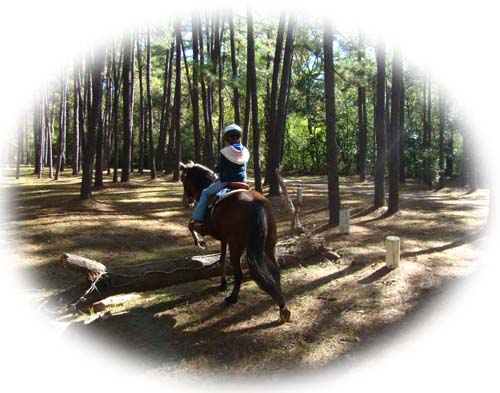 Gypsy steps over a log near Lake Houston on 11/25/09.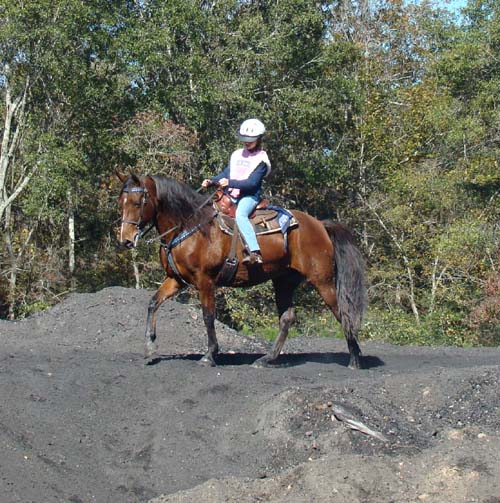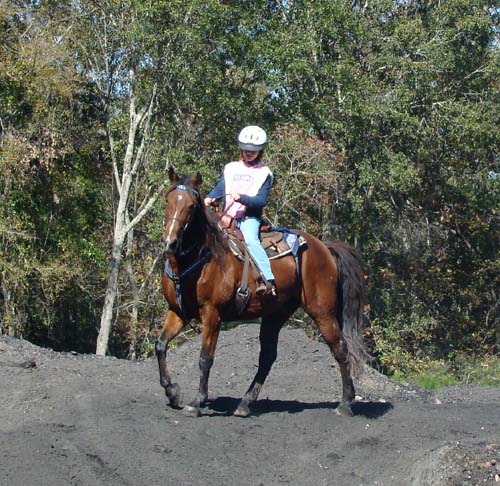 Hannah rides Gypsy on a hill on 11/25/09.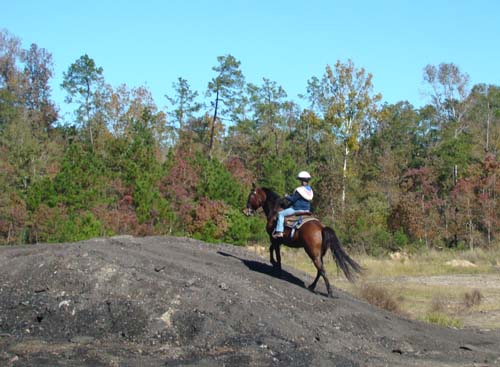 On their way up!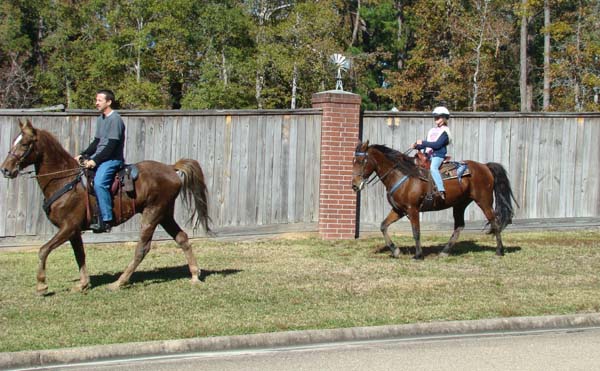 Pretty darn cool picture . . . father and daughter . . . Bryan on Rain, and Hannah riding Gypsy through the neighborhood on 11/25/09.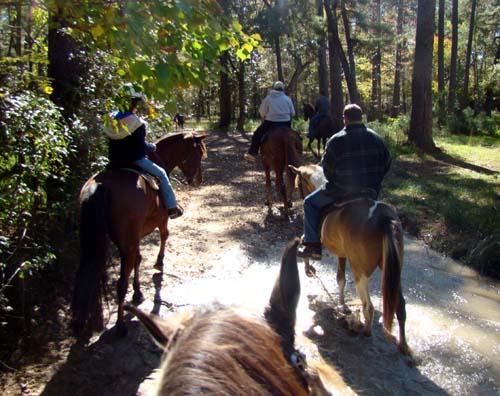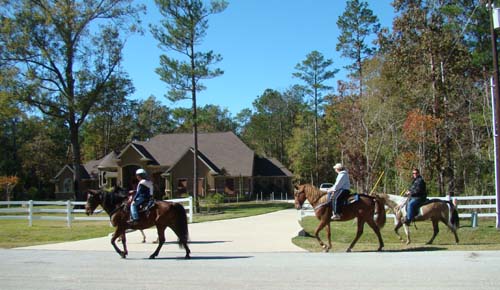 LEFT: Hannah on Gypsy, Huey on Gingersnap and Krystal ahead on Cash on a very muddy trail on 11/25/09.
RIGHT: Then they rode through the neighborhood, past mailboxes, Christmas decorations, garbage cans, barking dogs.
Click on embedded arrow ABOVE to see Hannah on her Lake Houston trailride on Gypsy on 11/25/09.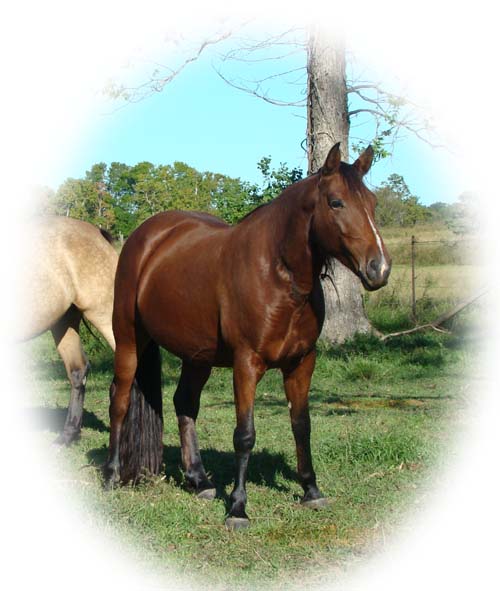 Gypsy in the pasture on 11/1/09.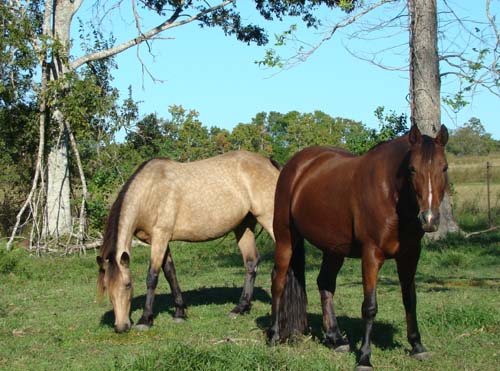 Cera and Gypsy in the pasture on 11/1/09. Yes, we have green grass in Texas sometimes all the way to the end of December, and we frequently have had to use air conditioners on Christmas Day.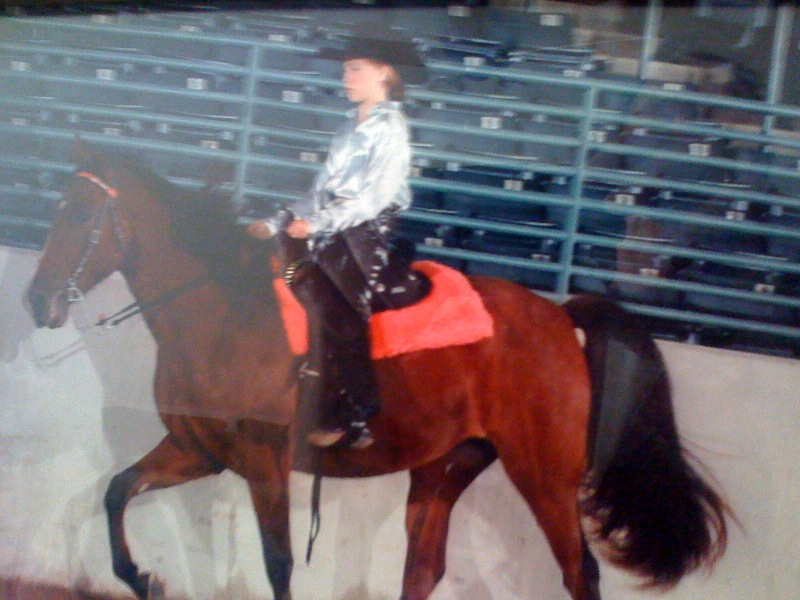 Gypsy, a few years back, in the show ring (lite shod, of course) . . . her tail is just beautiful!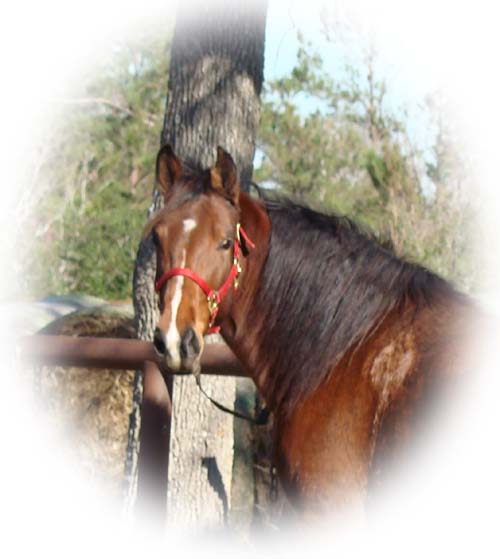 "Gypsy": Fairy-tale beautiful 10-yr-old (the perfect age!!) bay Tennessee Walking Horse mare with fairy tale TAIL! She's 15.2H tall, huge hindquarters with a crease down her back like a Quarter Horse, a big wide chest, solid, hard, healthy black hooves, goes barefoot on even the roughest trails, and she rides like a Cadillac, gentle for anyone to ride. She raised two girls from pre-teen through teenage years and now they've moved on to college. During this time, they showed her in pleasure classes, playdays, took her on trail rides, and did lots of Christmas parades with her. She performs an exhilarating smooth rack when she's fresh, and after she's been under saddle and warmed up for awhile, she strides nicely and shakes her head, does the running walk. Gypsy has been bred (7/13/09) to Go Boy's Champagne Pride and is vet confirmed safe in foal (on 11/25/09) for an estimated due date of 6/20/2010. $4500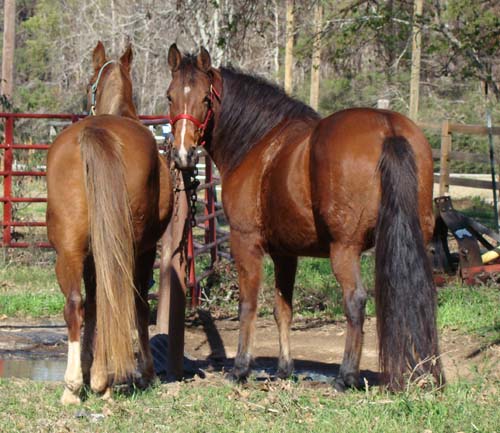 Gypsy stands tied at the hitching post with her half sister, Ginger. Check out that incredibly thick, beautiful mane and tail!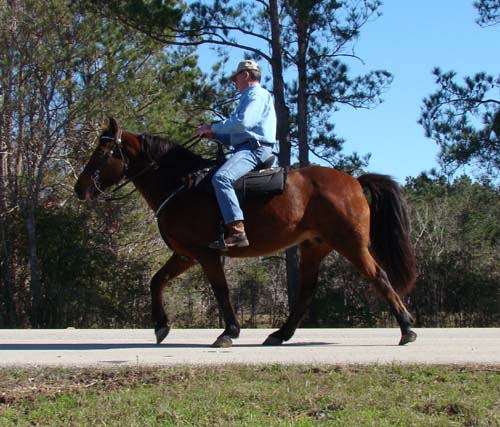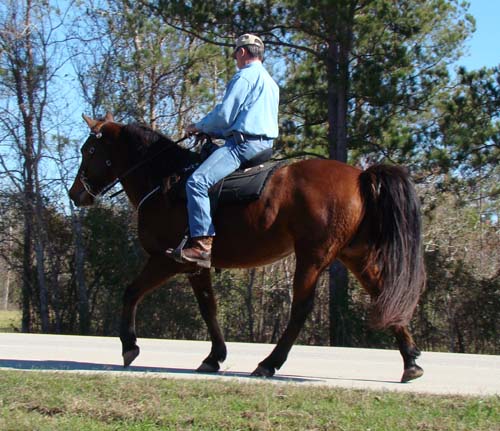 Gypsy is being ridden here, fresh out of the pasture, for the FIRST time in a whole year, down the side of a busy highway with log trucks and other traffic zooming by.
Click on arrow ABOVE to see Gypsy riding down the highway.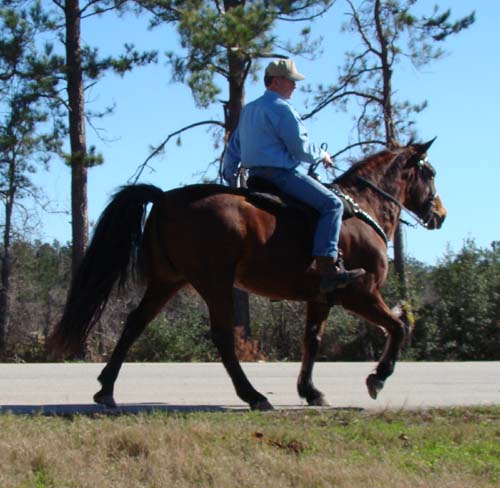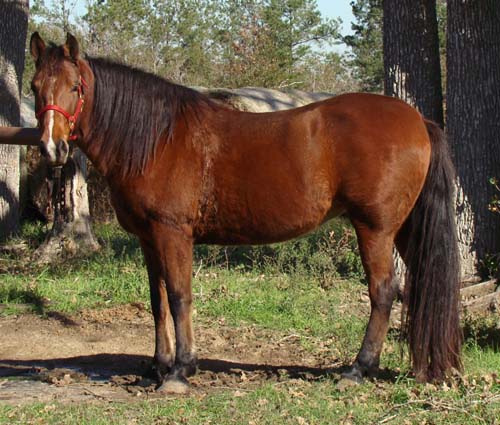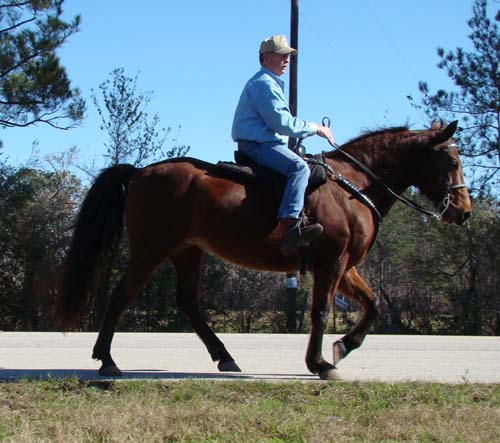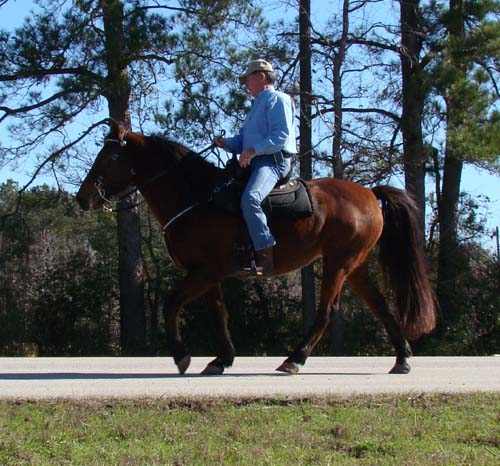 Check out that fabulous tail!
Sire: Southern Diplomat (ba)
Pride's Boss Man BH (ch)
Pride of Midnight HF
Midnight Sun (WGC)
Pride of Stanley
Spirit's Boss Lady (nc)
Spirit of Midnight
Wilson's Boss lady
Dude's Dixie Moon (bl)
Ebony's Dude C (bl)
Ebony Masterpiece (WGC)
Delights Lucky Penny (ch)
The Countess W. (gr)
The Contender
Ebony's Blue Lady
Ultra Glory Shaker (gr)
Ultra's Grey Eagle (gr)
Pride's Ultra Threat (bl)
Pride of Midnight HF
Triple Threat's Rose
Eldorado's Katy (bl)
Eldorado's Big Star
Eldorados April Star
April's Glory Shaker (gr)
SRS Shocking Shaker (rn)
Shakers High & Mighty
Shamrock's Sue C.
Marcia's Glory B
Gordon's Go Boy
Barbs Glory "B"


Email me!