CLOUD 9 WALKERS
"Painted Lady Bum" (we call her "Jazz")
Beautiful Big Gentle Black and White Spotted Tennessee Walking Horse Mare
Doing it all BAREFOOT!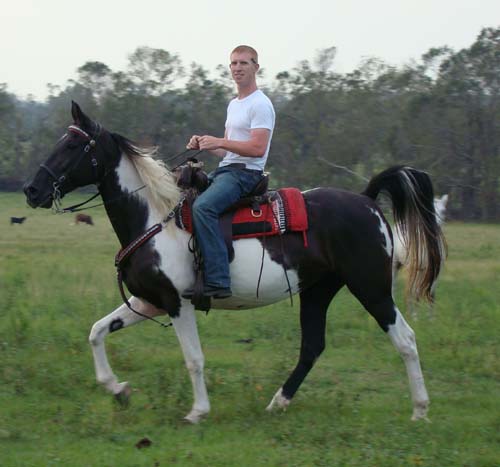 "Jazz" (Reg. TWHBEA "Painted Lady Bum") -- GREAT family horse -- I've owned her for almost all of her life. I bought her when she was 6 months old, sold her to a very demanding customer who fell in love with her when she was 9 months old, and they raised/spoiled her until she was 2-1/2 years old. At that point, they brought her back to me to start her ground and saddle training, and one night we were sitting at a rodeo where my daughter was competing for rodeo queen, and they mentioned that they might sell her. I didn't even ask the price -- I immediately told them to mark her "sold" and I bought her back.
For the next couple of years, I finished her training and took her trail riding, camping and to parades, then turned her out for 5 years to just be a broodmare. This past Easter, friends from Connecticut flew in to spend a few days riding with me, and I needed an extra horse, so I pulled Jazz in from the pasture and loaded her up. After not being ridden for 5 years, she was perfect -- stood still to be mounted, stepped off in a wonderful smooth rack, crossed all creeks and logs, etc.
I started breeding her in 2001 and she has had a foal every year, and in fact, should be in foal to my classic champagne stallion (Go Boy's Champagne Pride) for a 2009 foal (we pasture breed).
Jazz is a large mare, 15.3H, with big bone structure, never colicked or had any health issues at all. I said I would never sell her, but my kids have graduated and moved on and without their help, I am not raising as many babies any more. She neck reins, backs, works off leg pressure, sidepasses, pivots, forehand turns, loads, bathes, clips, will wear shoes but has hard, healthy hooves and goes well barefoot. Click on her picture to see more info. $8500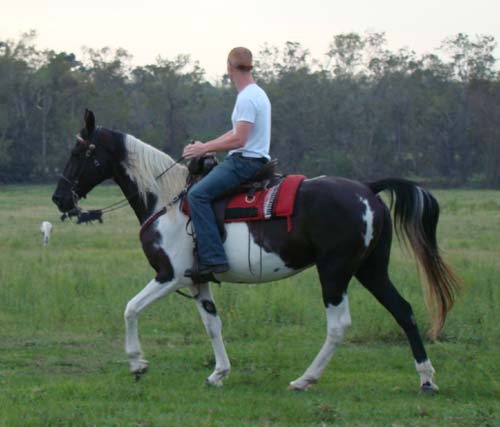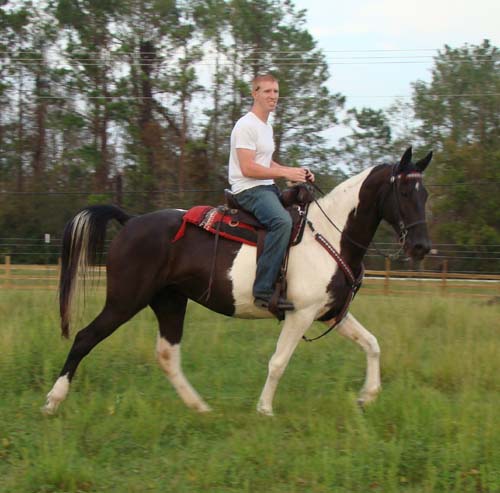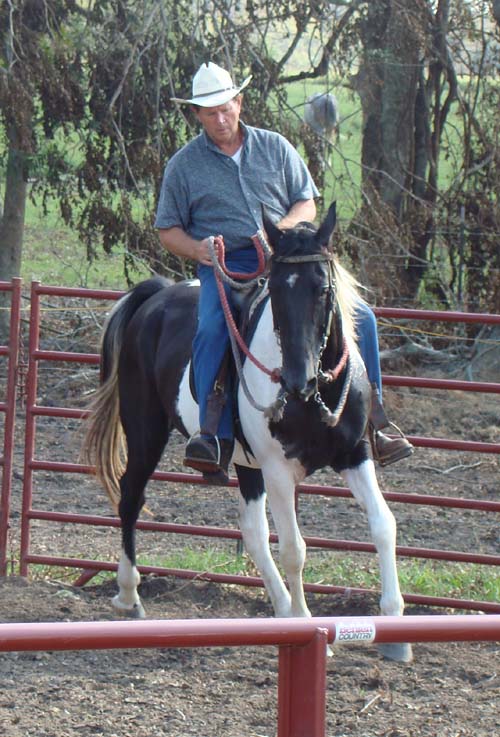 Jazz getting her round pen brush up on 9/21/08 -- refreshing her yielding, flexing, neck reining, sidepassing, etc.
Click on arrow ABOVE to see Jazz tuning up her neck reining, flexing.
Click on arrow ABOVE to see Jazz tuning up her yielding, pivots, etc.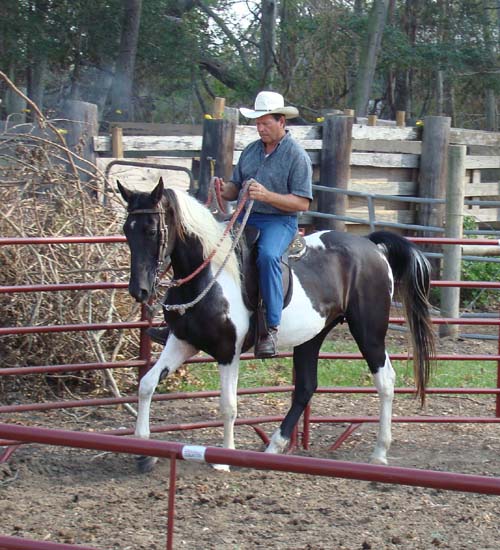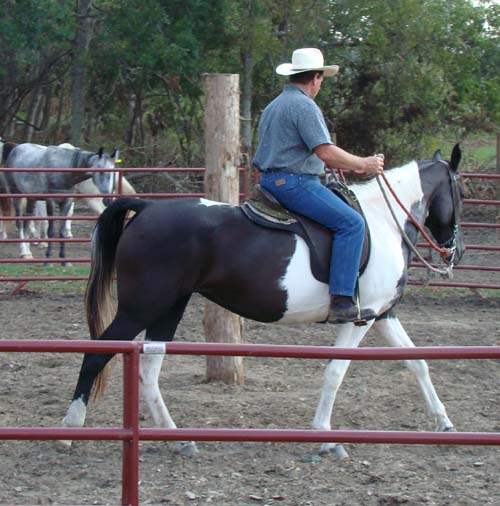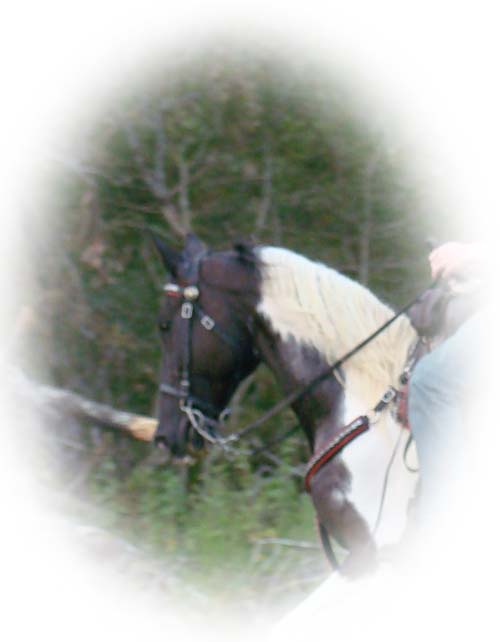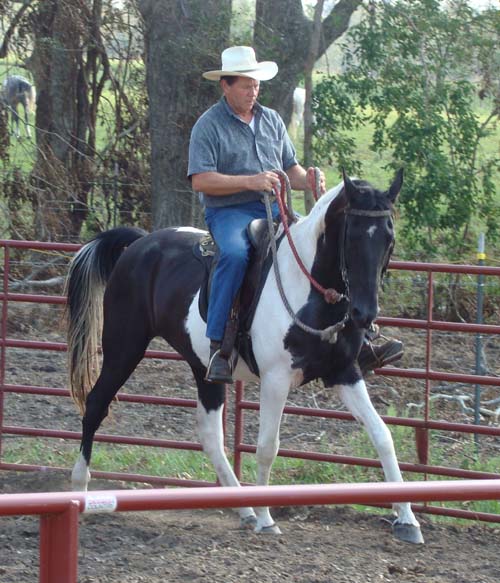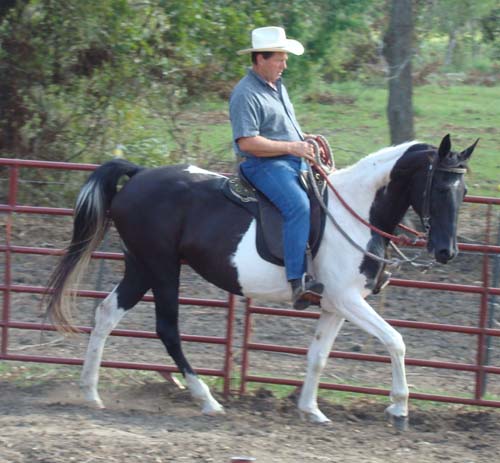 Click on arrow ABOVE to see Jazz and her filly gaiting, all natural, barefoot! Smooth!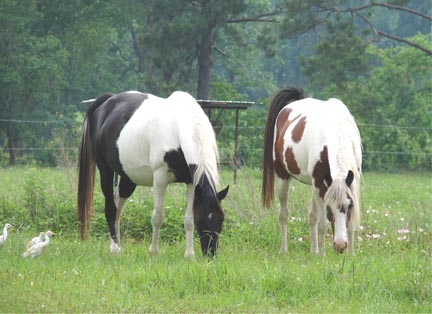 ABOVE: Grazing while heavy in foal.
BELOW: Several of Jazz's foals -- classic champagne/white tobianos and black/white tobianos.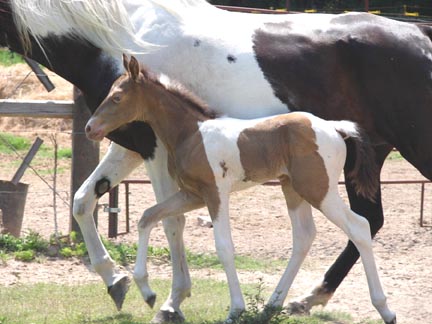 Champagne/White Tobiano stud colt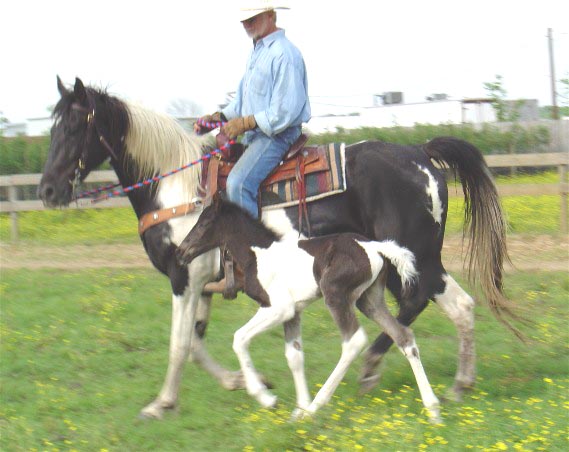 Black/White Tobiano Filly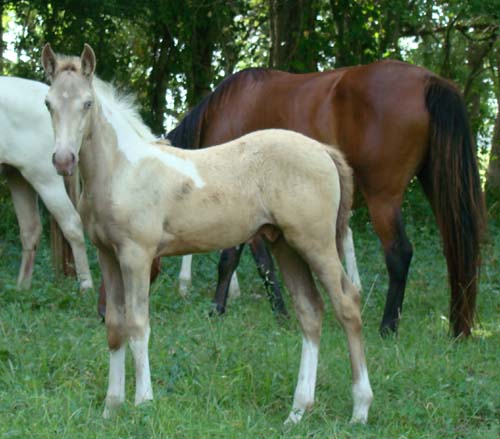 Classic Champagne/White Stud Colt (2008) after fading in the sun all summer.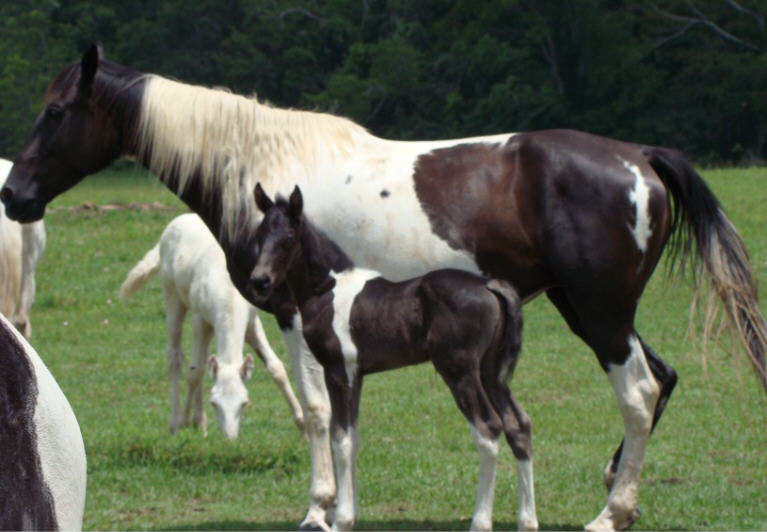 Black/White Tobiano Stud Colt


Email me!