CLOUD 9 WALKERS
"Jazz Man"
5-1/2 Yr-Old 15H Black Tennessee Walking Horse Gelding
(Direct son of "A Jazz Man" out of a direct daughter of "Poison")
Probably gentle for anyone to ride!
Click on embedded arrow ABOVE to see Jazz Man's FIRST time to ride in four months (has been turned out to pasture all of this hot Texas summer) -- this is Victor's first time to ride him -- workout on 9/30/11.
Click on embedded arrow ABOVE to see Jazz Man's beautiful 'at liberty' workout in the round pen on 10/1/11.
Click on embedded arrow ABOVE to see Cherokee Pride, Honey and Jazz Man on the trail at Angelina Forest and in Lake Sam Rayburn, Texas on 11/11/09.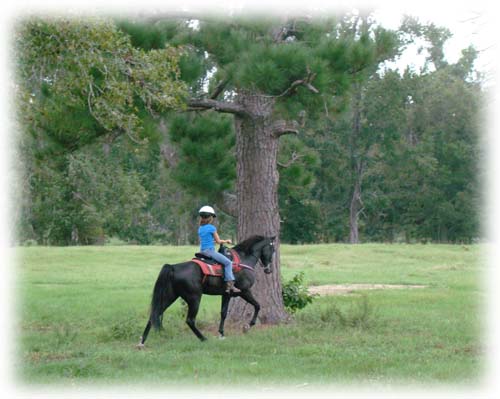 Okay, I couldn't get enough of this team, little 11-yr-old Hannah and this young, talented gelding. A team of talent! Here is my photo journal of this wonderful Texas afternoon with these two complete naturals on 9/24/09.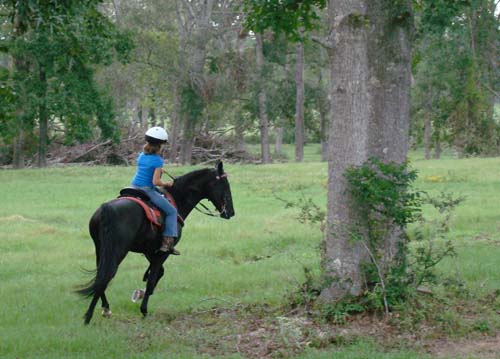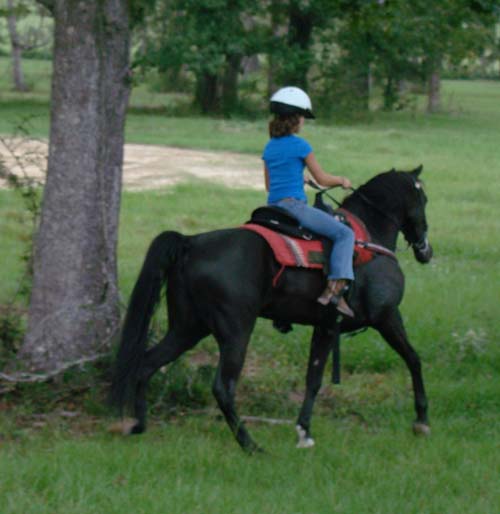 Look at the loose reins and the way both are leaning into the turn -- this is just natural riding. Wish I could take credit for this team, but all I did was put them together. First credit goes to God for bestowing all the talent; then I guess we should credit Hannah's riding instructor, Becky Aiden, a very cool and fun teacher. Oops . . . we forgot about her parents! Bryan and Joanne might have had something to do with all this! :)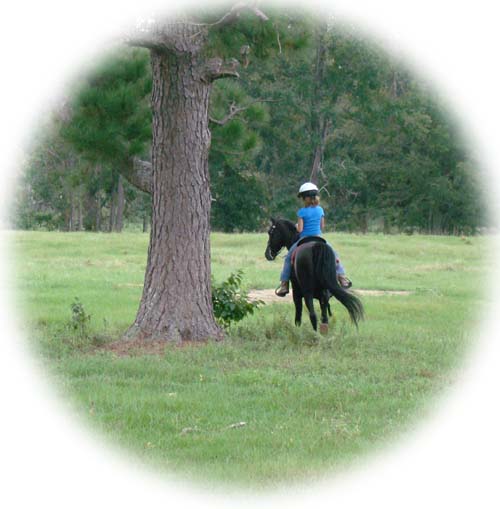 Both horse and rider are relaxed, reins loose, and both are looking in the direction that they are about to turn. This is the childhood that we dream about, isn't it?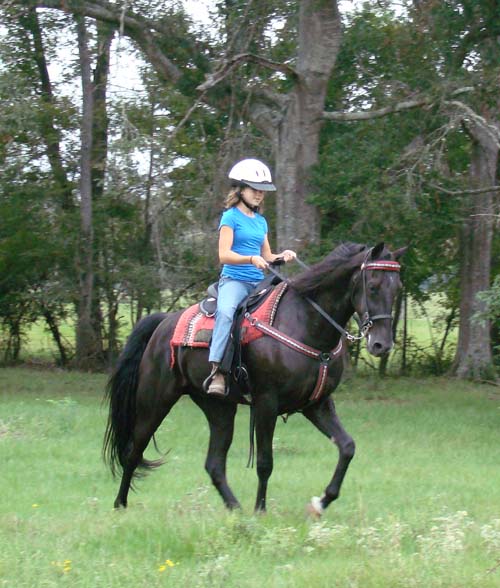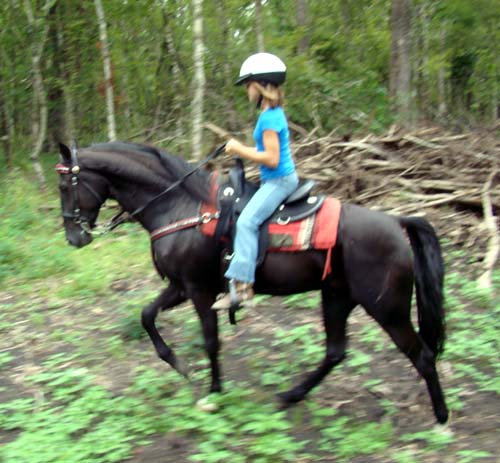 On the trail on 9/24/09.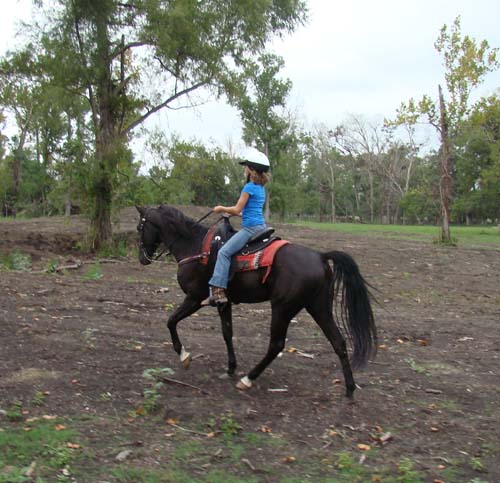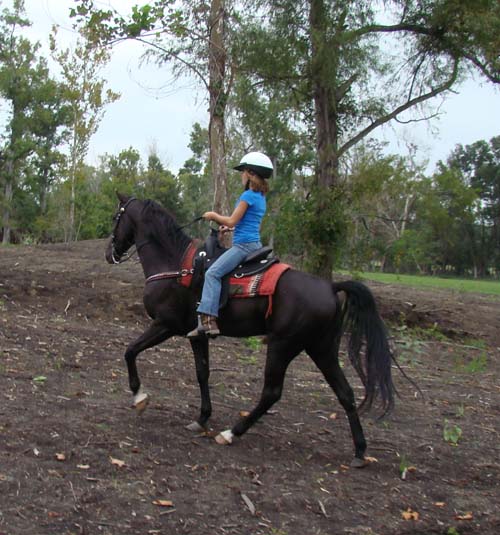 Couldn't decide which I liked better, so here they both are!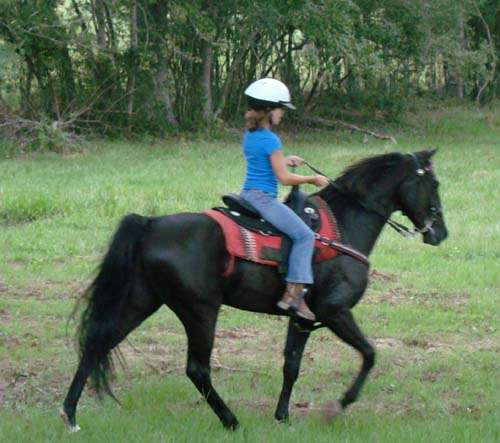 Definitely one of my favorites, even though I was taking this picture from the saddle and it's a little blurry because my own horse wasn't cooperating at that moment!
Click on embedded arrow ABOVE to see little Hannah riding Jazz Man and doing a GREAT job on 9/24/09.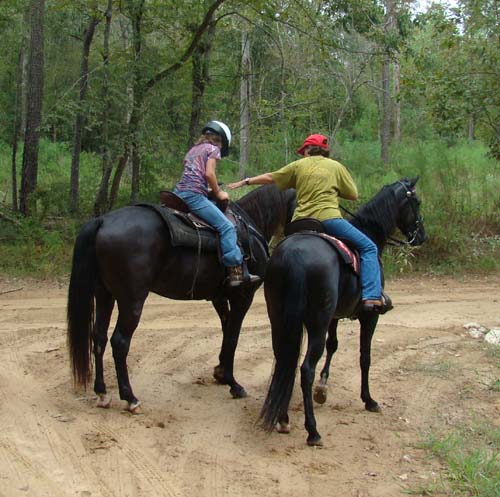 Cindy swaps over to ride Jazz Man while little Hannah rides Nashville on the trails at Lake Houston in Texas on 9/10/09.
Click on embedded arrow ABOVE to see a fun day on the trails at Lake Houston in Texas on 9/10/09, but to see the best footage of him, click on the video farther down this page.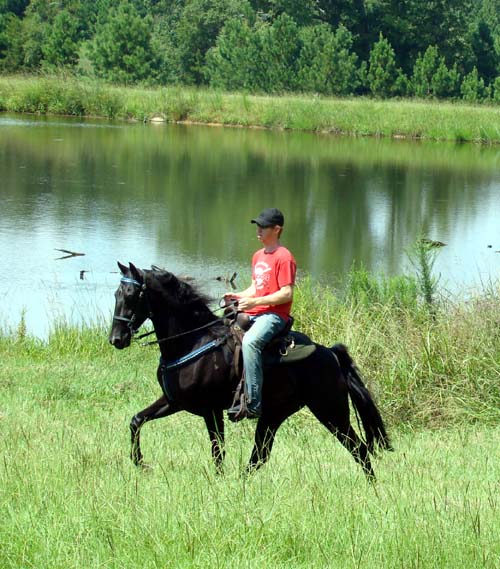 Bud riding Jazz Man in the Natchez Trace in Mississippi on 9/7/09.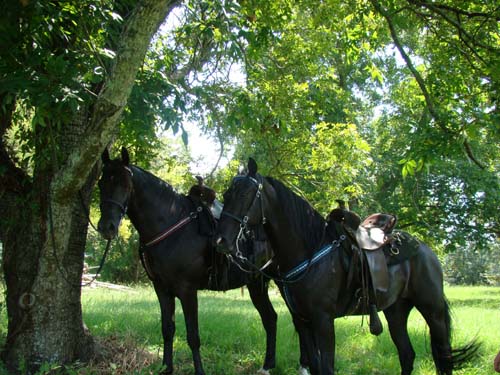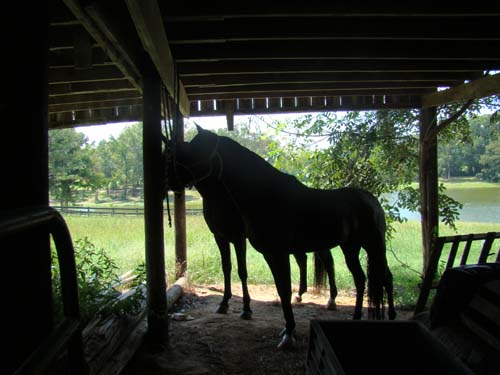 Nashville and Jazz Man tied before and after their workouts.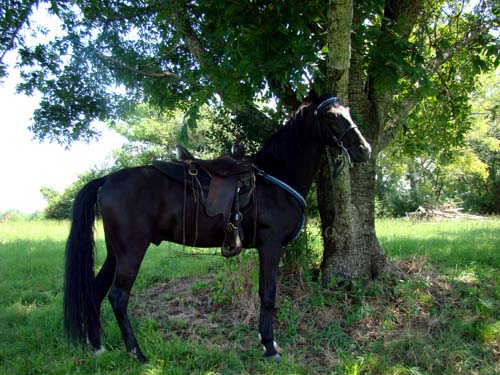 Waiting his turn, tied to a tree.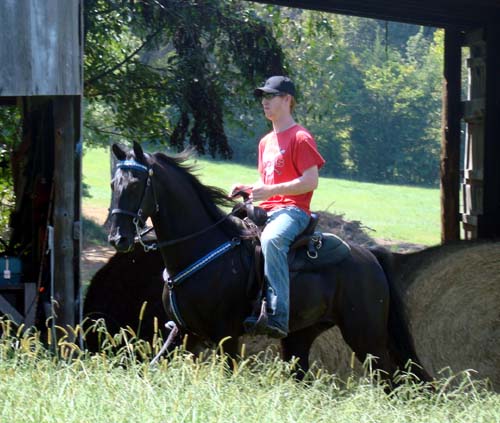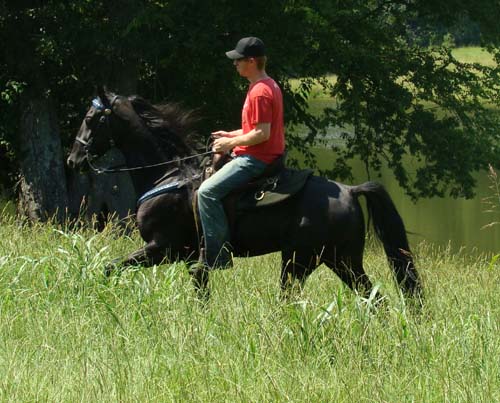 "Jazz Man" -- ALL-NATURAL KEG SHOD TRUE WALKING HORSE! This is one of the nicest true walking gait Tennessee Walking Horses that I've ever met, and he is a true pleasure to ride, probably gentle enough for advanced beginners. He's beautiful, jet black with flowing mane and tail, shakes his head with every stride, has a head full of sense and a very pleasant, people-loving personality. He is a nice age (5-1/2 years old). I have ridden him in the mountains in Tennessee, on the trails in Mississippi, and through the forest and lake in Texas -- he's one of my all-time favorites! The first time out on the trail for this guy we got in a bind and used him to pull another horse out of a creek by dallying a rope to the saddle horn, then rode him double back to camp while ponying the other horse with him. Very impressive fellow, he is! He backs nicely, is learning his leads at the canter, he side passes, yields front and hindquarters, neck reins, yields to leg pressure, has a very cute, people-oriented personality, gets along well with other horses in the pasture/stall/trailer, loads easily/unloads easily, bathes, clips, shoes, rides with light hand and not heavy mouth or dead-sided, tolerates dogs, goats, turkeys, chickens, cattle, walks through water, steps over logs, lives on the side of a major busy highway and is accustomed to loud traffic . . . can you tell that I like him? This is a beautiful, lifetime horse. $5500
Click on embedded arrow ABOVE to see this horse's beautiful head-shaking true Tennessee Walking gait.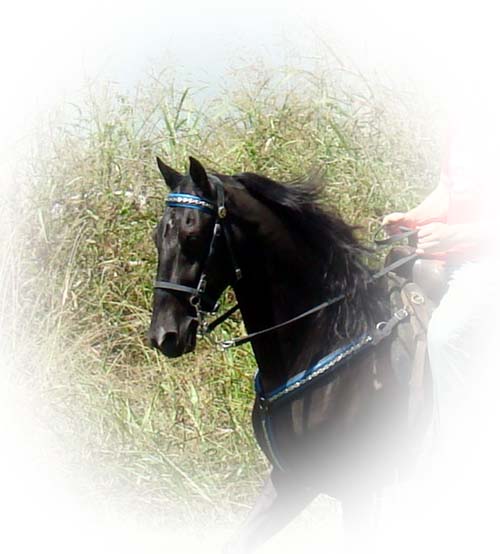 Beautiful boy.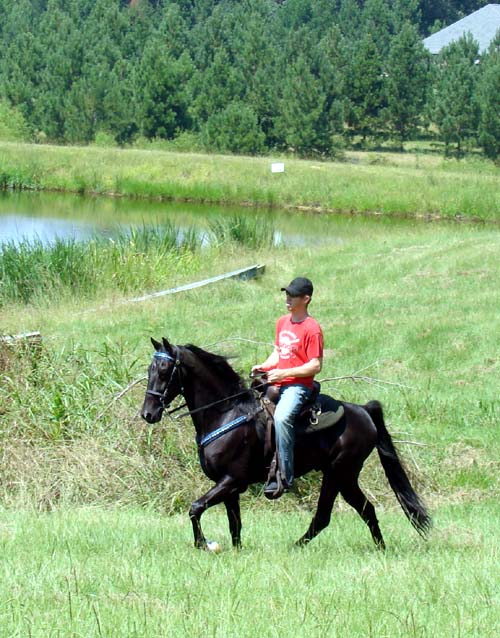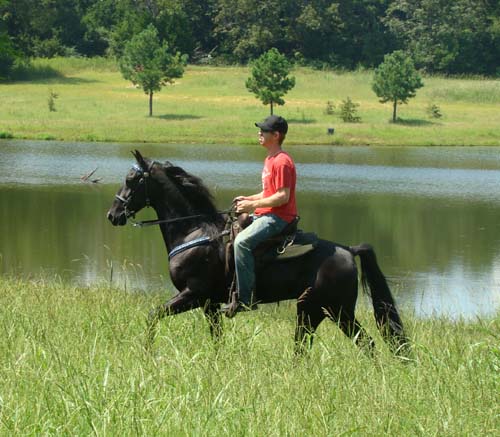 Impossible to take a bad picture of him!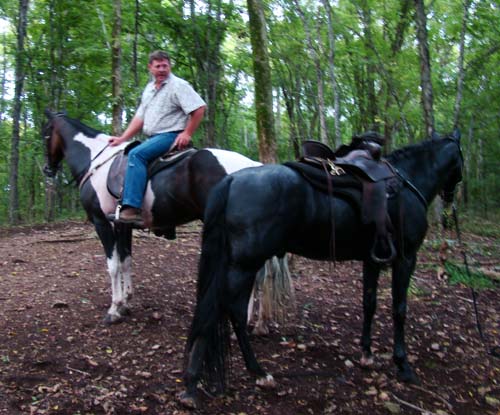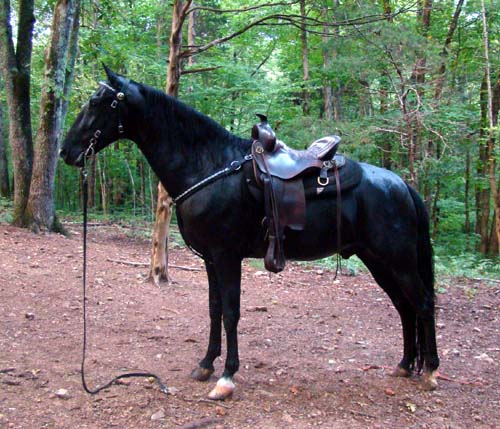 Here, we are practicing his ground tying. I rode him up the incredibly steep inclines at Normandy Lake in Tennessee on 9/4/09 and he was a very willing, perfectly-behaved pleasure!


Cloud 9 Walkers
P. O. Box 878
Hardin, Texas 77561-0878
(55 minutes east of Houston)
281-726-4545
(Entire contents of this website copyrighted by Cloud 9 Walkers)

Email me!