CLOUD 9 WALKERS
"Jinglebob"
Gorgeous 14.2H Bay/White Tobiano 7-yr-old Spotted Saddle Horse Gelding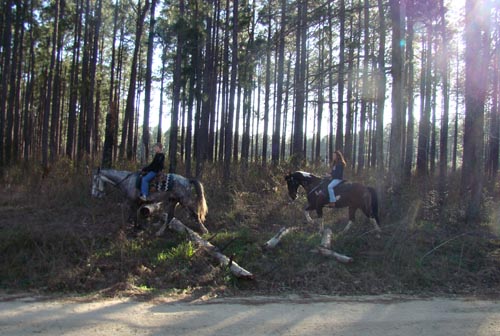 11-yr-old cousins Cody rides Chisel, and Madison rides Jinglebob over hurricane debris on 3/1/09.

Cody, trying to keep an eye on his cousin. Is this "front seat" driving?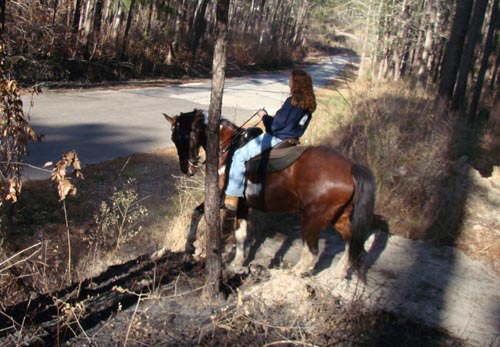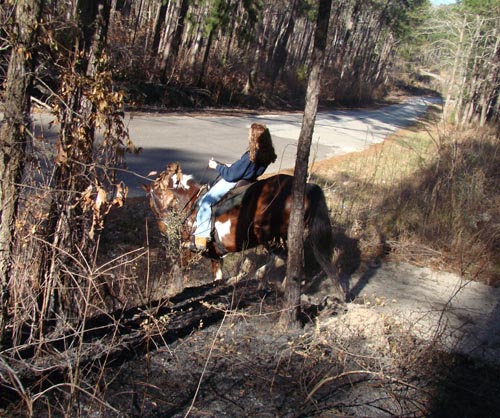 Grandpa said to lean back when going downhill.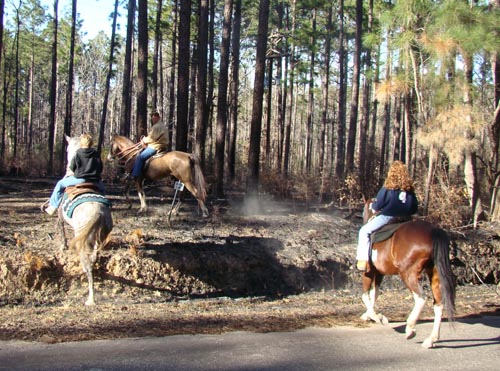 And lean forward when you climb up.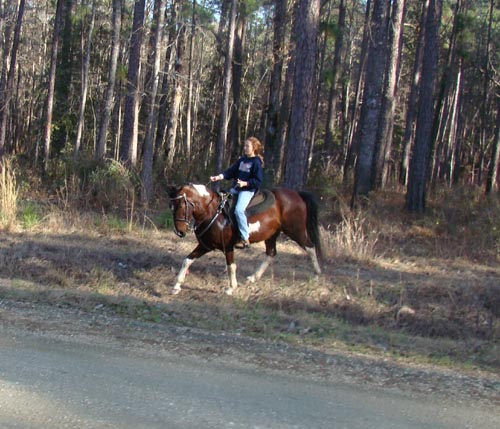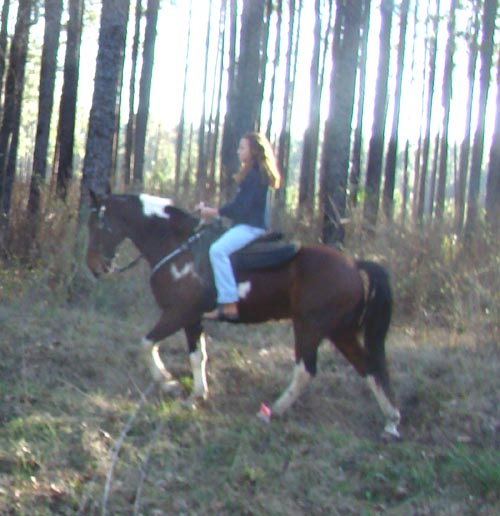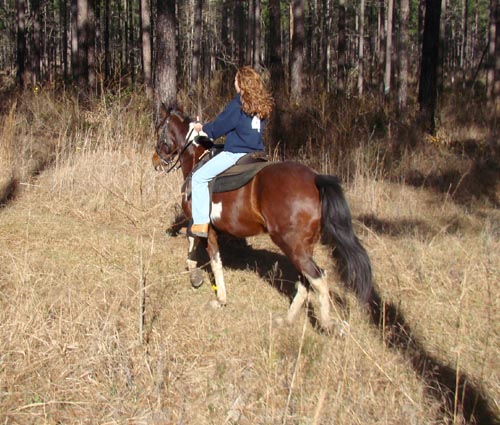 Beautiful girl, beautiful horse.
Click on arrow ABOVE to see this team negotiate a creek crossing.
"Jinglebob" -- Gentle, gentle, gentle for anyone to ride -- a real confidence builder and smooth as silk with a wonderful, easy, athletic slow lope as a bonus. This 14.2H beautiful spotted bay tobiano gelding is so easy-going that the whole family can enjoy him -- he's built stout with a nice creased rump, good wide chest, and he can easily carry a large man or a small child. Jinglebob is the kind of horse that everyone is looking for -- easy to catch in the pasture, loads last on the trailer and sets everyone else in the right position, calm, loves attention, affectionate . . . kind eyes, beautiful glossy bay color and the white spot in his mane looks like a flag when he's moving -- very flashy. He is not registered TWHBEA but he is registerd with the National Spotted Saddle Horse Association. This is the horse you throw out to pasture all winter, then bring up and loan him to your customers or visiting family who never ride. He is very tolerant and doesn't mind being at the back or the front of the ride. $4500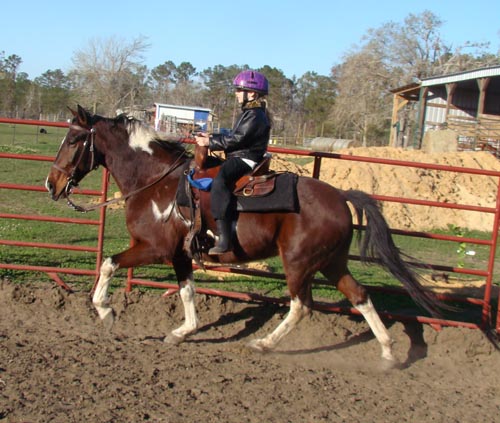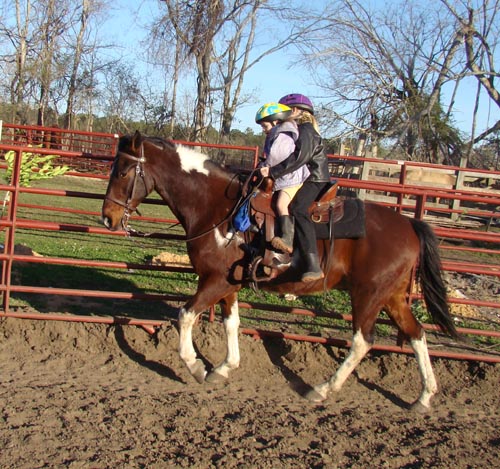 8-yr-old Ruth rides at a canter in the round pen, and then she takes her 3-yr-old little sister for a ride.
Click on arrow ABOVE to see Ruth cantering and gaiting Jinglebob in the round pen on 2/28/09.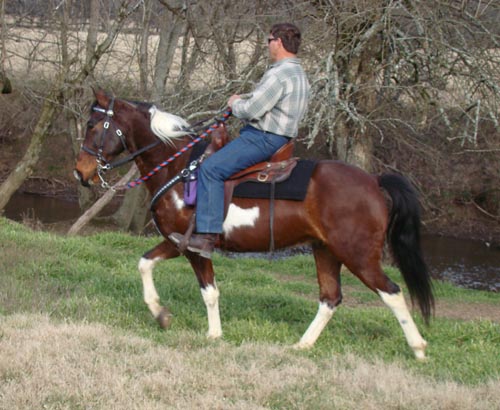 Click on arrow ABOVE to see his flawlessly smooth gait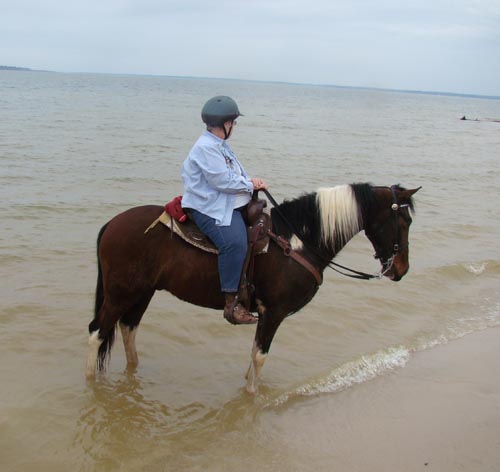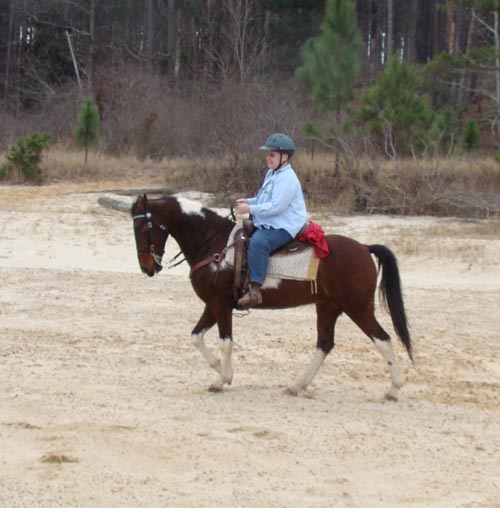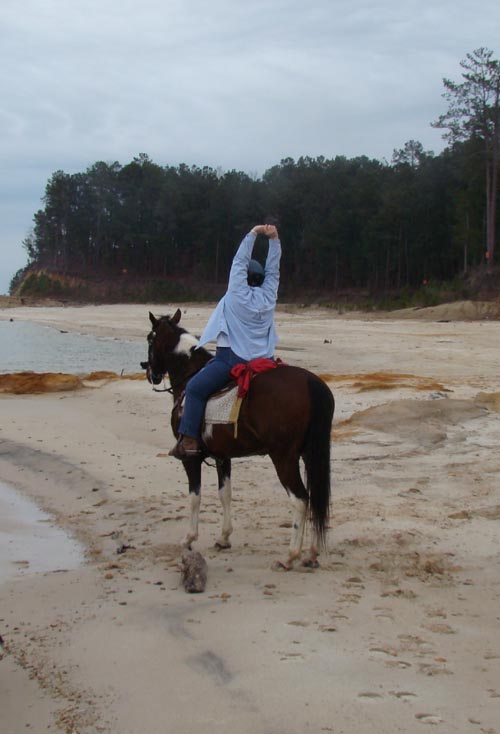 She ain't tired -- this lady is faking it! Ten years ago, she flew to Iceland and rode the Icelandic ponies across the continent! I'm afraid she may find Jinglebob just a little too boring!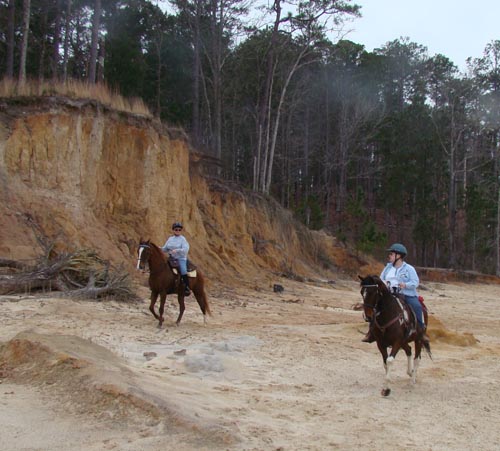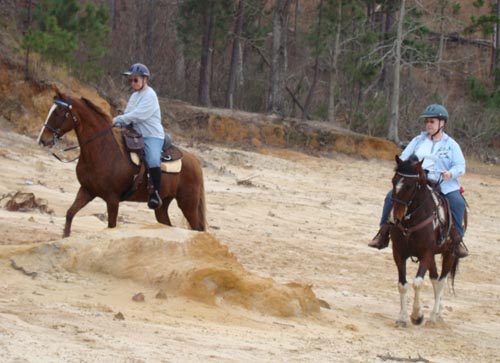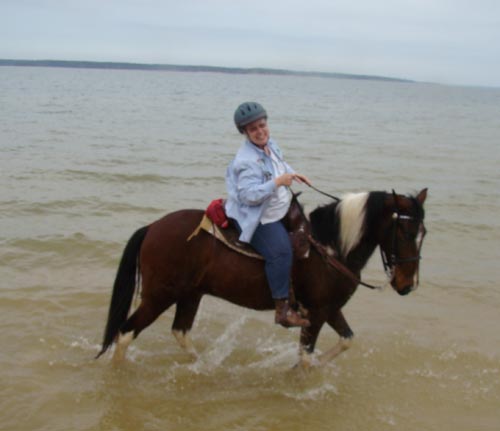 The cutest picture! This is Judy, from Missouri, riding Jinglebob in Lake Sam Rayburn, Texas on 2/14/09.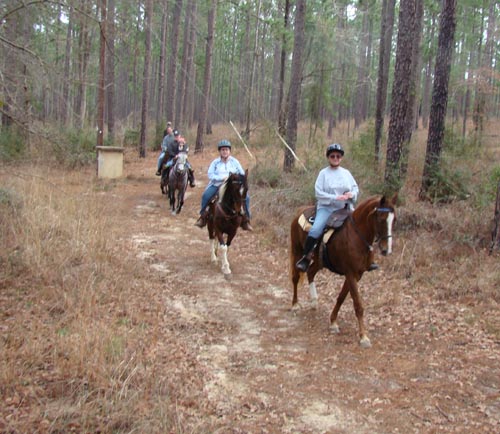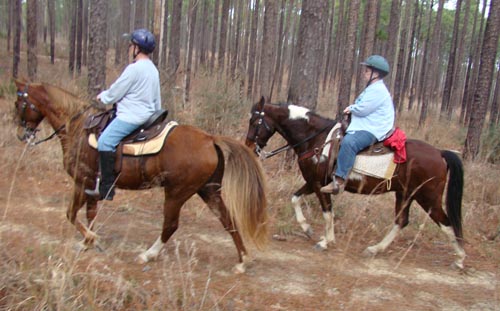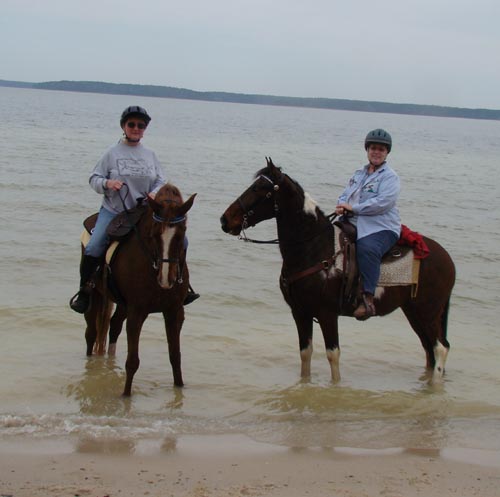 The ladies from Missouri! Kay Lee rides Ginger and her friend, Judy rides Jinglebob at the Angelina Forest on Valentine's Day, 2009.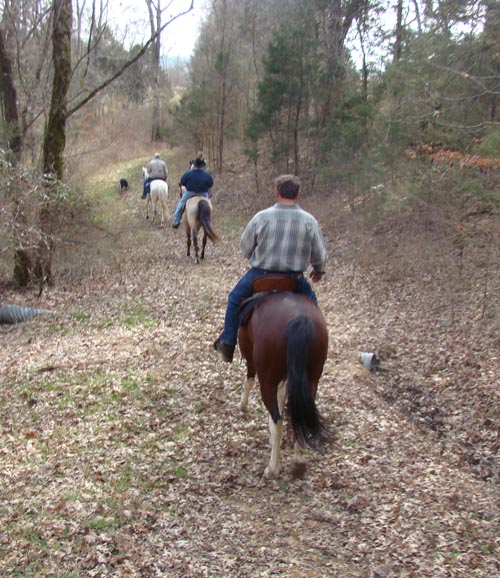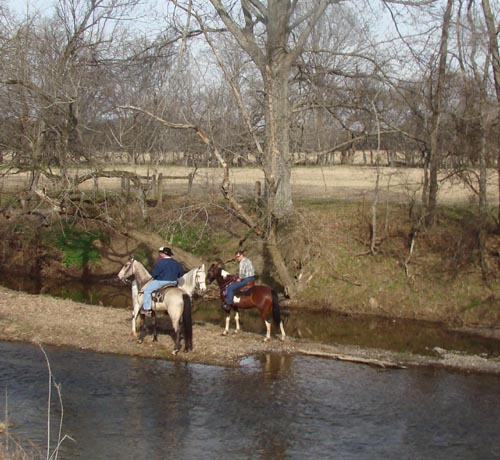 Huey rides Jinglebob on a fox-hunting club in the Tennessee Mountains on 2/9/09.
Click on arrow ABOVE to see Jinglebob cruising along.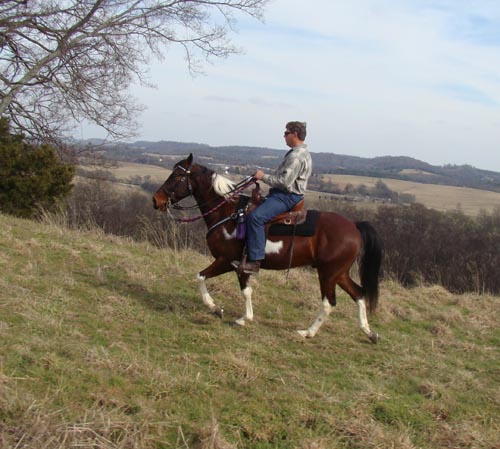 Climbing up . . . .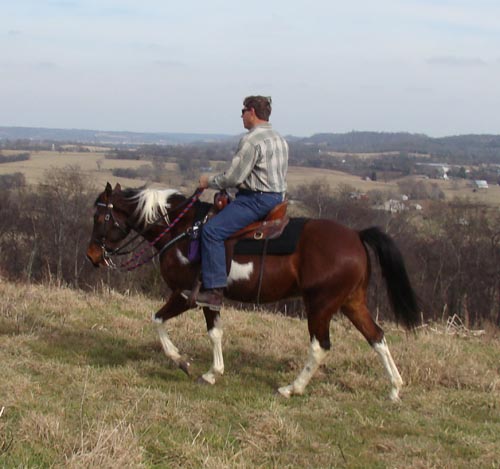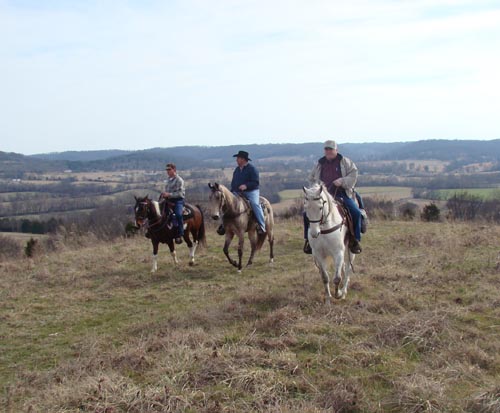 Still climbing . . . .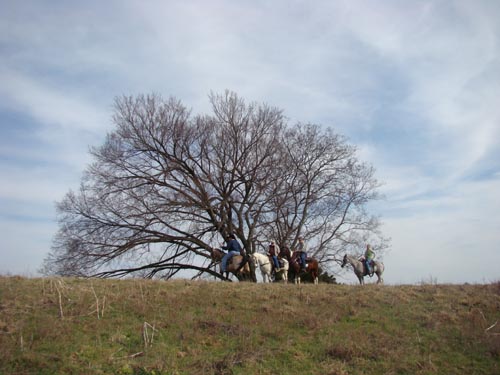 Top of the hill.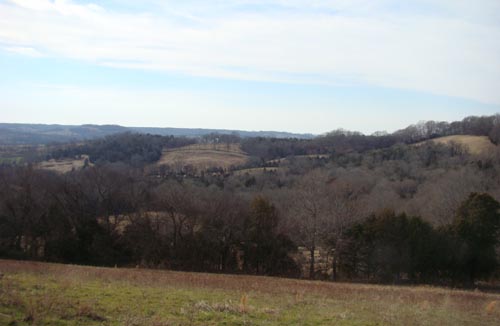 The view from the top.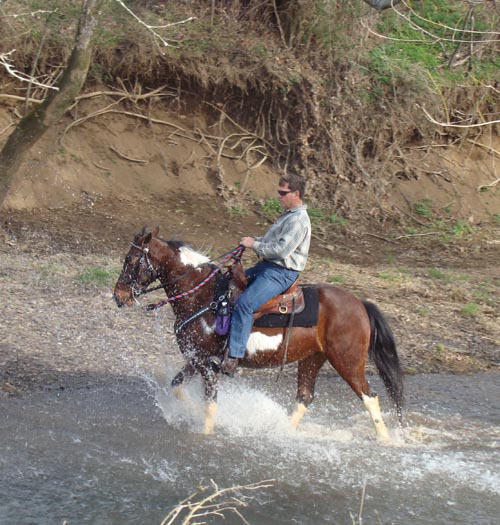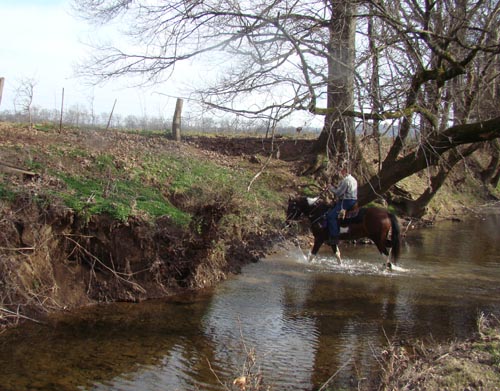 Click on arrow ABOVE to see how Jinglebob handles water obstacles.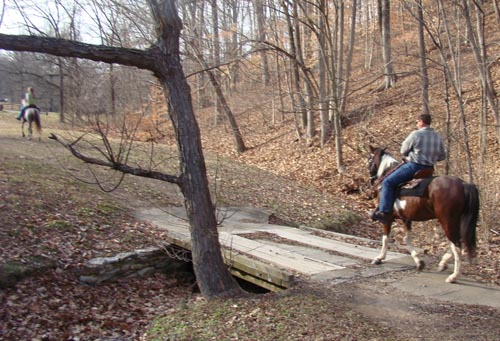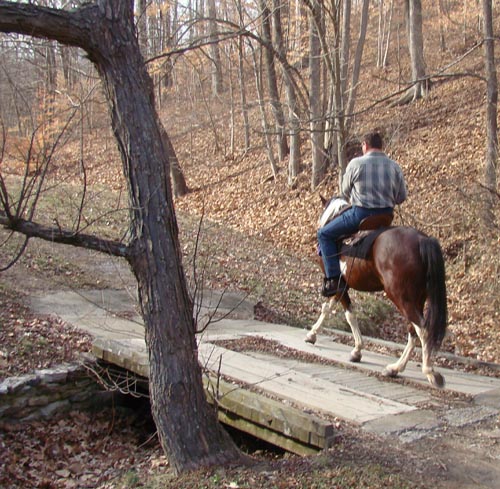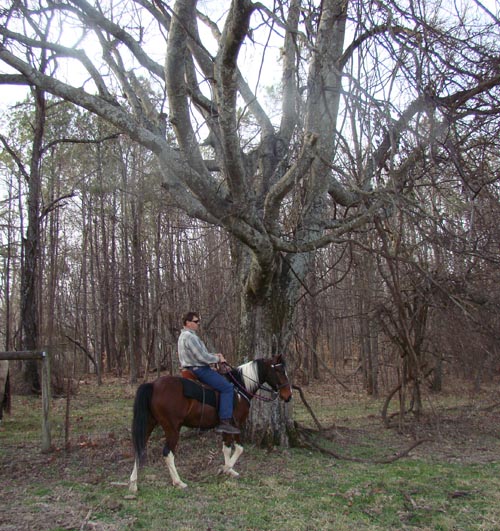 Stopping underneath a beautiful tree for a breather.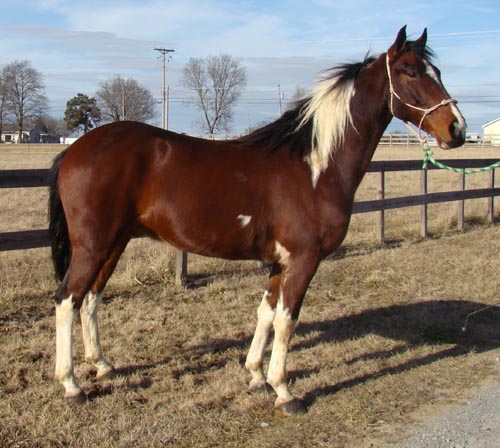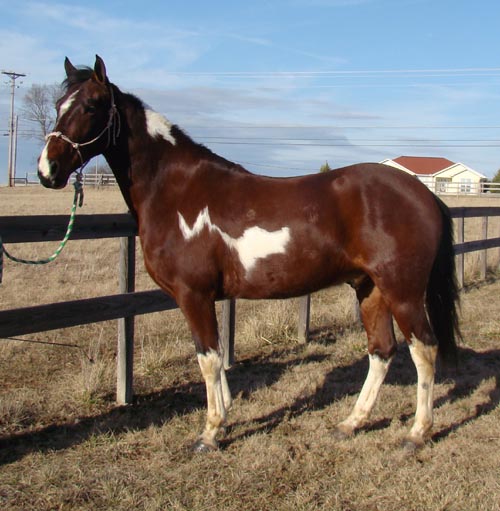 Cloud 9 Walkers
P. O. Box 878
Hardin, Texas 77561-0878
(55 minutes east of Houston)
281-726-4545
(Entire contents of this website copyrighted by Cloud 9 Walkers)

Email me!