CLOUD 9 WALKERS
"Jose"
4-1/2 yr-old 15H Classy, Natural Four-Beat Gaited Liver GENTLE Chestnut Tennessee Walking Horse Stallion
Awesome bloodlines (see below)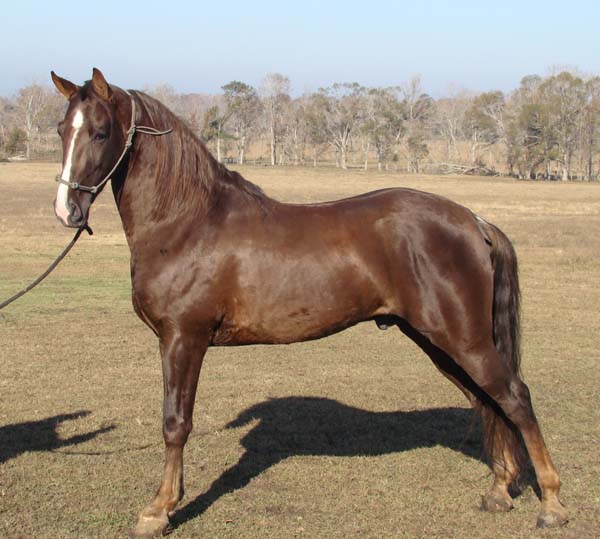 Just a beautiful conformation -- short coupled like the old time walking horses; sloping shoulder; nice round muscled hindquarters, masculine neck and head, yet beautiful. His disposition, personality and gait are just as exceptional as his conformation, with TOP bloodlines -- the hottest in the industry!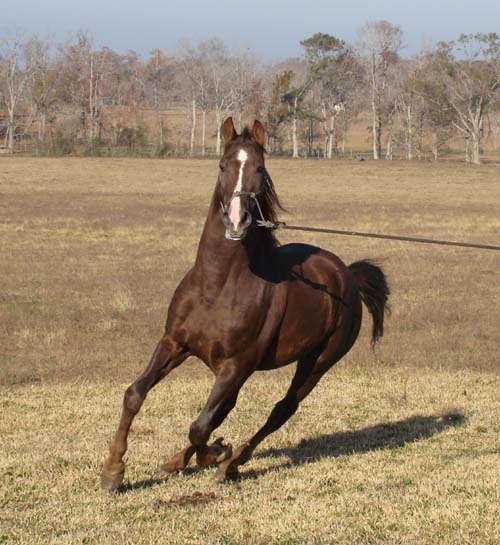 Nice wide chest, athletic build.
"Jose" -- A direct son of the hottest stallion in the industry, "Jose Jose" and out of my favorite living World Grand Champion (because of all the natural moving progeny of his that I've ridden) "Gen's Armed and Dangerous" (who sold for $2.1M a few years ago). Jose is barefoot and performing a beautiful four-beat head-shaking Tennessee Walk. He is 4-1/2 years old, 15H, has been trail ridden in Texas and Tennessee, and probably gentle enough for anyone to ride -- pleasantly spirited, sensible, sane. You are seeing him here in his winter coat and he is even darker and glossier in the spring. Jose's color is a deep, rich liver chestnut and he will produce 100% golden palomino foals when crossed with cremello mares. Jose is a perfect size at 15H -- not too short, easy to mount. You can lead him with a halter -- no stud chain needed, and he stalls or trailers next to other stallions, mares and geldings quietly. For sale soon.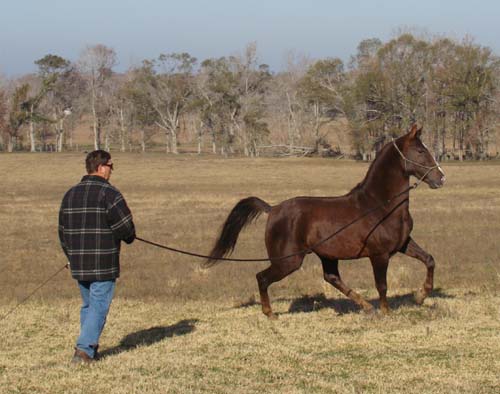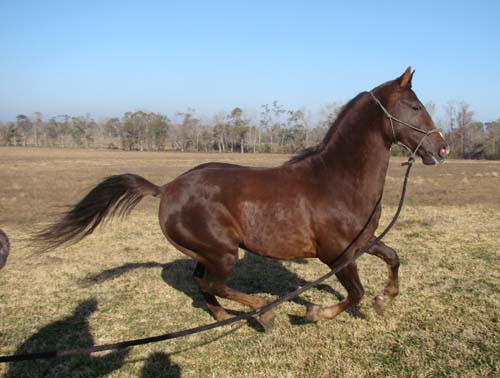 First time out in two weeks because of the rain -- trying not to slip! Notice the slack in his line -- he has been taught to respect his handler!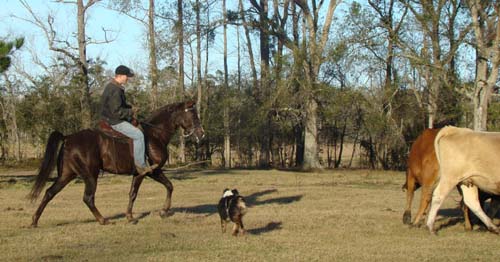 Dogs and cattle are definitely not a problem!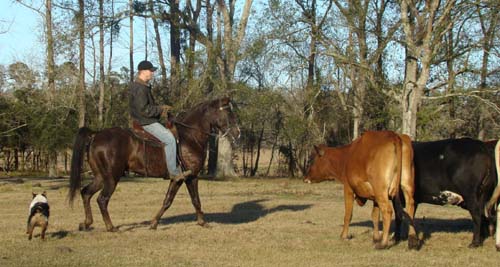 Learning to push cattle on 12/26/09.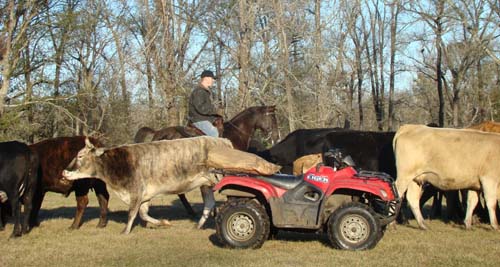 Heading out to find the calves.
Click on embedded arrow ABOVE to see Jose working out on 12/26/09. We took his keg shoes off of him and we're working him totally barefoot here, which is wonderful in the muddy conditions to not have to worry about losing a shoe!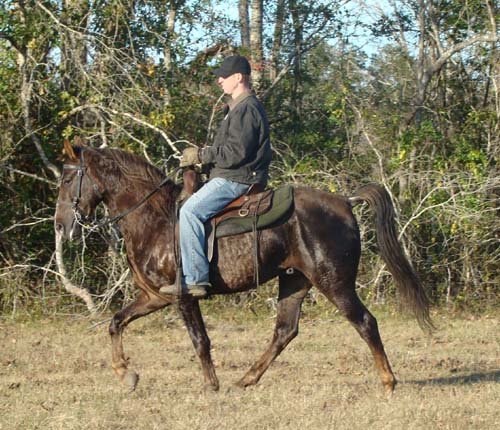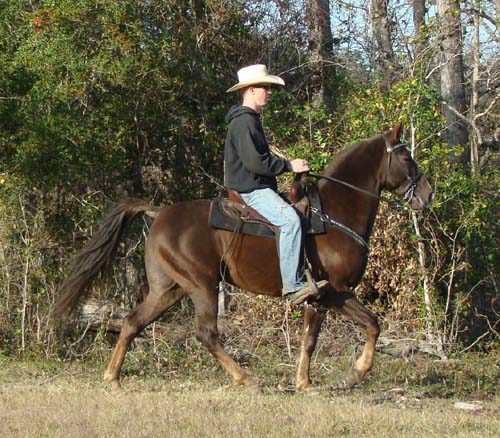 Bud rides Jose in the pasture at home on 12/21/09.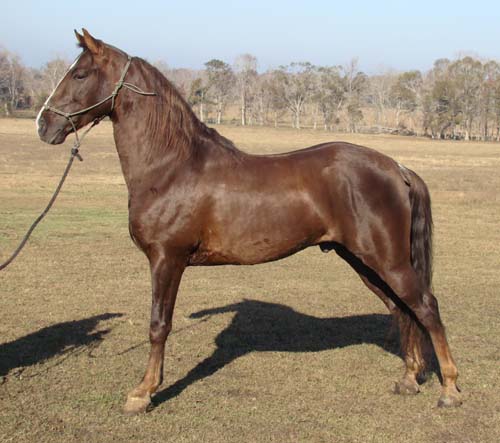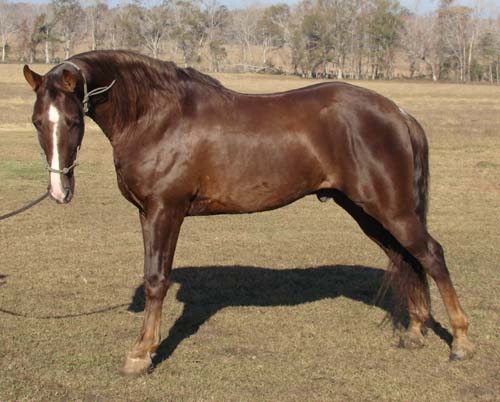 After his workout, he's being very patient with us here while we take pictures, standing in the same spot, but can't help showing a little boredom by moving his head. I included this picture to show his pretty blaze.
Sire: Jose Jose
Gen's Major General
Prides Generator
Pride of Midnight H.F.
H. F. Spirits Nell
Delights Lucky Charm
Sun's Delight D
Merry boys Charm Lady
Stormy's Ruby
Pride's Stormy Night
Pride of Midnight H.F.
H. F. Spirits Nell
76's Ruby
G.F.'s Pride of '76
mack's Lovely Lady G.F.
Dangerous Blonde
Gen's Armed and Dangerous (*WGC)
Prides Generator
Pride of Midnight H.F.
H.F. Spirits Nell
Melana Ebony
Ebony Masterpiece (*WGC)
Go Boy's Lady Dare
Shockin Stockin
Delight of Pride (*WGC)
Pride of Midnight H.F.
Delight Country Girl
Winston's Black Gal
Sir Winston S.
My Lady Bird Smith


Cloud 9 Walkers
P. O. Box 878
Hardin, Texas 77561-0878
(55 minutes east of Houston)
281-726-4545
(Entire contents of this website copyrighted by Cloud 9 Walkers)

Email me!