CLOUD 9 WALKERS
"Kitty"
Big 16.1H 5-yr-old Beautiful Buckskin Tennessee Walking Horse Mare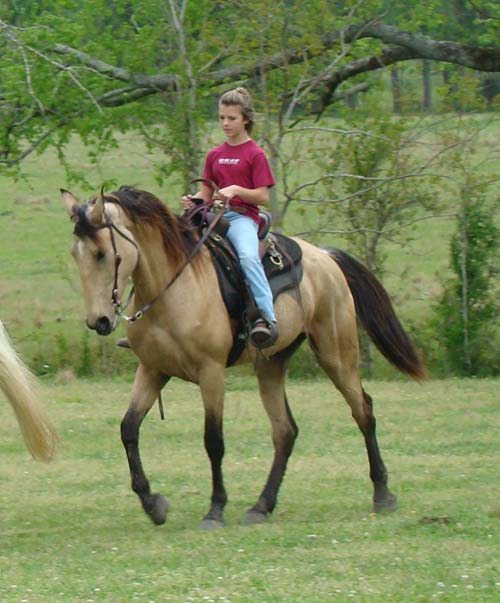 Hannah rides Kitty on 4/2/10.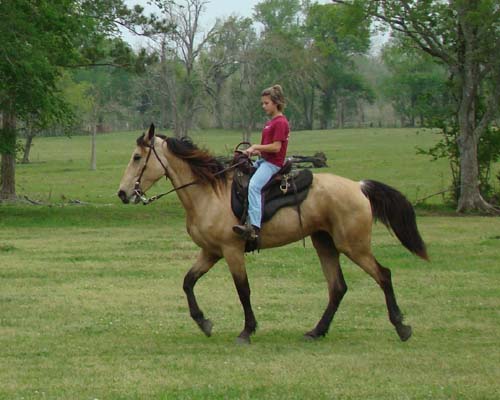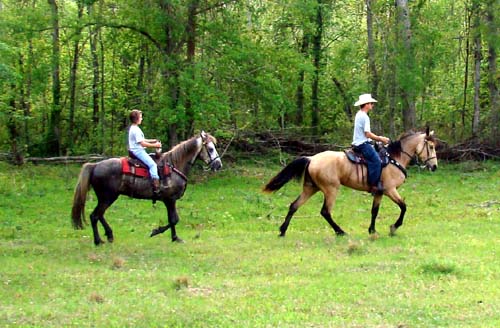 Hannah's dad, Bryan rides Kitty on 4/4/10 while Hannah rides Deuce.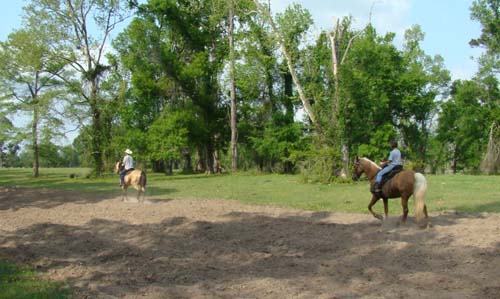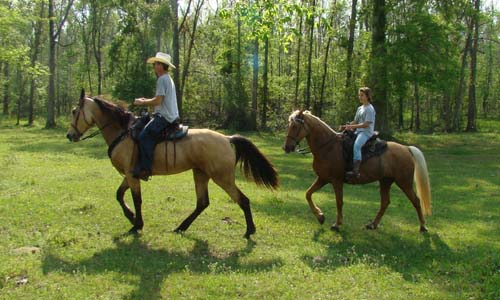 Father and daughter kind of day! Bryan rides Kitty while his daughter, Hannah rides Cameo on 4/4/10.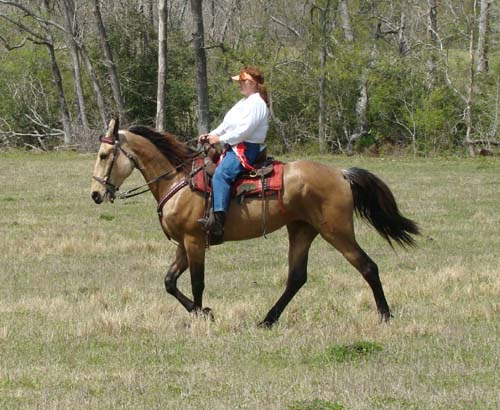 The ugly duckling becomes a swan!! Look at that pretty neck on that mare . . . Becky rides Kitty in the pasture on 3/23/10. This is her first time to meet and ride Kitty and she's doing a grand job!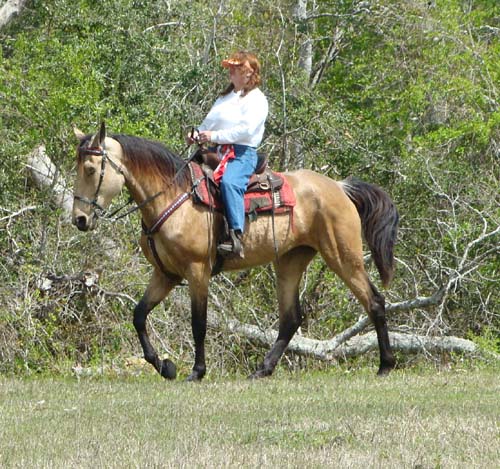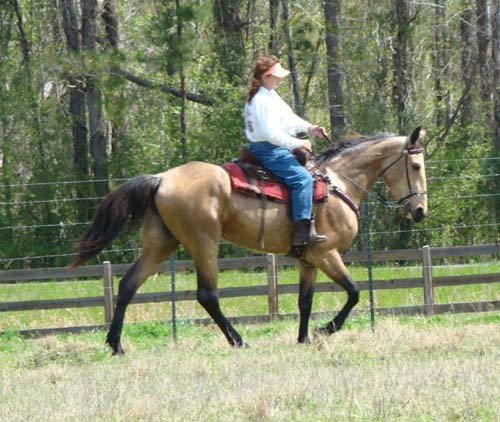 Kitty has been taught to flex and here, at left, she and Becky lean gracefully into a right turn.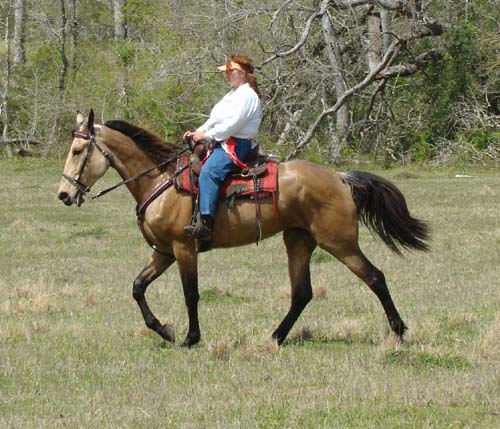 Check out this picture, taken 3/23/10, and the one below of Cody riding Kitty, taken just a few days before. What a difference a curry comb can make!! All that golden summer hair is showing . . . her face still has a little winter 'buttermilk' buckskin color on it, but a couple more weeks and she'll be shed out.
Click on embedded arrow ABOVE to see Becky riding Kitty on 3/23/10.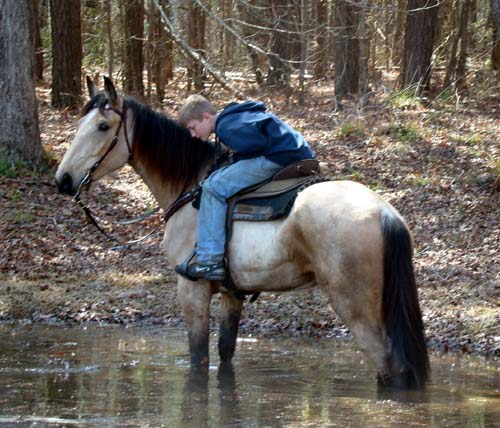 Cody, who is 12 years old and 5'6", rides Kitty off into the pond on our East Texas camping trip the week of 3/15/10.
Click on embedded arrow ABOVE to see Kitty on the trail during the week of 3/15/10 with two different riders.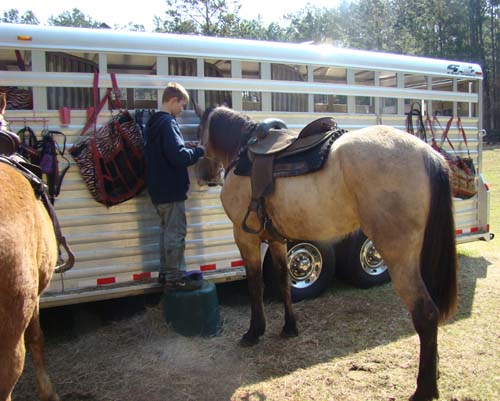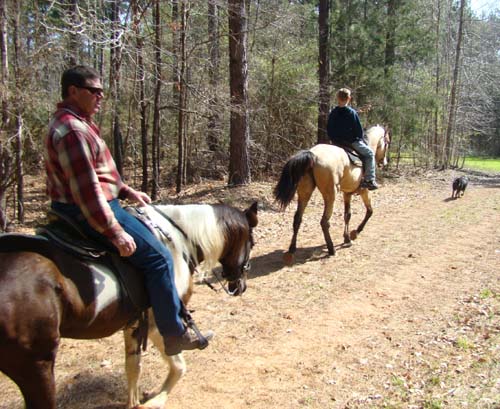 LEFT: Cody stands on a bucket to put Kitty's bridle on; RIGHT: Huey riding Joy (also for sale) and his grandson, Cody riding Kitty on the trails on 3/18/10. Both horses have been trained with natural horsemanship methods, from the very beginning, and both have been taught that when you lower your hands on their neck, they are allowed to relax and walk along in a comfortable, easygoing gait.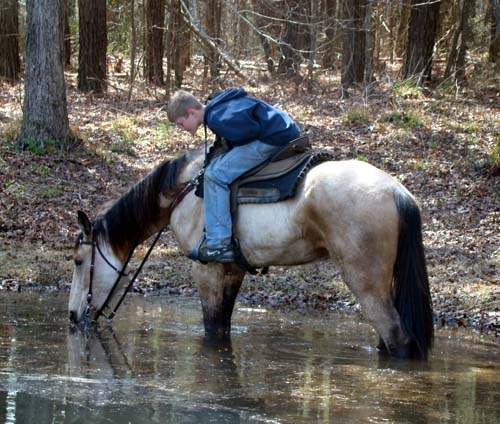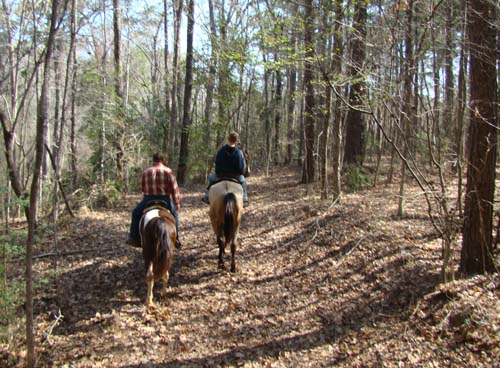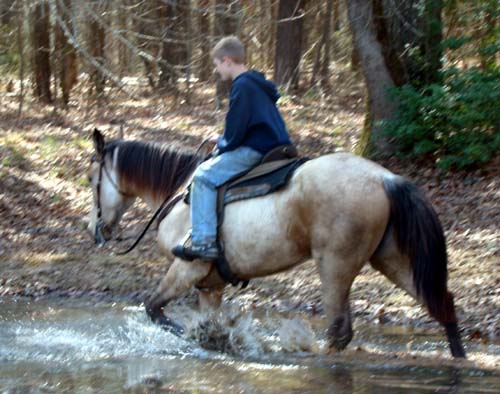 Cody on Kitty, and his Grandpa on Joy on 3/18/10.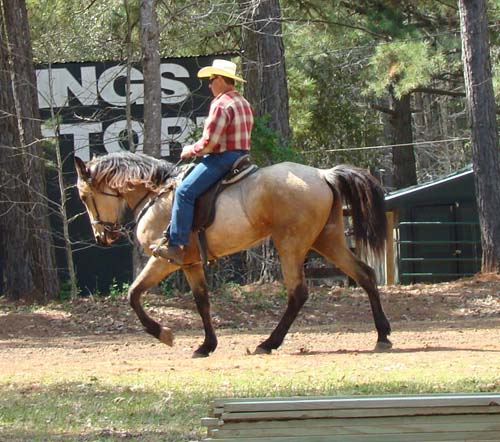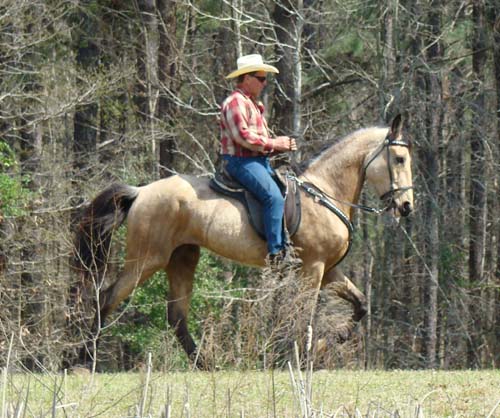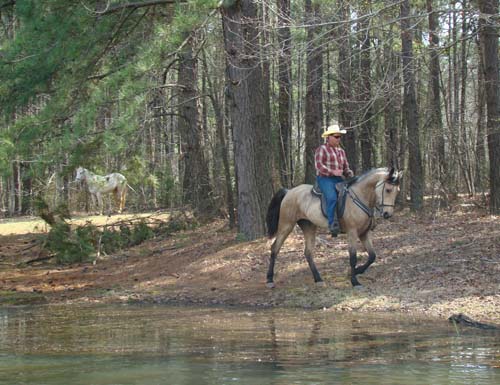 Riding along the pond with Powder tied out in the background on 3/18/10 at camp.
Click on embedded arrow ABOVE to see Kitty on our East Texas camping trip the week of 3/15/10.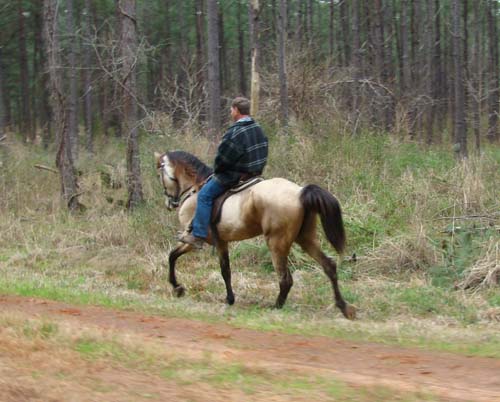 Riding through the forest on our camping trip the week of 3/15/10.
\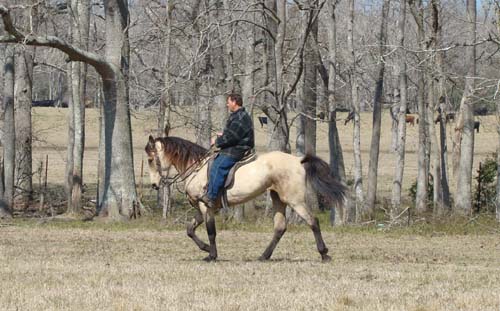 Riding in the pasture on 2/27/10.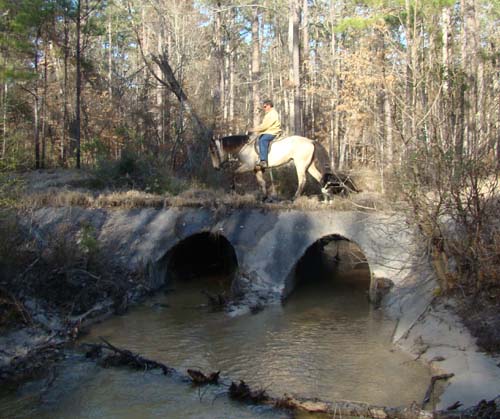 Crossing over a creek in the Angelina Forest on 2/18/10 with Bailey following closely on her heels.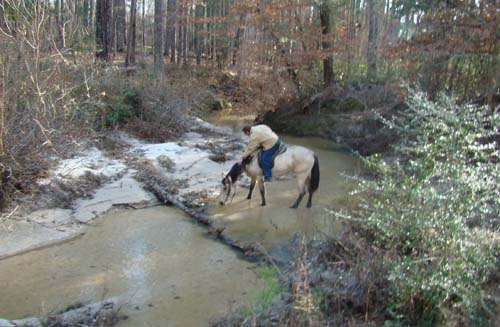 Hydrating along the trail is important.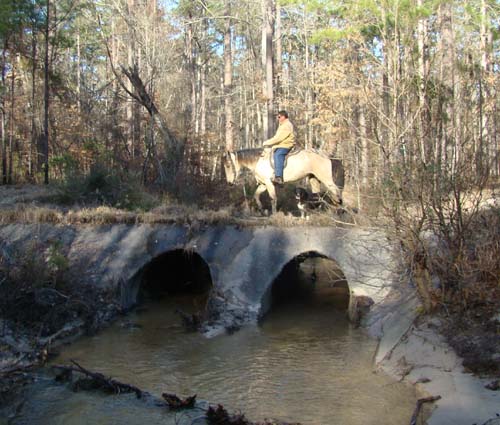 Just another pretty picture.
Click on embedded arrow ABOVE to see Kitty and her colt on the trail, first trail ride for both of them!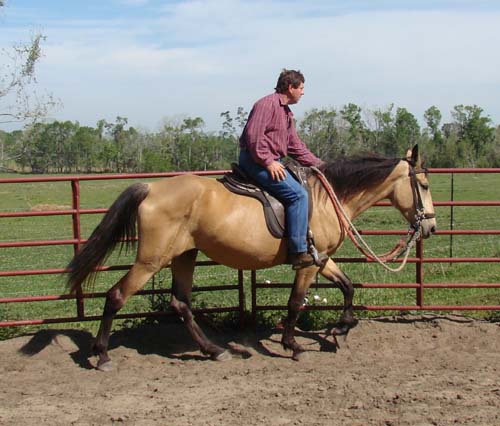 Started under saddle with a halter, this is her 2nd time (on 4/15/09) with a bit in her mouth, double reins, one on nose band and one on the snaffle. This allows for a soft mouthed horse. She already knows how to yield her front, hindquarters, side pass, back, drive, canter on correct leads and walk slow on verbal commands. She will be introduced to the trail soon, after she recuperates from foaling and the foal is old enough to go along with her.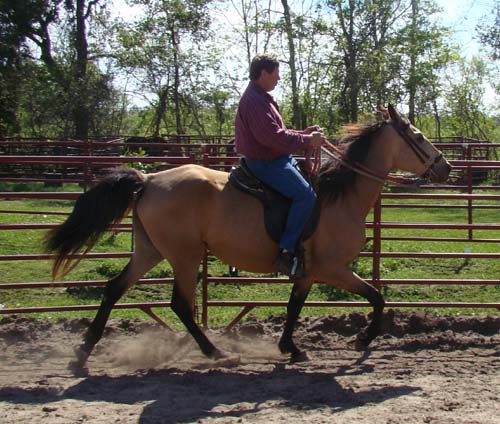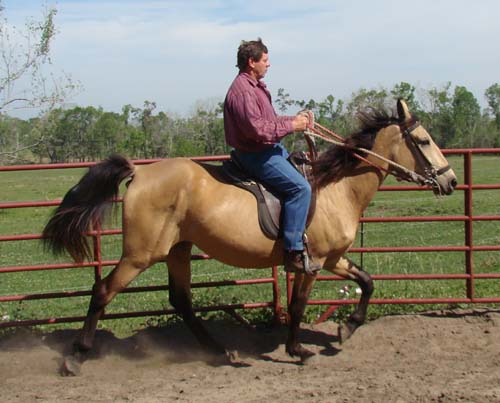 Look how dark she turned after her winter coat shed out. This mare is young and has put all her nutrition into shooting straight up, so she is still rangy-looking, but will begin to fill out this year and develop a nice wide chest and round hindquarters. She is on alfalfa, Strategy pelleted feed (14% protein), free choice rice bran, fertilized bahia grass and all the fertilized Jiggs Bermuda hay that she can eat.
Click on arrow ABOVE to see Kitty's incredibly smooth and all automatic BAREFOOT gaits, including nice, easy canter.
We love this gal! She is a rare find, being handled with love and top quality care her entire life -- we found her at Deer Creek Walkers in Quitman, Texas, and if you want to raise one yourself, check out their babies. Top quality and raised the right way!
The good thing about Kitty is that she was not started until she was almost four years old, being allowed to completely physically mature. Kitty has been started the right way, with natural horsemanship training methods. She started her 'career' in the round pen:
ELEMENTARY SCHOOL:
First three days, she learned to go, go at three different speeds, and turn to the inside to show respect. They are worked on a "tree of knowledge" (cedar pole in the middle of the round pen), with a concept of driving with one rein.
Next few days, she learned to drive with the long reins, learning to get up, whoa, turn, flex and back. She learned to tolerate the girth with the bitting rig and to pace himself at speeds that she is commanded to perform. She was taught to stay focused on her trainer.
Next few weeks, she learned to accept the saddle and be driven with the driving lines through the stirrups, as well as accept someone mounting her from both sides of the saddle, with lots of 'accidental' brushes across her rump as we mount and dismount.
The fourth week is all about settling down, walking relaxed on command, running walk relaxed on command, relaxed canter and smooth, obedient transitions. The goal is to get her to stay in the requested gait until she is given a cue to change gait. When she is asked to reverse, she is trained to reverse always at a walk.
The fifth week, a "dummy" rider is introduced -- the first night, a rider is asked to be dead weight in the saddle, with the trainer giving instructions from the center of the ring. This dummy rider is asked not to touch the reins, not to move, not to talk, not to be involved other than just simple weight in the saddle. The second night, the rider is asked to give cues in a very subtle way AFTER the trainer gives the cue. The third night, the rider is asked to relax, is allowed to hold conversation while riding, and gives cues at the same time that the trainer is giving them from the center ring. Circles and go's are introduced, stopping and backing two steps is asked. This is all using only a halter and lead rope for reins.
The fourth night, the rider gives the cues and the trainer is simply there to reinforce the cues if needed. By the fifth day, the trainer is pretty much just there to observe, and then for the next week, the trainer takes over and rides with just the halter working on turning in a circle with nose to the inside with no pressure, ride squares, continue backing training, yield front, yield hindquarters. Before Kitty ever left the round pen, she understood all these commands, and by asking to yield both front and hind, she easily learned to side pass on cue.
After a couple of weeks of intensive handling, the bit is introduced (with tasty molasses!), and now double reins are introduced (one to a leather noseband and one to the snaffle). Another week or two in the round pen on the bit, after the horse is taught that she is being allowed to stop (instead of commanded), she knows the one-rein stop, and understands transitions, she is taken to the trails to be ridden alone -- no other horses with her.
HIGH SCHOOL:
This teaches her to think for herself, as opposed to just learning to react. She learns that she can trust her rider, that she can be courageous in the face of his perceived danger, that she can cross creeks, step over logs, encounter deer, squirrel, rabbits, motors, bicycles, etc. She learns to pace herself and not use up all of her energy at the beginning of the day, and she learns to hydrate along the trail. She learns to gait perfectly without the distraction of the stress of other horses, feeling like she needs to be where they are. When her gait is fast enough to keep up with his peers, she is then taken on group rides and taught to ride at the back, in the middle, and at the front, all on a loose rein. She is taught that she should not panic when she is ridden a lot further back from the group, leaving the group and then rejoining. She is being trained to canter on both leads along the way, but that if asked, she should not increase her gait even though the other horses are getting ahead on the trail.
Next comes Highway 101, where she learns to tolerate busy traffic, dogs, 4-wheelers, garbage cans, whatever scary obstacles she can be exposed to.
All along the way, the goal is to get her to round her back, break at the poll and tuck her nose, drive her hindquarters forward and have a perfect four-beat gait with loose reins, light touch and all while BAREFOOT!
COLLEGE:
Now, this pleasure prospect will be hauled on camping trips a couple of hours from home, with her foal in tow, on a never-ending education! . . . stay tuned!
He's here!!!!!!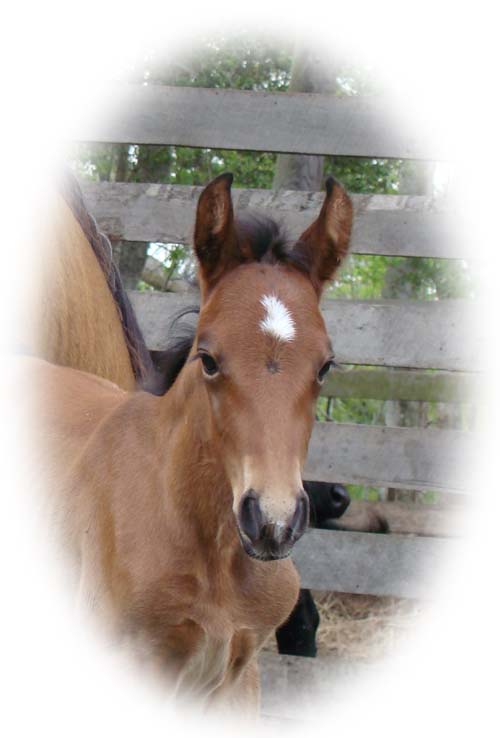 Try to find a bay Tennessee Walker these days -- they're hard to find now! We're thrilled with this little guy's beautiful color and markings -- he will have jet black mane, tail, forelock and four long black stockings, black-tipped ears, black muzzle, black lined eyes and a big ol' white star!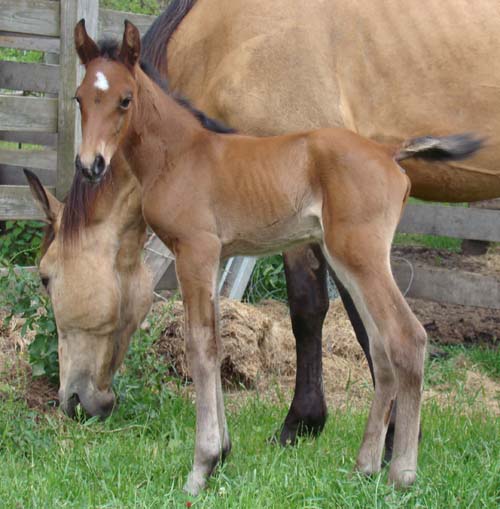 Only 6 hours old here, he was born during the wee hours of 4/16/09.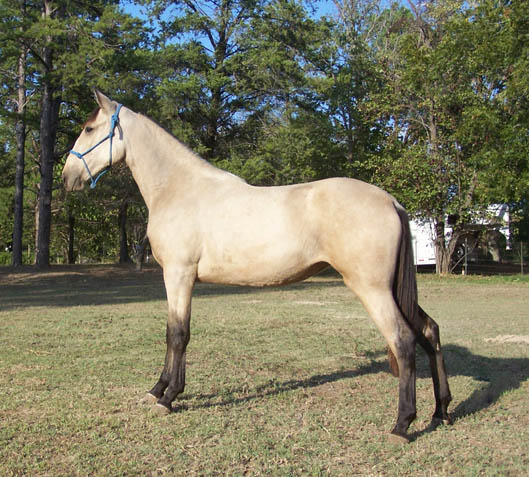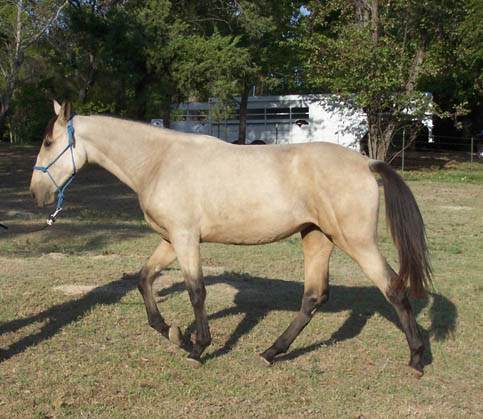 Kitty at three years of age, right before her huge growth spurt, and in her 'winter coat'.
"Kitty" -- BIG mare! Sweet, sweet, gentle and oh, so willing to please. She is a beautiful solid buckskin (no white!) Tennessee Walking Horse mare sired by a stunningly beautiful buckskin Tennessee Walking Horse stallion by a World Grand Champion Spotted Saddle Horse who was sired, himself, by the nation's premier Spotted Saddle Horse stallion "Spotted Alen Again", and out of a Triple Threat bred mare who just happens to be a half sister to my own stallion, "Go Boy's Champagne Pride". (Her mane is on the other side, and we will be posting better pictures soon.) Notice that she has four full long black stockings -- when buckskins are babies, these stockings don't show! (Scroll to bottom of this page to see her baby picture.)
Here is her sire: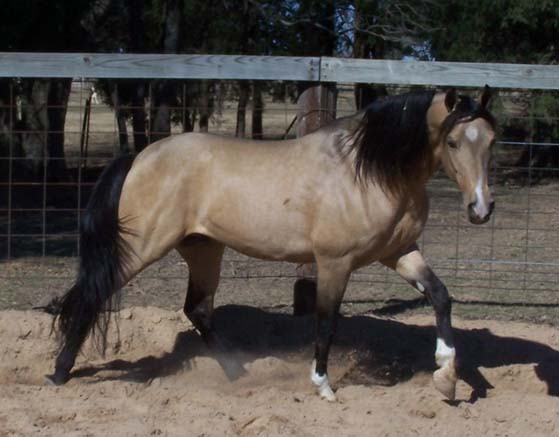 Kitty was bred shortly after she turned three years old, and just foaled a beautiful bay stud colt (on 4/16/09) by the most beautiful palomino Tennessee Walking Horse stallion you've ever seen (see below) who, in fact, was so beautiful and had such great conformation that he was featured in the Boy Scout's handbook (we have a copy). You can click on his picture, below to see more of him: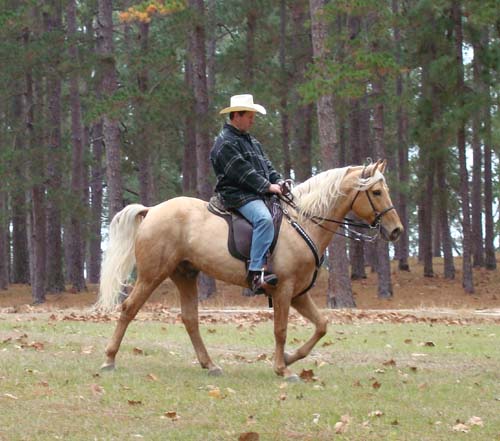 (Sire of Kitty's 2009 stud colt)
This sweetheart mare is currently being trained in the round pen (Clinton Anderson methods) for a great foundation and will be worked with her foal ponied along side her. He will be imprinted and allowed to follow along -- what a great start in life he will have!
Kitty's paternal great grandsire: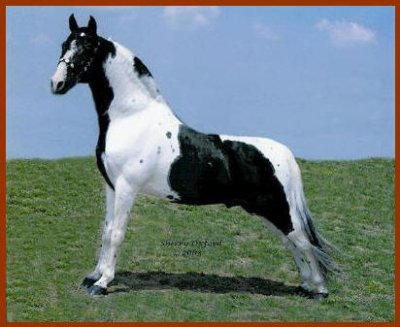 Spotted Alen has attained an unprecedented record of producing winning show horses. Alen's offspring up to 1999 have won 84 World Championships, 62 Reserve World Championships, and 411 divisional World Champion wins. Alen's year 2000 totals include 2 World Grand Championships, 6 Reserve World Grand Championships, 7 World Champions and 6 Reserve World Champions. In the past 5 years 2 of the World Grand Champion Spotted Saddle Horses were sired by Spotted Alen. In 1995 it was Alen's Lethal Weapon and in 2000 it was Pride of Alen Again.
Spotted Alen Again is registered with four different registries: The Spotted Saddle Horse Breeder's and Exhibitor's Association, the Tennessee Walking Horse Breeders and Exhibitors Association, the Racking Horse Breeders Association, and the National Spotted Saddle Horse Association.
Show Record with SSHBEA
1987: Reserve 2Yr Old Stallion
1988: 3Yr Old Stallion & 3Yr Old World Champion
1989: 4Yr Old Stallion & Res World Grand Champion & Supreme Champion
1990: 5Yr & Over Res Champion
. . . who sired Alens Belfast Bandit (Kitty's grandsire):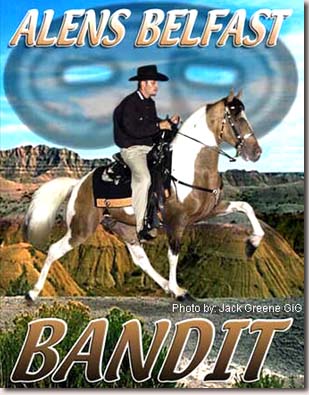 Golden Supreme Champion
Eight-Time World Grand Champion Open Shod
Twenty-Time World Champion Spotted Saddle Horse
Winner of 60 blues in halter and lite shod competition
Kitty's maternal grandsire, the famous "Go Boy's Gold Insignia", homozygous spotted Tennessee Walking Horse stallion: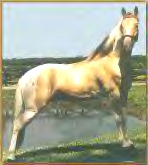 Who sired: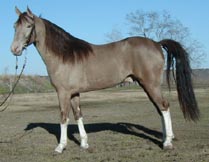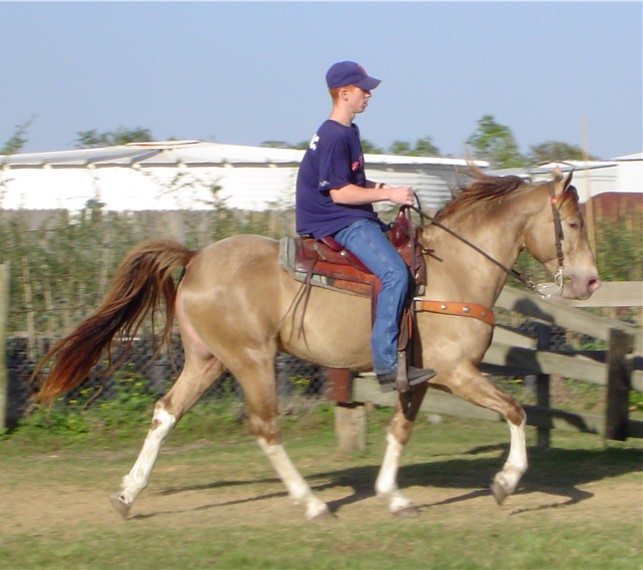 Kitty's "Uncle Gunsmoke" :)
Click on either picture to see more of him.
And her great grandsire on her dam's side is: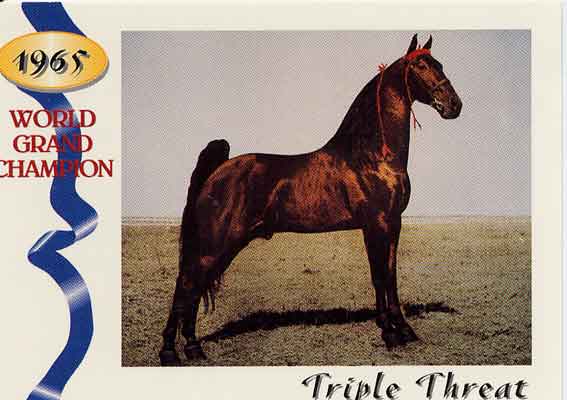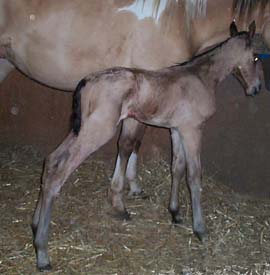 This is Kitty, still wet after her birth. Notice that her black stockings are hard to see.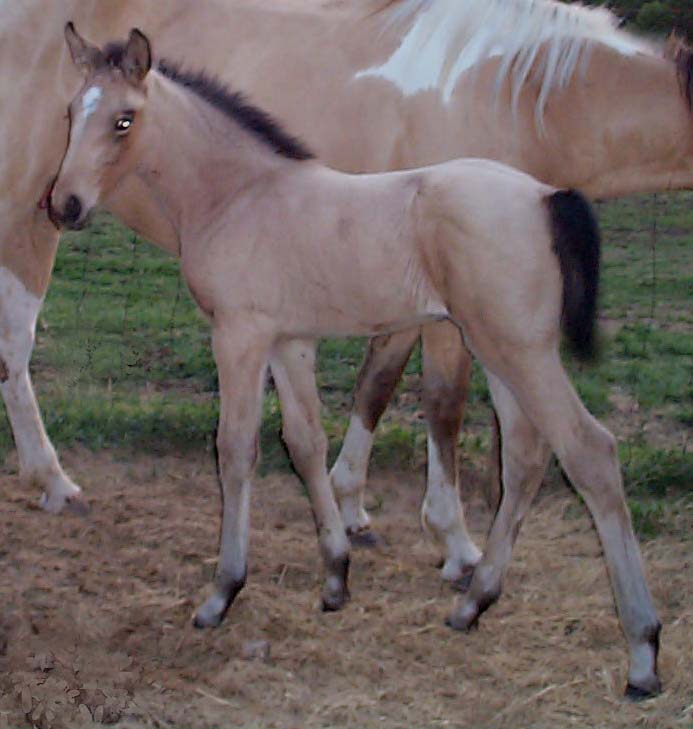 This is Kitty at 9 days of age. Notice how her stockings are just shadows on her legs. Most people don't realize that buckskins are born with these 'shadows' and as they get older (around 6 - 8 months of age), the hair sheds off and the black stockings are clearly visible. From then on, the black stockings are ALWAYS visible.


Email me!