CLOUD 9 WALKERS
"Lad"
Doing it all BAREFOOT!
Impossibly Cute Sorrel/White Tobiano
5-yr-old 14.2H Spotted Saddle Horse Gelding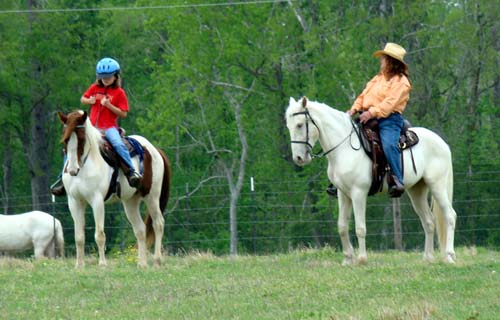 Mady takes lessons from her instructor, Becky, on 4/2/10.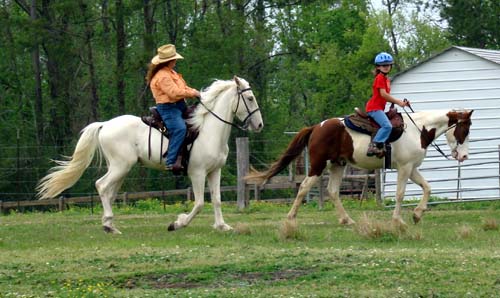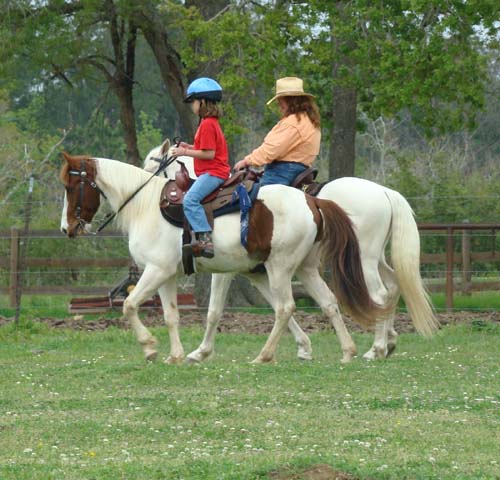 Becky rides Powder while Mady takes lessons on Lad on 4/2/10.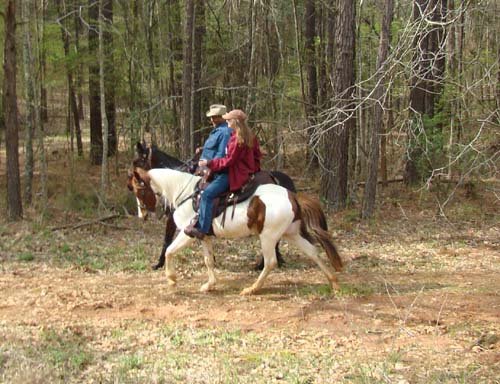 Cynthia flew in from California on the weekend of 3/27/10 to take pictures and do a magazine article on singlefooting horses, and we needed a nice, gentle 'loaner' horse for her, and here she rides Lad next to George Foreman through the East Texas trails.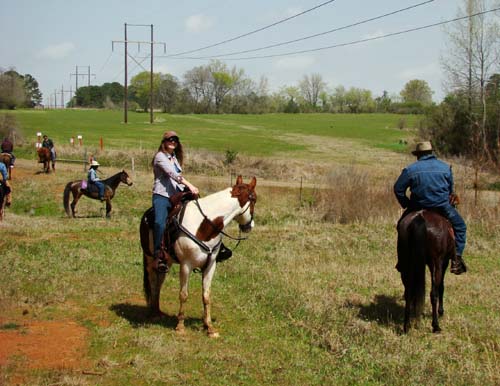 Lad and George's horse take a break at a rest stop during the beautiful day.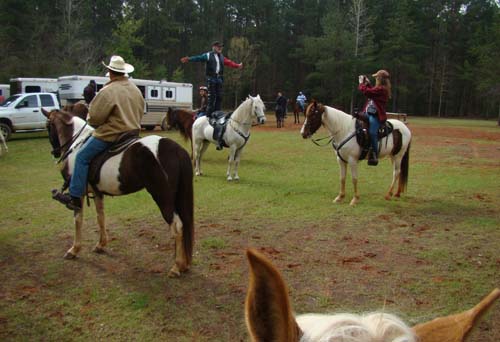 And Lad makes a perfect "Photog Assistant" while Cynthia takes pictures of crazy Tracy doing tricks on his Paso Fino stallion.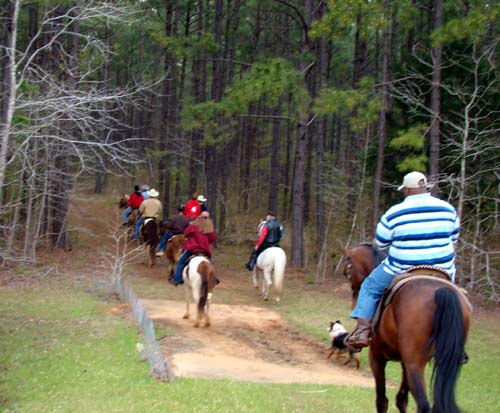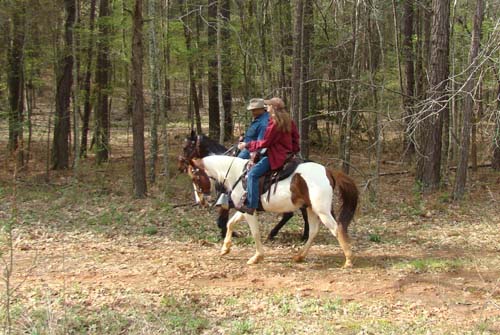 On the trail again . . .
Click on embedded arrow ABOVE to see our fun times with Lad on our camping trip the week of 3/15/10.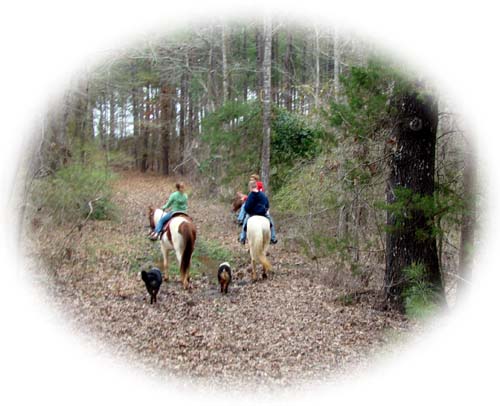 Doesn't look like it because they didn't change clothes, but this is the kids riding Lad, Powder and Strawberry Sundae on 3/16/10 with Bailey and Sadie following closely. They are crossing a small creek here.
Click on embedded arrow ABOVE to see cute little "Peanut" learning how to bridle a horse, using Lad for practice.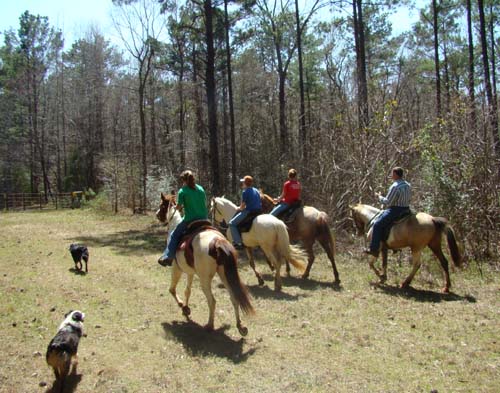 Cute little Christian a/k/a "Peanut" rides Lad while Cody rides Powder, Madison rides Strawberry Sundae along with Grandpa Huey riding Gingersnap on 3/15/10 on our camping trip in Nacogdoches, Texas. These kids are all 12-yr-old cousins/friends.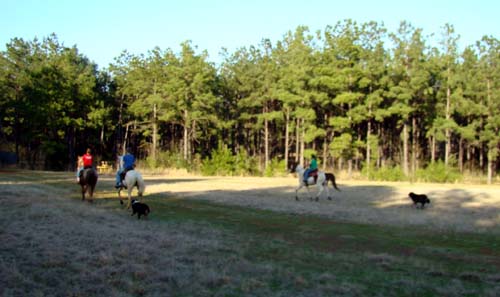 A fantasy childhood for these kids!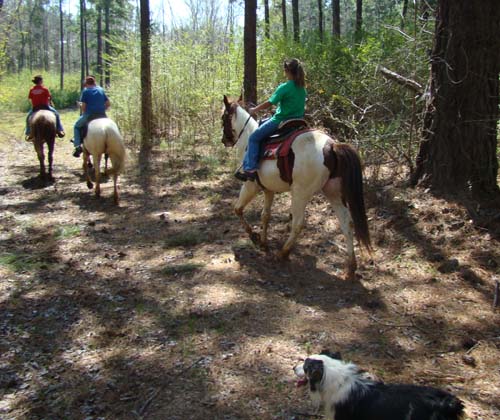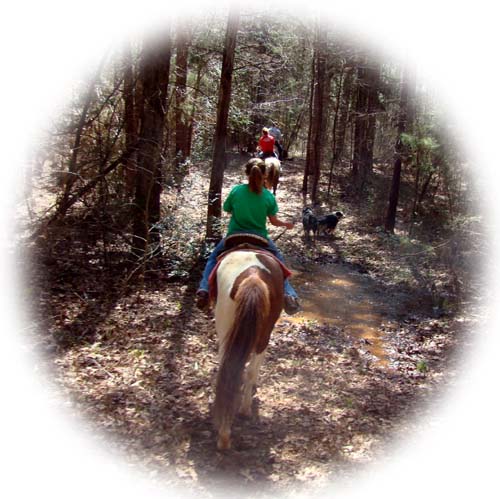 On the trail in East Texas on a beautiful day with kids riding, dogs following, good horses!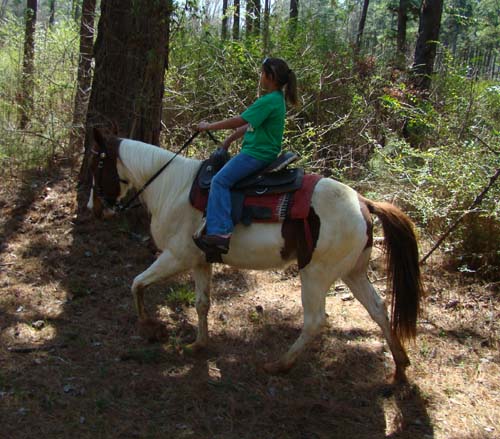 Peanut glides along on Lad on our East Texas camping trip the week of 3/15/10.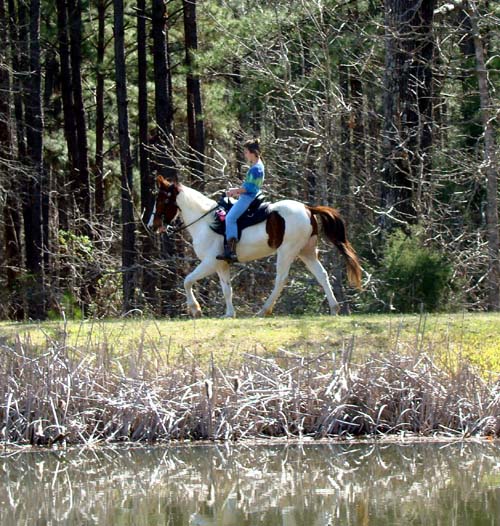 Hannah rides Lad along the bank of the pond in Nacogdoches, Texas on 3/14/10.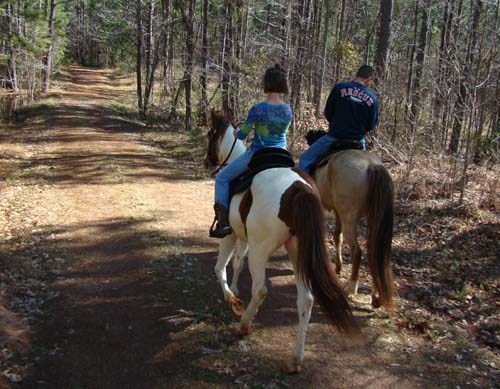 On the trails in Nacogdoches, Texas on a camping trip with her dad, Hannah rides Lad.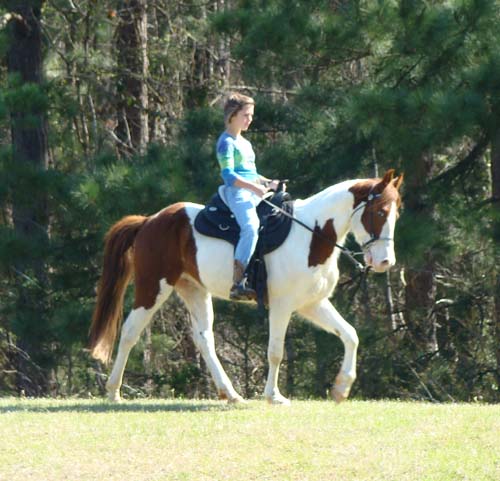 Practicing collection in case she ever wants to show horses. And doing a really good job!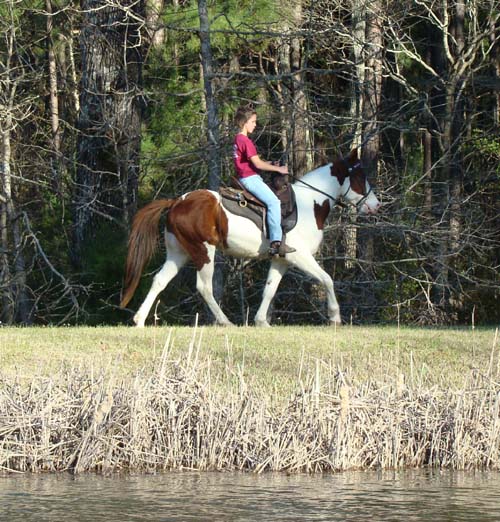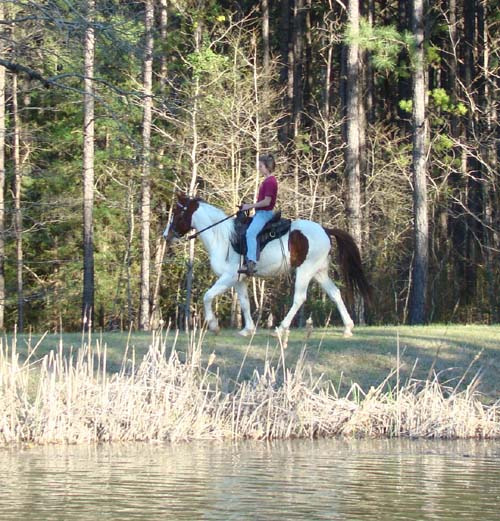 Practicing on 3/13/10 (camping trip in Nacogdoches, Texas)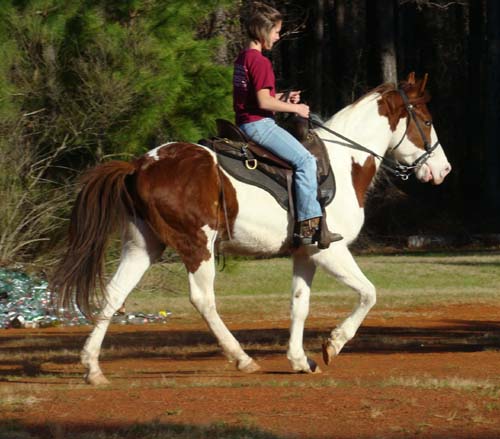 Notice that Lad's feet are white and hard, making the whole camping trip BAREFOOT!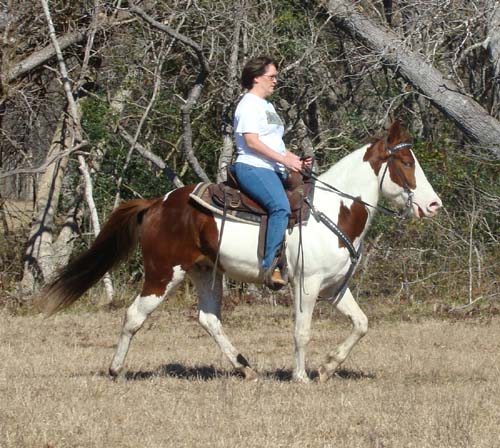 Cindy rides Lad in the pasture on 1/22/10.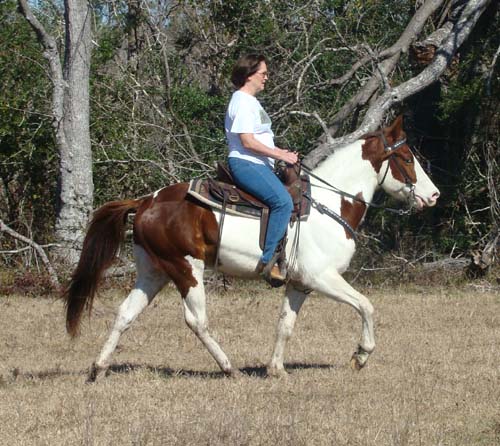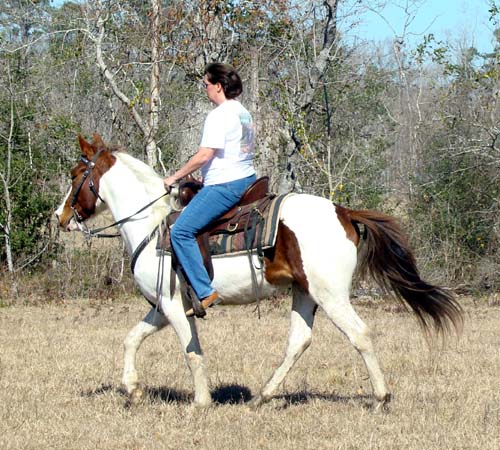 Click on embedded arrow ABOVE to see Lad working in the pasture (crossing a bridge) on 1/22/10.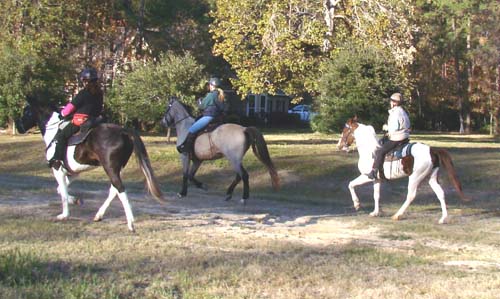 Susan riding Lad on the trails near Lake Houston on 12/6/08.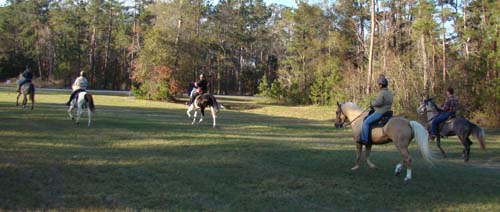 Stoney in front followed by (left to right) Lad, Tuxedo, Rosie and Jasmine on 12/6/08.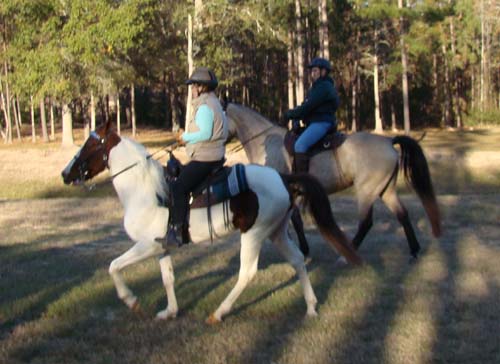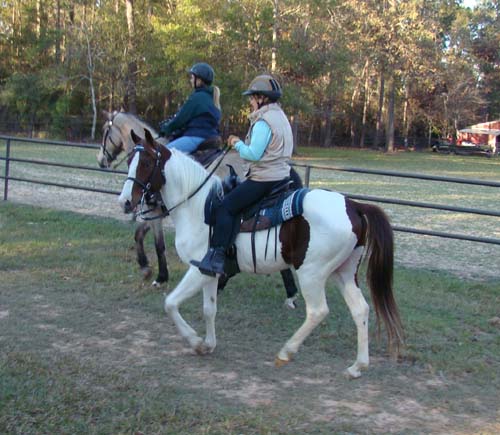 "Lad" -- Really beautifully-marked 14.2H 5-yr-old sorrel/white tobiano Spotted Saddle Horse gelding with really smooth gaits, an incredibly smooth and athletic canter, and doing it all BAREFOOT! He's had the 'official' barefoot trim for the last year and has been trail ridden, on many overnight or week-long camping trips, and a few parades along the way. Lad has a gorgeous mane and tail and his color is just very striking. He's so cute you want to pinch him on his cheeks! He is not registered any way, but is eligible for spotted and/or racking registrations if his new owner desires. Doesn't care if he rides at the back or the front. To ride him is to own him! $3500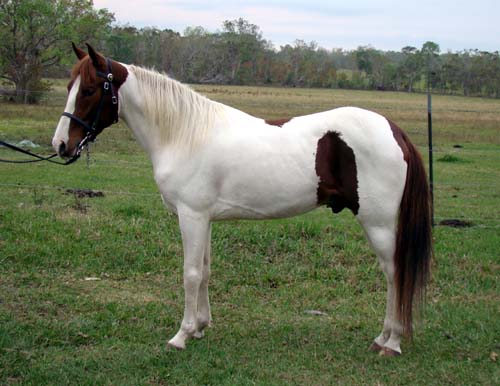 Click on arrow ABOVE to see Lad's smooth, flowing gait.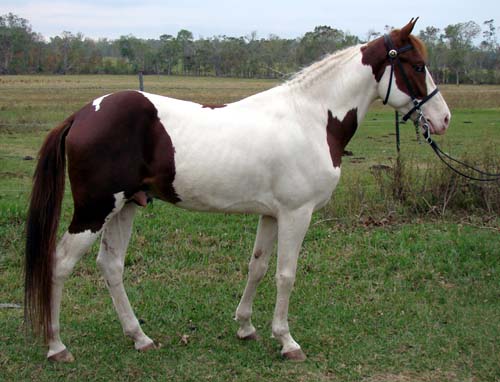 After a fresh bath on 11/06/08.
Click on arrow ABOVE to see Lad riding along a busy highway on 11/26/08.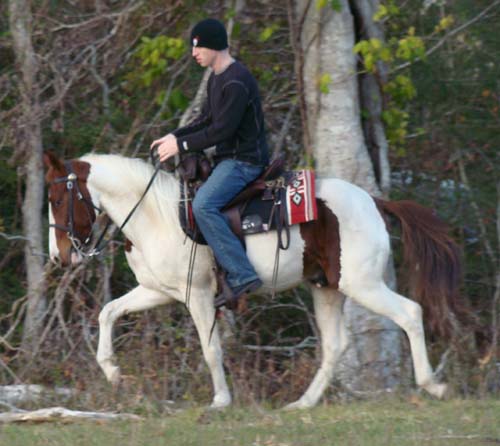 Stepping over hurricane debris on 11/26/08.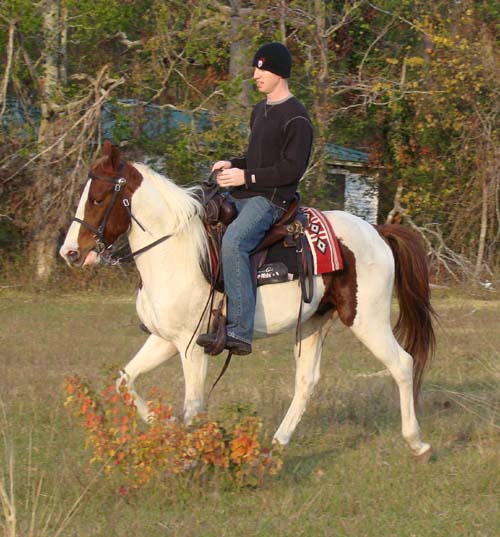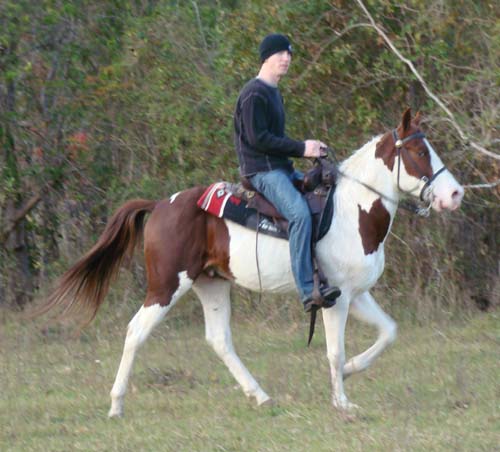 Extremely smooth feather light footsteps make him an unbelievable air cushioned ride!
Click on arrow ABOVE to see Lad's easy canter.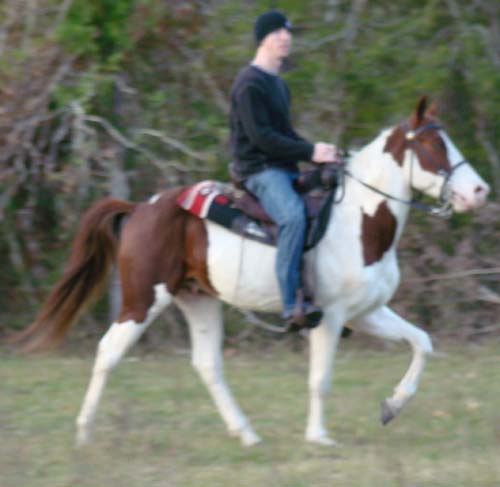 Why do the best pictures always turn out blurry?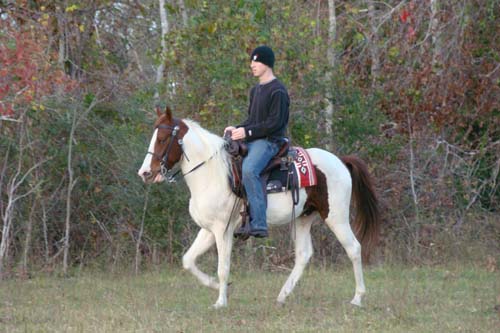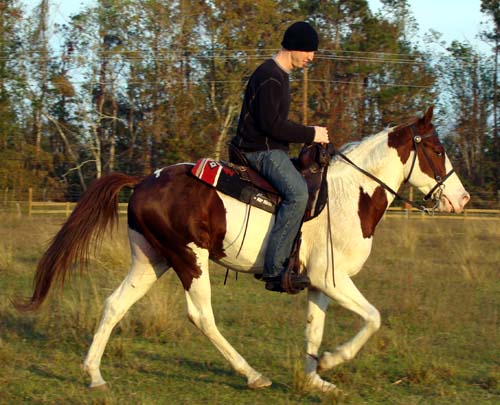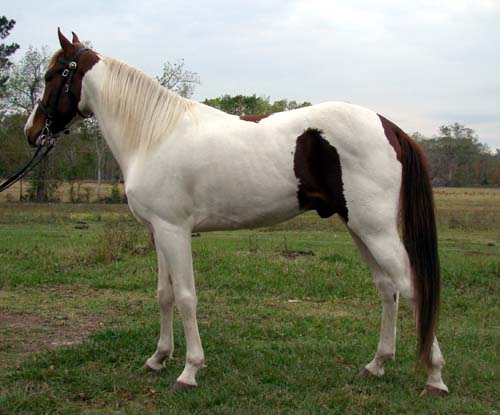 Cloud 9 Walkers
P. O. Box 878
Hardin, Texas 77561-0878
(55 minutes east of Houston)
281-726-4545
(Entire contents of this website copyrighted by Cloud 9 Walkers)

Email me!