CLOUD 9 WALKERS
"Mathilda"
Classy Gentle Jet Black 15H 7-yr-old Tennessee Walking Horse Mare
Click on embedded arrow ABOVE to see our camping trip the weekend of 11/19/11 on a Texas cattle ranch in Brenham, Texas, with lots of obstacle training opportunities!
Click on embedded arrow ABOVE to take a ride with me on Texas trails, morning of 11/8/11.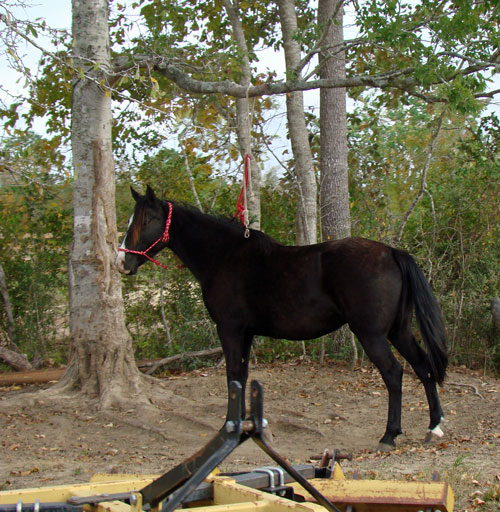 Mathilda in training on picket line (notice that she's tied overhead).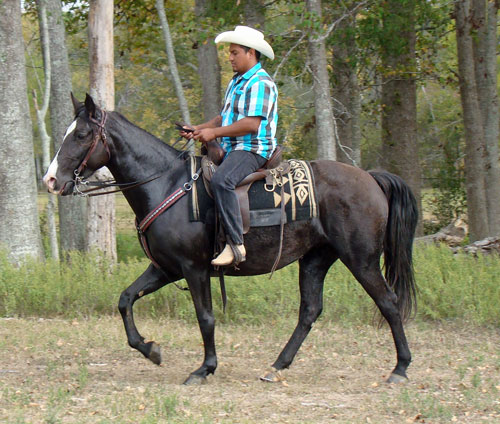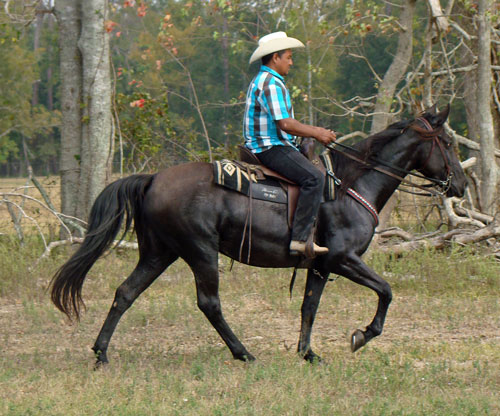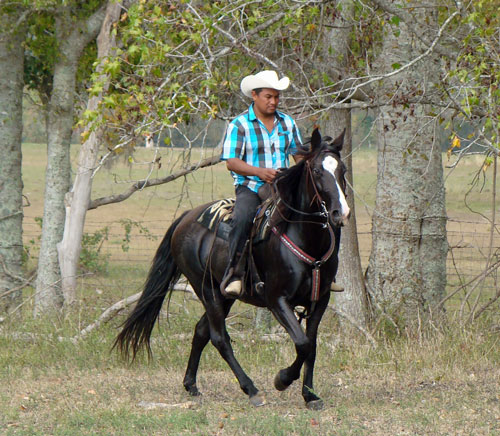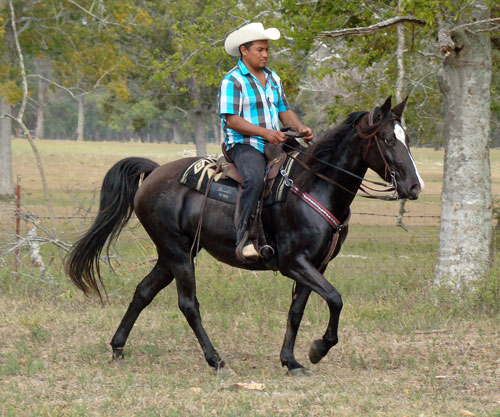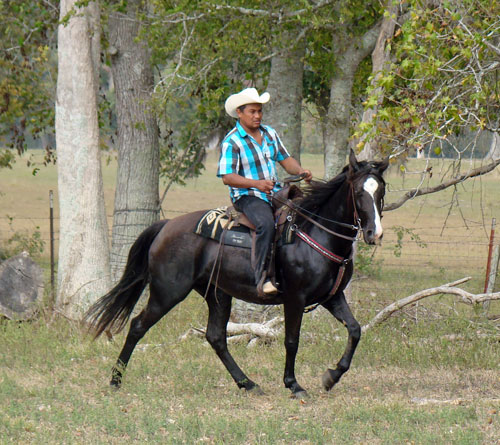 Mathilda has a beautiful face with her long dreamy forelock, big white diamond between her eyes and strip.
Click on embedded arrow ABOVE to see Mathilda being ridden in Mississippi and Texas, saddled and bareback!
John rides Mathilda bareback with just a halter and lead rope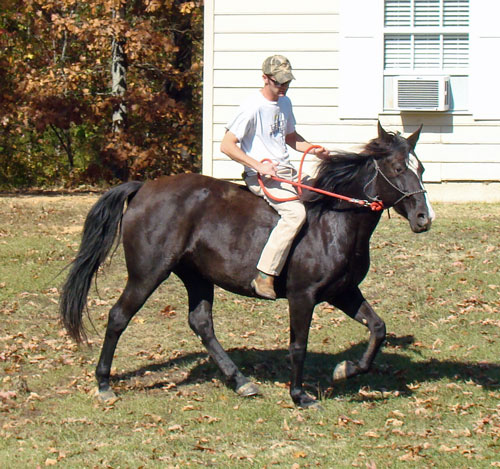 Nice stride, true head-shaking walking gaits, will rack as well, will canter.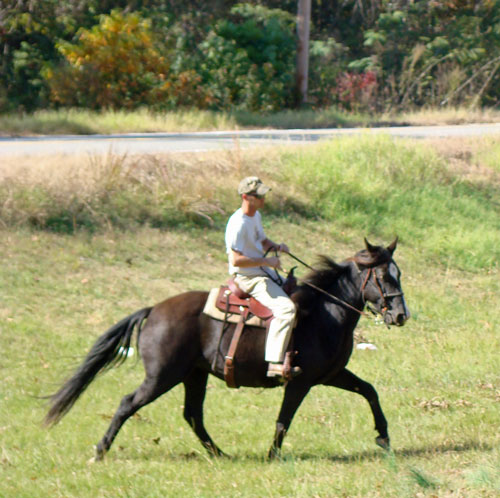 John has Mathilda really cruisin' in this picture -- she's racking on!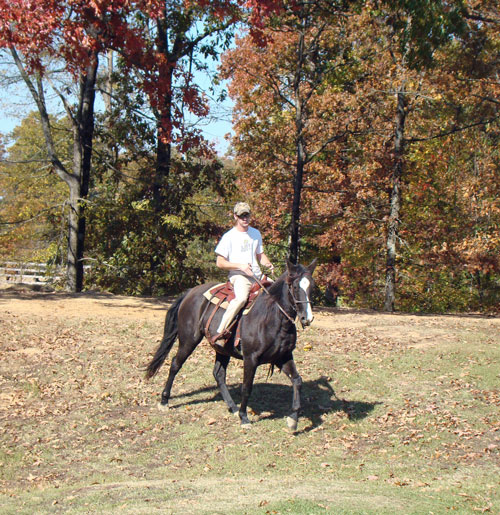 Nice, slow and easy always when going downhill.
"Mathilda" -- Nice, nice mare! Every morning I jump on this mare bareback and go ride the fences to make sure no predator came in during the night after our goats and sheep. She has the kind of conformation that makes bareback riding so comfortable, and I like to keep my skills sharp. I canter her to the back pasture and push cattle from one area to another with her. She's jet black, 15H, stocky with big bone structure, wide chest, big round rump, thick long flowing forelock, mane, tail, beautiful huge star between her eyes, strip -- just a pretty mare! Mathilda is a registered Tennessee Walking Horse mare with the beautiful Pride's Jubilee Star on top, Marshall Dillon, and Paint's Rooster on bottom. She has had one foal in between carrying novice riders on trail rides. Currently keg shod (plain little plates like Quarter Horses wear) but next farrier date, we're going to take her barefoot. She has nice trail experience, but classy and competitive enough for the show ring, too! $3500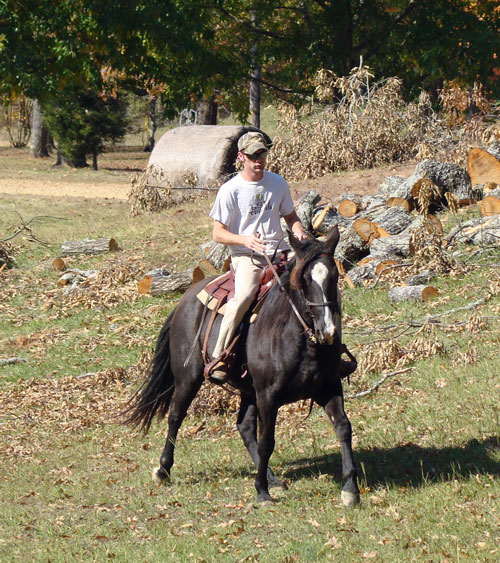 Beautiful face, flashy big star and strip, nice wide chest, long thick forelock, mane and tail. Beautiful mare!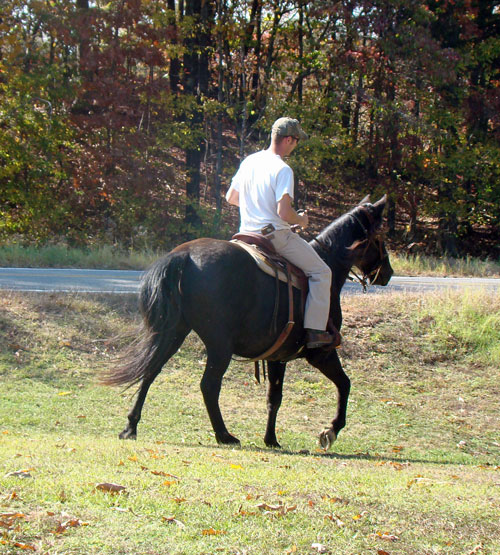 John rides Mathilda down the highway with zooming cars nearby and she doesn't mind the traffic at all.

|---
MARSHALL DILLON
|---
GO BOY'S MAIN EVENT
580801
BL
|---
SPIRIT OF APACHE
---|
792399
WH-TO
---|---
WONDER LIZ
651718
RN
|
835587
BA
|
|---
DUSTY SALLY
|---
SUN-DUST
481968
CH
APACHE'S BATTLE STAR
622635
WH
---|---
SANDY SUN'S SALLY
471671
WH
957089
BL-TO
|
|
|---
PRIDE'S JUBILEE STAR
|---
PRIDE OF MIDNIGHT H.F.
661459
BL
|
|---
THE STAR CONNECTION
---|
764596
* BA
---|---
SUN'S STAR O.
715550
BA
|
893563
BL
|
|---
MAGIC'S VAMP
|---
DARK MAGIC P.
620864
NC

"MATHILDA"

813641
BL
---|---
SPIRITS DOLL
733677
CS
20405151
BL
|
|---
PAINTS ROCKY TOP
|---
PAINTS ROOSTER
837475
BL-TO
|
|---
ROCKY'S TOP DAWG
---|
894266
WH-TO
---|---
MY APRIL LADY
812111
WR
|
|
953722
BL-TO
|
|
|
|---
ACE'S STORMY ANN
|---
ACE'S CHARLIE BLACK
796636
BL
PENNY'S TOP COMET
850194
BL
---|---
ALLYE ANN
744563
BA
20009130
BL
|
|---
PAINTS ROOSTER
|---
PAINT THE TOWN
793247
BN-TO
|---
ROOSTER'S HENNY PENNY
---|
837475
BL-TO
---|---
ROCKET'S MISS MERRY
664444
BL
935131
BL-TO
|
|---
THREATS GEM
|---
SHADES OF THREAT
810280
BL
874025
CH
---|---
PRIDE OF JUBILEE
770183
BA
*-World Grand Champion


Cloud 9 Walkers
P. O. Box 878
Hardin, Texas 77561-0878
(55 minutes east of Houston)
281-726-4545
(Entire contents of this website copyrighted by Cloud 9 Walkers)

Email me!