CLOUD 9 WALKERS
"Misti"
Black Sabino 8-Year-Old Stocky barely 15H Tennessee Walking Horse Mare
Triple Registered (TWHBEA, SSHBEA, NSSHA)
Four-beat gaiting all natural and BAREFOOT
Perfect age, perfect size, perfect gait, perfect horse!!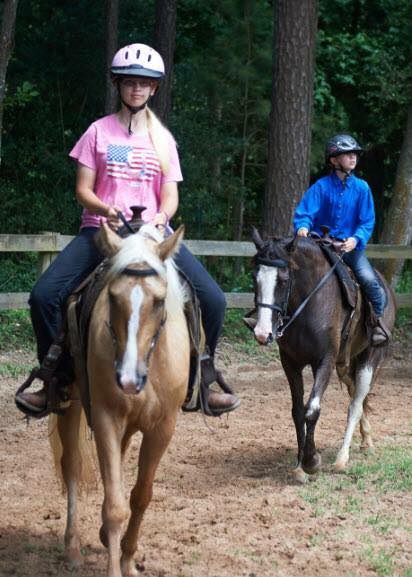 Ruth rides Suzi in a pleasure class in our local horse club playday, with her sister following behind on Misty.

Cindy purchased Misti from us 4-1/2 years ago and loves her to the moon, but life's situations get in the way and she is not able to have a horse any longer, so someone is going to get a rare opportunity to own a mare of this caliber, which doesn't come on the market very often. If you like a little spunk, lots of willingness and good behavior, smooth gaits barefoot or shod, excellent pedigree, flashy chrome, athletic ability and as a bonus, the option to reproduce all these great traits, Misti would make a great family addition for you.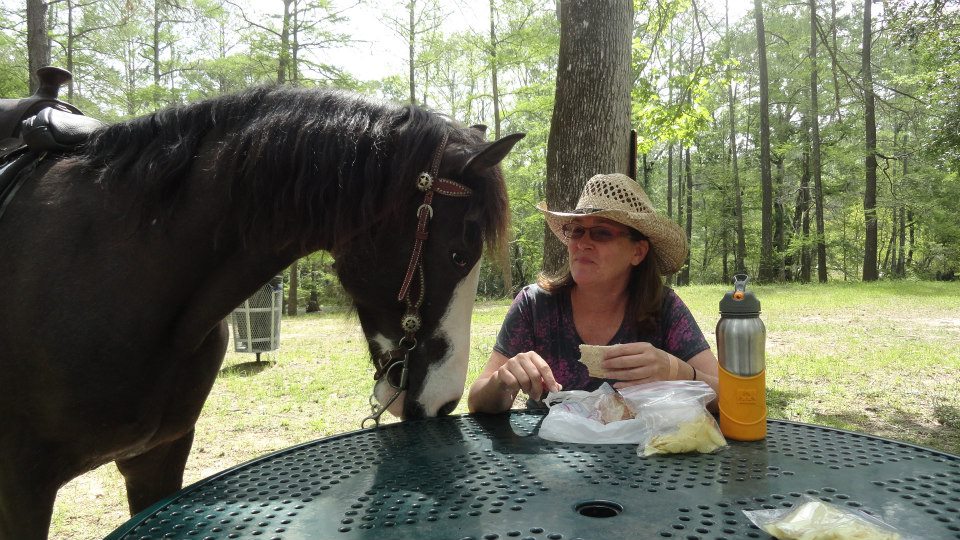 Click on embedded arrow ABOVE to see Cheyenne riding Misti.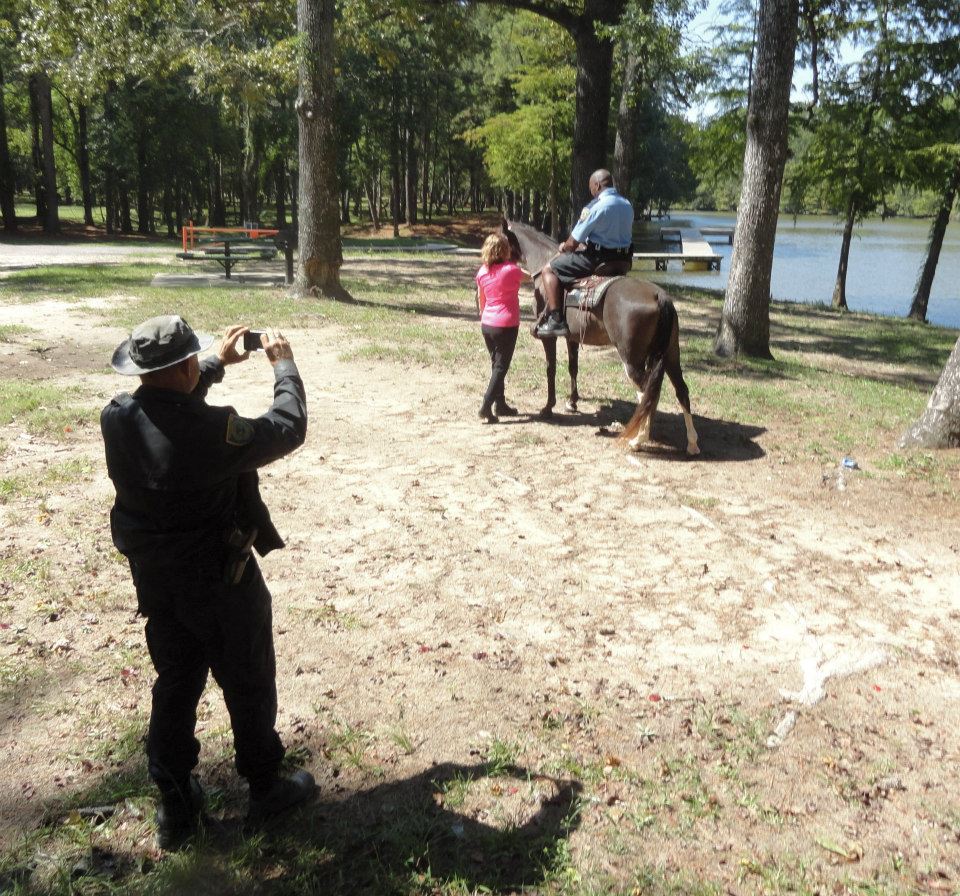 Giving our local law enforcement a ride!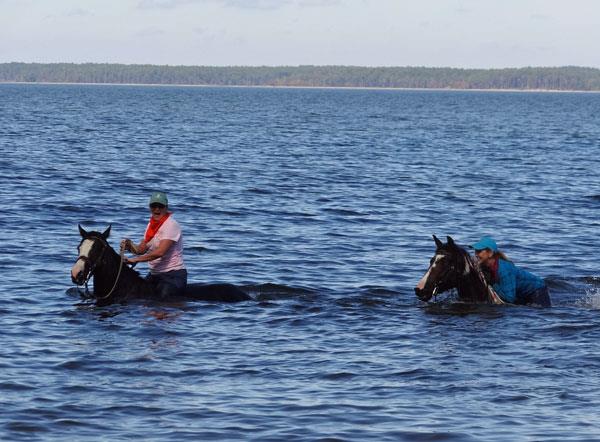 Misti loves to swim, and they go way out deep in Lake Sam Rayburn.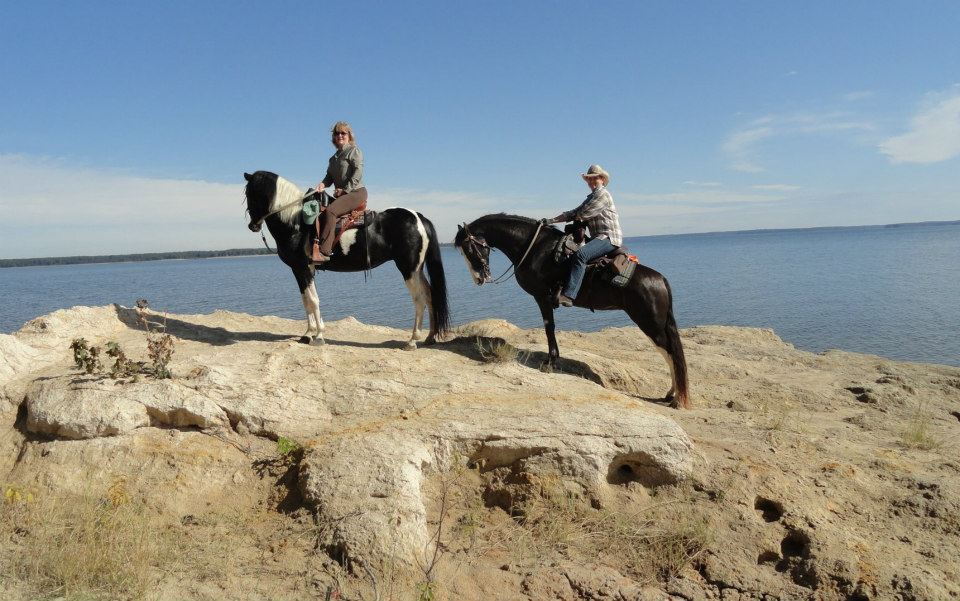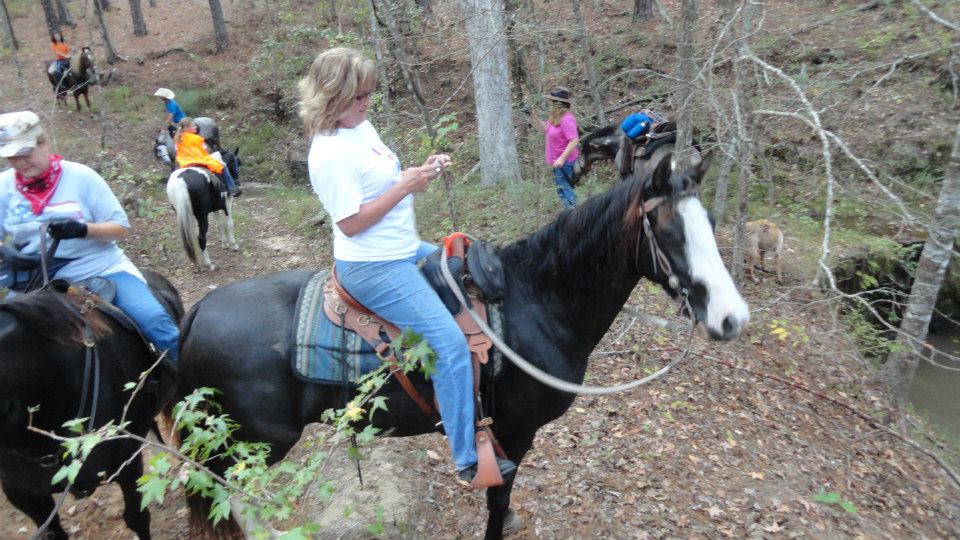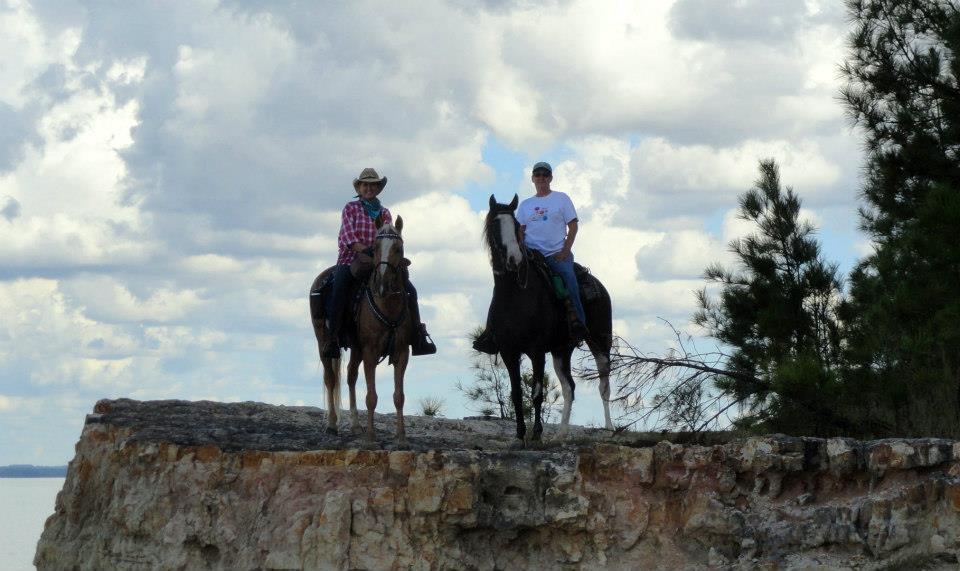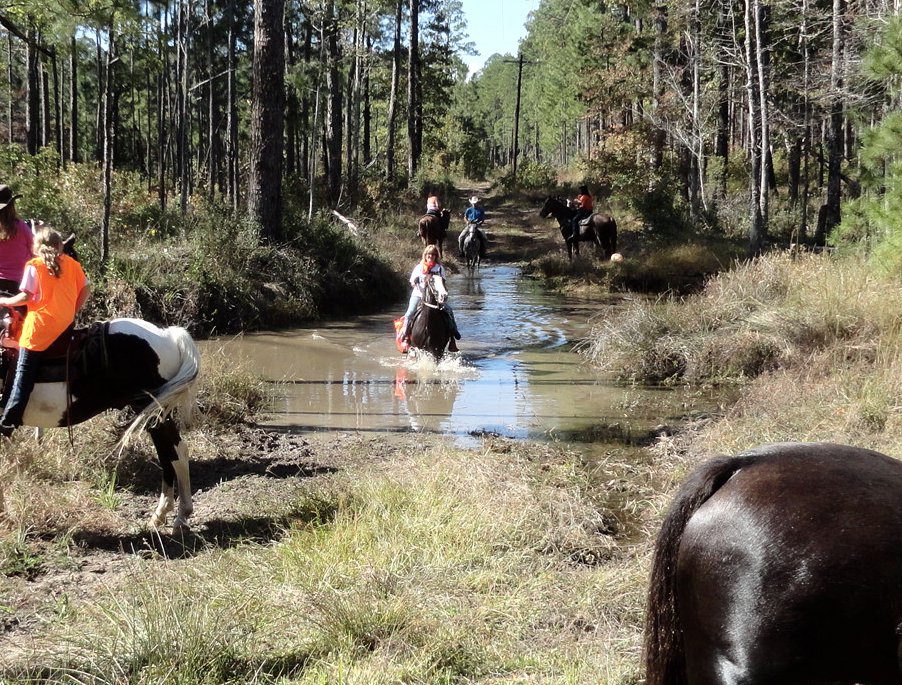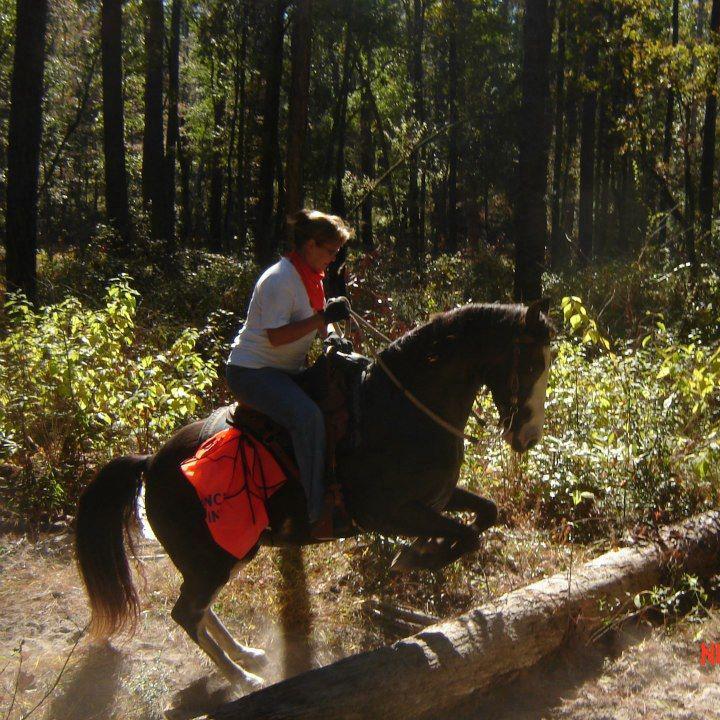 Misti will quietly step over logs, or jump them, your cue, your choice!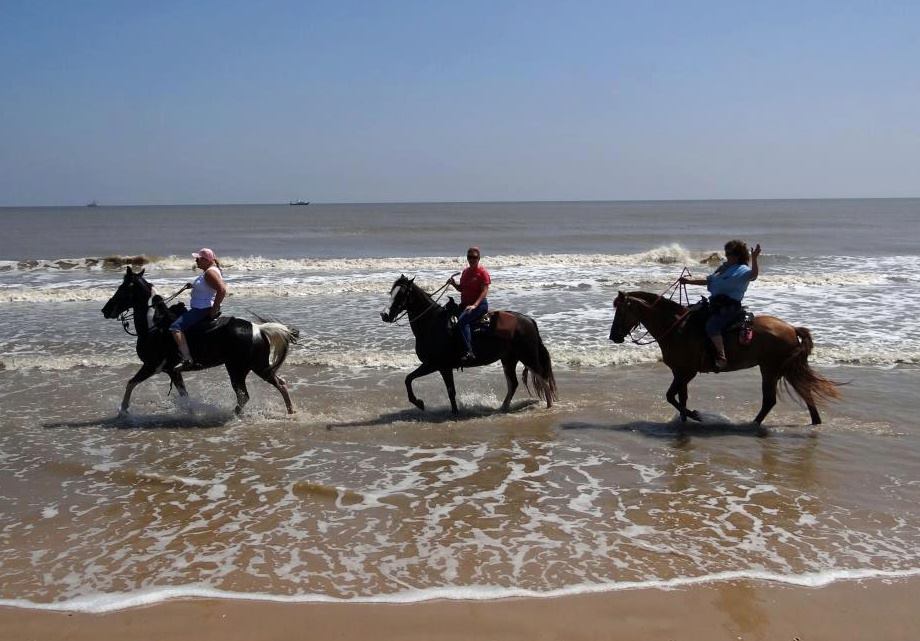 Riding in the Gulf of Mexico in April, 2012.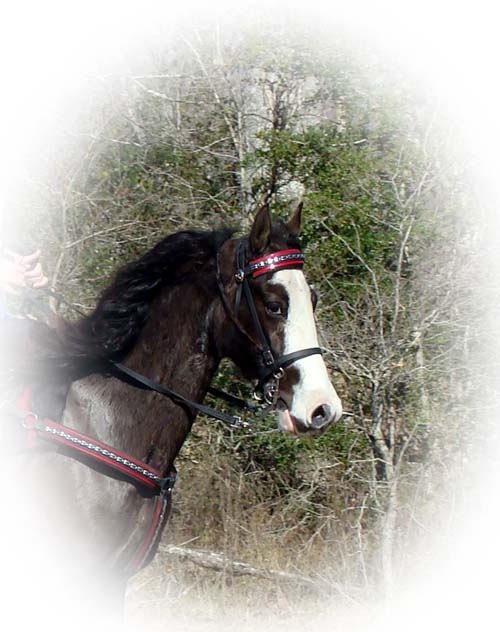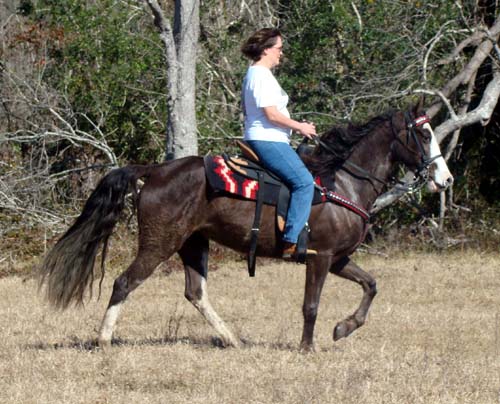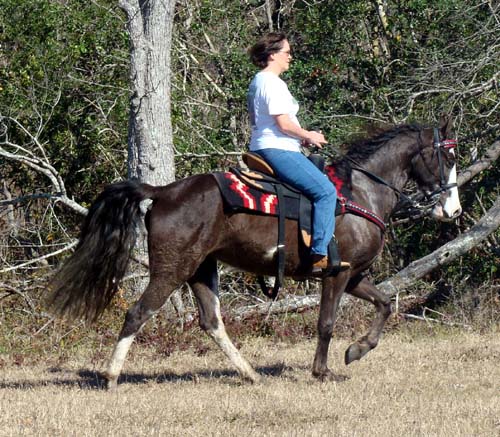 Cindy rides Misti in the pasture and mud. This all-natural Tennessee Walking Horse mare is barefoot and looking GOOD on 1/22/10.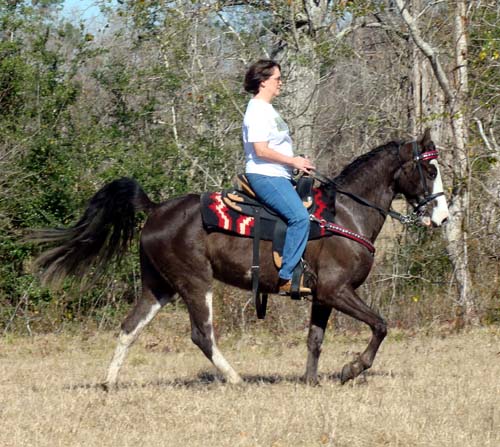 Click on embedded arrow ABOVE to see Misti's beautiful way of going.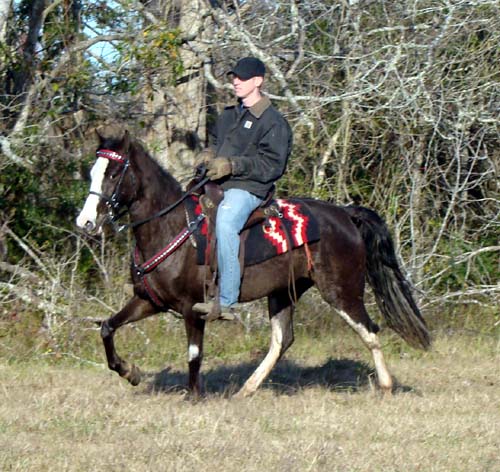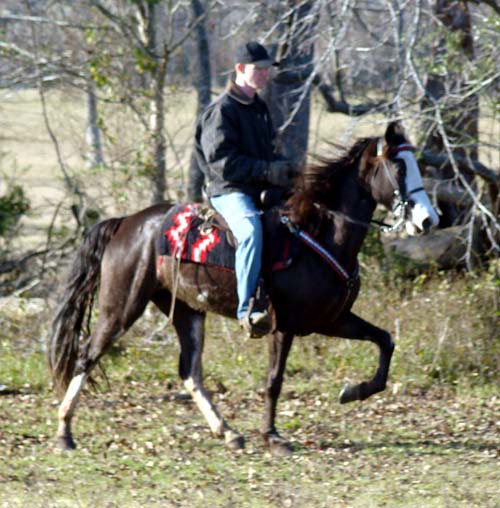 "Misti" -- Nice, natural four-beat gaited 14.3H black sabino spotted Tennessee Walking Horse mare, triple registered (TWHBEA, SSHBEA, NSSHA) and she is the 2009 Country Pleasure Reserve World Grand Champion. She performs a nice head-shaking Tennessee Walking when she's on the trail and relaxed, and with an easy cue, she moves up into a beautiful animated racking gait, all smooth as silk and thrilling to ride. Misti is a horse that you can throw out to pasture for months, and then pick right back up where you left off, load her up and go camping, ride through the neighborhood. She is a delight to ride and a flashy girl with her stockings, big blazed face, sabino splotches, long thick mane and tail flying in the wind, and her naturally arched neck, headset and overall presence. She is 15H and has a nice rump and chest.
Misti is a direct daughter of Kodachrome (Pusher/Pride'sGenerator/Ebony Masterpiece) out of a Go Boy's Royal Heir and Mack K's Handshaker mare. If chosen to produce well-gaited, colorful foals, she would be a great candidate to breed to a spotted stallion. Crosses between tobianos and sabinos usually produce really loud color patterns. $6500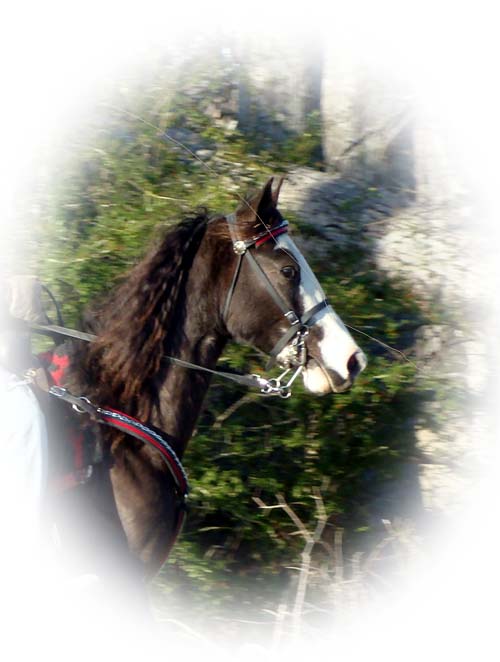 Sire: Kodachrome
The Pusher C.G.
Drug Dealer
Sun's Gunsmoke
Knight Lady
Go Boys Blue Gal M.
Go Boy's Flying Cloud
Meeks Blue Gal
Generator's YaYa
Prides Generator
Pride of Midnight HF
H F Spirit's Nell
Ebony's Sweet & Sassy
Ebony Masterpiece
Sun Dust Go Walking
Alabama Spotted Rose
Alabama Spiderman
Debbies Dude
Midnite Shadow H
Debbie Coop
Stanley's Clown
Mack K's Handshaker
Patty's Clown
Palomino Rose
The Royal Duke
Go Boy's Royal Heir
Tony Time
Smokey Mason
Rock and Roll Mason
My Tammy


Email me!