CLOUD 9 WALKERS
"Motown"
Classy, Regal, Smooth 8-yr-old Black Tennessee Walking Horse Gelding
Extremely nice horse for the whole family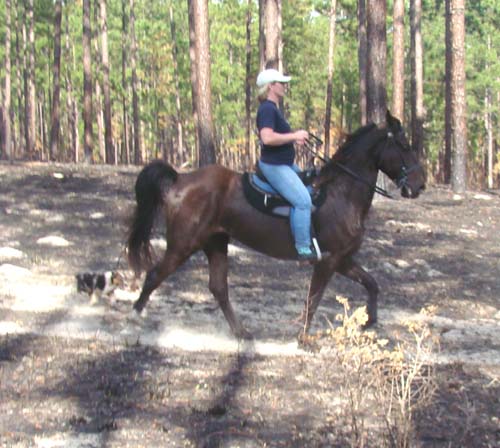 Jan takes Motown down the trail in the Angelina Forest on 4/5/09 with Cooper the Aussie pup following.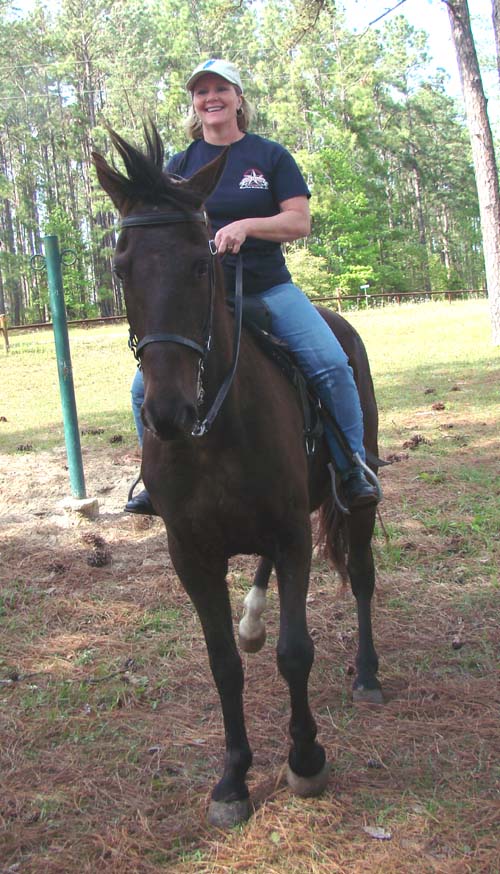 Check out my 'fro! (Very windy day so please excuse the hairdo!)
Click on arrow ABOVE to see Motown and friends crossing a very deep creek. The water comes all the way up to the saddle, and in certain times of the year, the horses have to swim for a few feet to get across. Jan (the one screaming in the background at the cold water) is riding Motown in the back of the ride.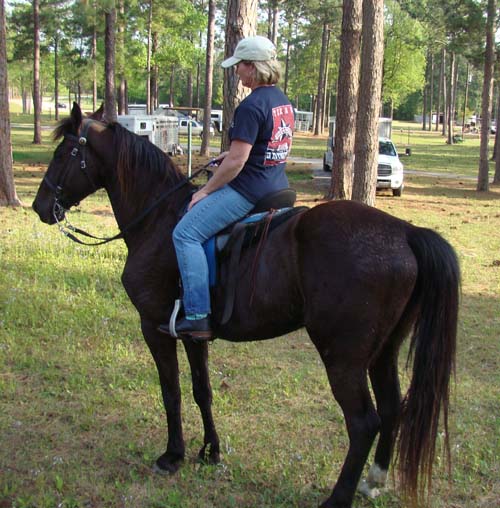 Showing how Motown can stand still quietly, but really just wanting to show off her Roger Creager concert t-shirt.
Click on arrow ABOVE to see Jan and Motown get 'slapped' on a chilly day at the lake!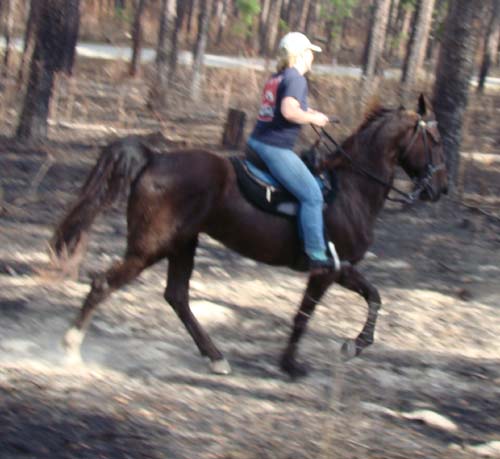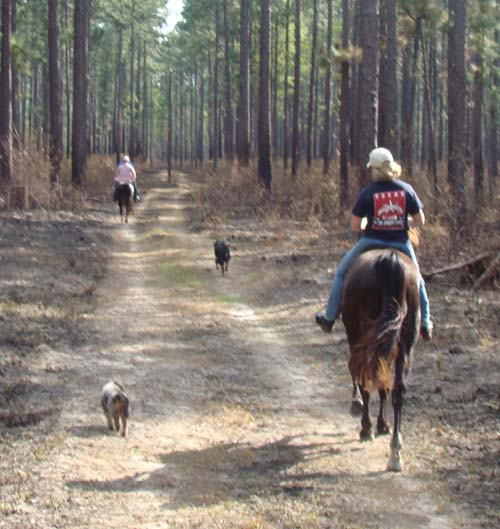 Cheri and Jan follow the trails with the dogs.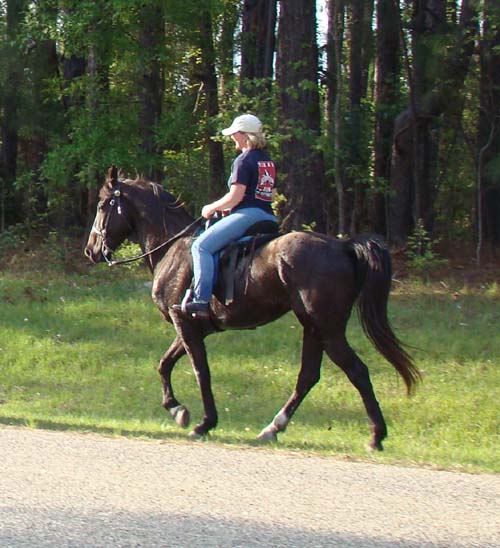 Jan rides Motown down the road on 4/5/09.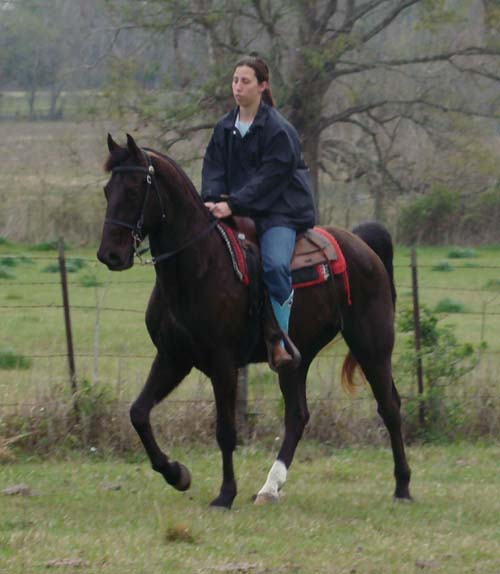 "Motown" -- This 8-yr-old registered Tennessee Walking Horse gelding looks rather ordinary just standing in a stall, but once under saddle, he transforms into a regal, classy moving horse who sits up in the bridle, naturally arches his neck, holds his tail up and moves beautifully. He looks like he ought to be in the dressage arena! Motown gets his name from his famous World Champion sire "Motown Magic", and his dam is Midnight Mack K/Sir Winston bloodlines. This gentle, fun gelding has been used for many trail rides and parades with riders from small kids to adults, and he has had guns shot around him. He is not a dead head and there is nothing lazy about him -- he would probably make most riders feel safe and give them a good time. Horses with his experience usually don't come up for sale, but his owner simply wanted a buckskin instead of a black. $2950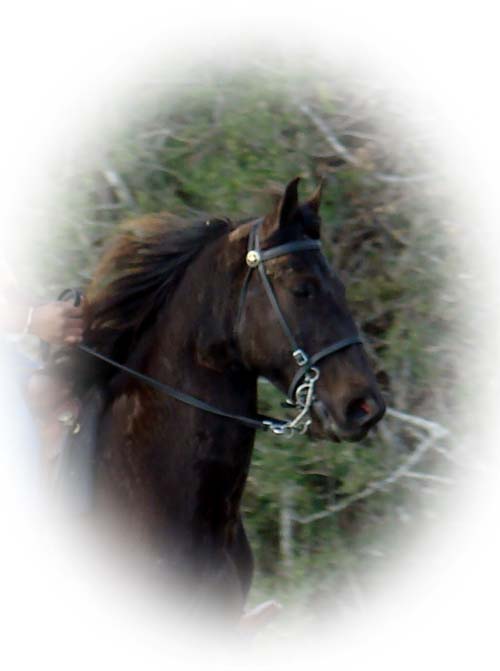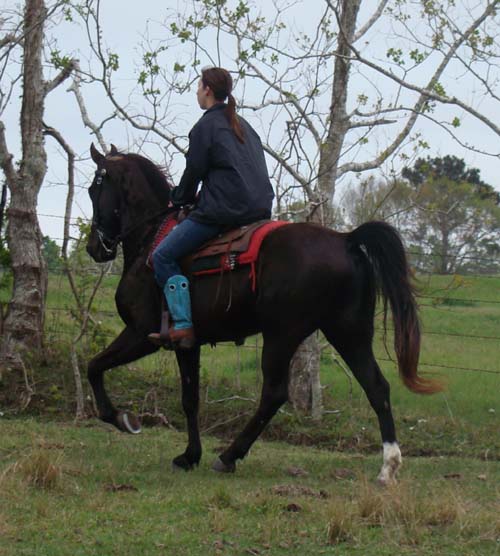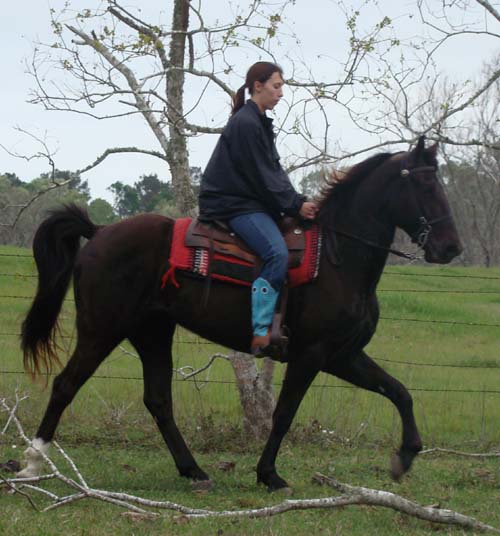 Ginny rides Motown on 3/11/09.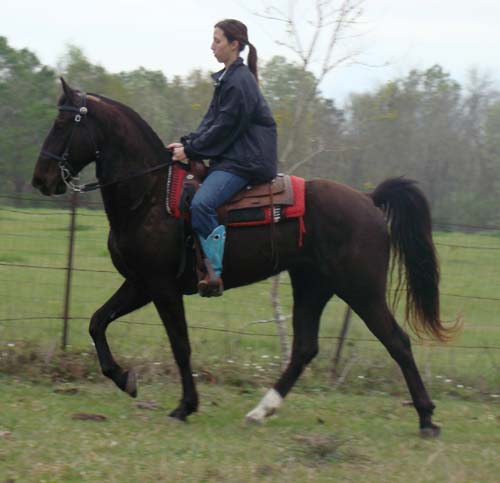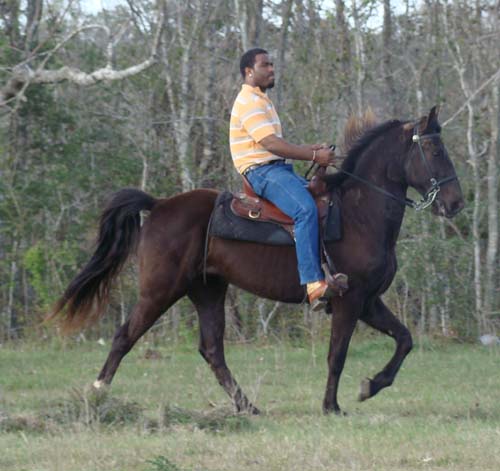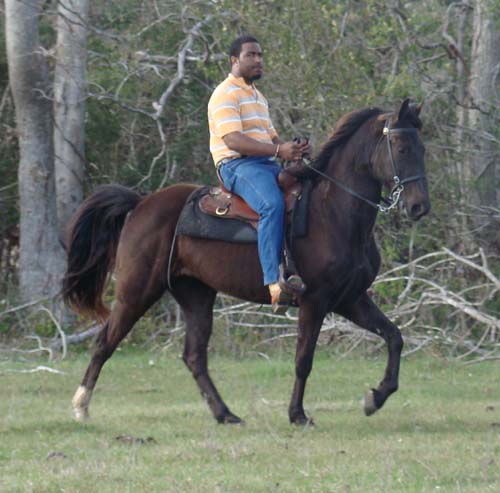 Archie (a football player from the University of Virginia) loves Motown and shows how easy he is to ride with his proud presence.


Cloud 9 Walkers
P. O. Box 878
Hardin, Texas 77561-0878
(55 minutes east of Houston)
281-726-4545
(Entire contents of this website copyrighted by Cloud 9 Walkers)

Email me!