CLOUD 9 WALKERS
"Spirit"
Stunningly Beautiful 16.3H 12-yr-old Black & White Spotted Saddle Horse Gelding
Smooth as silk, BAREFOOT!!!
Will shake his head and WALK or perform a floating rack (your choice), with a beautiful canter, or thrill you with his powerful gallop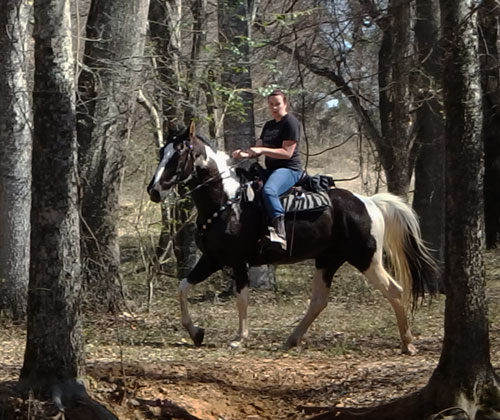 Liz rides Spirit on Tarrant Ranch for Valentine's Day.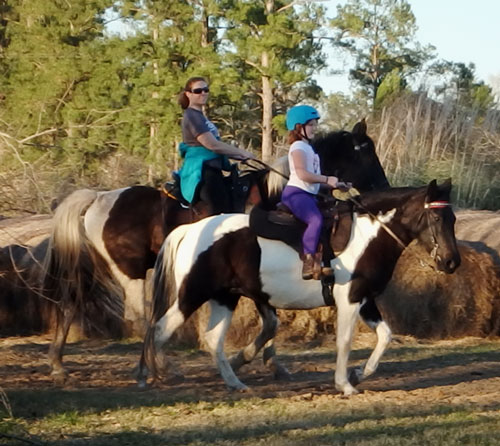 Mother and daughter riding, Kristine on Spirit and Riley riding Rosita.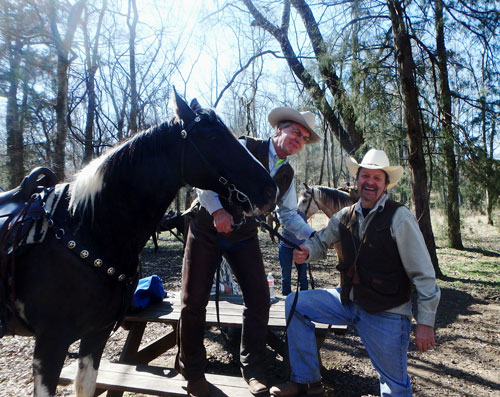 Crazy boys! Tommy and Barry arguing over Spirit.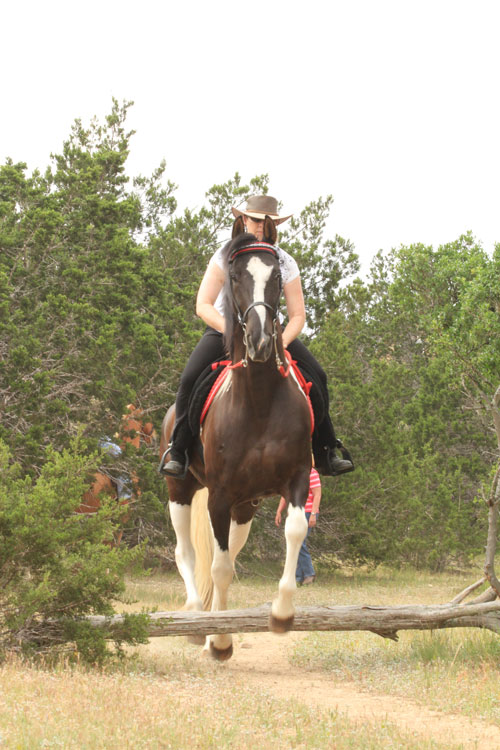 Diana who has owned Spirit for 6 years, has done ACTHA, clinics and 'meet the horse' petting zoos for children with Spirit.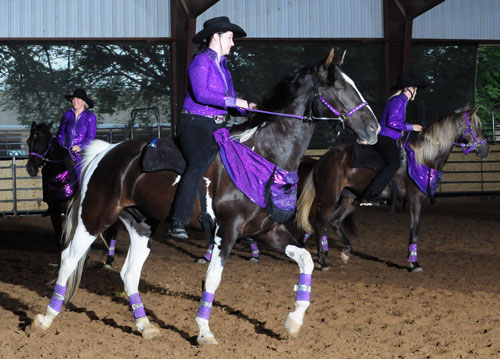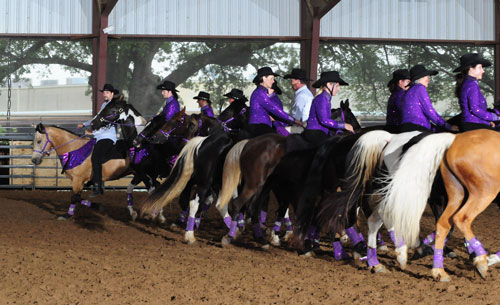 Bareback and bitless drill team!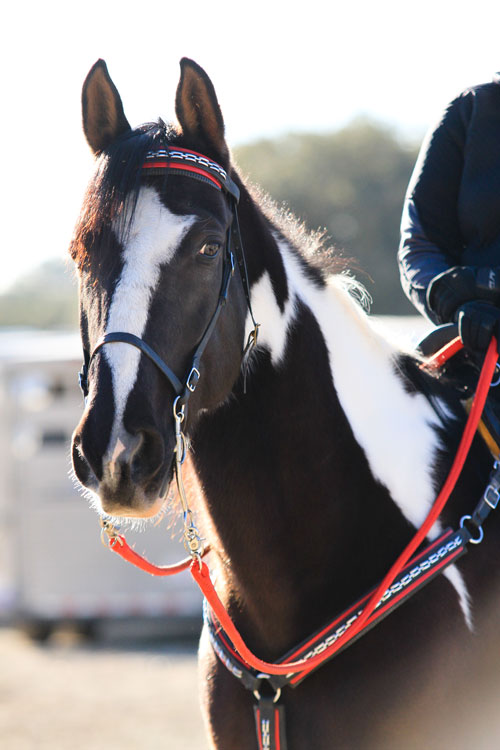 Handsome big brute!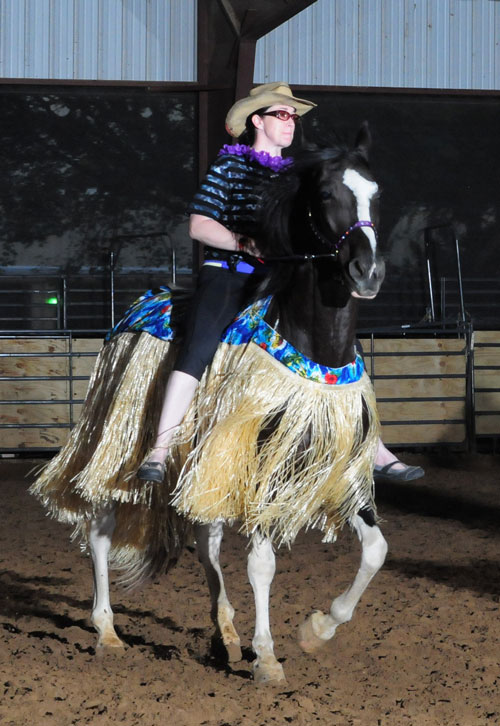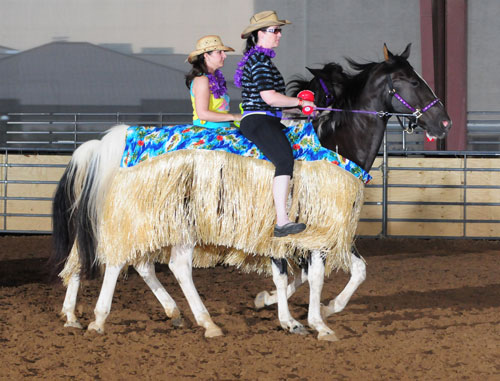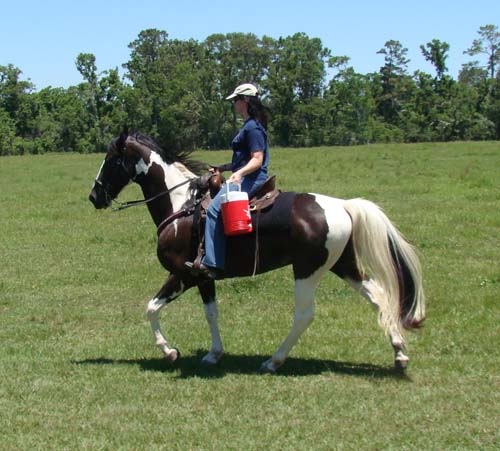 Diana spends the day with Spirit on 5/30/09 and carries the water jug to the guys working in the back pasture.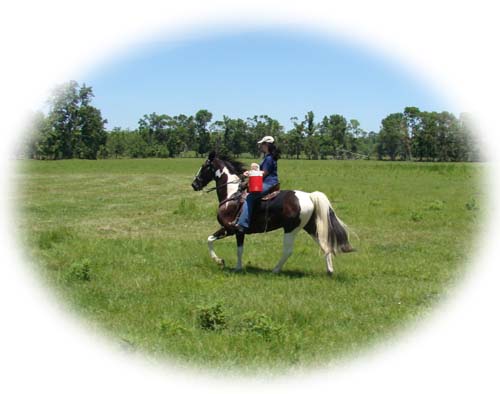 He just can't seem to take a bad picture!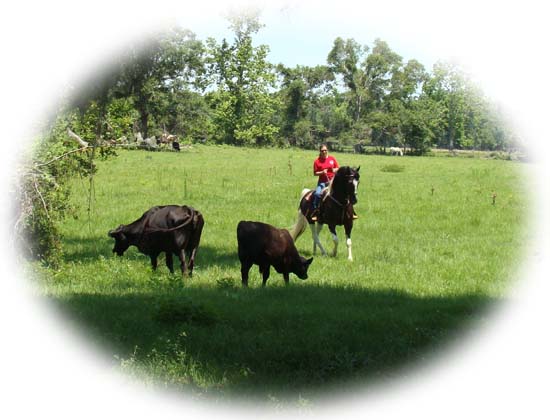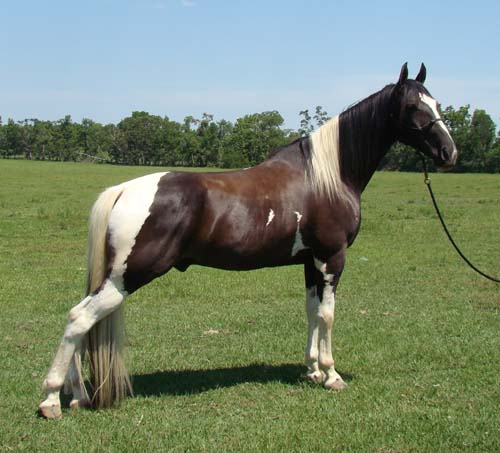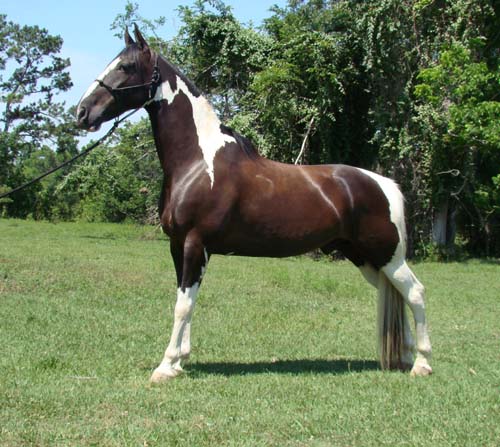 Is this a beautiful creature, or what? He's normally jet black, but he's been running in the pasture and the sun has faded him a bit.
Click on arrow embedded in picture ABOVE to play video of Spirit being ridden and worked through his "whistles and bells" for the first time in a couple of months.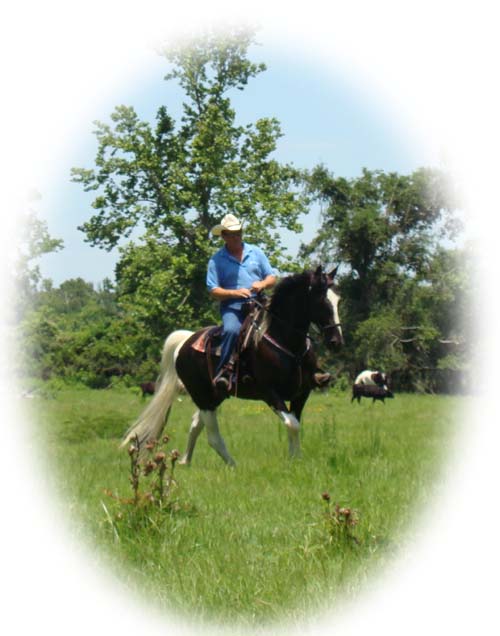 This horse has a natural, majestic presence that comes from his size, his regal presence, the way his long mane flies out when he travels, and the way he holds his long white tail streaming behind him with the black stripe waving like a flag.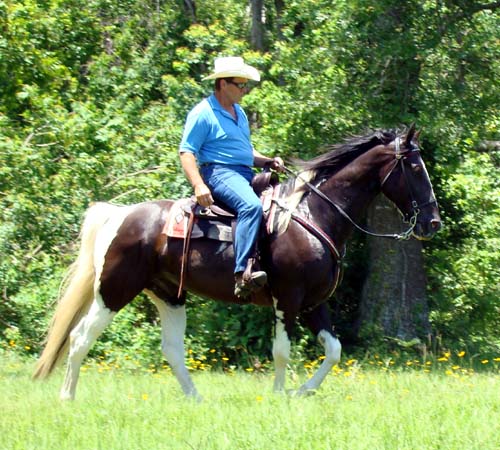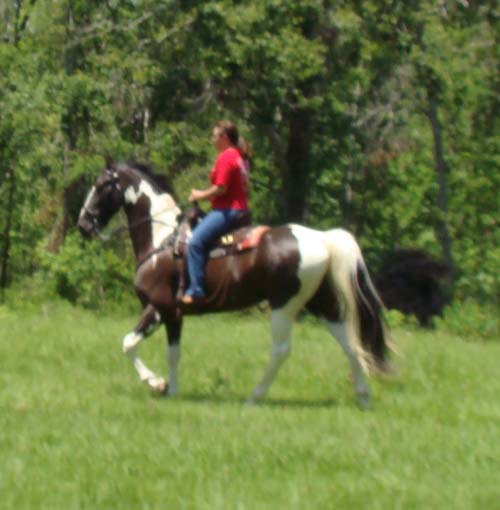 LEFT: Huey rides Spirit in the true Tennessee running walk -- notice how loose his reins are, and don't forget that he's BAREFOOT!
RIGHT: Spirit's previous owner, Cindy rides him at the rack, head up, animated and beautiful.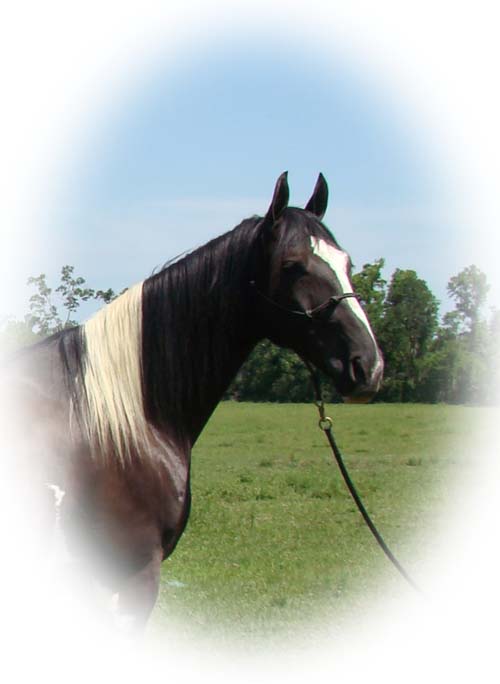 Mountain has been ridden through a suburban neighborhood for the past four years, hauled on camping trips to the lake and the forests, ridden through traffic, in many parades, and has been trained with natural horsemanship methods (Clinton Anderson's teachings). He will park out on command, back, yield front and hind, side pass, canter on correct leads, perform an all-natural TRUE head-shaking Tennessee Walk or a floating rack -- a nice, nicely trained horse with lots of size and big bone structure, beautiful conformation. $8500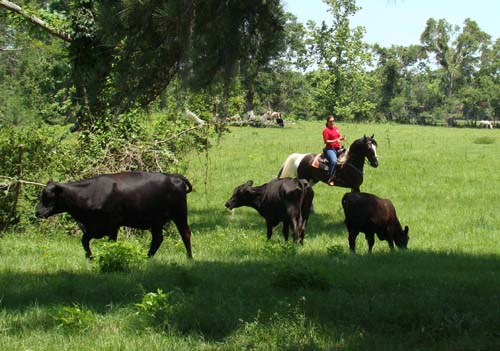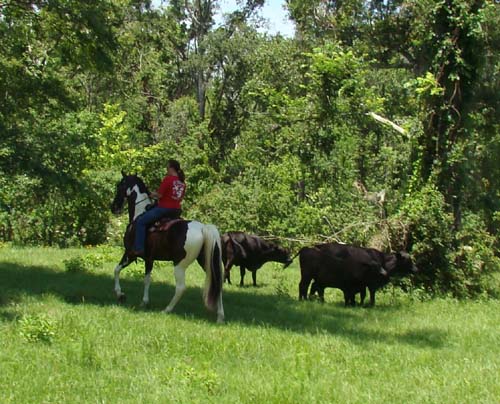 Cindy rides Mountain through the cattle on 5/29/09.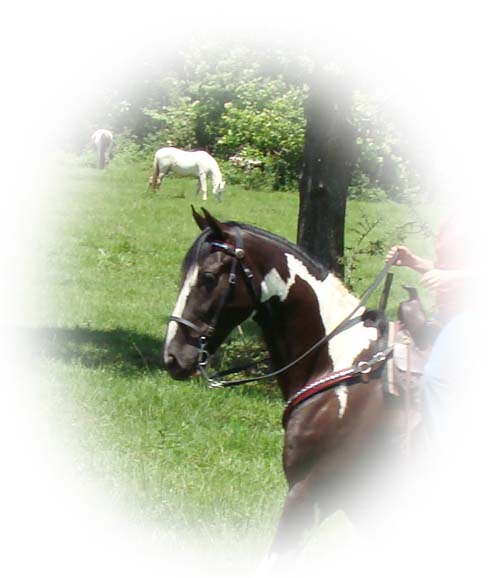 Oh, oh, oh, be still, my beating heart!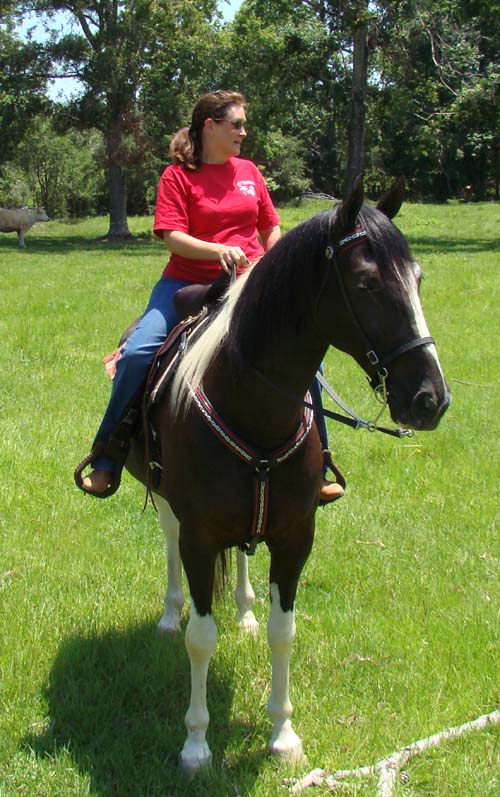 Notice how beautifully straight his legs are and how perfectly matched his stockings are, wide chest -- this is one NICE Bubba! :)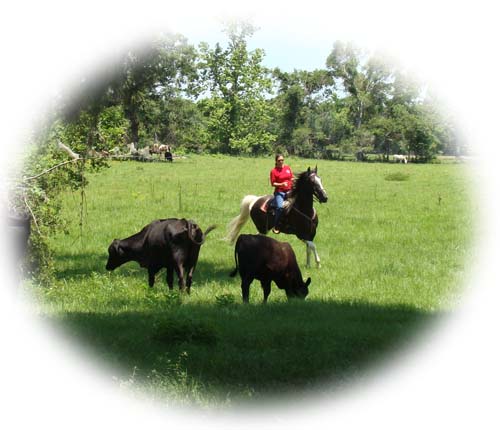 Well, as you can tell, I just couldn't pick a favorite one of these, so I posted all three!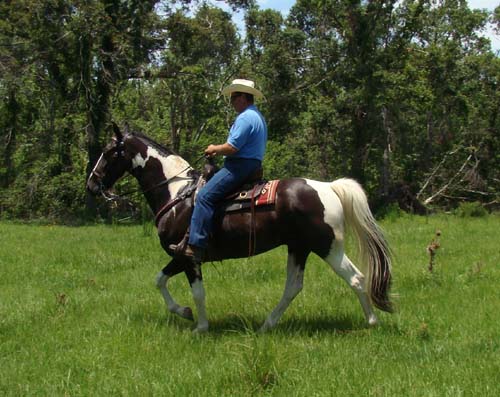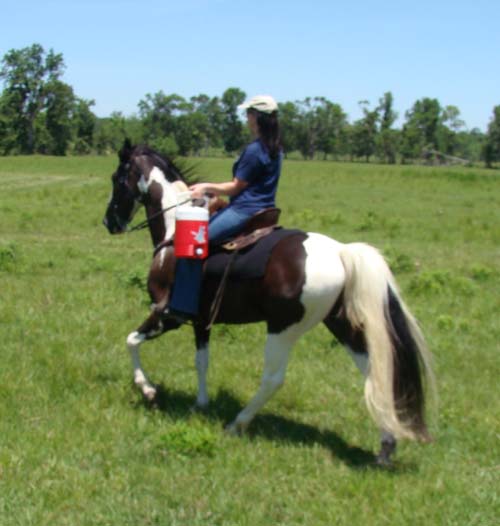 What a fairy tale tail!


Cloud 9 Walkers
P. O. Box 878
Hardin, Texas 77561-0878
(55 minutes east of Houston)
281-726-4545
(Entire contents of this website copyrighted by Cloud 9 Walkers)

Email me!