CLOUD 9 WALKERS
"Patriotic Princess"
Gentle, calm, sweet black/white tobianoTennessee Walking Horse Mare
(May be homozygous for Tobiano Gene)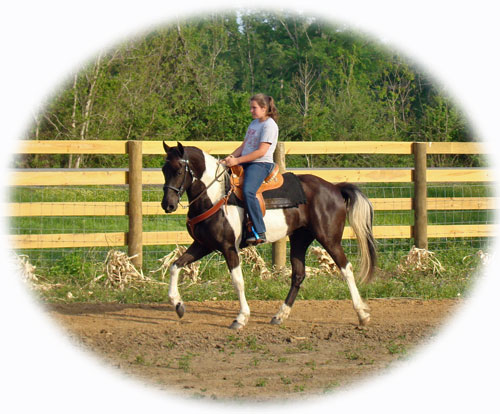 Liz rides Princess on 3/23/11.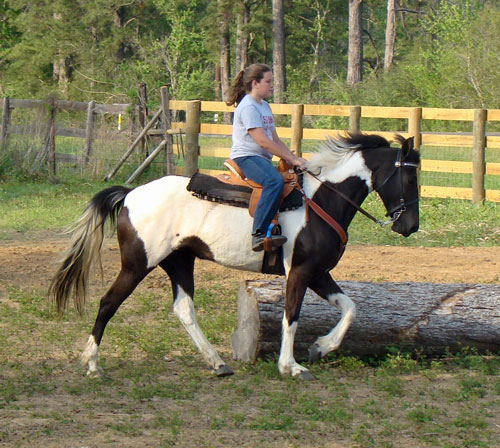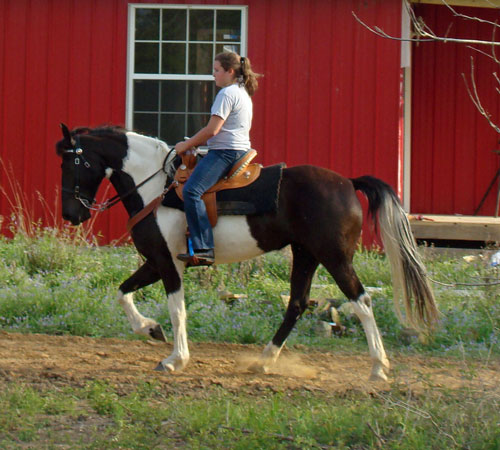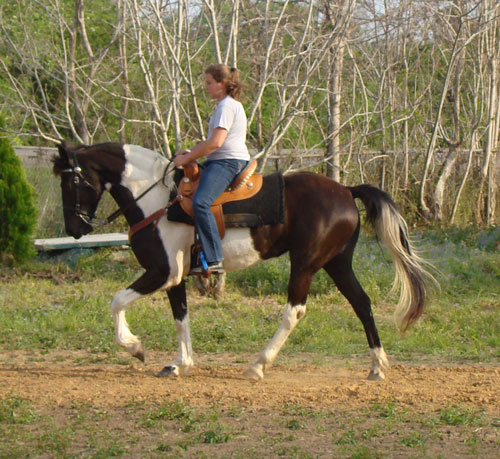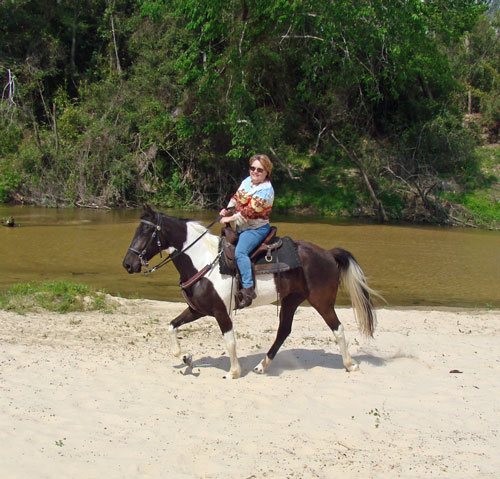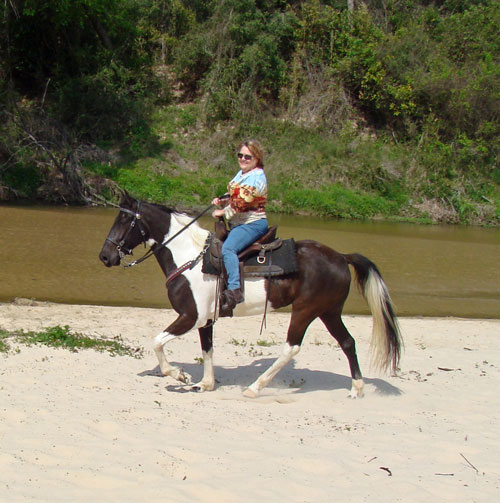 This lady showed up at the trails we were riding and wanted to try out a Tennessee Walking Horse!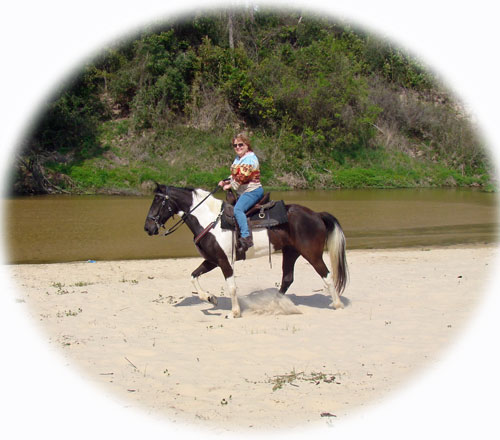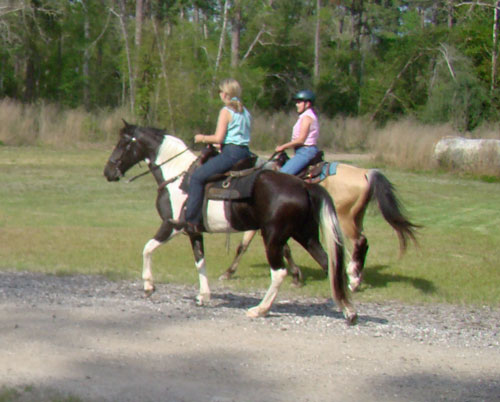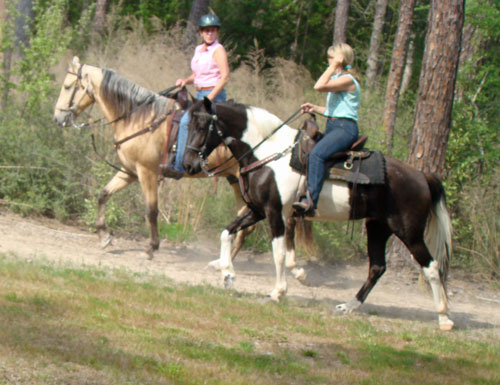 Karen borrows Princess to ride at Pundt Park on 3/25/11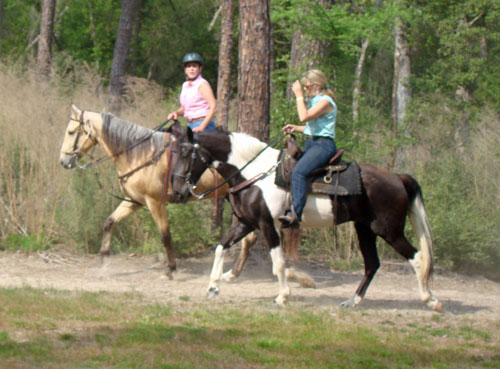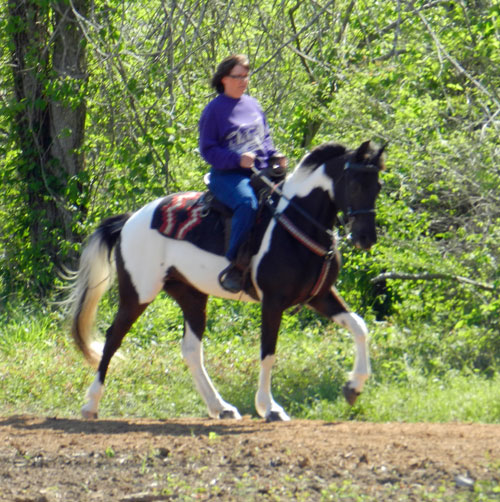 Cindy rides Princess in the arena.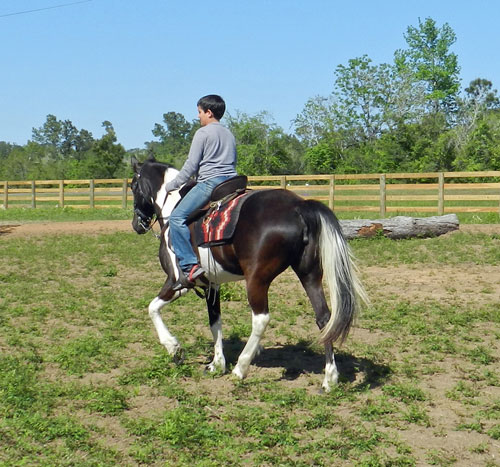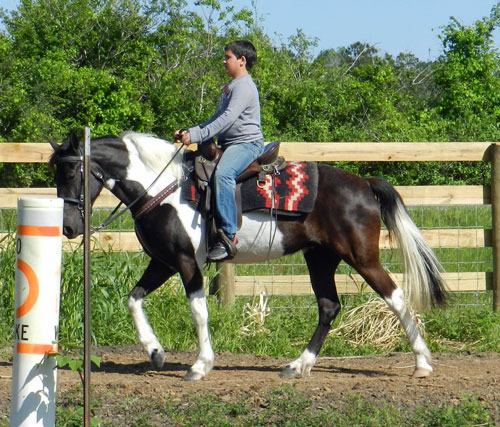 10-yr-old Jacob taking riding lessons on Princess this spring.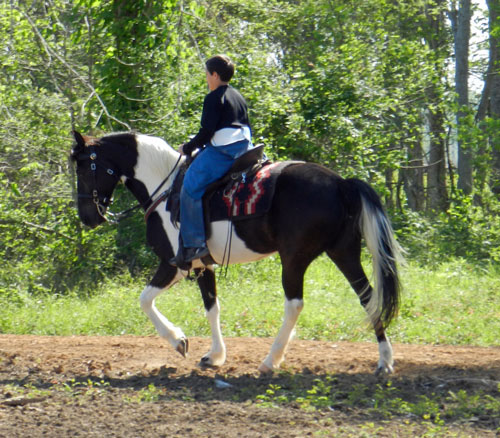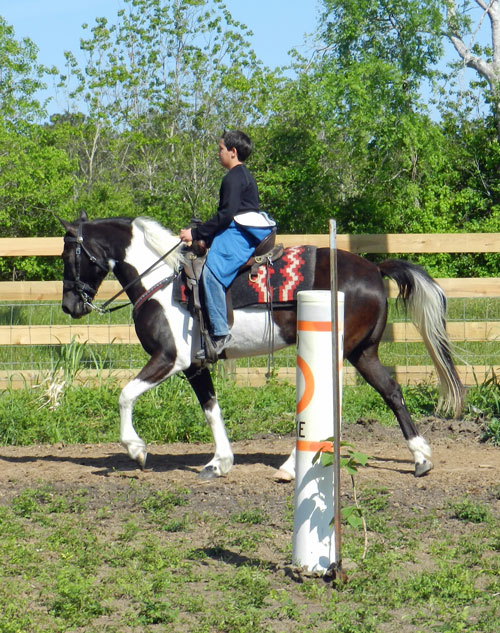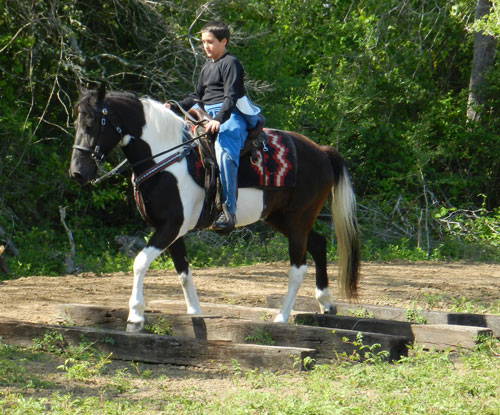 Jacob's twin brother John taking lessons on Princess the same day.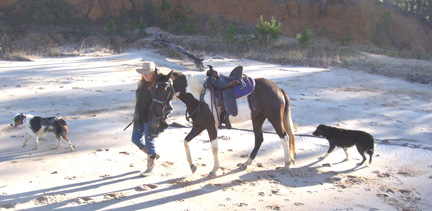 These "beach" pictures were taken on January 25, 2006 at Lake Sam Rayburn. Princess has a fantastic smooth racking gait, when warmed up will perform a true head-shaking Tennessee Walking gait, and will slip effortlessly into an athletic, easy rocking chair canter. Very gentle for anyone to handle or ride, and as you can see, dogs are a part of her life!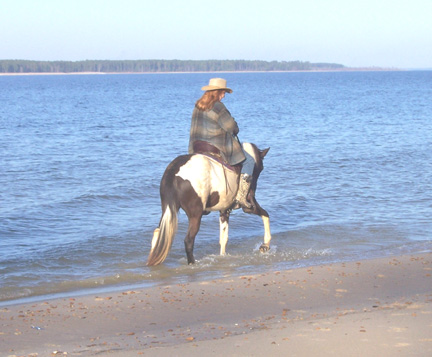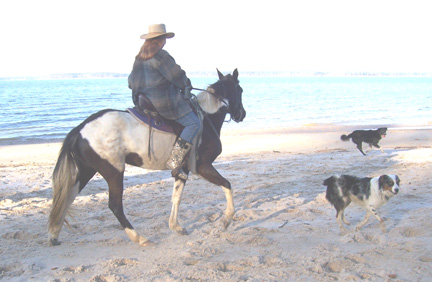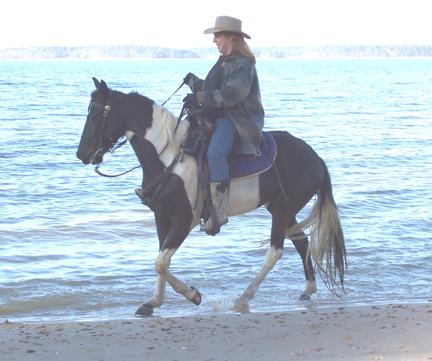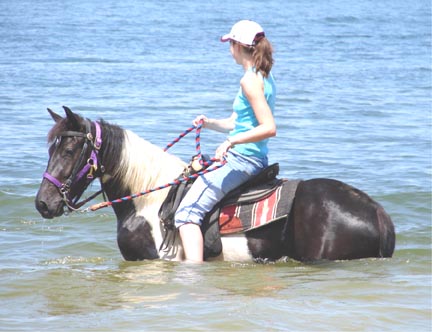 Below pictures show her just starting under saddle, in October of 2005. Notice that she has nothing on but a halter and lead rope.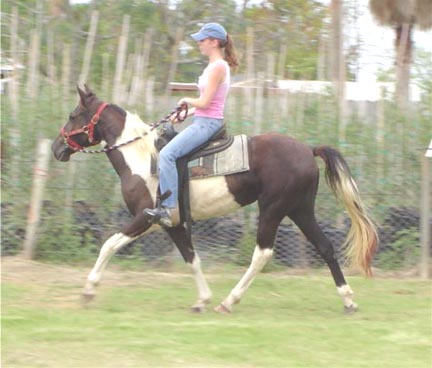 Click on picture ABOVE to Princess' very first time under saddle on 10/11/05.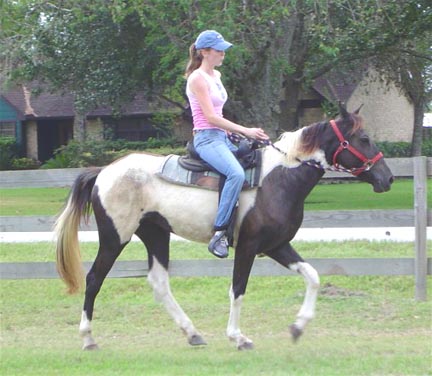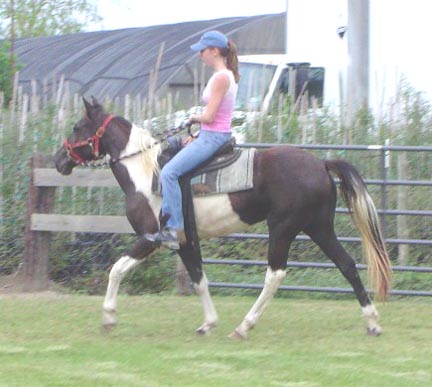 She is responding beautifully with nothing but a halter and reins attached to it. She is barefoot in these pictures and video.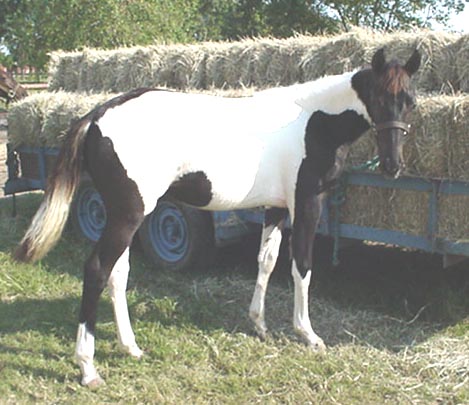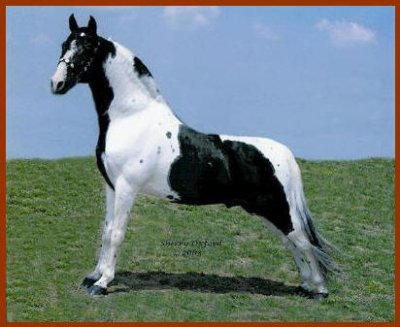 We bred and raised her -- this is her baby picture to the left.
"Patriotic Princess" -- This 3-yr-old Tennessee Walking Horse mare is very stocky like her parents and stands around 14.3H, has a beautiful jet black and snow white tobiano coat pattern. Her tail is beautiful, because it's black and the top, white in the middle and black on the end. Her dam is a direct daughter of Spotted Alen Again (pictured at RIGHT), the multi-champion-producing homozygous spotted stallion. Princess was born February 3, 2003, and we started her under saddle on the first couple of months of training with nothing but a halter and lead ropes, and on her 4th time out under saddle, we joined a group of horses and took a real trail ride down the road, beside traffic. She did nothing but comply! No bucking, rearing, running off, no silliness -- she just moved off down the rail and around the arena. She is very sensible and will make a wonderful beginner's horse or lesson horse, and her gait is smooth. (She is now in a Tom Thumb or Argentine snaffle.) She is now being ridden on trail rides alone and with other horses, through the forest, at the beach, around traffic.
Princess has now been on several trail rides and camping trips and starts out the day in a lively racking gait. After she has been warmed up, she performs a true head-shaking Tennessee Walk, along with a beautiful athletic slow rocking horse canter. She is good either barefoot or keg shod and will cross any obstacle, go anywhere, lead the ride or follow in the back, and will shame older horses with her willingness!
Her sire is the champagne stallion pictured below on this page, "Go Boy's Champagne Pride, which is also a son of a homozygous spotted stallion, "Go Boy's Gold Insignia". (Go Boy's Champagne Pride is a minimally-expressed tobiano, as evidenced by the four long white stockings.) (Click on picture to above LEFT to go to her info page for more pics, info and video.) Every single baby that Princess' dam has ever produced has been exceptionally gentle, sweet-natured and smooth-gaited. We were going to try to keep her around, but tuition is coming due again. $3850 for a nice family-type horse.


Email me!