CLOUD 9 WALKERS
"Shiloh"
Unusual Tri-Color 7-yr-old 15.1H Tennessee Walking Horse Gelding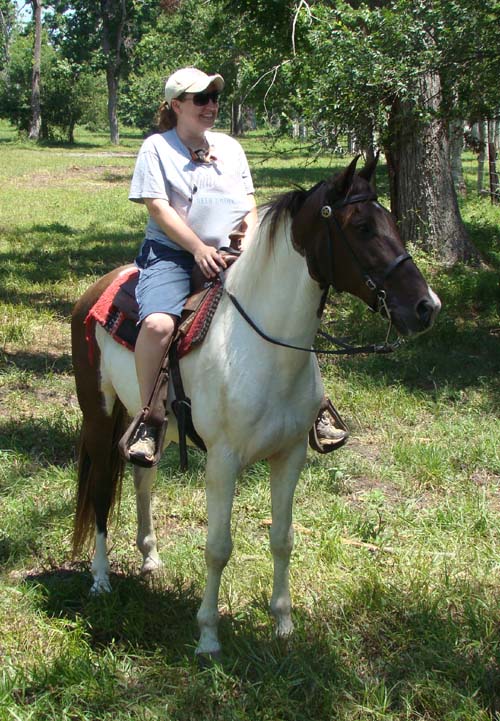 Krystal uses Shiloh to 'rescue' her puppy (stuffed inside her shirt) to keep the hawks from getting him on 6/6/09.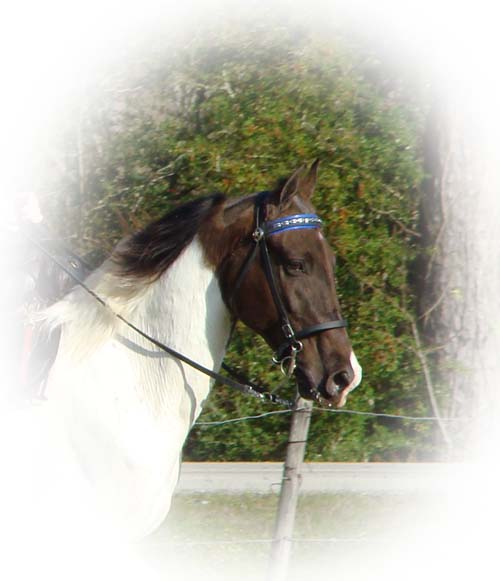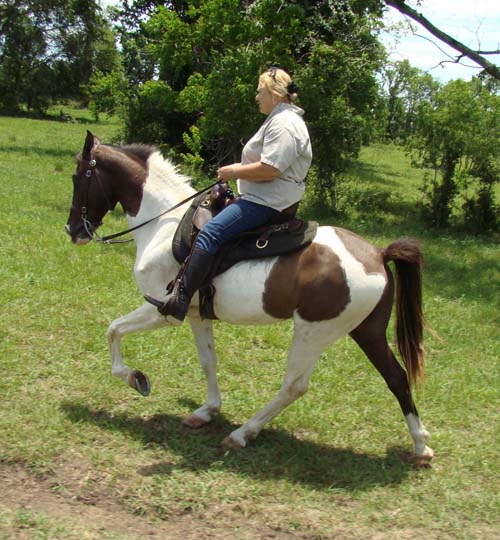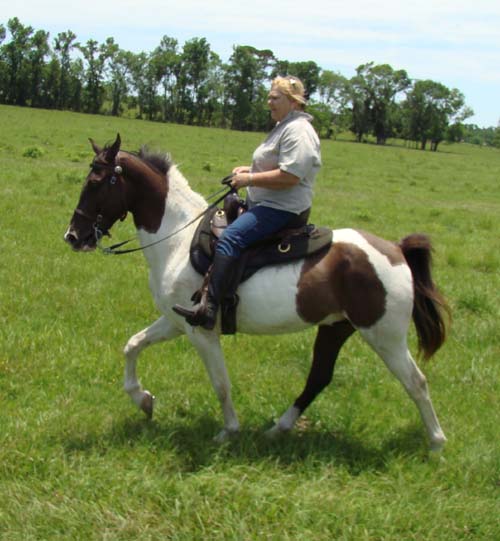 Dee rides Shiloh in the pasture to look for a lost cell phone on 5/29/09. Notice how loose his reins are -- he looks like a show horse, but his gait is just effortless.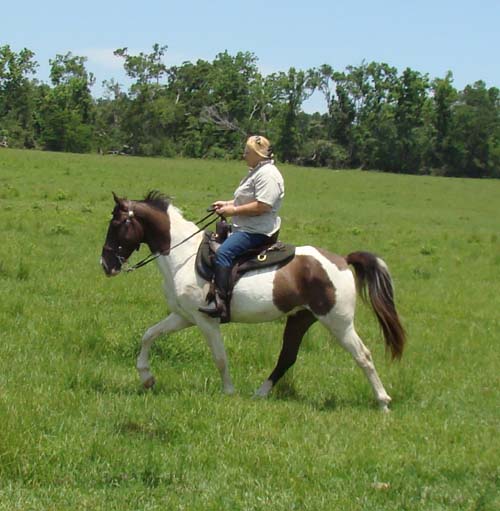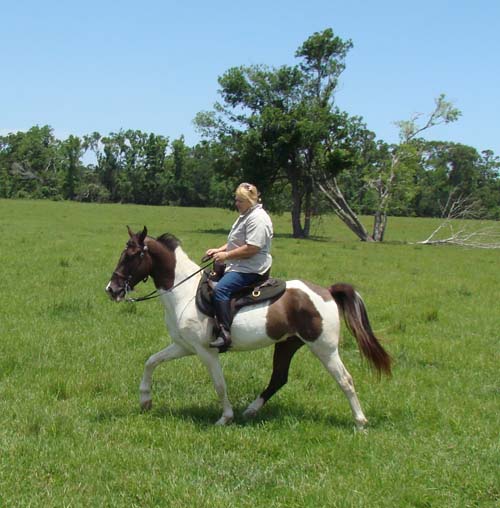 Still looking!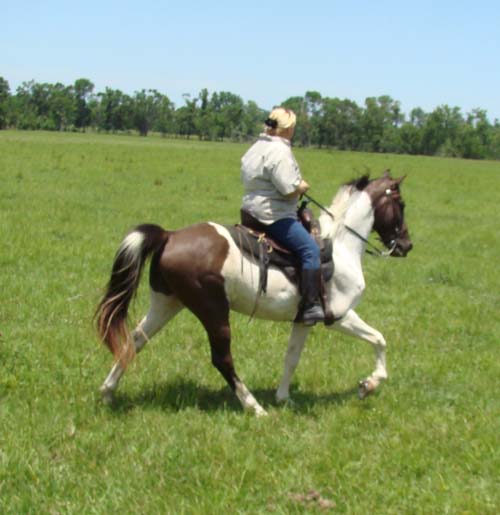 Really, I couldn't pick a favorite, so I just posted all the pictures. Shiloh is wearing lite shoes on his front feet only for an upcoming trail ride -- you can see by his big all-natural back end that he covers a lot of ground when he moves out.
"Shiloh" -- Beautiful classy tri-color 7-yr-old 15.1H stocky Tennessee Walking horse gelding with black tail that has a white stripe in it, and black and white mane. This classy horse has a lot of presence and holds himself naturally arched and collected. His gait is magnificent, an all-forward motion 4-beat headshaking walk, and then a floating-type smooth rack. He really covers a lot of ground with his unusually large back end, atypical of most Spotted Saddle Horses. No pace, no trot -- just incredible animated smooth gait! Neck reins, side passes, pivots, forehand turns, will cross any obstacle, doesn't mind cattle, dogs, traffic, does not need spurs, will lead or follow -- nice horse! This horse has been my personal riding horse for the past year, but now that he's so 'automatic' and doesn't present much of a challenge for me, I must move him on. I am always busy training other horses and my 'personal' riding horse usually gets tossed out to pasture for months at a time. This has been the case with Shiloh, and each time I bring him back to the riding string (after 3 months of not being touched), he picks up right where he left off. He stays broke, and his gait is just a really classy pleasure to ride -- feels aristocratic and proud, like he ought to be in a parade, with his floating forward motion. $4750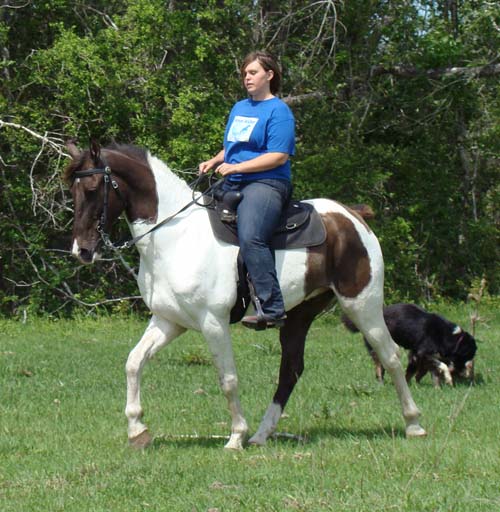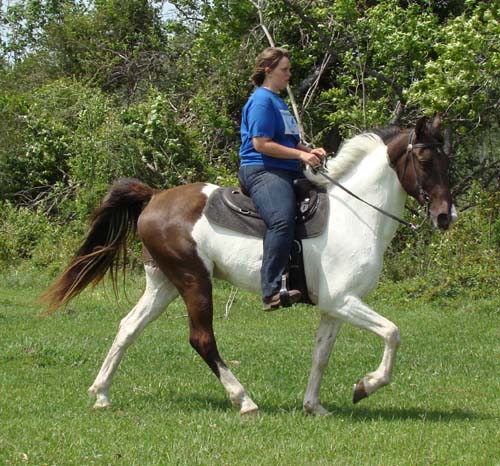 Sweet lil Myranda put Shiloh through a round pen session and then rode him in the pasture on 4/24/09.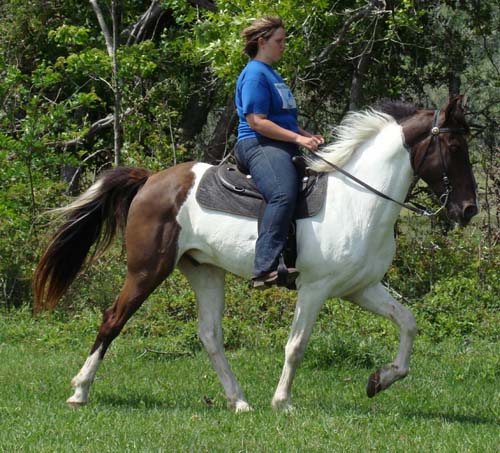 Awesome job, Myranda!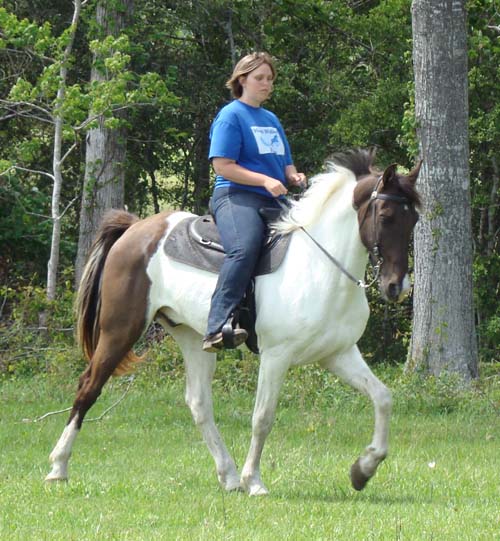 Does it ever get any prettier than this?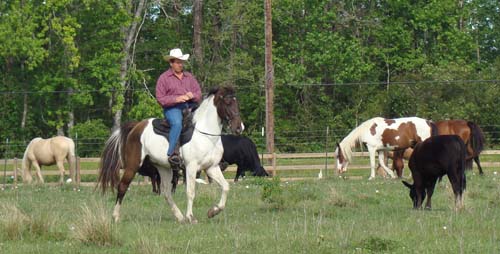 Riding in the pasture on 4/14/09.
Click on arrow ABOVE to see Shiloh's nice flat walk, and then his showy, beautiful racking gait. I don't have a video yet of his easy, athletic canter.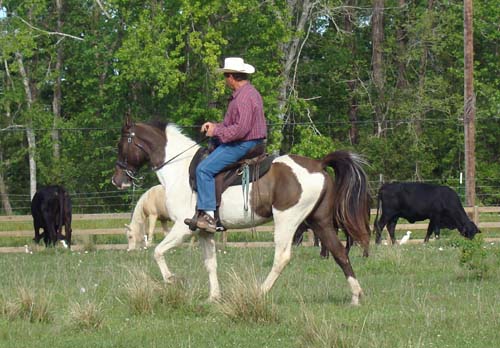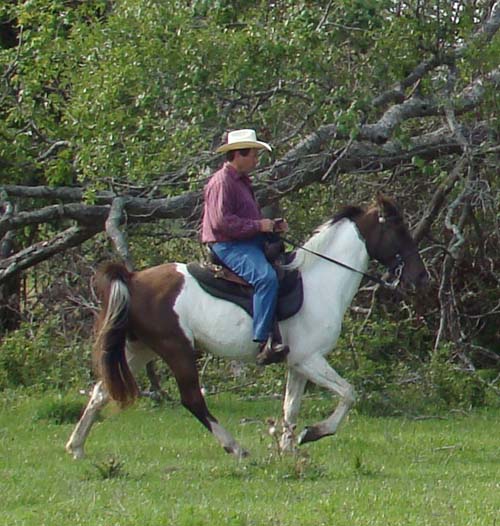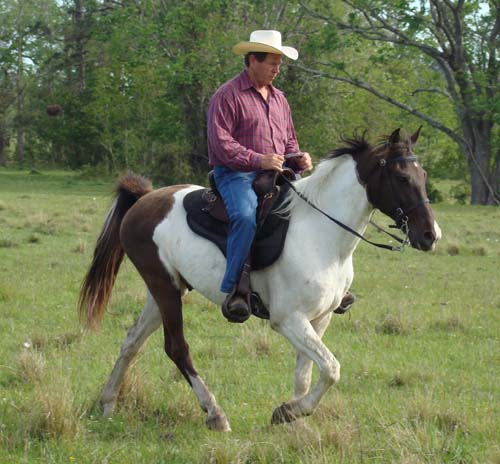 Notice this his reins are really loose -- he's pretty much automatic.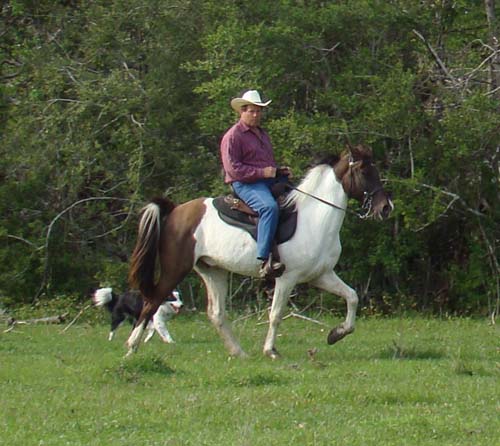 He just rolls forward, like he's on wheels, trail savvy but show ring beautiful.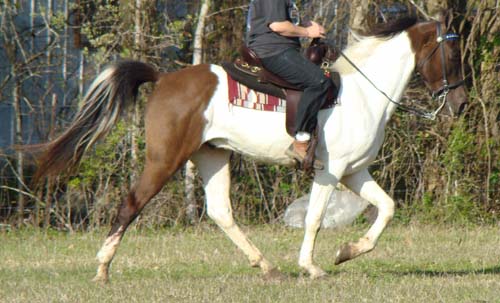 Cloud 9 Walkers
P. O. Box 878
Hardin, Texas 77561-0878
(55 minutes east of Houston)
281-726-4545
(Entire contents of this website copyrighted by Cloud 9 Walkers)

Email me!