CLOUD 9 WALKERS
"Sienna"
Gorgeous 15.3H Sorrel 4-1/2-yr-old Tennessee Walking Horse Gelding with White Mane and Tail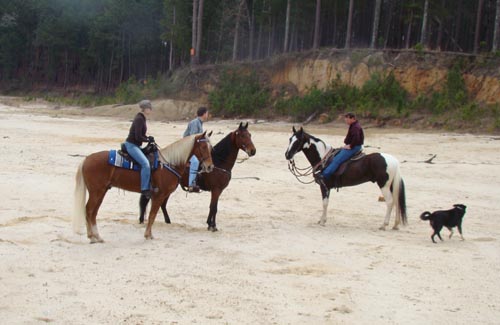 Sienna, Jeb and Mountain enjoy a rest on the beach of Lake Rayburn on Valentine's Day, 2009.
Click on arrow ABOVE to see Sienna canter/gait down the beach.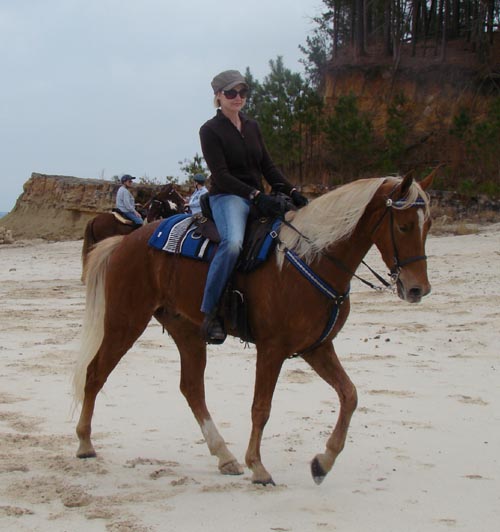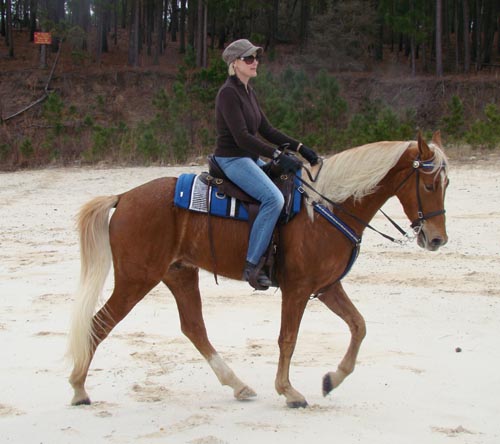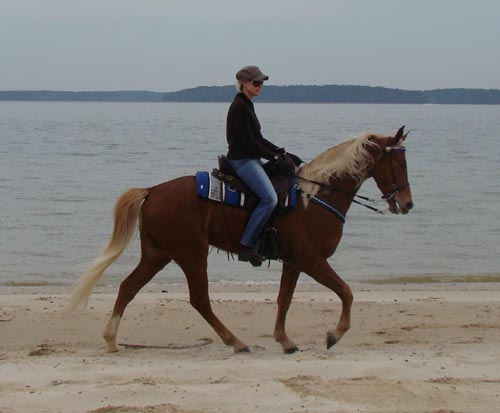 Lisa rides Sienna on the beach of Lake Sam Rayburn on Valentine's Day (2/14/09).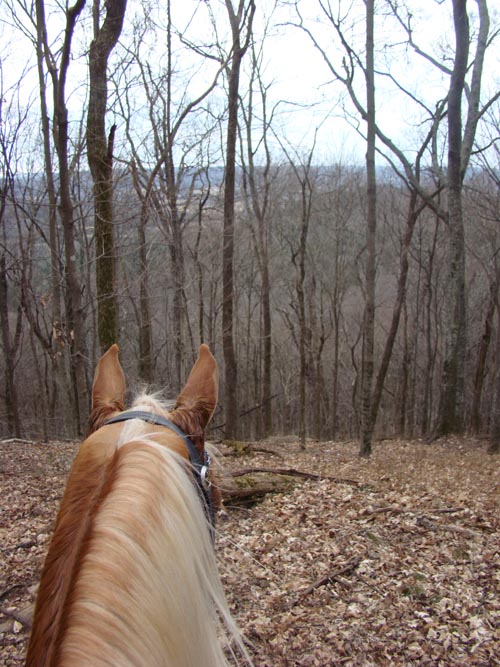 Sienna looks out at the view (on 2/8/09) after he spent 45 minutes climbing to the top of this Tennessee mountain on an incredibly steep trail.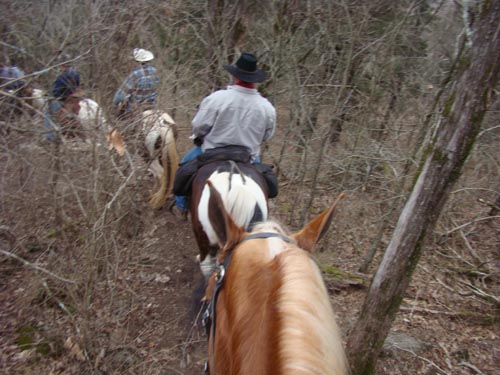 Sienna (Sienna's ears!) descending the mountain after a 20-minute rest so that all the horses can catch their wind again. (By now, you've probably figured out that I am riding Sienna!)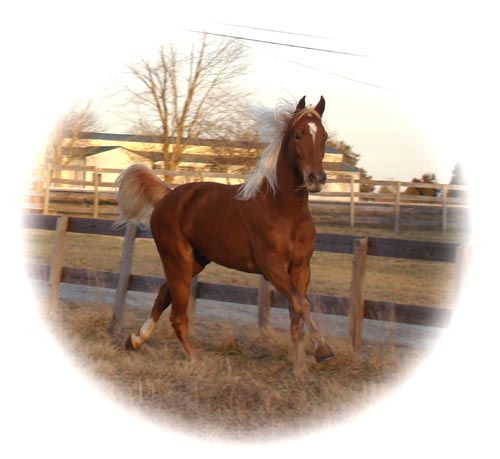 "Sienna" -- Classy, beautiful 15.3H coppery, golden sorrel with white mane and tail. Looks like he ought to be in Hollywood. Sienna is as gentle and sweet as he is beautiful. Probably anyone can ride him and feel comfortable. He has been on many trail rides, including the Shawnee National Forest, along highways, and steep, rocky trails on Tennessee mountains. He is young, but has the mind and training of an older horse -- he neck reins, side passes, backs, parks out, stands still when mounting/dismounting, he's easy to catch, loveable and affectionate, clips easily, bathes easily, loads easily, gets along well with other horses in the pasture or trailer, and best of all -- he's ALL NATURAL! Currently wearing keg shoes, but will be fine barefoot, too. $5500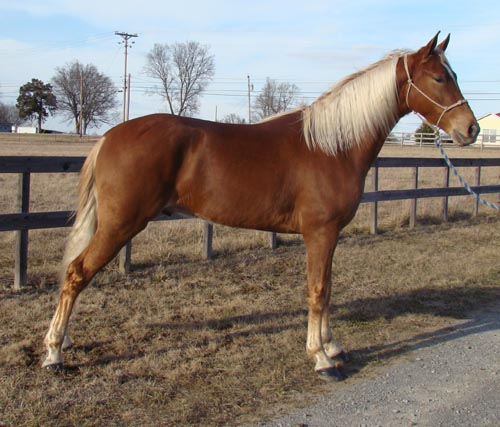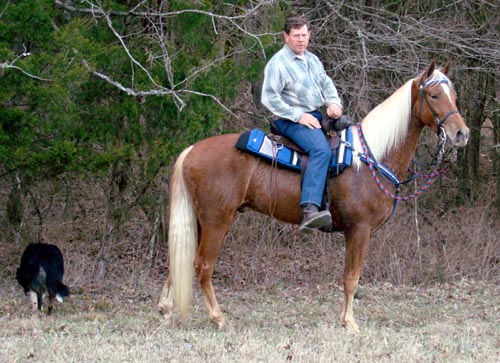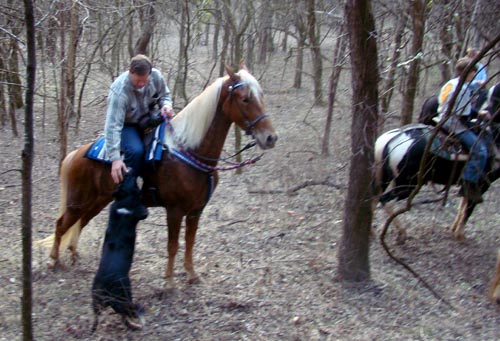 Sienna on a Tennessee mountain top on 2/8/09. Bailey (the dog) is begging for some lovin'!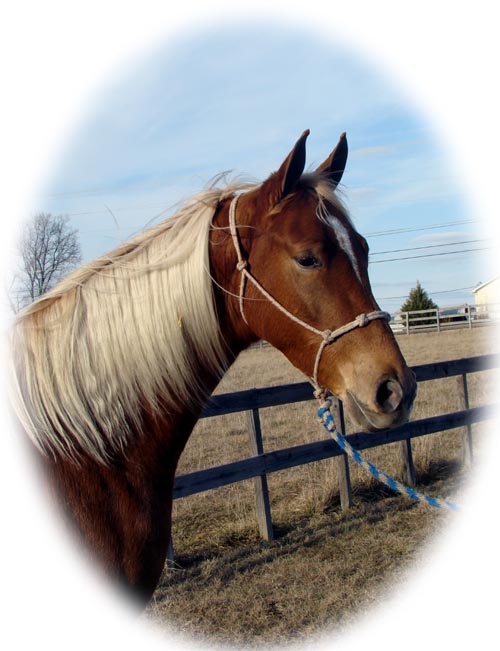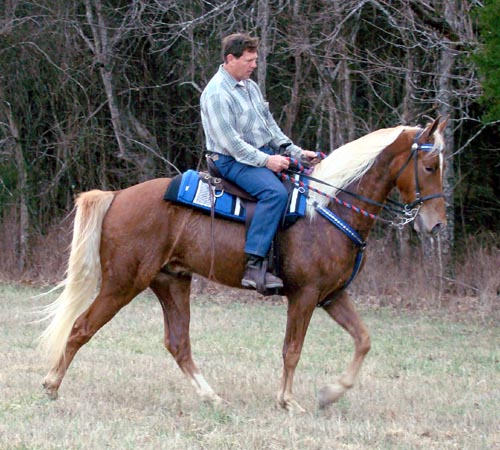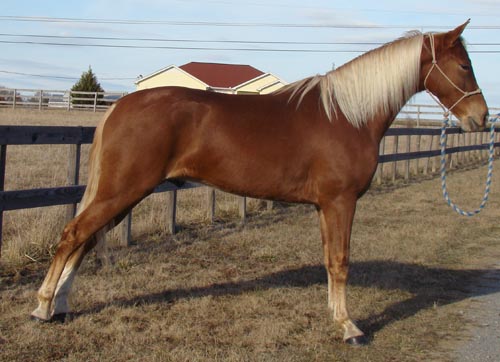 Cloud 9 Walkers
P. O. Box 878
Hardin, Texas 77561-0878
(55 minutes east of Houston)
281-726-4545
(Entire contents of this website copyrighted by Cloud 9 Walkers)

Email me!