CLOUD 9 WALKERS
The Stars At Night
(Barn Name: "Sophie")
(Tobiano Gene)
7-yr-old 15.2H Black and White Spotted Tennessee Walking Horse Mare
(Half sister to our beautiful "War Eagle")

Winner, winner, chicken dinner! Cheyenne won first place on Sophie out of 18 contestants in the Training Division, while Joy won first in the intermediate division on her horse, Nocona that she purchased from us.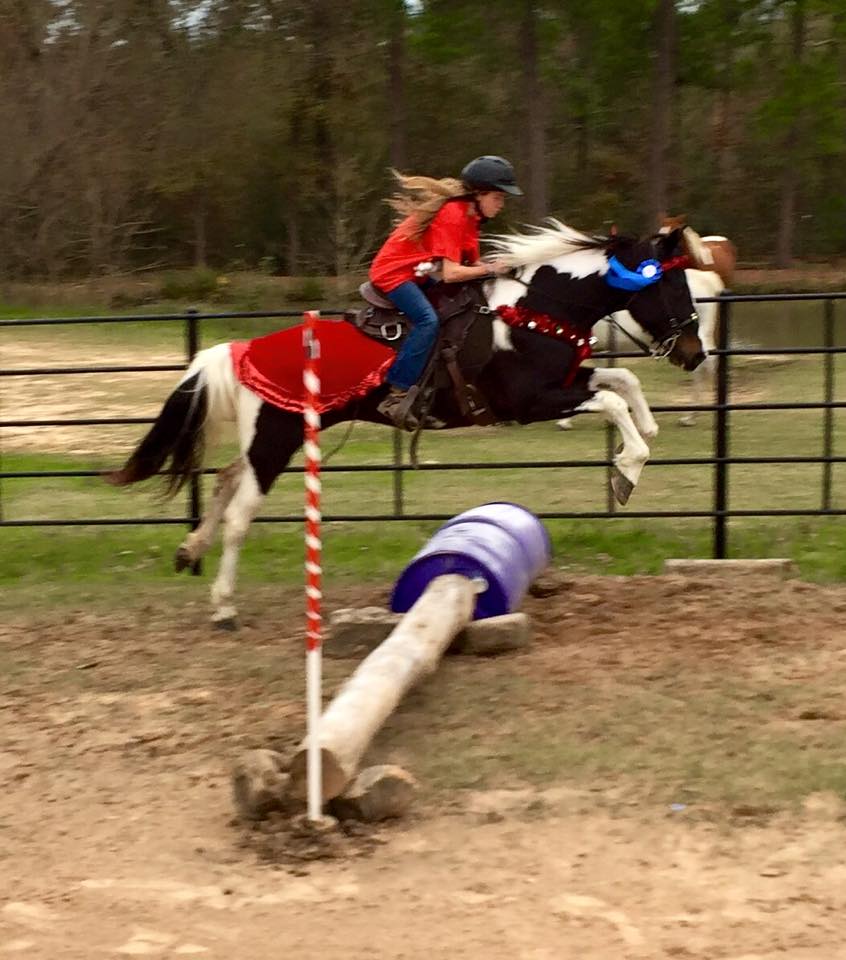 One of the obstacles in the competition. Sophie is trained to step over obstacles like these, unless you cue her to jump.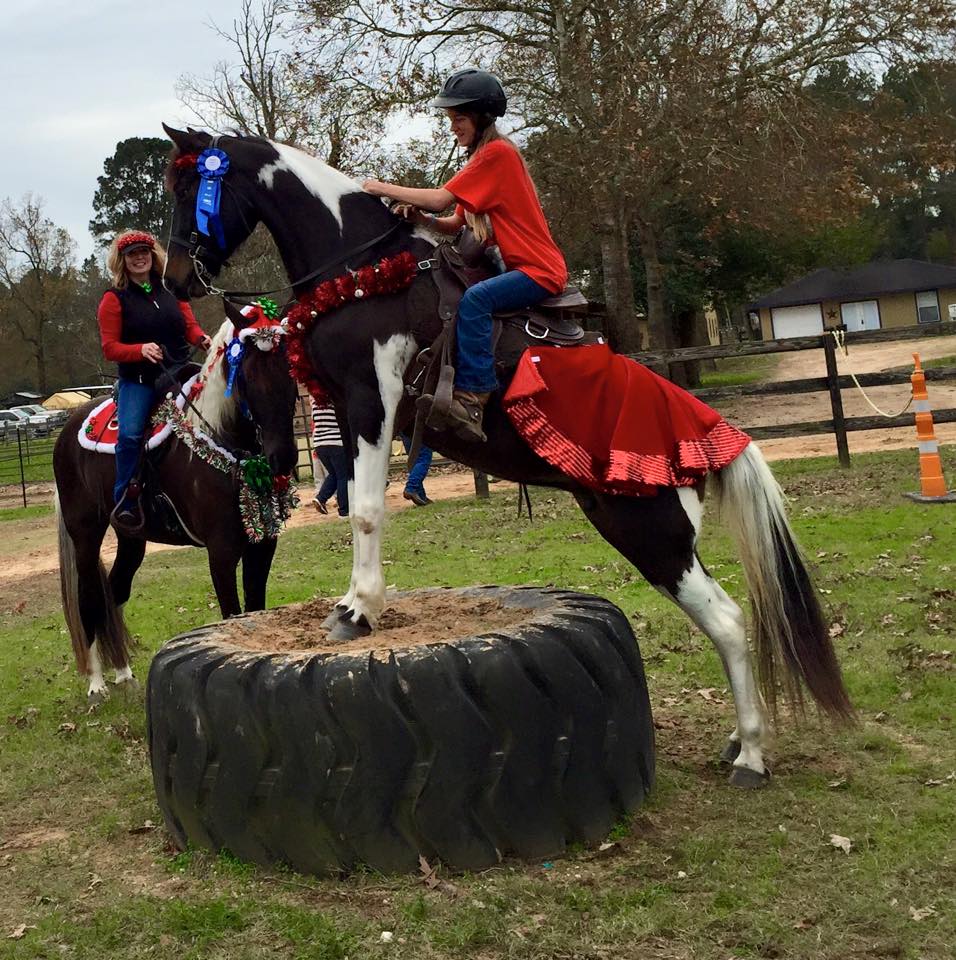 "Sophie" -- Classy, Drop Dead Gorgeous Black & White Spotted Tennessee Walking Horse with top bloodlines. Perfect age (7 years old), great size (15.2H). We raised her! We trained her, and we've hauled her across the nation, camping in Texas, Colorado, Montana, Kentucky, Tennessee, Alabama, etc., ridden her in parades, won in horse shows with her, and won at obstacle competitions with her. She has a fabulous head shaking Tennessee Walk, and will also sit up in the bridle and perform a thrilling racking gait. Her canter is the dreamiest rocking chair canter you've ever ridden. She side passes, pivots, forehand turns, backs, and most anyone would feel comforable riding her. She has miles and miles on her odometer yet is a relatively young horse (7 years old) with a lifetime to offer a family or person. We bred her to our stallion and she had a gorgeous filly, which we knew would be spotted because she is homozygous for tobiano, and we look forward to raising her filly (Salsa) and developing her into a great horse like her gorgeous mama! $9500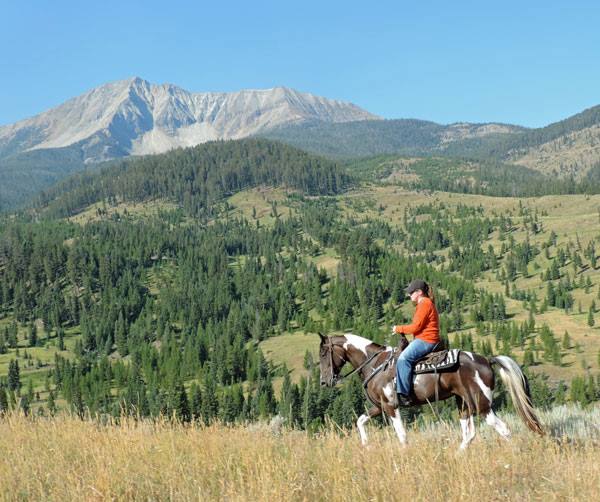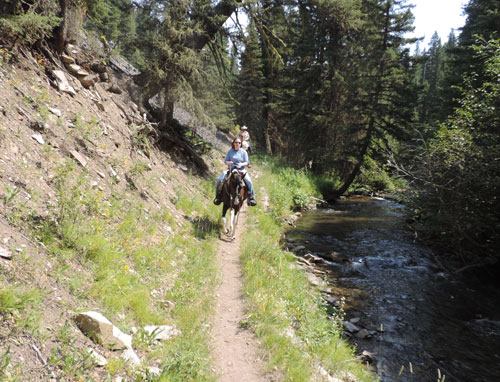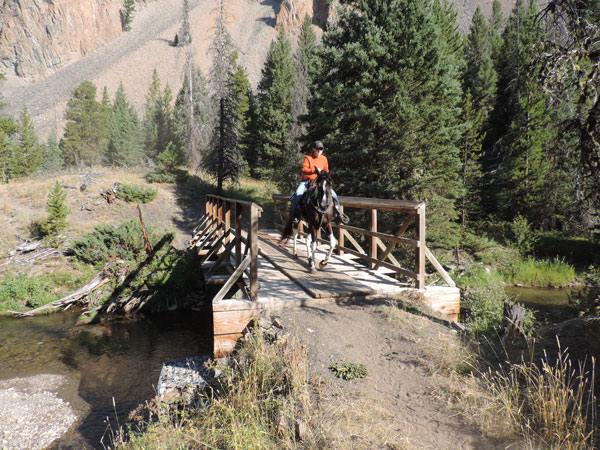 My daughter, Krystal rides Sophie in Montana during our August, 2013 camping trip.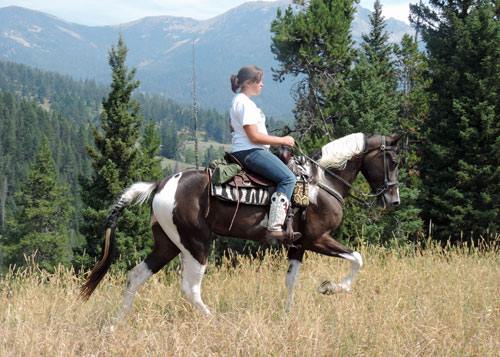 Liz rides Sophie in beautiful Montana!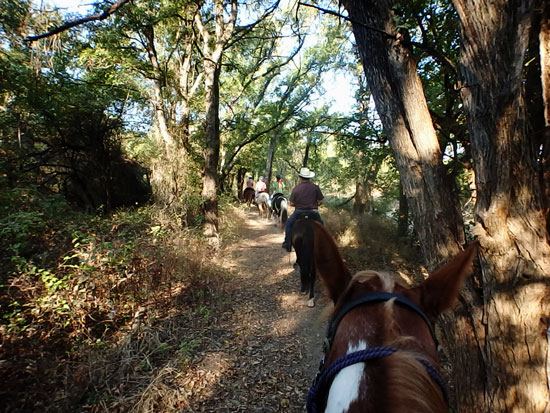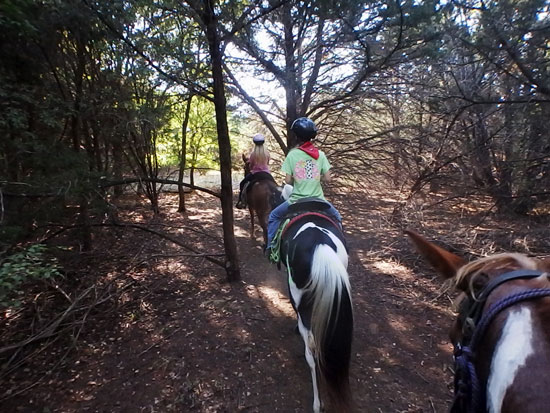 Cheyenne rides Sophie on the Gold Rush ride of the Texas Trail Challenge Club in Waco, Texas, where she won first place in the youth division. Ruth won 2nd place on our gaited mule, Jasmine.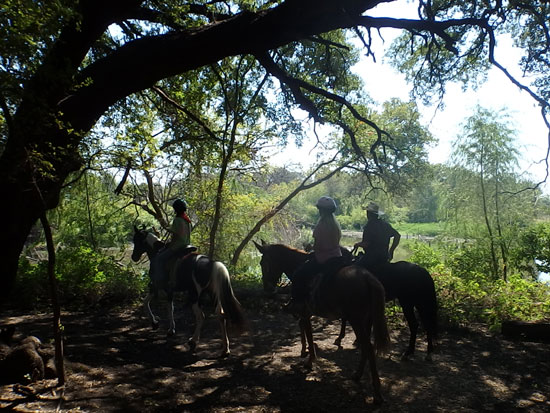 Beautiful oak trees along the trails in Waco, Texas.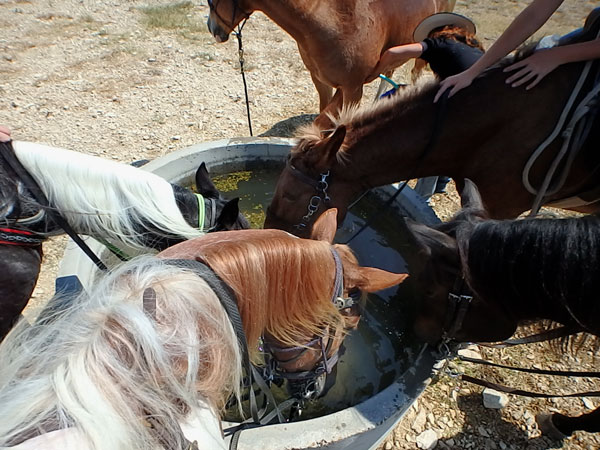 Time to hydrate after a long day of conquering obstacles in Waco, Texas.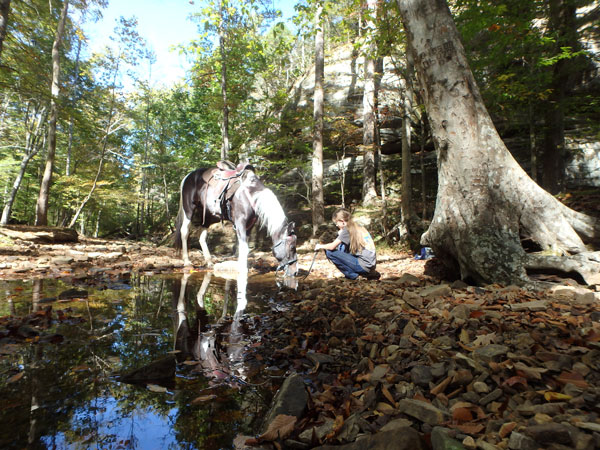 Cheyenne watering Sophie during our October, 2015 camping trip in the Shawnee National Forest, Illinois.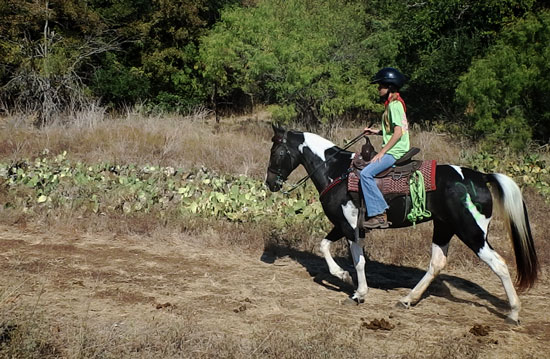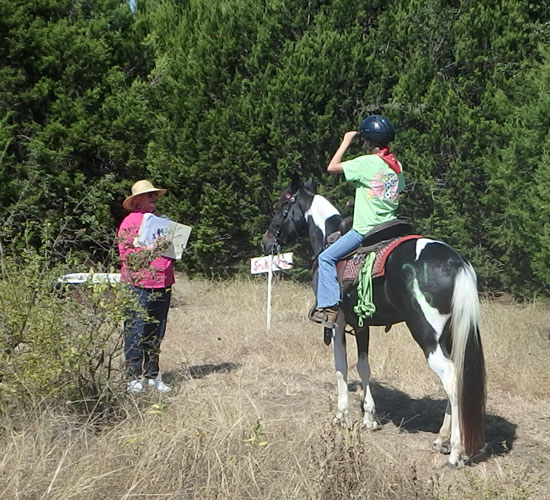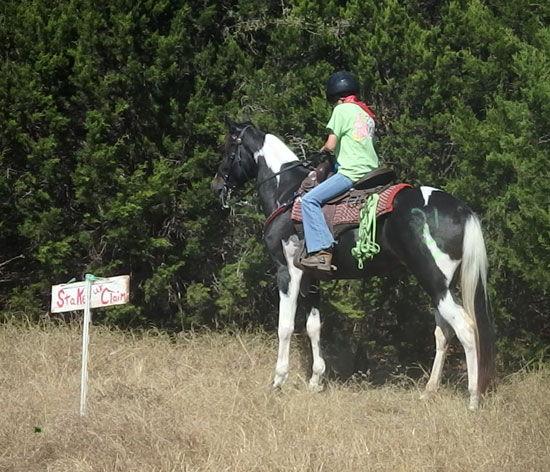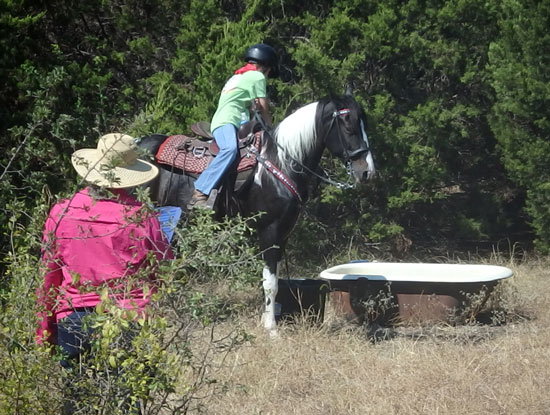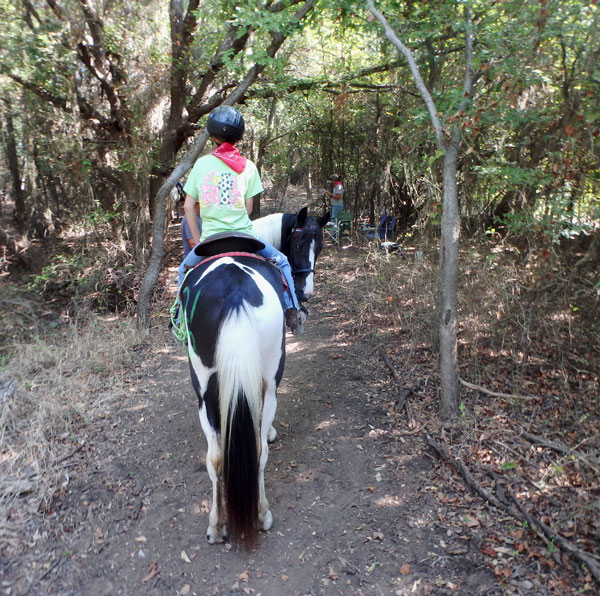 Being judged at the Waco, Texas Gold Rush (Texas Trail Challenge Club)
Click on arrow ABOVE to see several of our horses carrying the United States flag (for practice for parades, shows, desensitization, etc.).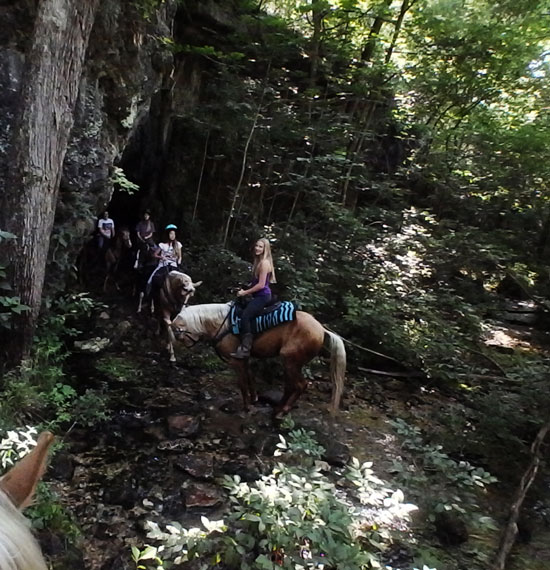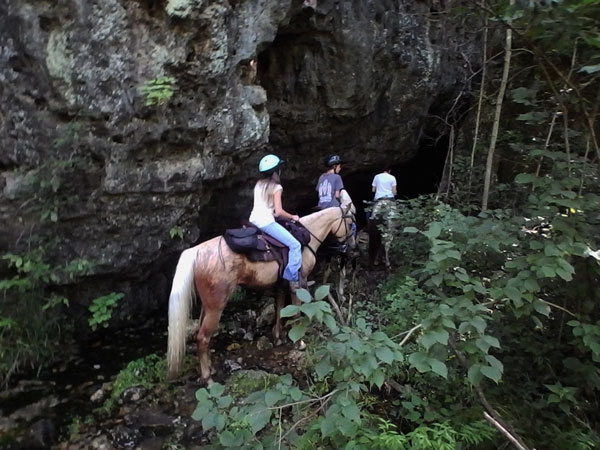 Riding into caves along the trails in the beautiful Ozarks in Missouri during our July, 2015 camping trip.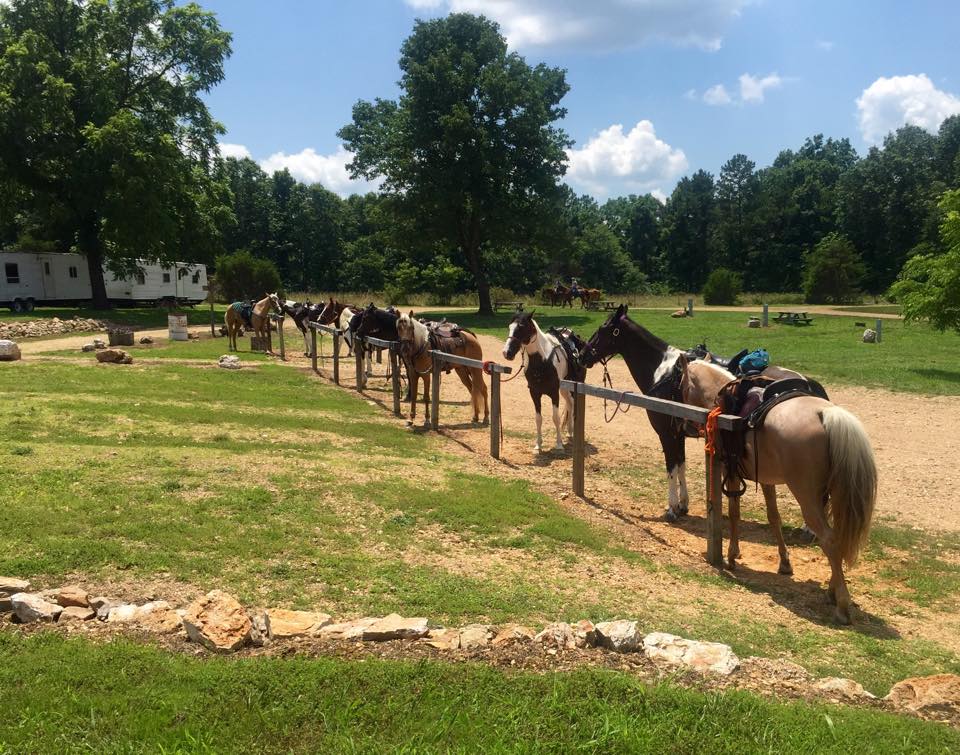 Rolex, Suzi Sophie and several other Cloud 9 Walkers horses waiting on the hitching post while we ran into the 'general store' and bought ice cream cones at Flying R Ranch near West Plains, Missouri during our July 4th camping trip.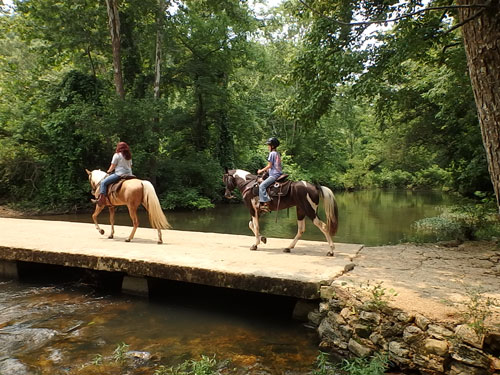 Liz rides Suzi and Cheyenne rides Sophie across a concrete bridge on a river in the Missouri Ozarks in July, 2015.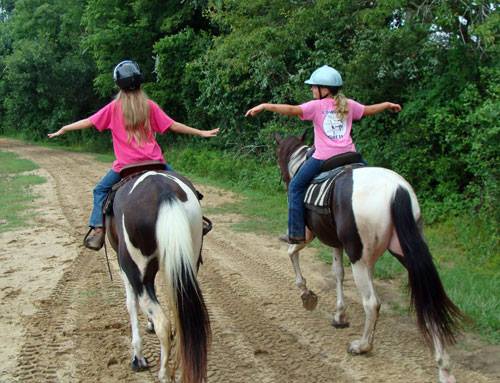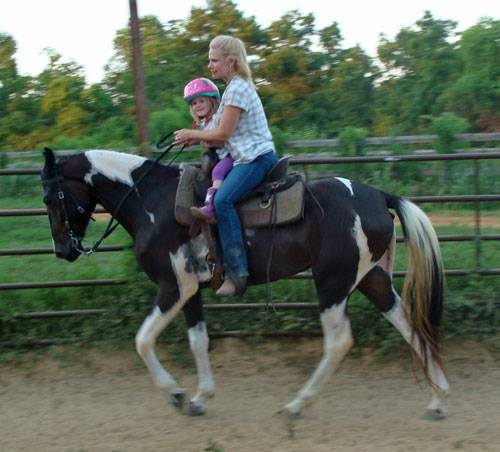 Playing around on Sophie!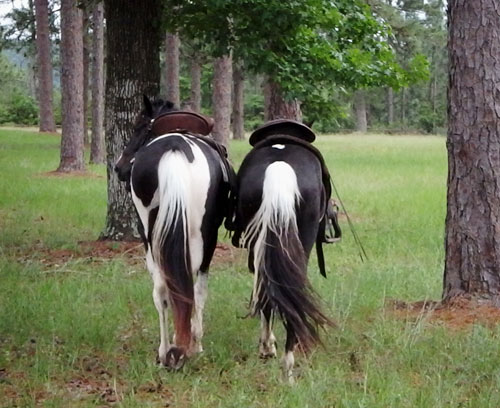 Angelina National Forest, Texas.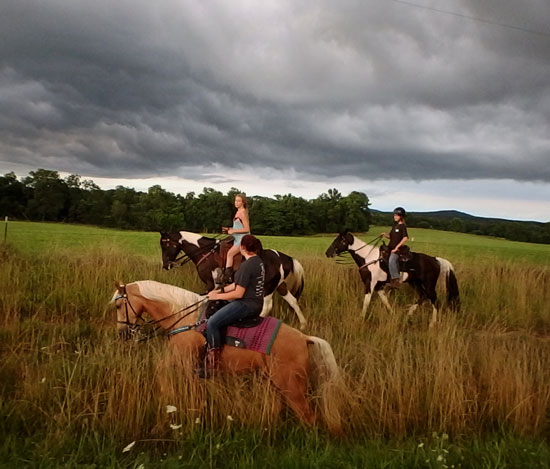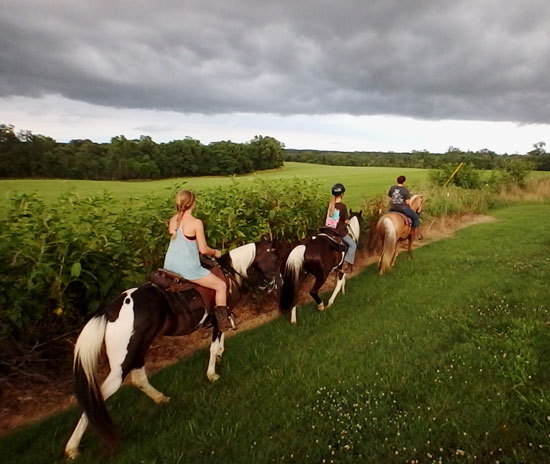 Beautiful stormy day in Missouri.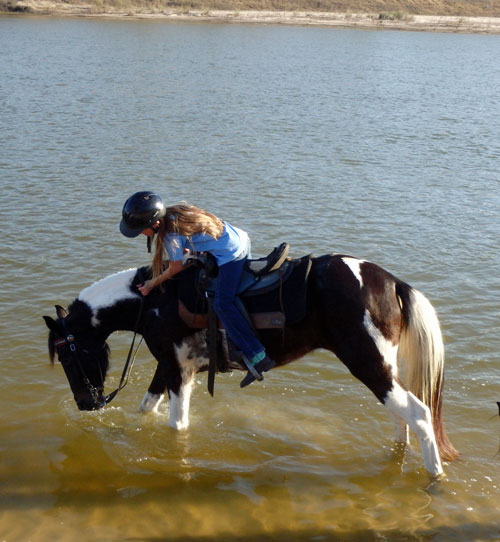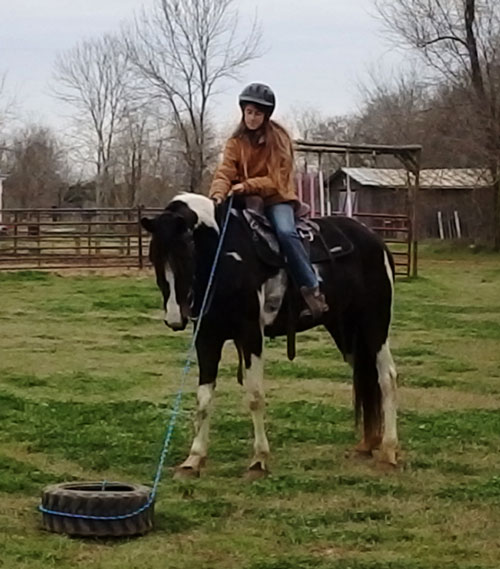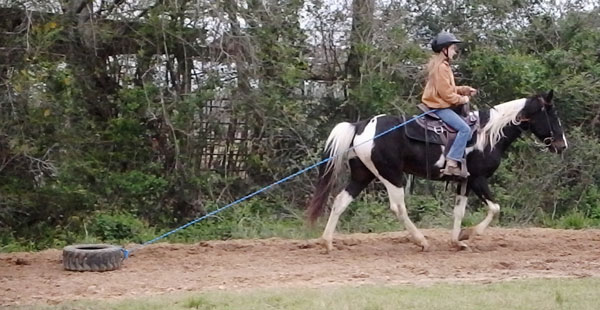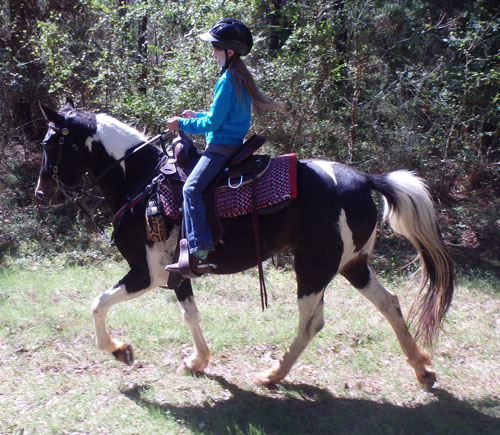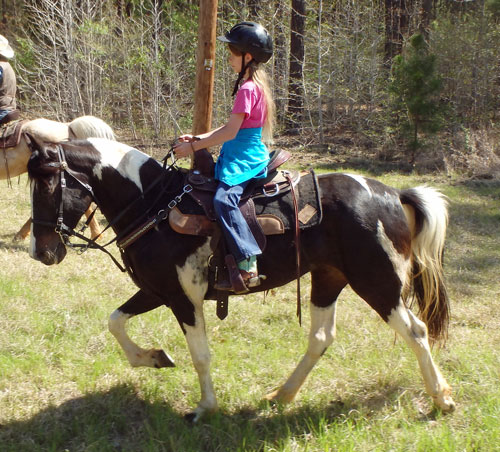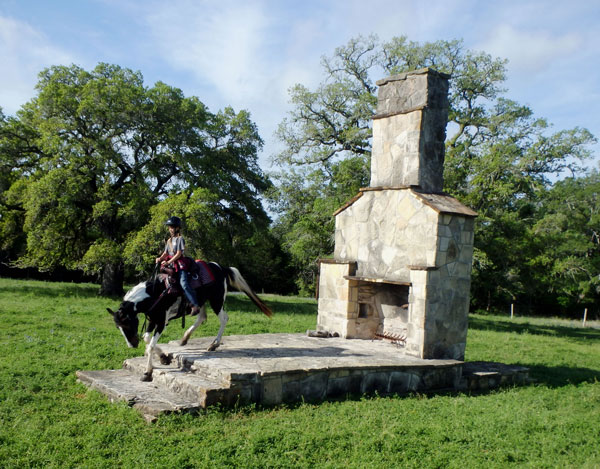 The fireplace obstacle along the trails during our camping trip in Brenham, Texas.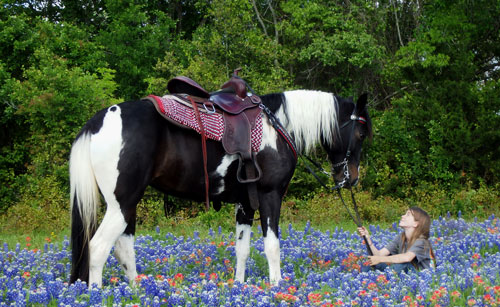 Brenham, Texas bluebonnets!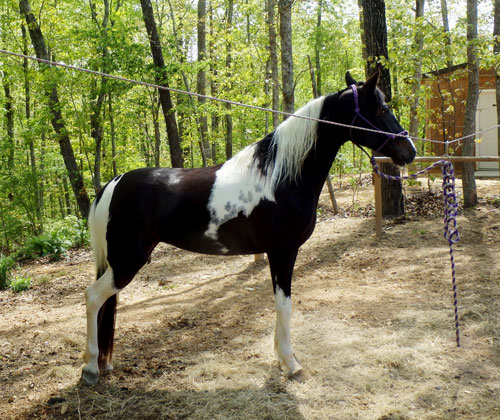 Hi-line during our Rock Bridge Canyon (Alabama) camping trip, April of 2014.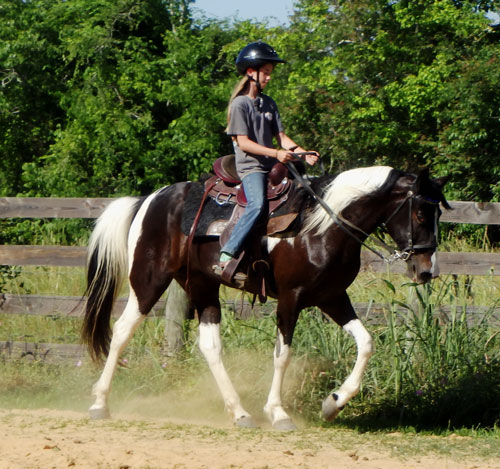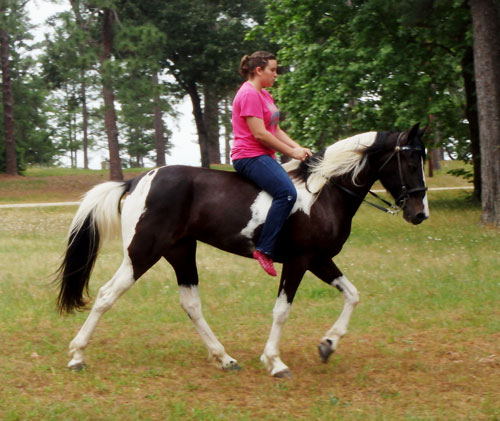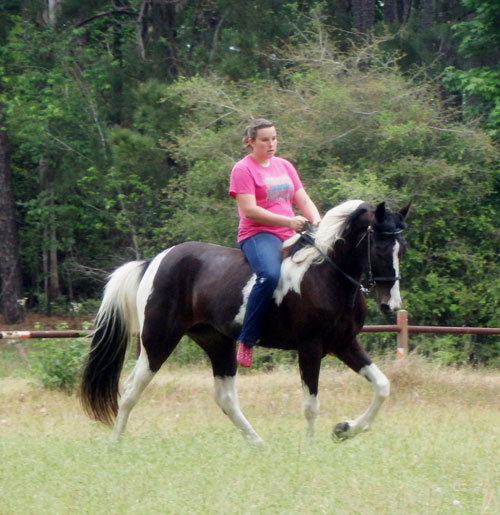 Liz riding Sophie during our Lake Rayburn, Texas camping trip in May, 2014.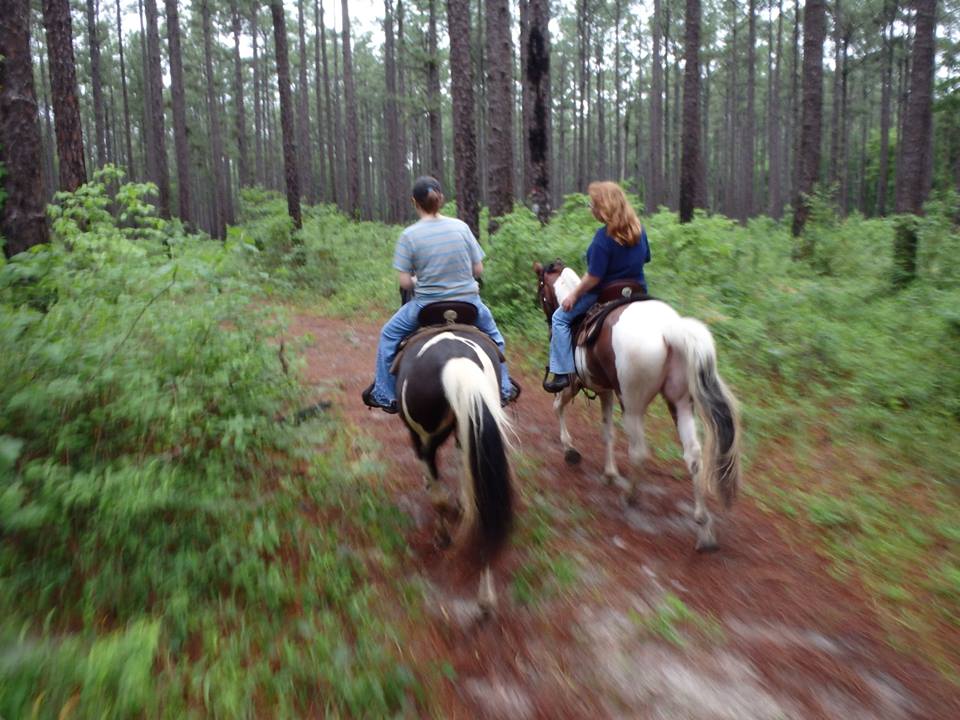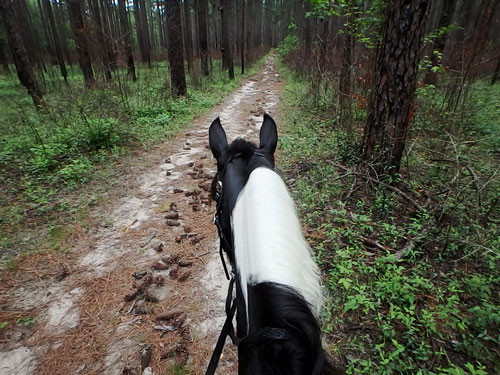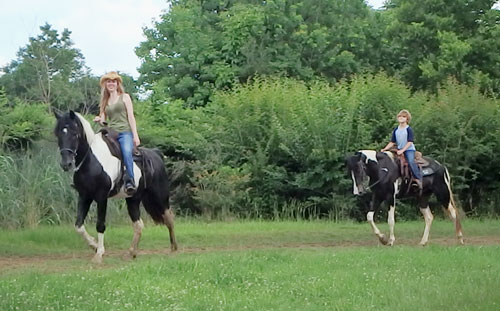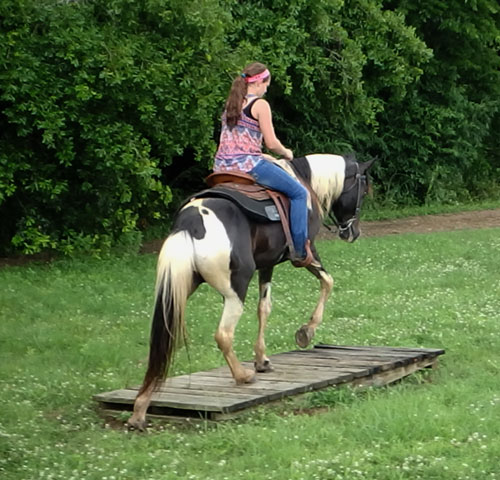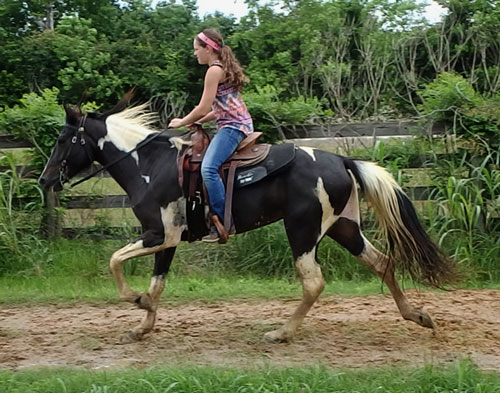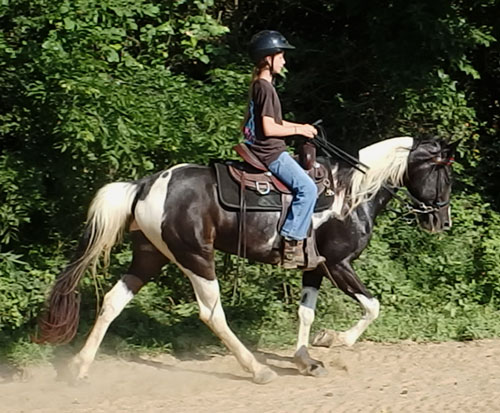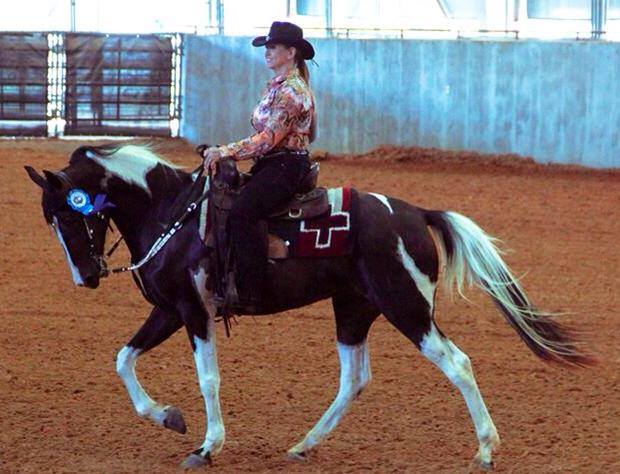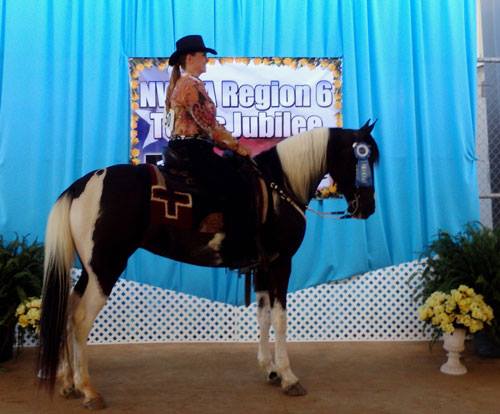 Becky making her victory pass at the NWHA Texas Jubilee in June, 2014.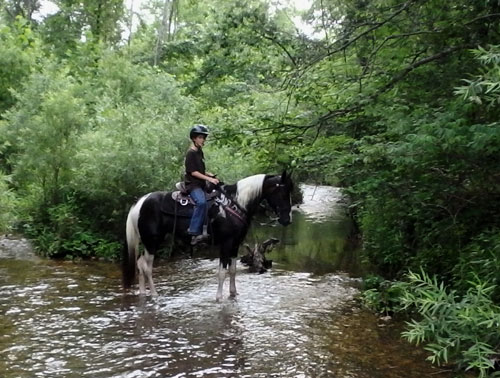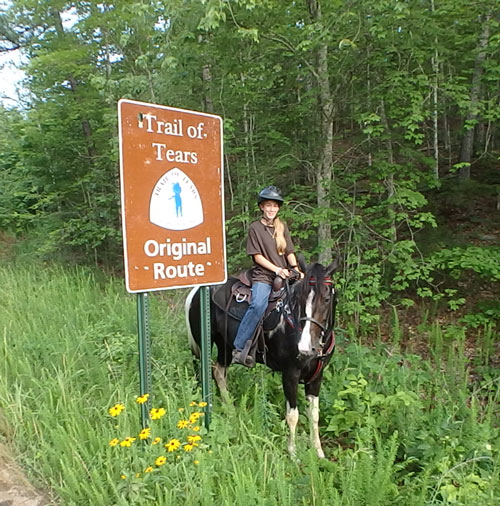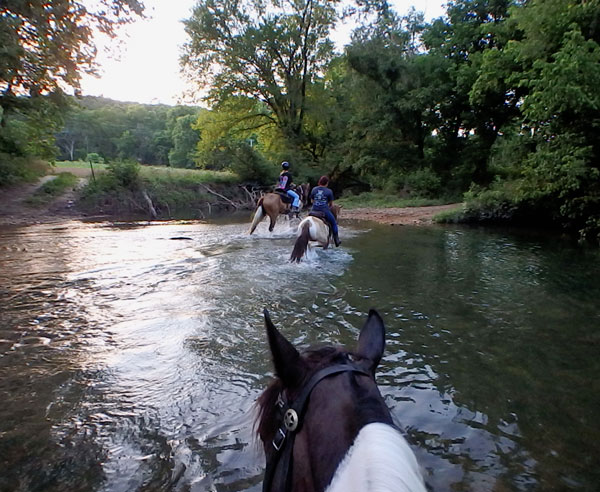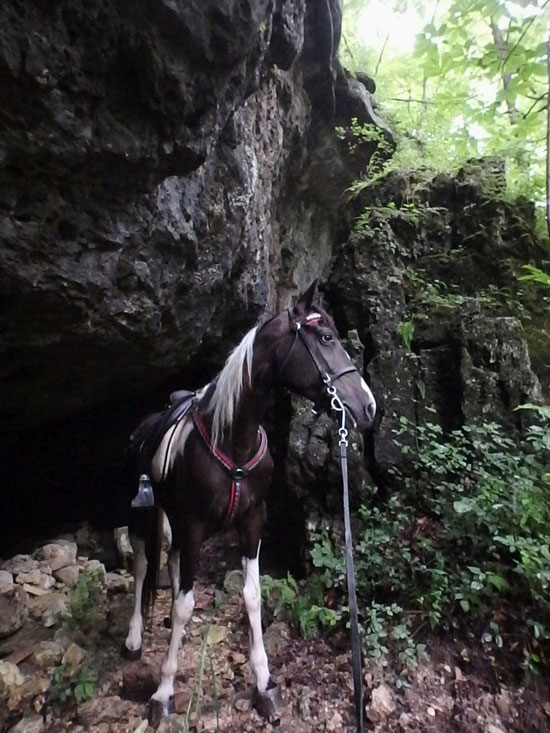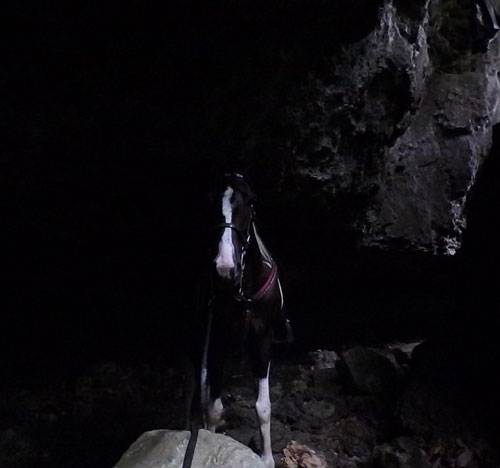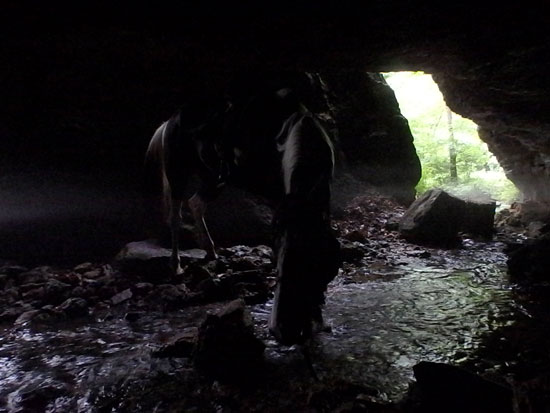 Our Missouri camping trip, 2015!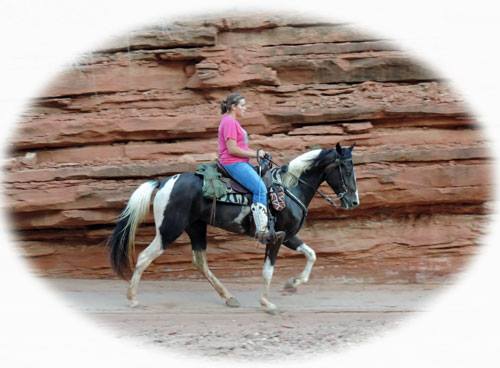 Liz riding Sophie at Pole Canyon Ranch in Quitaque, Texas during our August, 2013 camping trip on the way home from Montana.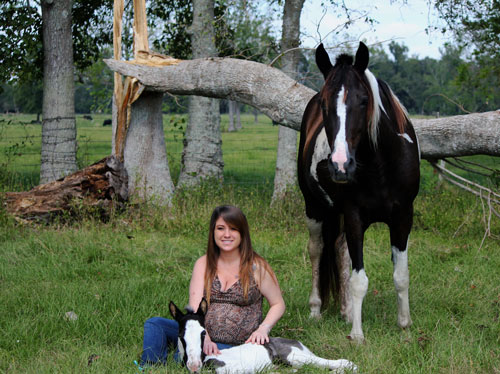 Prenatal pics for Sharla, postnatal pics for Sophie!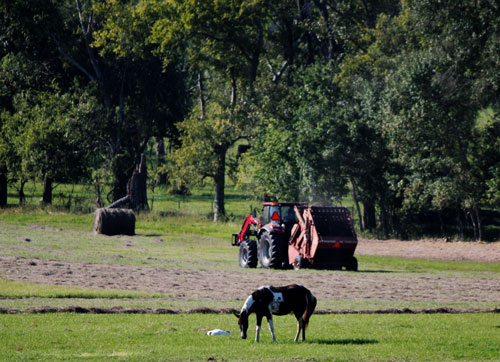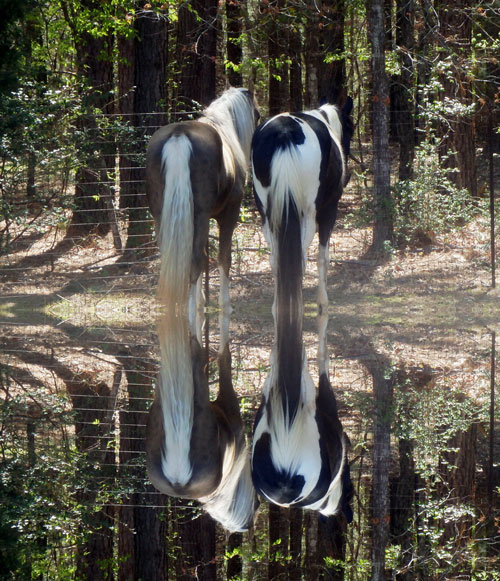 Diamond Dak and his 'wife', Sophie hang out after a long day of riding during our camping trip in Nacogdoches in March, 2014.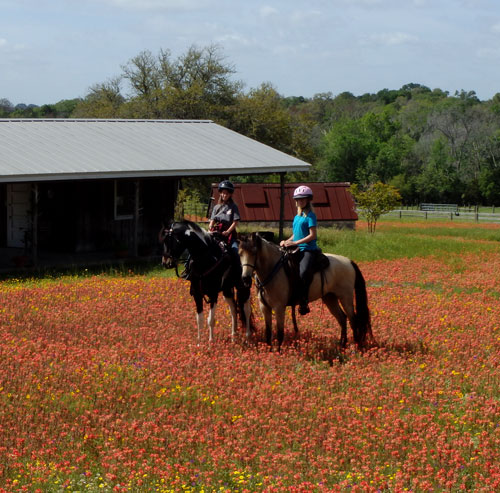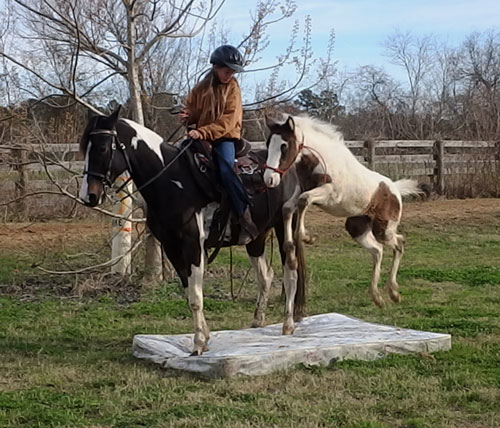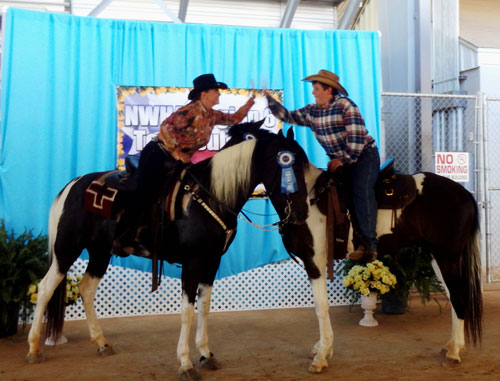 Click on embedded arrow ABOVE to see Sophie winning her blue ribbon in the Spotted Saddle Horse Pleasure class at the Texas Jubilee in March, 2015.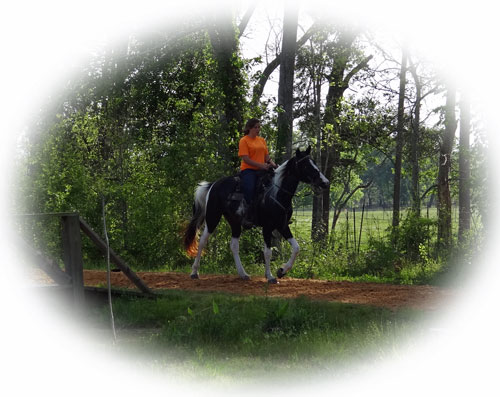 Beautiful, sweet, sweet, sweet, and smooth as she is sweet.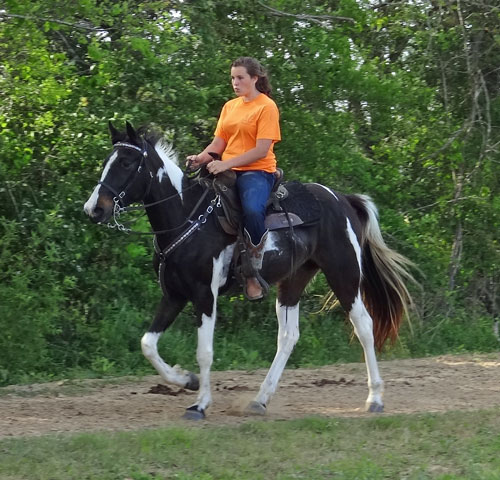 Liz rides Sophie on 4/6/13.

I broke Sophie when she was 3 years old, and then turned her out to pasture for a year. The very first time I saddled her, she remembered everything I had taught her, and I didn't even round pen or lunge her first -- just saddled her and took off. Here, she is remembering her log lesson -- we love train our horses to step over a log and stand quietly while we mount up, from either side.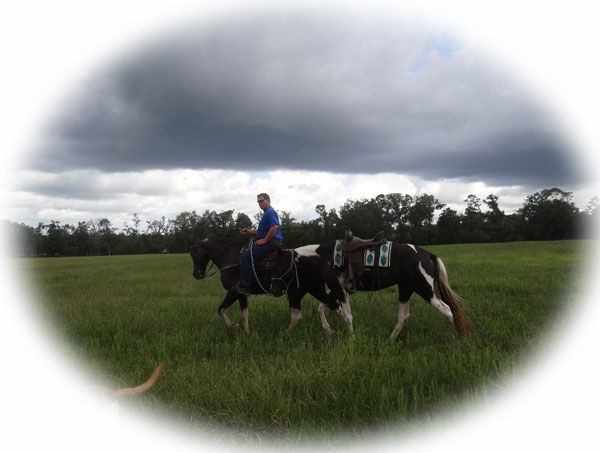 Huey rides Kodak for me so that I can get a picture of him ponying Sophie on 9/12/12. Is that the most beautiful thundercloud in the background or what? Of course, the moment I switched to video mode, the heavens opened up and we had to head for the barn.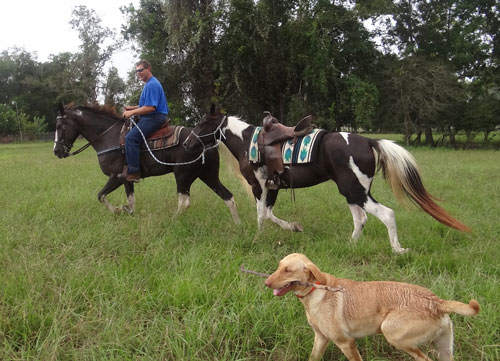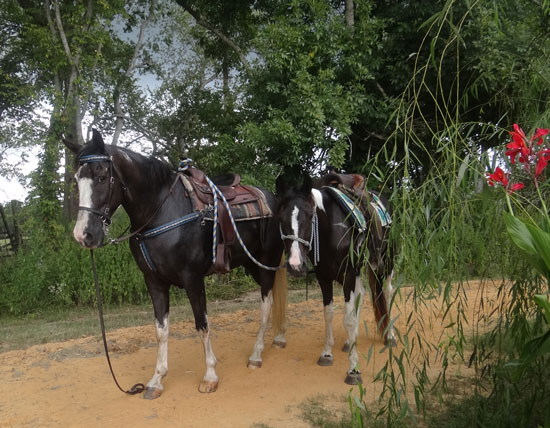 Whole lotta lessons goin' on right here! Kodak is learning to be ground tied. (He already knows this, but I am actually tuning him up.) One rein is on the horn in case he gets tempted by green grass nearby. The other rein is on the ground, acting as his cue to "stay" (and I do use that verbal command, just like a dog). He is also learning to pony a horse, tolerate a horse 'up in his personal space'. Then, Sophie is learning to ground tie as well, and also to be ponied, quietly, give to the rope and 'earn slack'. She is learning to tolerate things looming overhead. Both are learning that they have to work even when there is electricity in the air (see black storms clouds in the distance behind them). And the last lesson is for me . . . take time to smell the Canna Lilly blooms!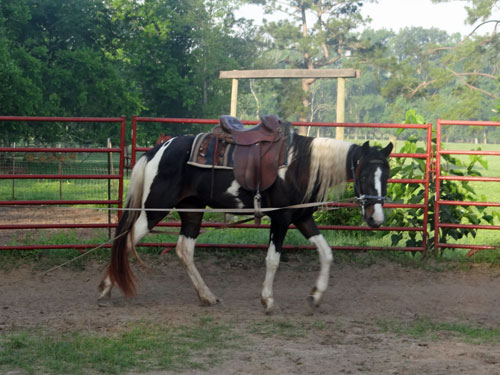 "Mom, I didn't WANT to go to school! I thought you loved me!" Sophie learns to ground drive, wear the saddle and feel the bit in her mouth, while being driven with long lines attached to only the halter. She is learning to turn, halt, back, stand quietly, all before anyone ever rides her for the first time. She was 3 years old and just started her saddle training. She is a half sister to our beautiful "War Eagle" and she is homozygous for tobiano so you could breed her to anything you want and get a spotted baby. (This picture taken 8am on 4/10/12.)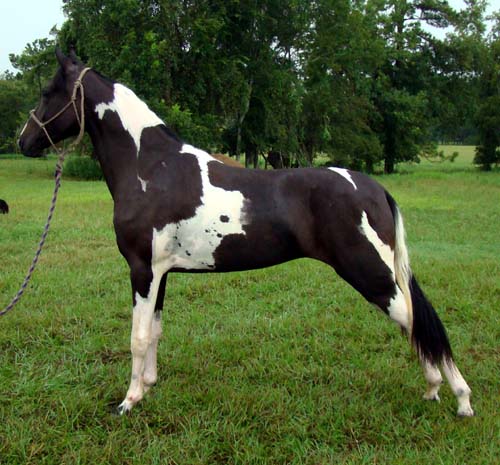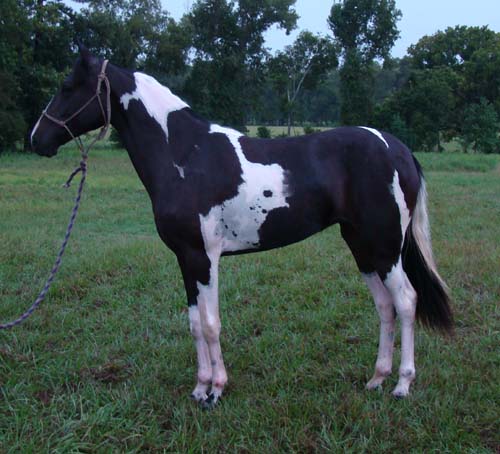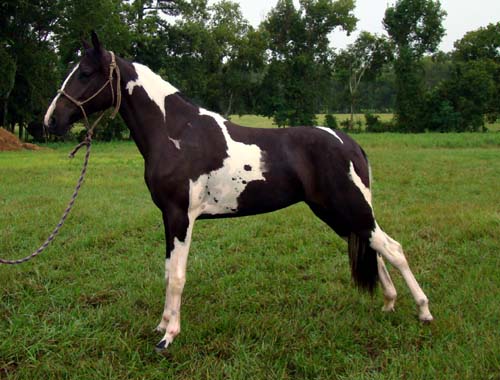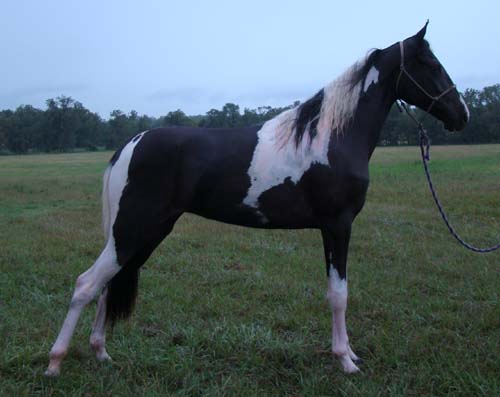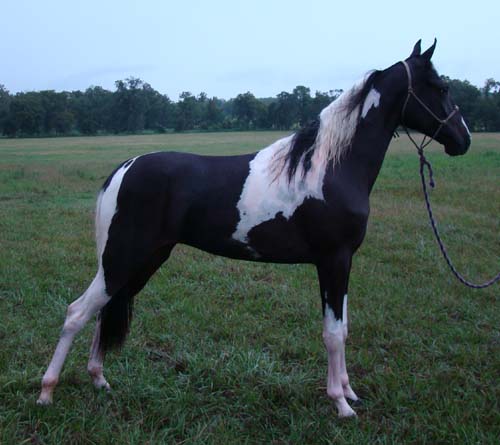 |---
SHADOWS SPOTTED ALEN
|---
REED'S SHADOW MAN
6510512
AR
|---
ALEN'S SHADOWMAN
---|
816738
BA-TO
---|---
MIDNIGHT CURLEE "P"
651757
YL
|
918130
BA-TO
|
|---
SHADOW'S SUE WINSTON
|---
SHADOWS SPOTTED ALEN
816738
BA-TO
ALEN'S CAPER
875511
BA-TO
---|---
SUE WINSTON
657815
SR
961506
BL-TO
|
|
|---
BUM'S DARK WARRIOR
|---
DELIGHT BUMIN AROUND
681087
* BL
|
|---
BUM'S DARK LADY
---|
791735
BL
---|---
DIAMOND LIL S.
732364
BL
|
890887
BL-TO
|
|---
SHADOWS SPOTTED LADY
|---
SHADOWS SPOTTED ALEN
816738
BA-TO
"THE STARS AT NIGHT"
845487
BL-TO
---|---
CINDY'S SENSATION
784371
BA
20904756
BL-TO
|
|---
EVIL'S STUNTMAN
|---
SUN'S EVIL BOY
796601
SO-TO
|
|---
EVIL'S KNIGHT SPIRIT
---|
892182
BL-TO
---|---
CAT'S LADY ANNE
718005
BL
|
|
966003
BL-TO
|
|
|
|---
BIG BLAZE PARADER
|---
DUSTY BLACK PARADER
690611
BL
SALT & PEPPER SOPHIE
803271
BR
---|---
SPIRIT'S BIG BLAZE
735051
BL
19900697
BL-TO
|
|---
EB'S SUPER MAC
|---
EBONY'S BETA MAX
816899
BL-TO
|---
EB'S SATIN & LACE
---|
885776
BL-TO
---|---
YUM YUM
763019
RN
944732
BL-TO
|
|---
MR. EB'S EBONY ANN
|---
PRIDE'S MR. EBONY
740762
BL
896536
BL
---|---
EBONY'S BLACK ANGEL G
725019
BL
*-World Grand Champion
\


Cloud 9 Walkers
P. O. Box 878
Hardin, Texas 77561-0878
(55 minutes east of Houston)
281-726-4545
(Entire contents of this website copyrighted by Cloud 9 Walkers)

Email me!