CLOUD 9 WALKERS
"Steel Magnolia"
Beautiful Unusual Dappled Grey/White Tobiano Spotted
5-yr-old Tennessee Walking Horse Mare with Silver Mane and White Tail
(Registered SSHBEA only)
Doing it all BAREFOOT!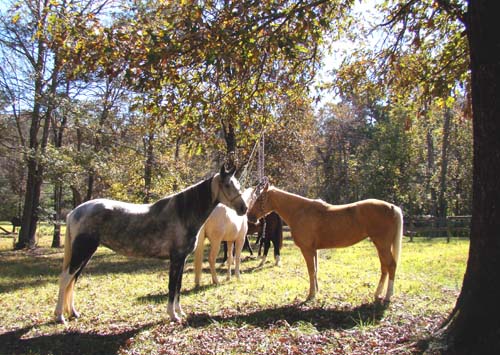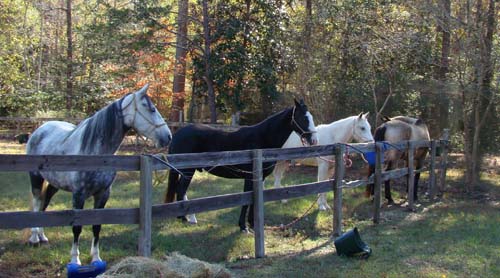 Steel Magnolia staked out on a picket line at left, and stands tied to eat her grain at right, on a recent camping trip on 11/15/08.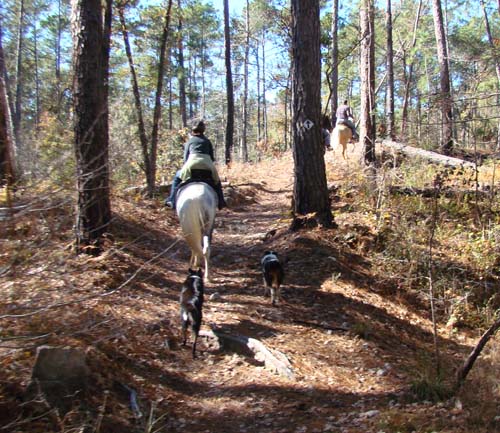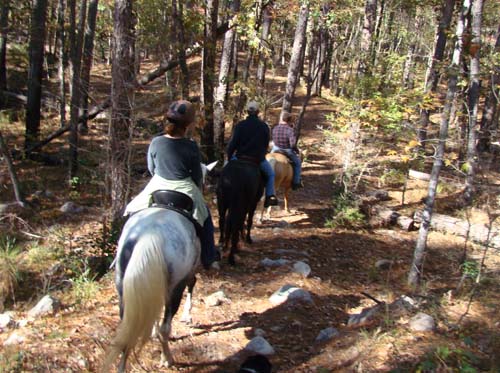 LEFT: Going up, up, up (followed by Bailey and Tex); RIGHT: Going down, down, down, slowly and surely (and barefoot!), Pippin rides Steel Magnolia on the trails in the Angelina Forest on 11/15/08, led by Huey on Rosie, and Jim on Star.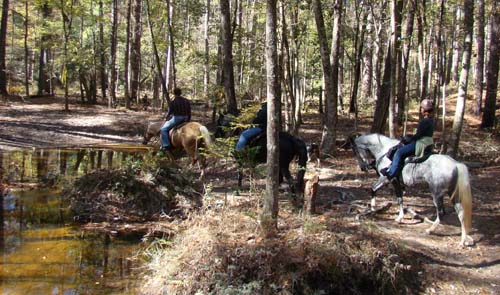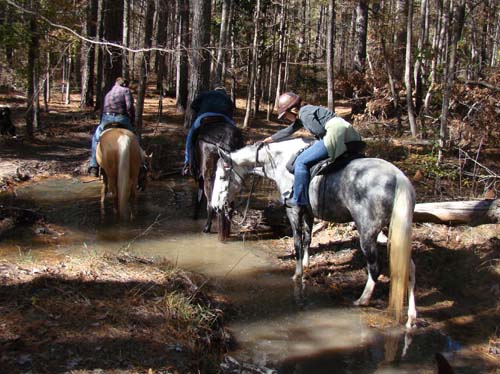 We have to cross lots of creeks, and we always hydrate along the way.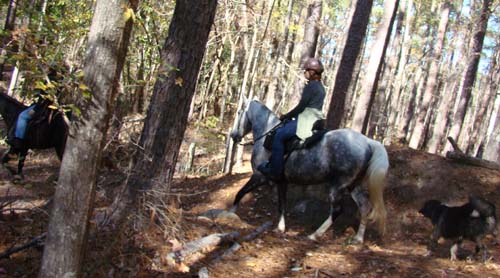 Bailey (the Border Collie/Golden Retriever cross) follows Steel Magnolia and Pippin closely!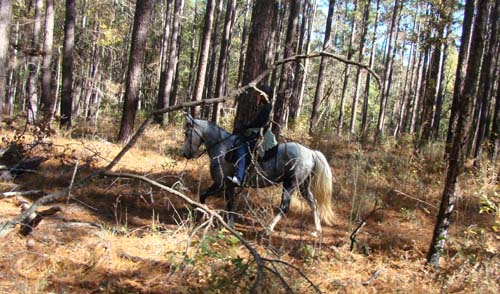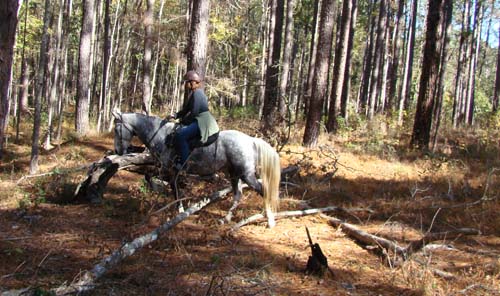 Lots of hurricane debris left over from Hurricane Ike, and this is just a baby obstacle, one of the smaller ones we had to negotiate. GREAT training for the trail horses!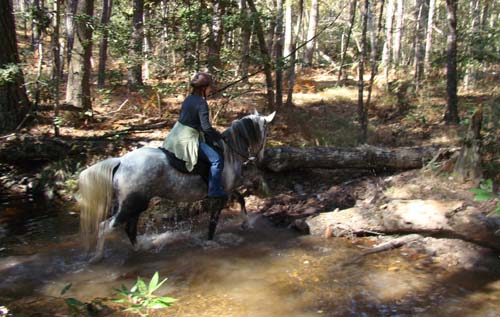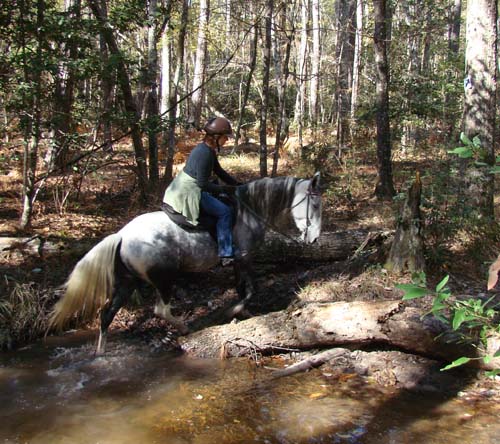 Pippin and Steel Magnolia look like an expert team on a competitive ride as they negotiate more hurricane debris in the creek.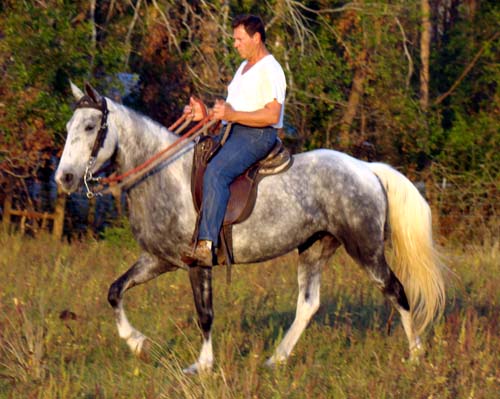 Click on arrow ABOVE to see this beautiful mare's smoooooooth gait!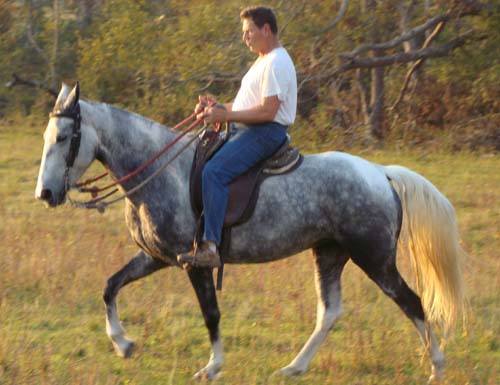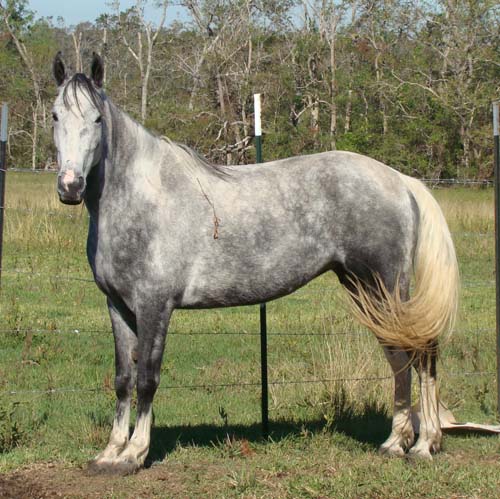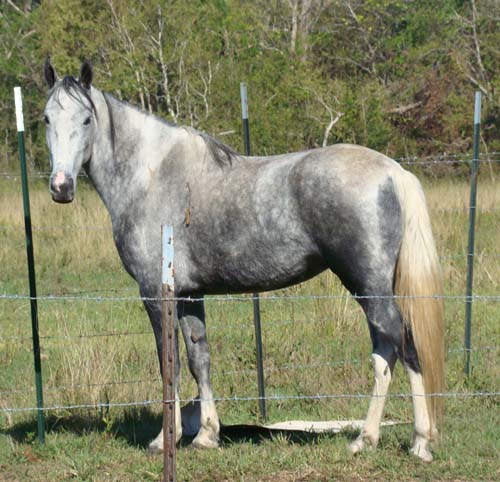 "Steel Magnolia" -- Born 7-20-2003 by "Pumpin' Iron", (a direct son of Iron Works (Ebony Masterpiece and Delight Bumin' Around and out of a Hytone's Delight mare), and her dam is a direct daughter of the beautiful Eb's Super Mac. This mare is 5-1/2 years old with a beautiful unusual color and pattern to her -- she is grey and white spotted with dapples in the grey area, a long silver mane and a long white tail, set off by four white stockings. She is probably gentle for anyone to ride, a confidence builder, and she's built stocky with a nice wide chest and big hindquarters. This pretty Spotted Saddle Horse mare is registered SSHBEA only, and she stands about 15H with a 4-beat gait that is as smooth as glass. $3500


Email me!