CLOUD 9 WALKERS
"Strawberry Sundae"
5-yr-old Handsome Strawberry Roan 15H Tennessee Walking Horse Gelding
Click on embedded arrow ABOVE to see Becky riding Strawberry Sundae on 3/23/10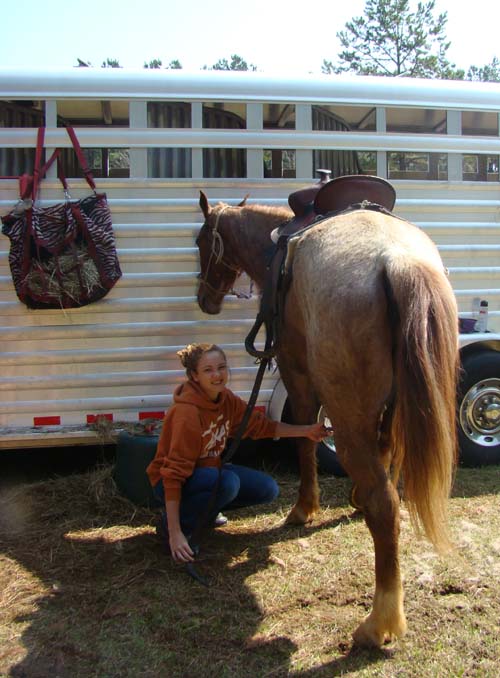 Madysen tacks up Strawberry Sundae on our camping trip the week of 3/15/10.
Click on embedded arrow ABOVE to see Hannah riding Strawberry Sundae during our East Texas camping trip the week of 3/15/10.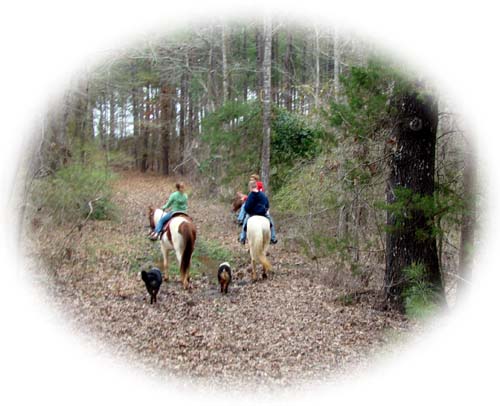 Doesn't look like it because they didn't change clothes, but this is the kids riding Lad, Powder and Strawberry Sundae on 3/16/10 with Bailey and Sadie following closely. They are crossing a small creek here.
Click on embedded arrow ABOVE to see our fun times with Strawberry Sundae on our camping trip the week of 3/15/10.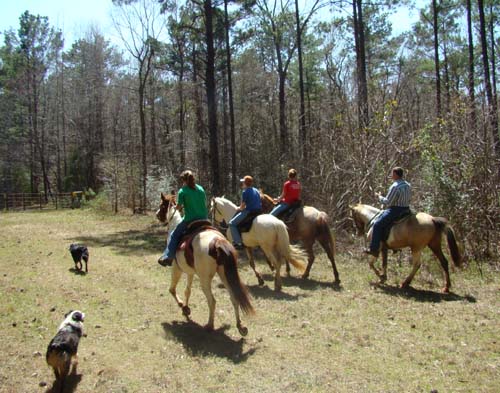 Cute little Christian a/k/a "Peanut" rides Lad while Cody rides Powder, Madison rides Strawberry Sundae along with Grandpa Huey riding Gingersnap on 3/15/10 on our camping trip in Nacogdoches, Texas. These kids are all 12-yr-old cousins/friends.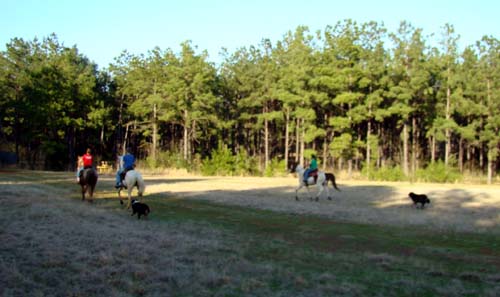 A fantasy childhood for these kids!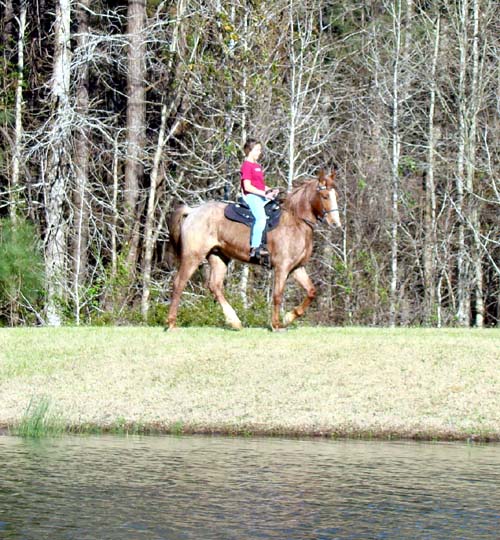 Hannah rides Strawberry Sundae on a camping trip the weekend of 3/14/10 in Nacogdoches, Texas.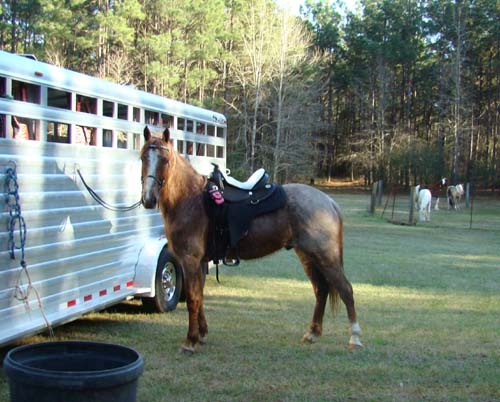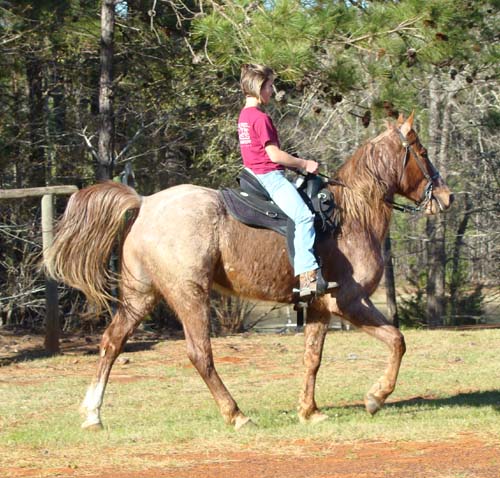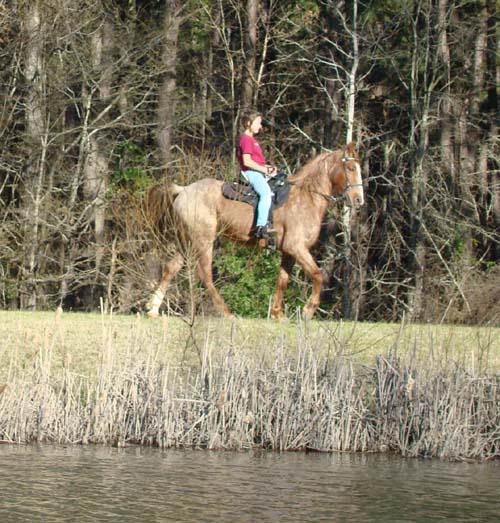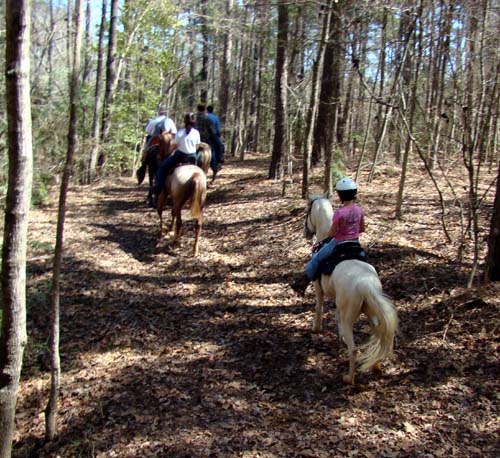 Hannah rides Powder on the trail on our March, 2010 Nacogdoches camping trip, while Pippin rides Strawberry Sundae.
"Strawberry Sundae" -- Handsome 15H strawberry roan 5-yr-old Tennessee Walking Horse gelding with big blazed face, silvery/red mane and tail. This horse has been ridden by the whole family and friends, hauled all over Connecticut around traffic and lots of dogs, noisy heavy equipment, and Kentucky trail riding. Excellent bloodlines and as a bonus, he pulls a cart!! Yes, is trained to drive, too. Strawberry Sundae is gentle and sweet, easy to catch in the pasture, probably gentle for anyone to ride. This is a really good horse for a rider to build confidence on, and his gait is a smooth four-beat excellent, with a nice, natural, athletic little canter. He performs both a head-shaking ear flopping true Tennessee Walk, as well as an exhilarating smooth rack with fun speed. Then, then, then . . . the canter is to die for -- not really trained into him, but actually he was born with it. All natural, slow, rocking chair canter and he'll do it for hours if you ask. Alpha in the pasture, but not at the top -- others have kicked his butt! Not a trouble maker, pastures fine with other geldings, broodmares, foals, cattle. If you're looking for gentle but not lazy, automatic with no shoeing tricks or special buttons to have to push to get into perfect gait, all natural athletic ability with canter, a family horse that probably the whole family can ride, he's your guy. $4500
Click on embedded arrow ABOVE to see training opportunities (dogs, wooden bridges, coming in from the pasture to the halter).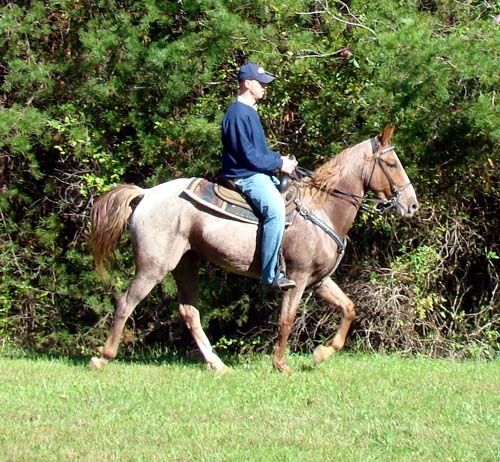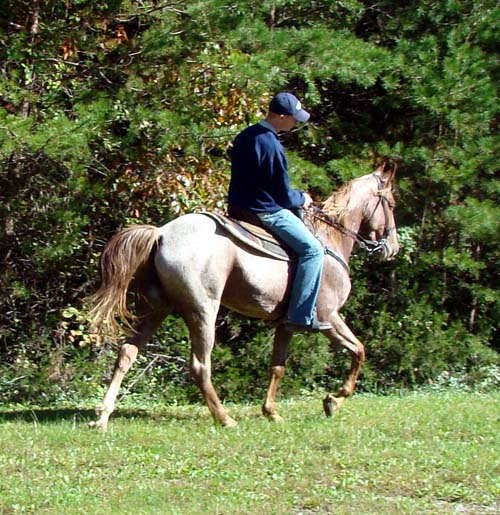 Bud rides Strawberry Sundae in Big South Fork in Kentucky on 10/7/09.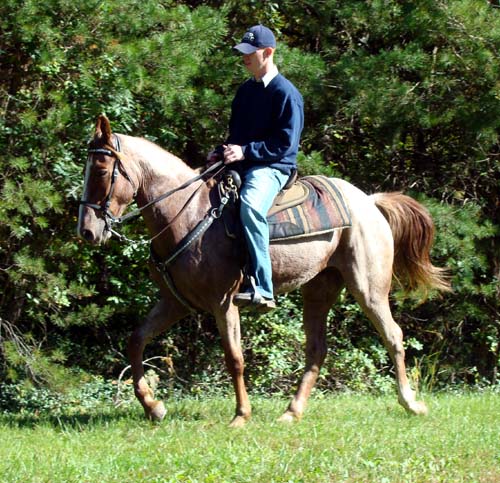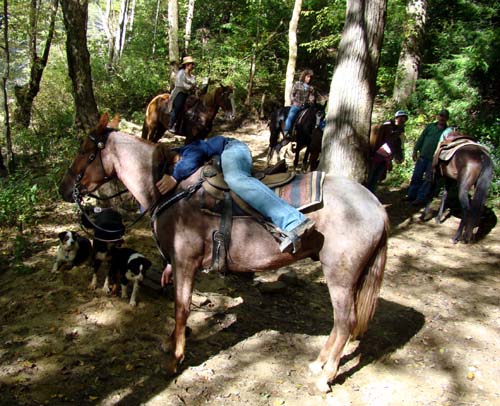 At a rest break on the trails at Big South Fork at the river, playing with the puppies.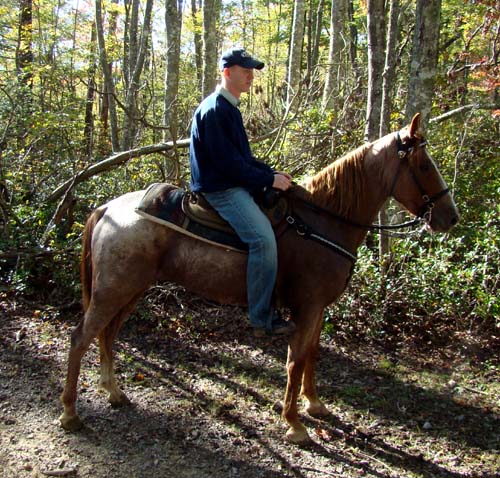 Handsome Tennessee Walking Horse pleasure gelding.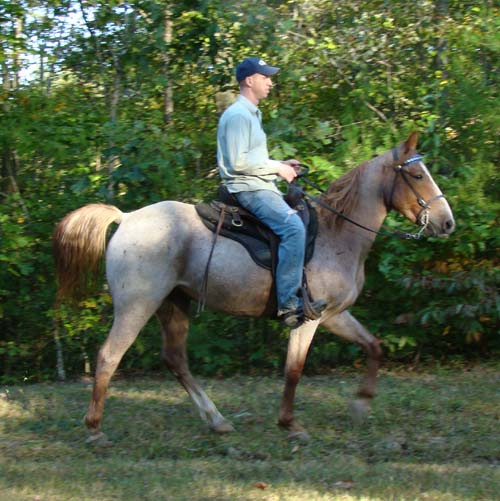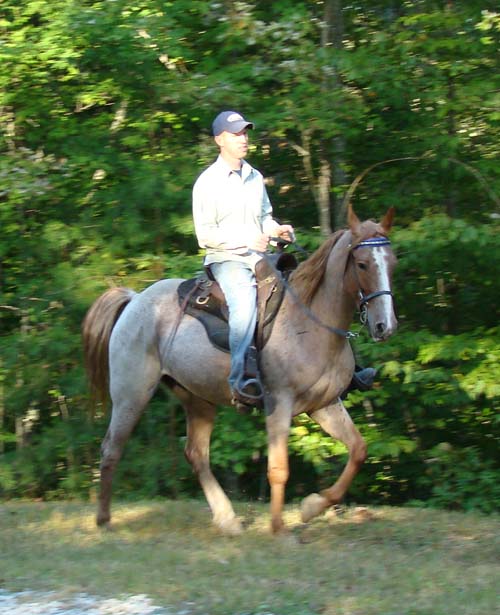 Cloud 9 Walkers
P. O. Box 878
Hardin, Texas 77561-0878
(55 minutes east of Houston)
281-726-4545
(Entire contents of this website copyrighted by Cloud 9 Walkers)

Email me!