CLOUD 9 WALKERS
"Suzi"
Amazing World Champion Bloodlines
(Direct daughter of Alen's Belfast Bandit)
Beautiful Stocky Black and White Spotted Tennessee Walking Horse Filly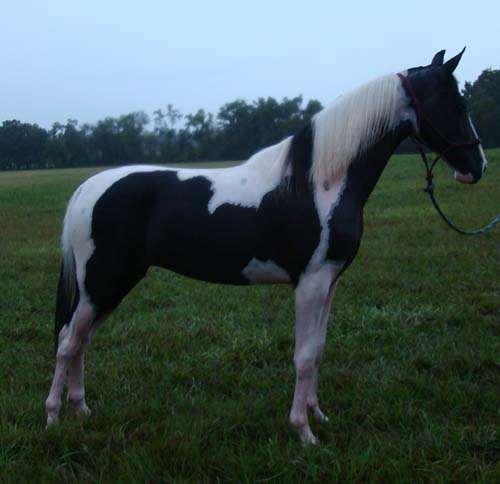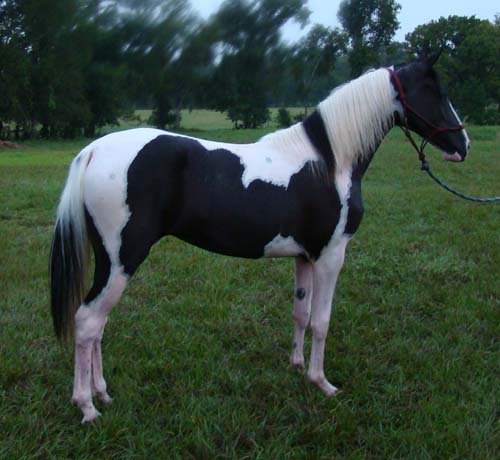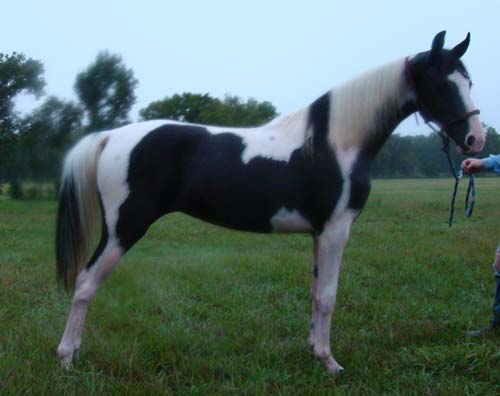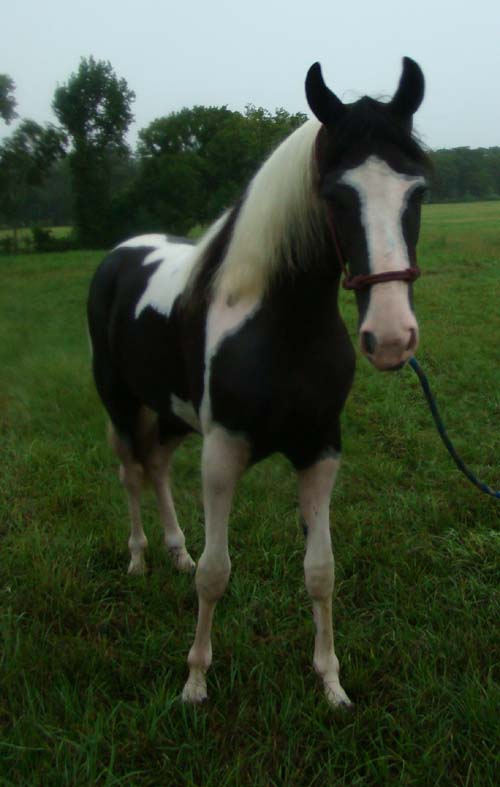 Suzi's GrandSire: Alen's Belfast Bandit (Multi World Grand Champion)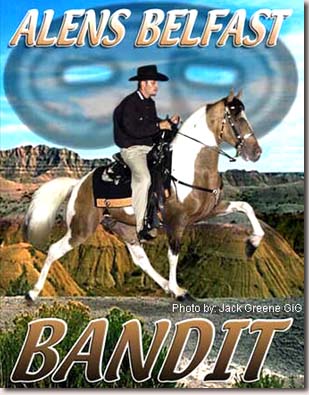 Golden Supreme Champion
Eight-Time World Grand Champion Open Shod
Twenty-Time World Champion Spotted Saddle Horse
Winner of 60 blues in halter and lite shod competition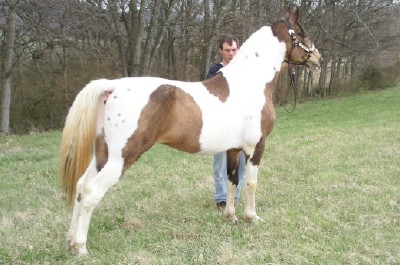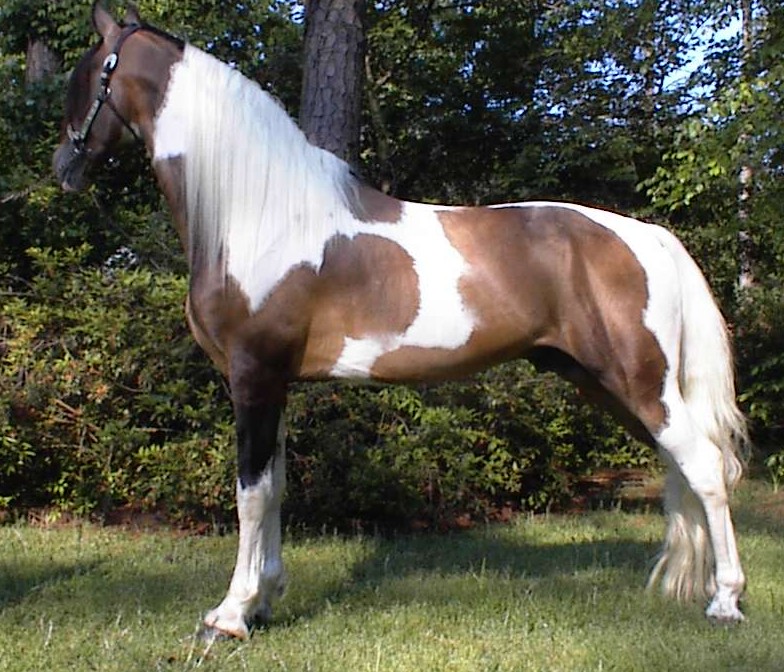 Bandit is one of the top stallions in the industry. He is a Golden Supreme Champion and has won 20 World Champion titles and 8 World Grand Champion titles- mostly in Open Shod classes.
He is a 21 year old gorgeous dark buckskin tobiano with a walk that won't quit. His babies are proving themselves in the halter show ring and now under saddle.
Bandit has an incredibly sweet disposition and a heart of gold. Shortly after we purchased Bandit, Chris Jackson brought him from Tennessee and took him to the NC State Fair for us. He convinced Bryant to ride him in the Lite Shod Championship class. Bryant had never been on Bandit before, and had only been in the show ring a handful of times. Bryant jumped on Bandit two minutes before ring time and Bandit gave him the ride of his life by winning the Lite Shod Championship, in an impressive class of horses!
There's a lot to be said about a horse that can win this consistently with any rider!
Suzi's Great GrandSire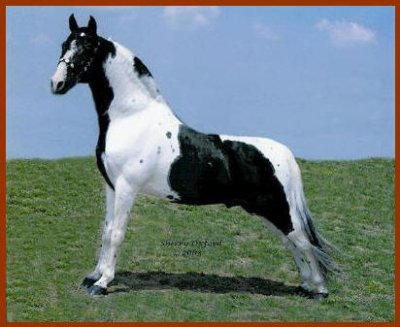 Spotted Alen has attained an unprecedented record of producing winning show horses. Alen's offspring up to 1999 have won 84 World Championships, 62 Reserve World Championships, and 411 divisional World Champion wins. Alen's year 2000 totals include 2 World Grand Championships, 6 Reserve World Grand Championships, 7 World Champions and 6 Reserve World Champions. In the past 5 years 2 of the World Grand Champion Spotted Saddle Horses were sired by Spotted Alen. In 1995 it was Alen's Lethal Weapon and in 2000 it was Pride of Alen Again.
Spotted Alen Again is registered with four different registries: The Spotted Saddle Horse Breeder's and Exhibitor's Association, the Tennessee Walking Horse Breeders and Exhibitors Association, the Racking Horse Breeders Association, and the National Spotted Saddle Horse Association.
Show Record with SSHBEA
1987: Reserve 2Yr Old Stallion
1988: 3Yr Old Stallion & 3Yr Old World Champion
1989: 4Yr Old Stallion & Res World Grand Champion & Supreme Champion
1990: 5Yr & Over Res Champion
|---
SHADOWS SPOTTED ALEN
|---
REED'S SHADOW MAN
6510512
AR
|---
ALEN'S SHADOWMAN
---|
816738
BA-TO
---|---
MIDNIGHT CURLEE "P"
651757
YL
|
918130
BA-TO
|
|---
SHADOW'S SUE WINSTON
|---
SHADOWS SPOTTED ALEN
816738
BA-TO
ALEN'S CAPER
875511
BA-TO
---|---
SUE WINSTON
657815
SR
961506
BL-TO
|
|
|---
BUM'S DARK WARRIOR
|---
DELIGHT BUMIN AROUND
681087
* BL
|
|---
BUM'S DARK LADY
---|
791735
BL
---|---
DIAMOND LIL S.
732364
BL
|
890887
BL-TO
|
|---
SHADOWS SPOTTED LADY
|---
SHADOWS SPOTTED ALEN
816738
BA-TO
CAPER'S ALIBI
845487
BL-TO
---|---
CINDY'S SENSATION
784371
BA
20904755
BL-TO
|
|---
SPOTTED ALEN AGAIN
|---
SHADOWS SPOTTED ALEN
816738
BA-TO
|
|---
ALENS BELFAST BANDIT
---|
857584
CH-TO
---|---
LADY ELDORADO B.
687752
SO
|
|
893128
BU-TO
|
|
|
|---
GLORY'S XMAS BELLE
|---
EBONY'S BLACK GLORY
771039
BL
BANDIT'S STOLEN DIAMOND
846582
RN
---|---
POWER'S DIXIE BELLE
815796
CH
20107328
BL-TO
|
|---
SPOTTED ALEN AGAIN
|---
SHADOWS SPOTTED ALEN
816738
BA-TO
|---
ALEN'S RAZZLE DAZZLE
---|
857584
CH-TO
---|---
LADY ELDORADO B.
687752
SO
961851
BL-TO
|
|---
ONYX JEWEL
|---
FIDDLIN' PISTOL C.C.
833134
CH
928123
BL
---|---
THUNDER'S JEWEL
836875
BL
*-World Grand Champion
\


Cloud 9 Walkers
P. O. Box 878
Hardin, Texas 77561-0878
(55 minutes east of Houston)
281-726-4545
(Entire contents of this website copyrighted by Cloud 9 Walkers)

Email me!