CLOUD 9 WALKERS
"Teddy"
5-yr-old 15.2H Black and White Tobiano
Spotted Saddle Horse Gelding
Click on embedded arrow ABOVE to see our camping trip the weekend of 11/19/11 on a Texas cattle ranch in Brenham, Texas, with lots of obstacle training opportunities!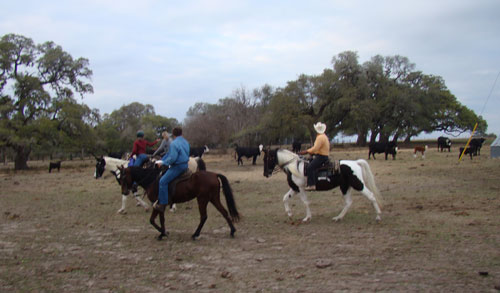 Click on embedded arrow ABOVE to see our camping trip in Brenham, Texas on 11/18/11.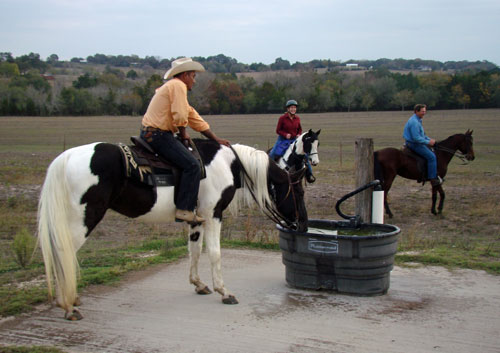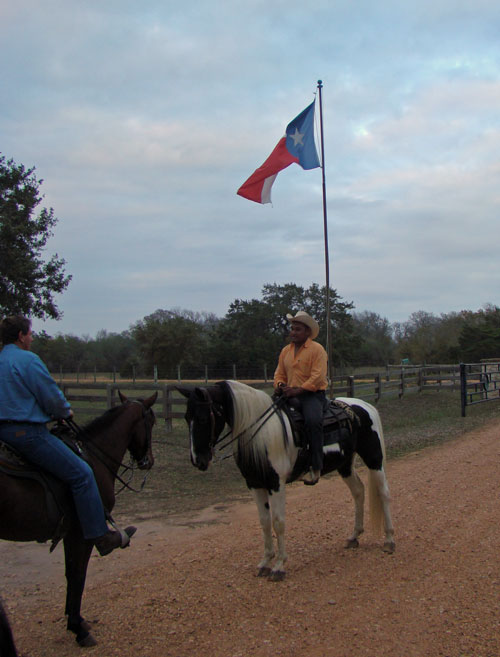 Victory rides Teddy on our camping trip the on 11/18/11.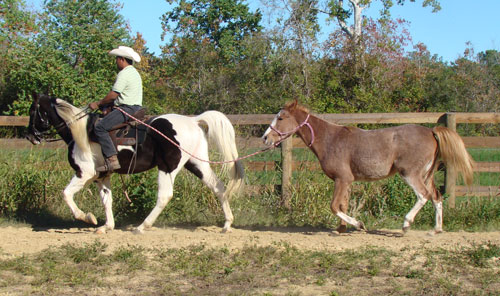 Teddy ponies "Kiss", a young strawberry roan Tennessee Walking Horse filly as part of her early "before saddle" training. This is also good for Teddy, as he learns to tolerate another horse in his 'personal space', as well as a rope flopping around his hindquarters, up under his tail from time to time, and sometimes even between his legs.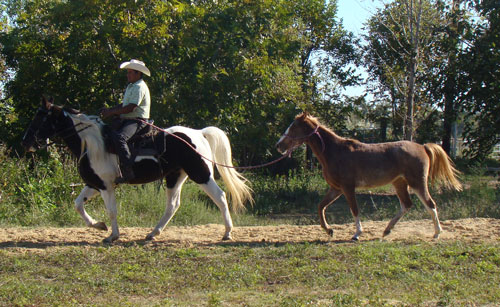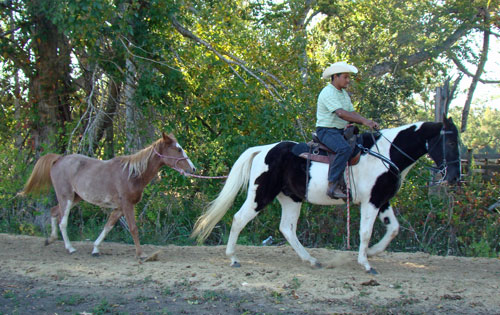 Click on embedded arrow ABOVE to see a few days of Teddy working around the farm.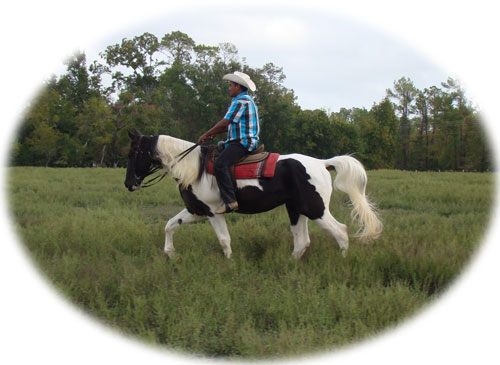 Victor rides Teddy in the pasture on 11/7/11.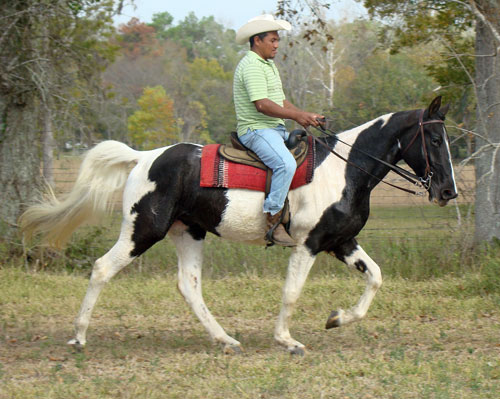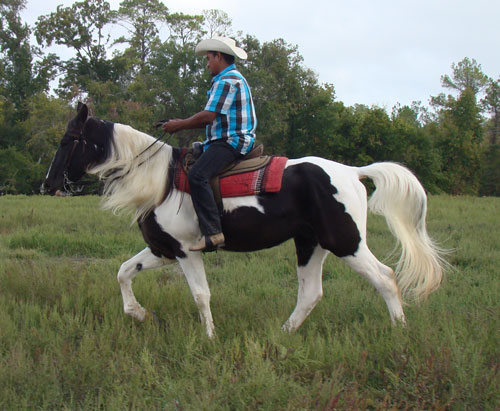 "Teddy" -- Handsome 15.2H 5-yr-old black and white Spotted Saddle Horse gelding with smooth BAREFOOT gaits, nice and flowing along the ground, extremely gentle and mellow, easygoing. This is a laid back sleepy-eyed type horse but will get up and go if you ask him to. His mane and tail are just gorgeous -- long, silky, thick and flowing when he moves and his feet are striped black and white, healthy and hard so he rides barefoot just fine, but doesn't have a problem with shoes, either -- we just prefer barefoot when we are not traveling to an extremely rocky area. We have rocks around our place that we ride them across and toughen their soles. Teddy is great on the trails already -- will cross any obstacle and we're currently training him to flex and learn lateral moves (forehand turn, pivot, side pass). He backs, loads, bathes, etc. Nice all around familiy horse. $5500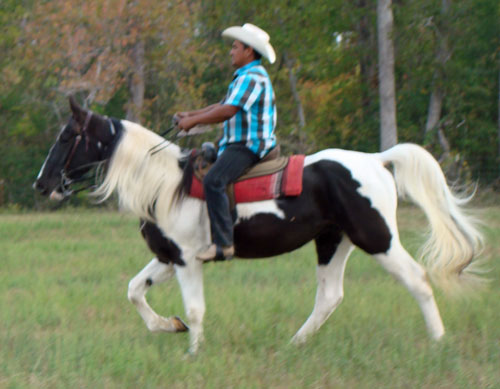 Teddy's long silky mane and tail are flowing and beautiful.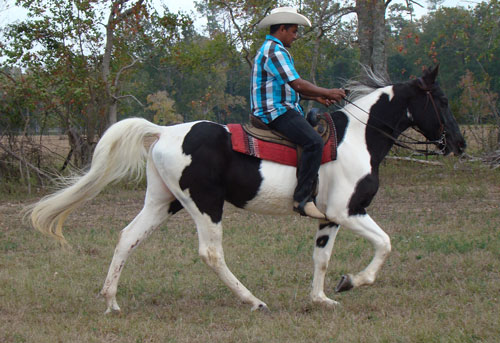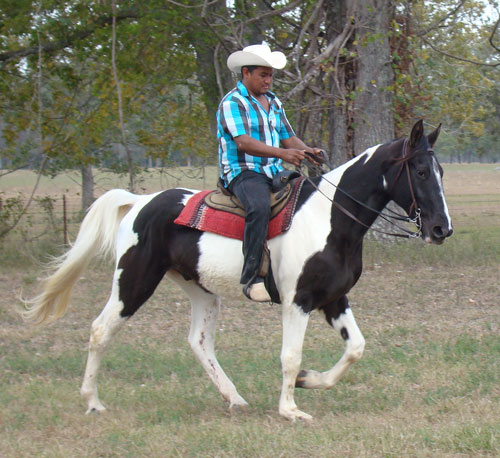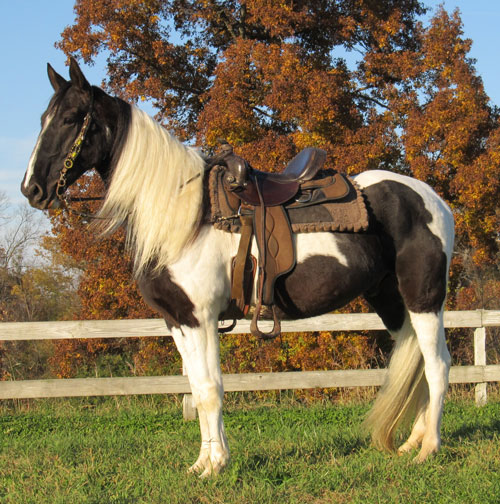 Cloud 9 Walkers
P. O. Box 878
Hardin, Texas 77561-0878
(55 minutes east of Houston)
281-726-4545
(Entire contents of this website copyrighted by Cloud 9 Walkers)

Email me!