CLOUD 9 WALKERS
"Zip"
Gorgeous Black and White Tobiano Spotted Saddle Horse
7-yr-old 15H Gelding
Click on arrow ABOVE to see several of our horses carrying the United States flag (for practice for parades, shows, desensitization, etc.).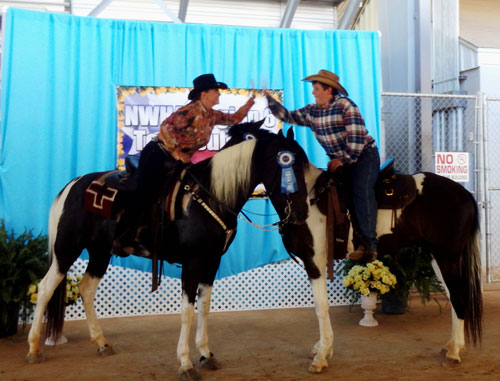 Becky, on Sophie and Jasper, on Zip congratulate each other with a high five on their blue ribbon wins in their respective classesat the horse show in June, 2014.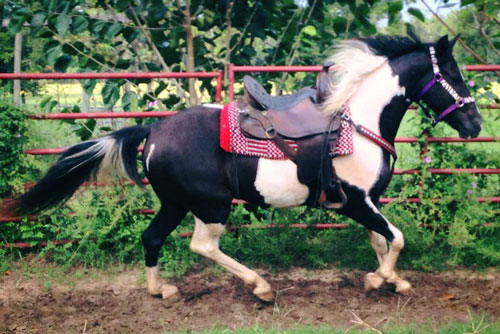 "Zip" is an extremely lit up 15H 7-yr-old black & white Spotted Saddle Horse gelding with a cute, flashy way of going. He performs a beautiful racking gait, and will also slip into a slow, easy little canter, as well. Zip sits up in the bridle and always looks good under saddle. We have hauled him on many camping trips and even shown him in horse shows, too. We have ridden him in Tennessee, Kentucky, Georgia, South Carolina, Mississippi and Texas. He is trained to stand tied for hours, picket lines, loads, unloads, clips, bathes, ponies from another horse or a 4-wheeler, will pony another horse, does obstacles on the obstacle course, and has been ridden down the side of a busy highway. His owner is working out of the country and won't be back in the U.S. for quite awhile, so he is for sale. Fun horse to ride! $6500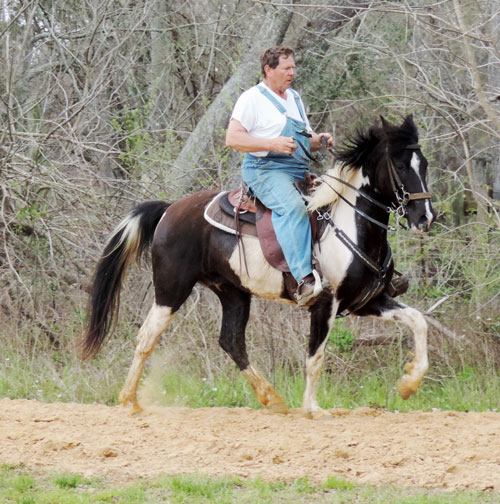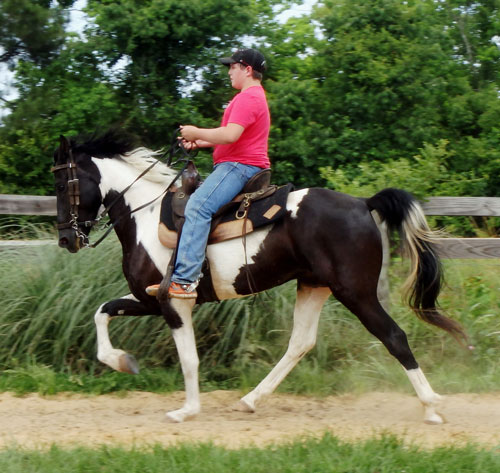 Practicing for the horse show, Grandpa Huey and grandson Jasper.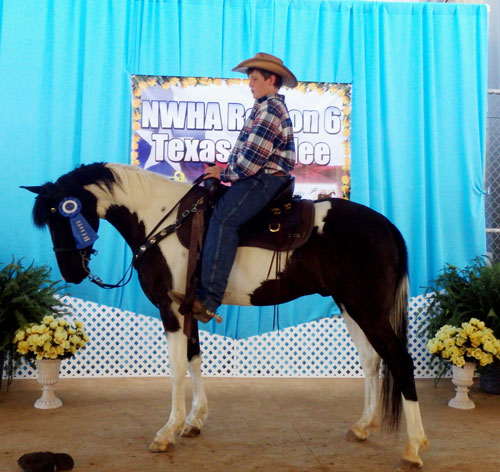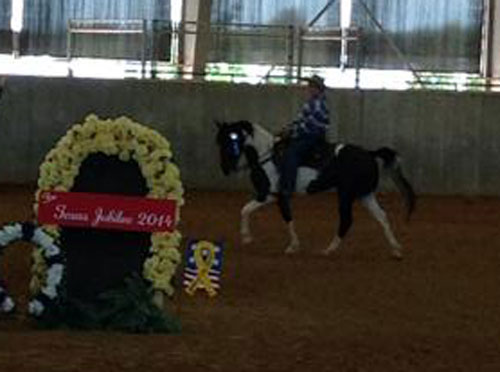 Looks like all that practice paid off! June, 2014.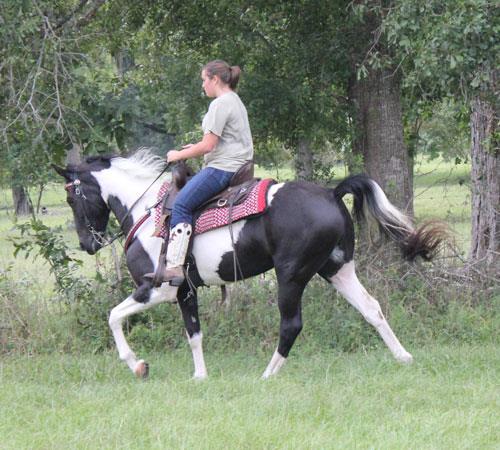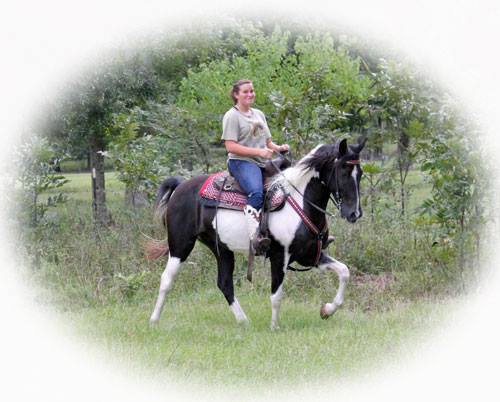 Liz rides Zip on 9/29/13.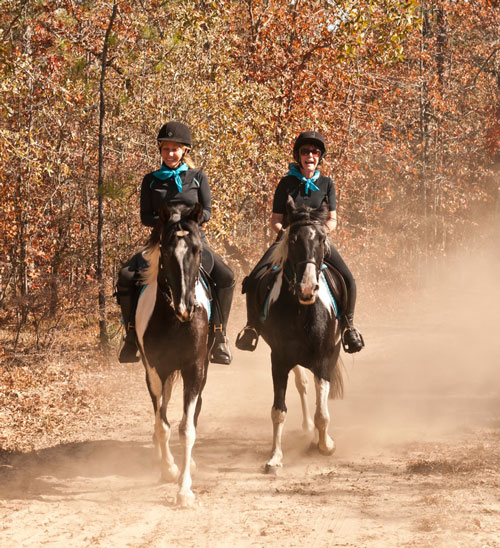 Paulina rides Zip on a fox hunt in Aiken, South Carolina.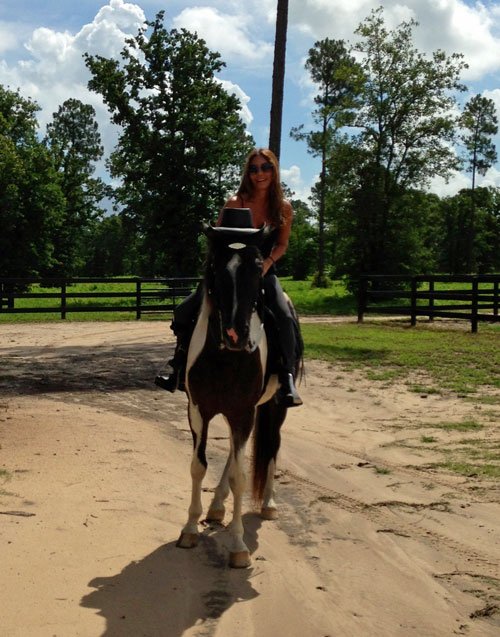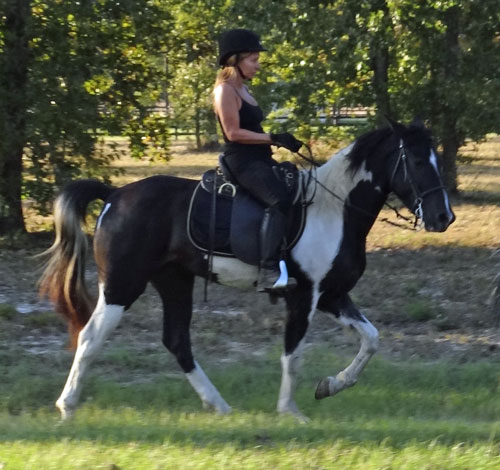 Paulina rides Zip on the trails in South Carolina on 10/15/12.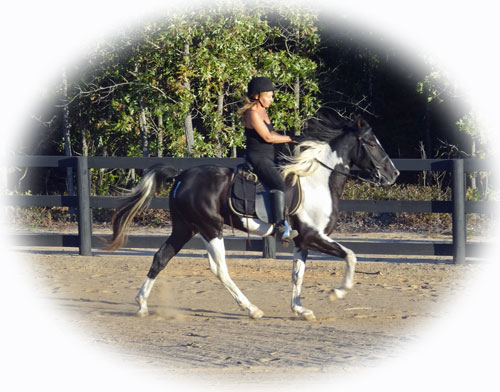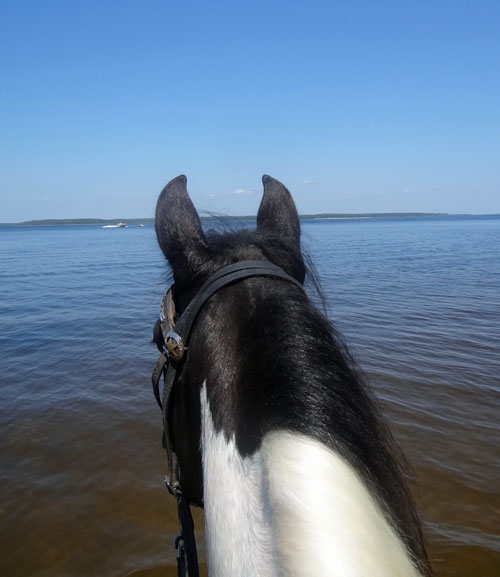 Looking out over Lake Sam Rayburn in October, 2012.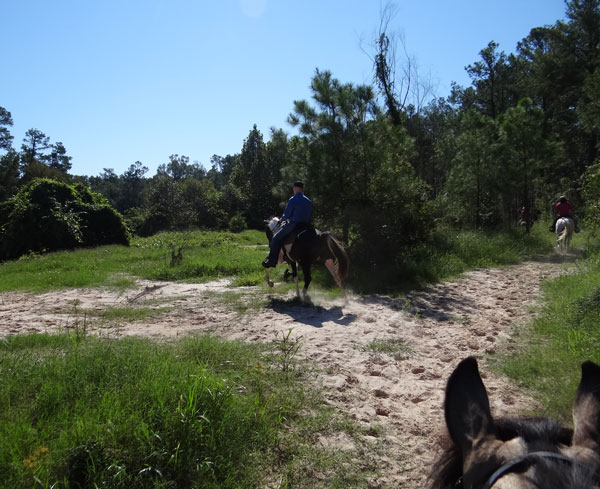 Riding at Pundt Park in Spring, Texas on 9/20/12.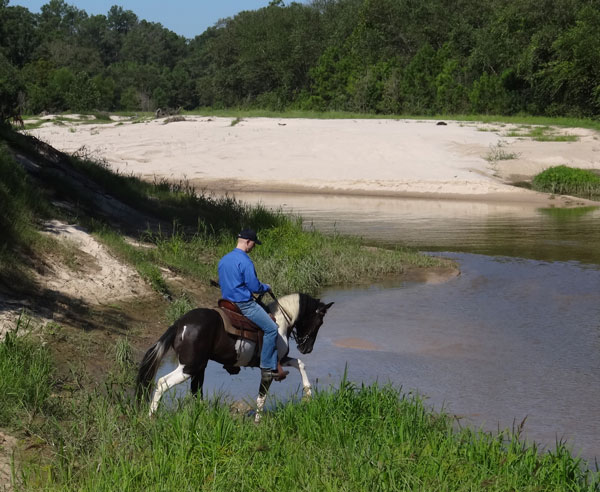 Bud riding Zip at Pundt Park in Spring (near Houston, Texas) on 9/20/12.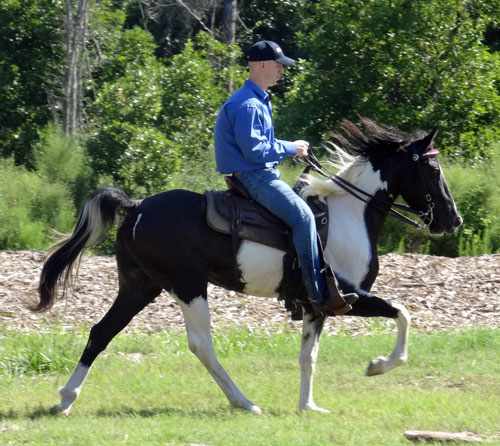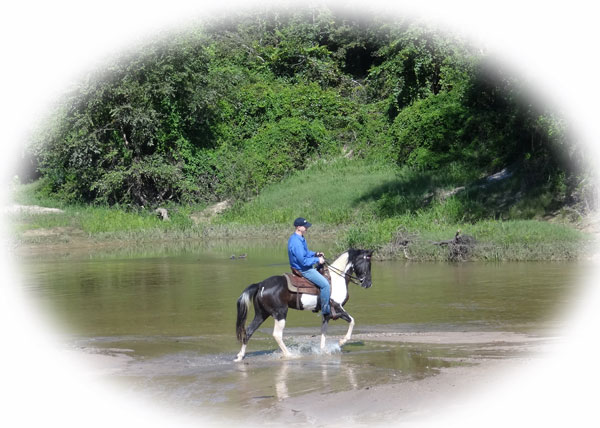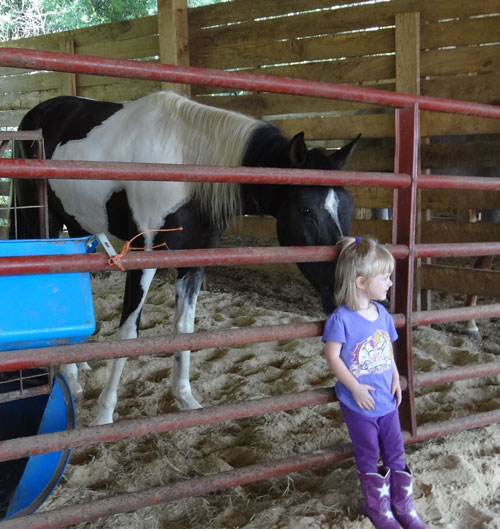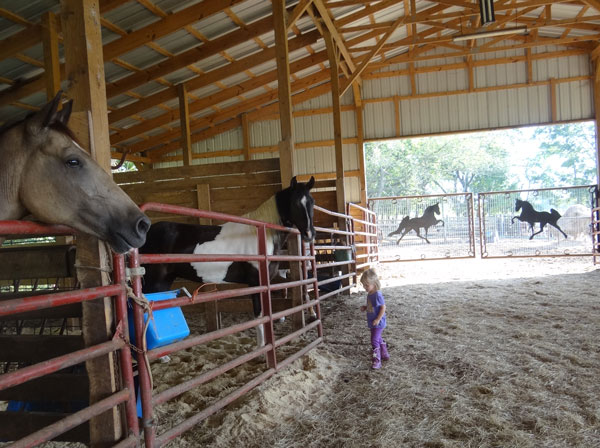 Click on embedded arrow ABOVE to see Pink Floyd, Alen's Painted Desert, Zip and Pretty Boy Floyd in Hitchcock Woods in Aiken, Georgia on 10/16/12.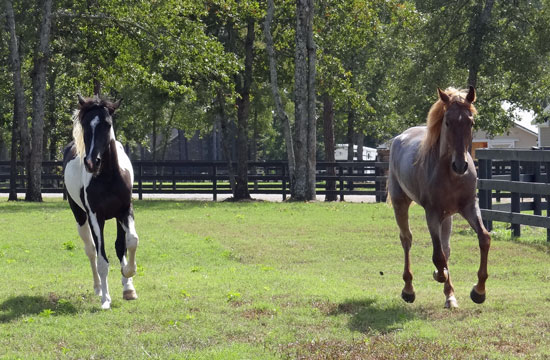 Zip and Pink Floyd sharing a turnout pasture on 10/14/12 during our South Carolina camping trip.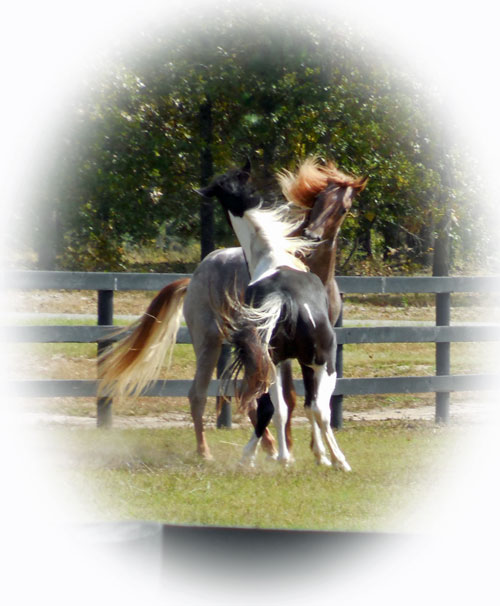 The boys, playing like colts (in South Carolina)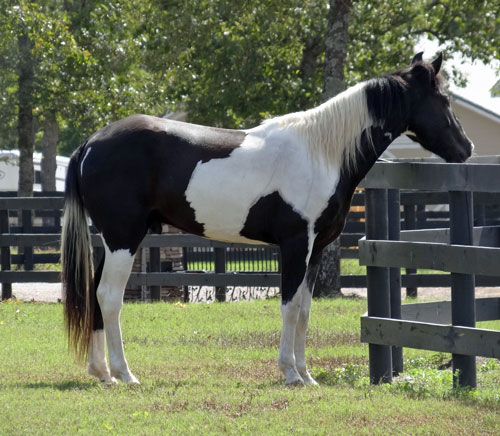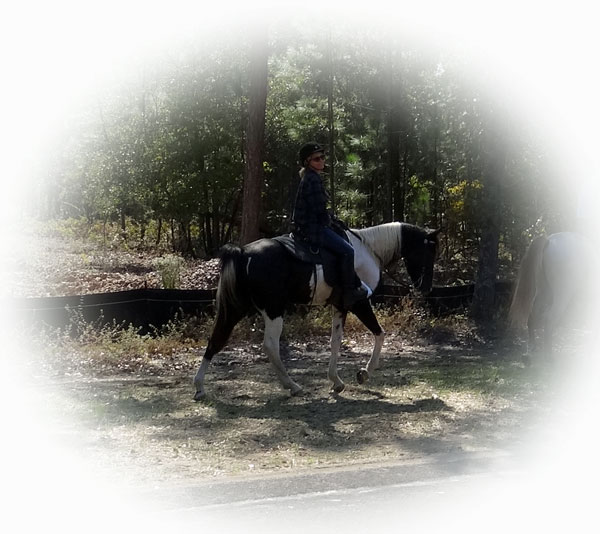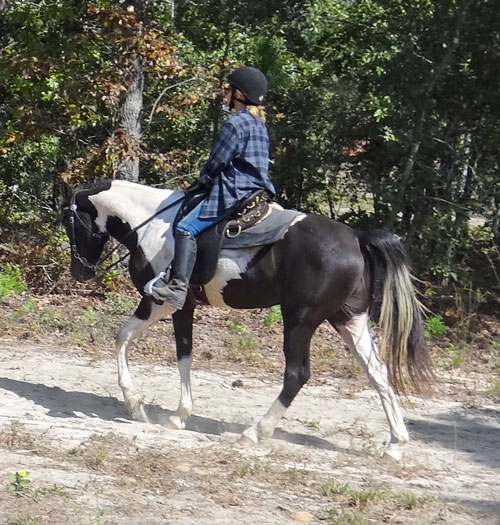 Paulina rides Zip on the trails in South Carolina on 10/13/12.
Click on embedded arrow ABOVE to see Zip and Pink Floyd on the beautiful Willis Knob Trails in Georgia, near Warwoman Creek and Chattooga River (Earl's Ford).
Click on embedded arrow ABOVE to see Part Two of Earl's Ford Trail on Willis Knob, Georgia.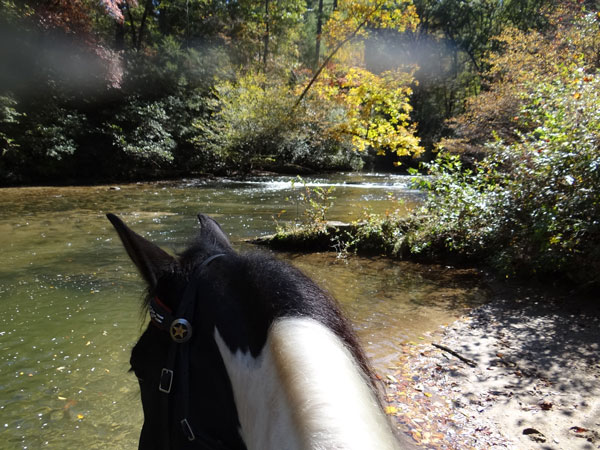 Zip, overlooking the gorgeous Warwoman Creek in Georgia on our October, 2012 camping trip.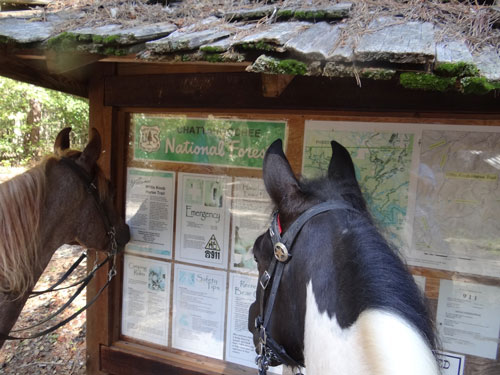 Pink Floyd and Zip are reading the maps, hoping to find the shortest way back to camp and their buckets of oats!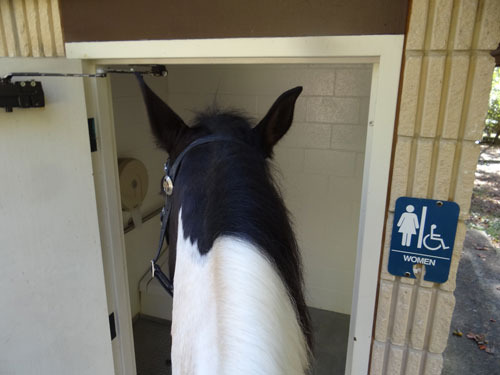 Zip wonders where in the world I will ask him to go next!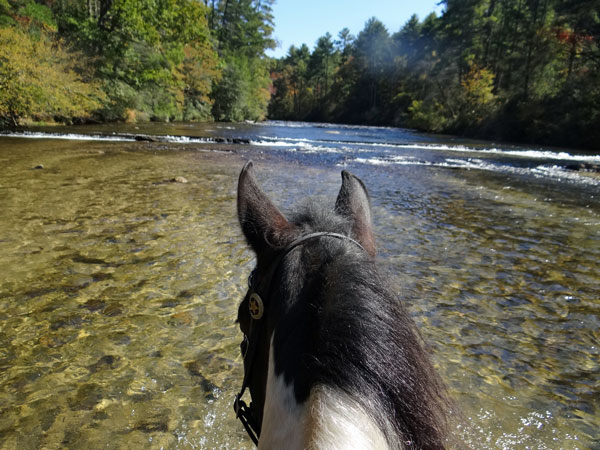 Zip in the rushing, clear gorgeous Chattooga River in Georgia on 10/11/12.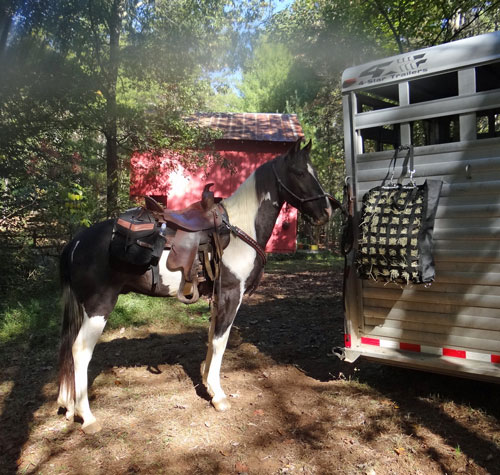 Handsome boy awaits his turn to hit the trails on the mountain in Georgia.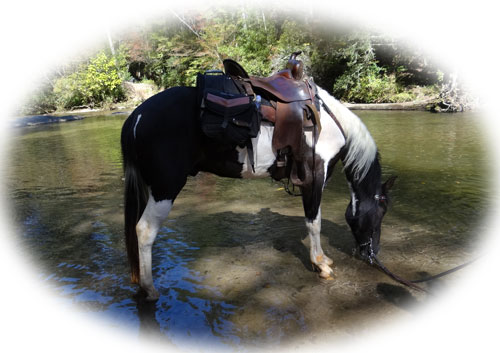 Beautiful Zip rehydrating along the trail in the beautiful Warwoman Creek, Georgia on 10/11/12.
Click on embedded arrow ABOVE to see Zip and Jinglebob on the trails in Georgia on our October, 2012 camping trip.
Click on embedded arrow ABOVE to see Zip being used as a 'shepherd'.
Click on embedded arrow ABOVE to see Zip's 8/31/12 workout
Click on embedded arrow ABOVE to see lesson video using "Zip".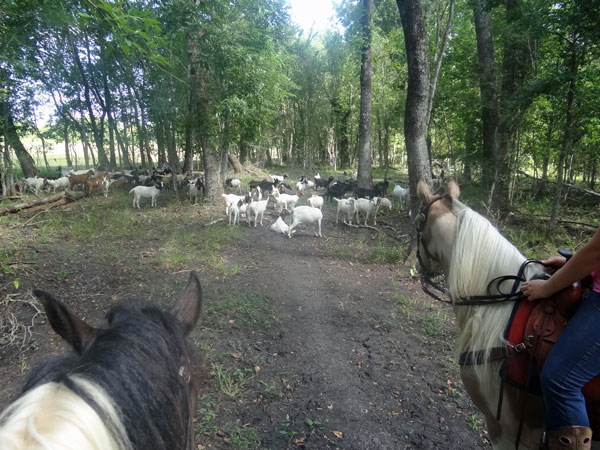 I KNEW we should have gotten an earlier start! The traffic report on the radio didn't say anything about a pileup on this freeway, but obviously there's significant congestion on this road. Lots of rubber neckers, too, because they're not moving. In fact, they look downright comfortable! Zip and Neon are probably grateful for this road block so that they can rest in the shade for a bit!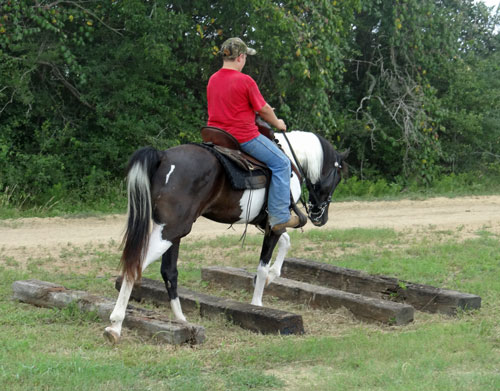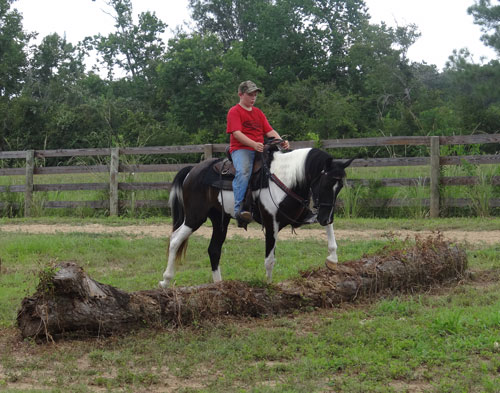 10-yr-old Jasper takes Zip for a ride and puts him through the obstacle course after I have already worked him for the day. Zip would be a little too much horse for Jasper (or a timid rider) for the first 30 minutes or so -- no silliness or dangerous acts at all -- just energy, fun energy. In another few months with a little more practice, Jasper will be comfortable on a horse like this right from the beginning, but meanwhile, he's pretty darned proud to be riding Zip here!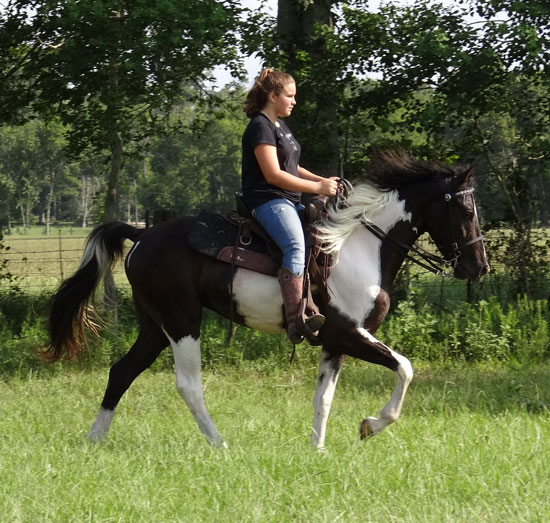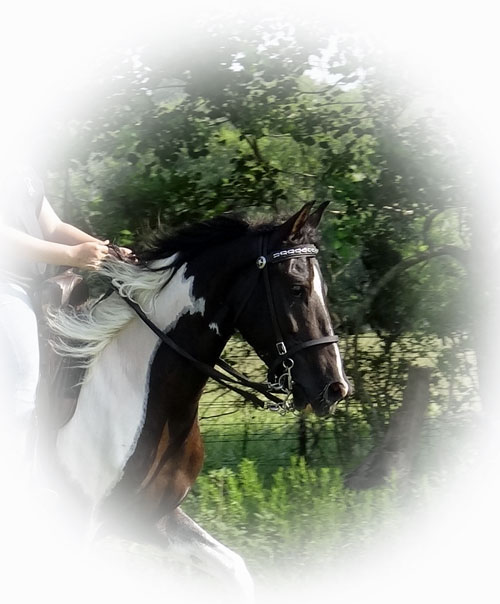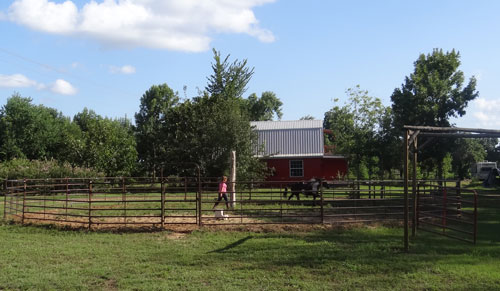 Liz, our apprentice, has reached a level where she can go get just about any of the horses we have in training with the exception of very few and groom, tack them up, round pen them, warm them up and then take off down the trail. Here, she is warming up "Zip" for our afternoon trail ride.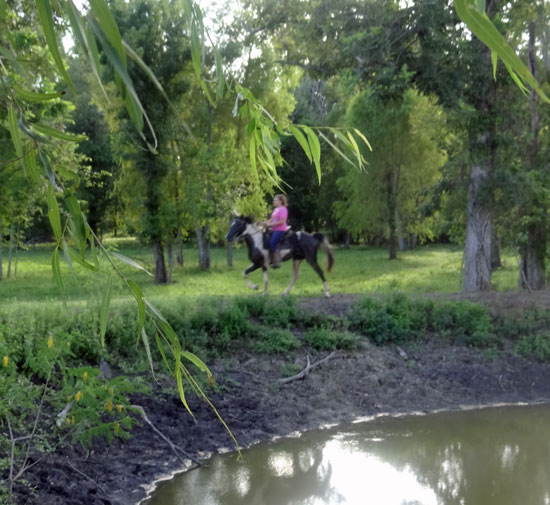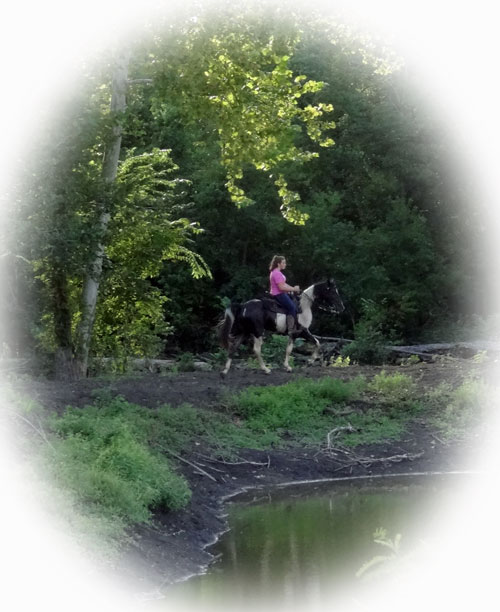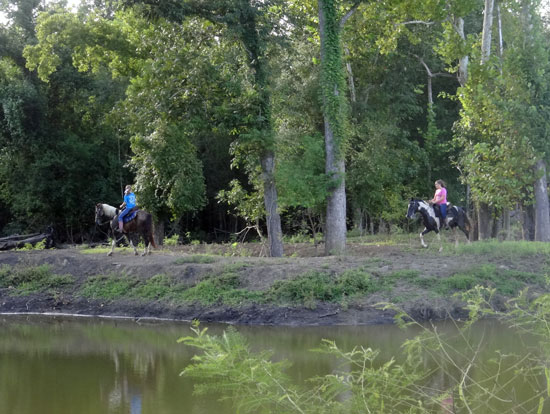 "Zip" -- Athletic fellow. Extremely flashy 50/50 black and white Spotted Saddle Horse gelding with a beautiful presence about him. He's 15.1H and 5 years old, sets up naturally in the bridle, cute little racking gait and easy lope. Zip will walk slowly like a Quarter Horse, rack softly in a nice slow gait, rack quickly and then do a soft little canter. He's very 'zippity' and fun on the trails, and when I ride him, I feel like I'm riding a cute little moto-scooter or dirt bike the way he athletically takes the turns with barely any change at all in his transitions. When you ask him to halt, he will stop and then stand quietly, waiting for your next command. He is one of the most beautiful spotted horses I've ever met and the pictures don't do him justice -- his mane is crimped and naturally wavy. $5500
Beautiful "Zip" posing during our camping trip in Kentucky in October, 2011.
Click on embedded arrow ABOVE to see Zip's workout on 11/7 and 11/8/11.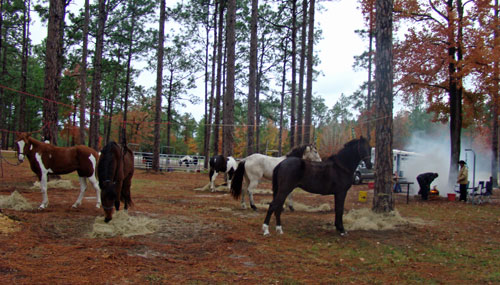 We had 12 horses on this trip, and only 6 pens, so 6 horses spent the night on the overhead picket line and then rotated into the pens the following day. Worked like a charm! From left, sorrel/white spotted "Takoda", bay MFT mare in training with us, black and white spotted "Zip" in the far back, buckskin "Ernie", and in the foreground the black young gelding we raised "Lash Larue". You can see Rio in the distance in one of the pens, and to the far right Huey and Victor build a nice fire for a steak dinner!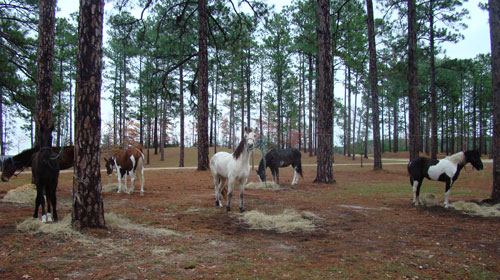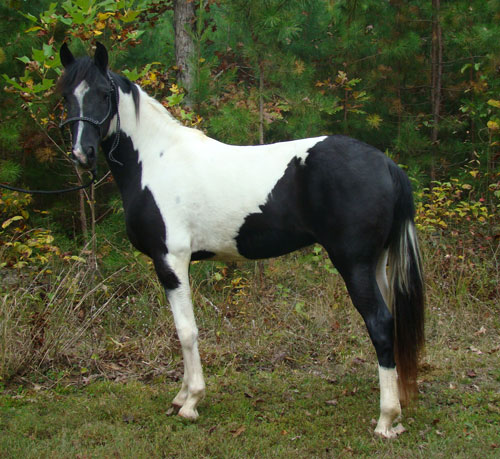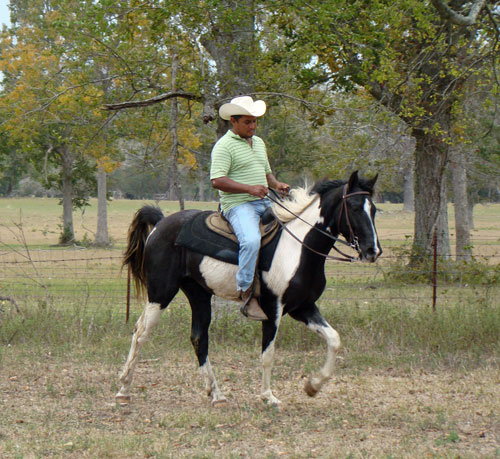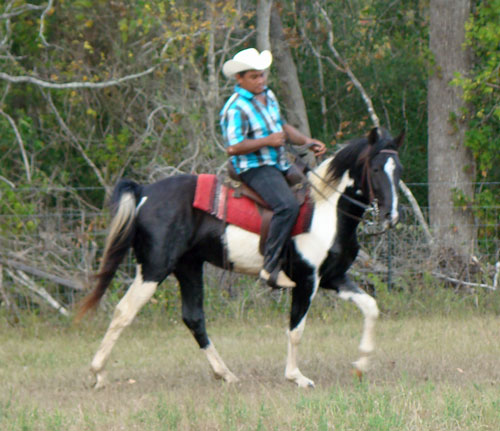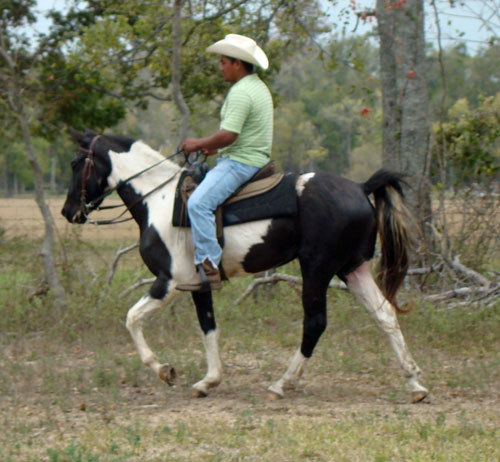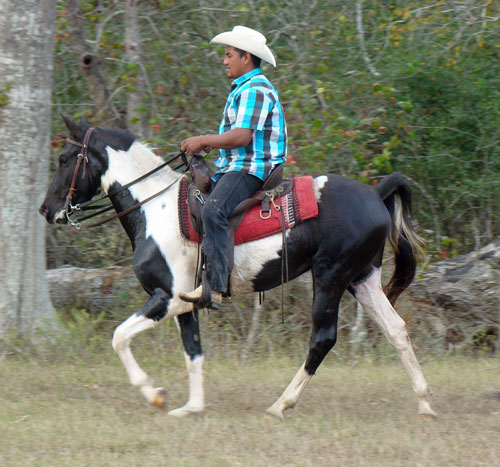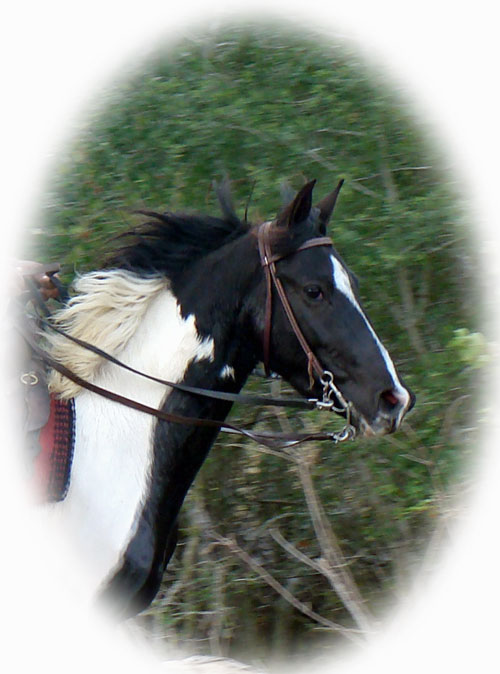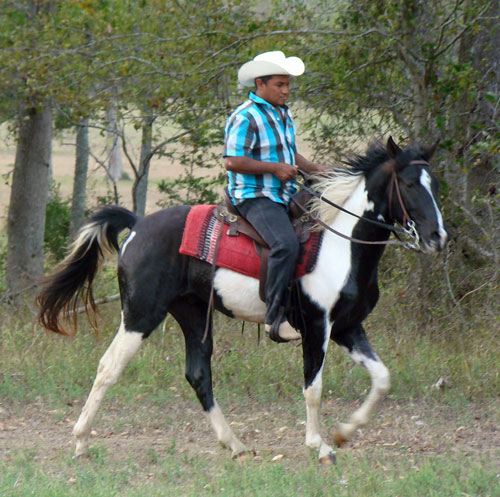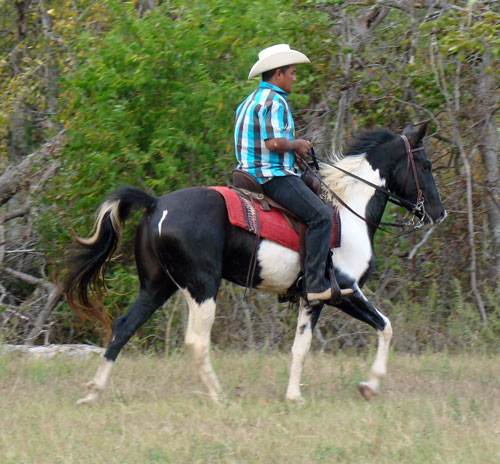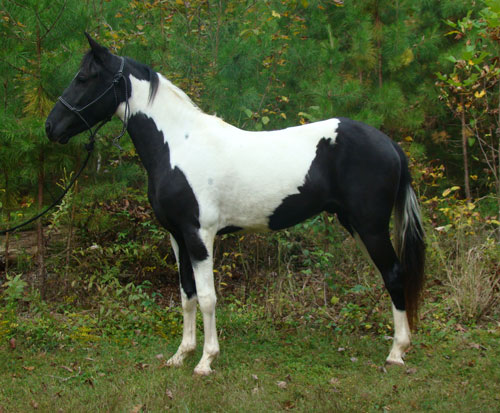 Cloud 9 Walkers
P. O. Box 878
Hardin, Texas 77561-0878
(55 minutes east of Houston)
281-726-4545
(Entire contents of this website copyrighted by Cloud 9 Walkers)

Email me!