CLOUD 9 WALKERS
"Chisum"
Gorgeous Amber Champagne 2-yr-old 14.2H Stocky Extremely Gentle, Sweet-Natured, Quiet and Calm
Tennessee Walking Horse Stallion
How often do you have the chance to buy a colt whose parents (both of them!) are proven under saddle?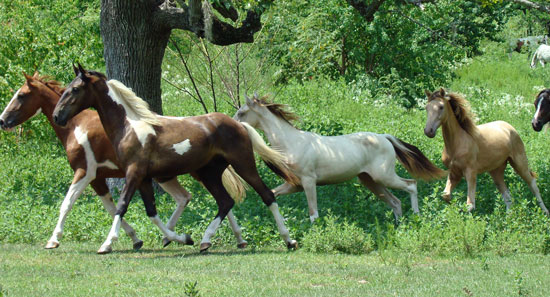 These boys are all brothers, and Chisum is the amber champagne in the back (far right).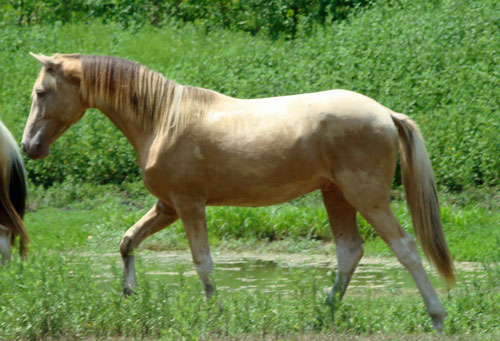 Running with his buddies (other colts his age, broodmares, foals, and cattle) on 8/23/11.

"Chisum" -- Rare Amber Champagne with four long white stockings, gorgeous long thick mane and tail (courtesy BOTH his parents!), wide forehead (indicating intelligence), sleepy, sweet dreamy eyes . . . champagnes have a sheen sprinkled all over their bodies that looks like glitter in the sun. Chisum is going to be a knockout with his extremely thick long mane and tail which should be to his knees by the time he's 5 years old! Chisum has a very sweet, calm personality like his brother "Takoda" and "Lash Larue" and his sister "Jolie" -- we've raised so many colts by his sire and all have been extremely mellow and quiet, beginner type horses. He's had the best upbringing that a colt can have, is wonderfully respectful and has a solid round pen foundation, and he is being started under saddle now, since he's a little over two years old. Stay tuned for pictures and videos of him on our camping trips. You can buy him now and leave him in training with us and he would be ready to go for most anyone to ride by the first of February, 2013 $4500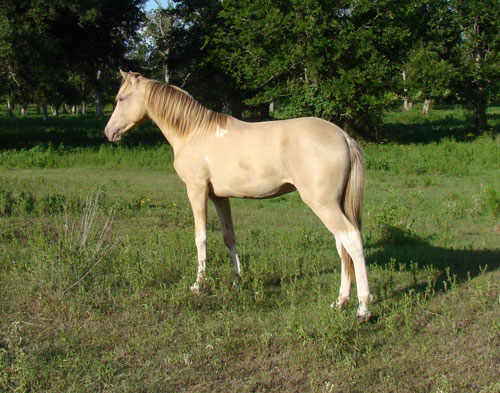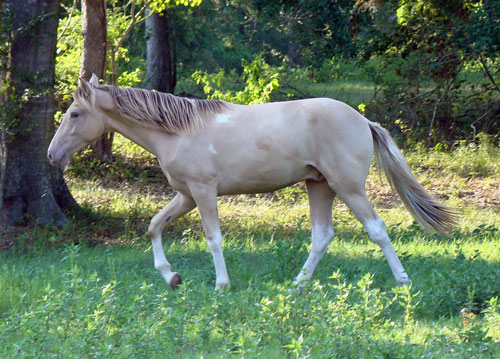 Amazing how light affects coloring . . . the picture in the left was taken in full sunlight a few moments before the picture on the left, in the shade.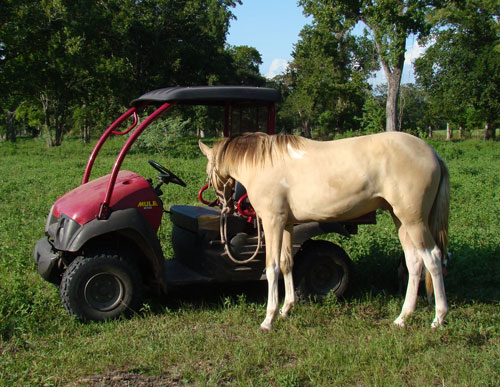 We lead the horses from one pasture to another via 4-wheeler or UTV.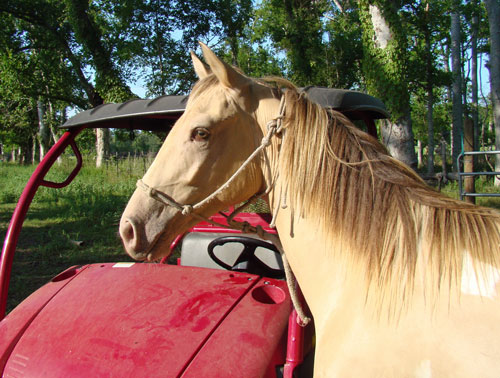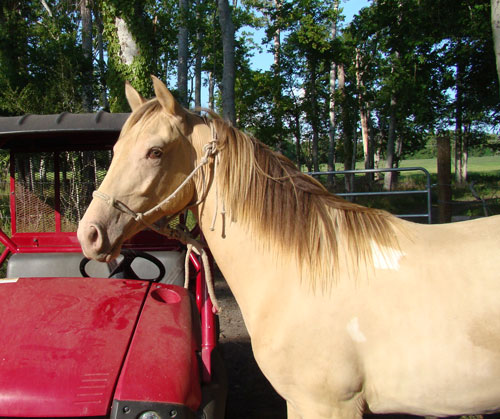 Just showing his intelligent face. Nice, gentle, calm boy. These pictures were taken on 8/15/11.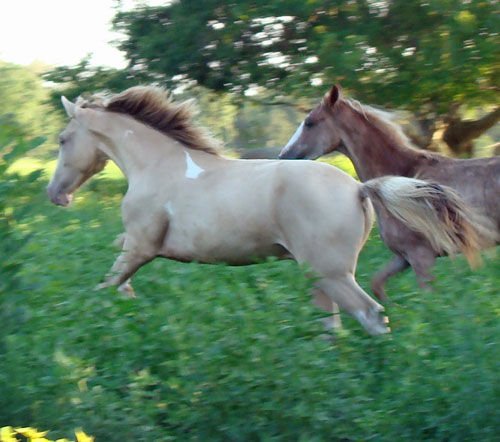 At liberty, running and playing with his friend "Kiss" on 8/5/11.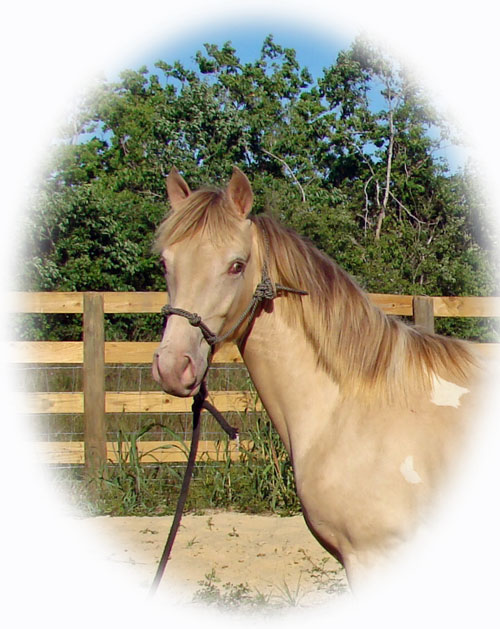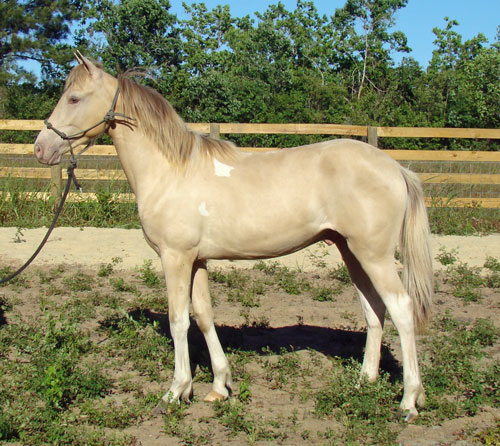 Click on embedded arrow ABOVE to see Chisum's first training session in the round pen.
"Chisum" -- Beautiful stocky sweet, gentle, quiet, mellow amber champagne Tennessee Walking Horse yearling colt, already trained to lead, follow a 4-wheeler, load/unload in/out of a trailer, stand tied, work on lunge line, round pen, drive, bathe, clip, excellent with his hooves! This colt could be someone's dream stallion, but he would make a wonderful pleasure gelding as well. We have raised many of his brothers and sisters and his sire consistenly passes down his mellow, sweet disposition. You can see his dam here: http://www.cloud9walkers.com/Gypsy.htm and his sire here: http://www.cloud9walkers.com/Gunsmoke.htm
Chisum's gait will be a wonderful four-beat smooth-as-silk pleasure. This colt has had the best of care and it's nice to start with a horse that you know has never been abused or allowed to be spoiled. Registered TWHBEA, pedigree below.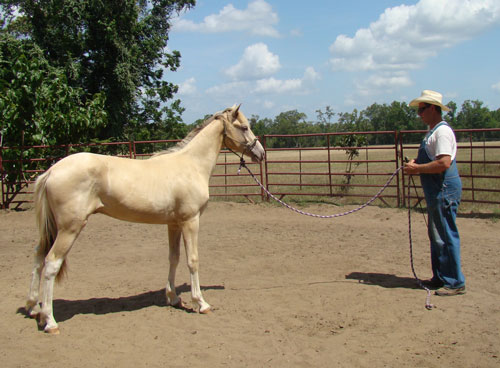 "Yes, sir!"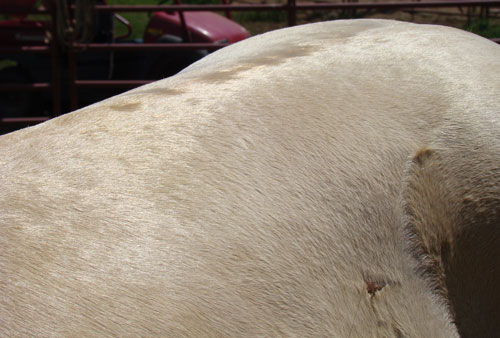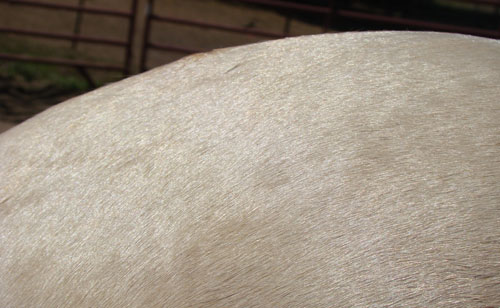 Champagne horses seem to have glitter sprinkled across their coats -- this is Chisum's gorgeous little crease down his back.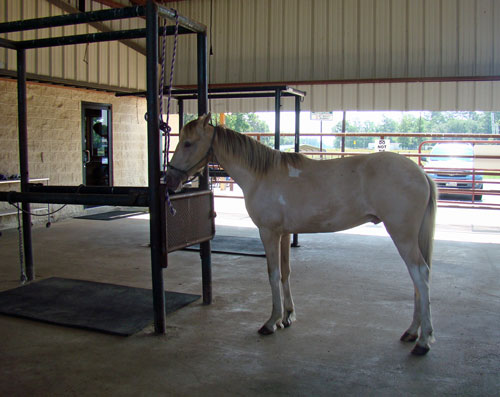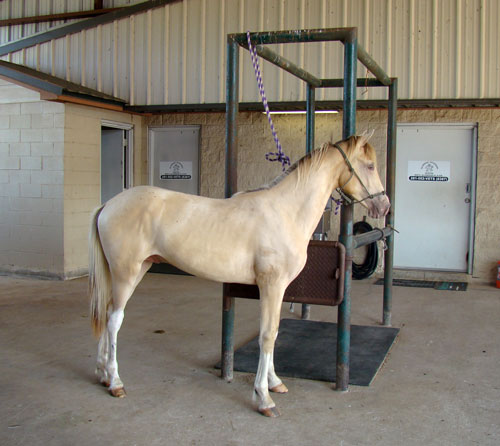 We took a couple of geldings to the vet to get vaccinations, and hauled Chisum along just for the ride. We like to give them all the experience we can, even before it's time for the saddle!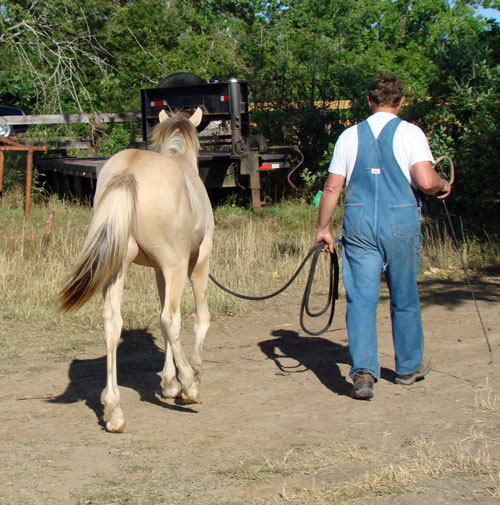 His tail will be beautiful, flowing like a flag in the wind when he's mature!
Above: Chisum's sire "Go Boy's Champagne Pride" (click on either of his pictures to go to his page to see more on him).
Above: Chisum's dam "Mats Travlin Gypsy" (click on either of her pictures to go to her page to see more on her).
PEDIGREE:

|---
GO BOY'S GOLD INSIGNIA
---|
847740
BL-TO
---|---
INSIGNAS SWEETHEART
727118
BA
|
882036
YL-TO
|
|---
EMILY'S ROSE
|---
MACK K'S LUCKY
697404
BA
GO BOY'S CHAMPAGNE PRIDE
786200
WH
---|---
PRINCESS LADY B.
665841
WH
975137
CP
|
|
|---
PRIDE'S SOLID GOLD W.
|---
PRIDE OF MIDNIGHT H.F.
661459
BL
|
|---
PRIDES FANCY NANCY
---|
803604
SO
---|---
GO BOY'S DOLLY II
690680
CH
|
876857
BL
|
|---
JOHNNY'S LADY B.
|---
JOHNNY CASH
690085
BL
GUNSMOKES MASTER THREAT
755283
BL
---|---
ART-JEN LADY B.
662535
BA
21003120
AM
|
|---
PRIDE'S BOSS MAN BH
|---
PRIDE OF MIDNIGHT H.F.
661459
BL
|
|---
SOUTHERN DIPLOMAT
---|
750056
CH
---|---
SPIRIT'S BOSS LADY
675301
BA
|
|
935404
BA
|
|
|
|---
DUDE'S DIXIE MOON
|---
EBONY'S DUDE C.
715870
BL
MATS TRAVLIN GYPSY
836441
BL
---|---
THE COUNTESS W.
711953
GR
20014082
BA
|
|---
ULTRA'S GREY EAGLE
|---
PRIDE'S ULTRA THREAT
800396
BL
|---
ULTRA GLORY SHAKER
---|
876009
GR
---|---
ELDORADO'S KATY
744797
BL
935036
GR
|
|---
APRIL'S GLORY SHAKER
|---
SRS SHOCKING SHAKER
783868
RN
860915
GR
---|---
MARCIA'S GLORY B
775019
GR
*-World Grand Champion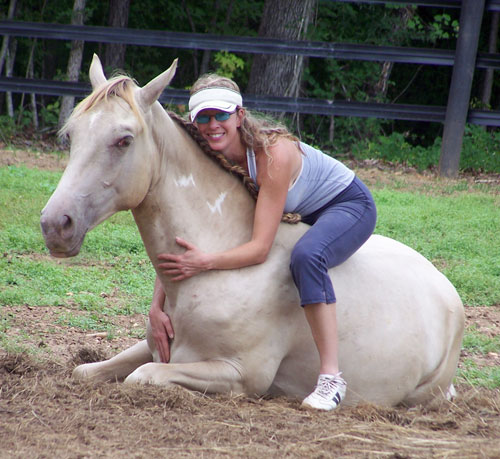 "Danny" -- Chisum's half brother who we raised, trained and is so incredibly sweet and gentle.


Cloud 9 Walkers
P. O. Box 878
Hardin, Texas 77561-0878
(55 minutes east of Houston)
281-726-4545
(Entire contents of this website copyrighted by Cloud 9 Walkers)

Email me!