CLOUD 9 WALKERS
"Flip My Coin"
Sweetheart Golden Palomino Tennessee Walking Horse Gelding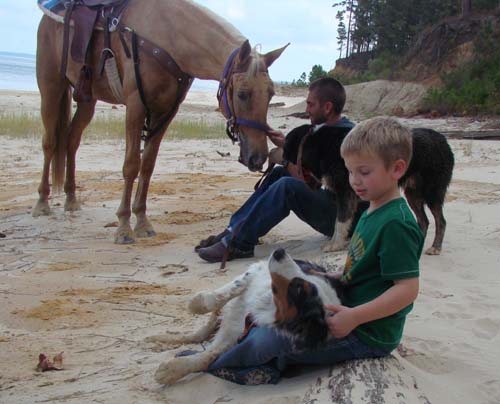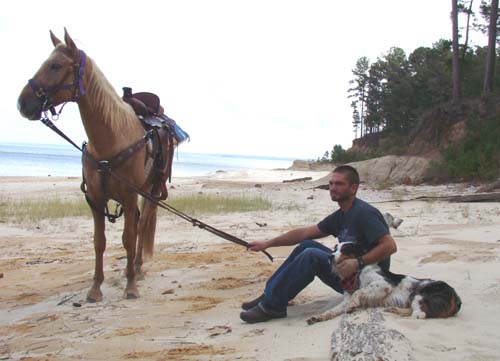 Chad takes a break with Coin at the beach on 11/10/07.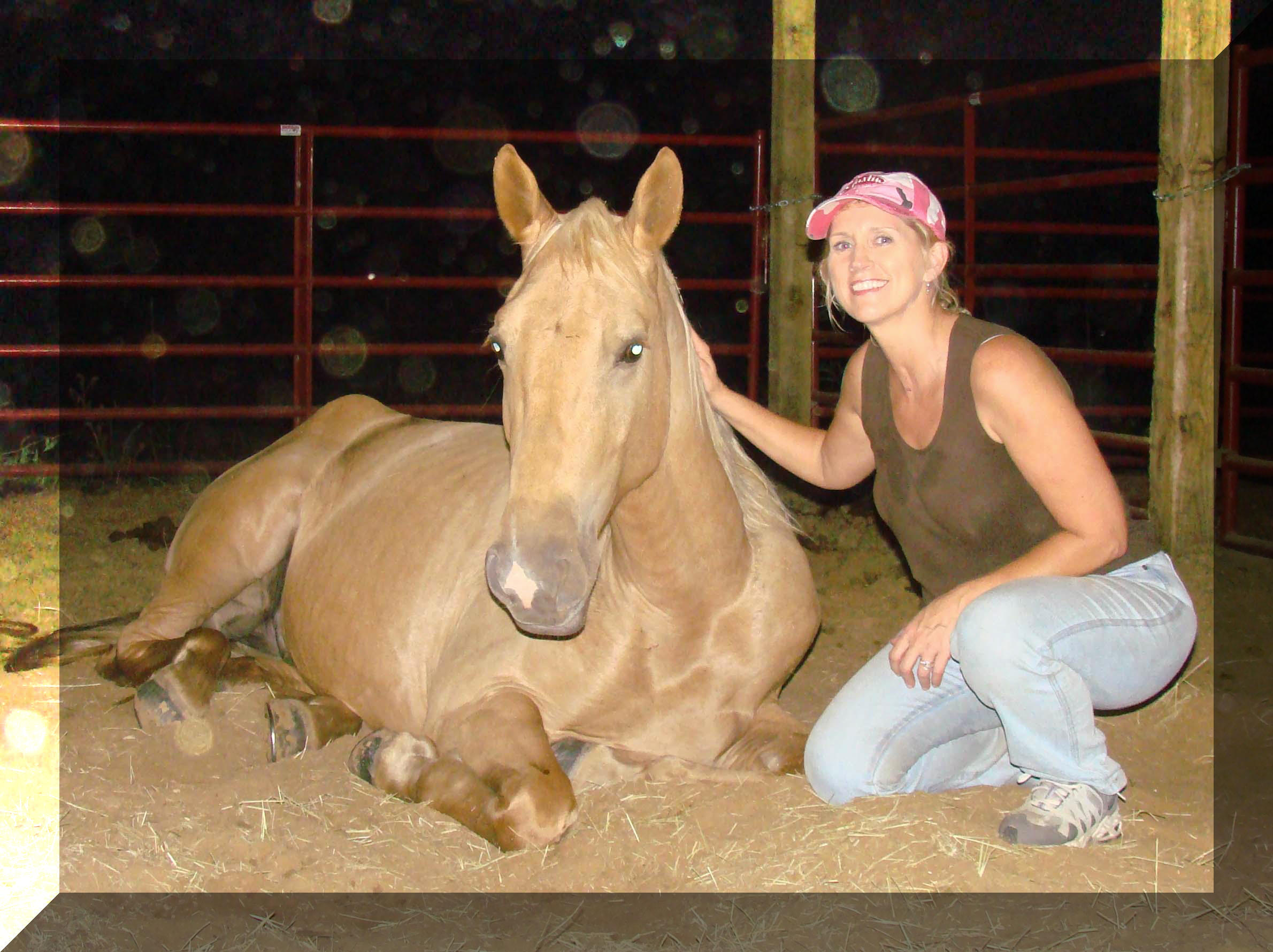 Diane reminds Coin that he has to get up and go to pasture! (10/1/07)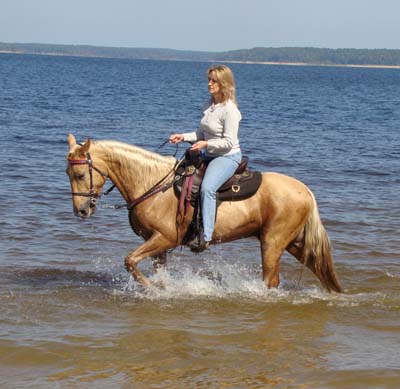 LEFT: Diane riding Coin in Lake Rayburn on 10/29/07.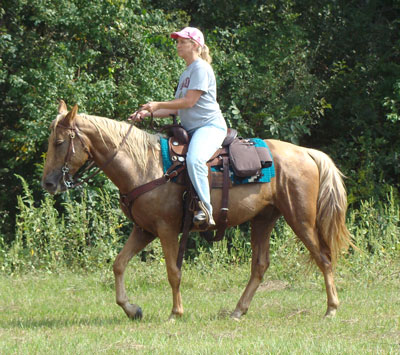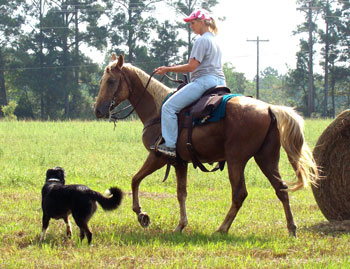 On 10/1/07, Diane rides Coin with all the dogs following (Bailey in this picture).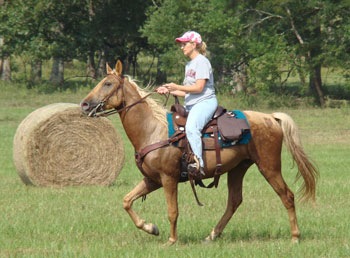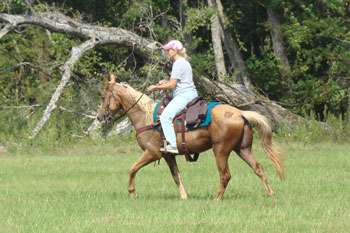 "Flip My Coin" -- Do you want an equine companion to spend your life with? One that is sweet-natured, gentle, willing, absolutely never been hurt or abused, raised with kindness and loving care, not started under saddle until he was three years old, trained with natural horsemanship methods, raised around dogs, cattle, 4-wheelers, tractors, and right on the highway where he sees and hears logging trucks go by, ambulances, lots of traffic? As a bonus, he performs a sweet little head-shaking, 4-beat true Tennessee walk, will rack, or will slip into an athletic, easy, natural canter, all on keg shoes and wearing a snaffle training bit. He has hard, health black hooves and just got his first set of horse shoes recently. I didn't tell the farrier that he had never been shod before until he finished shoeing, and he was amazed. (Being a Quarter Horse guy, he can't believe how gentle and easy to train this breed is.)
Coin was born looking like a sorrel, so I knew he was going to be a dark golden palomino, and in this picture, he is sunbleached, but still dark gold. We have camped with him, taken him in the lake, beside the highway, and he is definitely going to be a confidence builder for his rider. He is three years old and 15H tall, so I expect him to mature at 15.1H, not grow too much taller because he is already starting to spread (chest getting wide, rump getting bigger). You can see his half sister, "Peddlin' The Gold" and he has a half brother, also for sale, "Peddlin' The Bucks".
$3950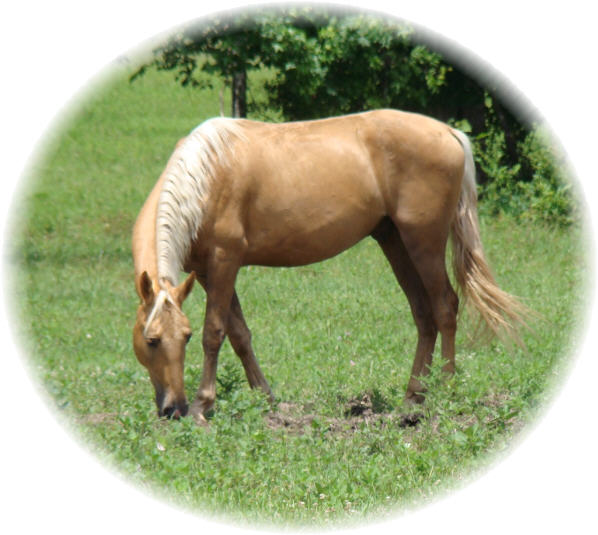 Coin grazing on 6/05/07. (Coming 3-yr-old gelding.) Click on this picture (ABOVE) to see his pedigree.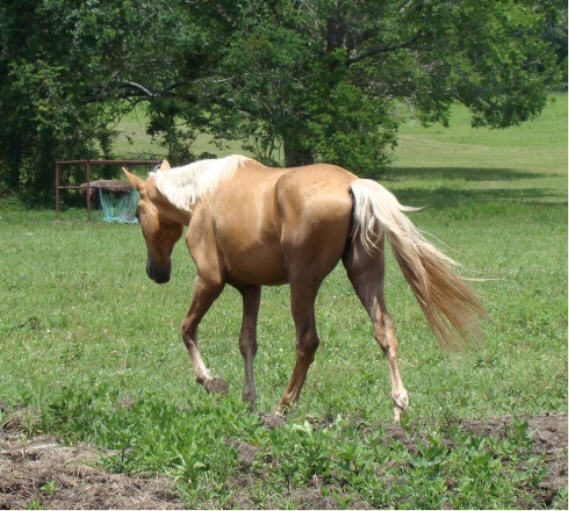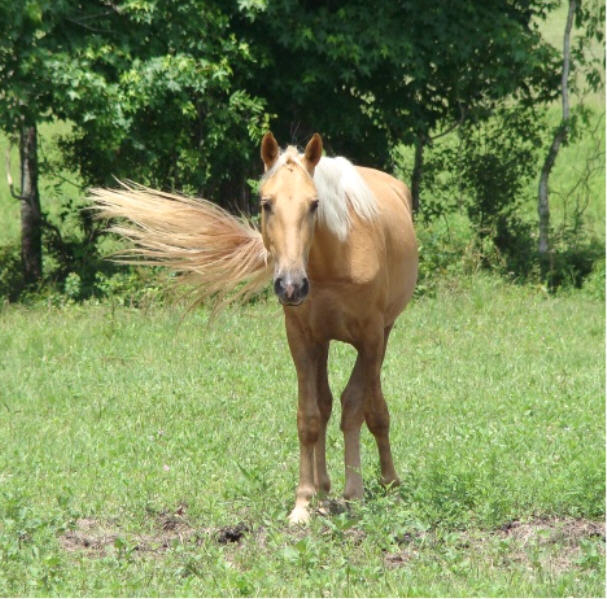 Coin gaiting (barefoot) in the pasture on 6/05/06.
Click below to see Diane riding Coin in the pasture:
(This is his previous ad before we started him under saddle.)
"Flip My Coin" -- Dark, dark golden palomino gelding with white mane and tail, long swan neck, beautiful horse, very gentle. He has been taught to lead, load in a trailer, have his feet trimmed, stand in cross ties, pony behind a horse and pony behind a 4-wheeler. He is by a cremello stallion and out of a Pride's Gold Coin granddaughter, show quality, trail pleasure mind. Click on thumbnail below left to see him when he was a baby -- you could tell then that he was going to be dark golden. Click on thumbnail to far right to see Coin loading and unloading himself (voluntarily) from a trailer we had left the door open on. Coin's gait is smooth and 4-beat with a natural, slow, easy athletic canter, and we have sat on his back briefly (bareback) and put a snaffle in his mouth, but we're in no hurry to break him. He was born 9-11-04 and will be three years old this fall. He has four black, strong hooves and a good heavy bone structure.



Email me!