CLOUD 9 WALKERS
"Gunslinger"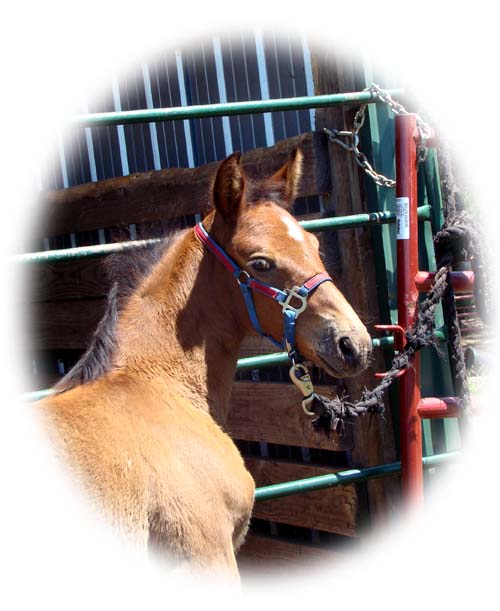 Try to find a beautiful bay Tennessee Walking horse these days! They seem to be almost extinct, since everyone has bred for 'color' for so many years! I was thrilled to get this guy, ironically, out of two exceptionally 'colored' parents!
Click on embedded arrow ABOVE to see Gunslinger in training, on the trail at Lake Rayburn and the Angelina Forest on 7/11/09.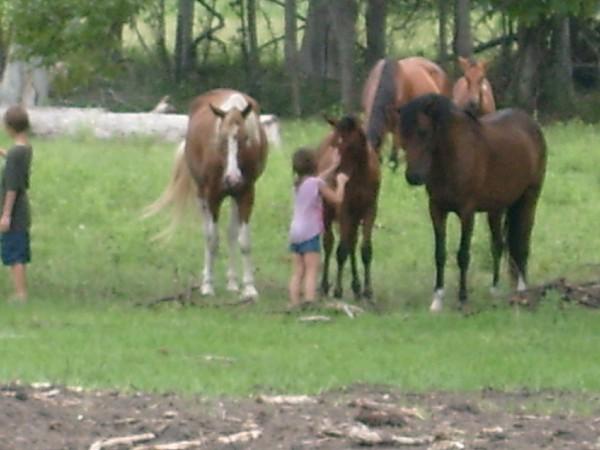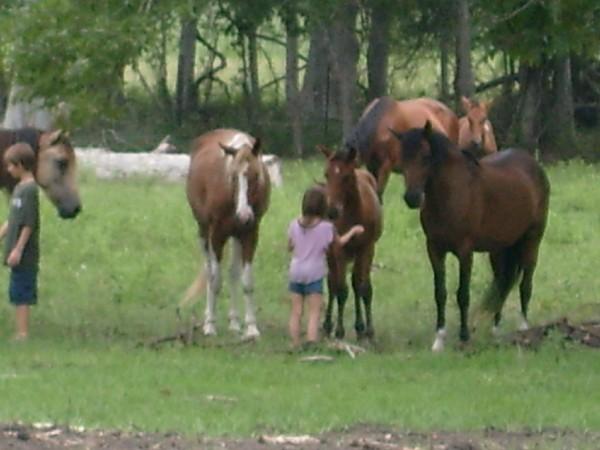 Little 9-yr-old Sydney is enchanted by Gunslinger on her Labor Day, 2009 fun at the farm weekend! Incidentally, Gunslinger's dam is nowhere near him -- that's his "babysitter" friend, "Sin Duda", a 4-yr-old Paso Fino gelding standing beside him in the picture at right.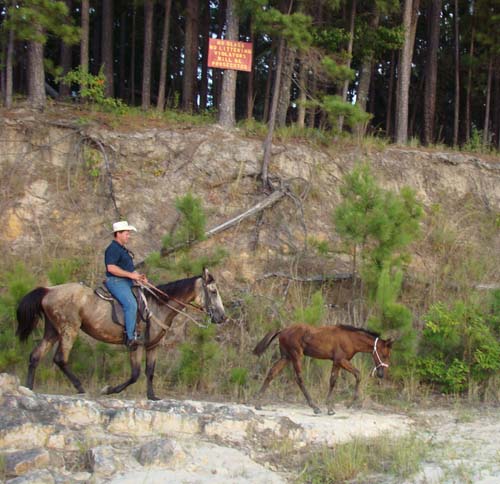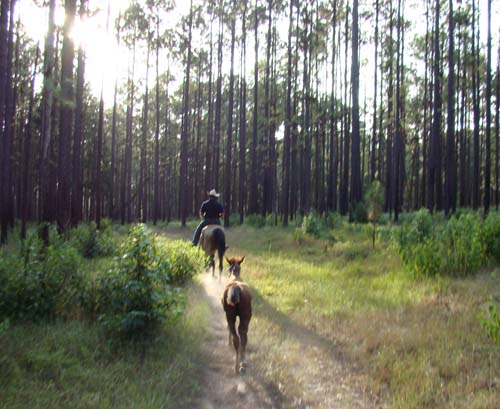 First, he wants to lead his mom, then, he's content to follow! Here he is on the trail in the Angelina Forest, at liberty, on 7/11/09, learning to negotiate fallen logs, creeks, boggy areas, steep hills, lakes with waves washing in, etc.
"Gunslinger" -- Born 4/16/09 out of "Perfect Justice" (a buckskin mare) by "I'm Your Gold Huckleberry" (a drop-dead gorgeous palomino stallion), this classy, exceptional bay colt will be muscular, big and beautiful. He's not showing it now, but in a few months, he will be sporting four black stockings to match his black mane/tail/forelock, and he has a graceful arched neck with a sloping shoulder, nice round hindquarters, and a cute little crease down his back. He will be ready for his new home by September 1, 2009 and he will be taught to: Lead; stand tied; have his feet handled; bathe; be clipped; tolerate dogs, cattle, highway traffic; pony from a horse; pony from a 4-wheeler; park out; bow; lie down. We will be happy to accept a non-refundable deposit of $500 to hold him until September. We will be loading him on the trailer and hauling him with his mother to ride the trails in different areas, so he will be one highly educated youngster by the time he is weaned, and when he is older, starting him under saddle will be a breeze. He will be trained with gentle authority, natural horsemanship methods. Gunslinger will be a beautiful stallion prospect or classy trail companion.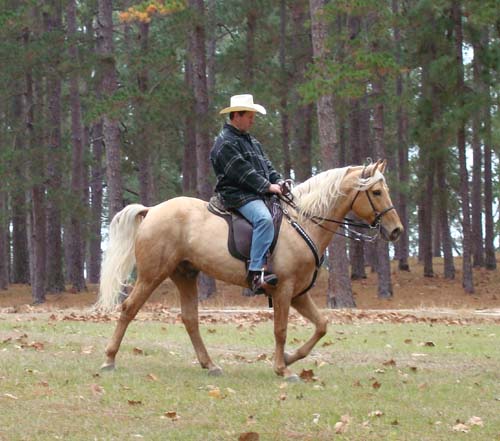 "I'm Your Gold Huckleberry" -- sire of Gunslinger (click HERE to see more info)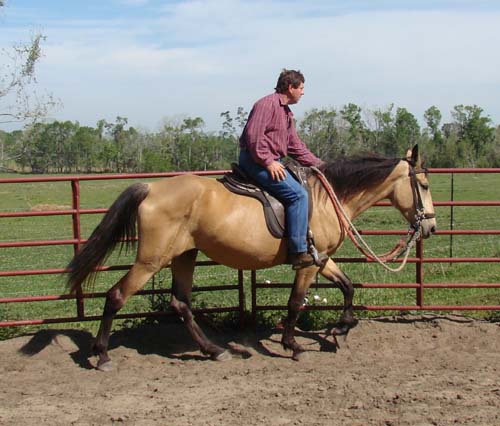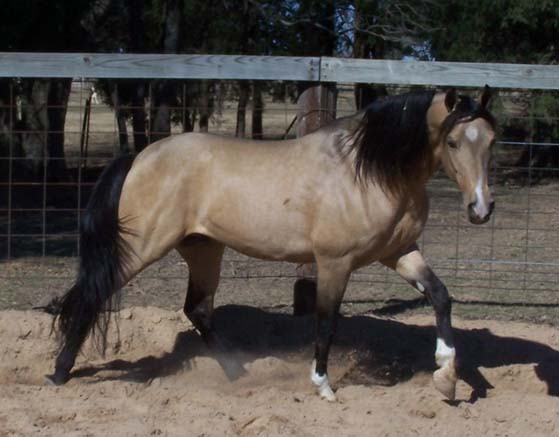 "Perfect Justice" -- dam of Gunslinger (click HERE to see more info); and "Judge's Criminal Justice", Gunslinger's maternal grandsire (click HERE to see more info).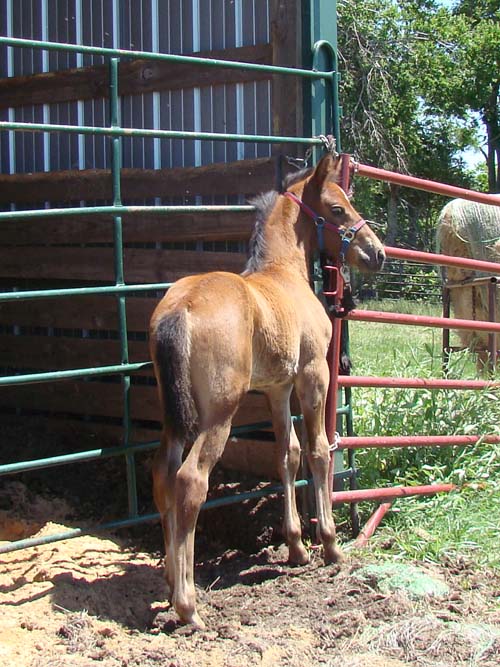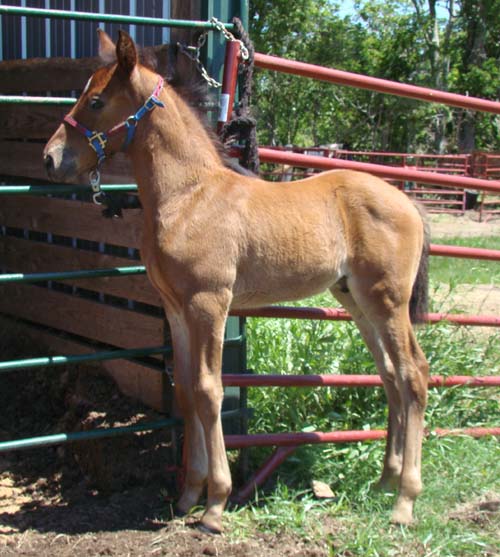 These pictures were taken on 5/18/09 during one of his halter lessons. Notice his beautiful, graceful, curved, naturally arched neck, big round hindquarters, nice chest. This is going to be one beautiful stallion or gelding!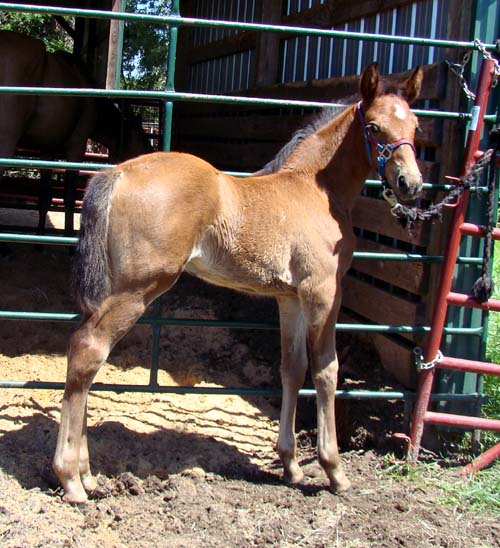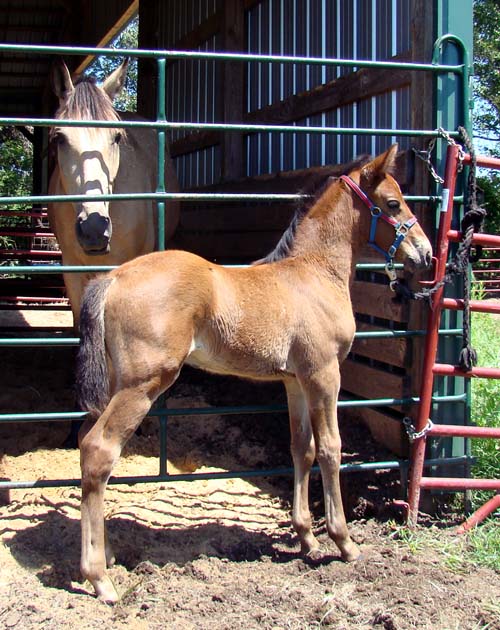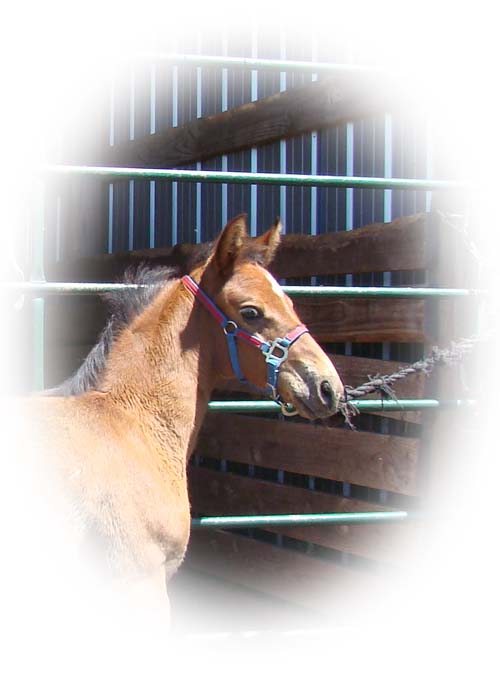 Cloud 9 Walkers
P. O. Box 878
Hardin, Texas 77561-0878
(55 minutes east of Houston)
281-726-4545
(Entire contents of this website copyrighted by Cloud 9 Walkers)

Email me!