CLOUD 9 WALKERS
More owner updates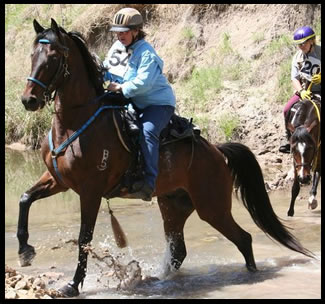 2010 Year End Champion Horseman Division Texas Trail Challenges
Candy riding "LV King Tuck", a beautiful stout bay horse she purchased from us in 2006. Click on their picture to see video from a weekend on one of these competitive trail rides and for more info on Texas Trail Challenges.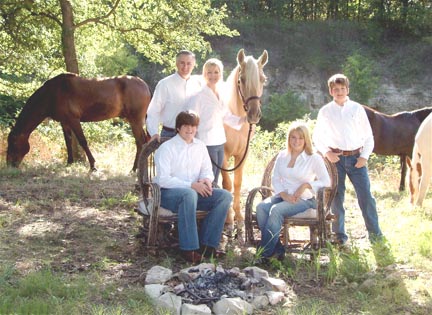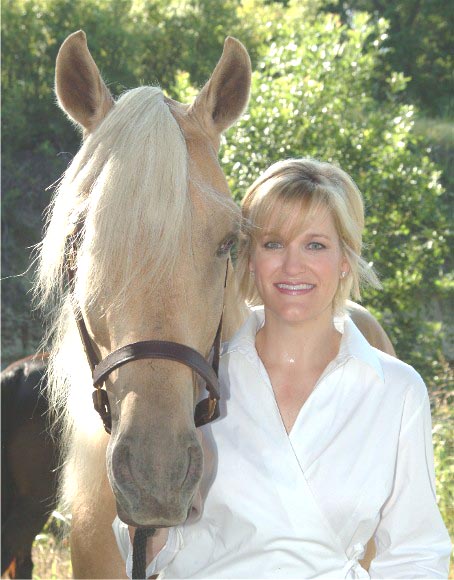 "Streak of Gold" -- now known as "Hollywood" and integrated into this handsome family! Congratulations to Joanie on the perfect match. She writes:
I absolutely love Hollywood! We went to a Desentization Clinic in Decatur, TX (LBJ Grasslands National Park, WONDERFUL marked equestrian trails on 22,000 acres!!! Well worth the trip! Can stay at Grasslands Bed & Barn with horses) Greg, a Houston Mounted Patrol Police Officer holds the clinic for 12 clients and their horses. It was a terrific learning experience for us both. I greatly benefitted from it. -- Joanie 11/8/04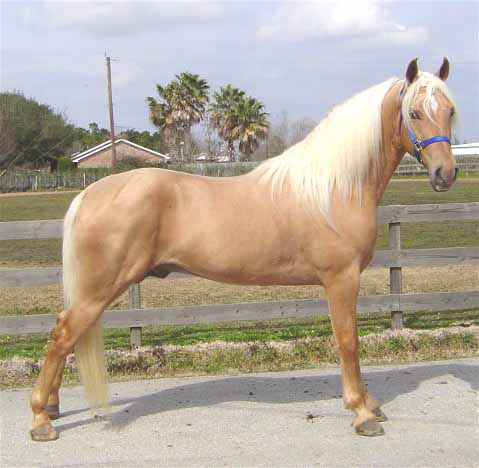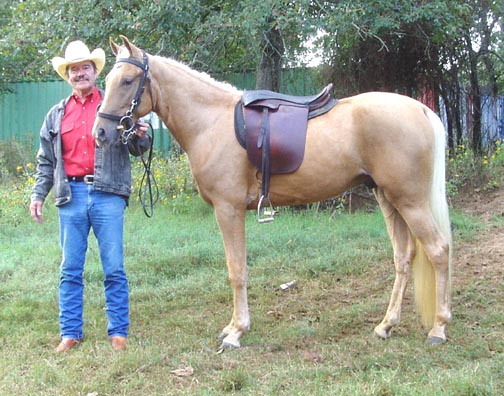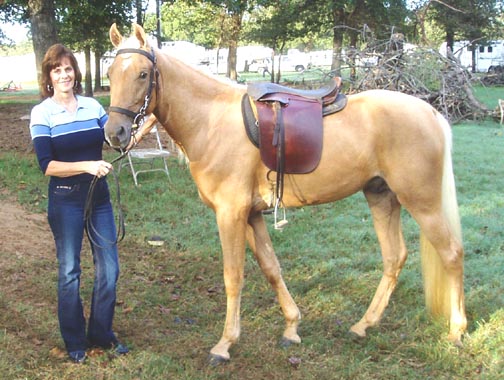 Gerry and Dawn in Oklahoma purchased this 2-yr-old golden palomino stallion "Sunrise" (from our yearling page) in June, 2004, right after Bud started him under saddle. They have really bloomed him out and brought along his training. This is one of the most beautiful horses (and GOLD, at that!) that I've ever met!
Laura, Thought you'd like to see a current picture of "Sonny". He's absolutely marvelous!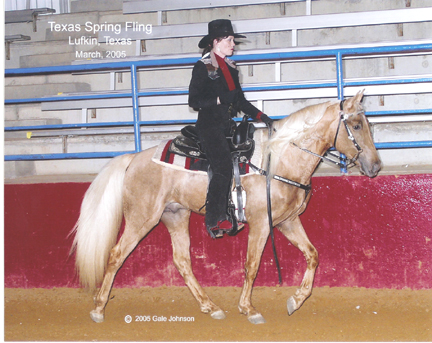 Sunny at a recent Texas Walking Horse show.
They also purchased "Sadie", a beautiful black roan lit-up Tennessee Walking Horse mare which they have already camped and trailridden.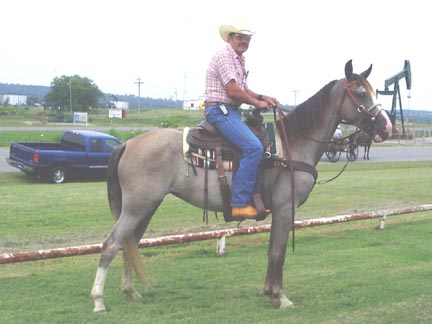 Here is a picture of Sadie and I at the parade at the Old Settler's Picnic here in our hometown, Velma, OK. Also, wanted to tell you that Sadie is a real dream horse, because she adjusts her gait according to who is riding her. If an inexperienced rider is on her, she goes along in a smooth and flowing gate, but if an experienced rider is on her, she'll really stretch out and go, go, go. No horse we have can keep up with her.
11/24/04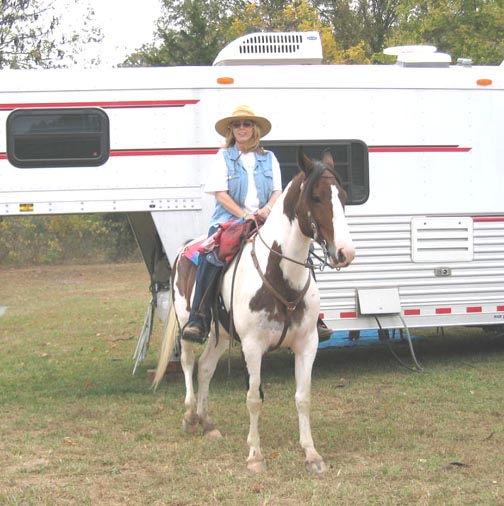 Laura,
Here is a picture of Shanghi who we renamed Wilson. He
is everything you said. We are very happy with him.
Thanks,
Sherri
11/02/04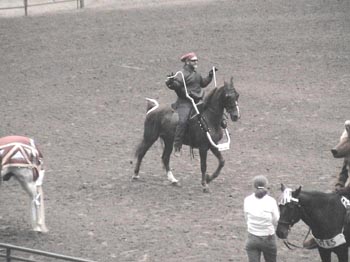 "The Arsonist" -- I used to own and show this beautiful red Tennessee Walking Horse gelding about 10 years ago, winning lots of blue ribbons and even retiring a challenge trophy (winning 3 consecutive years) with him. He is now owned by the Gerring family, and is shown here winning the costume class in October, 2004 competing as a "Harley Davidson motorcycle". The picture is deceiving, but had lots of people laughing when they found out the trickery behind this costume. Mr. Gerring actually has fake hands (stuffed gloves and arms) in the leather biker jacket, which are tied to the PVC handlebars. He is handling the reins by slipping his hands out underneath the jacket, in his lap. Mr. Gerring is wearing biker attire, complete with "doo-rag", sunglasses and Mrs. Gerring stuck bumper stickers on the horse's hindquarters stating "Follow me to Sturgis". This had to be a great costume, because it beat out a very attractive belly dancer!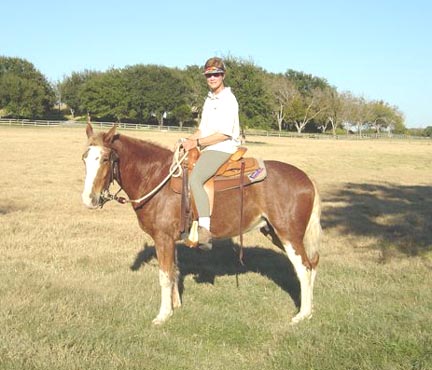 Laura,
The trip home was uneventful. even stopped for lunch and had a large 18 wheeler pull up next to hobo. we expected to see the trailer rocking when we emerged from the restaurant....only to find him peacefully eating his hay and the 18 wheeler was gone.
he is acclimating well. the 24 year old arabian is a bit of a thorn in his side, but hobo has the advantage of his youth and faster legs. however, he and our crippled quarter horse are now good buddies. hobo learned in three days time to lunge. thought he might need that skill since he was supposed to have that bit of energy at the onset of his ride. seems that he now just stands and does his neck flexion exercises for the first five minutes and then calmly goes for our ride. was a little worried when my farrier announced that his gait would probably be somewhat rougher now that his weighted toe shoes have been removed, and he is now barefoot. was i surprised to find out that he is just as smooth on hard pasture as he was in your soft arena.
he was introduced to my neighbour's llamas and totally dismissed them but was terrified of her miniature horses.....guess you did not encounter many of those on your trail rides. he seems to ignore fluttering tarps, vultures taking off, blowing trash bags, and colourful umbrellas. i think that he and i are going to have many good rides and experiences. i just want to thank you again for catching that muddy, little horse out in the pasture and letting me test ride him. please let me know if you ever choose to ride in bandera. would love to meet you there for some serious trail riding and conversations. oh, and by the way, he loves his plain, egg-butt snaffle bit.....does beautifully with it.
Yvonne, 12/21/04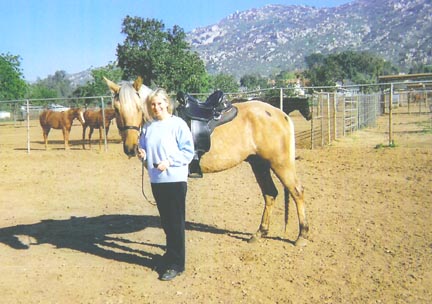 Laura, Cimarron is doing great. He's everything you said he was, perfect on the trails. People thought I was crazy for buying a horse on the Internet sight unseen, but I had such a good feeling about you. Amy is great, as well. Pam just loves her. We can't wait for the baby to arrive.
Thank you and Merry Christmas
-- Catherine (California) 12/20/04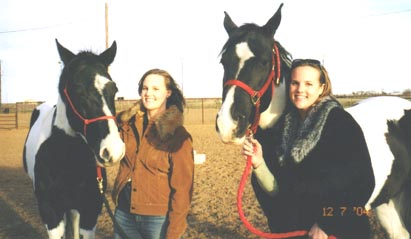 Hi Laura,
I just wanted to tell you how fabulous Zeb is - I've never had a horse that is so lovable and sweet. He's also extremely well trained and eager to please. You don't know how much he means to me; I'm so glad that I have such a fun little Tennessee Walking Horse!
Thank you, Jenny (and Zeb) 1/5/05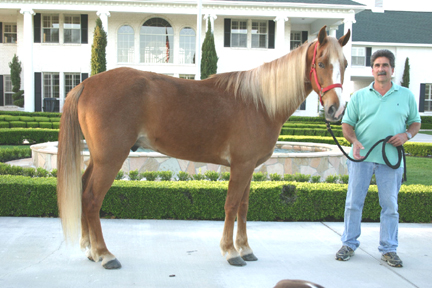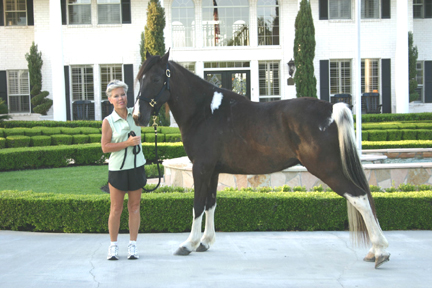 Hi Laura, I just wanted to let you know that Sundrop and ChaChi are working out just great. They are now Sunny and Romeo! I hope they don't care. We are enjoying them so much, and I believe they love our pasture and their new barn. Thanks again for the great horses. We have recommended you to several people. Thanks, Judy White 4/12/05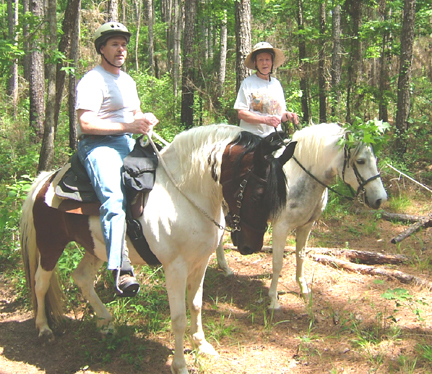 Hi Laura,
Windberg has turned out to be a wonderful horse. He's everything you said he was and more. I am really glad that we got him. He's a once in a lifetime horse….the kind you keep forever……
Thanks for your help and for representing him accurately to match what we were looking for…
Marcy -- Willis, Texas
6/8/05
Here's a pic of my husband Alex on Windberg and a neighbor out for a leisurely ride.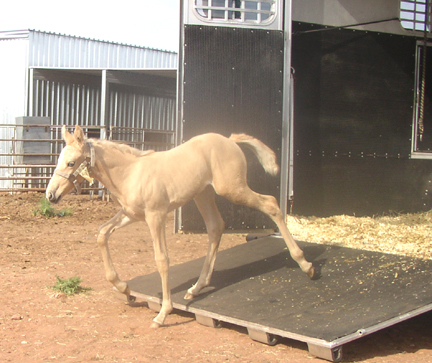 Tess is doing really well. Sam's been doing a great job with her. Missy is very friendly and affectionate. We haven't had any problem getting close to her or Tess. I'll try to take some pictures this weekend.
John and Jackson are doing great together! John just loves him.
Faith is so good with Lizzie. She seems to know when Lizzie is on her back and take things very slowly. She is definitely the horse for beginners to learn on.
Sam and Lilly are taking there lesson with Davie as I write this. She's such a sweet girl.
Acacia is coming along very nicely and doing really well with the bosal. She is such a beautiful horse, with tons of personality! She smiles a lot!
Kat -- Ash Fork, Arizona (now home to SIX Cloud 9 Walker horses: Lilly, the buckskin mare; Acacia the champagne tobiano filly; Jackson the tall gentle sorrel gelding; Faith the sweetheart broodmare; Missy the sorrel/white spotted broodmare; and "Tess", pictured above (actually gaiting as she is being unloaded from the transport trailer), Missy's filly that she gave birth to one week before they were due to ship out!
6/13/05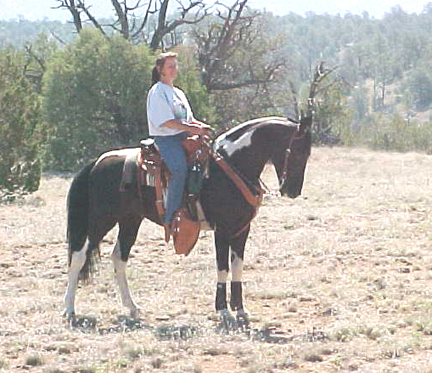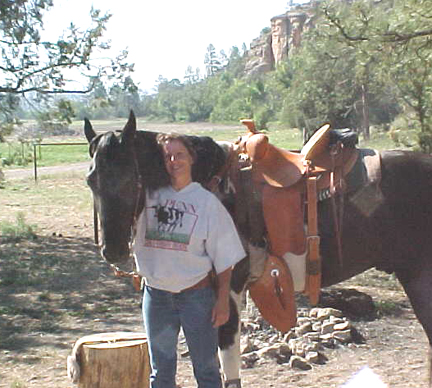 Hi Laura,
I thought you might like to see where Living Colors Masterpiece AKA Master went for his first camping trip with me and Bill. Master is an awesome horse. He can climb rocky steep mountain trails like he was born there. I love him already. -- Dee in Silver City, New Mexico on 6/7/05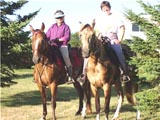 Laura,
This was taken this evening with my friend on Daisy. This lady is 70 years old and the main reason I bought Daisy. I needed something reliable and safe. Daisy is working out nicely.
Joanne, Minnesota 8/5/05



CLOUD 9 WALKERS
P. O. Box 878
Hardin, Texas 77561
936-298-1984

Email me!