CLOUD 9 WALKERS
"Good Times"
(This page is an ongoing project . . . )
Click on embedded arrow ABOVE to see our snowy ride in Kentucky in December, 2010.
Click on embedded arrow ABOVE to see our ride at the Horse Camp Ranch/Oh Be Joyful trail near Gunnison/Crested Butte, Colorado on 6/26/11.
Click on embedded arrow ABOVE to see our ride at the Horse Camp Ranch/Oh Be Joyful trail near Gunnison/Crested Butte, Colorado on 6/26/11, part 2, and us clowning around!
Click on embedded arrow ABOVE to see our beautiful 5-hour ride (Part 1) on the ridges overlooking Crested Butte, Colorado.
Click on embedded arrow ABOVE to see our beautiful 5-hour ride (Part 2) on the ridges overlooking Crested Butte, Colorado.
Click on embedded arrow ABOVE to see our ride in Crested Butte, Colorado on 6/22/11, with lots of training toward separating from the other horses, water obstacles, and spooky 'monsters'!
Click on embedded arrow ABOVE to see our ride in Crested Butte, Colorado on 6/21/11.
Click on embedded arrow ABOVE to see our ride in Crested Butte, Colorado on 6/22/11, Part 2
Click on embedded arrow ABOVE to see our good times at Crested Butte on 6/20/11.
Click on embedded arrow ABOVE to see our Texas Panhandle (Caprock Canyon) ride on 6/18/11.
Click on embedded arrow ABOVE to see our good times at a Texas Trails Challenge in Valley Mills, Texas on 11/13/10.
For more information on upcoming Texas Trail Challenges, click here: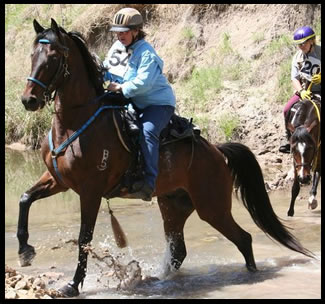 Candy riding "LV King Tuck", a big, stout, beautiful bay Tennessee Walking Horse gelding she purchased from us in 2006.
Click on embedded arrow ABOVE to see our fun in the forest (on our camping trip during the week of 11/4/10).
Click on embedded arrow ABOVE to see our 'reunion' camping trip (lots of customers, friends, and horses purchased from us) at the Angelina Forest during the week of 11/4/10.
Click on embedded arrow ABOVE to see Pattycake's cute little owner in their first show.
Click on embedded arrow ABOVE to see our July, 2009 trip to the Colorado Rockies!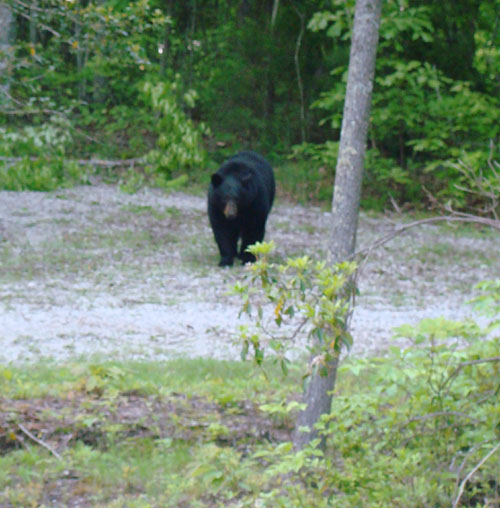 I was walking around checking out a cabin in the woods late one evening in May while my friend, Lynn sat on her horse, holding my horse for me as I explored. We had just finished up two magnificent weeks of extreme mountain riding with fun friends and this was our last night on this beautiful Kentucky mountain near the Cumberland River. Suddenly, she yelled at me to come back because both horses froze in alert position, staring at something that none of us could see, and she could feel her horse's heartbeat through her saddle, he was so terrified. I had to step around some brush to get a good view, and even then, I had to look twice to make sure that I wasn't just seeing a big boulder, because he was just standing there casually, scoping us all out, this big, glossy, beautiful black bear. For some reason, I wasn't afraid of him and wanted to steady my camera and take shots of him, keeping plenty of distance between us, of course, but Lynn insisted that I get back on my horse first, in case we had to run. I mounted up, took a few pictures, then wondered if the bear would be intimidated if I yelled at him, like the books say to do. I yelled, but he wasn't the least bit bothered. I still wasn't afraid, but Lynn was nervous, and I was worried that any minute he would bolt and I would miss my photo ops, so I switched the camera settings and took aim. I sat on my horse and shot a video which was sub quality because when Lynn started to move away, my horse wanted to follow and she wheeled once while I was shooting, but I recovered and continued the video until the bear moseyed out of view behind a truck which was parked by this cabin. My sweet little mare was extremely compliant and didn't seem to be very upset about this natural predator, so I urged her toward the bear to get more video, and when I did that, he broke and ran off through the pines. Lynn was glad to see him go, and I was so excited about making the decision to bring my camera with me that I could have tap danced!
Click on arrow ABOVE to ride in the saddle with me on the beautiful trails at Big South Fork/Cumberland River in Kentucky in May, 2009.
Click on arrow ABOVE to join us at camp during our Big South Fork/Cumberland River trip in Kentucky in May, 2009.
After driving 16 hours from Texas to eastern Kentucky to join up with hundreds of folks to ride through elk country, we found ourselves camped in mud as the weather manís forecast of rain proved true every single day for all but two of the thirteen days that we were there. Since the temperature was pleasant, we either made a mad dash back to the trailers for dry clothes, or we decided to be sensible and pack our rain gear on the saddles, so nothing kept us from riding and enjoying each otherís company and horses.
We noticed that some folks did stay at camp under their awnings, with fires burning, guitars and fiddles playing, full course meals being prepared over both wood and propane fires. The kids ran, splashed and played hard in the muddy rain puddles while the show boats rode their good speed horses back and forth down the main road that led into camp.
There were several rides scheduled that day, from long (7 hours) to short (1 hour), but the storm the day before that caught us all off guard which blew in suddenly with high winds and hail must have been strong on the minds of most of the riders and caused them to change their plans. When the seven in our camp lined up at the trailhead, there were only six other riders with the trail boss, when normally there would have been at least a hundred.
One of the riders, John, was a really nice 70-something gentleman from Indiana who was riding a beautiful stocky Tennessee Walking Horse gelding that I couldnít stop drooling over, and I spent much of the next seven hours trying to convince him that his horse needed to go to Texas! He informed me that his wife forbade him to ever sell that horse, and I kept him entertained with a steady stream of scenarios that would exonerate him if he sold me his horse. After all, wouldnít it be believable that a horse could come untied at lunch and simply disappear into thousands of acres of national forest? Hadnít she heard of Big Foot?
As we rode along wondering if the rest of the camp thought we were all foolish for riding in the glorious rain, and wondering why they couldnít see what a wonderful experience they were missing, I explained to John that only a few years ago, I might have stayed home in Texas when I heard the forecast, but my appendix cancer battle raised me to a whole new level of appreciation for life, and I now live, work and play hard, as if the Grim Reaper is one step behind me.
John said that he was there for a similar reason, and his story was sad. He said that he and his best friend of 60-plus years, Otis, rode the trails together frequently, just the two of them. They worked hard all week and took a few hours together on weekends to unwind and let all the stress of the hectic dog-eat-dog world melt away as they enjoyed their good horses, good trails and each otherís friendship.
As the years passed, Otis developed heart trouble, and his doctor told him that he didnít need to be out on a horse in the forest with his heart problems, because he could die without timely medical help. In fact, on a few of their rides together, Otis had some scary episodes which caused John much stress, and after much thought and regret, he informed his life long best friend that he simply could not be a party to the risk involved in trail riding with him any longer Ė what if his heart gave out and John couldnít successfully revive him? John didnít think he could live with that memory or that guilt if Otis were to die on the trails.
Otis smiled at his friend, put his hand on his shoulder and looked him square in his eyes and told him that heíd much rather die in the forest in the company of his horse and his best friend than to die alone in a hospital bed, and asked him to please continue their rides.
That was to be John and Otisí last ride together, and sadly, a few years later, Otis did succumb to his heart disease and just as he predicted and feared, he died all alone, in a hospital bed. John now rides all his rides in honor of Otis, and not much can keep him off the trails as he tries to push back the regret and guilt he feels not so much for his friendís death, but for his part in the loss of Otisí quality of life.
"Life isn't about how to survive the storm,
but how to dance in the rain!"
Click on arrow ABOVE to see good times in Big South Fork in KY/TN. (We camp in KY and ride our horses to TN.)
Below are a few candids from camp in Knott County -- it rained the entire time we were there, and we WERE camping primitive (tent, no hookups) but there was a huge turnout, the show went on, and everyone had a BLAST!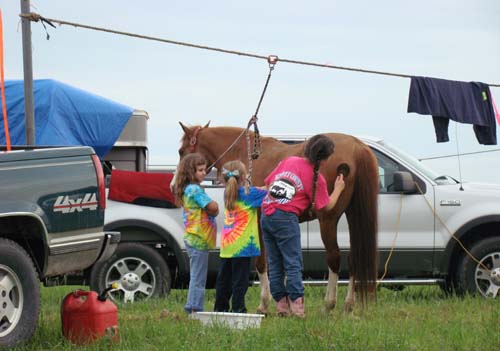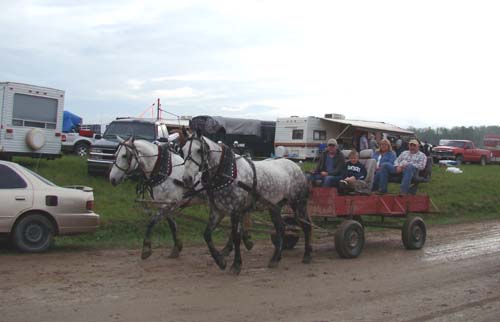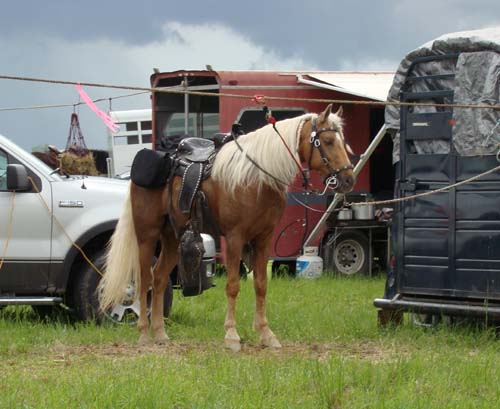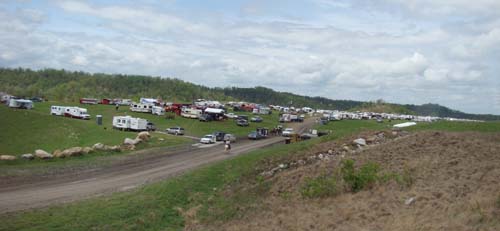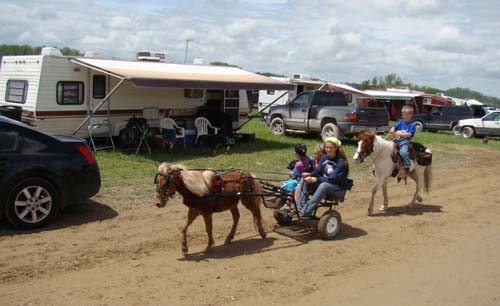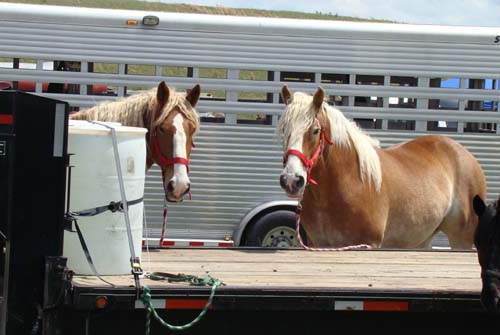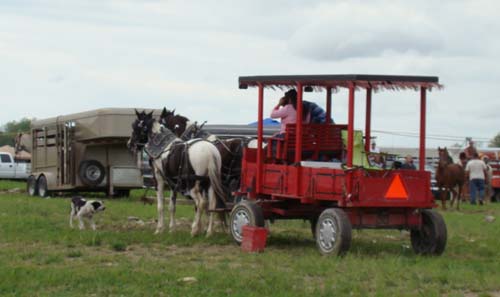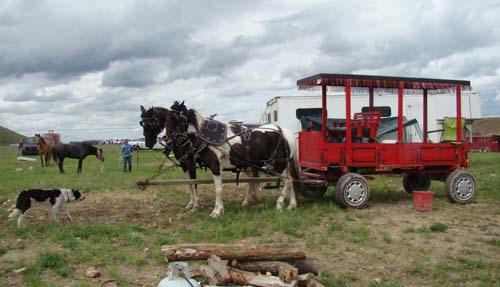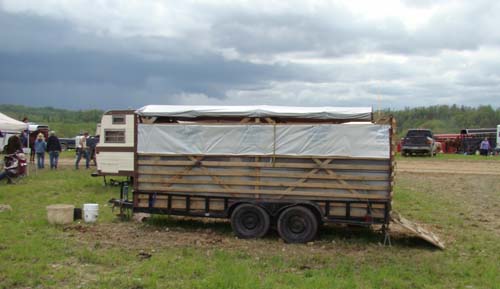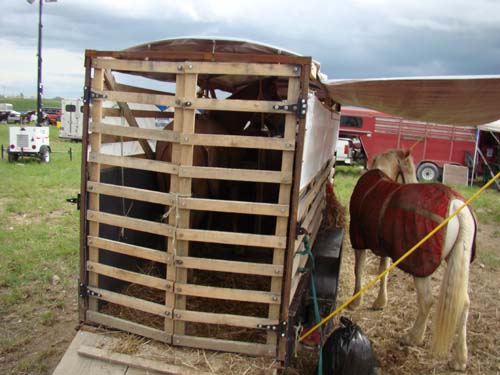 Wait for a moment for slideshow to load ABOVE.
Click on arrow ABOVE to see video of our ride at George Foreman's 60th birthday party on 3/14/09.
Click on arrow ABOVE to see a 'challenge' on one of our Tennessee Mountain rides.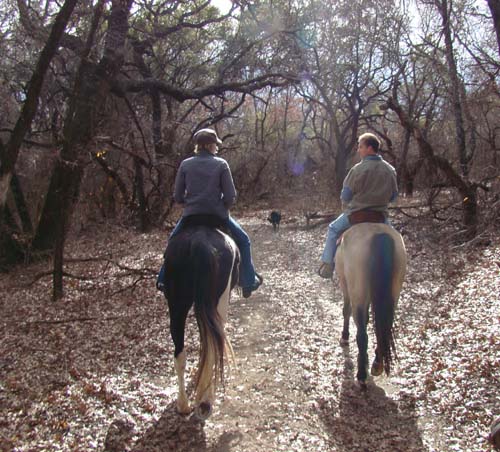 Click on picture ABOVE to see our fabulous time at the LBJ Grasslands the week of 12/18/08.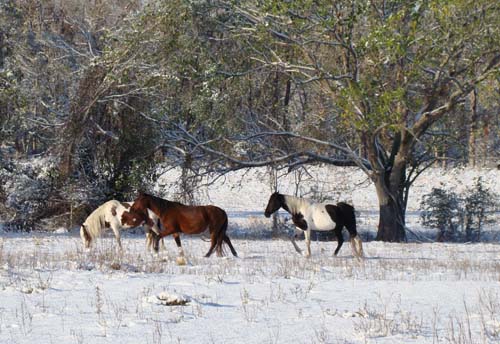 AWESOME DAY IN TEXAS! (Click on picture for slide show)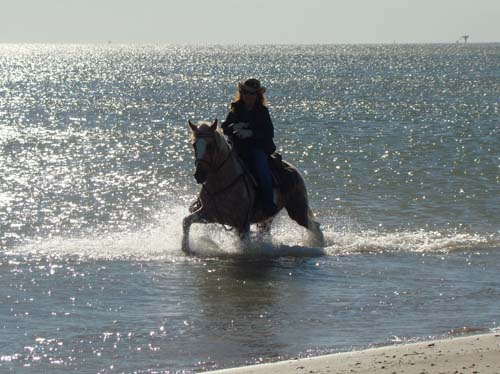 Riding Huckleberry on New Year's Day, 2008, in the Gulf of Mexico on the Louisiana shore. Click on picture ABOVE to see more beach pictures and video.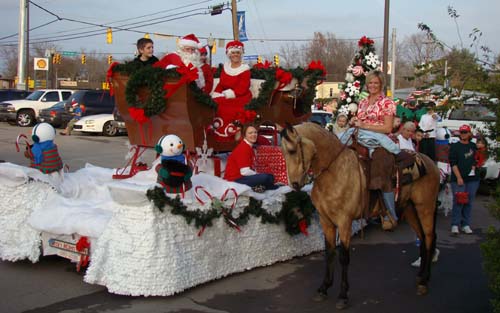 Amber riding "Smoking Gun" in the Murfreesboro, TN Christmas parade on 12/9/07.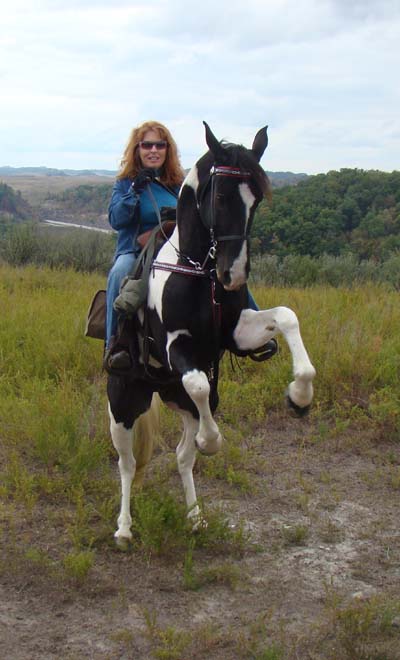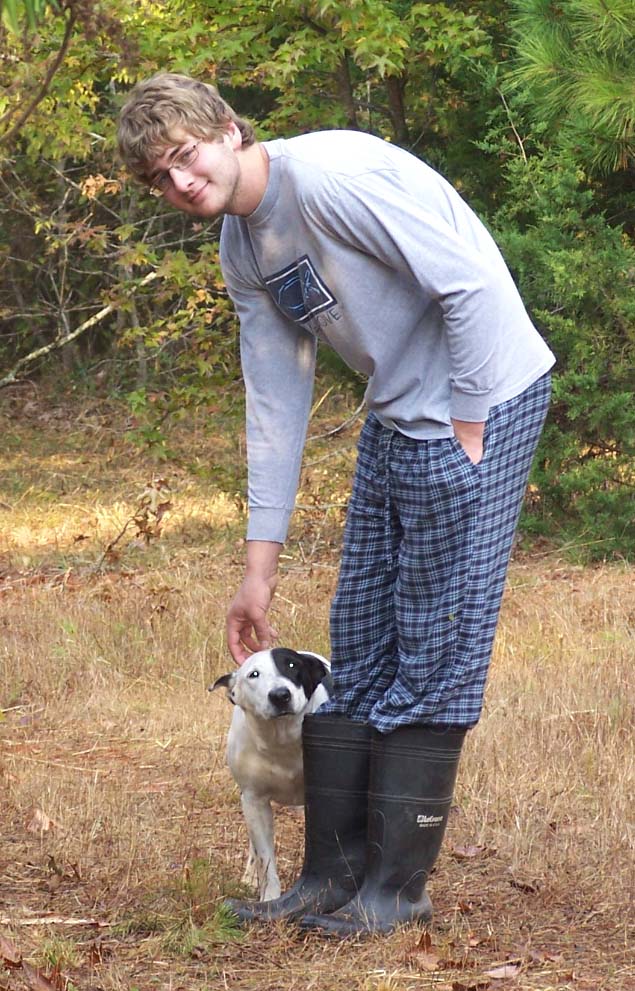 After two days at M D Anderson in Houston, TX of being violated and tested (smile), as of Spring, 2009, I am now an Officially-Certified 2-1/2 Year Cancer Survivor!
Thanks to all of you for all your prayers and well wishes.
Now, please pray for 15-yr-old Charlie Bittner of Quitman, Tx (pictured at RIGHT) as he begins his battle, and you can click on his picture to read of his progress and send him and his family an email of encouragement. They also have a few horses for sale to make time for Charlie's battle, so check out their for sale page or send an inquiring email.
Our Kentucky/Virginia good times 10/09/07 through 10/17/07
NEW: CLICK ON PICTURE BELOW FOR FUN SLIDESHOW: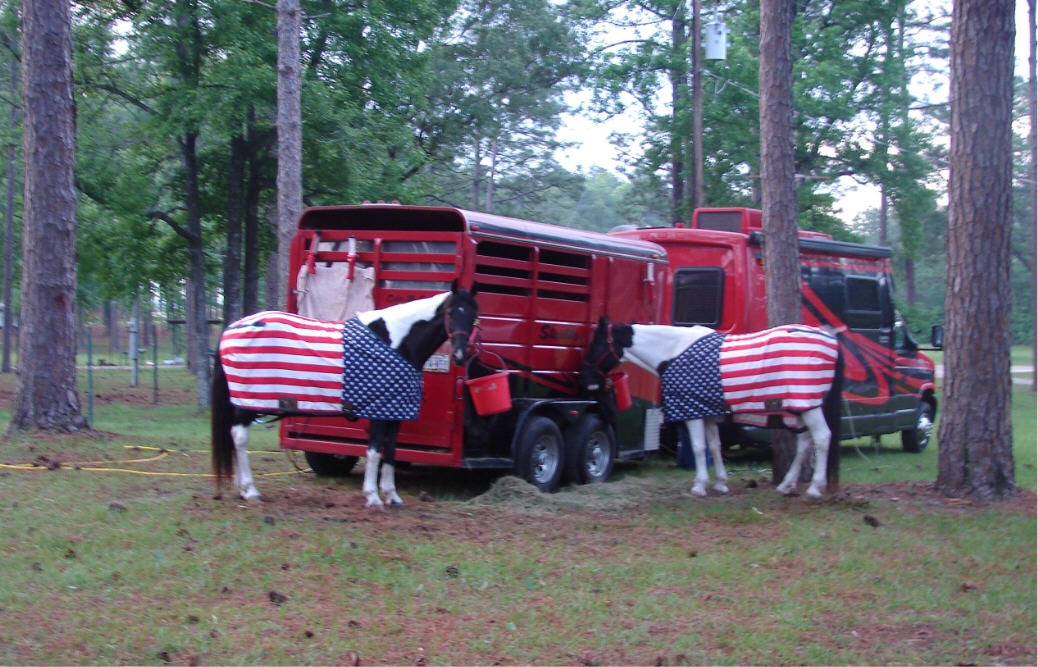 Who says camping can't be fun, relaxing, pleasurable yet flamboyant and patriotic at the same time? Click on this picture to see a slide show of our usual, everyday good times! :))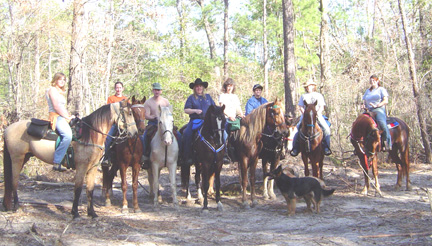 "The Great Escape" (circa 2/27/06)
The Connecticut gang joining us for a few weeks to escape the eastern blizzards! We're enjoying a 73-degree day in the Angelina Forest. From left: Meghan on Dalton; Shelly on Max, Tony on Cotton, Debbie on Willie, Lynn on Rain, Althea on Howie, Kelly on Snickers and Kala on Rusty (right before their "swim" in the creek!). Life is good!
---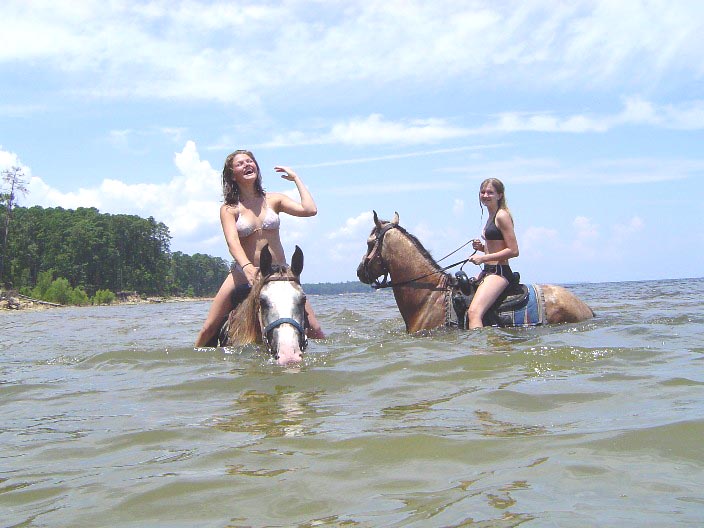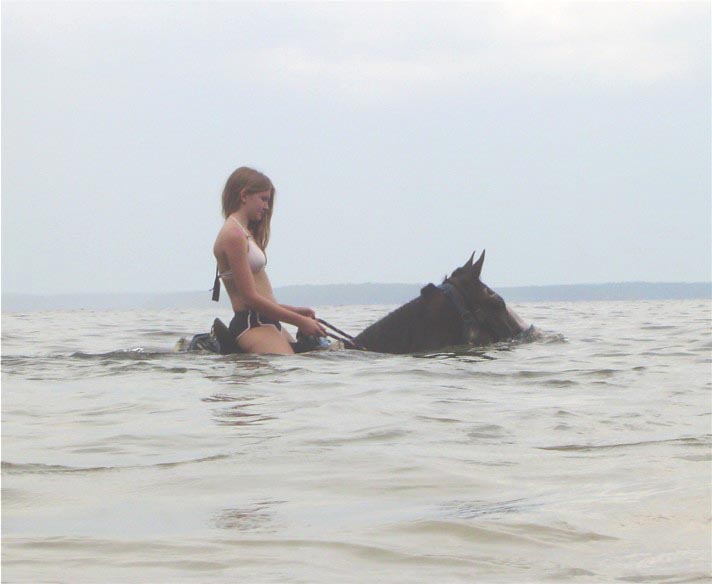 Swimming a horse feels like riding Pegasus -- a smooth, surreal flying sensation!
A beautiful Texas summer day in Lake Rayburn. This picture was taken during our ride on Saturday, July 24, 2004 during which we enjoyed the warm water and the exhilarating hills and trails of the Angelina Forest. Click on the picture to LEFT to see Tiffany and Hannah swimming with Pearl and Durango, and click on picture to RIGHT to see them riding on the beach. Hannah is swimming Shiner in the picture to the right, and his nose is underwater because he was enjoying blowing bubbles. You can tell both horse and rider are relaxed and enjoying the moment.
---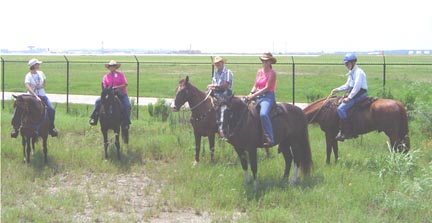 Airport Rangers -- the Tennessee Walker group!
Houston Intercontinental Airport has established an Equine Airport Ranger program for security. This pic was snapped (by me, sitting on Sundrop) on 7/30/05 and you can barely see a plane taxiing the runway at the far left of the picture. Our horses become accustomed to jet engines taking off and landing while riding this property and at the same time, scouting for terrorists.
---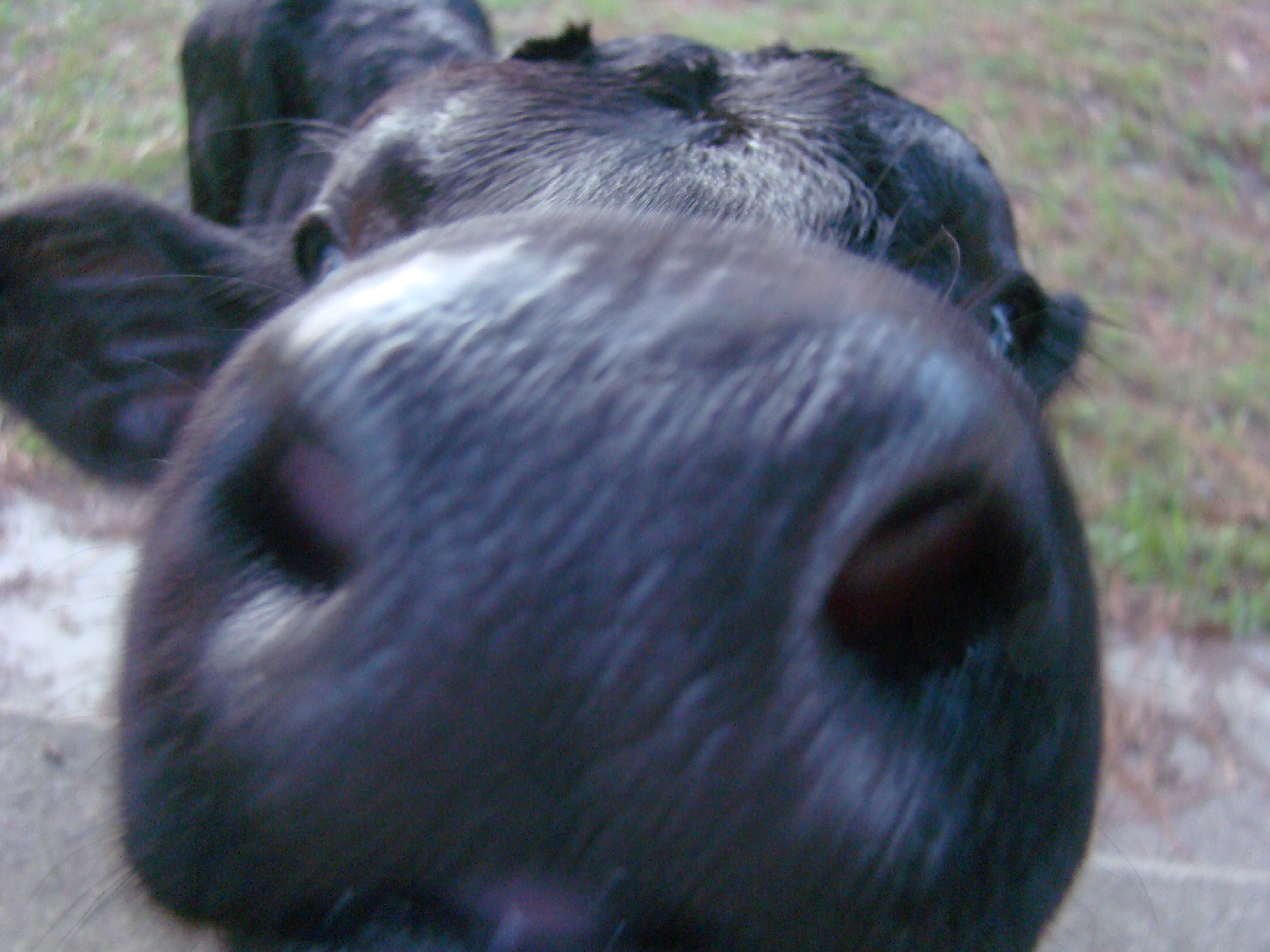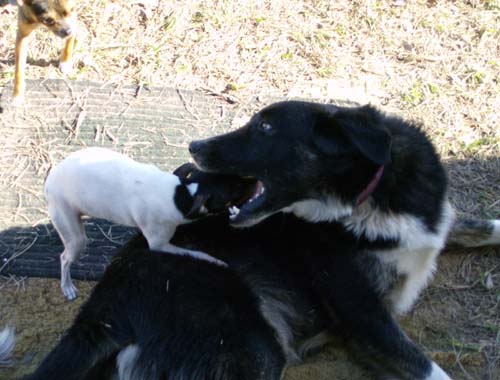 The newest addition to Cloud 9 Walkers! (Click on picture of mysterious creature ABOVE LEFT), and check out our doggy page (ABOVE RIGHT).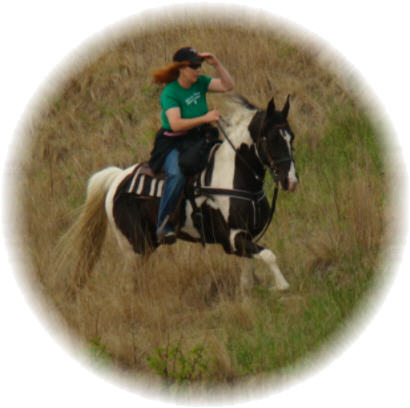 UPDATED!
LEFT: Dakota and me climbing up the side of a Kentucky mountain on 5/4/07 . . . Click on picture of Dakota and me to see a slideshow of our fantastic campout and trailride in eastern Kentucky, almost to the Virginia border. Our friends from Connecticut drove down and we drove up from Texas to meet in the middle for a great time in the hills and trails, meet some really friendly, warm, hospitable Kentuckians, and taste some really great moonshine! Ah, life is good!
WATCH OUT GUNSMOKE! You have competition on the farm!
Click here for "Green Acres" style entertainment: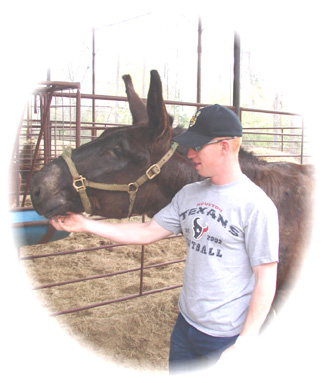 Reluctantly, because of our 'setback', we have parted with our sweet, precious Jackson the gaited Jack. He joins Cisco and Stetson the gaited mule on 9/20/06 at their new home in British Columbia, Canada. Congratulations to the Powells!


Cloud 9 Walkers
P. O. Box 878
Hardin, Texas 77561-0878
(55 minutes east of Houston)
281-726-4545
(Entire contents of this website copyrighted by Cloud 9 Walkers)

Email me!