CLOUD 9 WALKERS
"CAPER'S CONFEDERATE ROSE"
(Barn Name "Pia")
Flashy 3-yr-old Dappled Buckskin Tennessee Walking Horse Mare with Minimally-Expressed Tobiano Gene
Exceptionally Gentle, Tolerant, Forgiving
Started RIGHT, running with cattle, broodmares, other babies, then started her natural horsemanship training.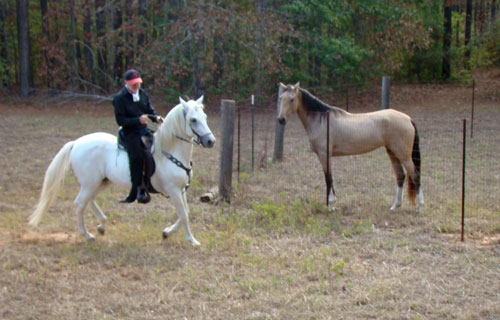 Pia waits her turn to hit the trails on our camping trip in Nacogdoches trails on 10/22/11 while Tracy rides by on his Paso Fino stallion.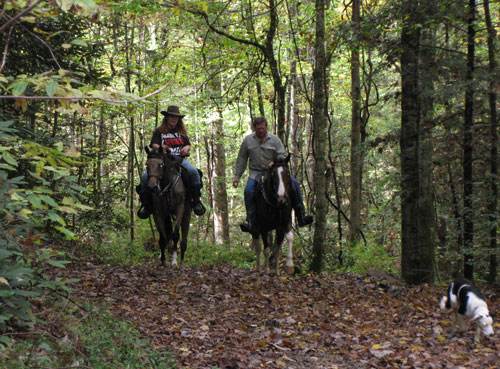 I'm riding Pia (left) and Huey is riding Starburst on the trails at Big South Fork in Tennessee on 10/13/11.

After Victor rode Pia 6 miles (3 miles to his house to feed his horse, and then 3 miles back), he took a ride through the goat/sheep herd and found that a predator had attacked during the night. He is hauling the carcass off here.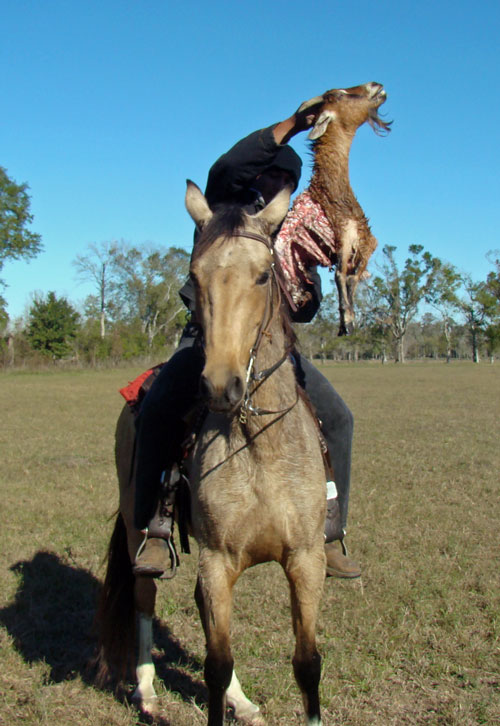 Nice, wide chest on this young mare . . . and that's a bonus to the very forgiving disposition!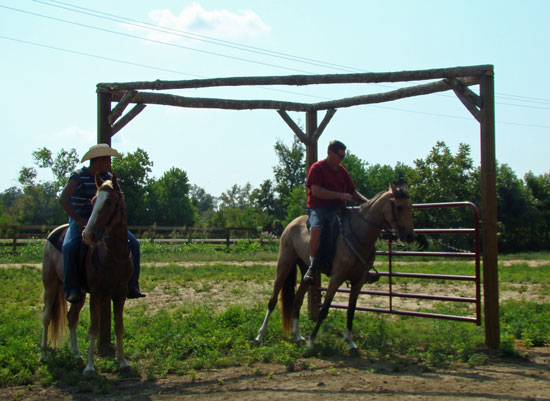 Pia has learned to open and close gaits as she side passes over, leaning into the gate instead of away from the gate, like most horses want to do when you approach an obstacle. She's young, but already a pro at this, ready for a competitive trail ride career!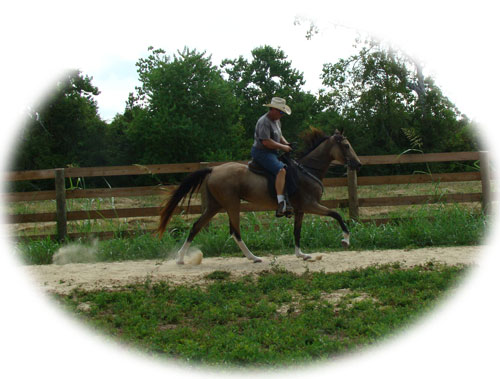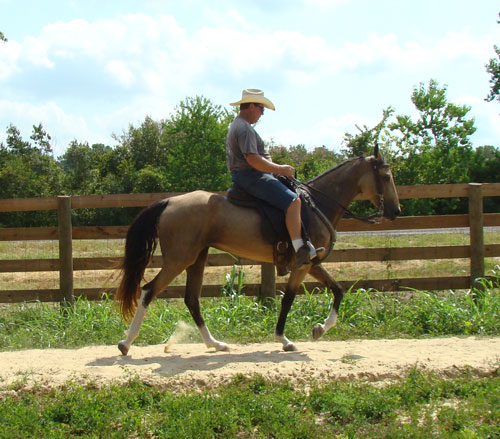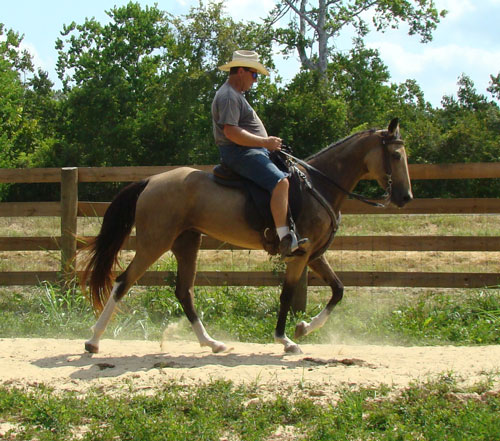 "Pia" -- Absolutely gorgeous coming 4-yr-old Tennessee Walking Horse buckskin mare with some of our favorite bloodlines (Spotted Alen Again's sire "Shadows Spotted Alen" and the World Grand Champion "Delight Bumin' Around", "Personal Power", "Pride of Midnight", "Sir Winston"), but these are not the reaons we love her so. In the spring, her coat blooms with dapples all over it, and with her black mane and tail, four white stockings capped by black 'garters', she is an extremely flashy horse. Because she has such a beautiful headset with proud arched neck, tucked nose, she could be mistaken for a stallion with her looks, but she is very gentle, loving and affectionate, causes no problems with other horses, not 'mare-ish' at all, loads in the trailer right next to other horses uneventfully, stalls next to others with no problems, pastures easily -- just a joy to have around.
Her gaits are the reason to own a fine mare like this. She performs a true head-shaking big striding SMOOTH flat walk and running walk, textbook Tennessee Walker, and then her canter is the definition of rolling carousel canter, slow and easy, loose rein. She has a beautiful high stepping natural front end both barefoot and on plain keg (lite plates like Quarter Horses wear) shoes -- she made our whole Kentucky trail ride trip this past October with only front shoes and barefoot behind, and no problems -- good hard, healthy hooves. Then, if you want a really fun 'different' ride -- you can ask her to raise her head, squeeze her up and she will perform a flying rack with fun, fun, fun speed! She's several horses in one.
Because we were going to show her in October (but had to cancel at the last moment because of the drought causing us to abandon all plans in the pursuit of hay!), we put extra special time and training into her getting ready for this show. She pivots like a dream, forehand turns, side passes, opens and closes gates, crosses any obstacle you ask her, and all of this is done pretty much on loose rein. Very light touch is needed -- she is the epitome of a true pleasure horse. $6500
Click on embedded arrow ABOVE to see our beautiful trails on the cattle ranch in Brenham, Texas on the afternoon of 1/19/11.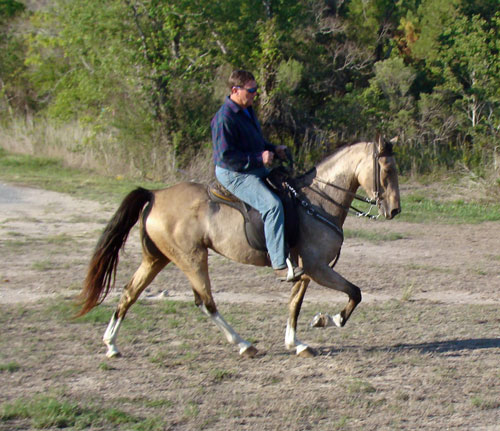 Pia: Trail worthy, show quality!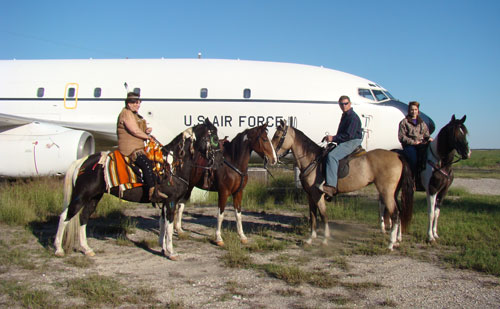 Dee joins us at the Halloween Airport Ranger ride at the Houston Intercontinental Airport on 10/29/11. Next is Starburst and Huey is astride Pia, holding Starburst since I am taking the picture, and Madysen is riding Joy (far right).
Click on embedded arrow ABOVE to see Joy, Pia and Starburst on the trail at the Houston Intercontinental Airport on 10/29/11.
Take a ride with me in Tennessee on Pia (on 10/14/11).
Click on embedded arrow ABOVE to see our ride (part two) and beautiful river crossing on the Big Island Loop Trail at Big South Fork in Tennessee during our camping trip on 10/12/11.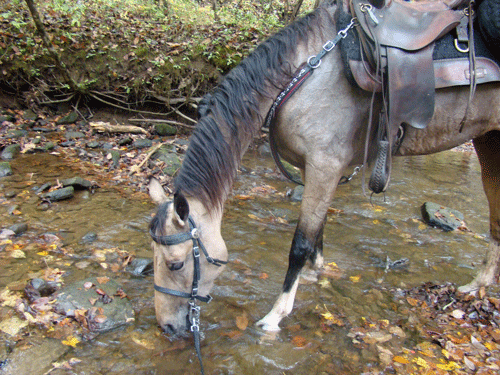 A good trail horse learns to hydrate throughout the day, along the trails.
Click on embedded arrow ABOVE to see our ride on the Big Island Loop Trail at Big South Fork in Tennessee during our camping trip on 10/12/11.
Click on embedded arrow ABOVE to see Pia's workout on 8/22/11.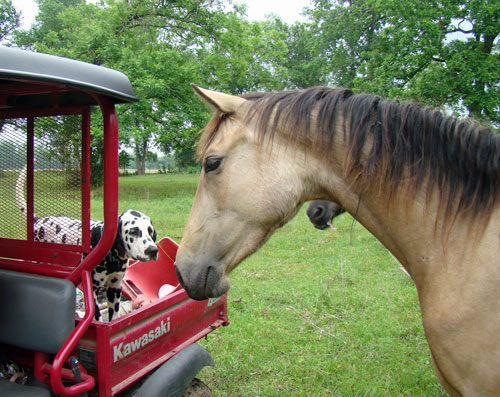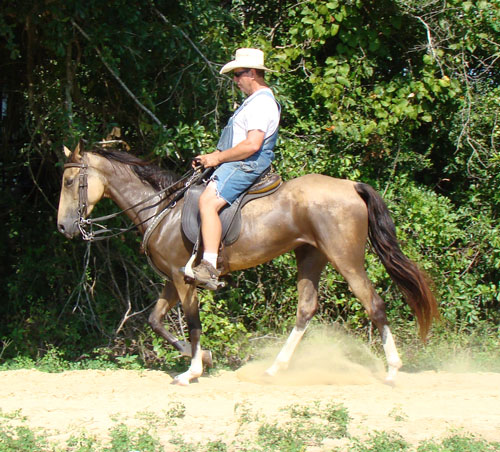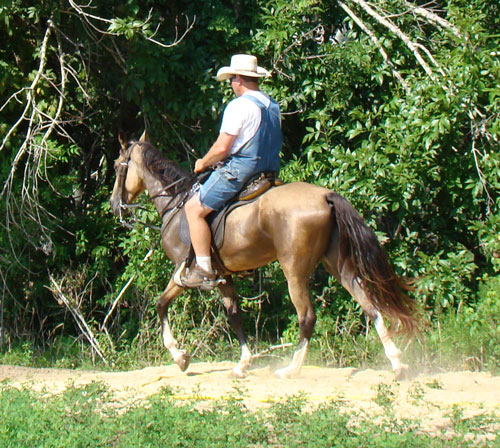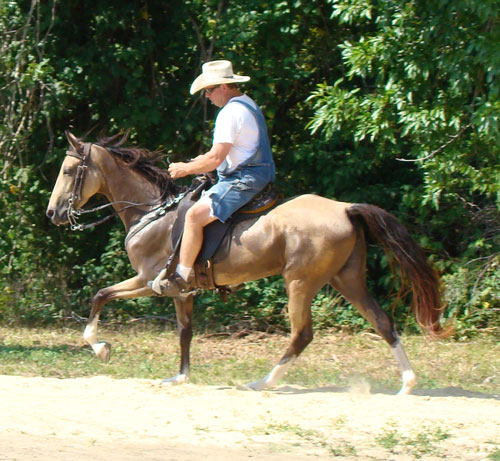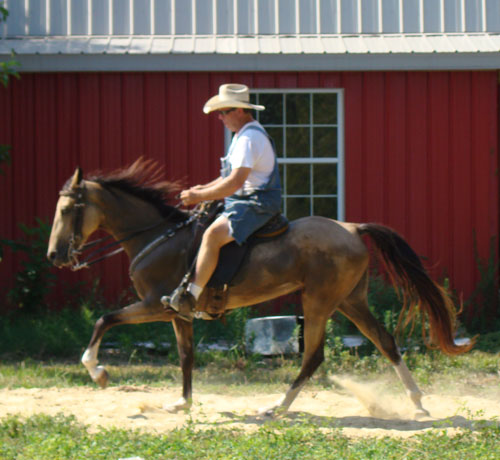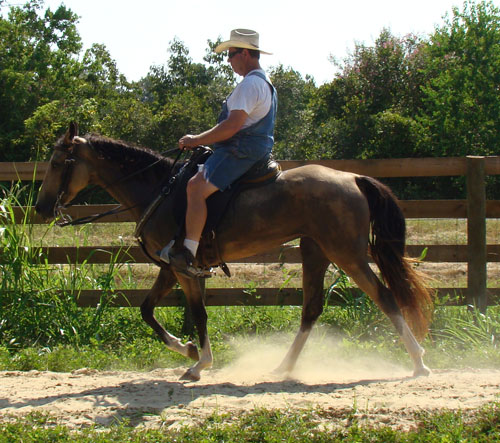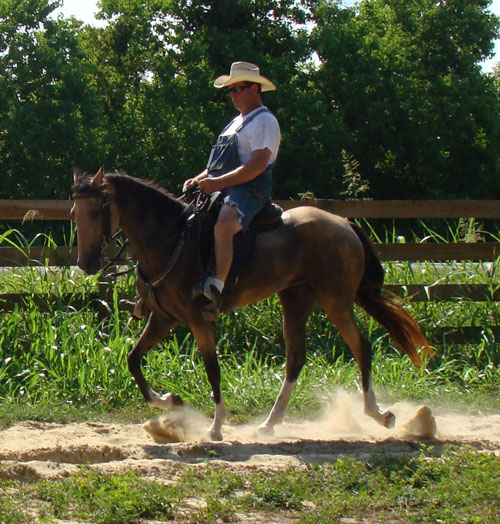 Click on embedded arrow ABOVE to see Quatro on a few 'despooking' exercises; Liz riding Annie Oakley; Shalyn riding Valentine and Quatro; and Huey riding the beautiful "Pia".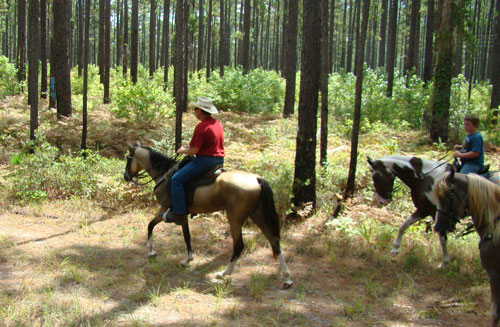 Pia's first trail ride . . . Angelina Forest on 7/30/11.
Click on embedded arrow ABOVE to see Part 2 of our Angelina Forest ride on 7/30/11.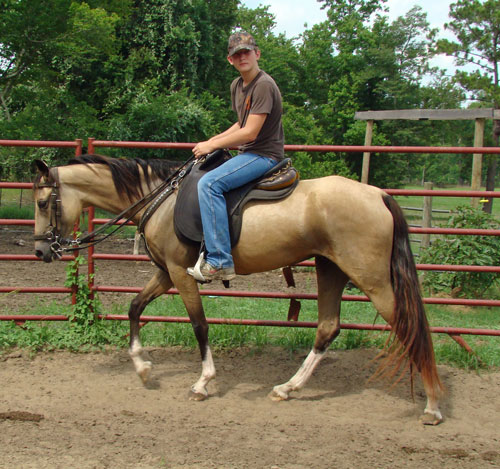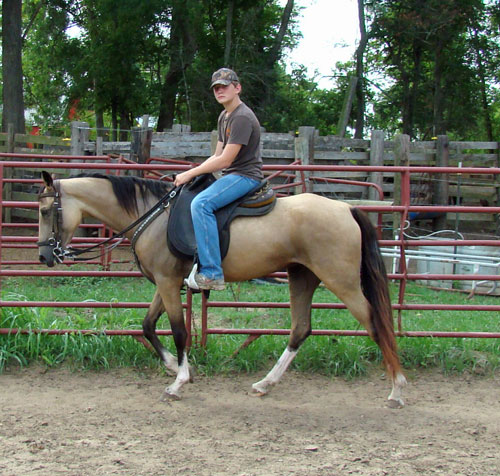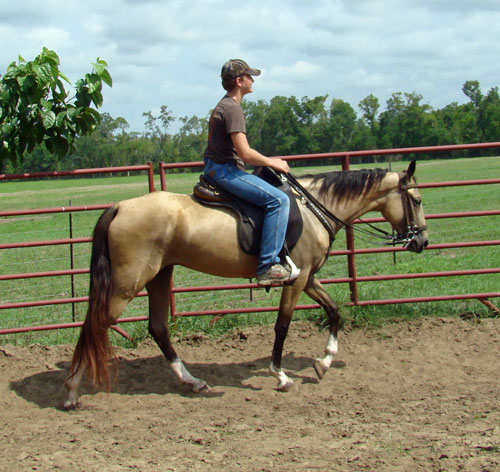 ELEMENTARY SCHOOL:
In her first three days in the round pen, Pia learned to go, and then to go at three different speeds, and turn to the inside to show respect. She was worked on a "tree of knowledge" (cedar pole in the middle of the round pen), with a concept of driving with one rein.
The next few days, she learned to drive with the long reins, learning to get up, whoa, turn, flex and back. She learned to tolerate the girth with the bitting rig and to pace herself at speeds that she was commanded to perform. She was taught to stay focused on her trainer.
In the next few weeks, she learned to accept the saddle and be driven with the driving lines through the stirrups, as well as accept someone mounting her from both sides of the saddle, with lots of 'accidental' brushes across her rump as she was mounted and dismounted.
The fourth week is all about settling down, walking relaxed on command, running walk relaxed on command, relaxed canter and smooth, obedient transitions. The goal is to get her to stay in the requested gait until she is given a cue to change gait. When she is asked to reverse, she is trained to reverse always at a walk. Hours and hours in her training are dedicated to teaching her that it's okay to walk slow and stand quietly, as this is the optimum window of opportunity for this training.
The fifth week, a "dummy" rider is introduced -- the first riding lesson, a rider is asked to be dead weight in the saddle, with the trainer giving instructions from the center of the ring. This dummy rider is asked not to touch the reins, not to move, not to talk, not to be involved other than just simple weight in the saddle. The second riding lesson, the rider is asked to give cues in a very subtle way AFTER the trainer gives the cue. The third riding lesson, the rider is asked to relax, is allowed to hold conversation while riding, and gives cues at the same time that the trainer is giving them from the center ring. Circles and go's are introduced, stopping and backing two steps is asked. This is all using only a halter and lead rope for reins.
The fourth riding lesson, the rider gives the cues and the trainer is simply there to reinforce the cues if needed. By the fifth riding lesson, the trainer is pretty much just there to observe, and then for the next few weeks, the trainer takes over and rides with just the halter working on turning in a circle with nose to the inside with no pressure, ride squares, continue backing training, yield front, yield hindquarters. Before Pia ever left the round pen, she understood all these commands, and by asking to yield both front and hind, she easily learned to side pass on cue.
After a couple of weeks of intensive handling, the bit was introduced (with tasty molasses!), and now double reins are introduced (one to a leather noseband and one to the snaffle). Another week or two in the round pen on the bit, after the horse is taught that she is being allowed to stop (instead of commanded), she knows the one-rein stop, and understands transitions, she is taken to the trails to be ridden alone -- no other horses with her.
HIGH SCHOOL:
Riding her first few rides out on the trail solo (without other horses around) teaches her to think for herself, as opposed to just learning to react. She learns that she can trust her rider, that she can be courageous in the face of her perceived danger, that she can cross creeks, step over logs, encounter deer, squirrel, rabbits, motors, bicycles, etc. She learns to pace herself and not use up all of her energy at the beginning of the day, and she learns to hydrate along the trail. She learns to gait perfectly without the distraction of the stress of other horses, feeling like she needs to be where they are. When her gait is fast enough to keep up with her peers, she is then taken on group rides and taught to ride at the back, in the middle, and at the front, all on a loose rein. She is taught that she should not panic when she is ridden a lot further back from the group, leaving the group and then rejoining. She is being trained to canter on both leads along the way, but that if asked, she should not increase her gait even though the other horses are getting ahead on the trail.
Next comes Highway 101, where she learns to tolerate busy traffic, dogs, 4-wheelers, garbage cans, whatever scary obstacles she can be exposed to.
All along the way, the goal is to get her to round her back, break at the poll and tuck her nose, drive her hindquarters forward and have a perfect four-beat gait with loose reins, light touch and all while BAREFOOT!
COLLEGE:
Now, this pleasure prospect will be hauled on camping trips, working on perfecting her gait, consistency, confidence, obedience and always, continuing respect.


|---
ALEN'S SHADOWMAN
|---
SHADOWS SPOTTED ALEN
816738
BA-TO
|---
ALEN'S CAPER
---|
918130
BA-TO
---|---
SHADOW'S SUE WINSTON
875511
BA-TO
|
961506
BL-TO
|
Sire
|---
BUM'S DARK LADY
|---
BUM'S DARK WARRIOR
791735
BL
CAPER'S MAJOR LEAGUE
890887
BL-TO
---|---
SHADOWS SPOTTED LADY
845487
BL-TO
20102653
BA-TO
|
|
|---
PERSONAL POWER
|---
SHADOW'S STATUE
833191
SO
|
|---
PRIDES COLORFUL STROKE
---|
898422
BL-TO
---|---
KING'S PAINTED LADY
750971
LR
|
921940
BA-TO
|
|
|---
STROKE OF PRIDE
|---
POCKET FULL OF PRIDE
801677
BA
"CAPER'S CONFEDERATE ROSE"
876062
BA
---|---
NIGHT STROKER'S LADY
811053
BA
|
|
|---
TEMPTATION OF GOLD
|---
PRIDE'S GENIUS
780930
CH
|
|---
GOLDEN DANDY
---|
880982
YL
---|---
HANDSHAKER'S GOLD
810375
YL
|
|
970665
CR
|
Dam
|---
DANDY GIRLS BLONDIE
|---
I'M NO STRANGER
892792
YL
DANDY'S BUTTERCUP
936634
PA
---|---
SUPREME DANDY GIRL
852939
SO
20204522
CR
|
|---
ACE'S SILVER STREAK
|---
ACE'S SILVER 'N GOLD
851821
YL
|---
ACE'S CREAM AND SUGAR
---|
905185
CR
---|---
TELSTAR'S SAFFIRE B.
742697
YL
19903273
CR
|
|---
LOVE'S RAGIN' GLORY
|---
MULBURY RUBER BAN MAN
873392
YL
930059
PA
---|---
GO BOYS ROYAL LOVE
806253
CH
*-World Grand Champion


Cloud 9 Walkers
P. O. Box 878
Hardin, Texas 77561-0878
(55 minutes east of Houston)
281-726-4545
(Entire contents of this website copyrighted by Cloud 9 Walkers)

Email me!