CLOUD 9 WALKERS
"Sweet Tater"
Barefoot 6-yr-old dappled grey with black points 15.3H Tennessee Walking Horse Gelding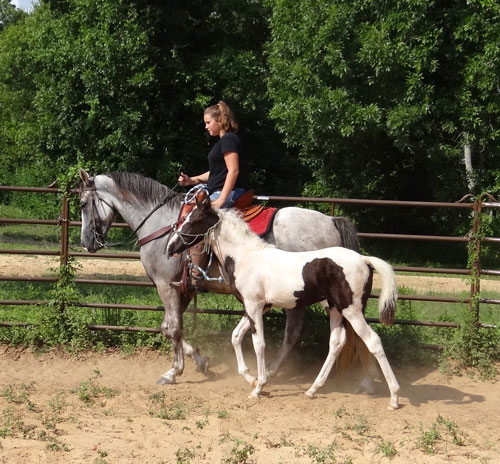 Whole LOTTA trainin' goin' on here! First, Liz is learning to pony a horse, which is very, very tricky and can be dangerous. (An adult horse could pull her saddle off.) She must learn to think in nine different directions, control her riding horse safely and softly, control her pony horse from running ahead, control her rope from getting out of position, and be ready at the drop of a hat to undally her rope in case of emergency. She's learning early to multitask! Then, Sweet Tater is learning to tolerate a horse bumping around on and all around him, his head, his tail, his side. He has to learn to control his feelings of his personal space being violated. And then sweet little Lorena (War Eagle's filly) is learning to be separated from her mother for the first time AND to be ponied from a strange horse with a human looming over her head for the first time. All three students get an A+ today!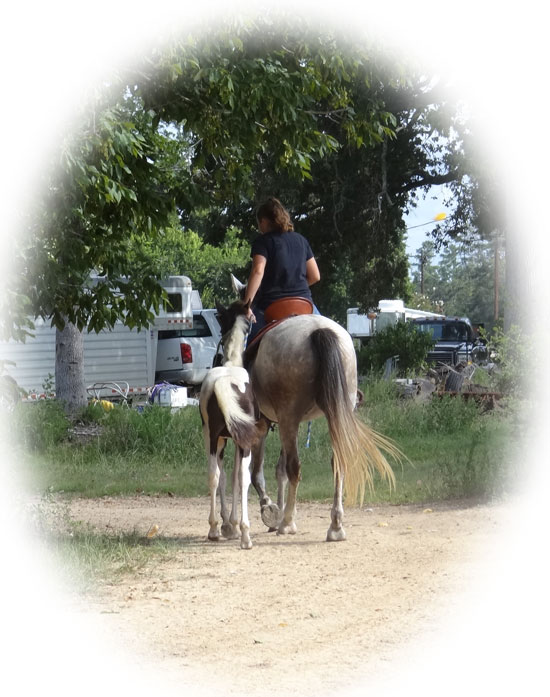 ♫♫ "One of these things is not like the other . . . ♫♫ (Can't quit singing Sesame Street today!) Liz is the only animal in this picture with shoes on. The grey she is riding "Sweet Tater" and the black and white Tennessee Walking Horse filly she is leading "Lorena" are both barefoot, just like they were born! How cool izzat? Both horses are for sale. As you can see, Tater is a GREAT useful tool around the ranch. (Click on picture above to see information on Lorena.)
Click on embedded arrow ABOVE to see our morning workout on 8/13/12.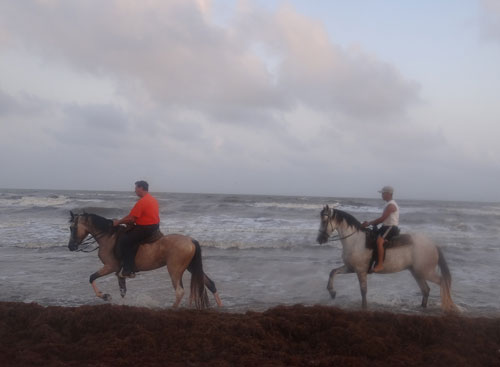 Please click on embedded arrow ABOVE to see our fun time at the beach on 6/11/12.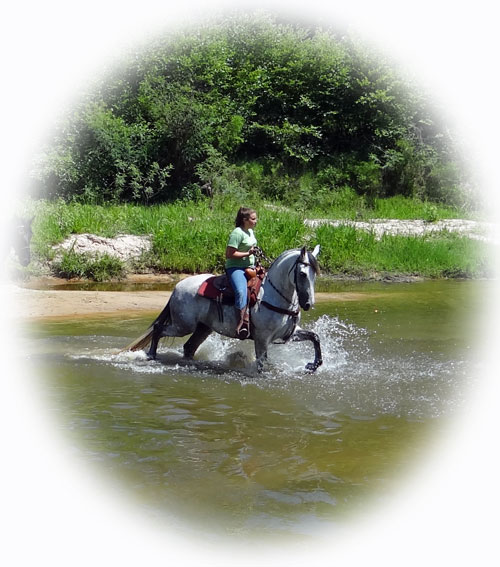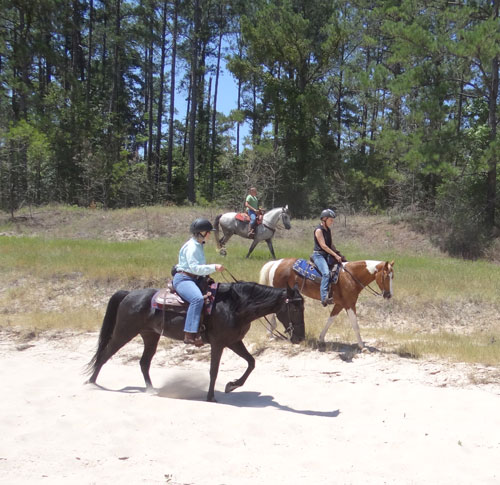 Sandi rides the black mare "Jolie", Sue rides the spotted mare "Rainbow", and Liz rides the dappled grey gelding "Sweet Tater" at Spring Creek, Texas on 6/1/12.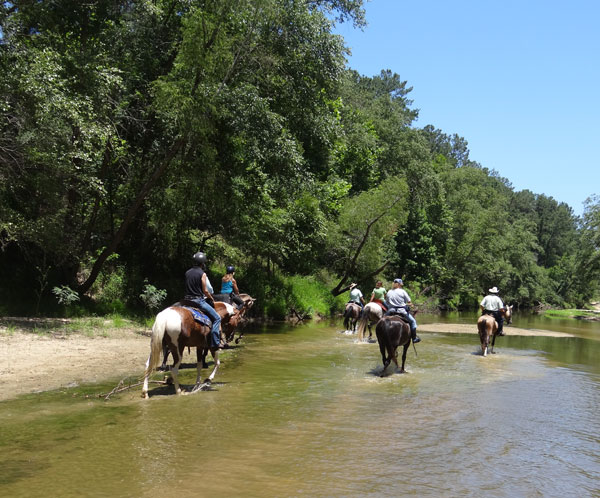 Liz rides Tater (4th from left) in Spring Creek on 6/1/12.
Click on embedded arrow ABOVE to see our fun summer Texas day in the creek on 6/1/12.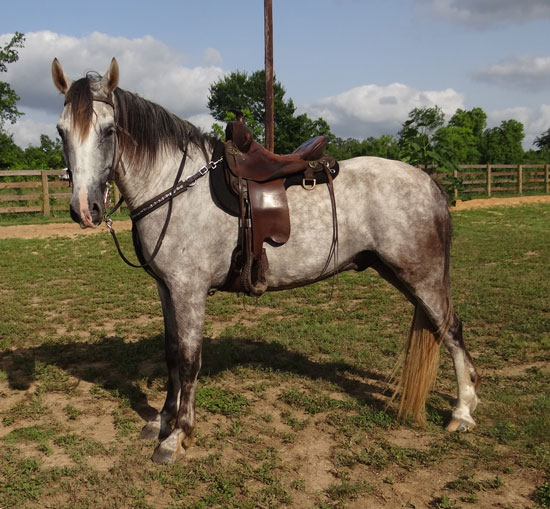 "Somebody puh-leeeeeeeeeeze come buy me and get me out of Boot Camp . . . she rode me hard and then she insists that I learn to park out and ground tie . . . but the good thing is that I'm getting lots of oxygen while I'm standing here and I need it after all that beautiful gaiting I gave her as well as my magnfiicent rocking canter. Oh, and I'm beautiful, too. And very humble." ~Sweet Tater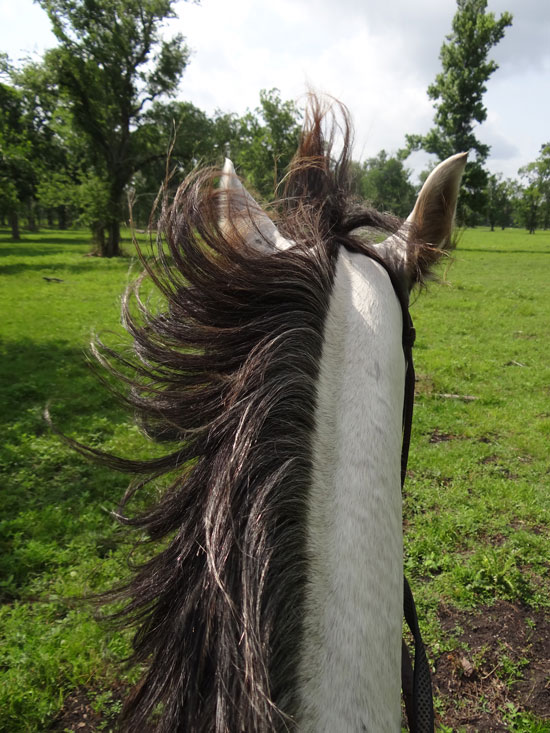 And this is what I imagine heaven to look like . . .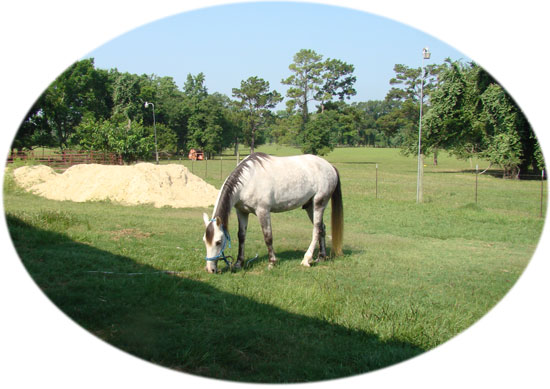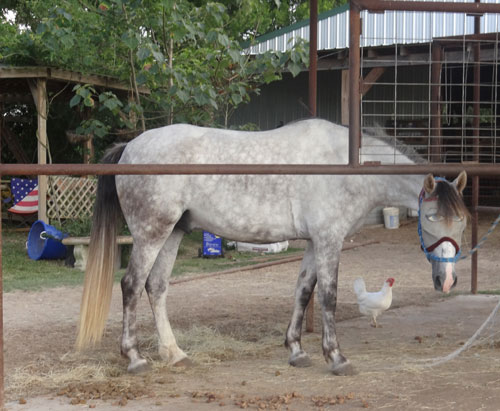 LEFT: Sweet Tater in Tether Training 101, just in case we have to camp somewhere in the mountains of Montana with no corral . . . RIGHT: Patience 101 -- standing tied for hours so that he'll be a pro on our camping trips! (He already knows all this, but refresher courses are great -- continuing education classes, you know!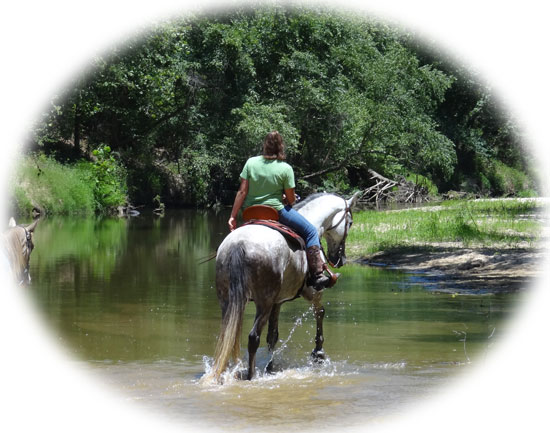 Could this be a fantasy horse in a fantasy creek on a beautiful fantasy day . . . could this be a fantasy childhood for a 13-yr-old girl? (Liz rides Sweet Tater on 6/1/12.)

"Sweet Tater" -- Beautiful, powerful, sweet-natured stocky 15.3H 6-yr-old dappled grey registered TWHBEA Tennessee Walking Horse gelding with a great training foundation, lots of trail miles, a great start in life. Always the best of life and the best of care -- he has never known any kind of neglect or abuse. We got an email from a dear friend who needed to downsize and we purchased Sweet Tater about 4 years ago, brought him home, turned him out for awhile and let him run with the broodmares, cattle, etc. We brought him up when he was a full 3 years old and started his round pen training, saddle training (as outlined and documented below). Upon 'graduation', we sold him to a very sweet and loving owner who has to sell him due to career changes. During her 3 years with him, she has hauled and camped with him several times at each of the following places: Parrie Haynes ranch; McKinney Roughs Nature Park; Walnut Creek Ranch; Brazos Bend Park; 7IL Ranch; Pundt Park; Jack Brooks Park; Sam Rayburn Park; Bush Intercontinental Airport (trails next to the runways), and the beach.
Sweet Tater backs on a loose rein, side passes, pivots, forehand turns, slow, rocking canters on the correct leads upon command, gaits a perfect four beat smooth gait and does it all TOTALLY BAREFOOT with nice, black, healthy hard-as-steel hooves. He is current on his vaccinations (VEWT, Flu/Rhino, Rabies, Strangles, West Nile on 5/6/12) and has a current negative coggins (dated 9/20/11). No gimmicks to his gait -- trim him just like a Quarter Horse, nice short hooves. He has been fed MG All Grain Dry Mix and also MG 12/8 pellet feed most of his life (1 scoop twice daily).
Sweet Tater is a lifetime kind of horse and belongs in the category of "Horses That Do Not Ordinarily Come Up For Sale" . . . although most beginners would feel comfortable on Tater right this moment, if they drove up to ride him, we do recommend that he not be a pasture ornament. This sweetheart Tennessee Walking Horse gelding has the heart and stamina to ride the mountains and be sure footed about it, easy to handle but is at his absolute best when he is ridden on a fairly frequent basis (at least a couple times per week). The more he is ridden, the closer to perfection he gets, thanks to his early slow, consistent, steady and firm foundation. He has had a recent 30-day tune up and that's all it took for me to feel pretty good about putting most anyone on him. NICE, NICE HORSE! $6750
Click on embedded arrow ABOVE to see a day of Sweet Tater's work!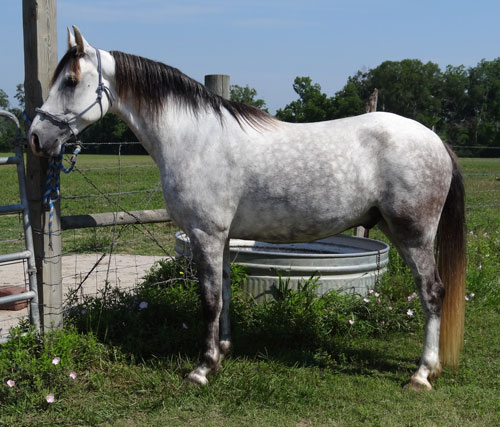 What a gorgeous horse 'Tater' grew up to be! (His gorgeous thick mane was pulled out by a naughty fence and will grow back again.)
THREE YEARS AGO: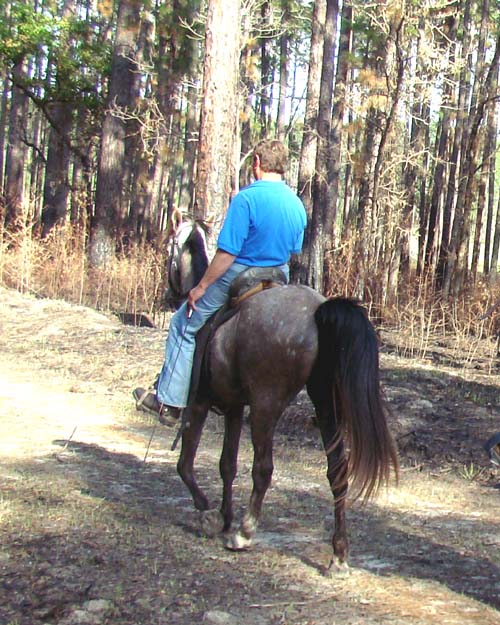 Out on a camping/trail trip on 4/4/09.
Click on arrow ABOVE to see Sweet Tater's first time at the beach, with the waves rolling in. He was alternating between running walk/racking.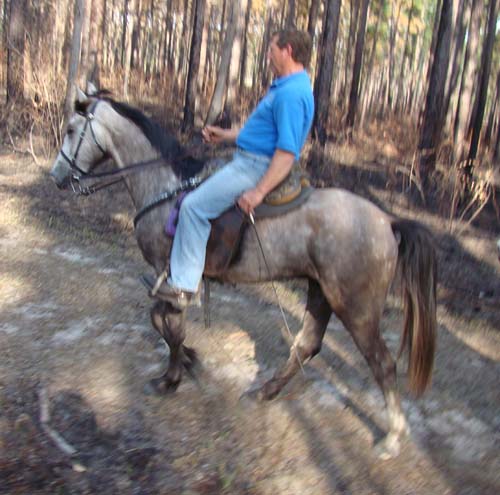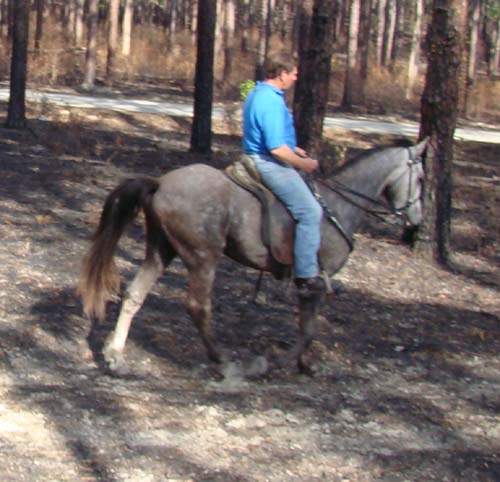 On the trail at the running walk.
Click on arrow ABOVE to see Sweet Tater lead the ride through a deep swimming hole.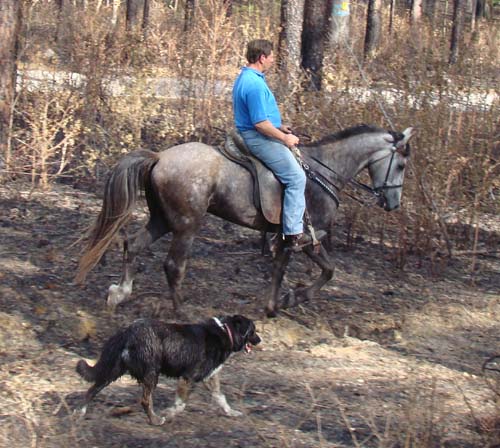 He has been raised with dogs.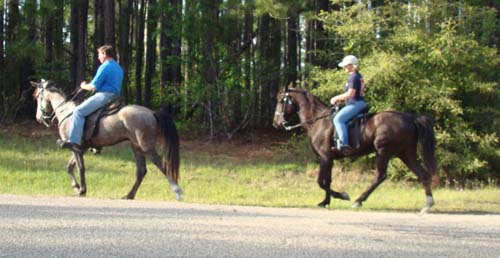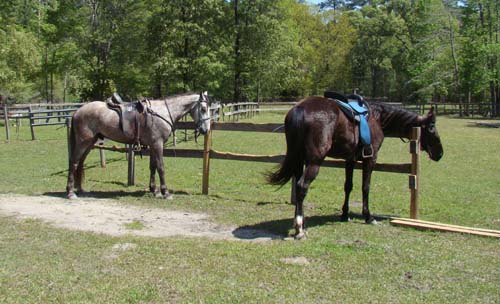 LEFT: Tied for lunch break on 4/4/09; RIGHT: Leading the ride toward the Angelina Forest trails.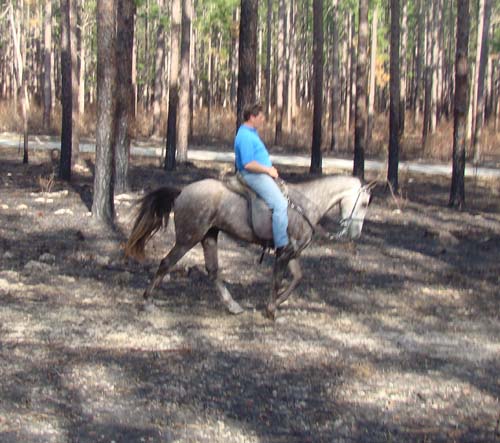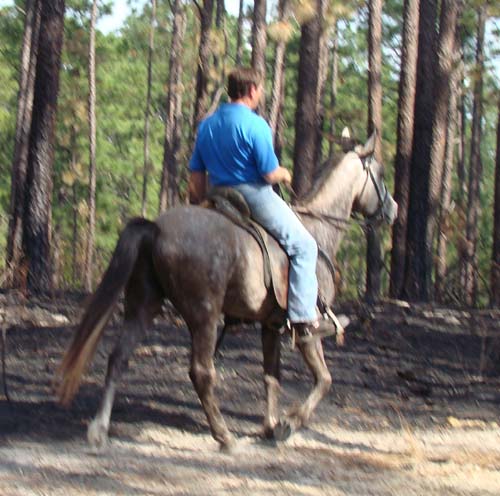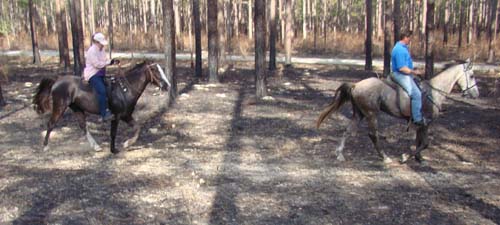 Leading the ride while Cheri follows on Zeb.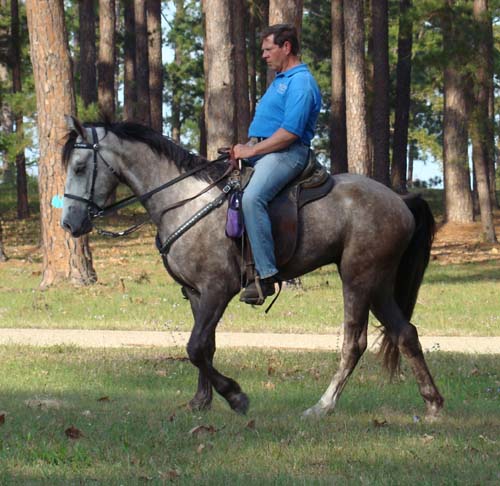 Such a sweet baby with a super willing personality.
We love this guy! He has been handled with love and top quality care his entire life -- we found him at Ercie Hill's in Wichita Falls, Texas.
Sweet Tater was allowed grow and not started under saddle too young, and has been started the right way, with natural horsemanship training methods. He started his 'career' in the round pen:
ELEMENTARY SCHOOL:
First three days, he learned to go, go at three different speeds, and turn to the inside to show respect. They are worked on a "tree of knowledge" (cedar pole in the middle of the round pen), with a concept of driving with one rein.
Next few days, he learned to drive with the long reins, learning to get up, whoa, turn, flex and back. He learned to tolerate the girth with the bitting rig and to pace himself at speeds that he is commanded to perform. He was taught to stay focused on his trainer.
Next few weeks, he learned to accept the saddle and be driven with the driving lines through the stirrups, as well as accept someone mounting him from both sides of the saddle, with lots of 'accidental' brushes across his rump as we mount and dismount.
The fourth week is all about settling down, walking relaxed on command, running walk relaxed on command, relaxed canter and smooth, obedient transitions. The goal is to get him to stay in the requested gait until he is given a cue to change gait. When he is asked to reverse, he is trained to reverse always at a walk.
The fifth week, a "dummy" rider is introduced -- the first night, a rider is asked to be dead weight in the saddle, with the trainer giving instructions from the center of the ring. This dummy rider is asked not to touch the reins, not to move, not to talk, not to be involved other than just simple weight in the saddle. The second night, the rider is asked to give cues in a very subtle way AFTER the trainer gives the cue. The third night, the rider is asked to relax, is allowed to hold conversation while riding, and gives cues at the same time that the trainer is giving them from the center ring. Circles and go's are introduced, stopping and backing two steps is asked. This is all using only a halter and lead rope for reins.
The fourth night, the rider gives the cues and the trainer is simply there to reinforce the cues if needed. By the fifth day, the trainer is pretty much just there to observe, and then for the next week, the trainer takes over and rides with just the halter working on turning in a circle with nose to the inside with no pressure, ride squares, continue backing training, yield front, yield hindquarters. Before Sweet Tater ever left the round pen, he understood all these commands, and by asking to yield both front and hind, he easily learned to side pass on cue.
After a couple of weeks of intensive handling, the bit is introduced (with tasty molasses!), and now double reins are introduced (one to a leather noseband and one to the snaffle). Another week or two in the round pen on the bit, after the horse is taught that he is being allowed to stop (instead of commanded), he knows the one-rein stop, and understands transitions, he is taken to the trails to be ridden alone -- no other horses with him.
HIGH SCHOOL:
This teaches him to think for himself, as opposed to just learning to react. He learns that he can trust his rider, that he can be courageous in the face of his perceived danger, that he can cross creeks, step over logs, encounter deer, squirrel, rabbits, motors, bicycles, etc. He learns to pace himself and not use up all his energy at the beginning of the day, and he learns to hydrate along the trail. He learns to gait perfectly without the distraction of the stress of other horses, feeling like he needs to be where they are. When his gait is fast enough to keep up with his peers, he is then taken on group rides and taught to ride at the back, in the middle, and at the front, all on a loose rein. He is taught that he should not panic when he is ridden a lot further back from the group, leaving the group and then rejoining. He is being trained to canter on both leads along the way, but that if asked, he should not increase his gait even though the other horses are getting ahead on the trail.
Next comes Highway 101, where he learns to tolerate busy traffic, dogs, 4-wheelers, garbage cans, whatever scary obstacles he can be exposed to.
All along the way, the goal is to get him to round his back, break at the poll and tuck his nose, drive his hindquarters forward and have a perfect four-beat gait with loose reins, light touch and all while BAREFOOT!
COLLEGE:
Now, this pleasure prospect is hauled to camping trips across the nation, on a never-ending education! Sweet Tater has already made several trips to the Angelina Forest and many more ahead. So far, this sweetheart grey Tennessee Walking Horse gelding is right on schedule for a diploma . . . stay tuned!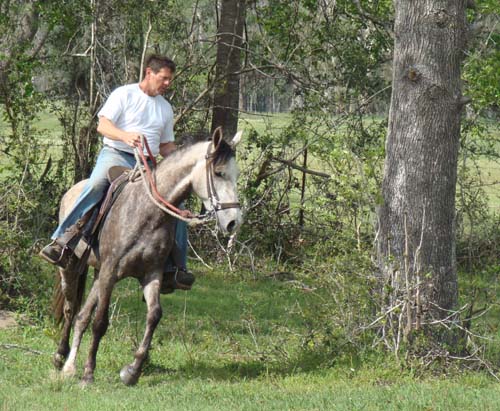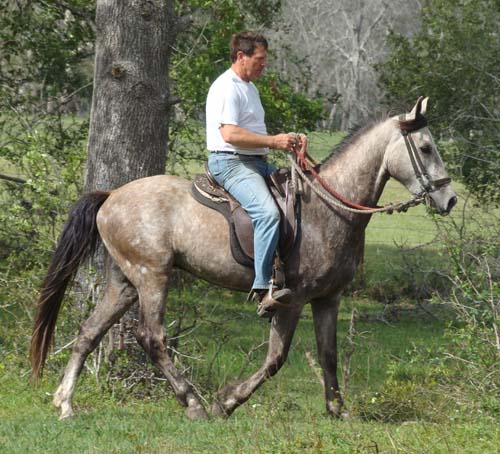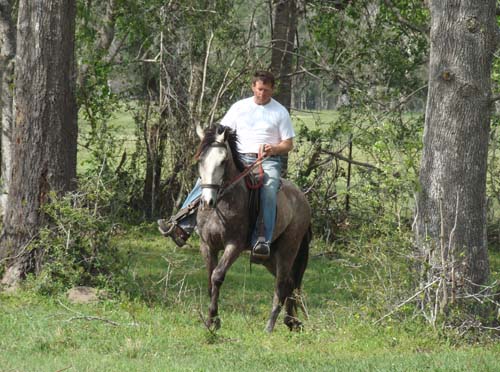 Practicing his reining patterns in the back pasture on 3/23/09 on the noseband/snaffle -- no shank yet.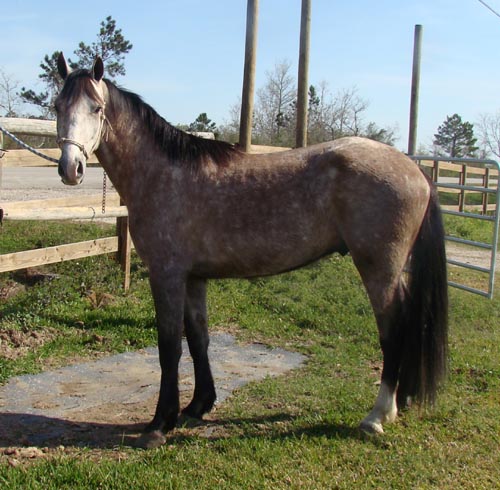 Still has a lot of filling out and maturing to do.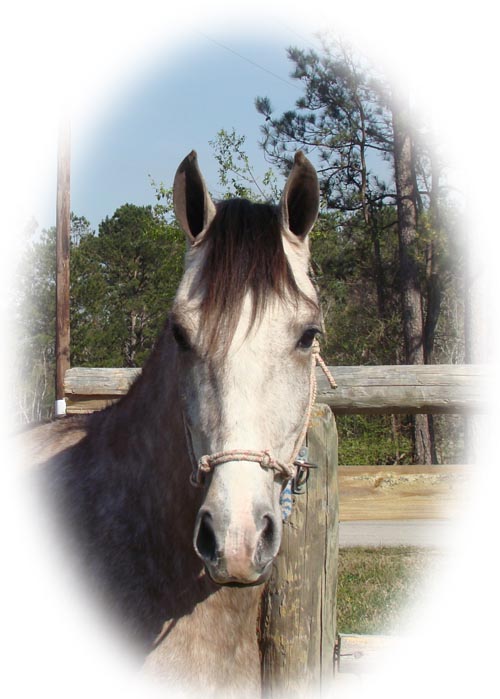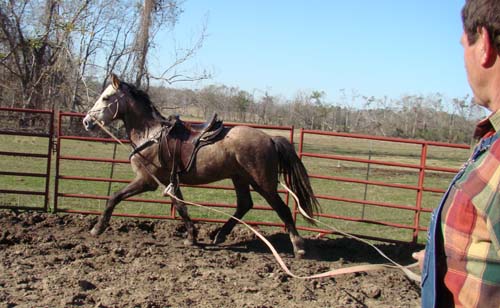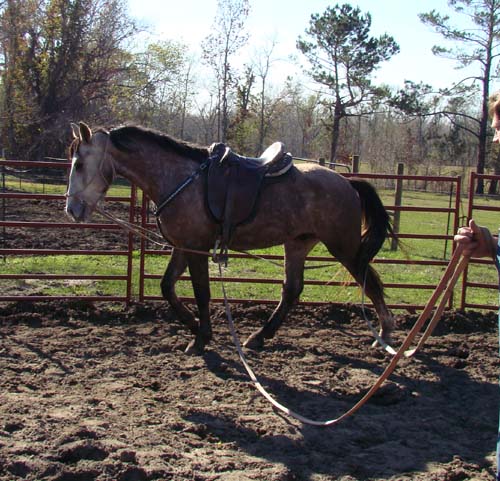 Ground driving on 1/12/09 before the saddle training starts.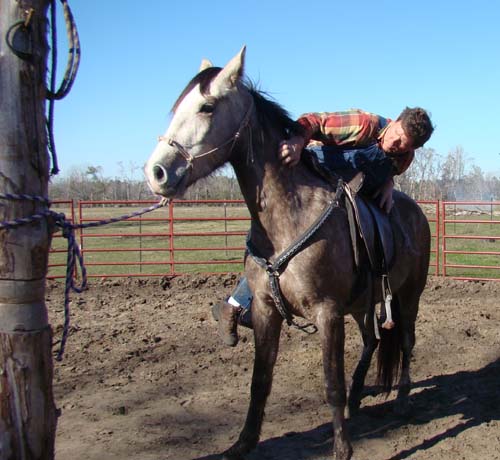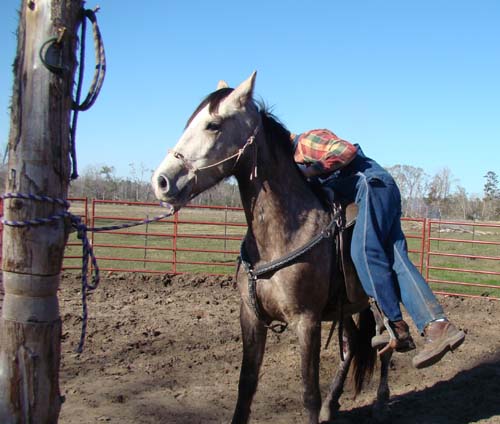 No, these are not the same pictures! Yes, he held the same exact stance and expression when being mounted for the first time. We teach them to be mounted from either side.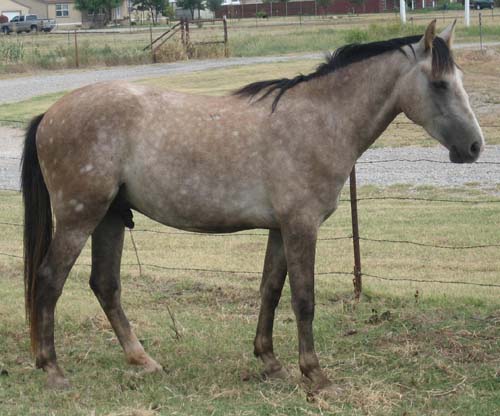 Long yearling picture -- starting to lose the red and turn grey with dapples.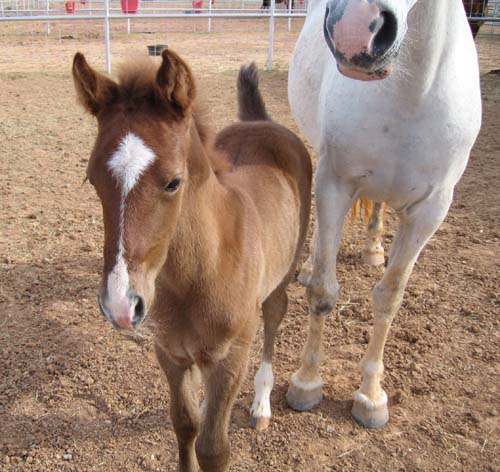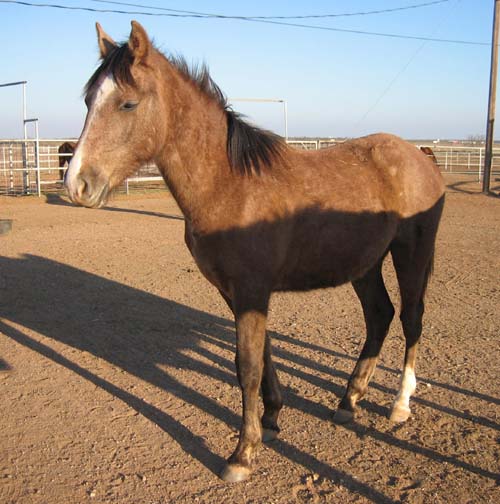 Incredible, huh? Yep . . . he was born chestnut!!! At right, he is a weanling and starting to show signs of turning grey.


Cloud 9 Walkers
P. O. Box 878
Hardin, Texas 77561-0878
(55 minutes east of Houston)
281-726-4545
(Entire contents of this website copyrighted by Cloud 9 Walkers)

Email me!