CLOUD 9 WALKERS
"Lorena"
Classy Black & White Tobiano Spotted Tennessee Walking Horse Weanling Filly
Pride's Generator, Delight Bumin' Around and Spotted Alen Again on top; Triple Threat, Pride of Midnight, Sun's Delight D on bottom
$1950
Born 4/23/12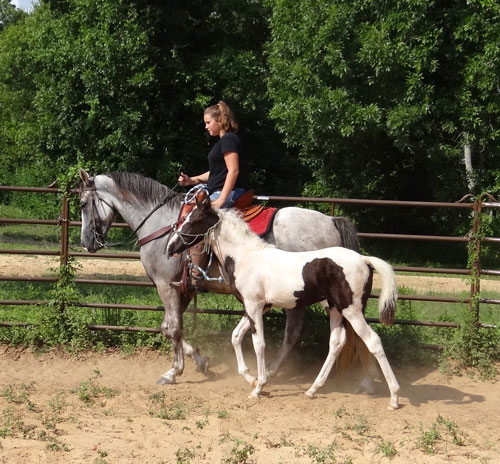 Whole LOTTA trainin' goin' on here! First, Liz is learning to pony a horse, which is very, very tricky and can be dangerous. (An adult horse could pull her saddle off.) She must learn to think in nine different directions, control her riding horse safely and softly, control her pony horse from running ahead, control her rope from getting out of position, and be ready at the drop of a hat to undally her rope in case of emergency. She's learning early to multitask! Then, Sweet Tater is learning to tolerate a horse bumping around on and all around him, his head, his tail, his side. He has to learn to control his feelings of his personal space being violated. And then sweet little Lorena (War Eagle's filly) is learning to be separated from her mother for the first time AND to be ponied from a strange horse with a human looming over her head for the first time. All three students get an A+ today!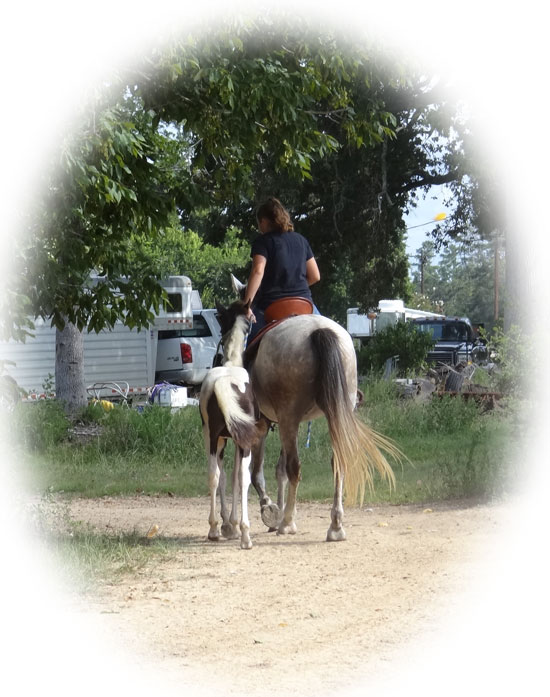 ♫♫ "One of these things is not like the other . . . ♫♫ (Can't quit singing Sesame Street today!) Liz is the only animal in this picture with shoes on. The grey she is riding "Sweet Tater" and the black and white Tennessee Walking Horse filly she is leading "Lorena" are both barefoot, just like they were born! How cool izzat? Both horses are for sale. As you can see, Tater is a GREAT useful tool around the ranch. (Click on picture above to see information on Tater.)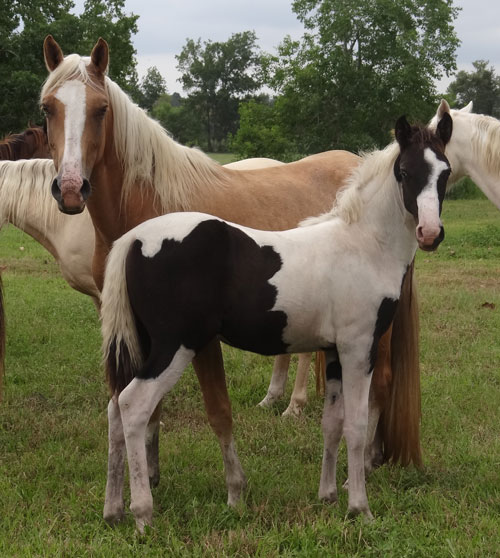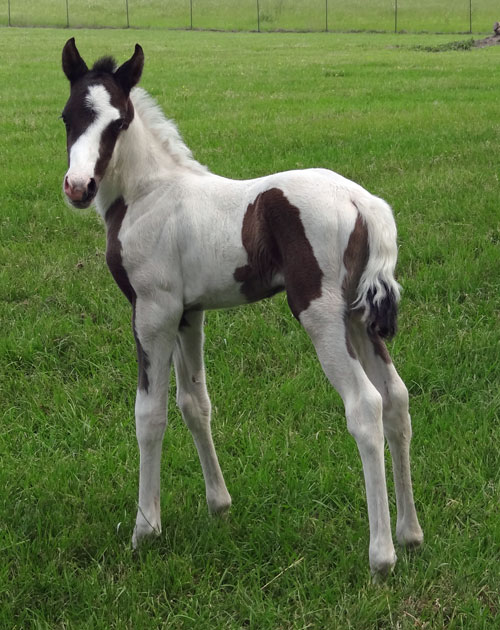 Lorena on 4/28/12.
"Lorena" is a beautiful black and white spotted (tobiano) Tennessee Walking Horse filly for sale that will have a magnificent gait, classy high headset, probably mature to 15.2 or 15.3H, and has had a really good start in life, being imprinted at birth and taught natural horsemanship training/respect early. She already knows how to lead, stand tied, pony, have her feet handled, be groomed/bathed, load in a trailer and be led by a 4-wheeler. She is well accustomed to dogs, turkeys, chickens, cattle, sheep, goats, and extemely busy highway traffic and she's not even 4 months old yet! We plan to wean her no earlier than September 1st and no later than November 1st. She eats feed, hay and grazes along with her mother now. (We named her Lorena after a character in Lonesome Dove, but her new owner could change her name.)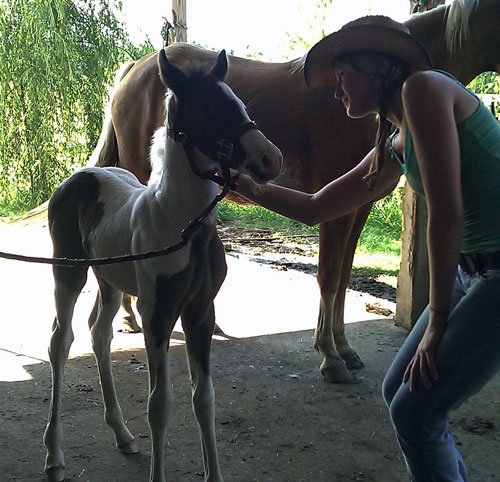 Imprinted at birth, gentle halter lessons during first two weeks, then turned out to be free for a few months.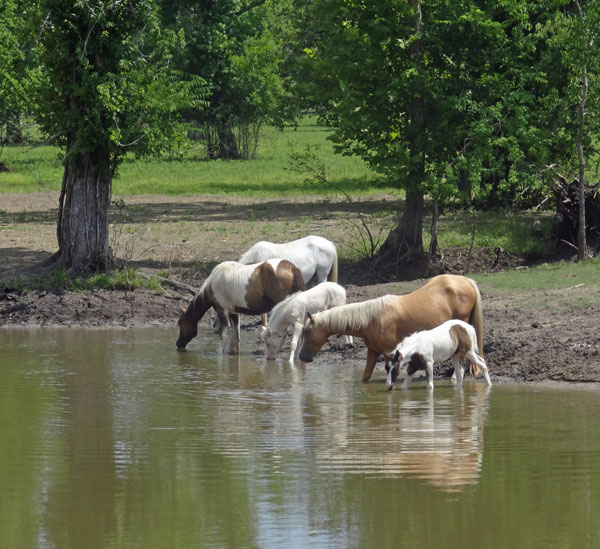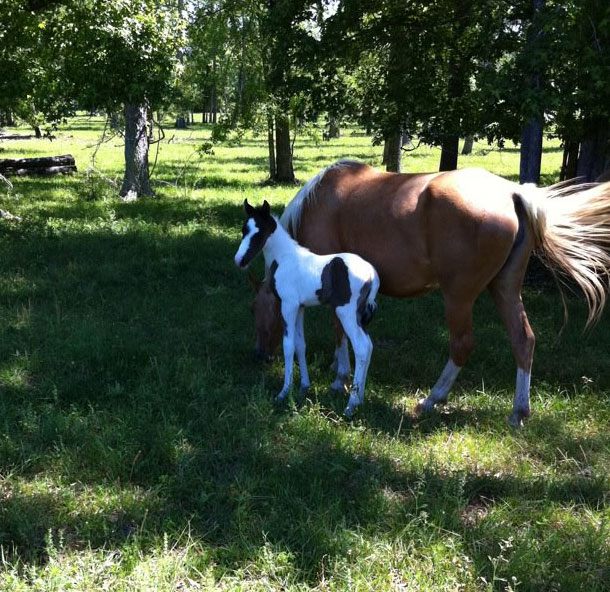 "My momma is a beautiful blonde and I look like my handsome daddy!"
Click on embedded arrow ABOVE (first half of video) to see Lorena's first ponying lesson, and first time to be taken out of her mother's sight. This is also her first time to be worked since 5/1/12 (so she went 3 months without human hands on her). We love raising them this way -- they're natural horses with a horse personality, not an over-humanized disrespectful animal.


|---
ALEN'S SHADOWMAN
|---
SHADOWS SPOTTED ALEN
816738
BA-TO
|---
ALEN'S CAPER
---|
918130
BA-TO
---|---
SHADOW'S SUE WINSTON
875511
BA-TO
|
961506
BL-TO
|
Sire
|---
BUM'S DARK LADY
|---
BUM'S DARK WARRIOR
791735
BL
CAPER'S WAR EAGLE
890887
BL-TO
---|---
SHADOWS SPOTTED LADY
845487
BL-TO
20804013
BL-TO
|
|
|---
GEN'S BLUE SKIES
|---
PAINTED BY THE GENERATOR
916013
BL-TO
|
|---
LADY BLUE SKIES
---|
19913384
BL-TO
---|---
BLUE EYED TROUBLE
954256
BL-TO
|
20205365
BL-TO
|
|
|---
SPOTTED ALLENS LADY
|---
SPOTTED ALEN AGAIN
857584
CH-TO

"LORENA"

19905028
BL-TO
---|---
PAINTED LADY PUSHER
961840
BL-TO
|
|
|---
THREATS SUPER SON
|---
TRIPLE THREAT
612233
* BA
|
|---
THREATS GYRO
---|
792614
BL
---|---
DEBRA'S TOYOKA SUE
670743
BL
|
|
977970
HR
|
Dam
|---
CHAMPAGNE'S EBONY DREAM
|---
PRIDE'S CHAMPAGNE
790228
BL
ANOTHER SHILOH
924664
BL
---|---
ET'S RISING STAR
881390
BA
20800979
PA
|
|---
ROBERTSON'S GO BOY
|---
GO BOYS MIDNIGHT SON J.
610186
BL
|---
ROBERTSON'S DELIGHT
---|
731034
CH
---|---
SHADOWS PRETTY MISS J.
652126
SO
878530
YL
|
|---
DELIGHT'S IMAGE LADY
|---
DELIGHT'S 100 PROOF
750353
BL
835227
YL
---|---
APRIL FOOL Y.
751034
BL
*-World Grand Champion
Lorena's Sire: "Caper's War Eagle"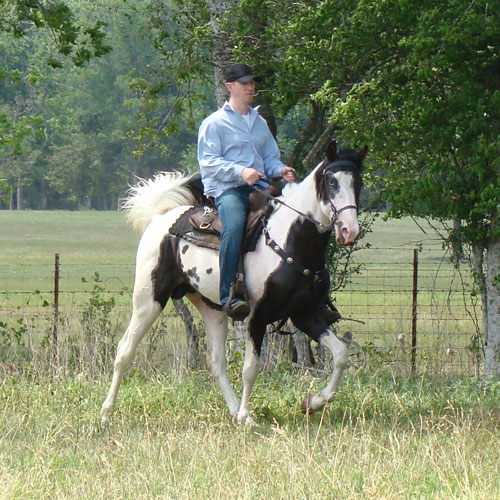 Click on picture above to see more of Lorena's sire.
Lorena's Dam: "Another Shiloh"
This golden palomino Tennessee Walking Horse mare is dark gold and never fades, not even in the sun. She is also a sabino, as evidenced by the white splotch on her side.


Cloud 9 Walkers
P. O. Box 878
Hardin, Texas 77561-0878
(55 minutes east of Houston)
281-726-4545
(Entire contents of this website copyrighted by Cloud 9 Walkers)

Email me!