CLOUD 9 WALKERS
"Winchester"
Tri-Color (Bay/White) Spotted Tennessee Walking Horse Stud Colt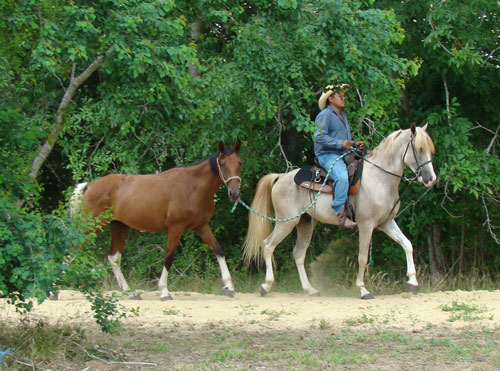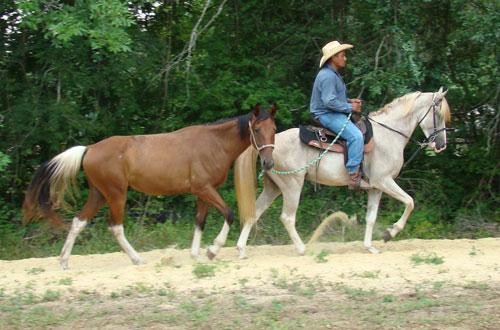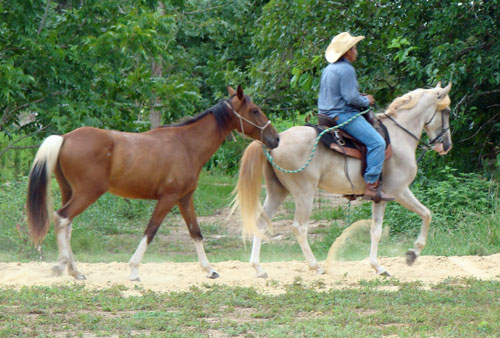 Winchester learns to be ponied behind Redford on 7/27/11.
Click on embedded arrow ABOVE to see Winchester's natural horsemanship round pen training, first lesson after being weaned.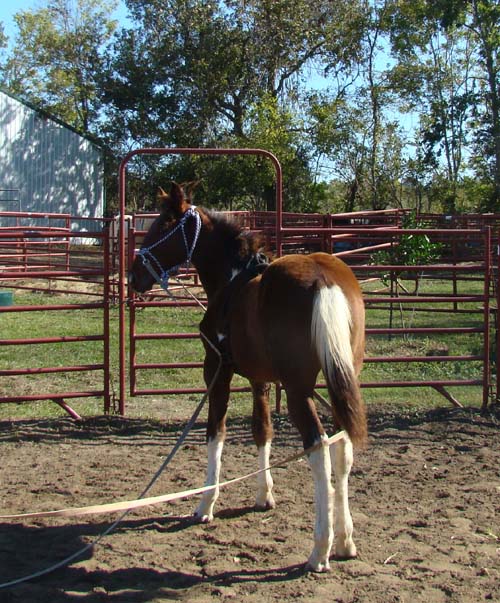 Learning to stand quietly during his driving lessons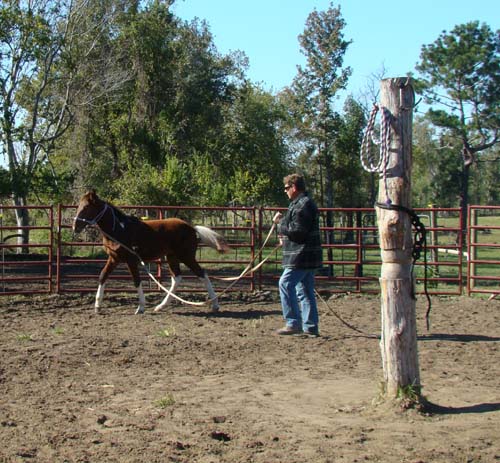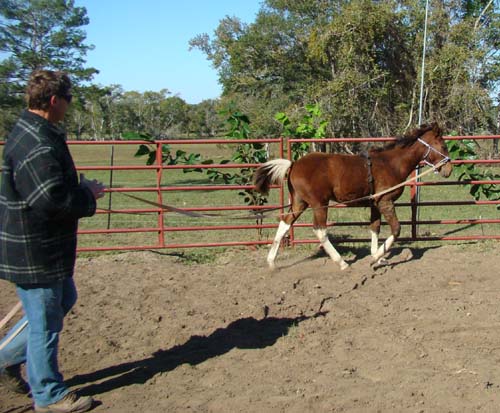 Learning to move forward on long lines, then stand quietly, back, and turn for training for future buggy pulling lessons.
We imprint our foals when they are born but we're careful not to 'humanize' them. We give them a few days to bond completely with their dams, and then begin a gentle process of halter training. While their mothers are happily munching their morning feed, the foals are tied outside of the dams' stalls, where they can see each other and touch each other if needed. While standing tied, we handle their feet and encircle their girth area with our arms to get them accustomed to the feeling that a girth will later give them. We give special attention to the fillies and make sure that they are fine with handling their udders so that in later years, they won't have any sensitivity issues when their own first foal wants to nurse. These tying training sessions are lengthened gradually from 5 minutes to 30 minutes, and then each foal is untied and worked in small circles, turning back over their haunches. Afterwards, they are led a few feet until they will gradually lead off anywhere for any distance desired.
Next comes their first bath, and then trailer loading lessons, which are always started out with mom going in first to lesson anxiety. They are allowed to play in the trailer while mom stands tied, and all of this is happening with chickens, dogs, turkeys, geese, goats, 4-wheelers, trucks, etc. doing business as usual.
After 3 or 4 weeks, the mare and foal are turned out to pasture with other broodmares, yearlings and cattle, and left to be free without human interaction except for deworming once a month. At 6 months, mare and foal are brought to the barn and weaned onto feed, both in the same stall for a day. The next day, mare and foal are put into two separate stalls next to each other where they can comfort each other, but not nurse. The foal is put back with his dam twice daily for 5 minutes each day (for two days) to nurse her, mostly to reduce her bag and make her more comfortable, prevent mastitis. On the third morning, they are moved one stall apart, and by the end of the week, the mare is moved out of the barn and back to the back pasture with the other broodmares, and the foal is kept in the barn for a couple of weeks with another foal that is being weaned or another buddy to keep him company. After allowing him two or three weeks to acclimate to his new life, his round pen training is started, and after two weeks of that, he is turned back out to pasture with his buddies to be free until he is old enough to start under saddle.
When a colt/filly is trained under this regimen, he seems to be wild the first time you bring him back in from his free life in the pasture, snorting and being skittish, but the moment you put the halter on him, he reverts back to his initial training and is respectful, obedient. Two weeks from wearing the halter again, he is as gentle as a kitten, yet never disrespectful or lazy. We've been raising foals for over 30 years using this method and we love the end result.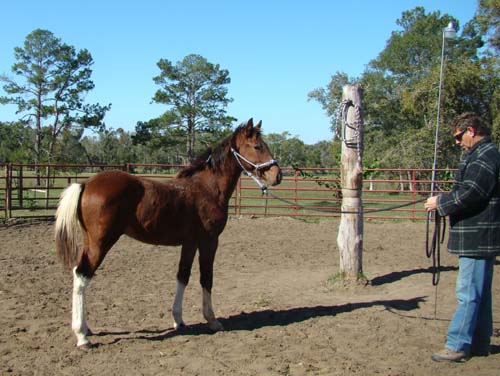 Preparing for lessons of respect on the "Tree of Knowledge" (cedar pole in the center of the round pen). Our experience has been that all horses trained using this method never pull on the lead rope, they respect their handlers and also stand tied with more patience.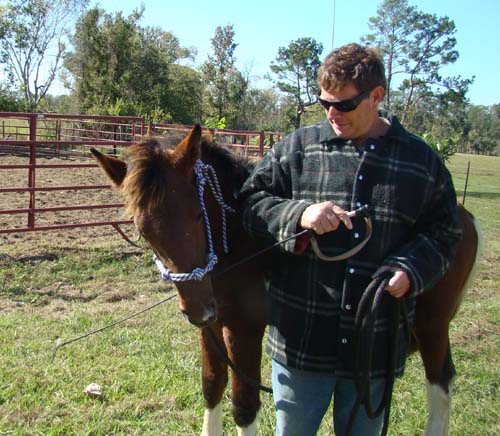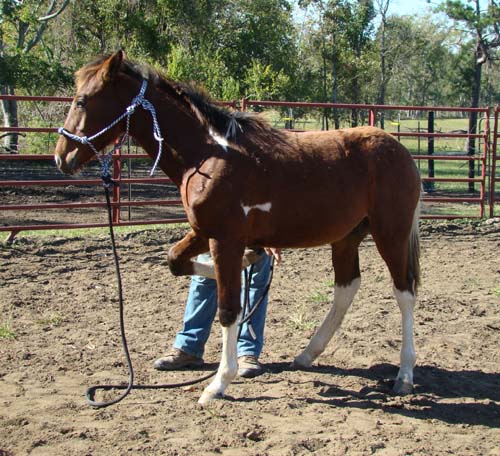 LEFT: Learning that the whip is a training aid, and not to be terrified of it; RIGHT: Mini 'refresher course' on handling his feet.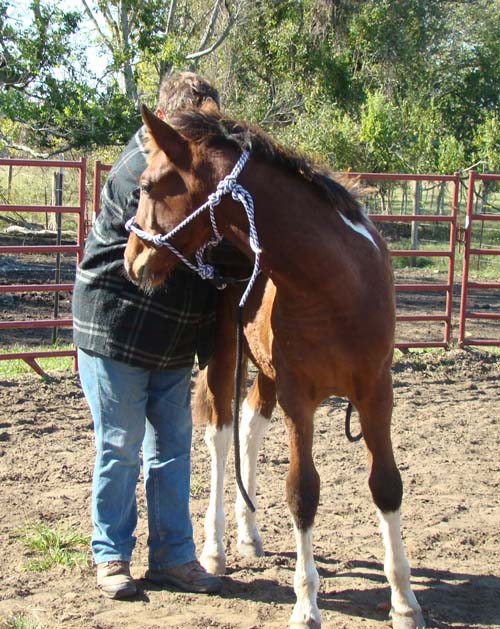 Learning to flex for maximum flexibility (and preparation for learning the one-rein stop later in life)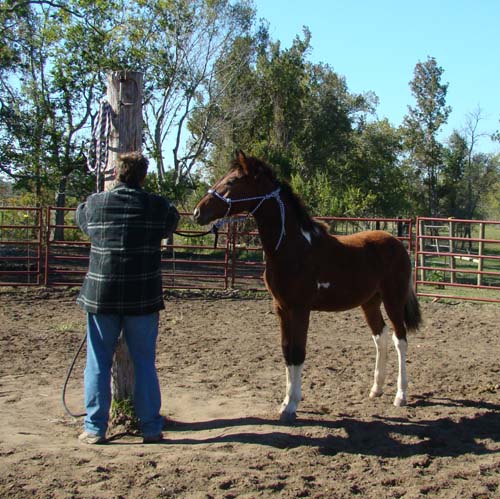 Learning to stand tied quietly.
Click on embedded arrow ABOVE to see Neon and Winchester frolicking on 7/31/09.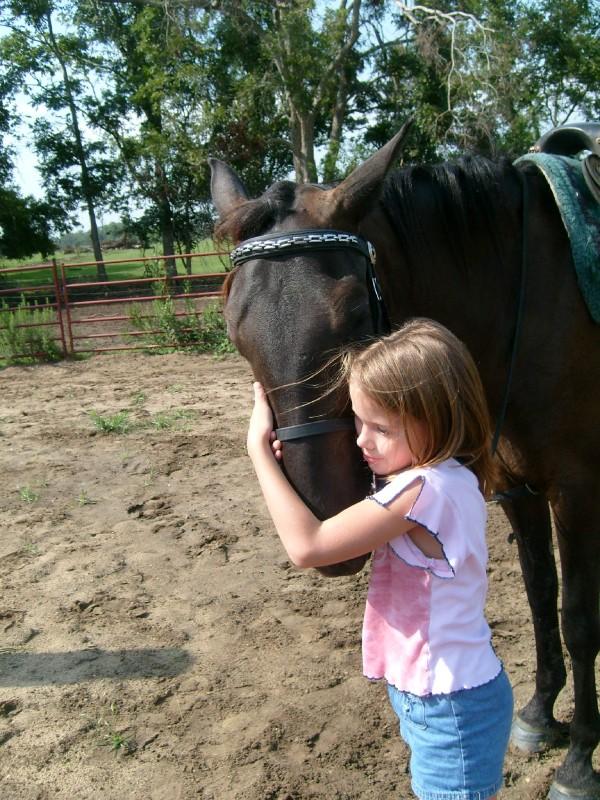 Click on picture at LEFT to see "Jolie", Winchester's half sister; and
Click on picture at RIGHT to see "Danny", Winchester's half brother, for an example of what kind of horse this beautiful colt will be.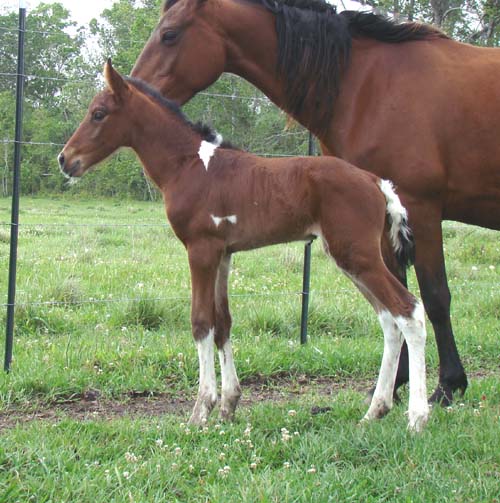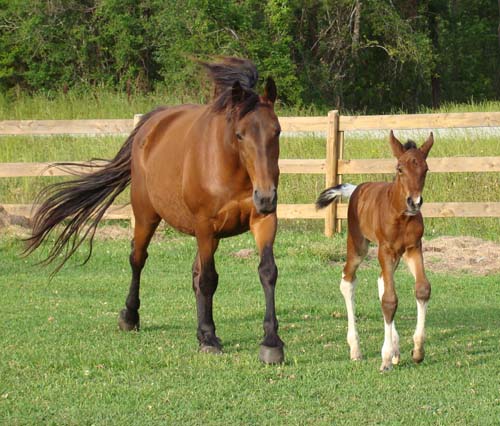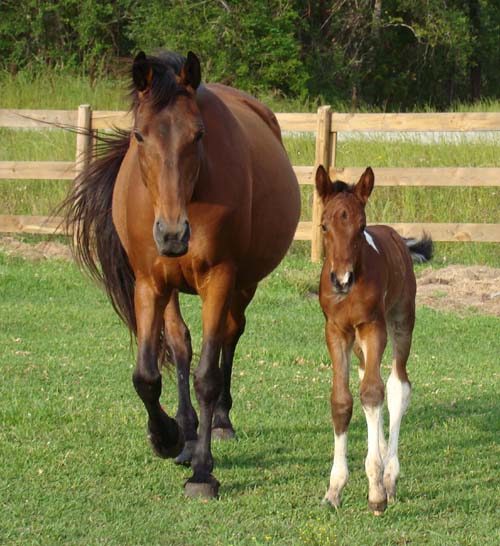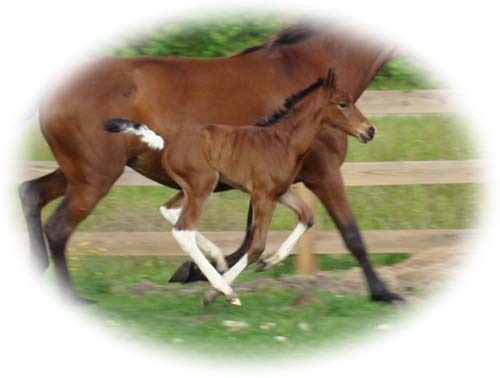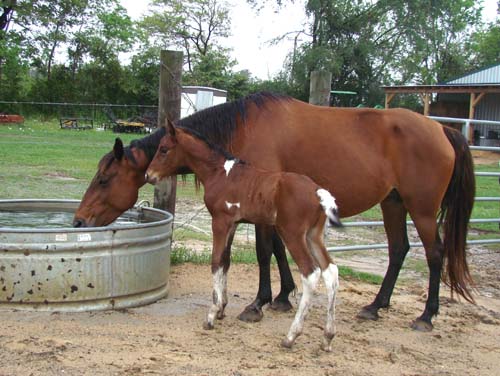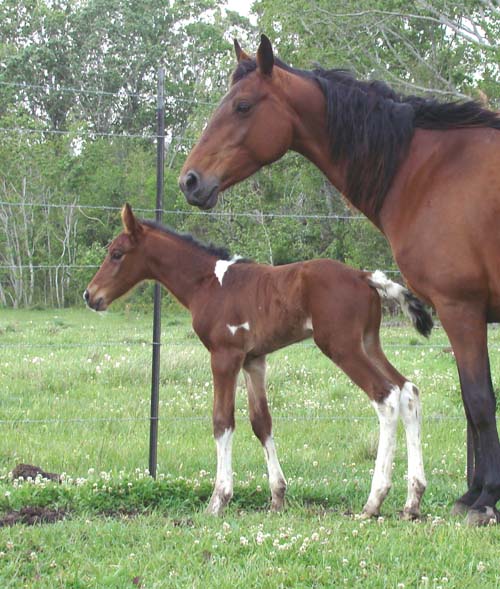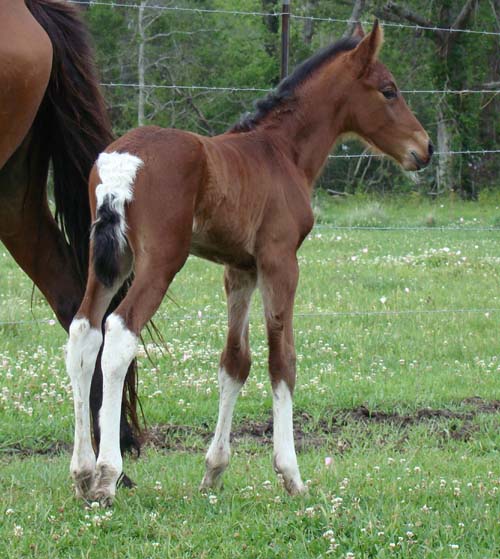 He will be one super flashy dude, with long, perfectly matched stockings of white tipped by black rings at the top and a white tail with a streak of black. This colt was born exceptionally gentle and has been really easy to halter train. $2000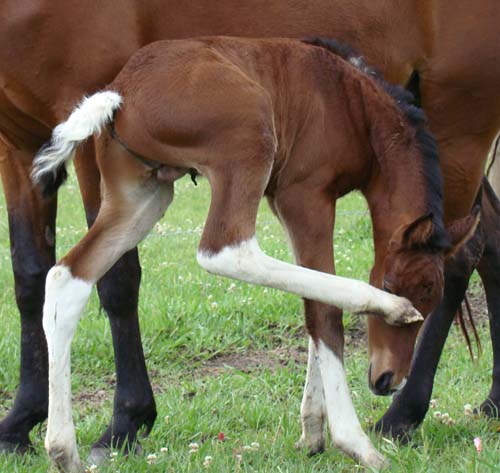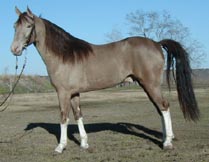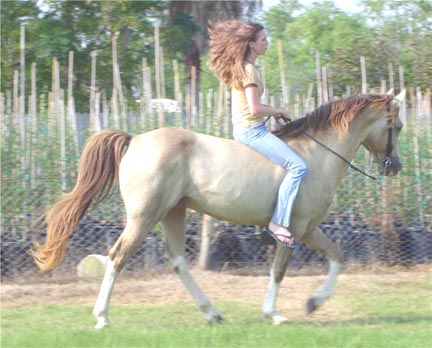 Cloud 9 Walkers
P. O. Box 878
Hardin, Texas 77561-0878
(55 minutes east of Houston)
281-726-4545
(Entire contents of this website copyrighted by Cloud 9 Walkers)

Email me!