CLOUD 9 WALKERS
"Danny"
Sweetheart, Affectionate Classic Champagne Tobiano 4-yr-old 15.3H Tennessee Walking Horse Gelding
Click on embedded arrow ABOVE to see our July, 2009 trip to the Colorado Rockies, during which I am riding Danny!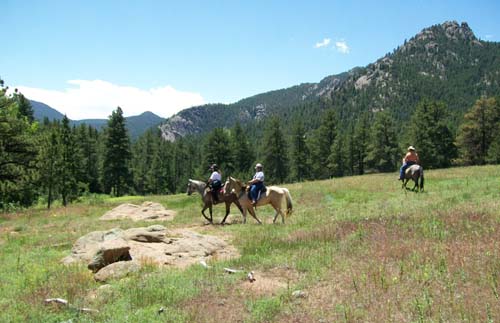 Elaine rides Danny, Becky rides Deuce, and Huey rides Blue at Big Elk Meadows in Colorado on 6/28/09.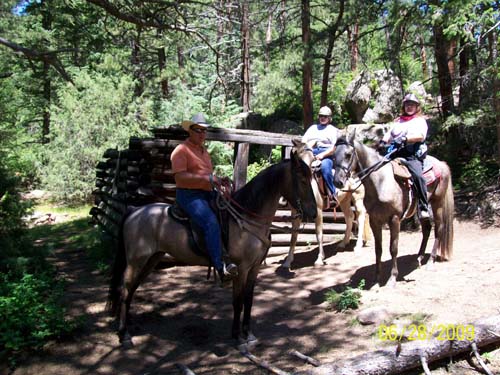 Huey on Blue, Elaine on Danny, and Becky on Deuce at Big Elk Meadows in Colorado on 6/28/09.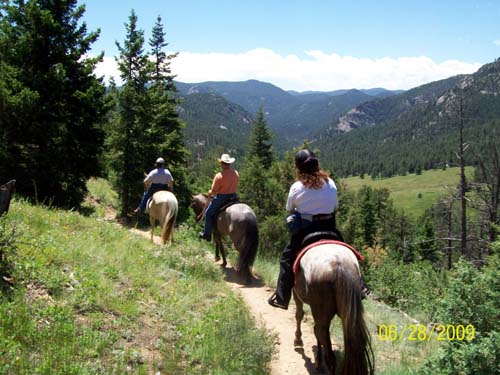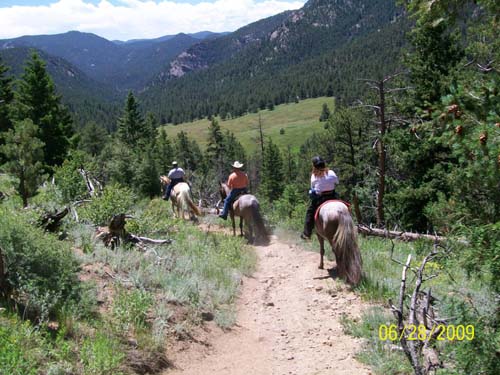 Riding at Big Elk Meadows on 6/28/09.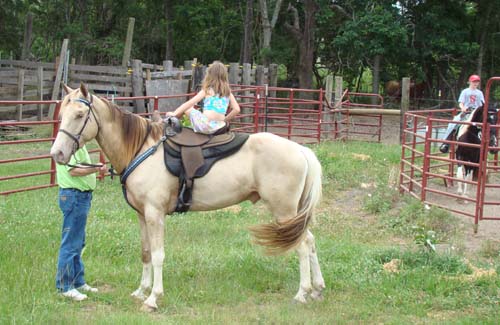 Skylar poses on Danny for a few pictures on 5/23/09.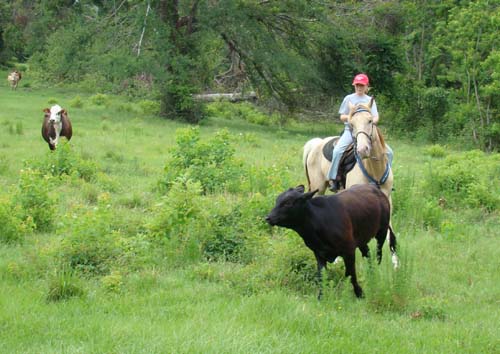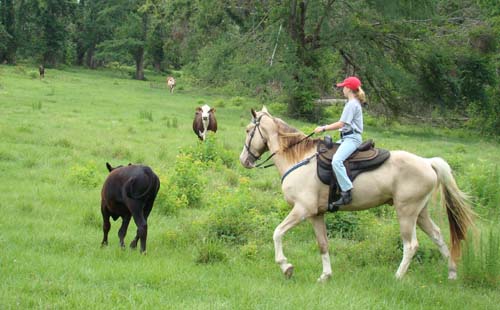 Yipee Ki Yay!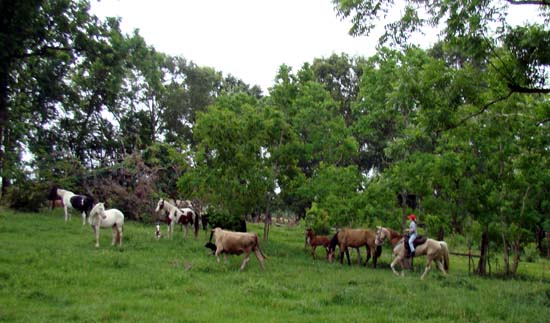 Jordan herding the critters on 5/23/09.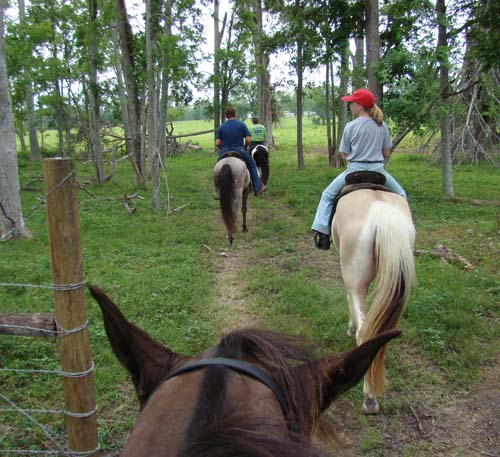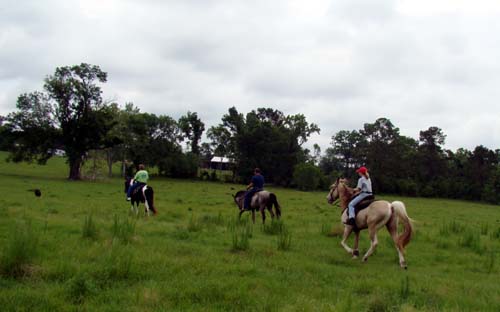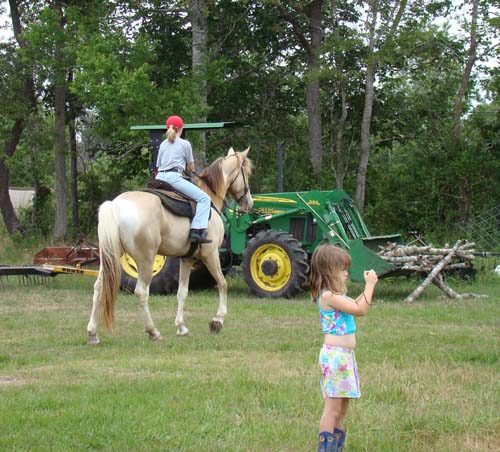 Big sister Jordan rides by the barn while lil sis Skylar works hard behind the camera!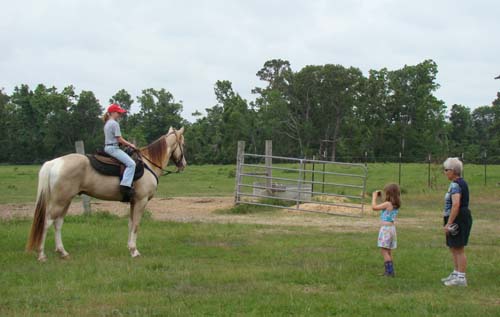 What are big sisters for, anyway?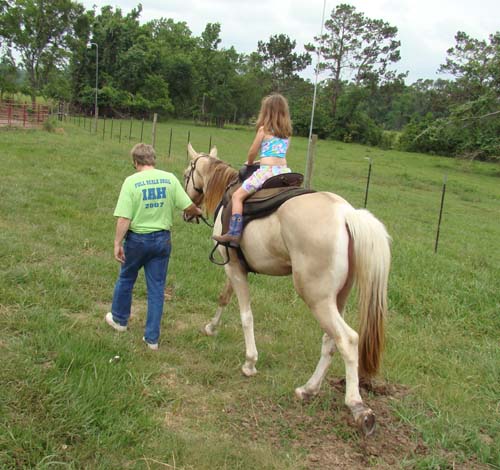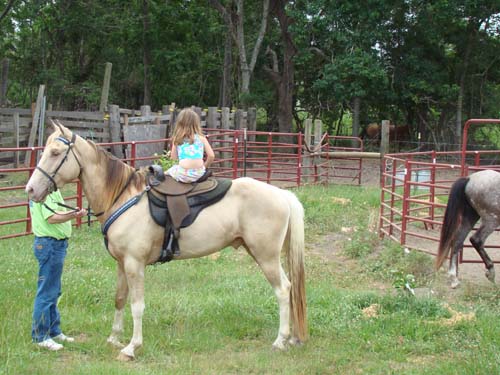 Papa takes Skylar for her photo shoot, which didn't last very long before something else caught her attention.
Click on arrow ABOVE to see a fun little video with appearances by Danny, Lucas and Mac.
Click on arrow ABOVE to see Danny's fabulous canter.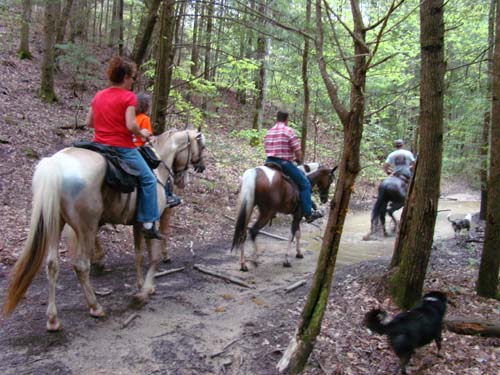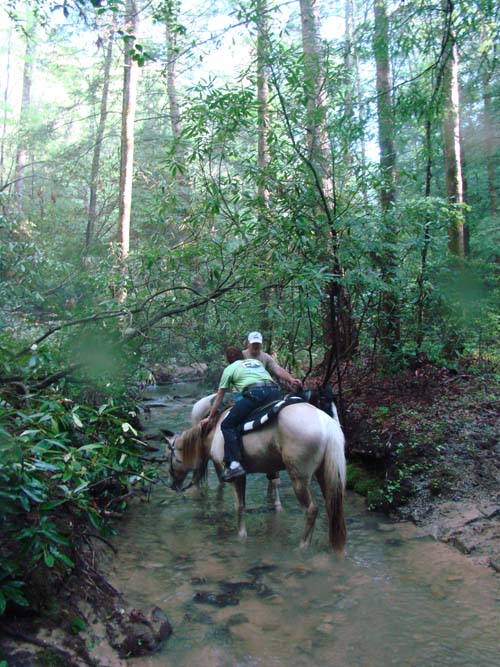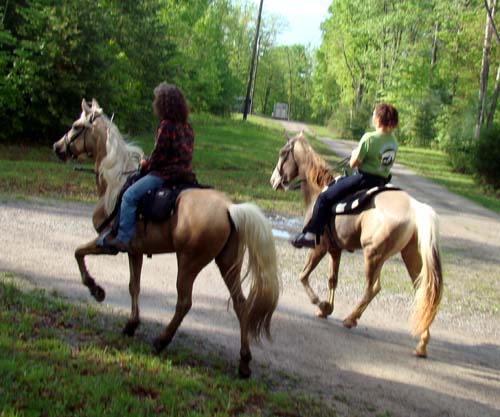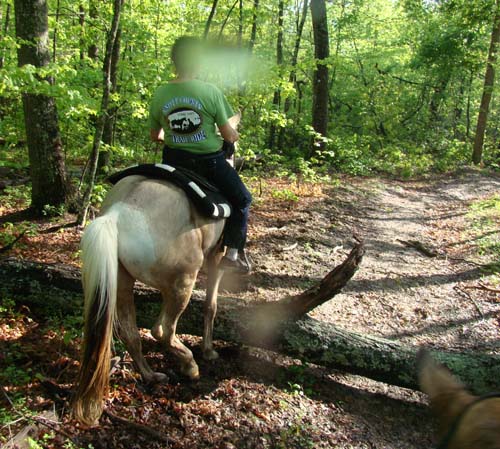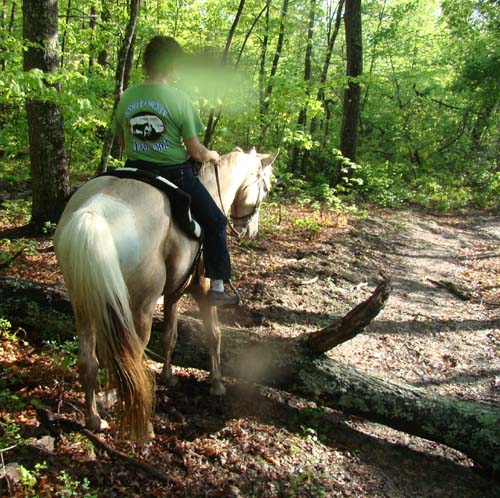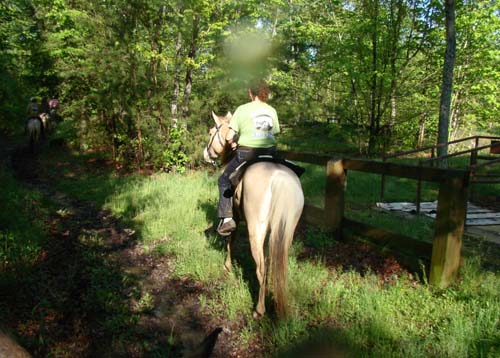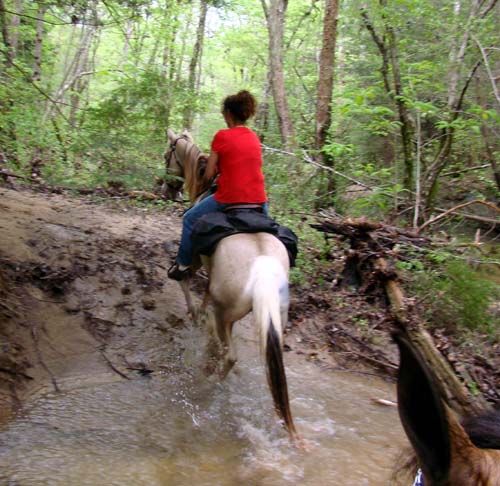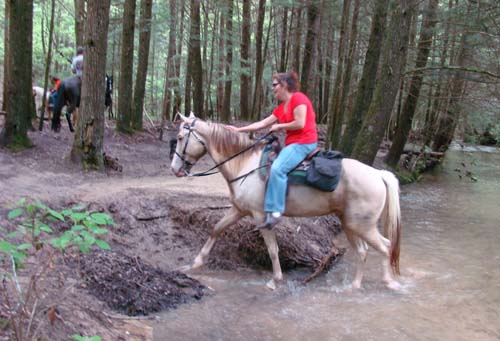 Candids from our camping trip at Big South Fork. Bonnie is riding Danny, and this is her first trail ride since she was a child. She has a donor knee cap and must be careful with her knee, and of course, Danny took perfect, careful care of her the whole week!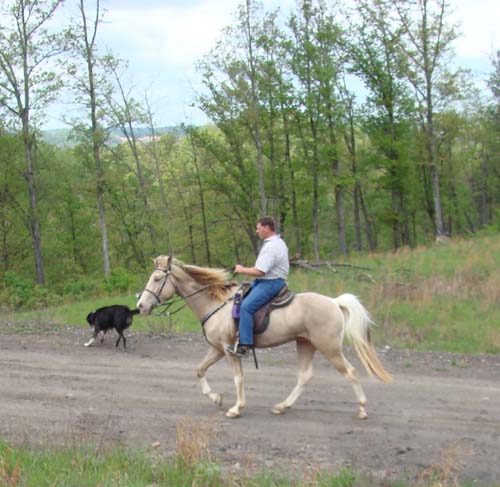 On the trail on 4/30/09 in eastern Kentucky. Stay tuned to see his progress as he develops a beautiful headset.
"Danny" -- you may remember him when he was posted on our weanling page and now he is 4 years old, under saddle and gaiting beautifully. He is sired by our stallion "Go Boy's Champagne Pride" and out of a big, beautiful direct daughter of the 1994 World Grand Champion Tennessee Walking Horse "Gen's Armed & Dangerous. This beautiful 15.3H classic champagne/white spotted gelding has a beautiful long neck, nice masculine jaw, long thick mane, long, thick, silky white tail with a black stripe in it that flows out behind him, four long white stockings and a head full of sense! He shakes his head and walks, will speed up and rack, and has a natural, easy athletic canter.
Eventually, Danny will be for sale, but right now we are going to enjoy camping him and loaning him to timid riders. We will post his baby pictures soon.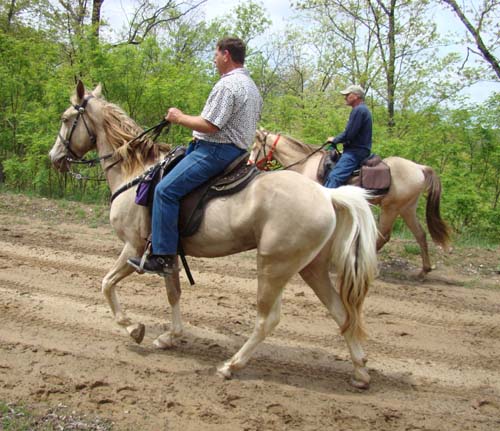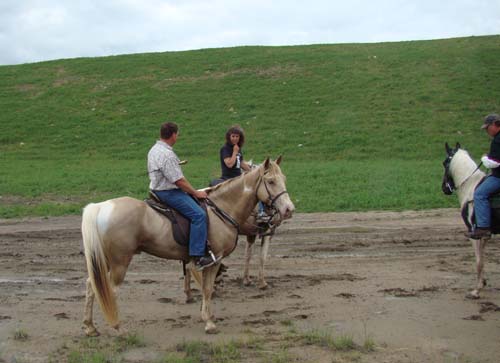 Notice how loose Danny's reins are -- very easygoing and mellow.
Video of Danny flat walking, then ascending a hill (please excuse the jerky video since I was sitting on Pistolero while filming and he was not cooperating!), and then slowly descending on muddy terrain while trucks and trailers pull into the campground.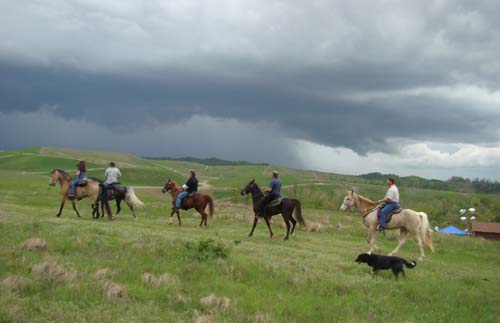 Huey aboard Danny, bringing up the rear on our way out to the mountain. Notice the huge storm cloud in the background -- we turned around and raced it back to camp, but it caught us!! The rain was so hard that it was practically blowing sideways and all the horses were really excited. We were drenched to the bone in the first 15 seconds, but by the time we got back to camp (only a half mile away), it had already blown past us and the sun was out. The experience was AWESOME! While all the other horses were wanting to race back to camp, Danny decided to handle it the natural way, so he simply dropped his head, turned with his hindquarters to the storm, cocked a foot and waited. After watching other riders blow by on frantic horses terrified by the sudden storm, Huey was happy with Danny's 'storm strategy'!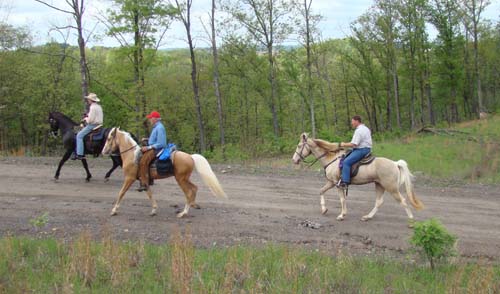 Notice Danny's beautiful mane blowing back as he travels along at a nice speed in a relaxed manner. He is wearing rubber shoes on the front and plain keg shoes on the hind.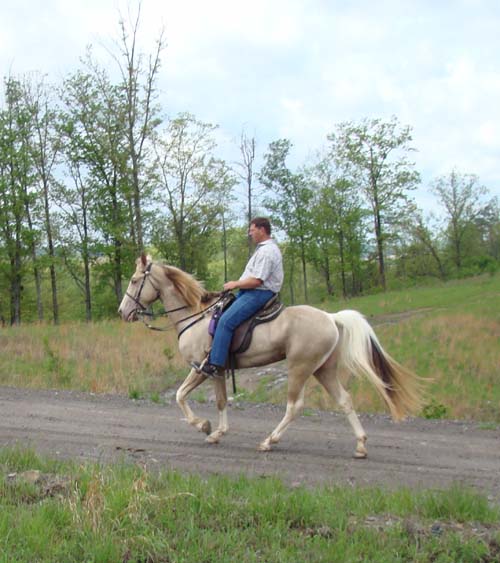 Check out his beautiful, flowing tail. He's only four -- imagine how thick and beautiful it will be in a couple of years!!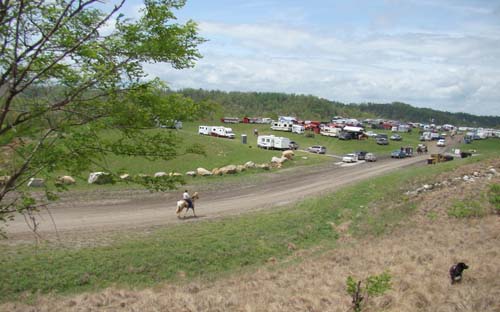 Headed back into camp all by his little lonesome!
Tracey lovin' her baby. He is who he is because of the kindness and gentle raising she and her husband gave him, and only their son's medical issues force them to part with him. This magnificent, sweet horse is a sweet 'fix' for a horse addict, a therapist when you're feeling blue, a once-in-a-lifetime horse companion, a great ambassador for the Tennessee Walking Horse breed, and in general, just a big, warm, furry blessing!
BABY PICTURES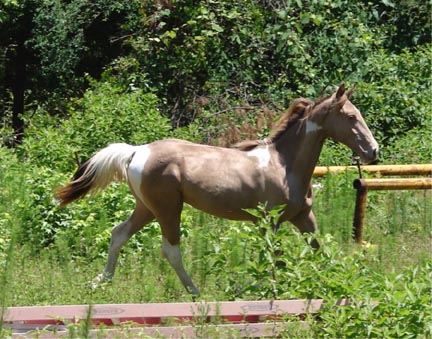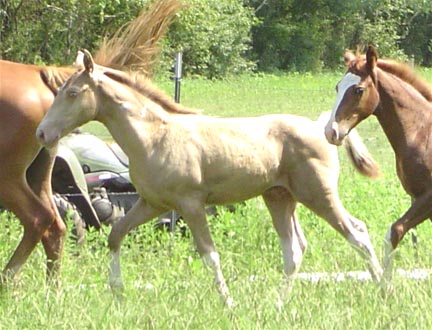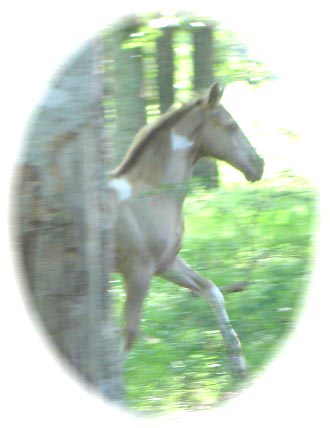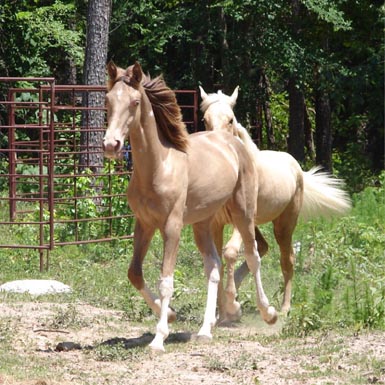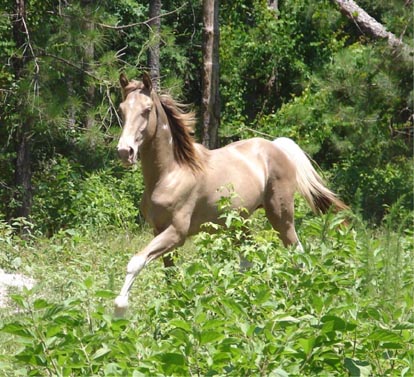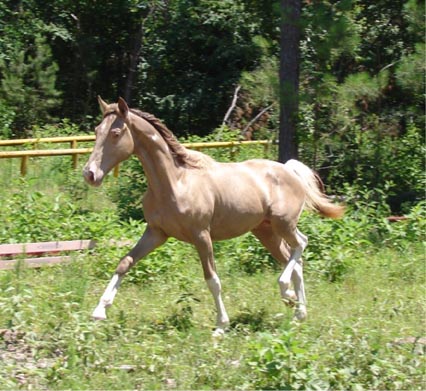 Cloud 9 Walkers
P. O. Box 878
Hardin, Texas 77561-0878
(55 minutes east of Houston)
281-726-4545
(Entire contents of this website copyrighted by Cloud 9 Walkers)

Email me!