CLOUD 9 WALKERS
"Lucas"
Lite shod 8-yr-old stocky 15.1-1/2H Black Tennessee Walking Horse Gelding
Click on arrow ABOVE to see a fun video featuring Lucas, Danny and Mac.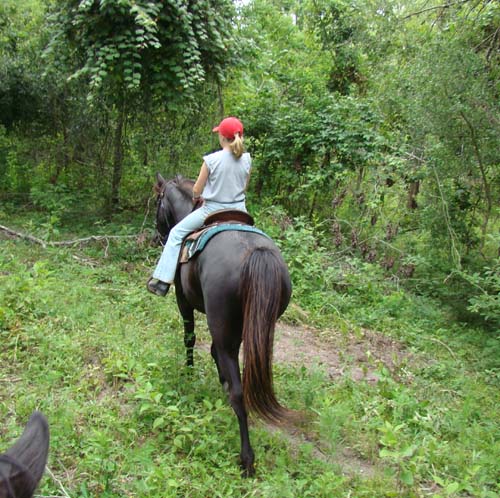 Jordan heads out down the trail on Lucas on 5/23/09.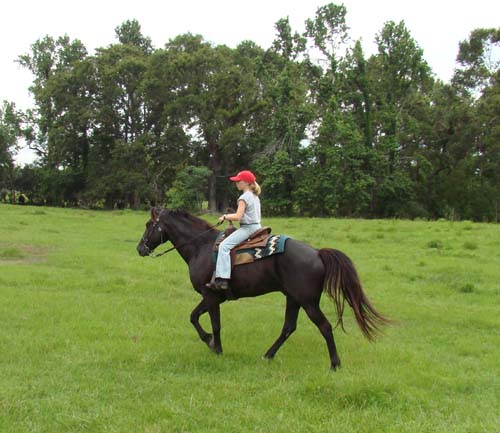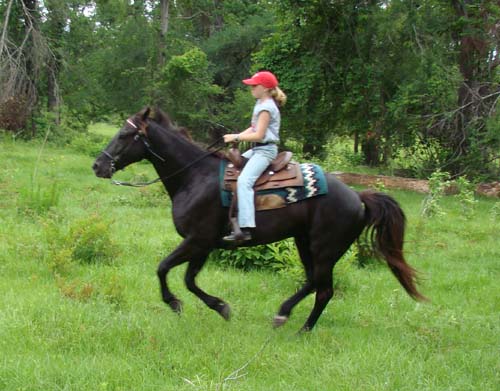 LEFT: Jordan gaits Lucas across the pasture; RIGHT: That girl has almost perfect equitation and she's only been riding a year! Here, she slow lopes Lucas.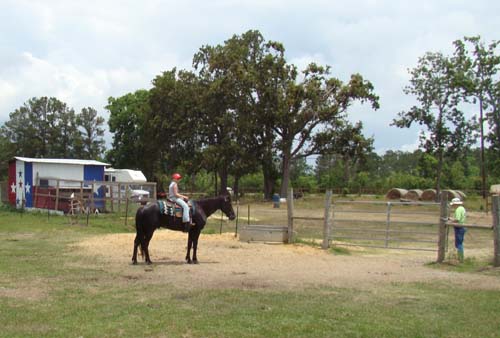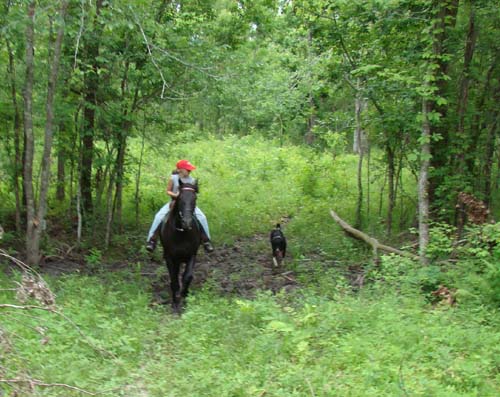 LEFT: Jordan waits for Papa to open the gate; RIGHT: Heading down the trail with Bailey following.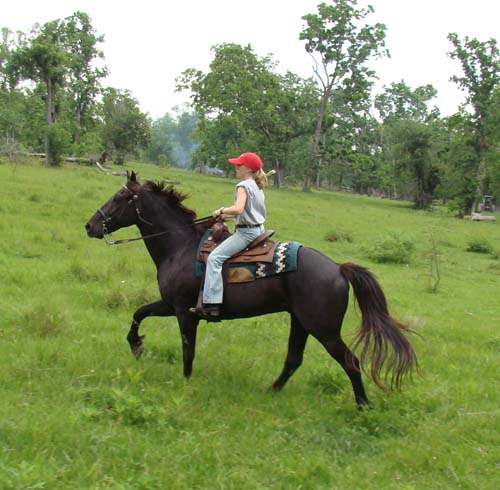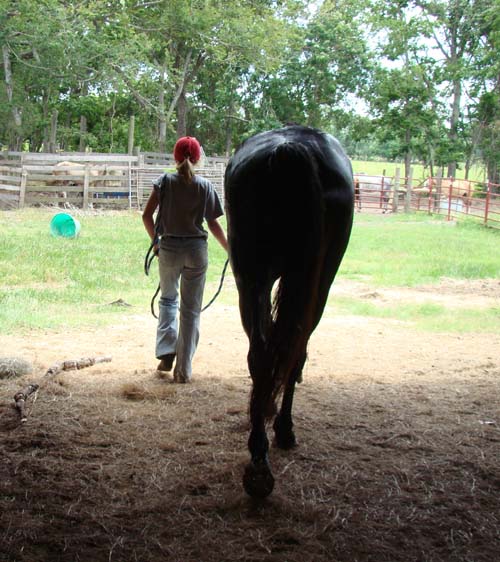 LEFT: A perfect rack.
RIGHT: Jordan turns Lucas out after a good ride and a cool bath.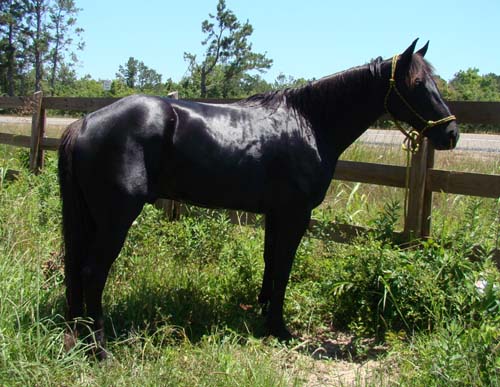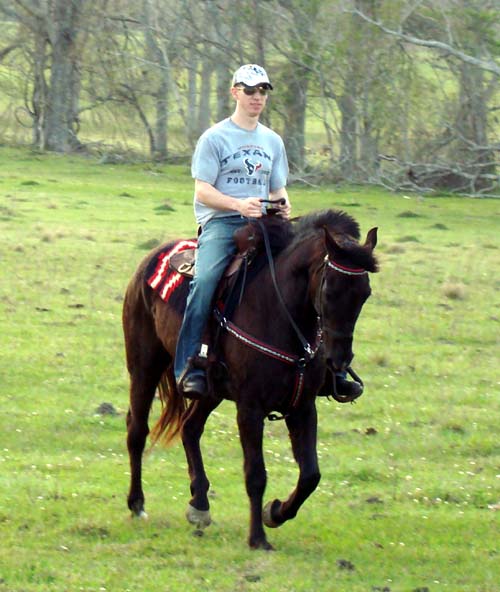 "Lucas" -- Nice horse! Stocky 15.1-1/2H black Tennessee Walking Horse gelding gentle for probably anyone and everyone to ride -- super easy going and sweet, lite shod, 4-beat gaited, nice canter, neck reins like a dream. This is a seasoned horse that is hard to find, the perfect age, not bothered by cattle, traffic, deer, dogs, etc. This horse is from registered stock but his owners never sent his papers in, so he is not currently registered. He could be commissioned racking, if desired, but we're going to use him for a babysitter on the trails so we don't intend to take the trouble to get papers. $2950
Click on arrow ABOVE to see Lucas crossing a very deep creek with friends on 4/5/09 in the Angelina Forest. Some times of the year, this creek is deep enough that they have to swim a few feet. That's Jan that you hear screaming in the background -- she thinks the water is cold. She is riding Motown in the back.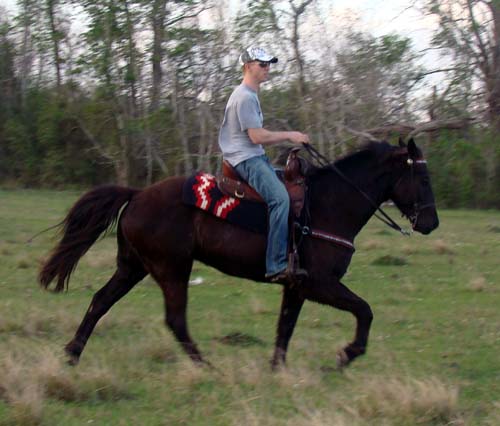 Click on arrow ABOVE to see Lucas neck reining and gaiting obediently, respectfully, and smoothly!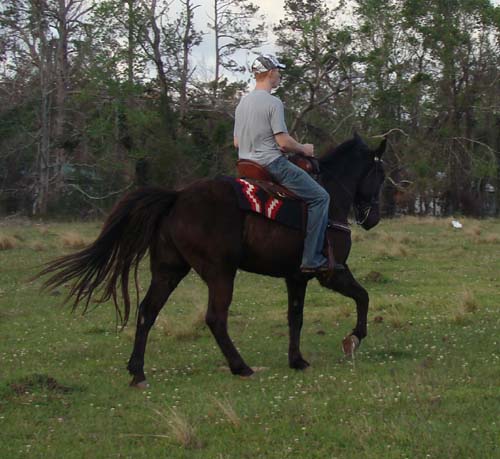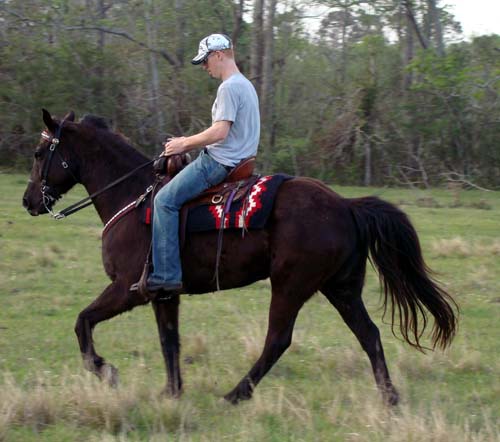 Mohawk notice: Yeah, he's sporting a 'mohawk' because we're letting his bridle path grow out.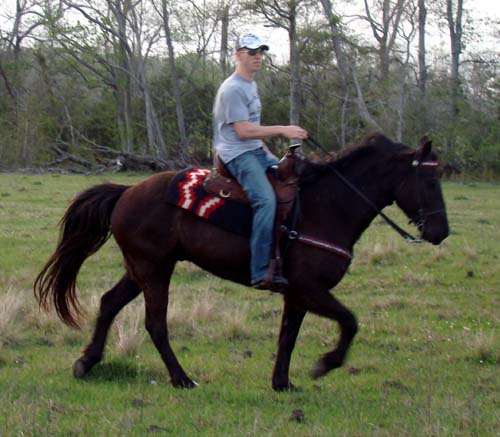 Cloud 9 Walkers
P. O. Box 878
Hardin, Texas 77561-0878
(55 minutes east of Houston)
281-726-4545
(Entire contents of this website copyrighted by Cloud 9 Walkers)

Email me!